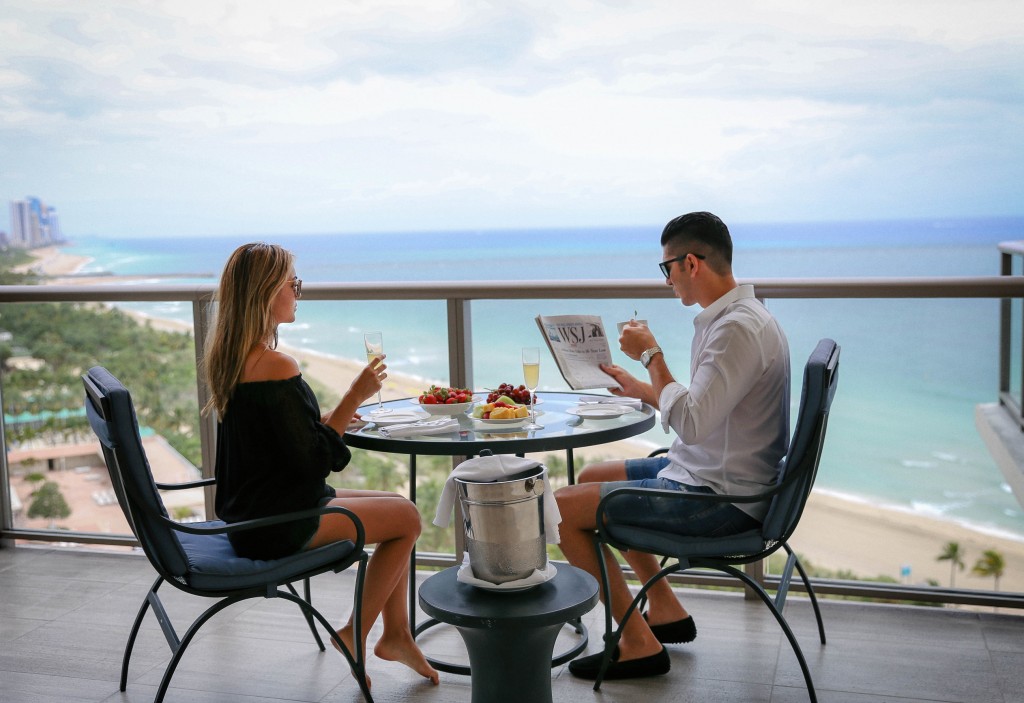 Combined with impeccable design, outstanding customer service, luxurious amenities, excellent location, and killer views, it is no wonder that the St Regis Bal Harbour was named #1 Best Hotel in Florida and ranked as one of the Best Hotels in the USA by U.S. News. Just a step into the lobby you will begin to indulge in the "St Regis Experience" taking you into a luxurious journey. This exquisite property is perfect for any occasion from a honeymoon to a wedding to a quick getaway with or without the kids. In our case, we chose this property to celebrate my husbands birthday, and left with lifetime memories.
Check in & Lobby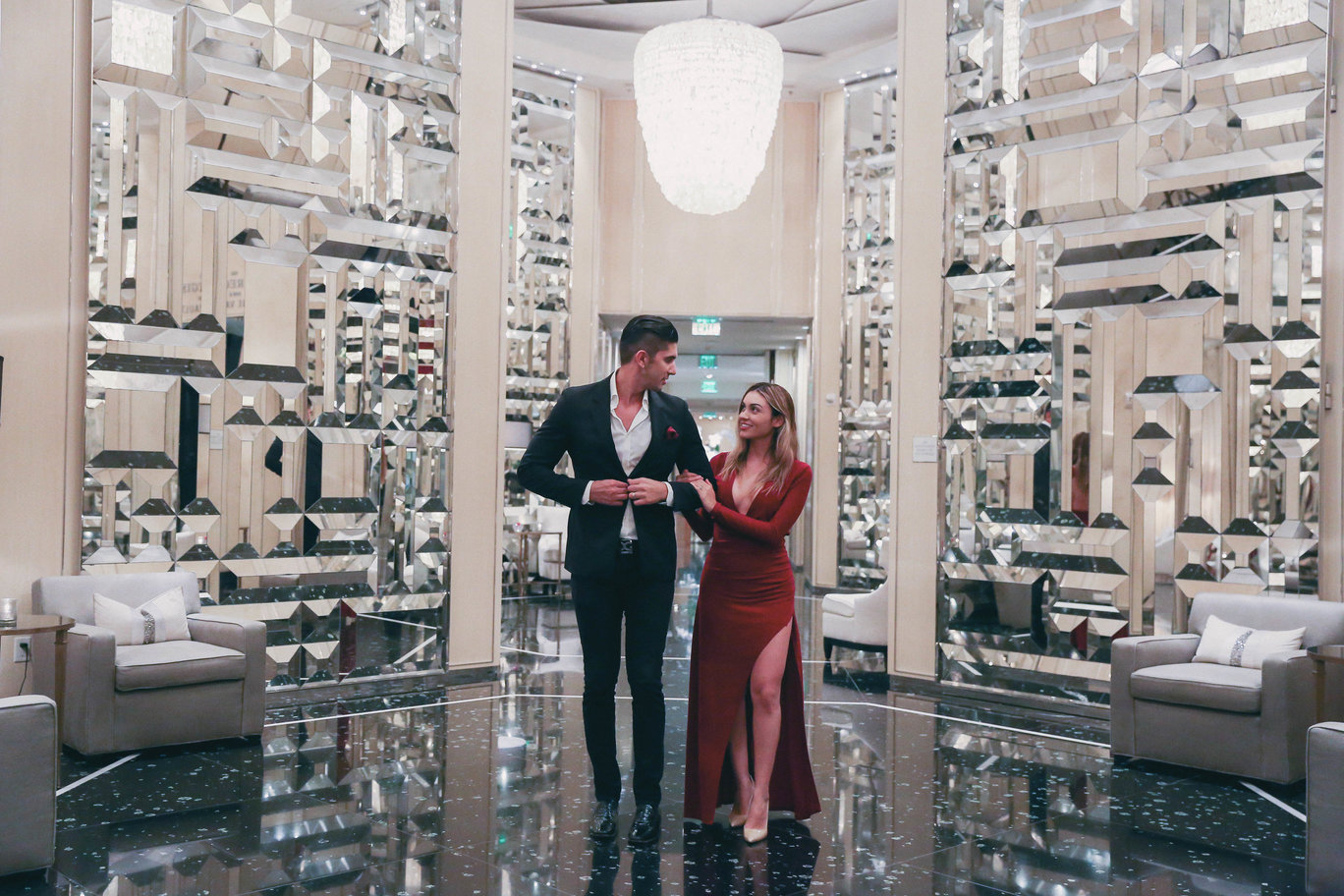 We were greeted with champagne, water, and apple juice for the little one as we checked in to the St Regis Bal Harbour. Though the actual check in process was well under 5 min, we were informed that the room was not ready. We dropped our little one off at the Kids Club or the Sea Turtles Club, as it is called and settled into the lobby. With a lobby that looks more like a lounge and less like a lobby, it was easy to make ourselves comfortable and enjoy all the beautiful details and designs through out the lobby areas.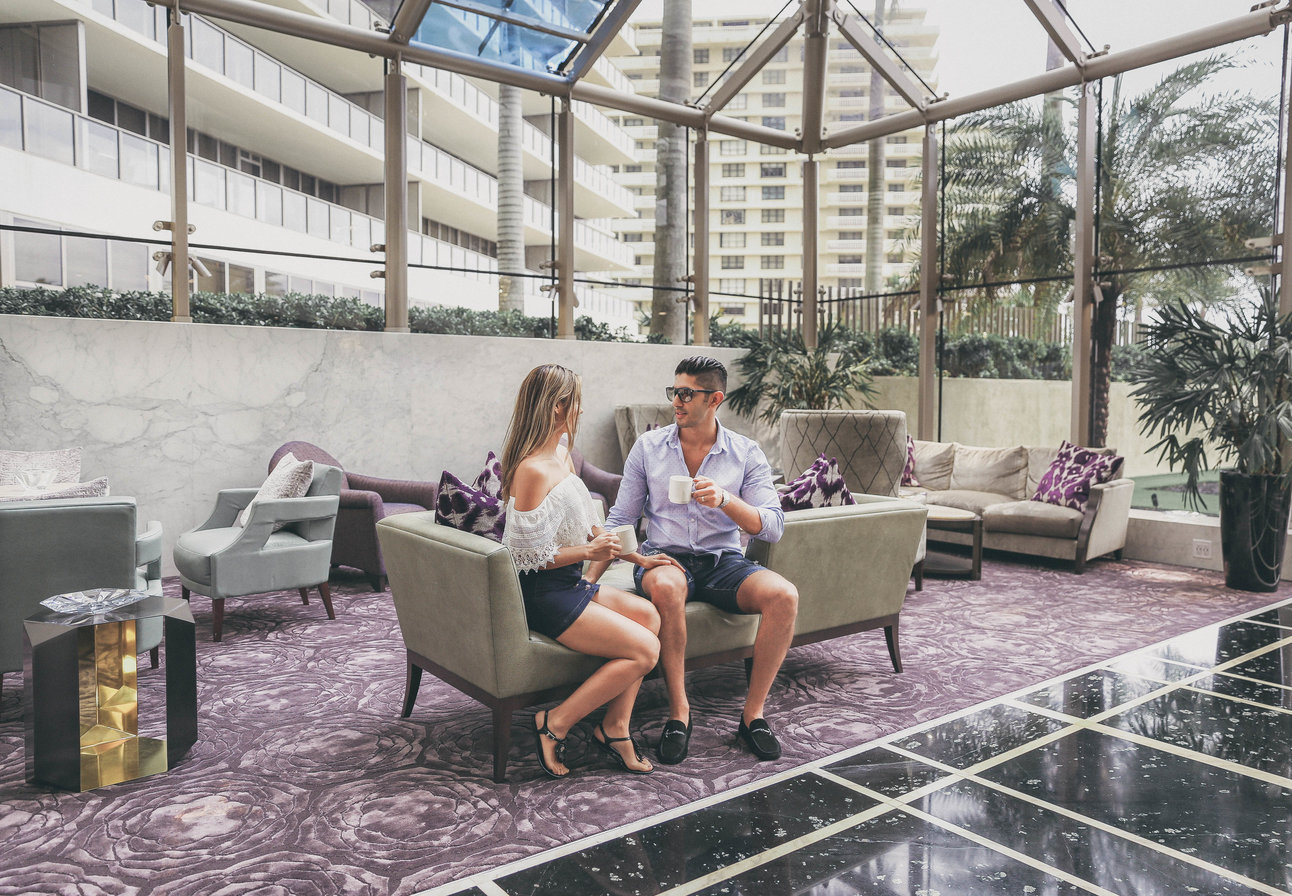 The Suite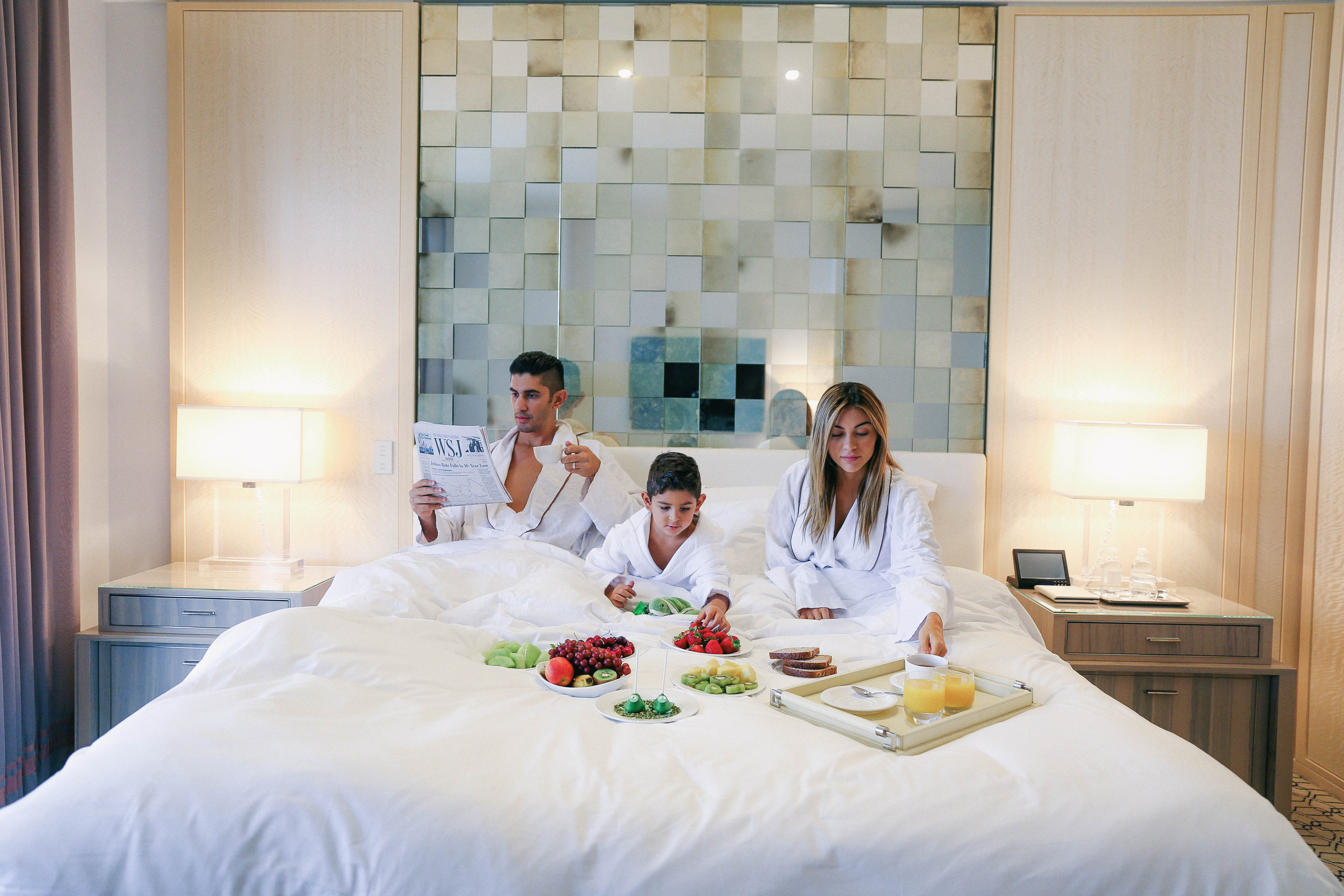 We were welcomed into an Atlantic Ocean Front Suite. At almost 1,500 sq feet this luxury suite provides the perfect combination of luxury, comfort and convenience. With a 6 guest dinning area, kitchenette, media room, family room, 2 bathrooms, separate bedroom, and 2 oversized balconies over looking the beautiful florida coast line, this suite will make you feel like you are staying in a penthouse, especially since the suite shares the elevator with only one more room in that floor.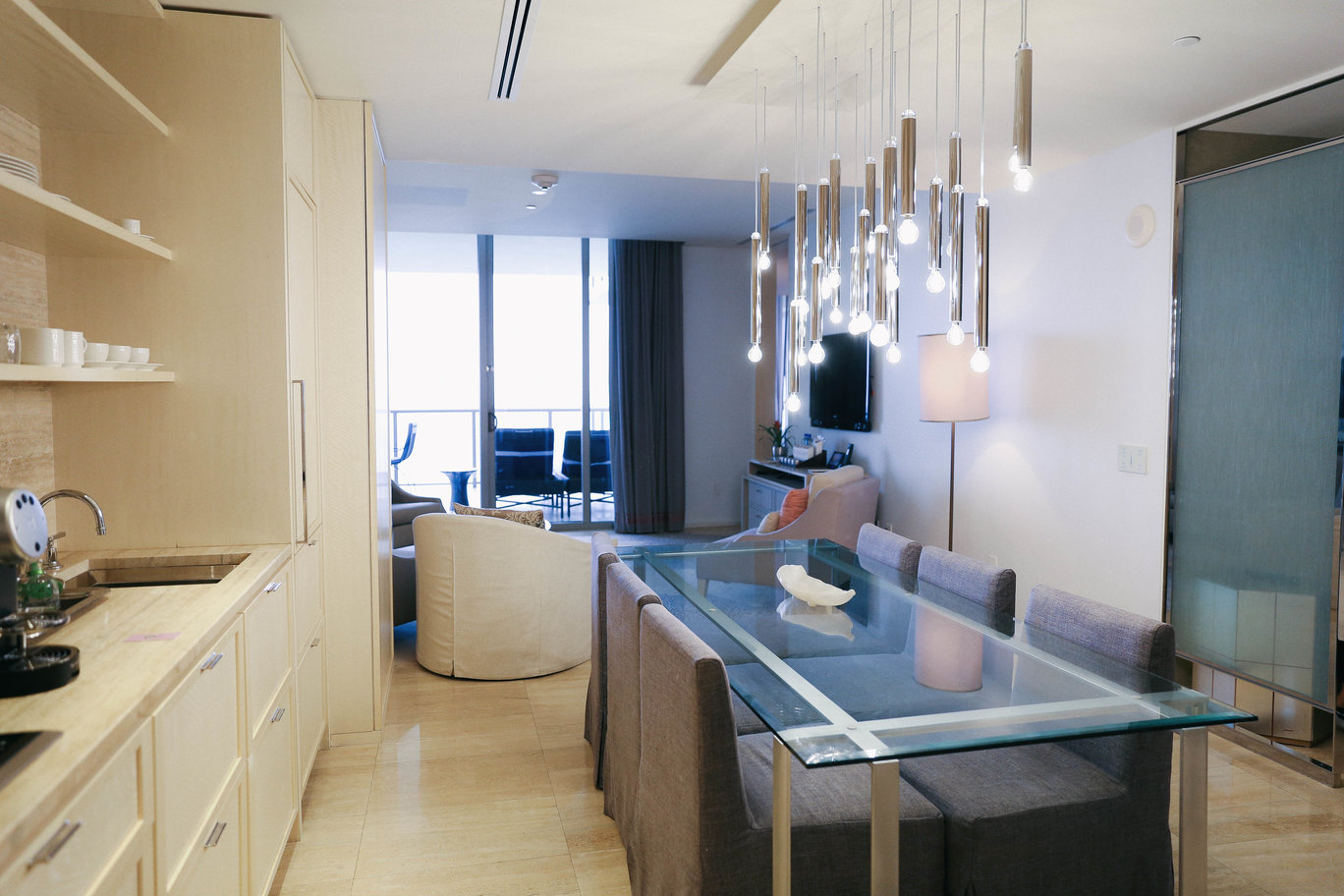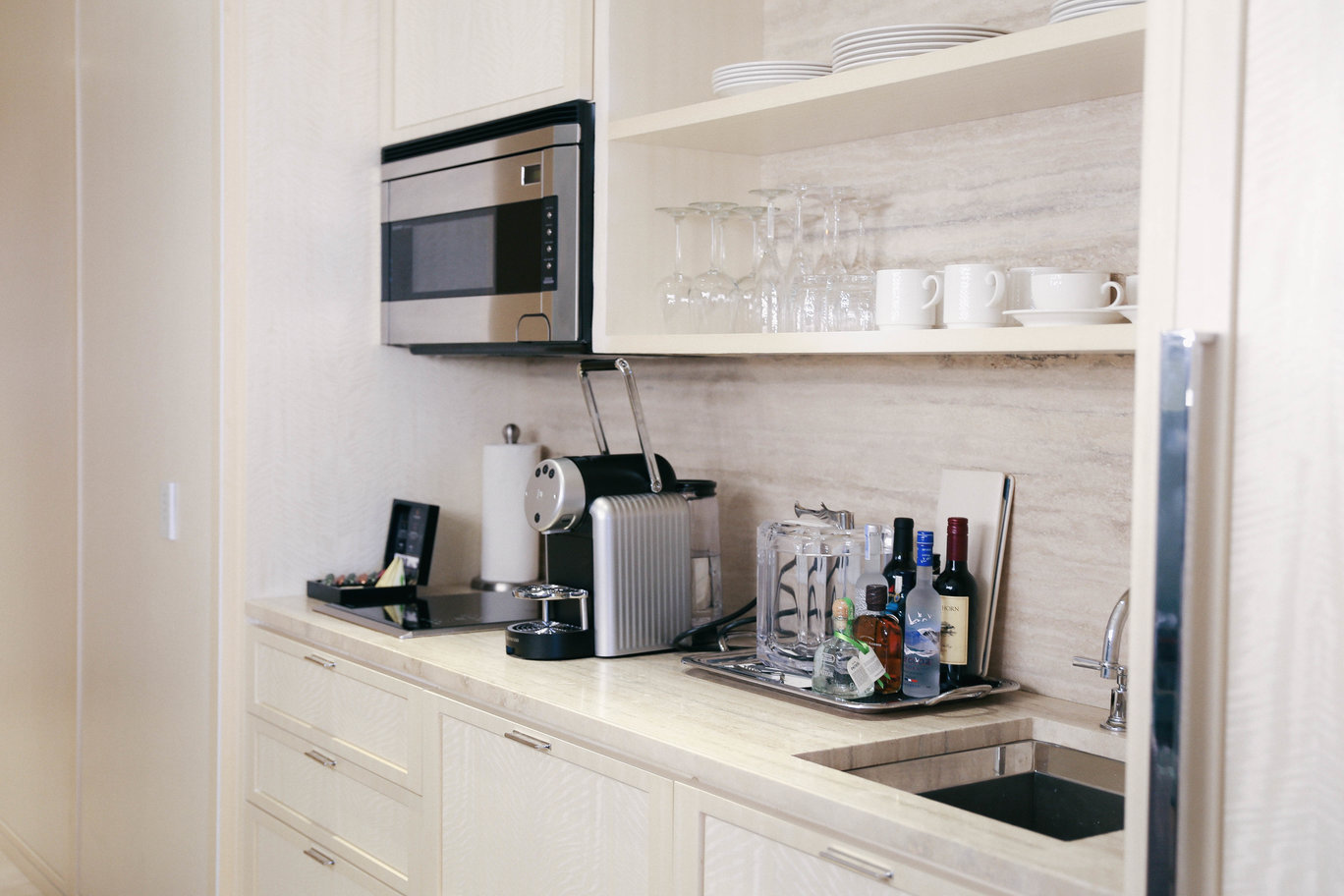 I highly recommend this room for families as it allows parents and kids to have their own space and privacy. The sofa in the media room turns into a queen sized sofa bed which was perfect for the little one. And since there is a full bathroom right next to the media room and dinning area, he even had his own bathroom. Though the balconies are certainly the perfect place to spend most of the time while you are in your room, for the not so sunny days aka the rainy days that tend to make up for most of the summer in Florida, the living area provides a spacious and comfy area to relax for the whole family.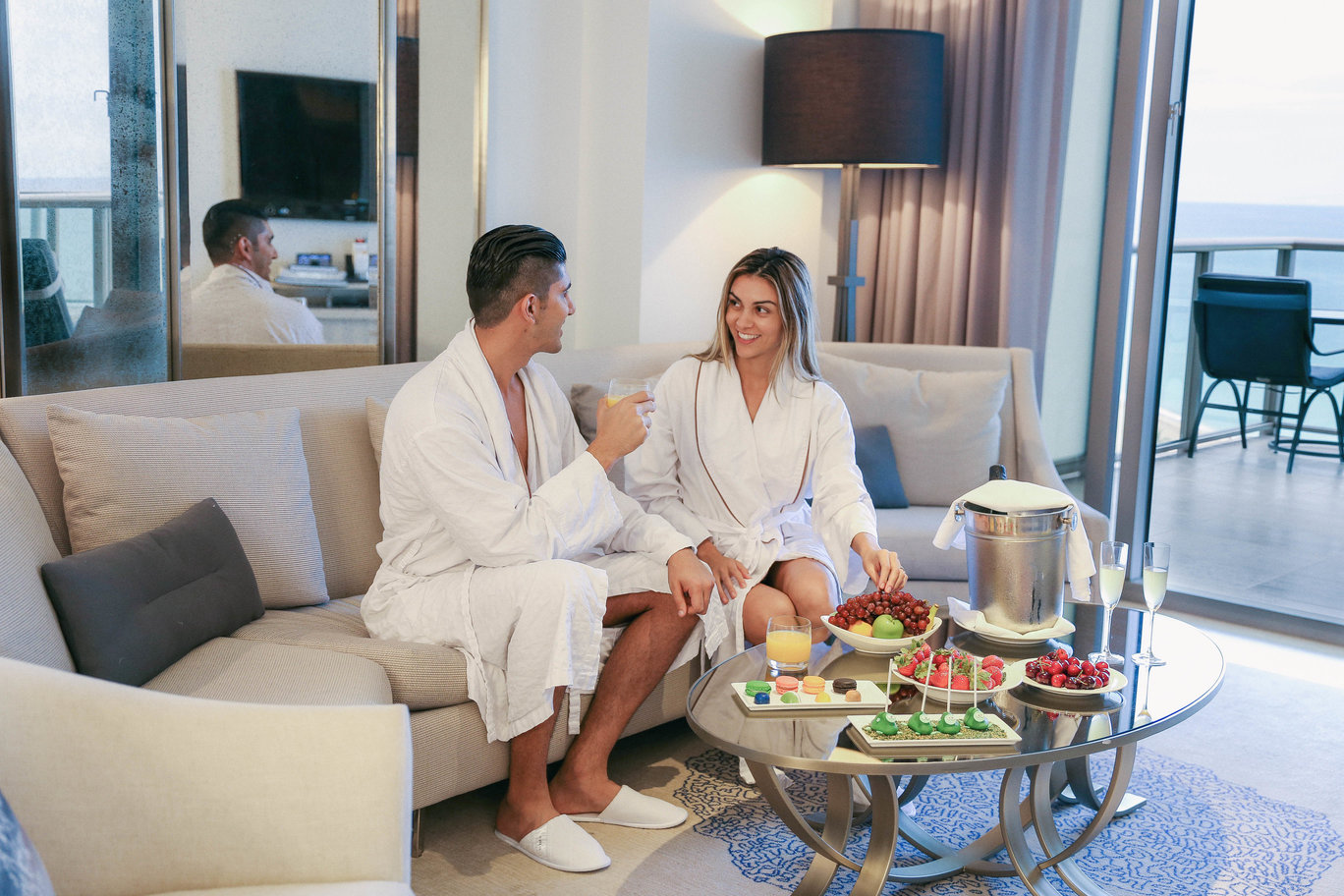 All of the suite is equipped with digital light switches not only allowing you to dim the lights, and open the drapes/curtains, but also making it easier to identify which switch turns on which light.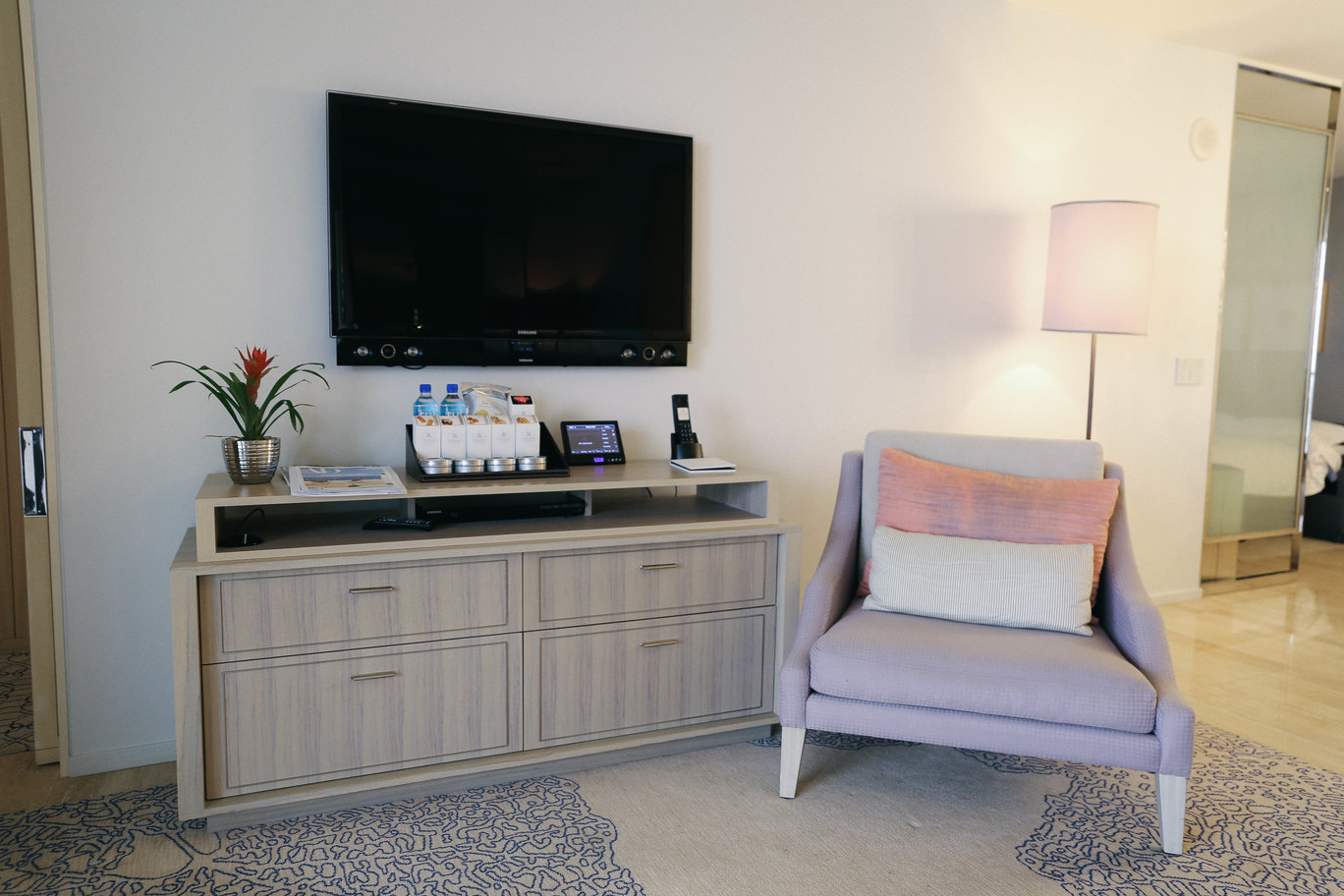 There are two furnished over sized balconies overlooking the unobstructed Florida coast line. The main one right in front of the family room and the other private one in the master bedroom.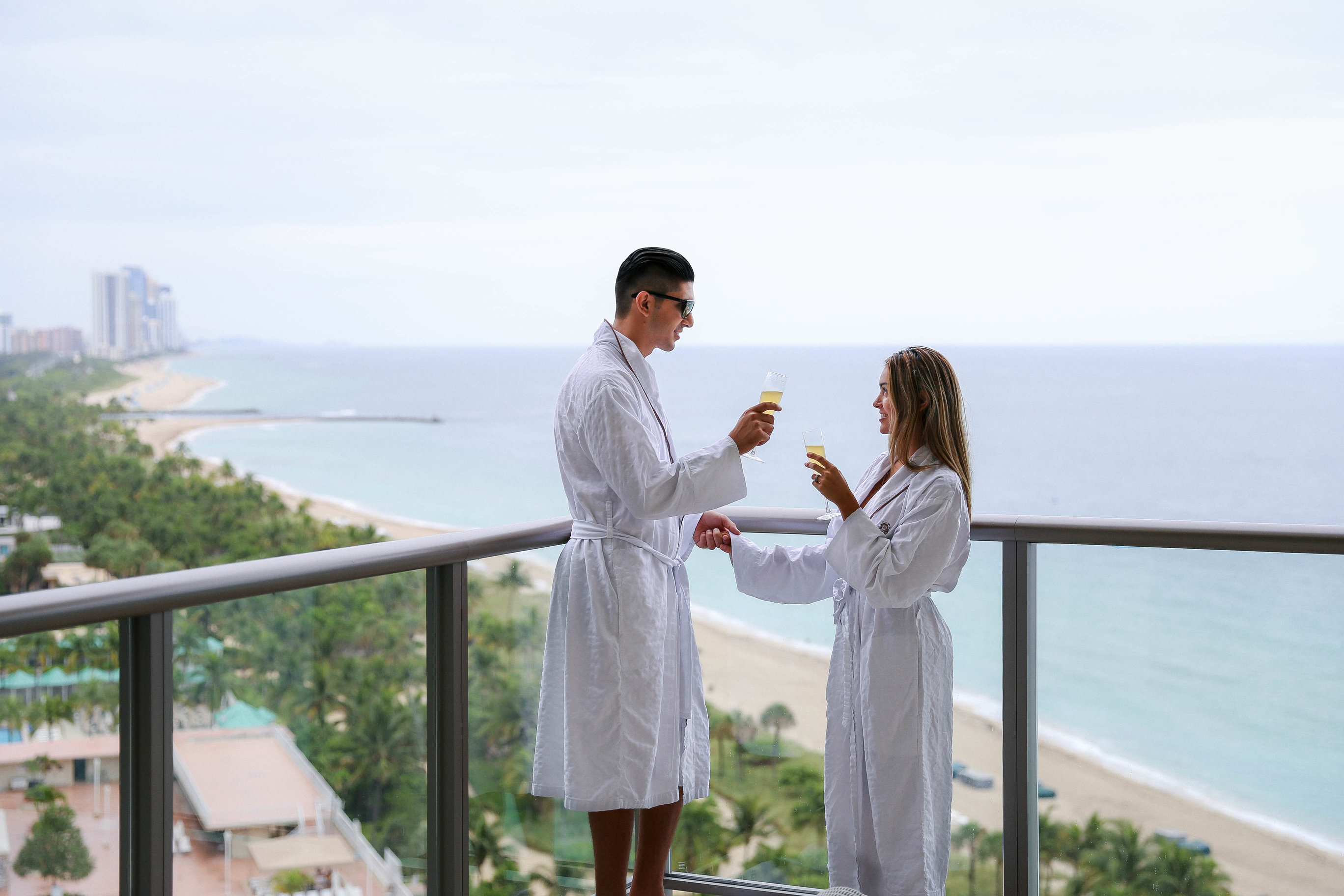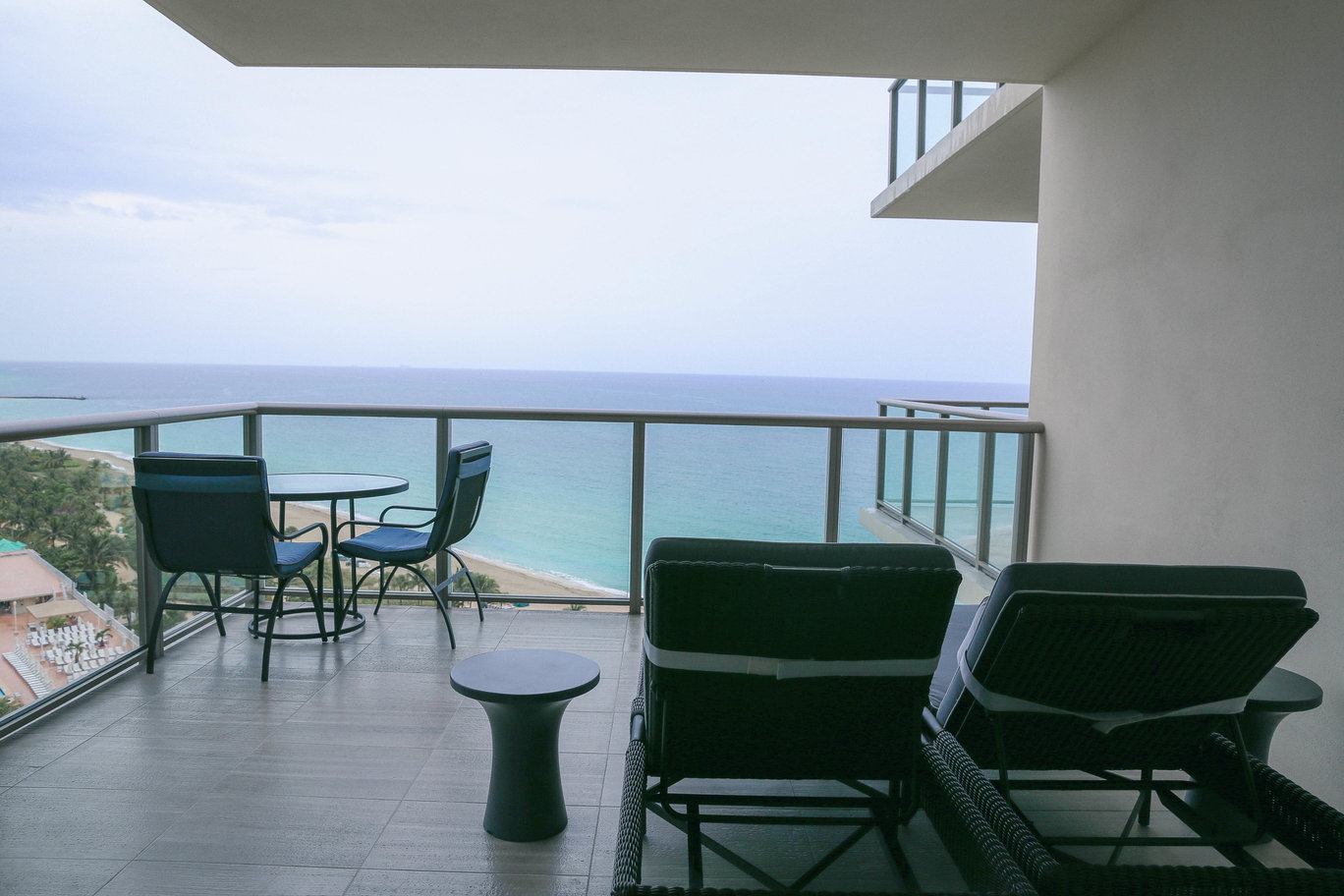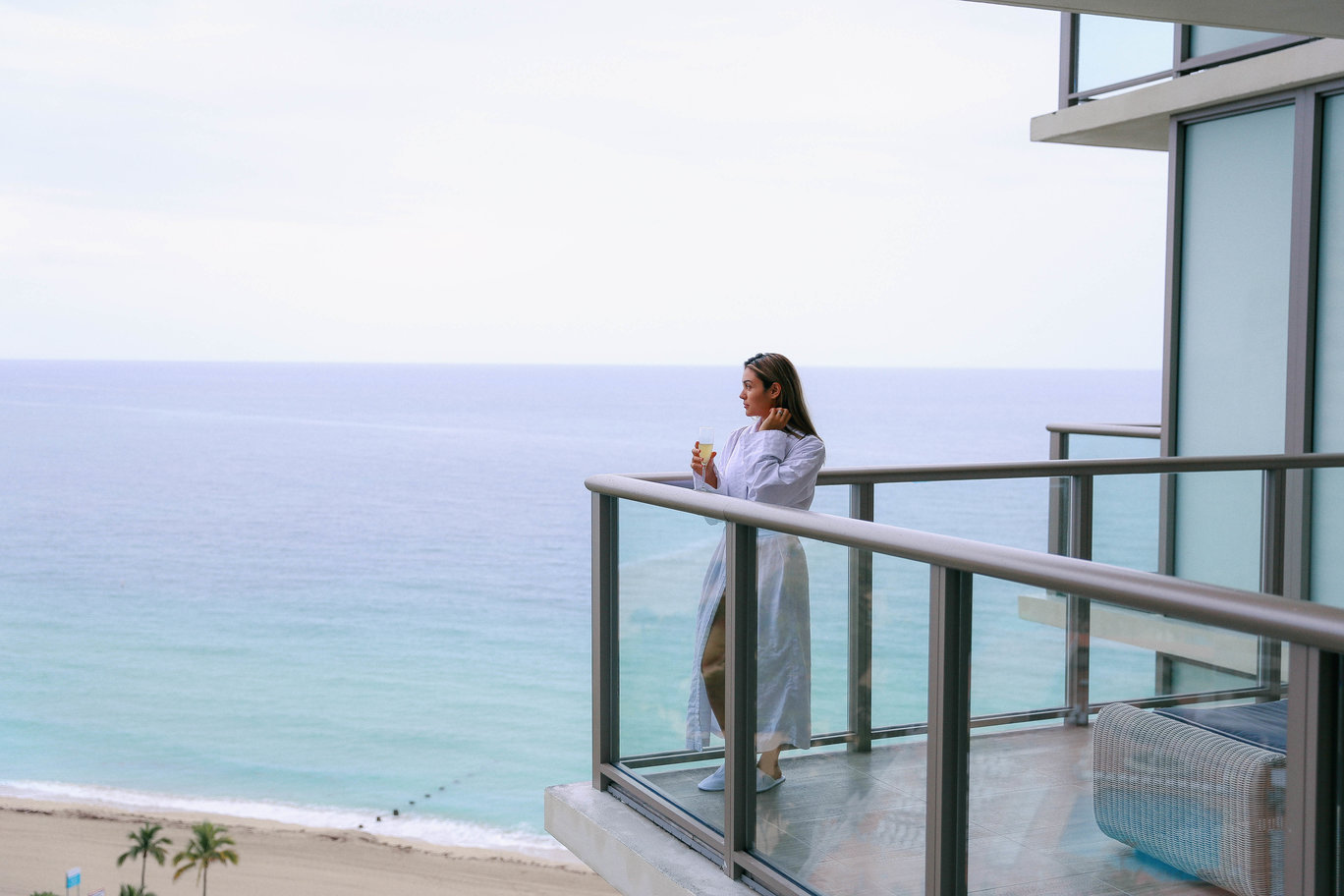 And to top it all, this room also comes with Butler service which means you have a personal concierge at your service. He/She can even help you pack and unpack your luggages!
Pool , Beach & Amenities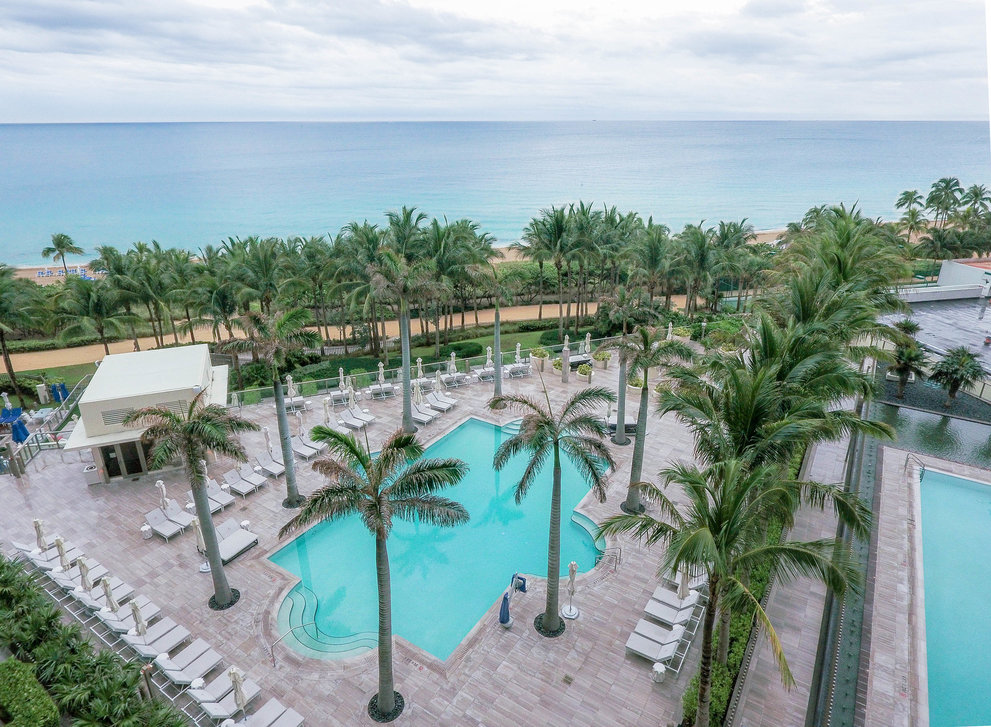 On the ground floor right below the lobby is where you will find the main pool , spa, gym, kids club, pool bar, Atlantikos restaurant and access to the beach. The main pool is kids friendly so here is where you will find most of the families.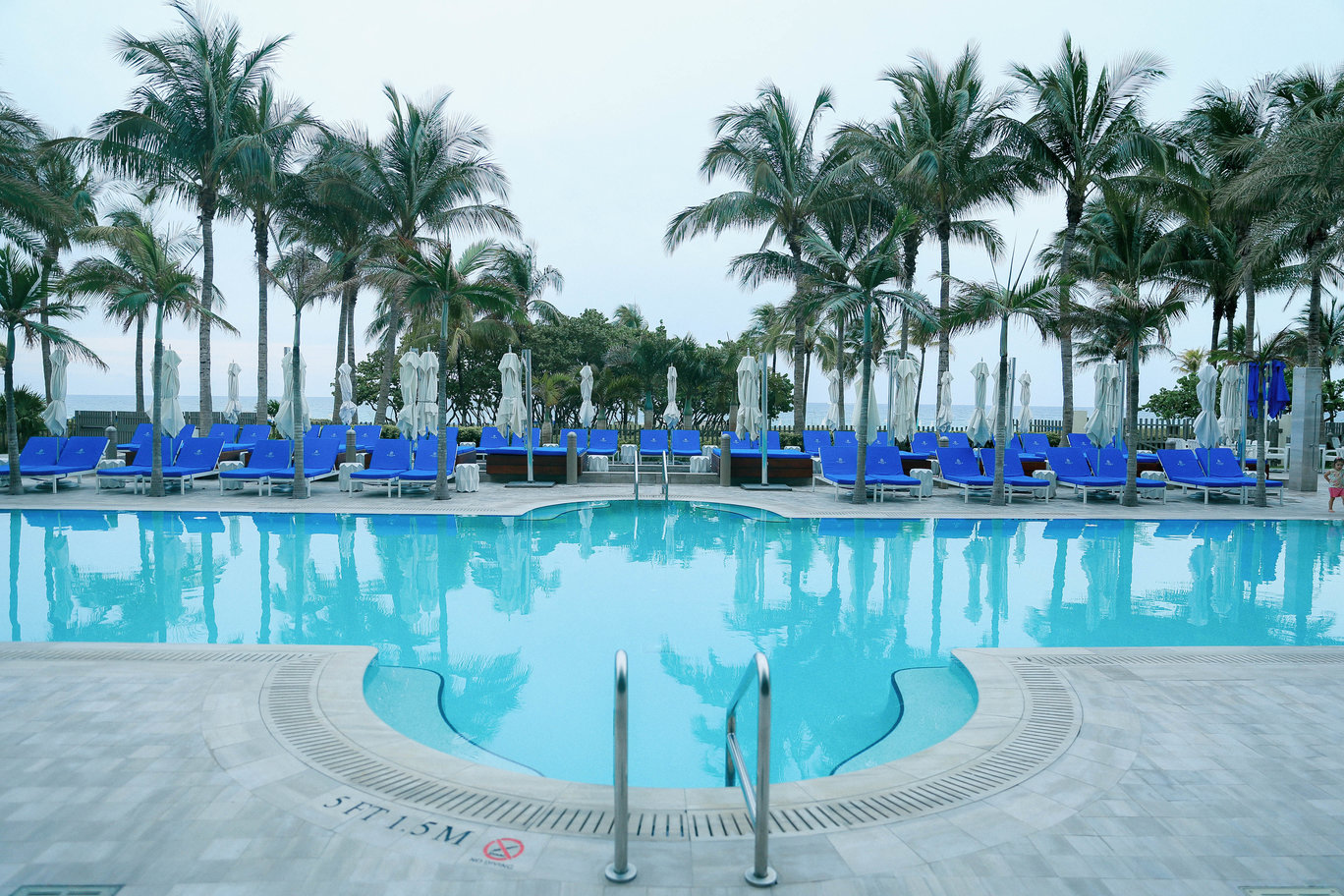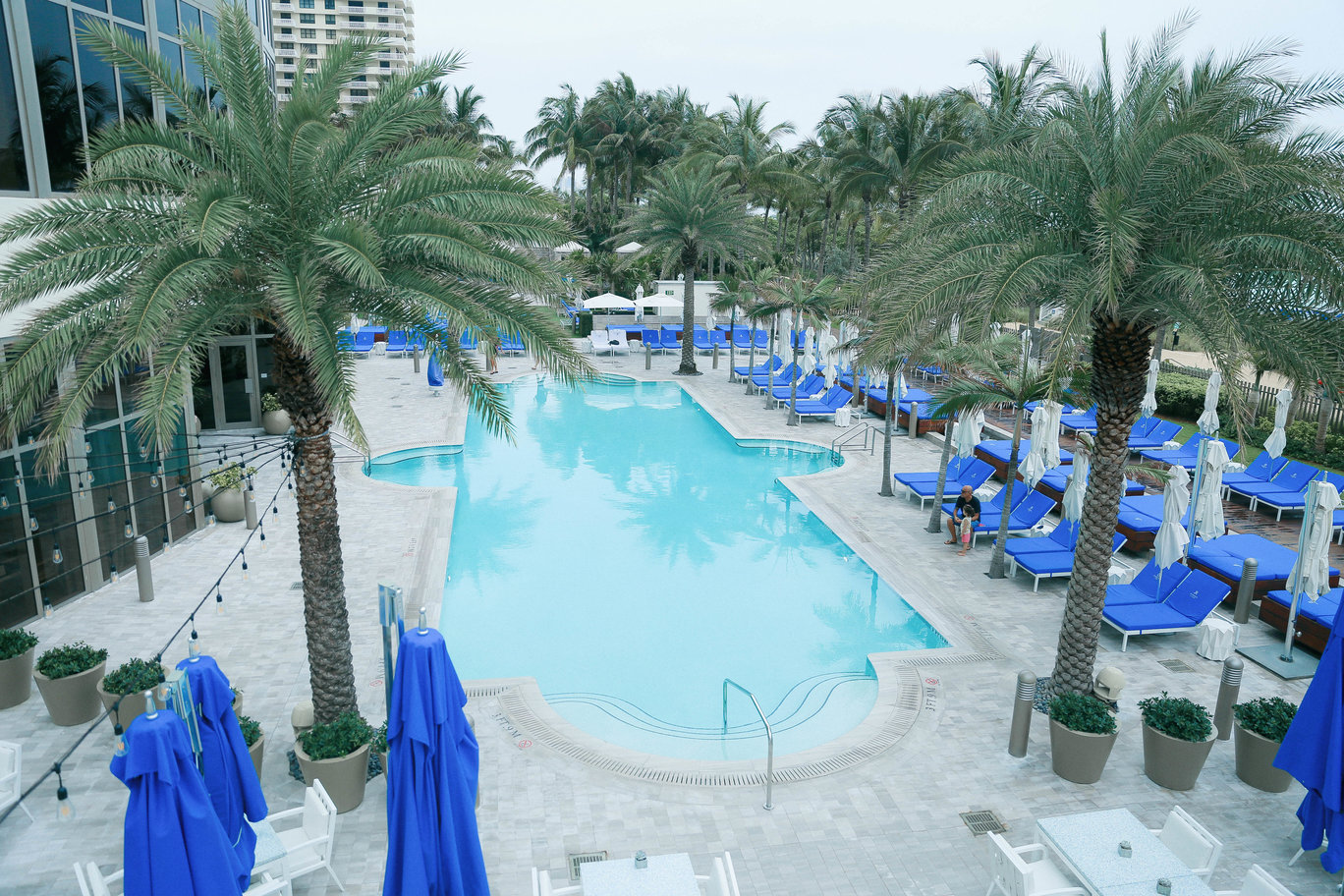 For couples or all other adult guests, there is an adults only Tranquility pool. As this pool is on the second level it is disconnected from the ground floor, making it feel like its own separate oasis. When my little one was at the kids club, my husband and I relaxed there and later moved to the main pool to enjoy as a family.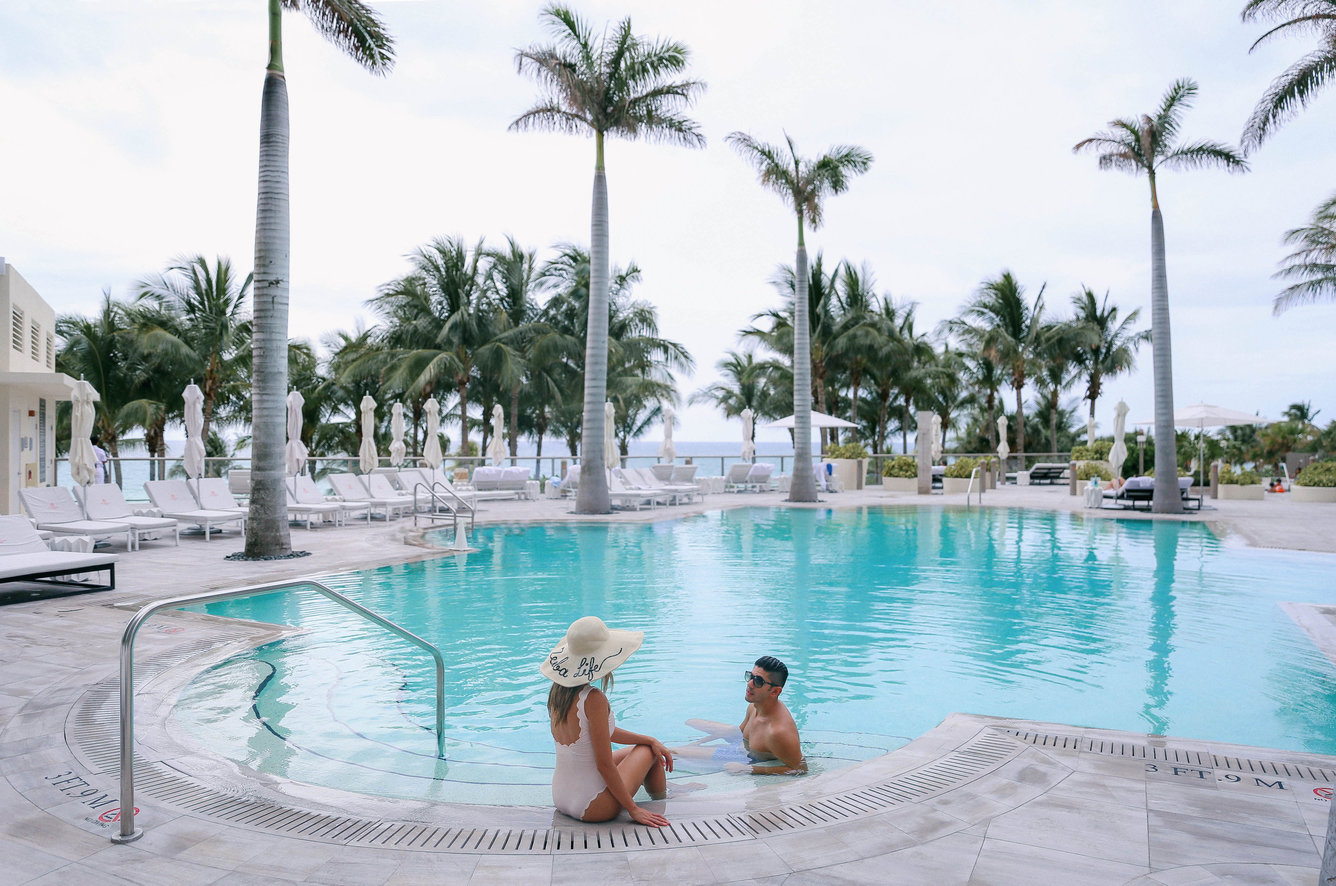 Also next to the Tranquility pool is a jacuzzi , though I am not certain if kids are aloud in that area.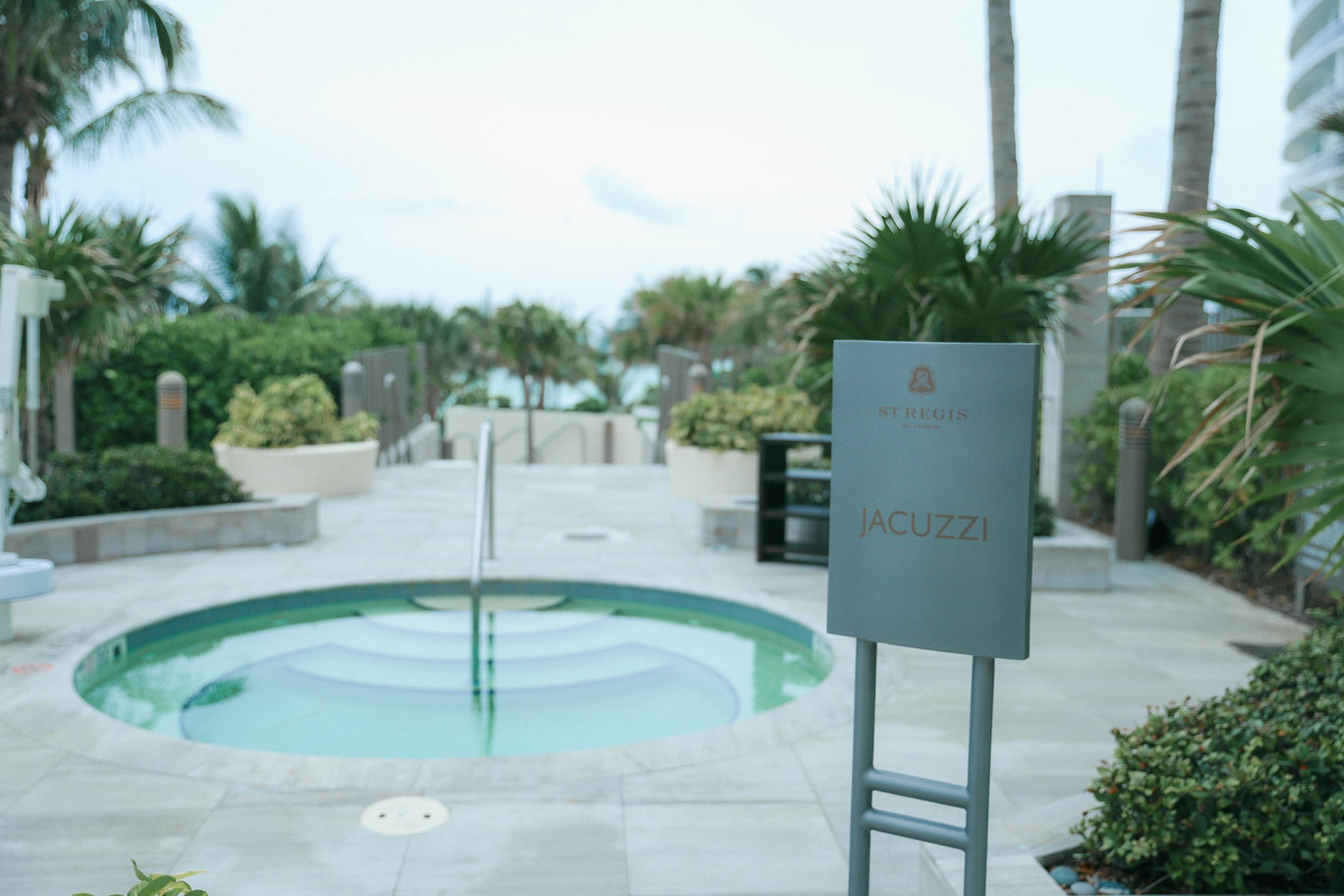 The weather was not in our favor during most of our stay, so we didn't have the opportunity to enjoy the beach. June tends to be a rainy month in Florida, especially during the first week of the month right for my husbands birthday. For the last five or six years, it has always rained heavily. 
Make sure to stop by the beach cabanas as they make for great pictures!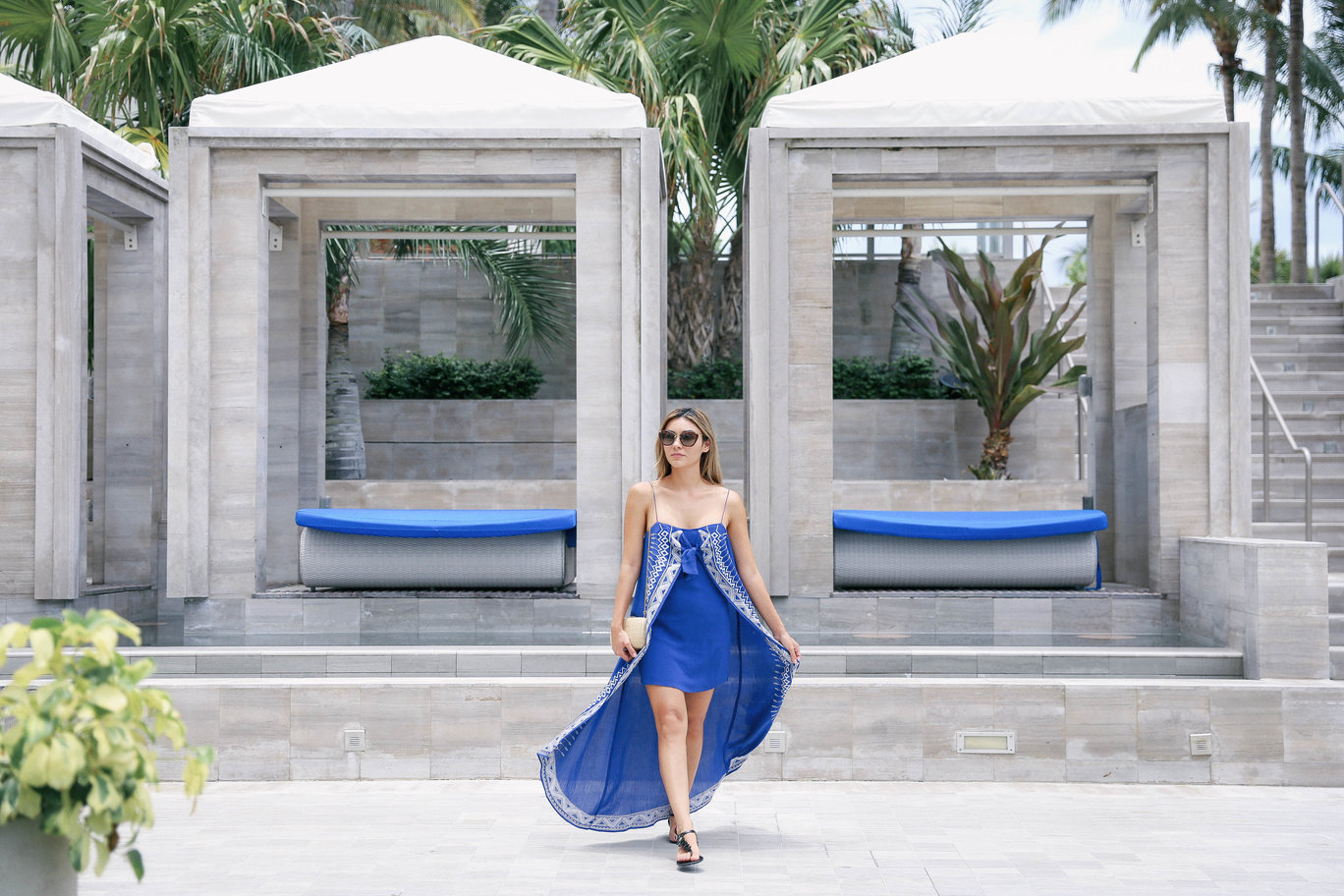 And for all the gym lovers, the gym is fully equipped though its not quite big in size and has beautiful views of the pool.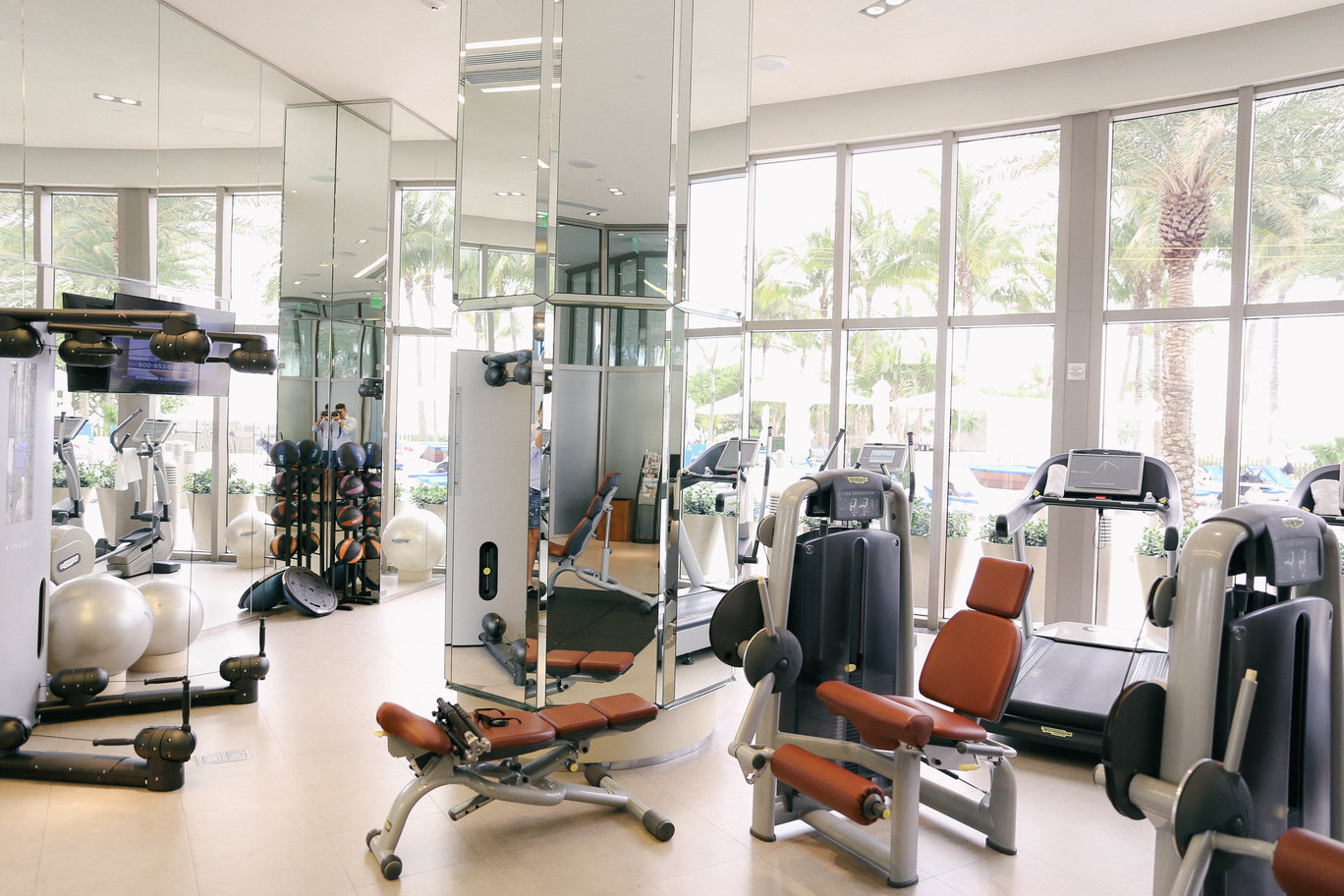 Kids Club/ Sea Turtle Club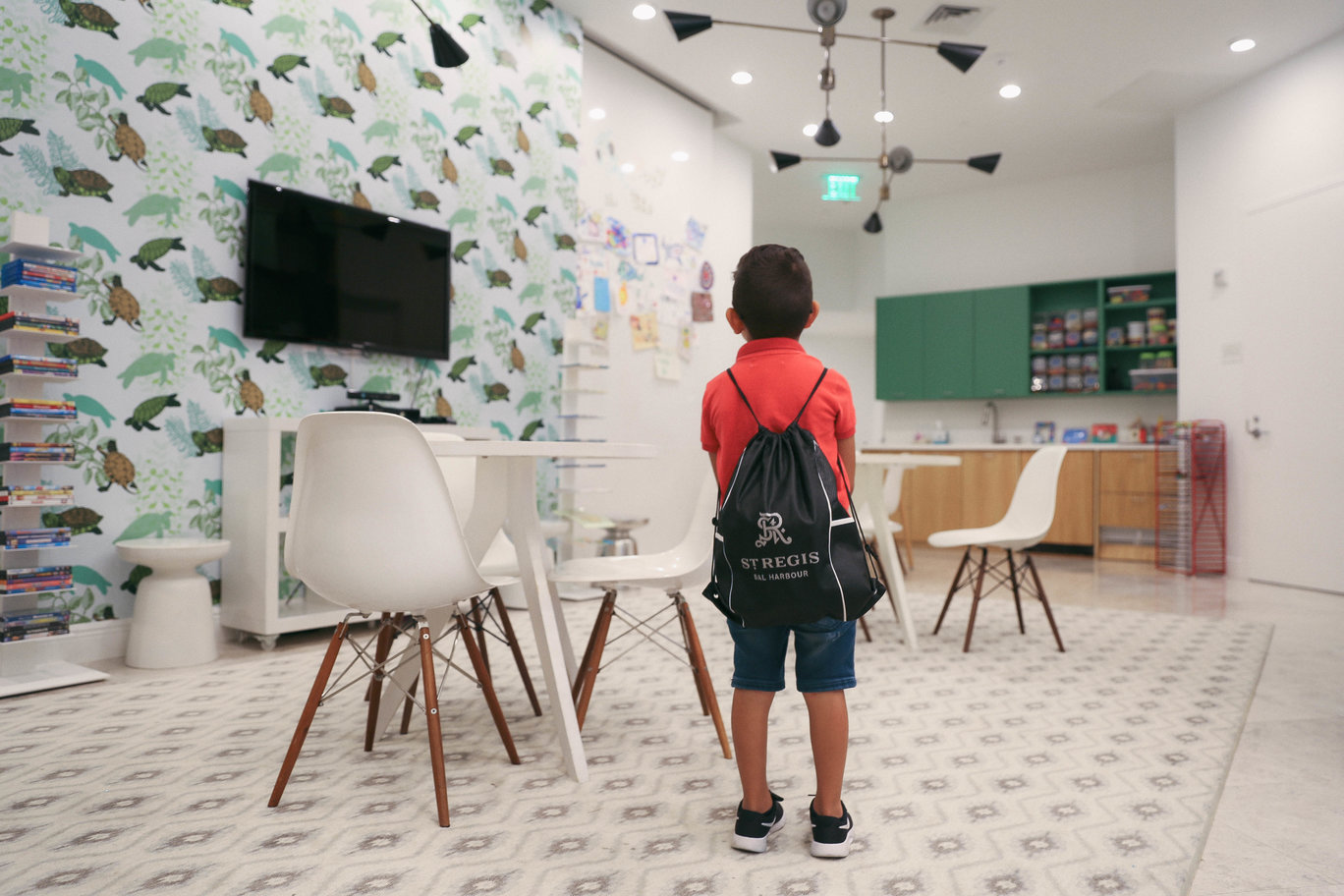 Also situated on the ground floor, the kids club or the Sea Turtle Club as it is called welcomes kids from 4 to 12 years old. There are different actives for kids of different ages including a variety of toys, iPads and movies. If you are staying in the Atlantic Ocean Front Suite, the kids club is included in your reservation. If not, the cost is $55 for half day from 9:30am – 12:30pm or 1pm-4pm or $90 for full day from 9:30am-4pm with lunch included.  If it is not included and you are traveling with children (especially with kids 4-6), I would highly recommend you sign them up at least for one half day so you can take some time to relax by the pool or indulge in a luxurious spa treatment. Our little one has recently fallen in love with kids club to such extent that while we were checking in he asked if there was a kids club. We don't complain as this allows us to get some couples time at least for a few hours during the day.
Location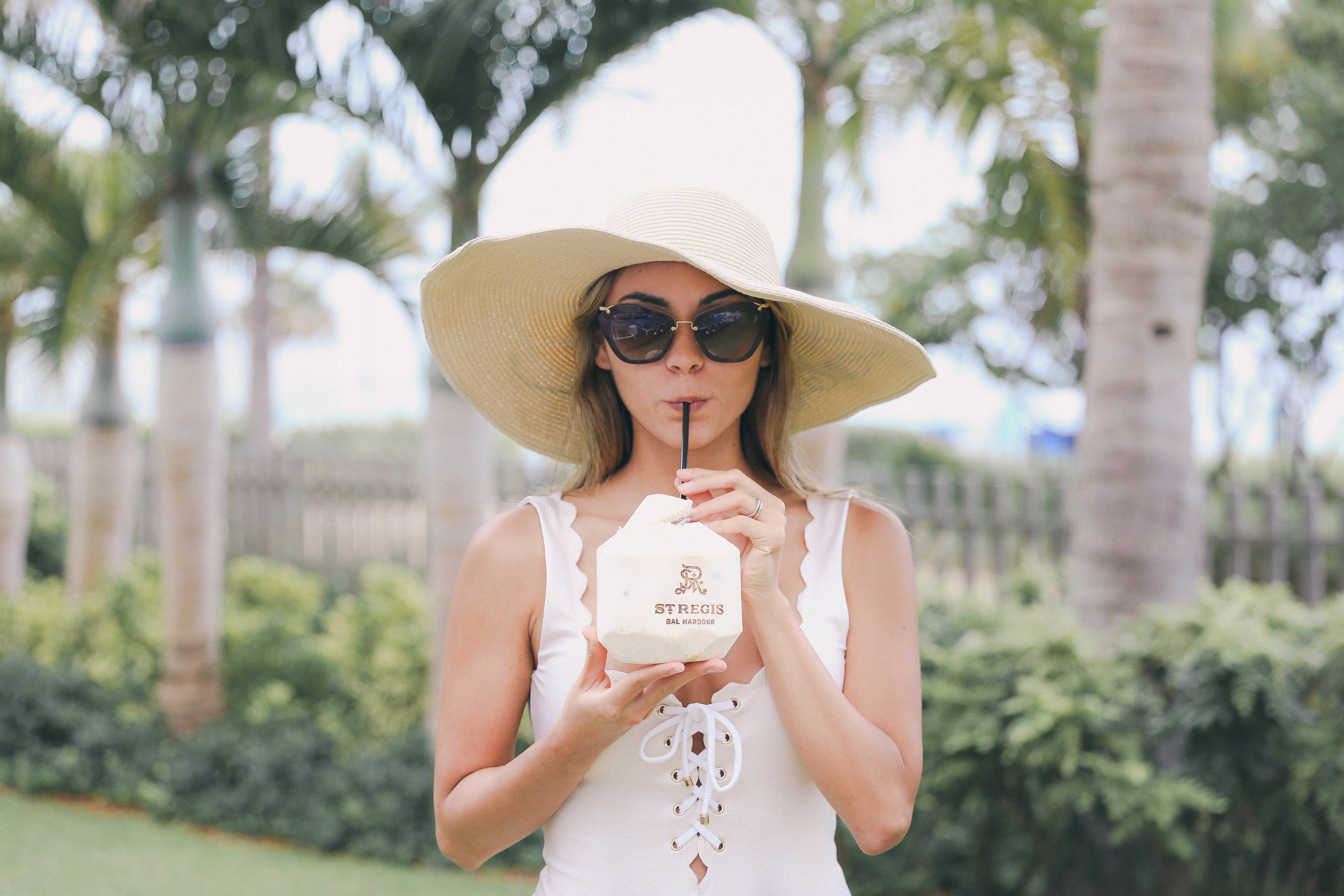 Situated in a prime location, this beach front property is just steps away from one of the most well known luxury retail shops in South Florida , Bal Harbour Shops, home to  brands such as Tom Ford, Hublot, Chanel, Balenciaga among many others. Also only 8 miles away from South Beach, and less than a 10 min drive away from anything you might need such as Whole Foods, restaurants & bars. Before checking in to the property we stopped by Whole Foods to stock on some items for the little one that we simply cant travel without such as hummus, almond butter, granola bars, and chocolate coconut milk.
Hospitality
From the moment that you pull into the valet parking, you will be welcomed and attended by the highly trained and professional staff that know how to provide exceptional service without making the guest feel overwhelmed. The attention to detail and all the extra effort is what makes the customer service outstanding and definitely one of the best service we have experienced.
All the little things are what make a difference. As soon as we checked in, my little one was handed a bag of goodies with pool and beach toys in a St Regis bag. He was also given a little toy turtle to sleep with.
We were welcomed into our room with a bottle of champagne, a variety of macaroons, little chocolate turtles and a beautiful fruit platter. Along with an elegant pair of matching Father & Son swim shorts exclusively designed for St Regis from Vilebrequin.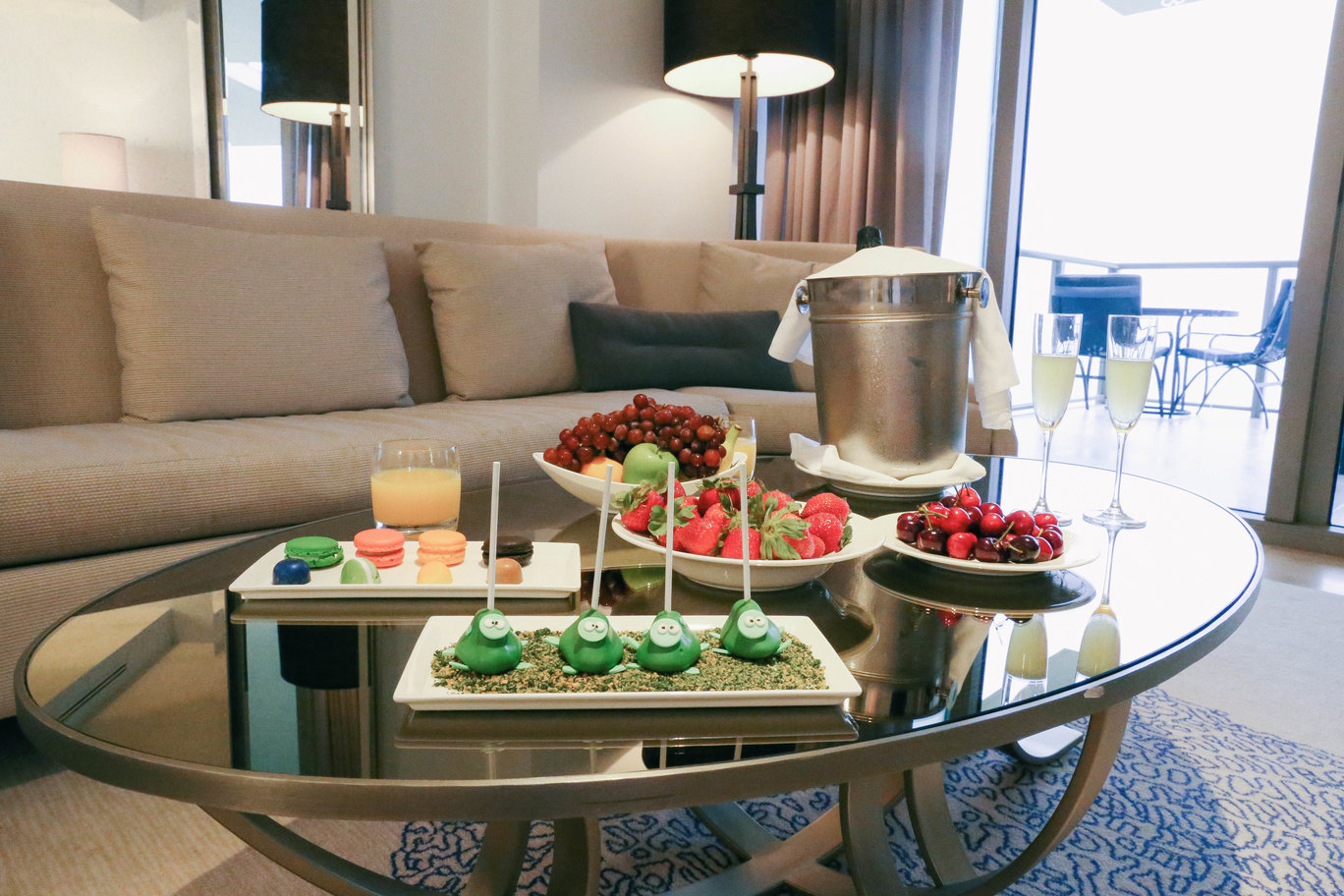 And on my husbands birthday,  we were both surprised to receive a beautiful and delicious birthday cake!
Dinning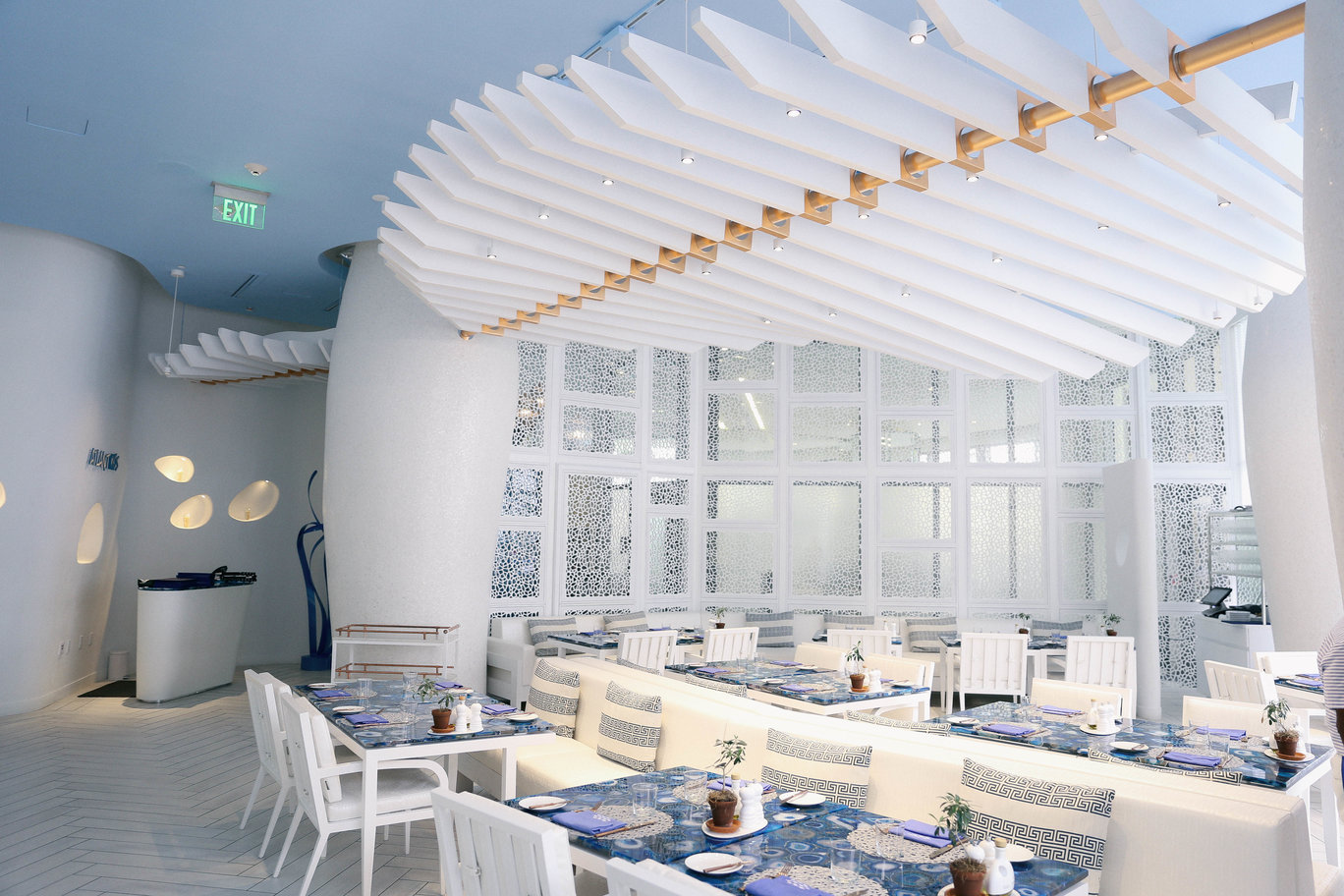 There are four on-site restaurants in the property offering from burgers, to greek food to one with a wine vault. Situated on the main level right before you exit towards the pool, Atlantikos is the main restaurant which is open for breakfast, lunch and dinner and serves the pool area as well. This is where you will find the breakfast buffet every morning. Inspired by the greek isles, Atlantikos offers greek cuisine. We dined here on our first night and we were not only impressed by their selection of vegetarian dishes (some customizable for vegans) but the flavor, taste and quality was top notch. My husband particularly fell in love with their braised  okra dish.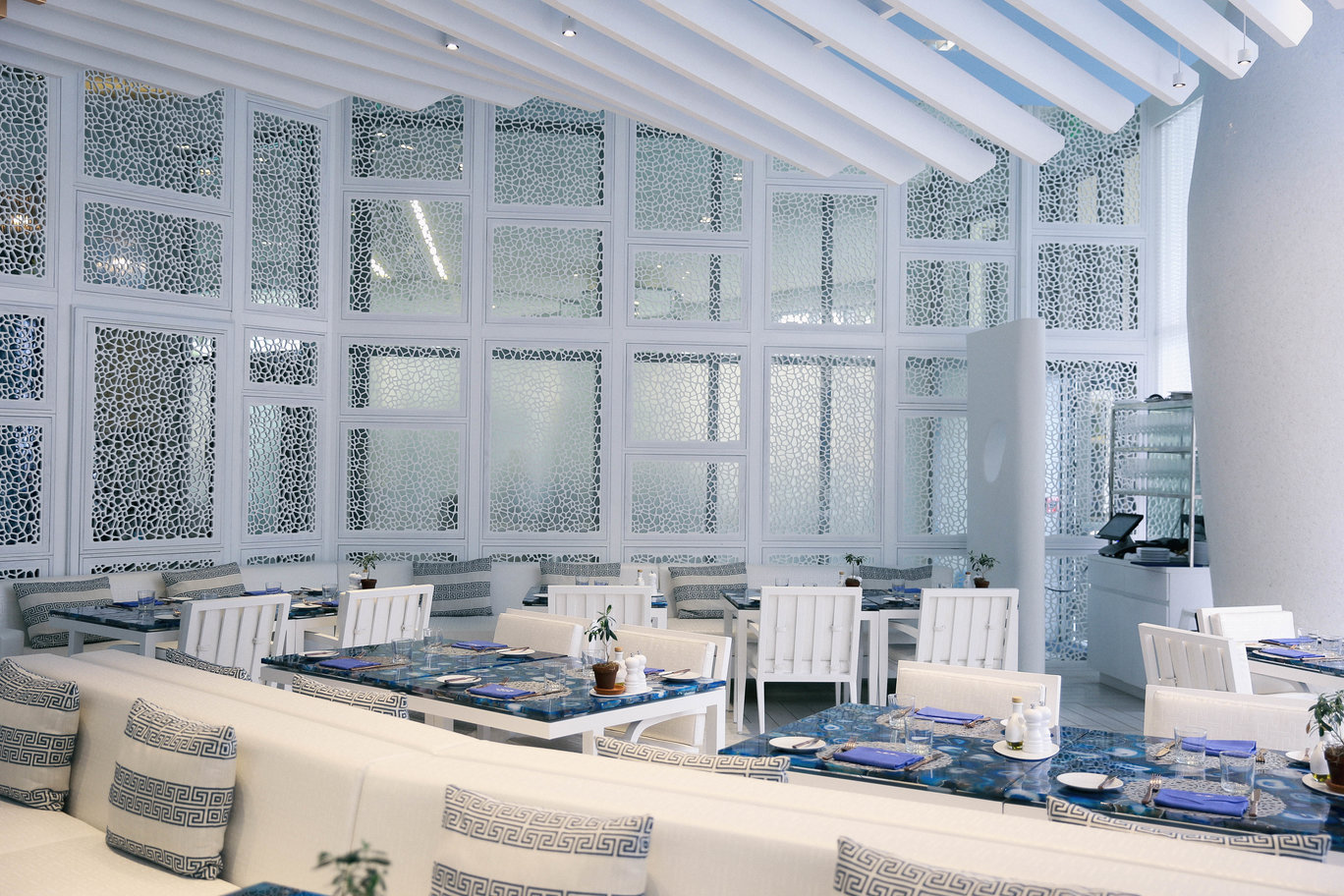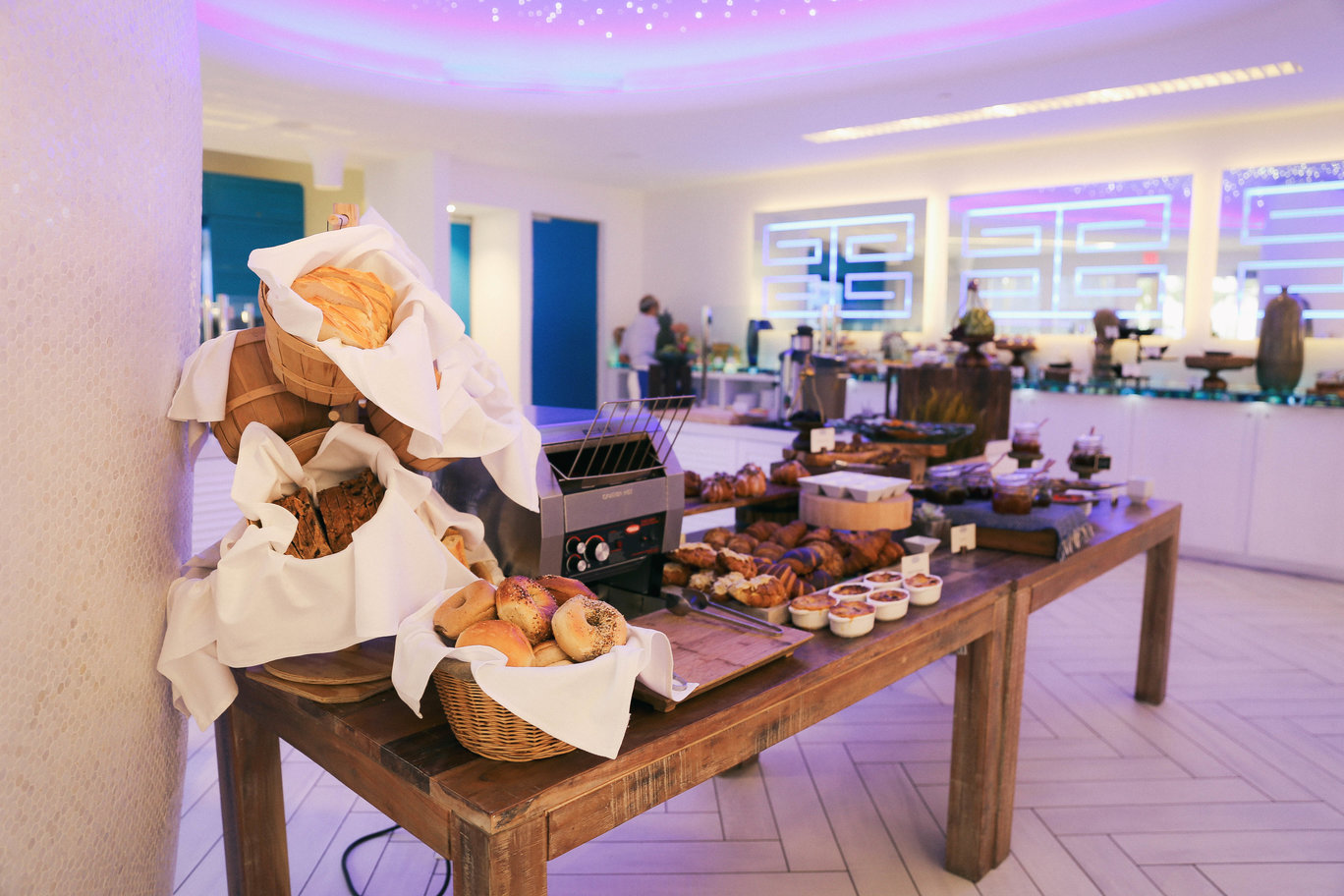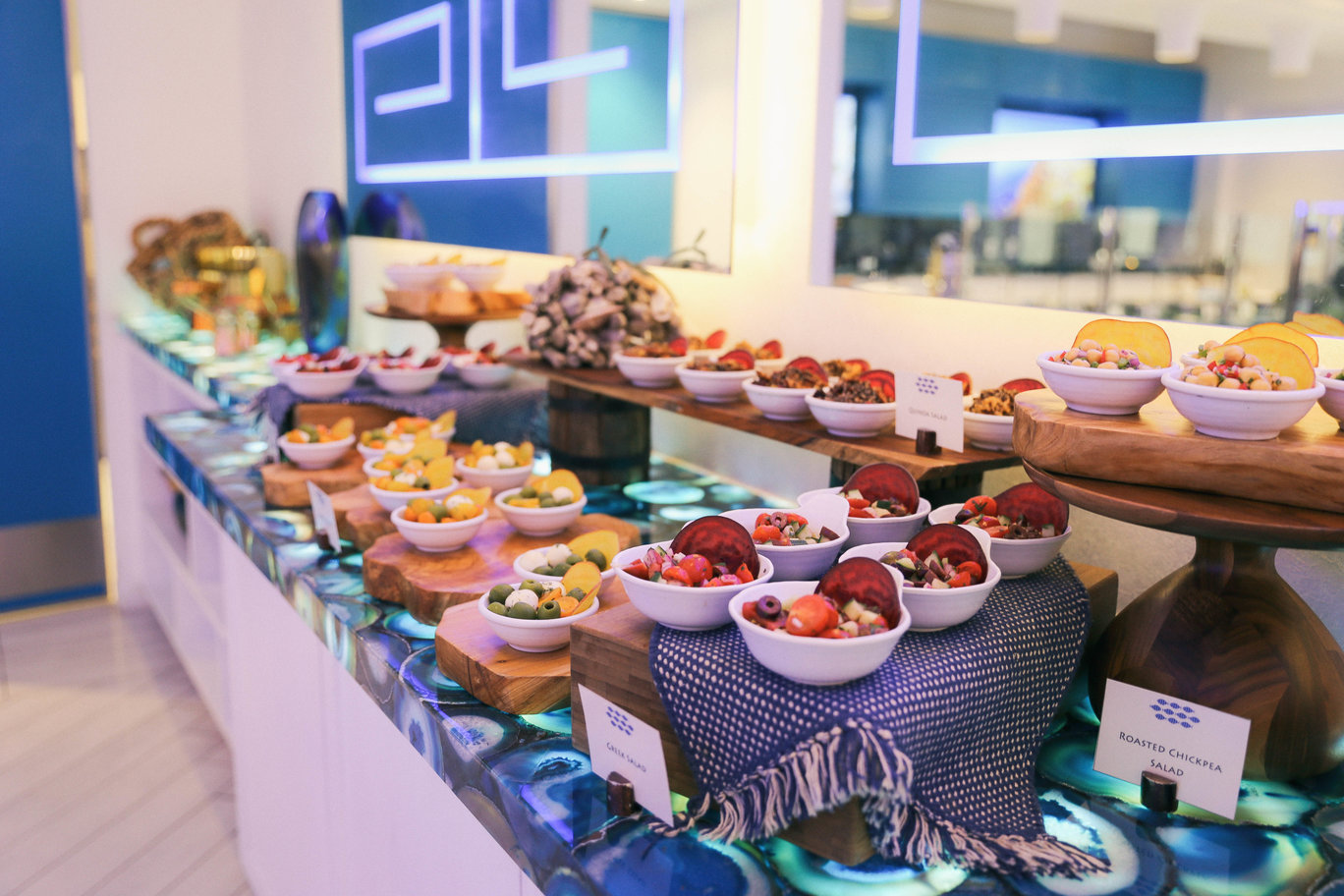 Though the weather wasnt on our side during our stay, my family and I had a phenomenal stay in St Regis Bal Harbour, and leave the property with nothing but life time memories and many intentions to return.
Disclaimer: Though this post is in partnership with St Regis Bal Harbour, as always, all opinions are my own.