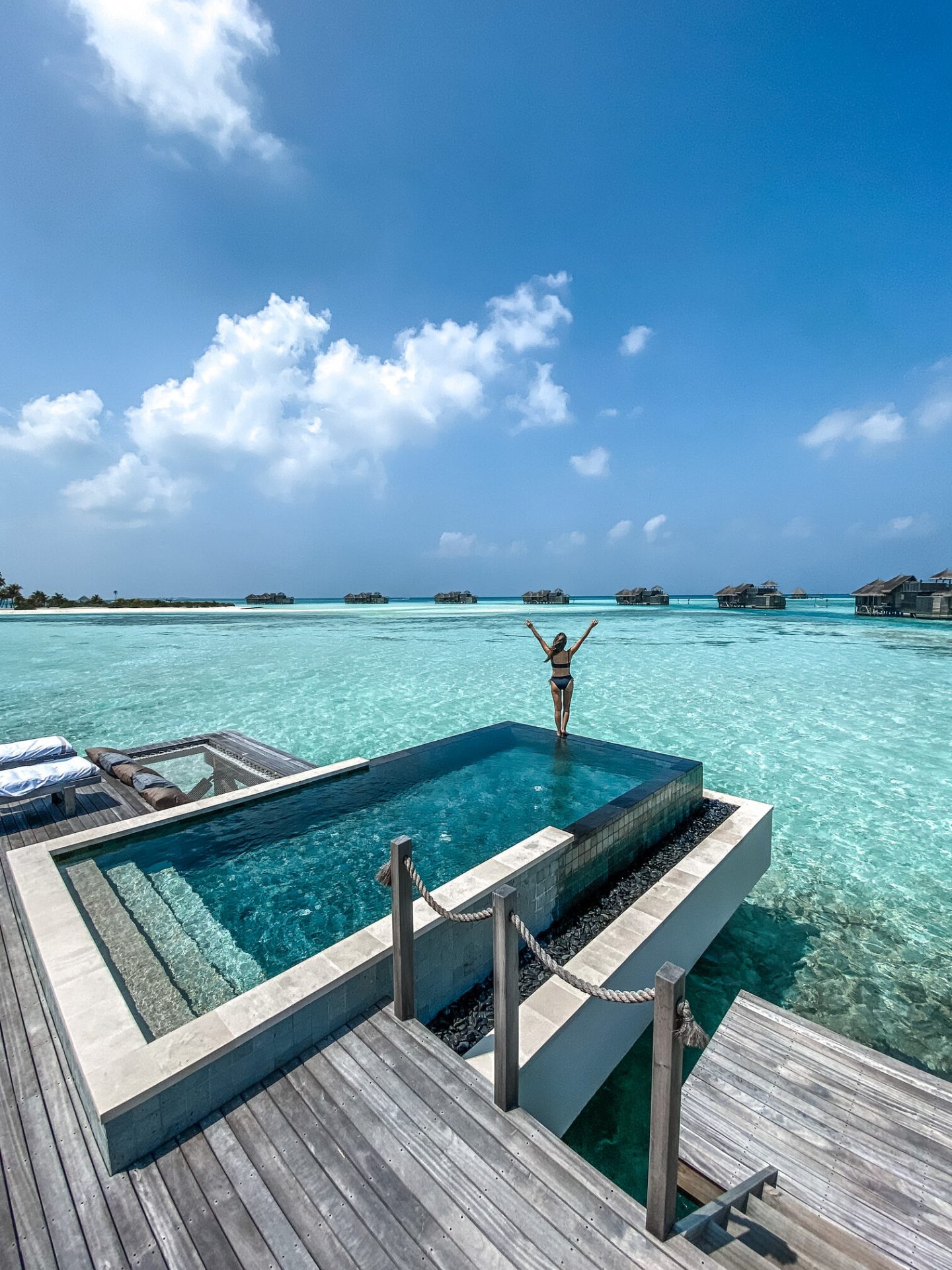 What You Need To Know About Maldives 
Unlike many other places on the planet and one of the things that makes the Maldives extraordinary unique is that each hotel is located on a private island of itself. In order to understand this concept, we need to realize that this island country is composed of a chain of 26 coral atolls each of which is made up of hundreds of different islands all dispersed through roughly 90,000 square kilometers making it one of the world's most dispersed countries! These hundreds of islands are miniature islands, most of which are inhabited and left untouched. For this reason, each island can only "host" one hotel and also one of the reasons why most hotels have water bungalows. This is why planning a trip to the Maldives is extremely different than planning a trip to most other tropical destinations, and why it's crucial for you to do lots of research to choose the right hotel since you will be spending all of your time there. This means you will sleep, eat and do all of your actives in the hotel. In the Maldives, you can not simply leave the island and go somewhere for lunch or explore a different beach (Unless you are staying in the capital, Male ). This means that essentially the hotel that you choose to stay in will define your whole Maldives experience.
Location & How to Get To Gili Lankanfushi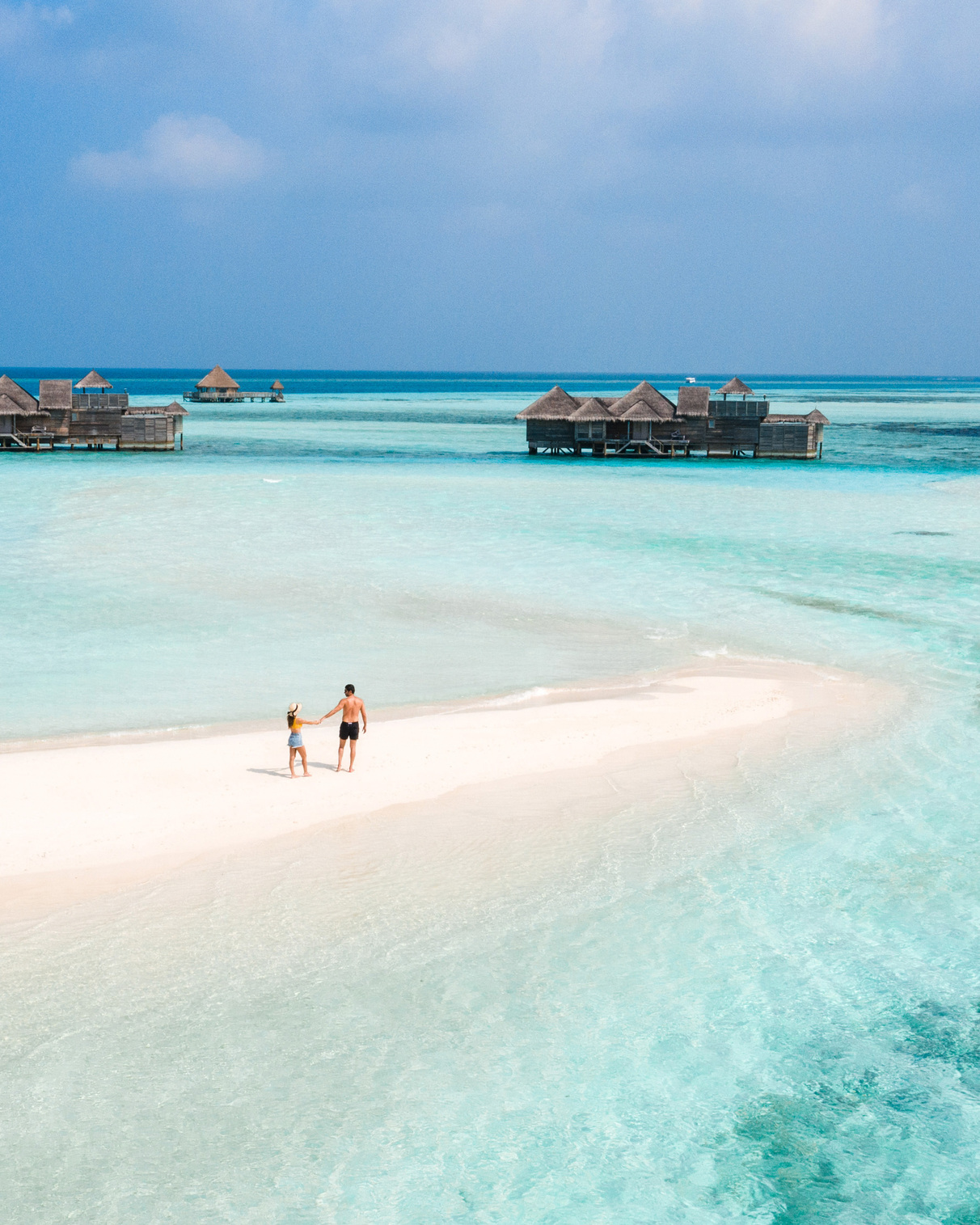 Located at just a quick boat ride away from Velana International Airport in Male, the transfer to Gili Lankanfushi is smooth and stress free. This means that due to the resorts proximity, it is not necessary to take a seaplane, rather just a quick 15-20 minute boat ride to the island. In less than an hour of your arrival you can already be dipping your toes in the sand and ordering your second round of fresh coconut water.
After having experienced both seaplane and boat transfers, I have to say that boat transfer are a huge advantage not only for comfort , but primarily due to convenience. In the Gili Lankanfushi boat, you can kick back, lay down and enjoy a drink with the breeze and view. Oh, and you will be barefoot from this point on since your shoes will be confiscated by the staff as they follow a No Shoes No News Policy. Most importantly; however, it means that regardless at what time your flight lands at the international airport, your transfers can be coordinated accordingly, unlike with seaplane transfers, since they cant fly after 4 pm. If your flight arrives any later than that you have to wait until the next day.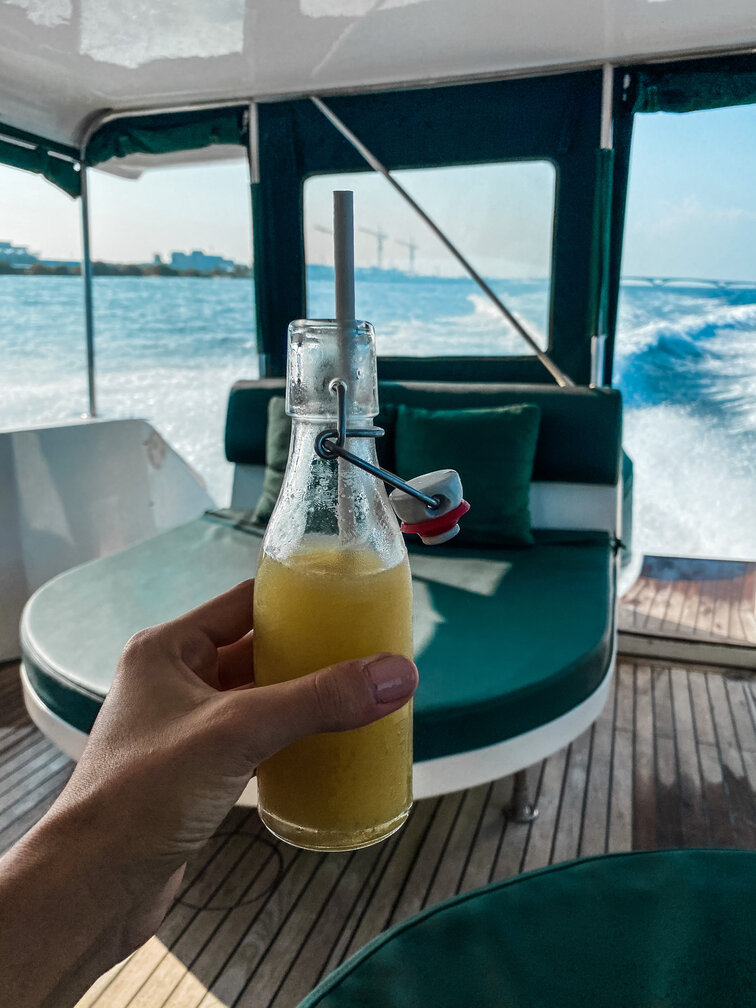 The boat ride is over sooner than you know it, and next thing you know you are arriving at the jetty meeting your Mr/Mrs. Friday who will be your butler and be taking care of you during your stay. In case you are wondering where the name "Friday" comes from, it's from Robinson Crusoe's loyal friend.
Our Villa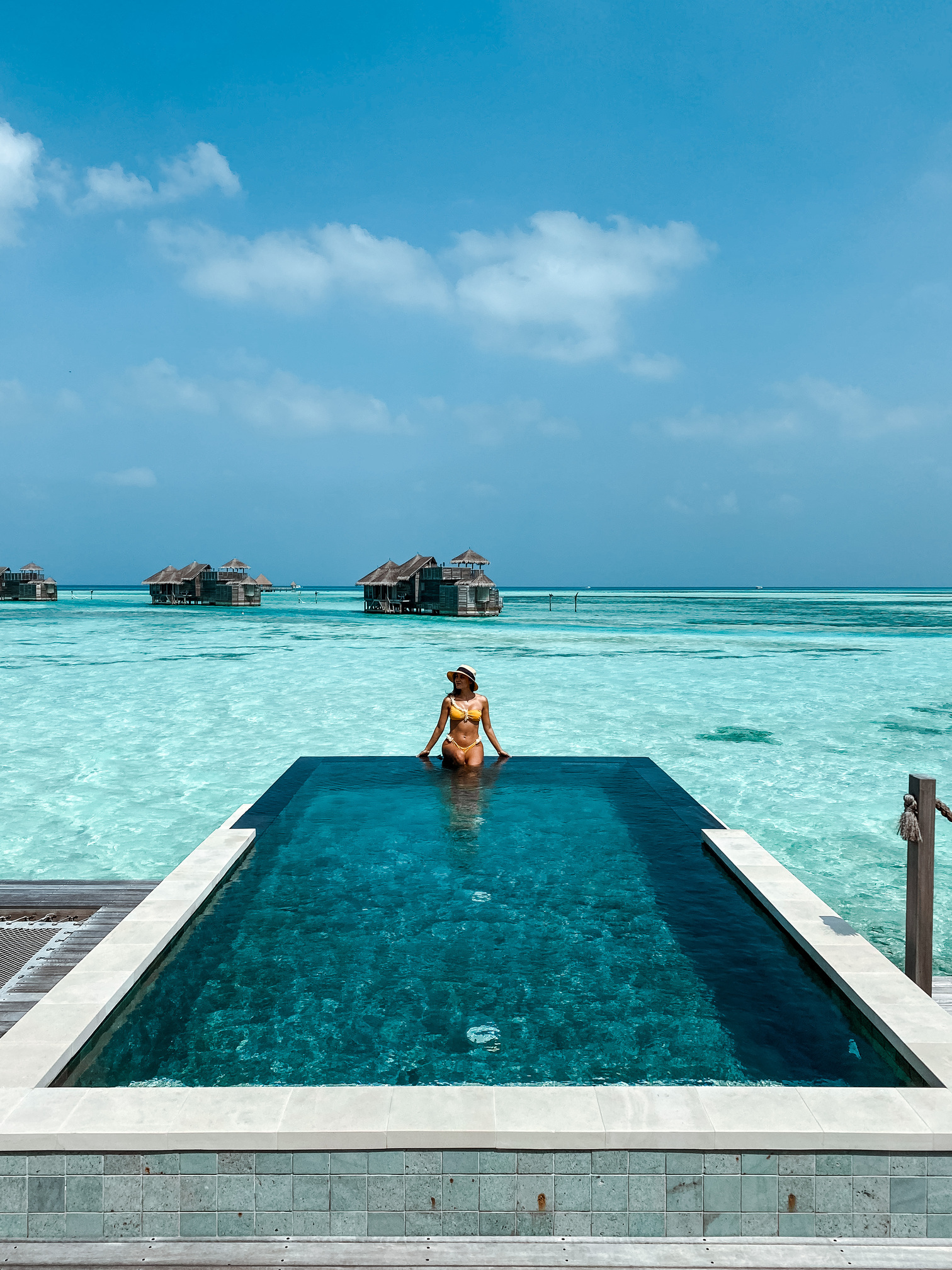 We were welcome to one of the 6 brand new villa suites with pool.  Let me begin by saying that this villa is easily one of our absolute favorite overwater villas in the Maldives or anywhere else for that matter – and thats not an understatement considering that we have visited over 20 resorts in the Maldives. At over 2,600 sqft with an oversized pool (200 sqft), this gorgeous villa has been designed in a way to maximize the view throughout every corner of the villa and prioritize outdoor living areas – yes that means fresh air and uninterrupted paradise views throughout the whole villa, whether you are laying in bed, taking a bubble bath, or even catching up on work from your office desk.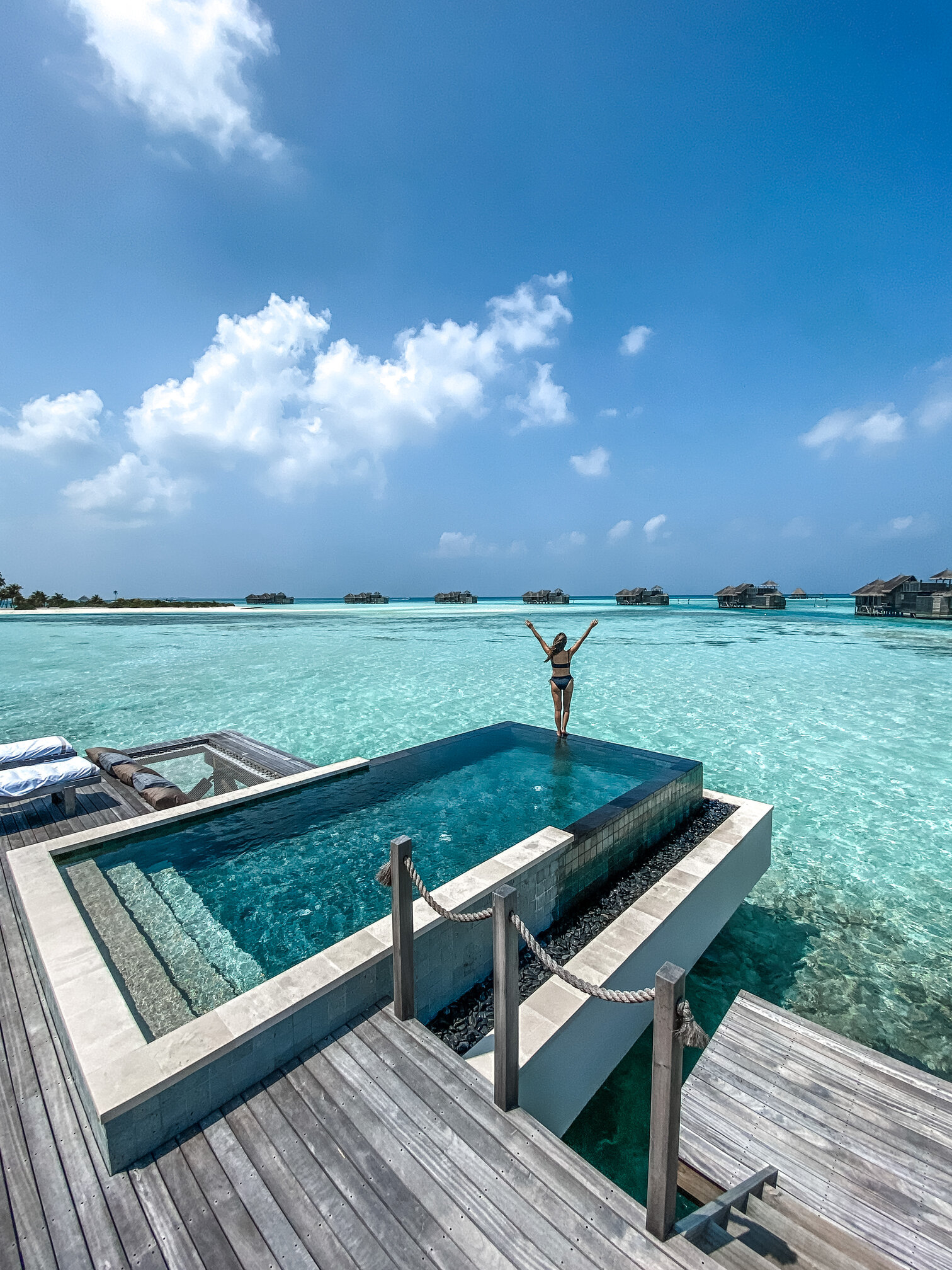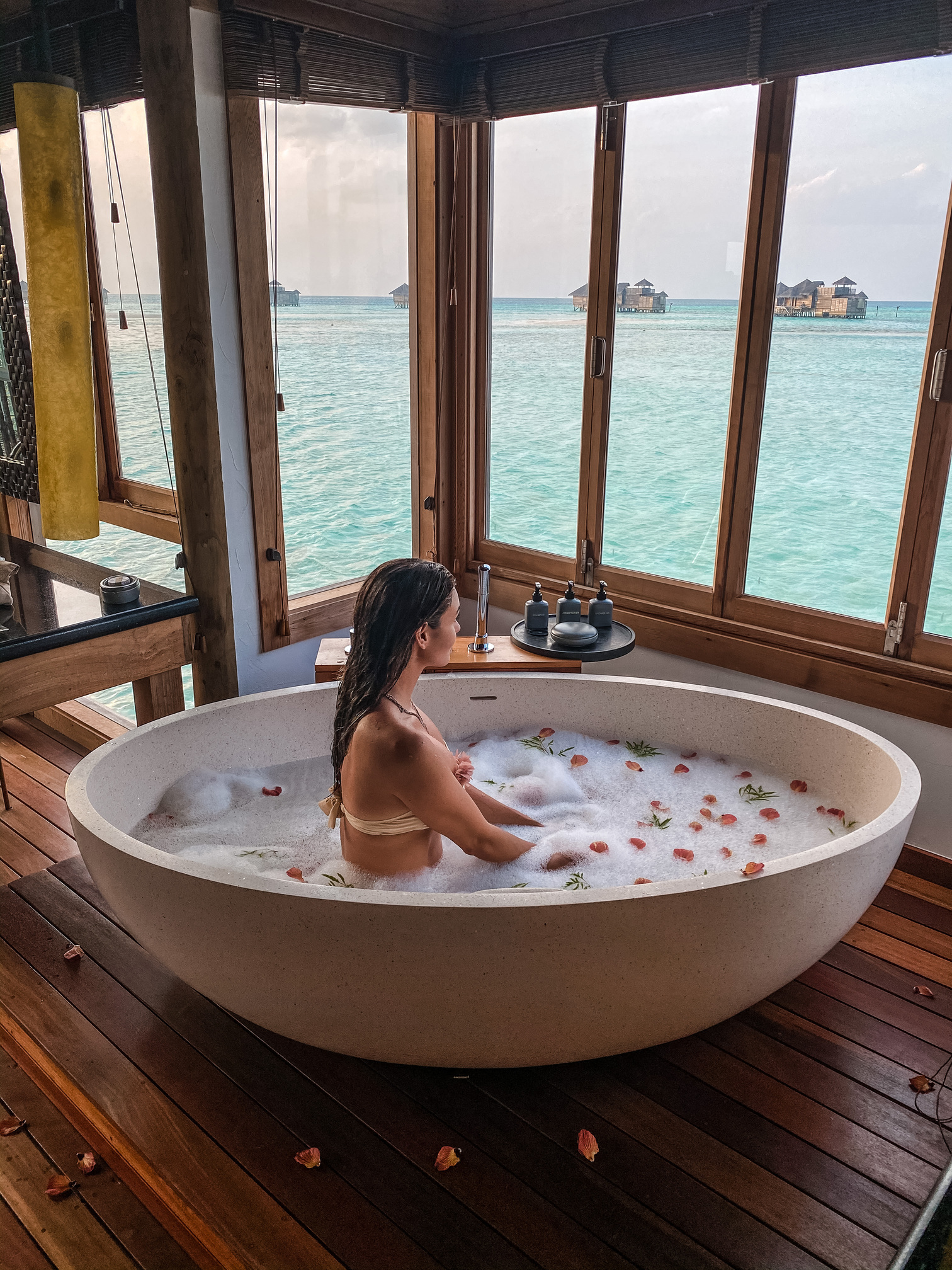 When you open the front door, the first thing that meets your eye are the crystal clear water and your very own plunge pool- definitely a big wow factor! On the right hand side, you have the master bedroom and on the left hand side you have a massive bathroom oasis complete with a his and hers closet, free standing tub, toilet room, and outdoor shower. Connecting both sides you have the main living area where you have a lounge area and dinning table which is connected to the deck where you have your private plunge pool, outdoor dinning area and sundeck.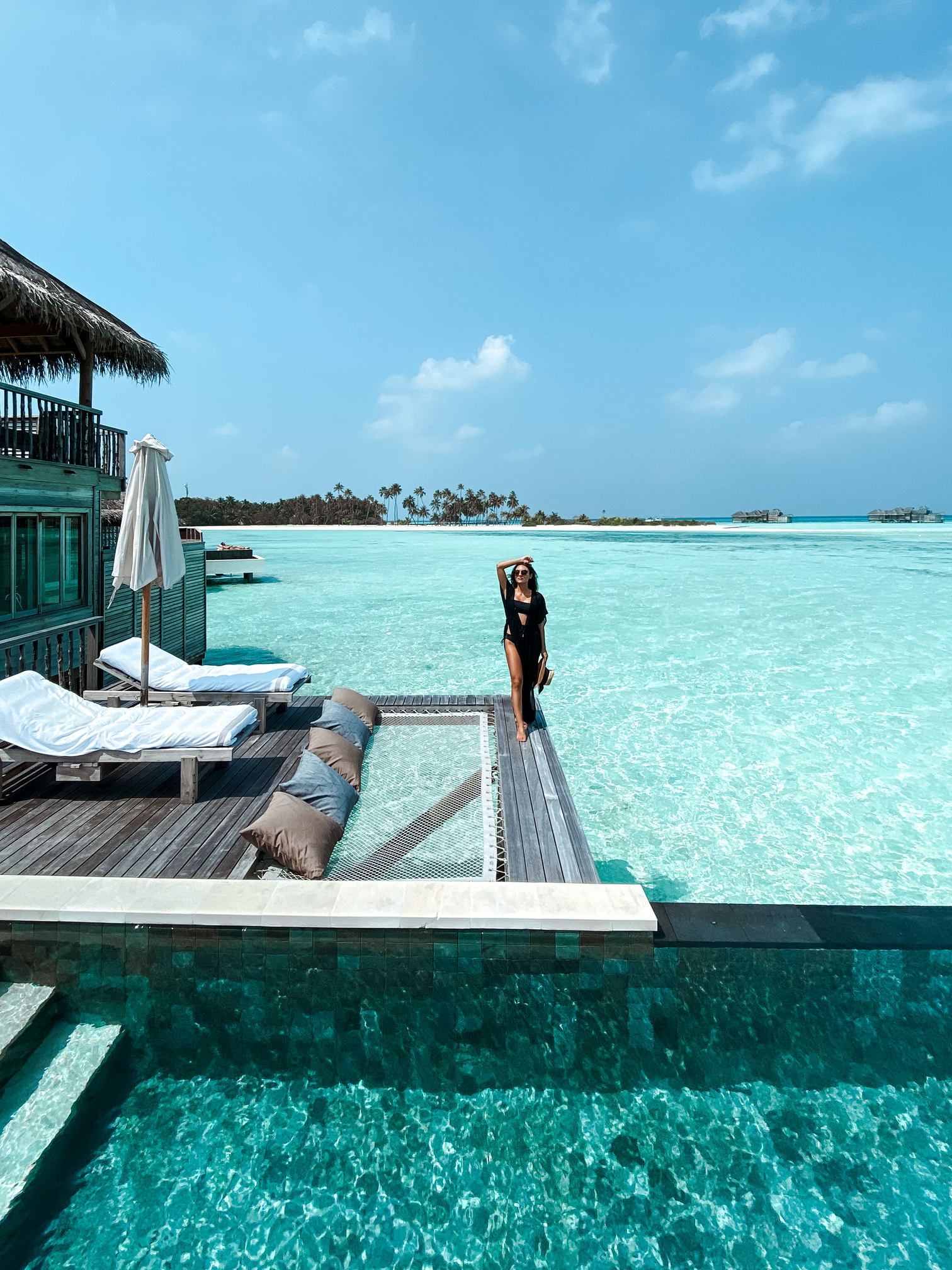 All the villa  follows the signature Gili style and concept which is the open air concept (only the bedroom has A/C), use of natural materials through out the villa like up-cycled wood, very limited use of plastic or other non sustainable materials and great attention to details to bring the Robinson Crusoe vibes to live.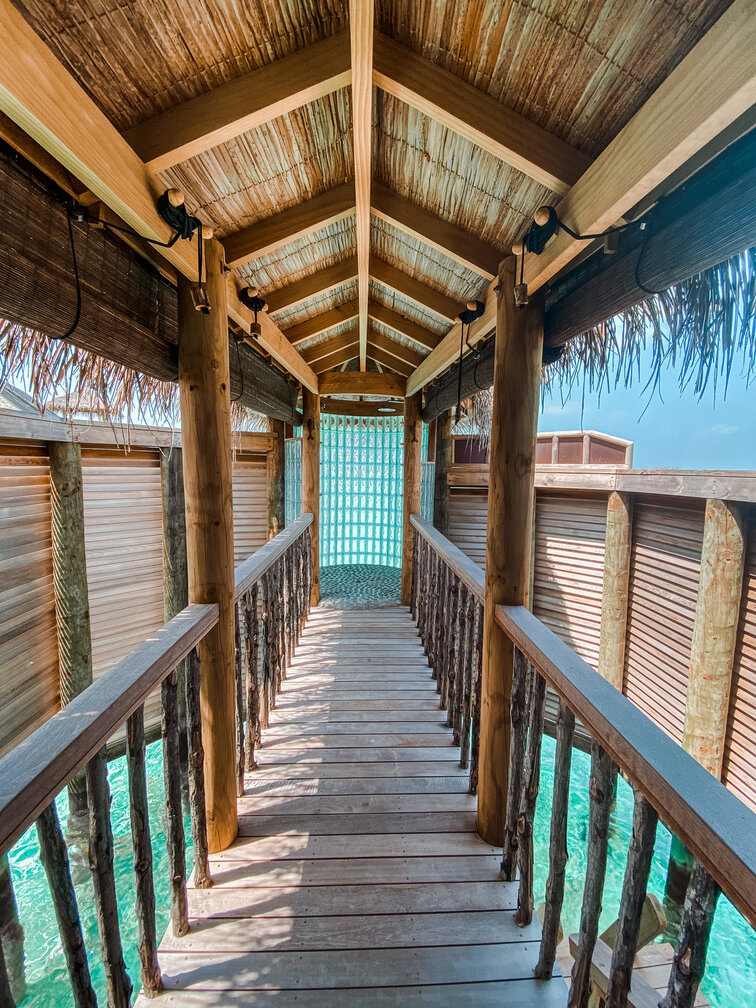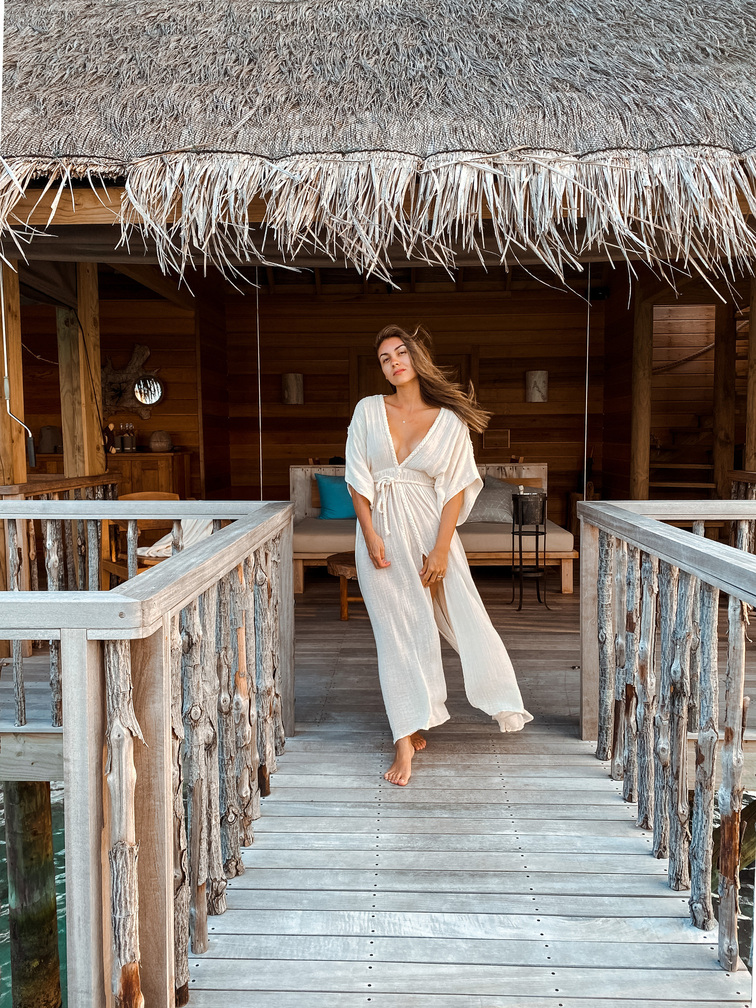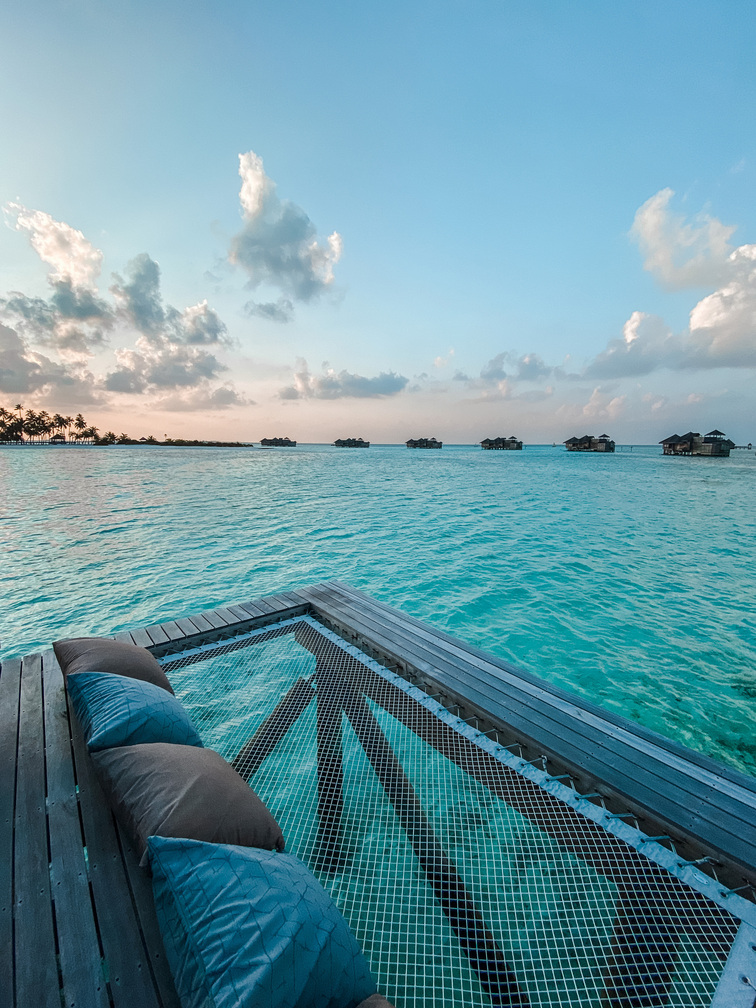 But thats not all, on the second floor you have a roof top terrace with a daybed that can be used to sleep under the starts at night (highly recommend it), a shaded sundeck and yet another place for dinning in your villa.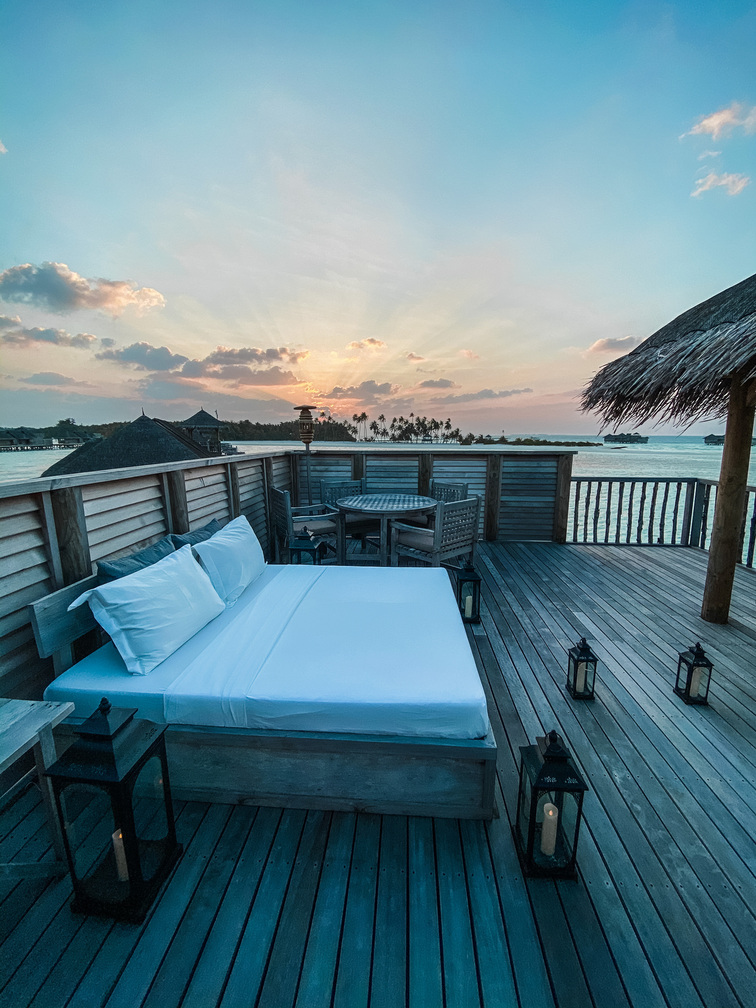 Though there are only 6 villa suites with pool, if you require even more space (3,000 sq ft+) Gili also offers a Family Villa and 2 Residences with Pool. And all the 45 villas in Gili are all overwater bungalows. 
Amenities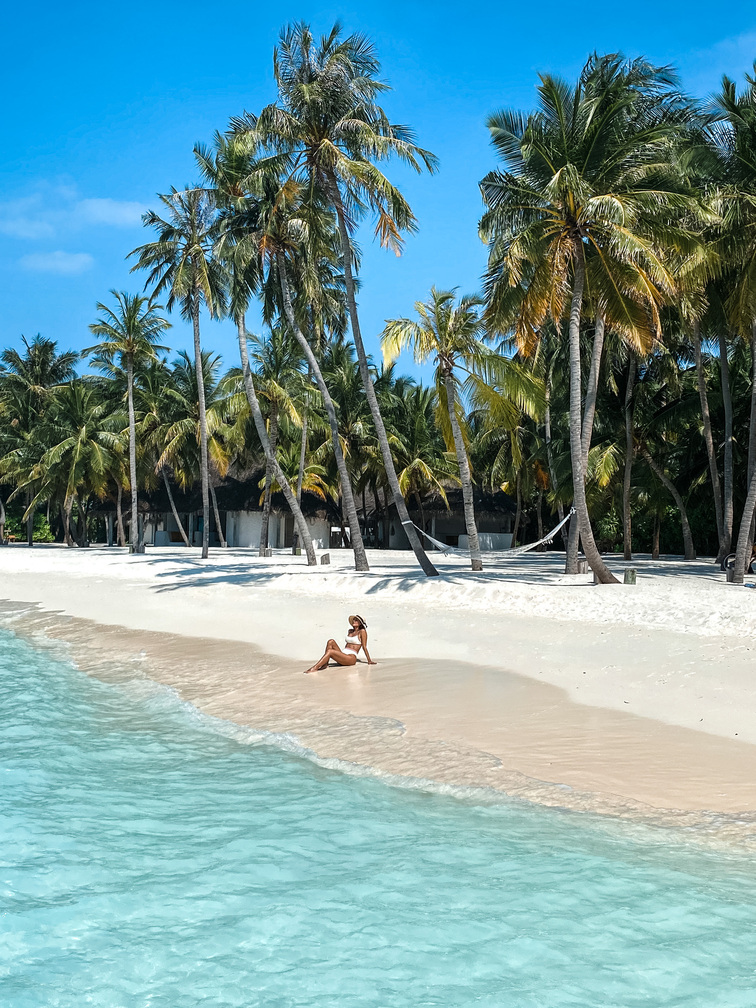 While in the Maldives, the best hotel amenity is undoubtedly always the island itself – not all islands are created equal however. Some are simply most spectacular than others, and since each hotel is in its own little island, choosing the right island and property is of utmost importance. Gili Lankanfushi is blessed to have an incredibly beautiful island with a gorgeous lagoon, and an abundance of palm trees all within close proximity and accessibility to Male. Our favorite area in the hotel is Palm Beach, or what we like to call "palm tree heaven."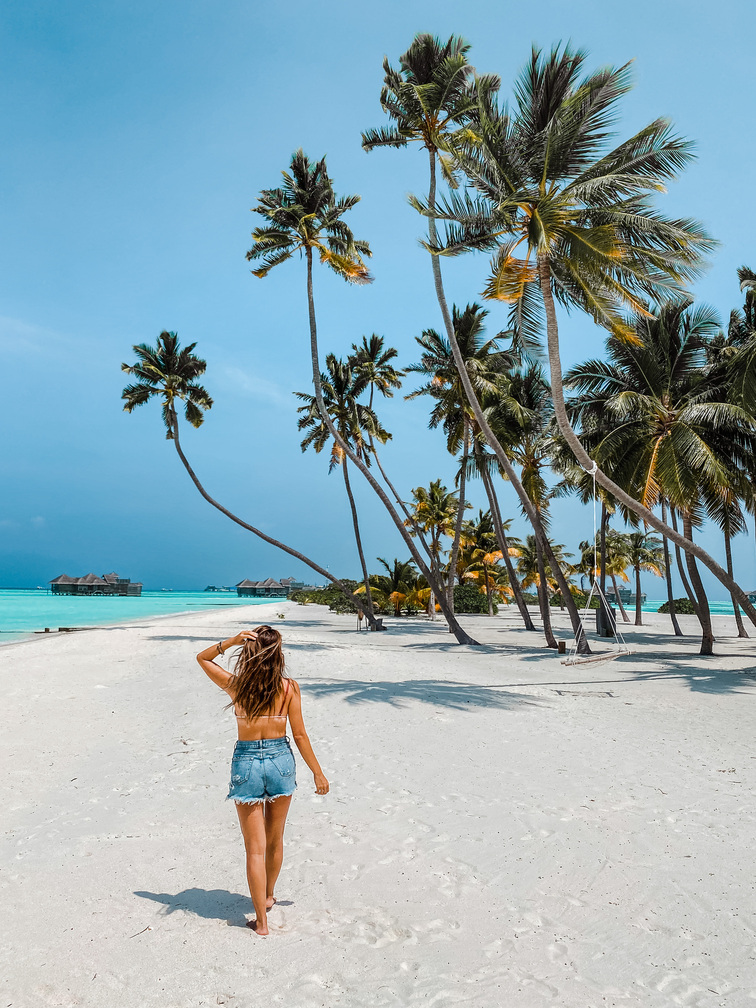 There is also a main pool right next to the main restaurant, and though both times we have visited the hotel has been at almost full capacity, the pool is still very quiet and never felt over crowded. 
Aside from the island itself, Gili Lankanfushi wins over your heart with its extraordinary customized service and personalized experiences that it offers making it the perfect island for lovers. Though I typically shy away from these, Gili Lankanfushi is definitely the place where it is worth to splurge. From sunset bubble baths to floating breakfasts, to candle lit bed under the stars to romantic beach dinner experiences and even jungle cinema under the stars, Gili certainly knows how to rekindle romance and celebrate love.  There are plenty of experiences to choose from, and I would highly recommend to try as many as you can because each is so beautiful in its own way and definitely worth it.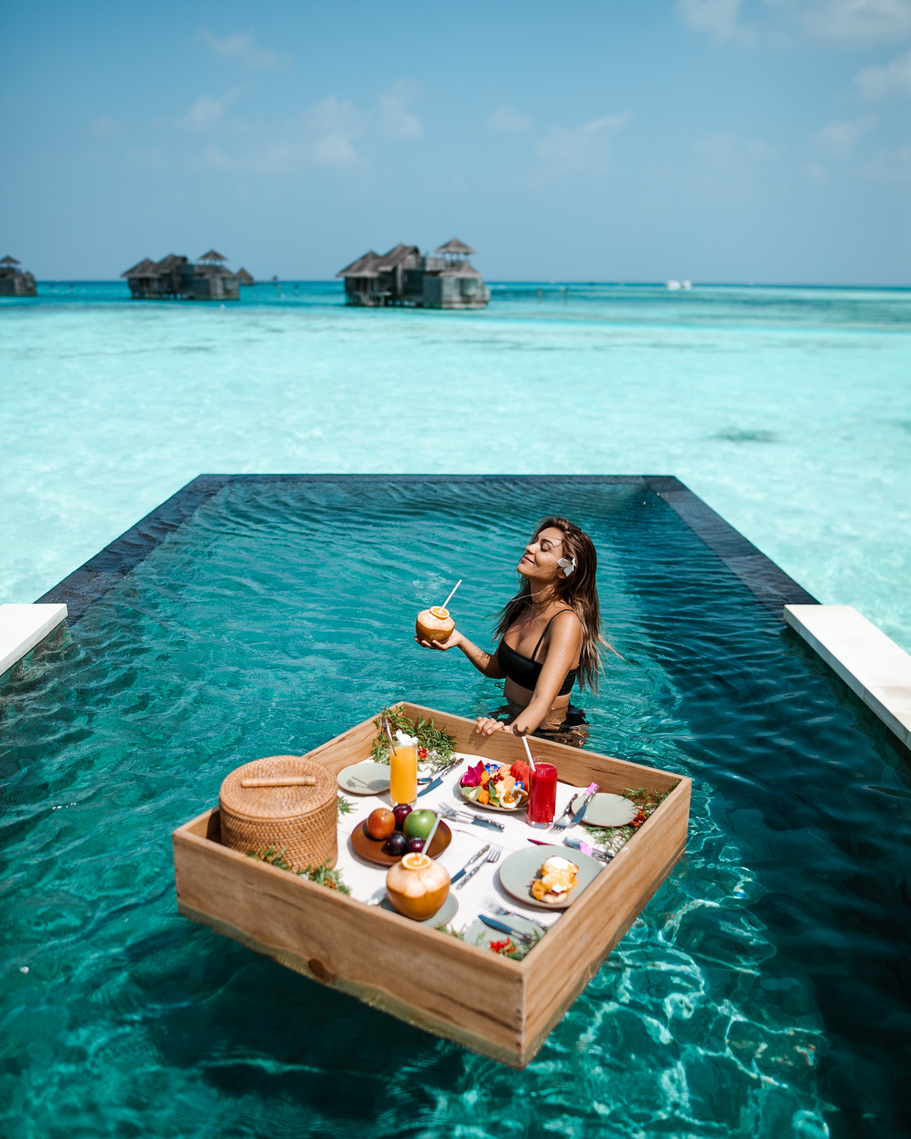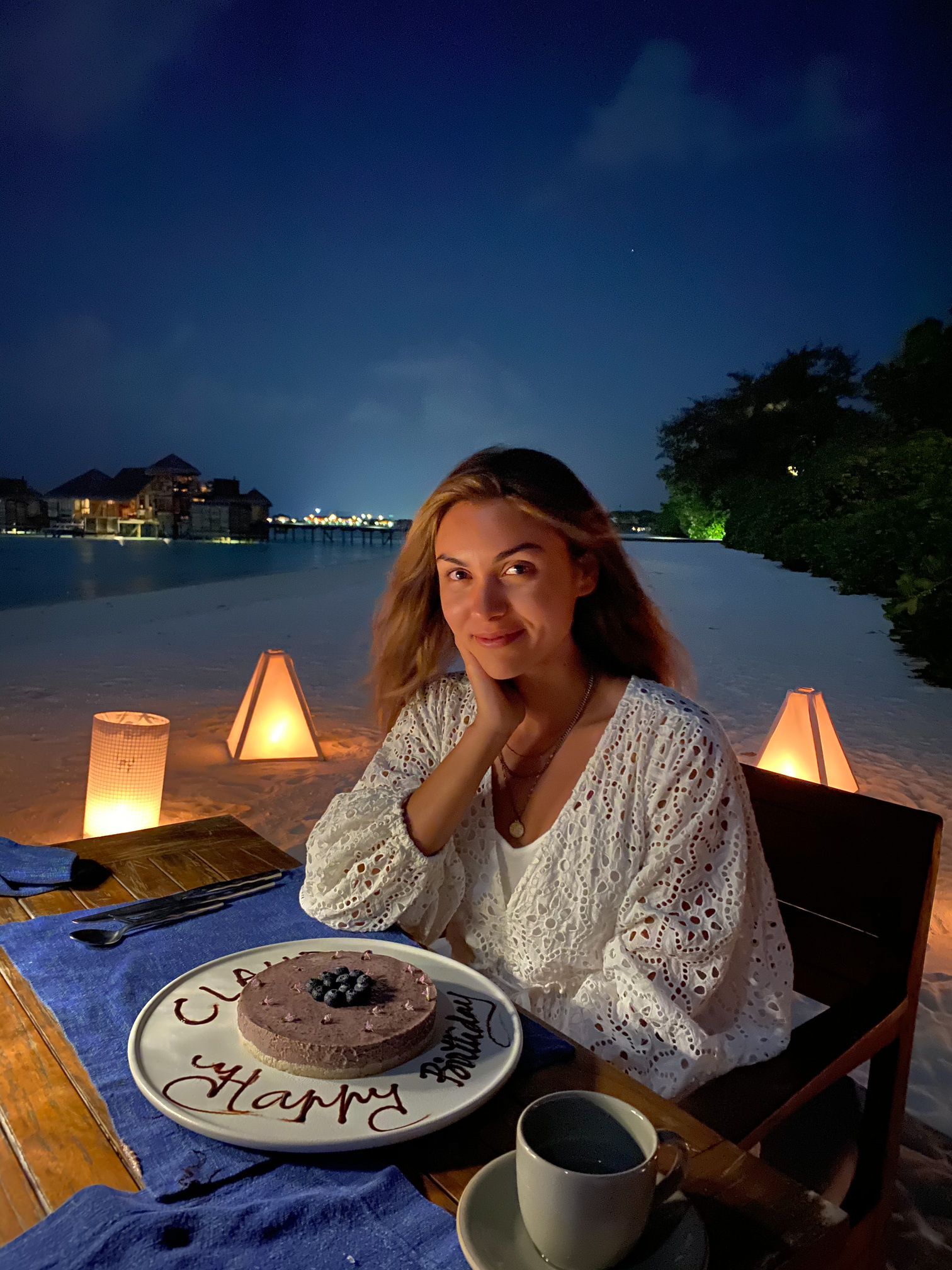 And of course, the classic and one you never want to miss – the spa. The masseuse are amazing but my favorite part is definitely that the spa facilities are private for only the two of you to share and enjoy (steam, sauna, shower and daybed)- I love this! I find the usual split of facilities between men/women so boring , its much better to have a whole area just for the two of you.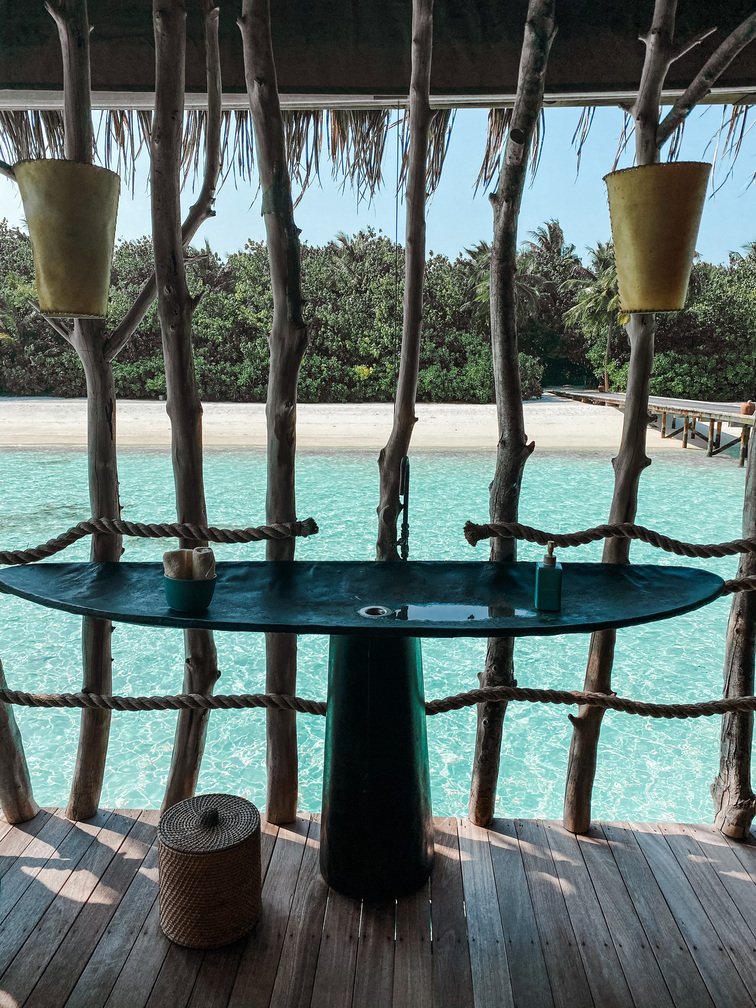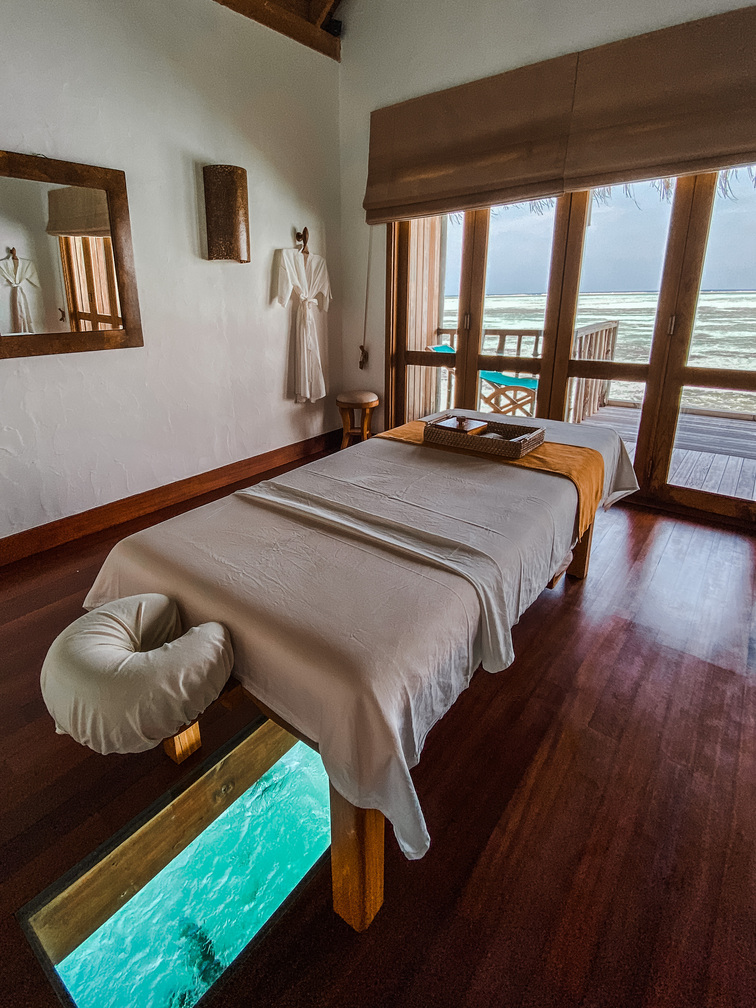 Sustainability:
Gili Lankanfushi prides itself on its sustainability and eco-friendly efforts that are deeply embedded in the hotel's philosophy. From the resort's design to its practices, everything is aligned with this concept. Even though the island is small, they have allocated an area next to the main restaurant for the house organic garden. Here they grow almost all of their herbs, make their own compost and also will soon be installing a special equipment to help reduce drastically the hotels waste. We had a tour of the garden with the chef and you could feel how passionate and proud he was about their efforts. It truly is admirable how the property has been able to incorporate sustainable practices and designs while at the same time offering a luxury experience to its guests.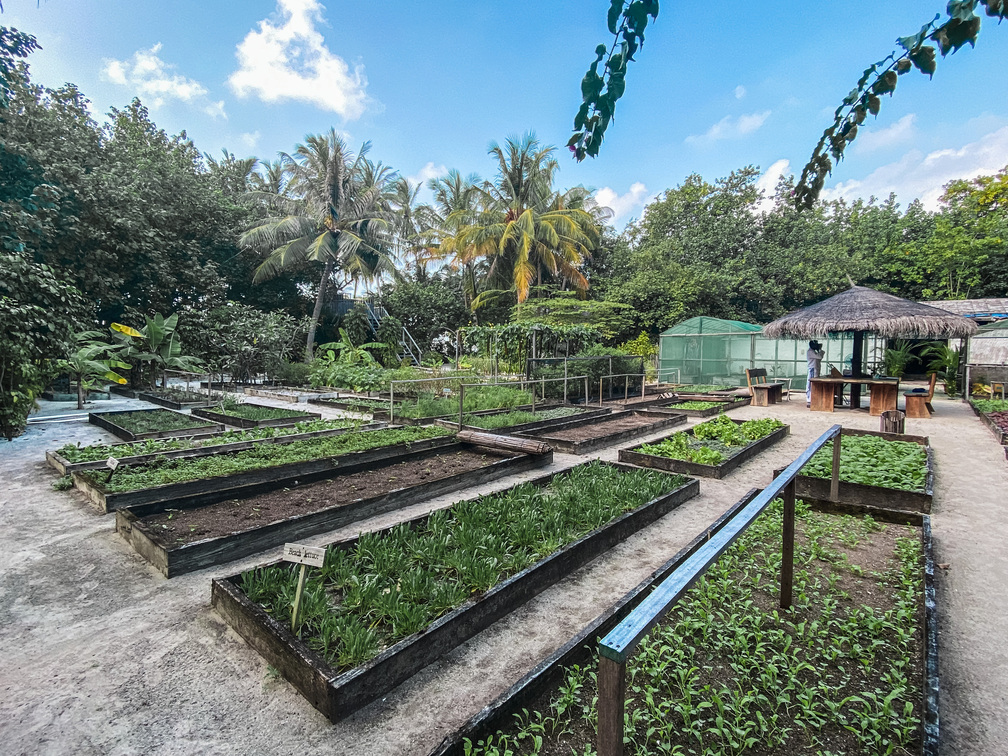 Dinning: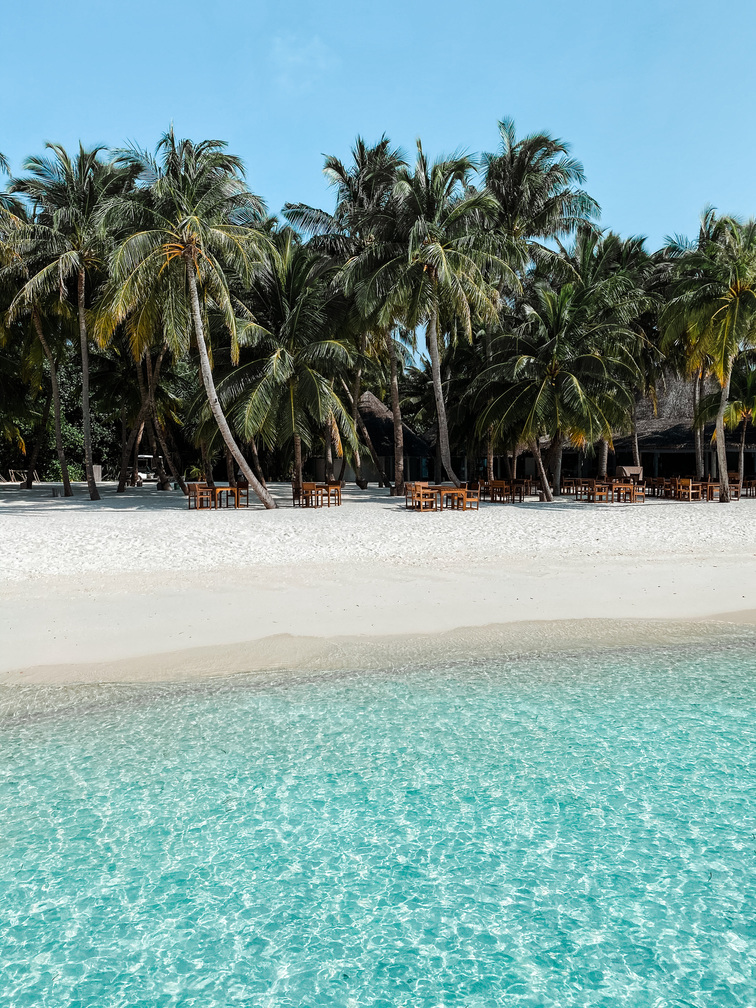 There are three main restaurants in the island. Kashiveli is the main restaurant where breakfast, lunch and dinner are served. Once a week, Kashiveli transforms into an Asian Market where you can enjoy traditional Asian street food in a very romantic setting. The Overwater Bar is where lunch and dinner are served offering a variety of different international cuisines. You also have By the Sea a Japanese fine dinning restaurant offering a very intimate setting.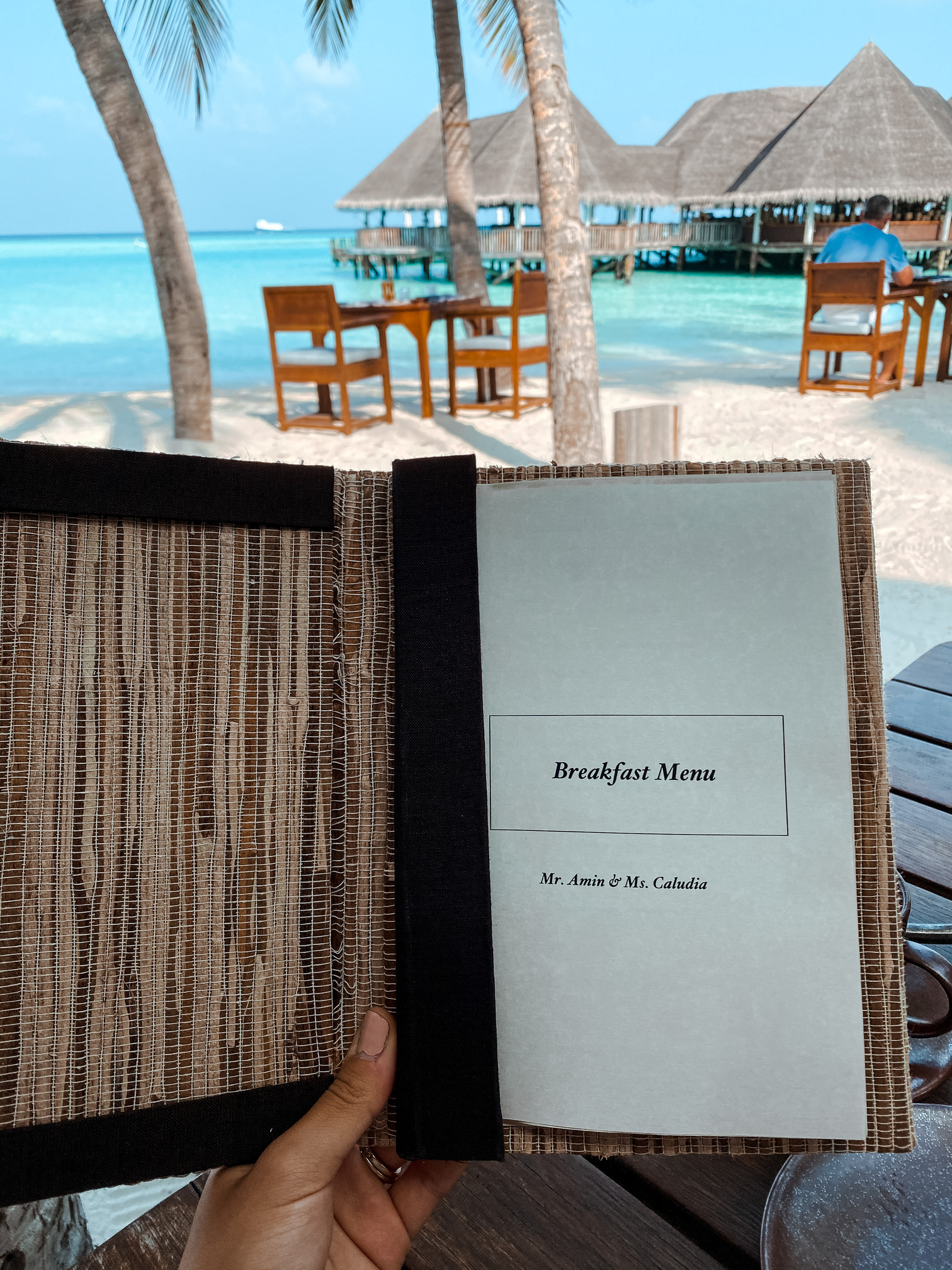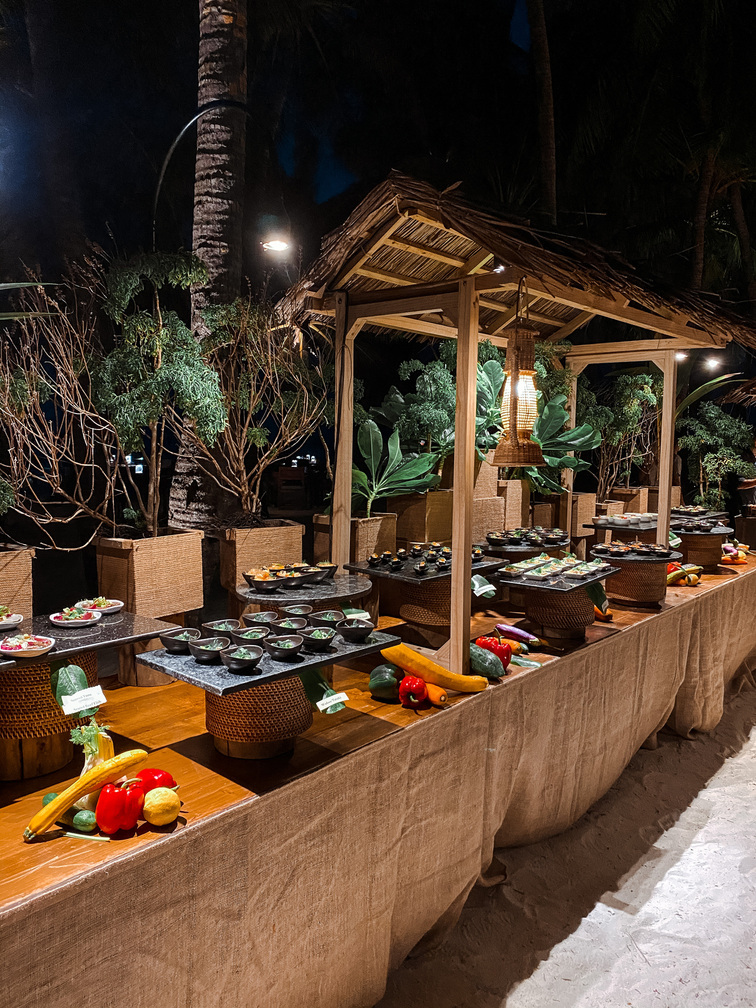 Through out all of their dinning venues they offer a great variety of delicious vegan and vegetarian options and the chef is always at your disposal to happily make anything specific you might have in mind or even surprise you with one of his delicious creations – trust him , he is really good ! Speaking of Chef Hari, as part of our itinerary, we had an exquisite lunch at the Organic Garden, where he prepared a 6 course plant based meal using fresh ingredients from the garden.  It's impossible to pick a favorite dish when every dish was outstanding like the vegan "scallops" or the aloe vera ceviche. The food was incredible , very creative and fresh. You know it's good when the plant based menu is a hit with even with non plant based eaters – it's an island favorite!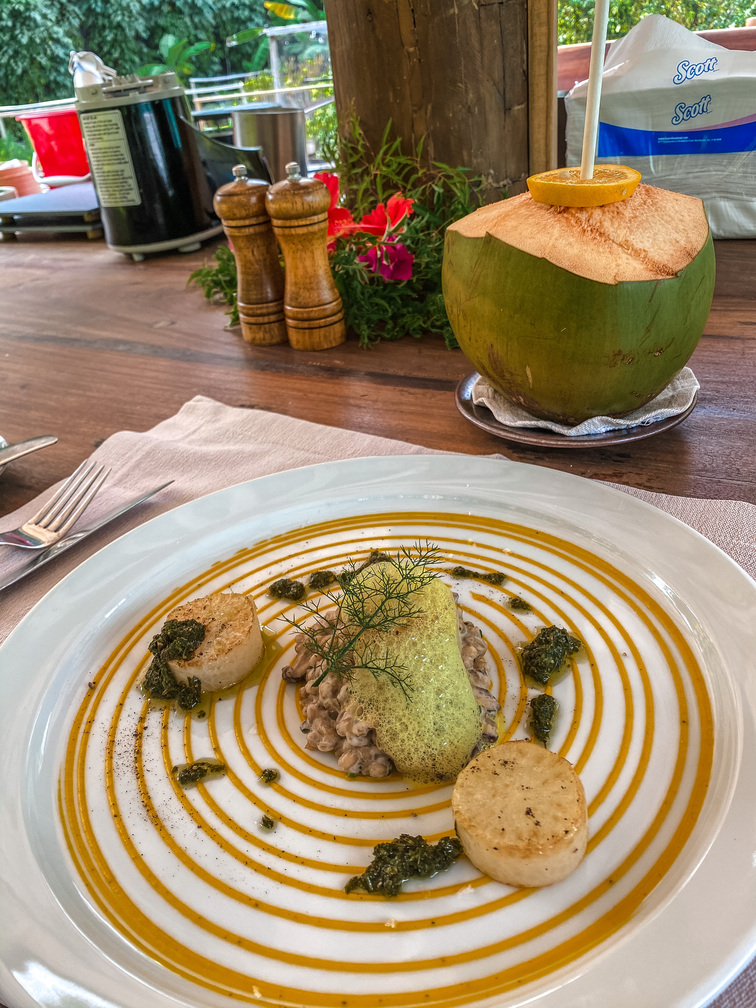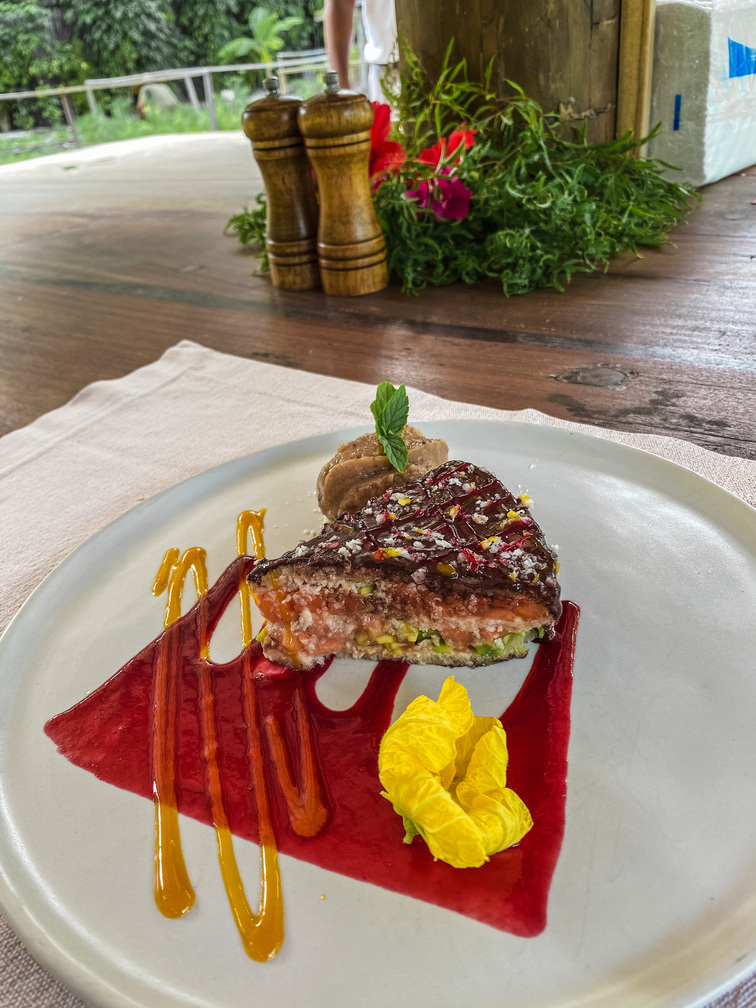 But remember, you can have private dinning experiences all through out the island from Palm Beach to even the Jungle Cinema. 
Disclaimer: Though this post is in partnership with Gili Lankanfushi, as always, all opinions are my own.