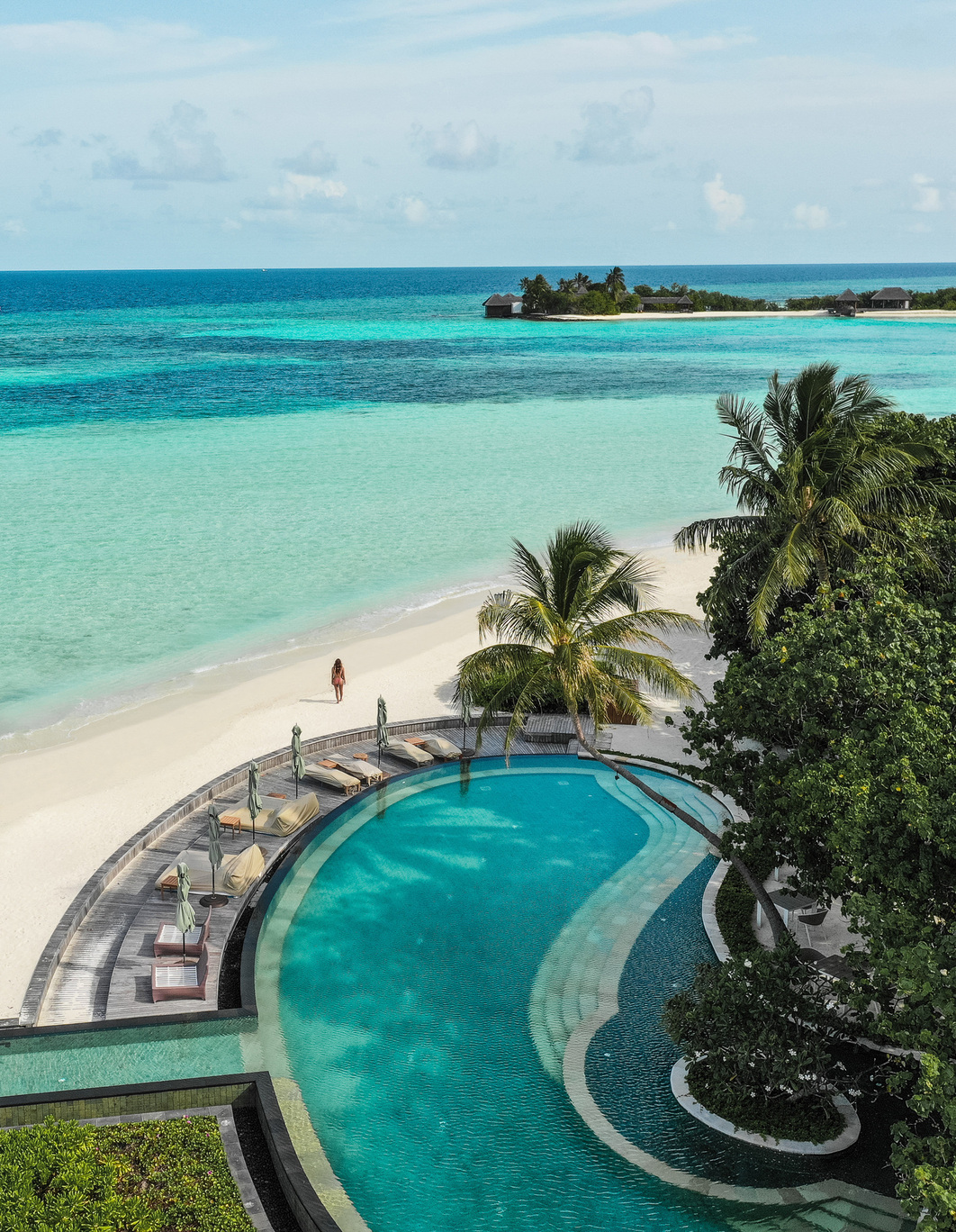 What You Need To Know About Maldives 
Unlike many other places on the planet and one of the things that makes the Maldives extraordinary unique is that each hotel is located on a private island of itself. In order to understand this concept, we need to realize that this island country is composed of a chain of 26 coral atolls each of which is made up of hundreds of different islands all dispersed through roughly 90,000 square kilometers making it one of the world's most dispersed countries! These hundreds of islands are miniature islands, most of which are inhabited and left untouched. For this reason, each island can only "host" one hotel and also one of the reasons why most hotels have water bungalows. This is why planning a trip to the Maldives is extremely different than planning a trip to most other tropical destinations, and why it's crucial for you to do lots of research to choose the right hotel since you will be spending all of your time there. This means you will sleep, eat and do all of your actives in the hotel. In the Maldives, you can not simply leave the island and go somewhere for lunch or explore a different beach (Unless you are staying in the capital, Male ). This means that essentially the hotel that you choose to stay in will define your whole Maldives experience.
Location & How to Get To Four Seasons Kuda Huraa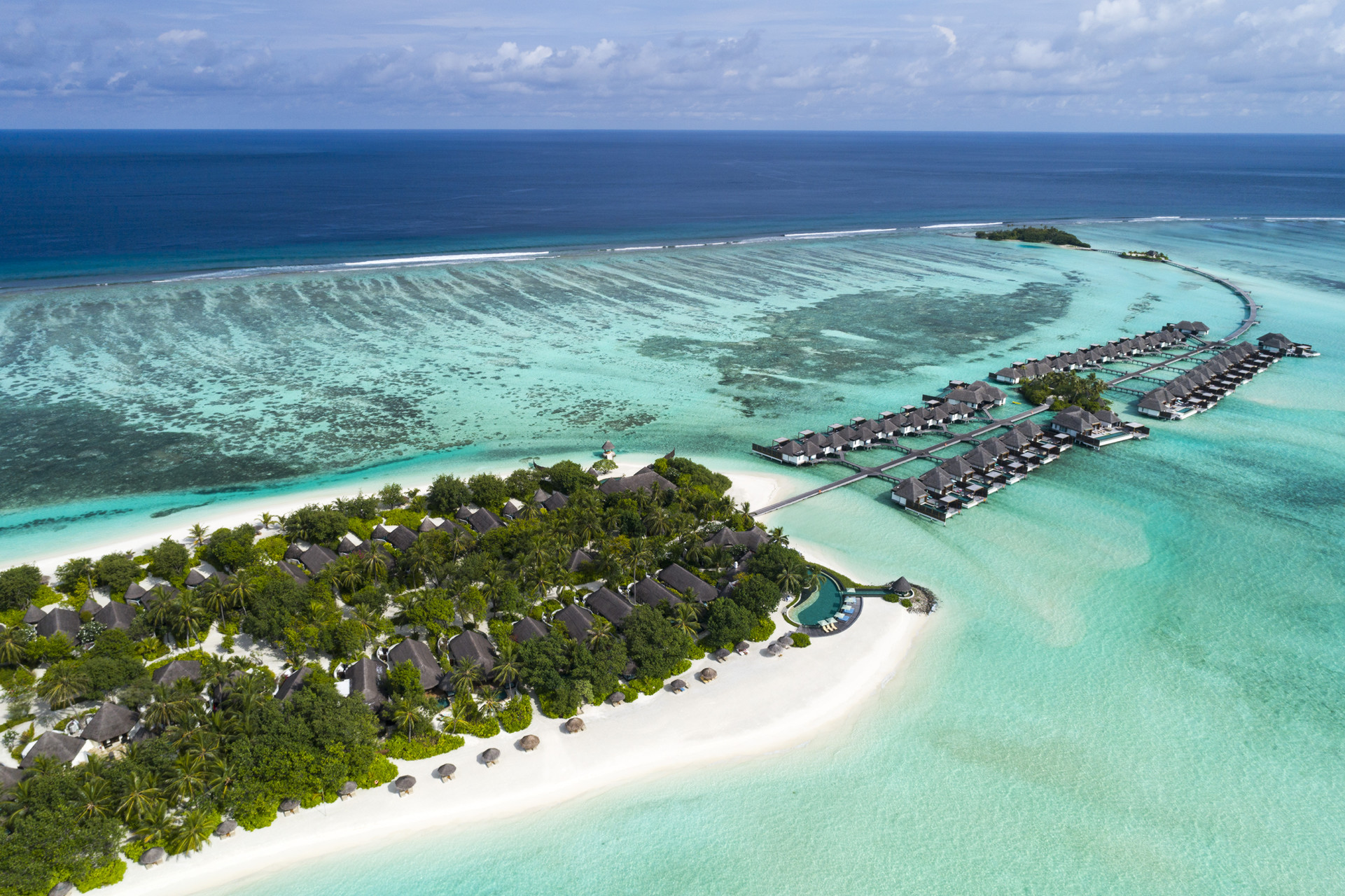 Located at just a 25 minute boat ride away from Male, the island paradise of Four Seasons Kuda Huraa is easily accessible and very convenient. It's proximity to Male means that no seaplane transfers are required which is a big advantage if you are visiting for a short trip and want to maximize your stay. And since your ride to the island is a beautiful yacht and not your regular boat, your vacation begins the moment you hop on board.  You will just have to resist the temptation of not jumping straight into the water on your way haha.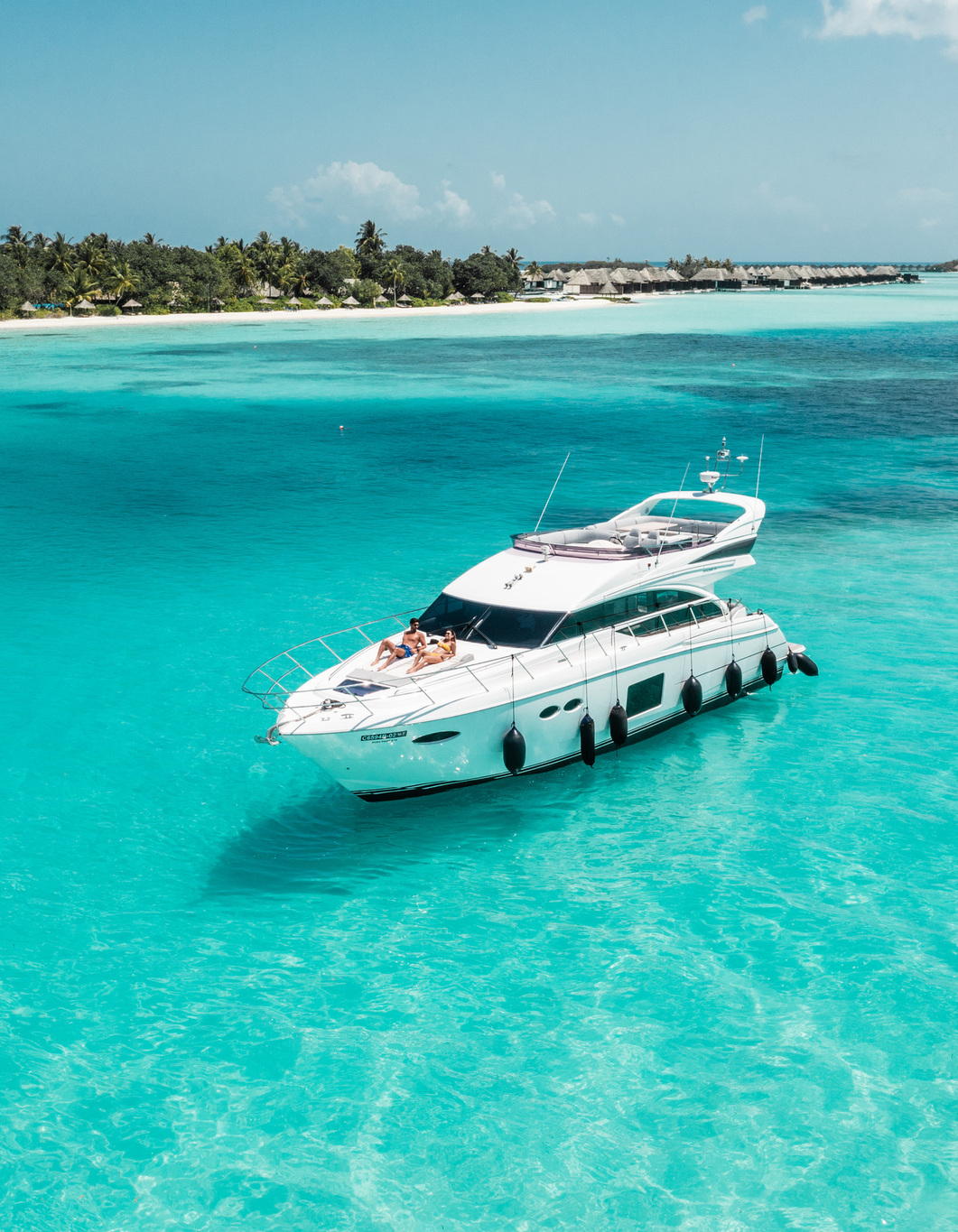 Our Villa
We were welcomed into a gorgeous Sunset Water Villa with Pool. Sitting on the lagoon at almost 2,000 sq ft, this overwater bungalow with a full bedroom, office desk, walk in closet and bathroom with a free standing tub, offers comfort, convenience, and spacious living areas.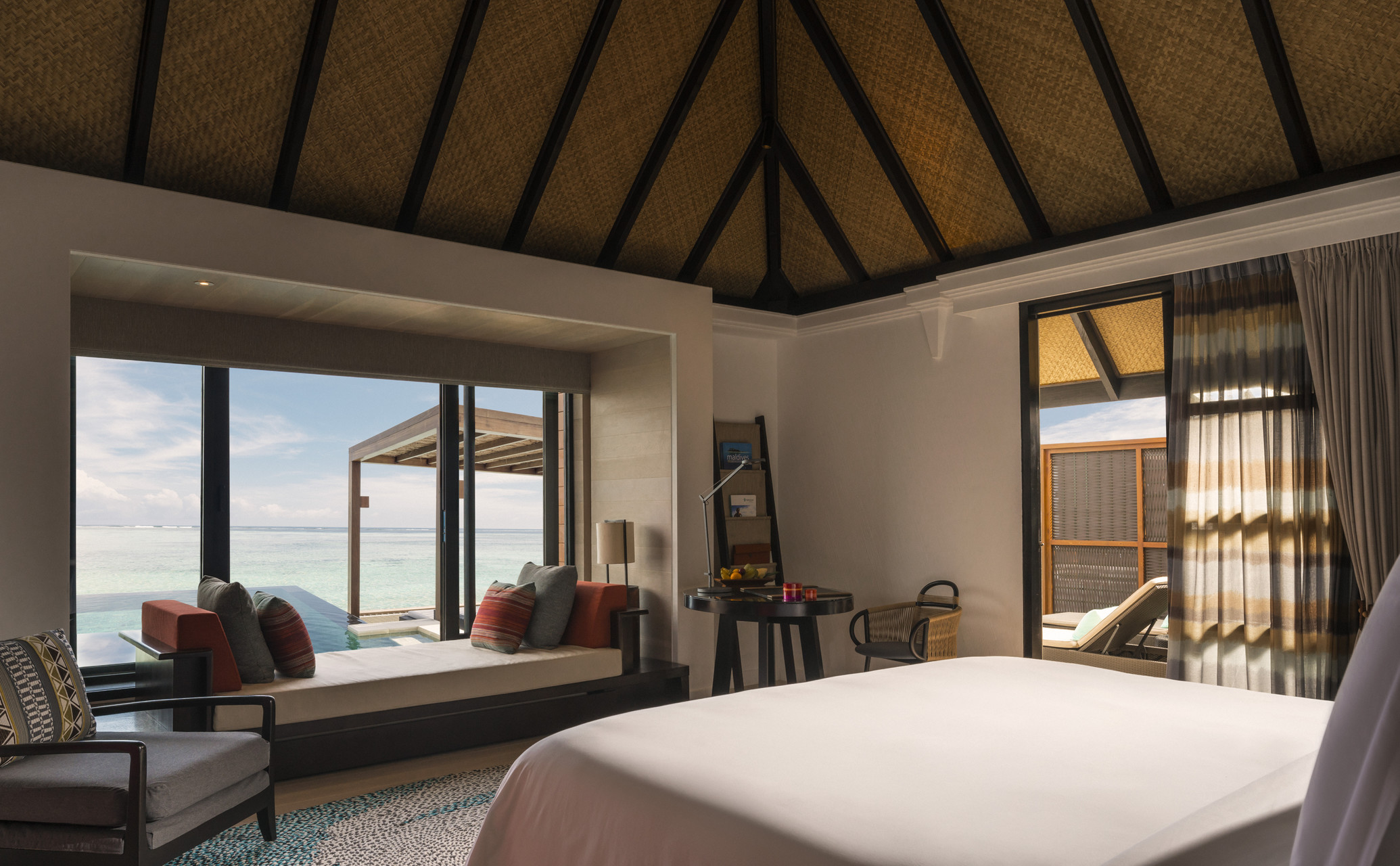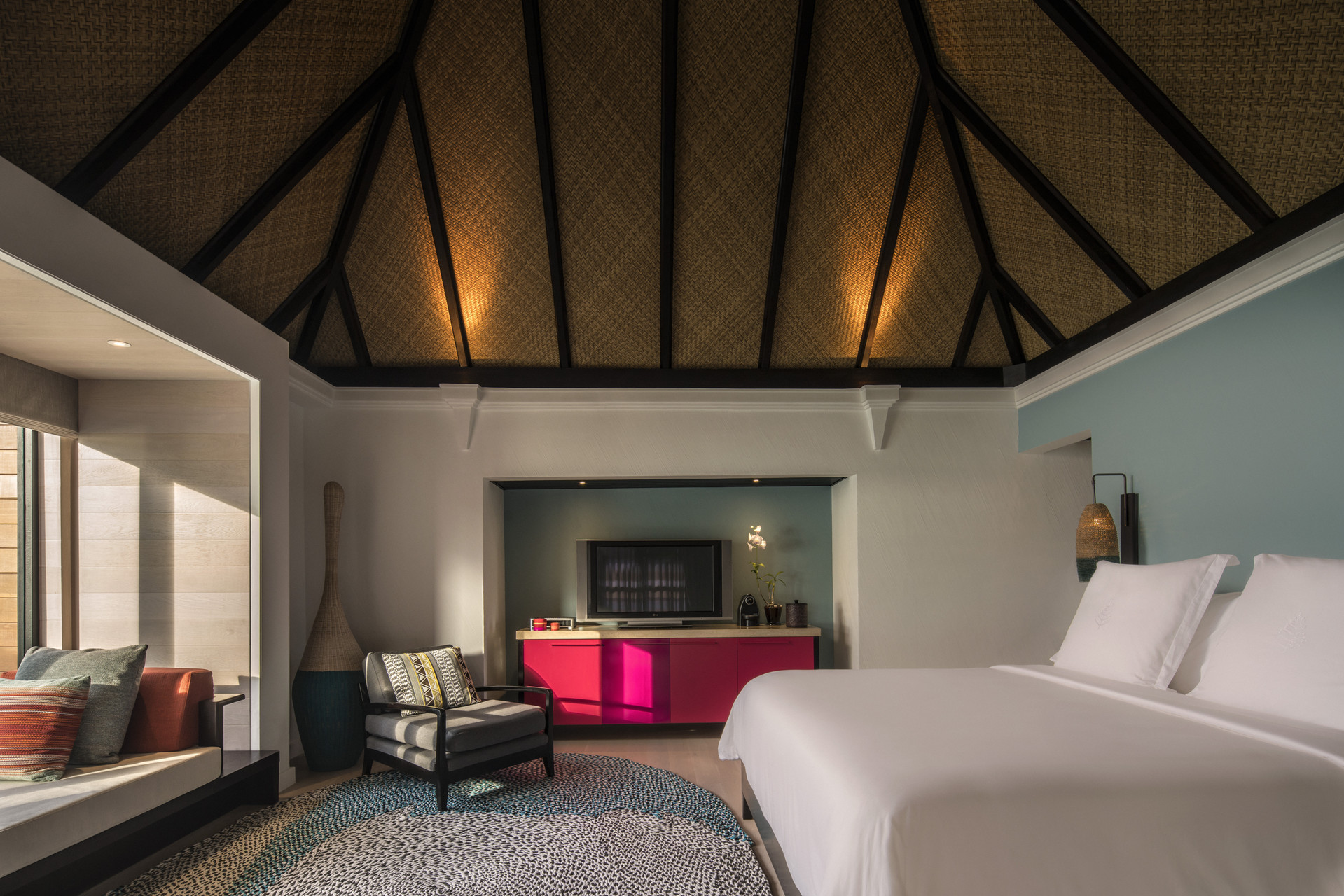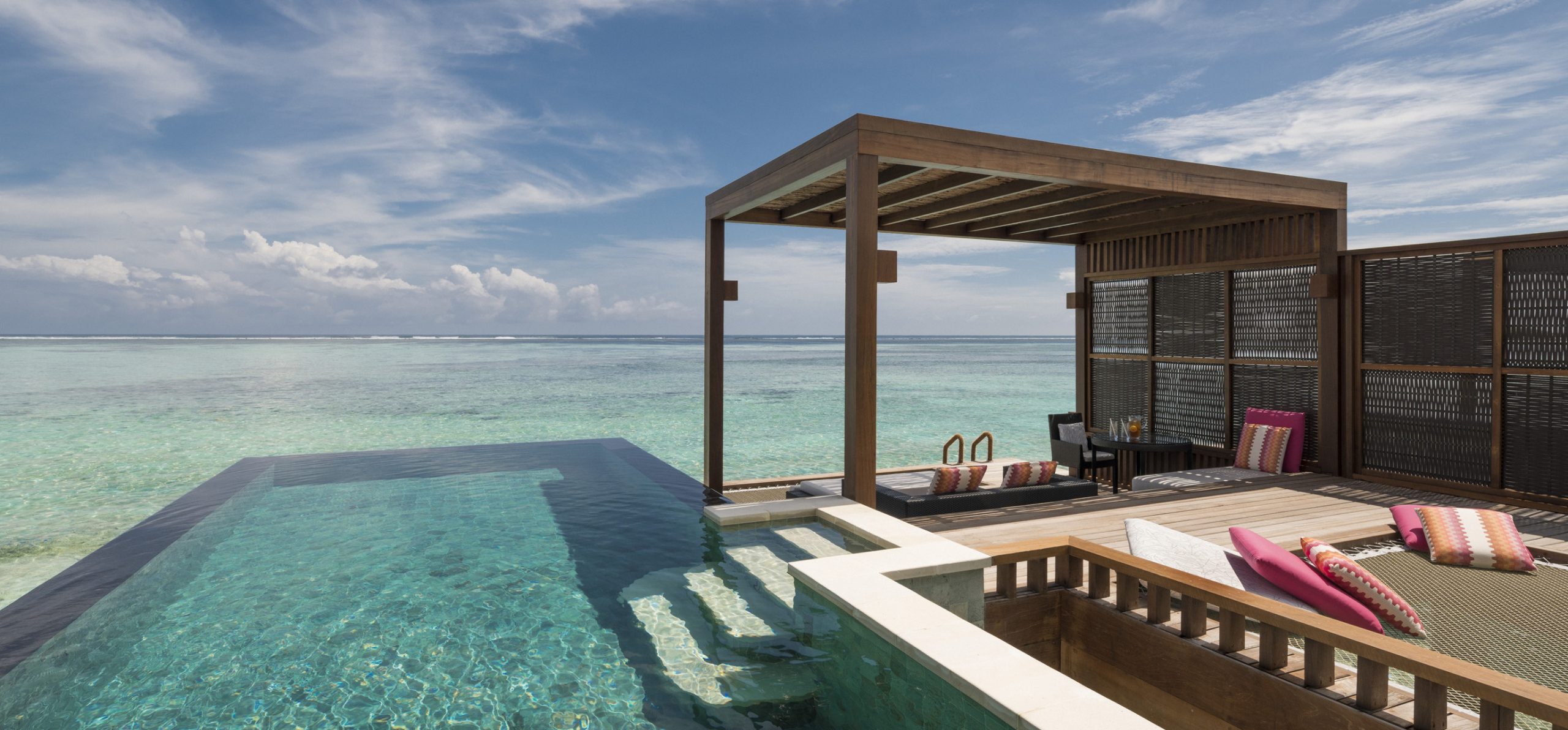 And with over 1,200 sq ft of it as outdoor living space, this villa is custom made to maximize your island experience for outdoor living. With such a spacious deck, you have multiple areas to relax through the day and soak in the sun, from lounging in your sun beds or hammocks over the water, to enjoying your lunch under the sundeck, to even swimming laps in your very own over sized infinity pool -or if you are like me, for soaking up the sun and enjoying some fresh coconut water over looking the endless shades of blue.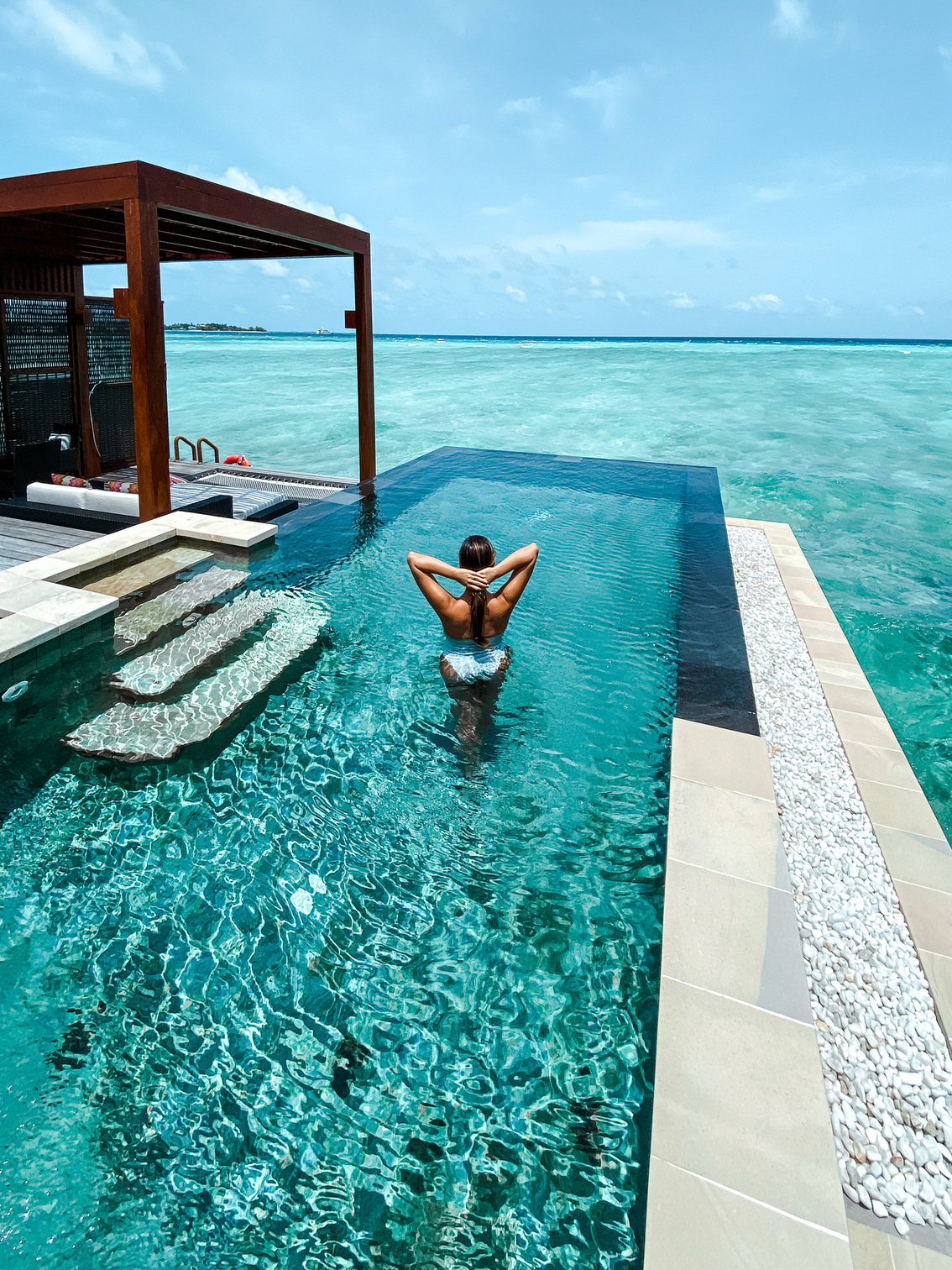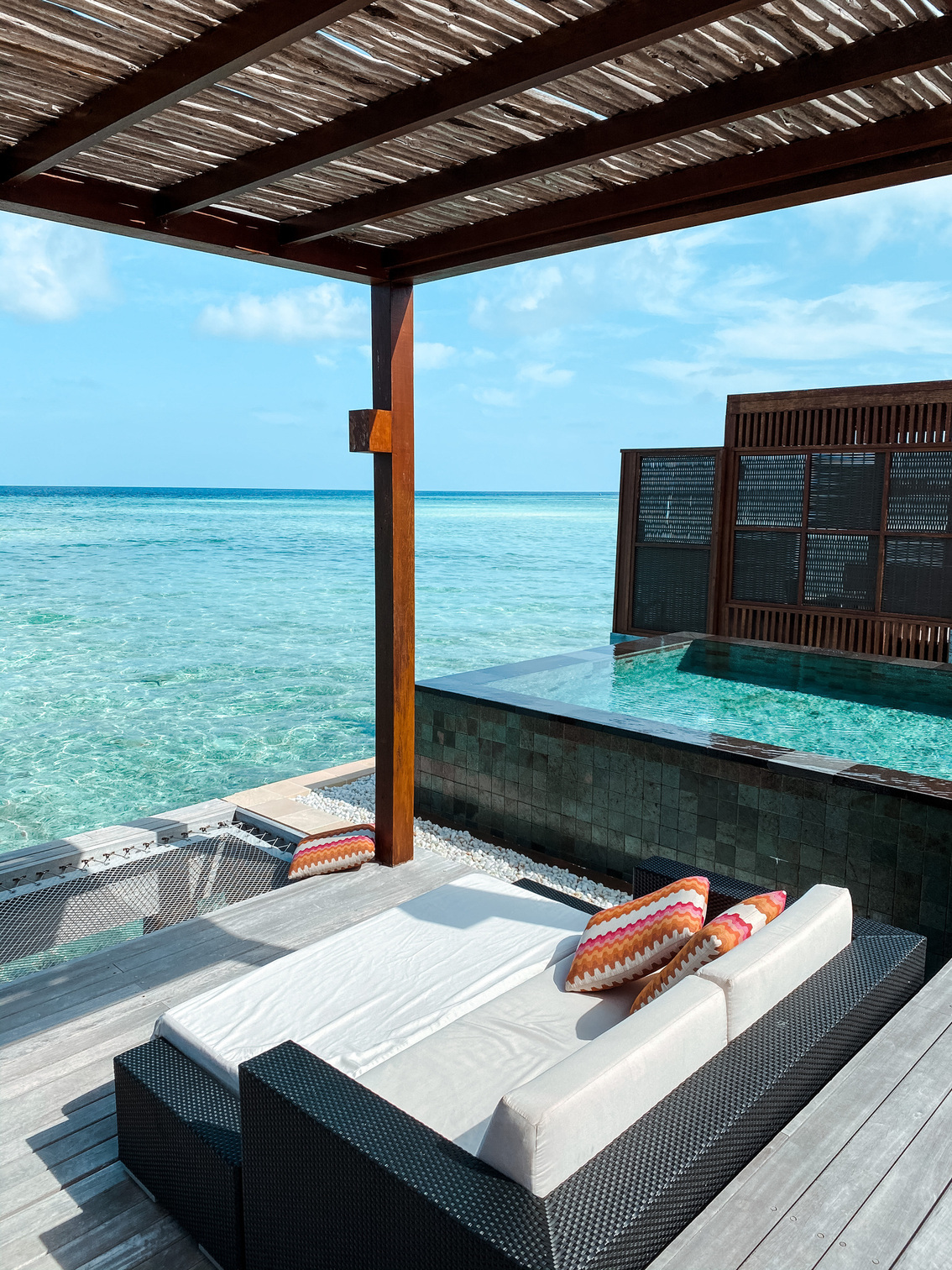 Amenities & Dinning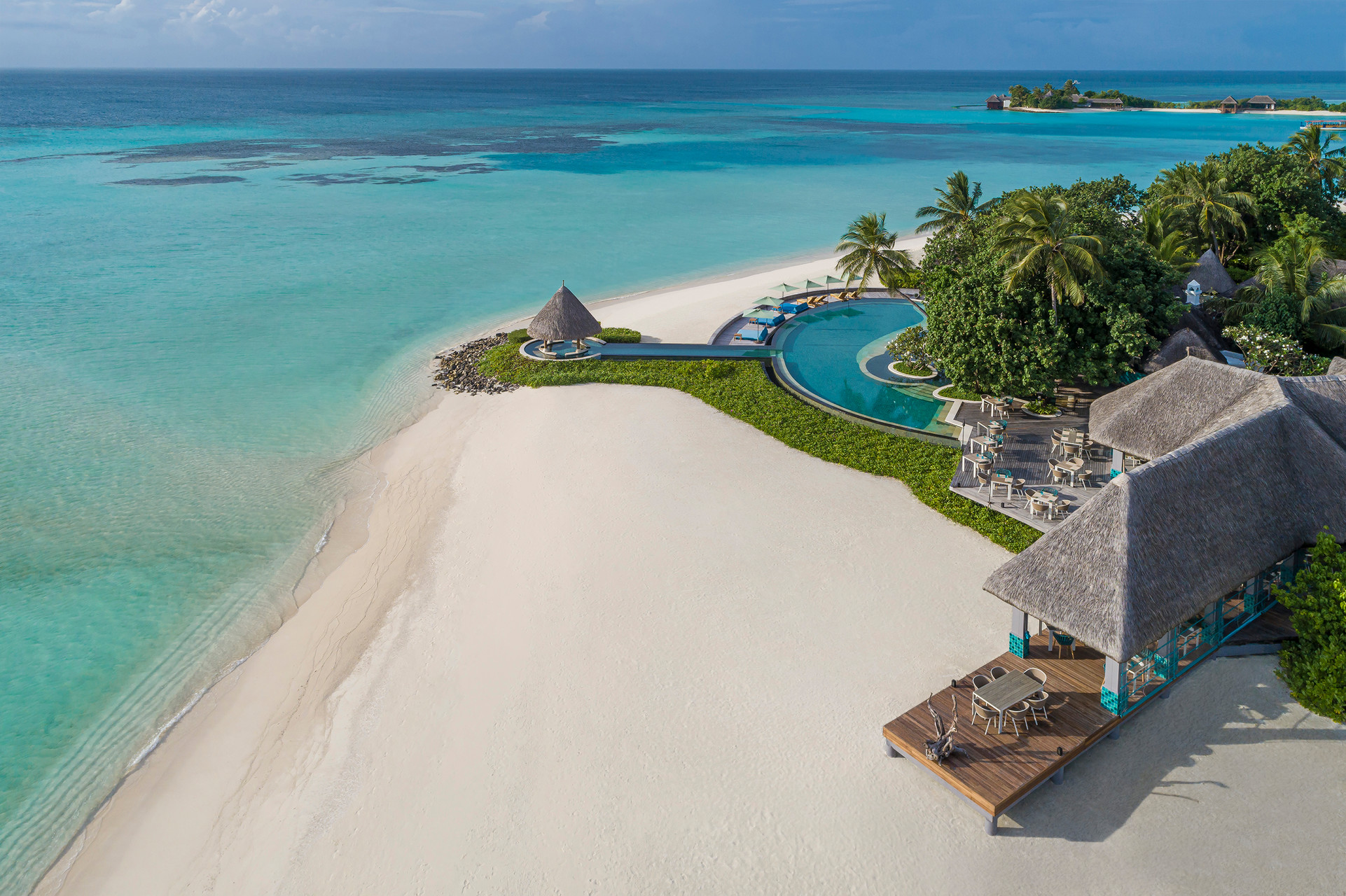 The beautiful island of Four Seasons Kuda Huraa is small enough that it makes it easy and convenient to walk around barefoot around the island, but big enough that you have plenty to explore and things to do. I love islands that you can just commute barefoot without having to rely on the buggy to get you from one place to another but in case you do need to catch a buggy ride, they are available and ready for you at any time.
I would highly suggest to embrace the island life – ditch the treadmill, get your tan, vitamin D, steps in and even a swim in the crystal clear Maldivian waters by exploring the island by foot. And in Four Seasons style, the team will be awaiting for you with a cold towel and fresh coconut water. Who needs the gym when your cardio can look like this….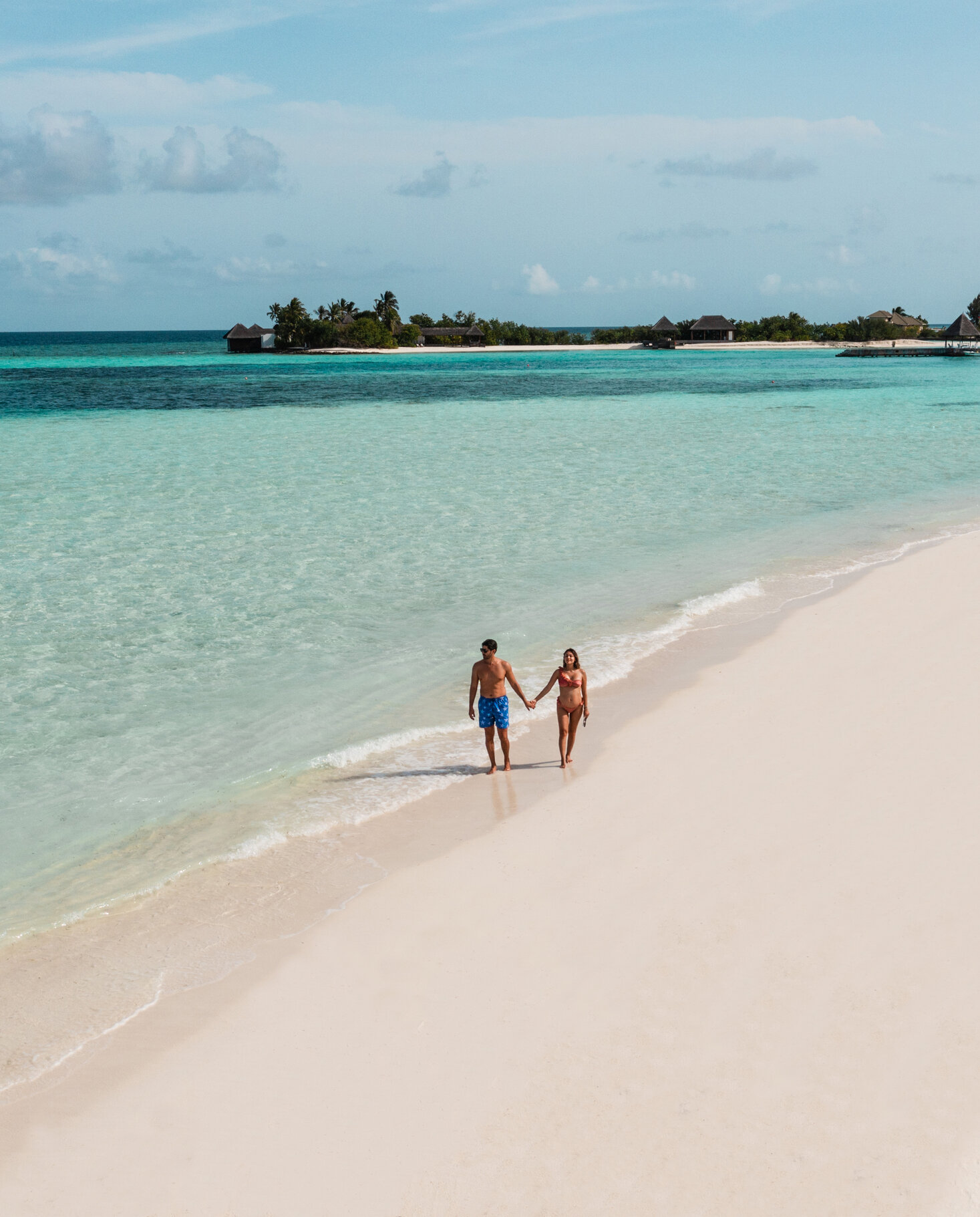 The property offers six different dinning experiences ranging from Italian to Indian to traditional Maldivian cuisine. We were blown away by the fact that every single dinning venue offers a full vegetarian/vegan menu complete with a full range of options for appetizers, entrees and even dessert. No boring basic options here, the options offered like zucchini koftas and bases out of cashew cream make the options fun, creative and exciting, but if you are looking for classics, I can highly recommend the vegetable Biryani. We may or may not have had it multiple days in a row.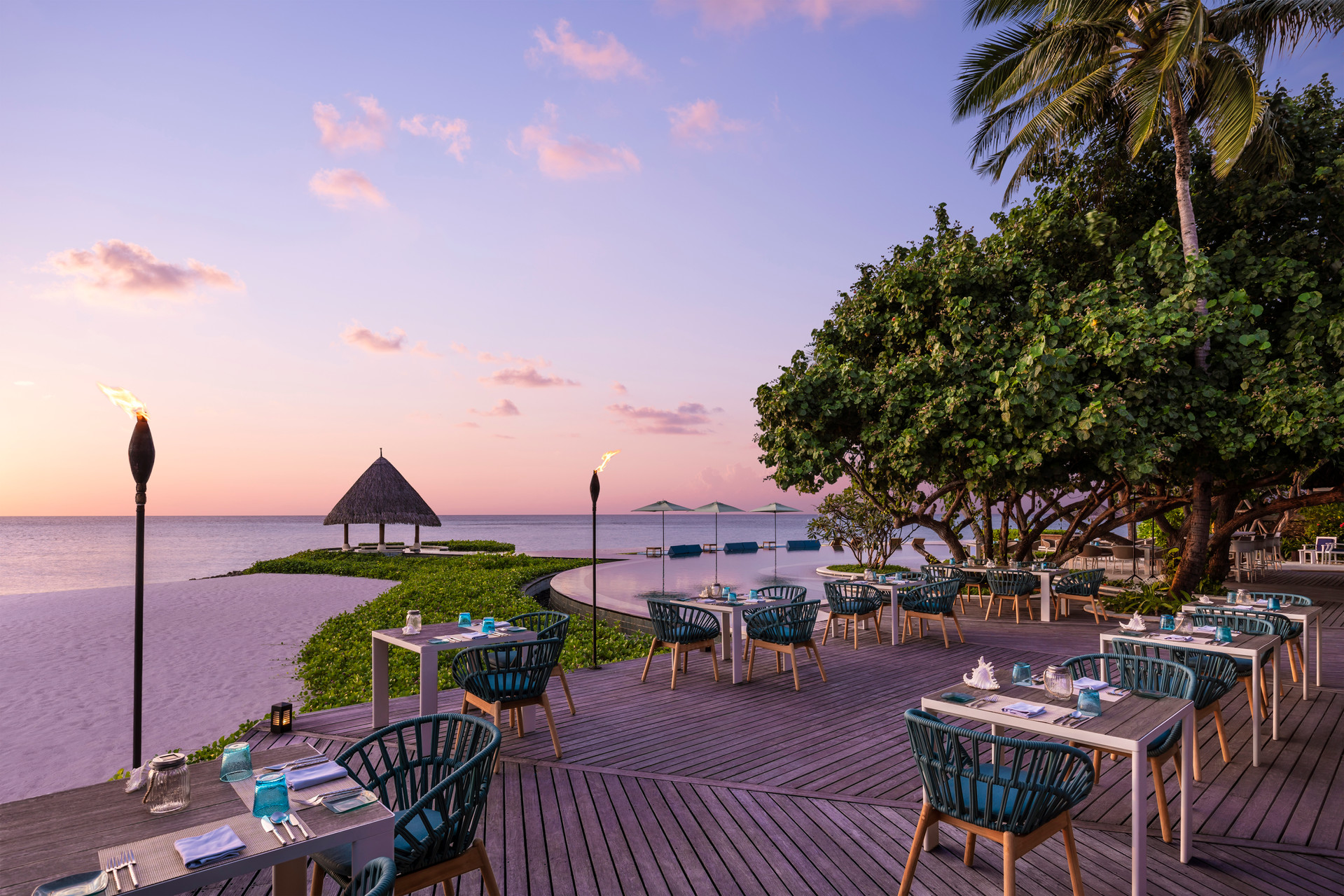 One of the most unique and cool features of the property is that the spa is in its very own island ! The Spa Island is located right in front of the property and is just a short boat ride away (a few minutes) from the Arrivals Jetty. Your ride to the island will be a traditional Maldivian Dhoni which adds such a beautiful romantic element to your Spa experience. Our couples massage was so great that we had to return once more before we left. As I am 5 months pregnant, I was offered a prenatal massage. Not only was it fantastic, the ladies are very well trained for prenatal massages, equipped with non scented pregnancy safe oils and all the necessary pillows for your comfort.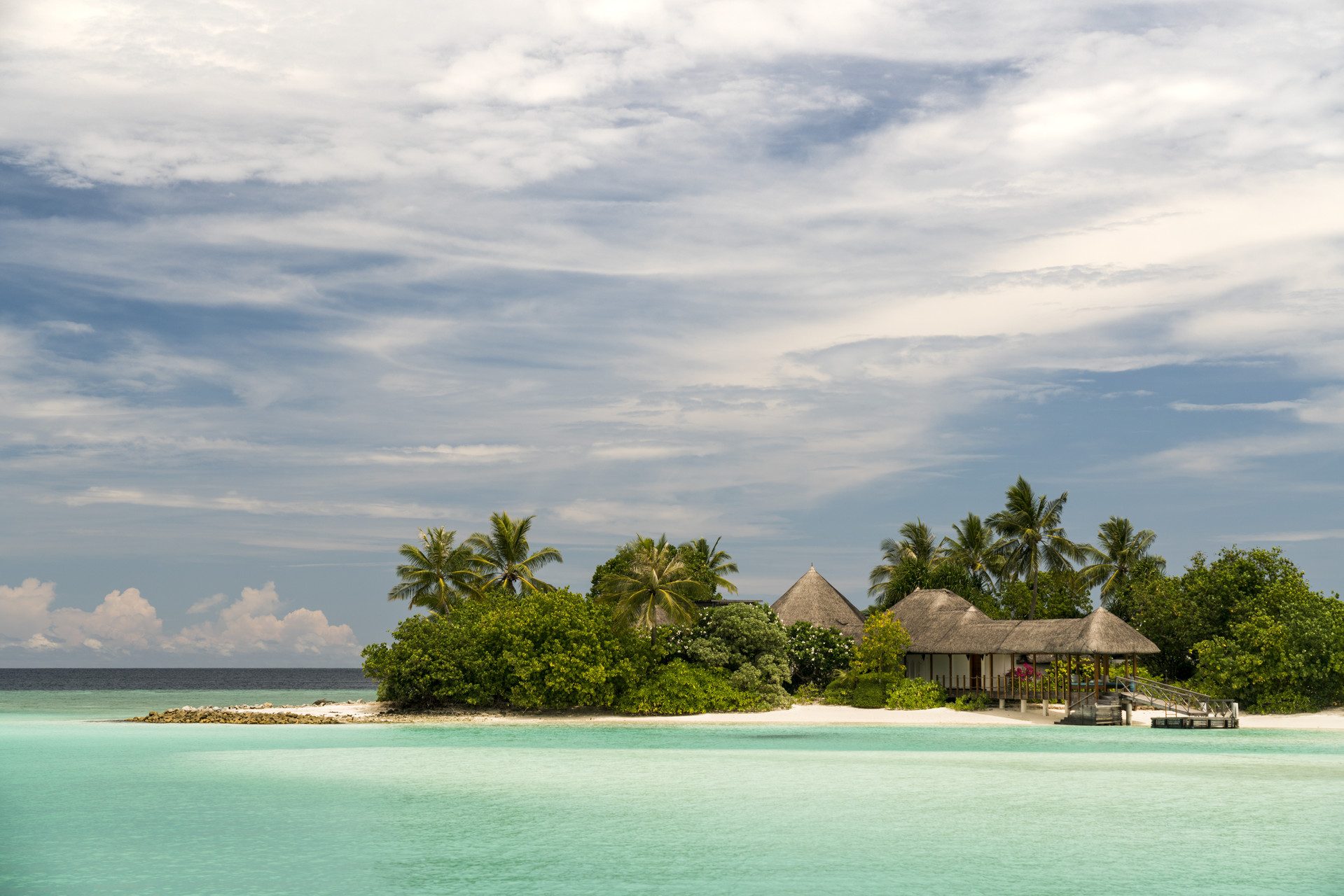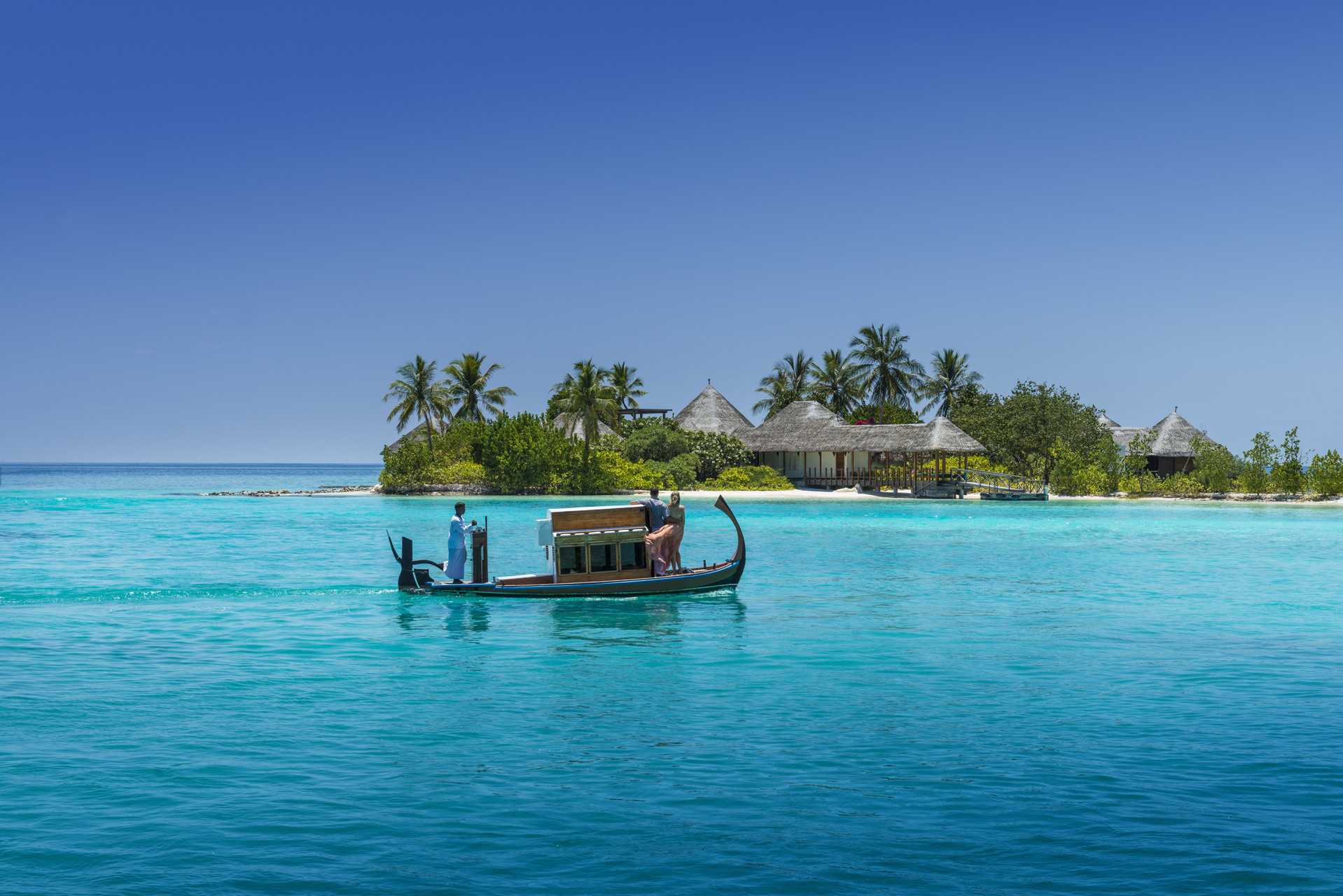 There are two pools in the property – the main pool near the main restaurant that is family friendly and the adults pool which is on the other side of the island. Both pools are spacious and fully serviced and staffed meaning that you can enjoy your lunch or dinner by the pool. Even poolside, there are plenty of vegetarian options available and if you want anything specific, the team will gladly accommodate you.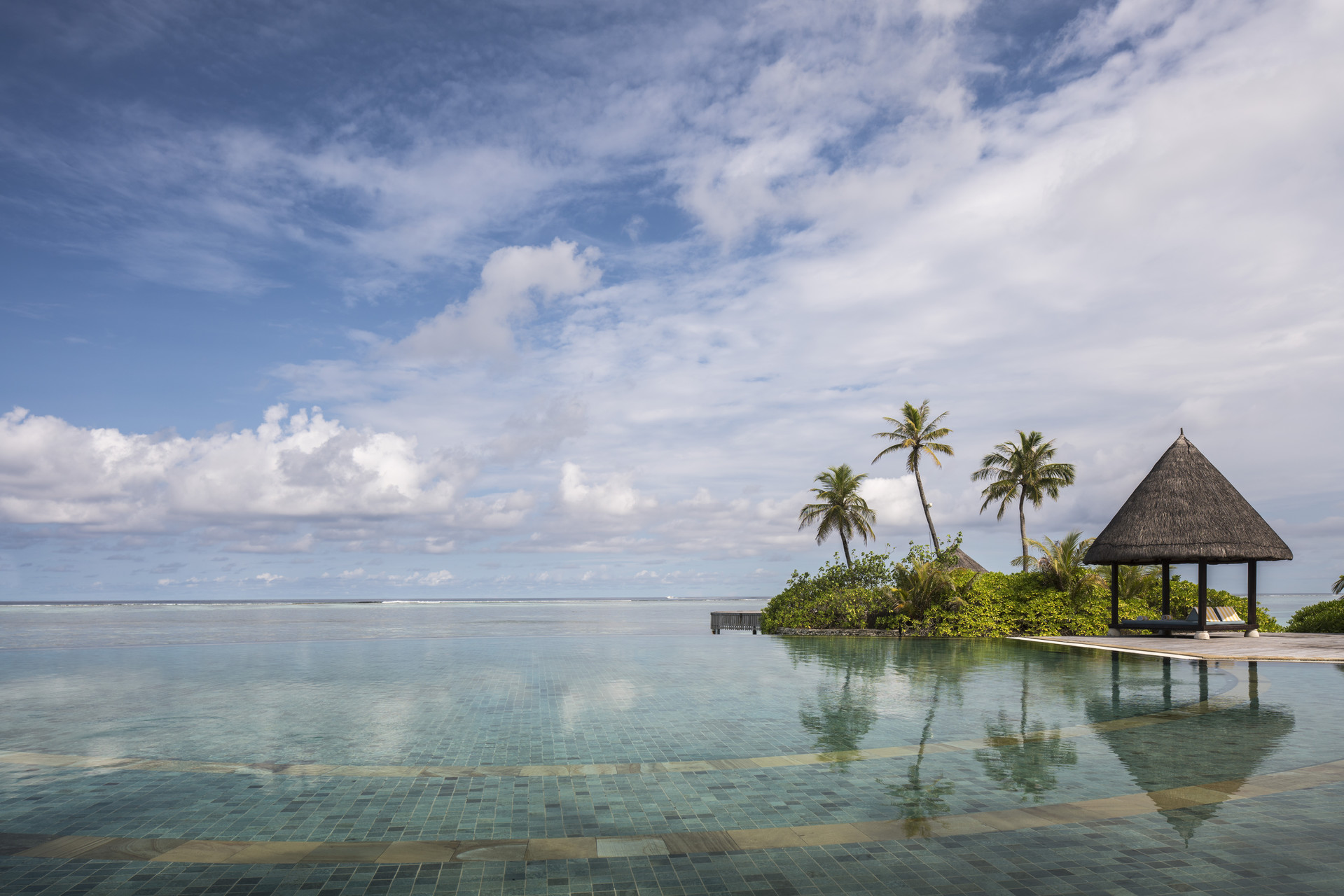 Snorkeling is a must during your stay. We snorkeled right by the main (family) pool and I am not exaggerating when I said that we saw a turtle and a reef shark less than 5 minutes in! Sometimes the current can be a little strong in this area, so if you are not a strong swimmer, definitely wear a lifejacket so you are more comfortable. The reef here is also very shallow so make sure to keep your fins and arms up so you avoid touching the coral for yours and its safety.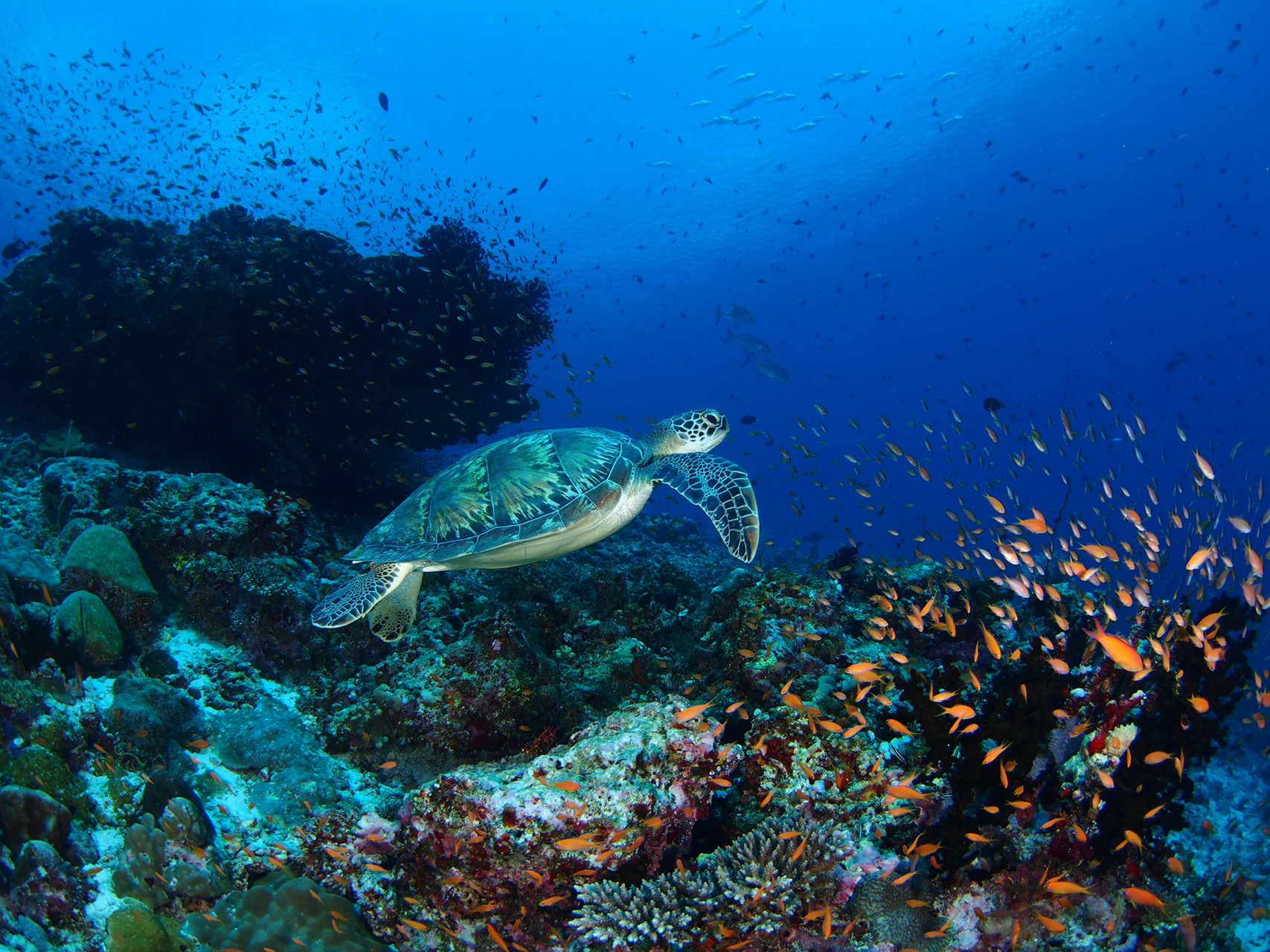 Disclaimer: Though this post is in partnership with Four Seasons Kuda Huraa, as always, all opinions are my own.