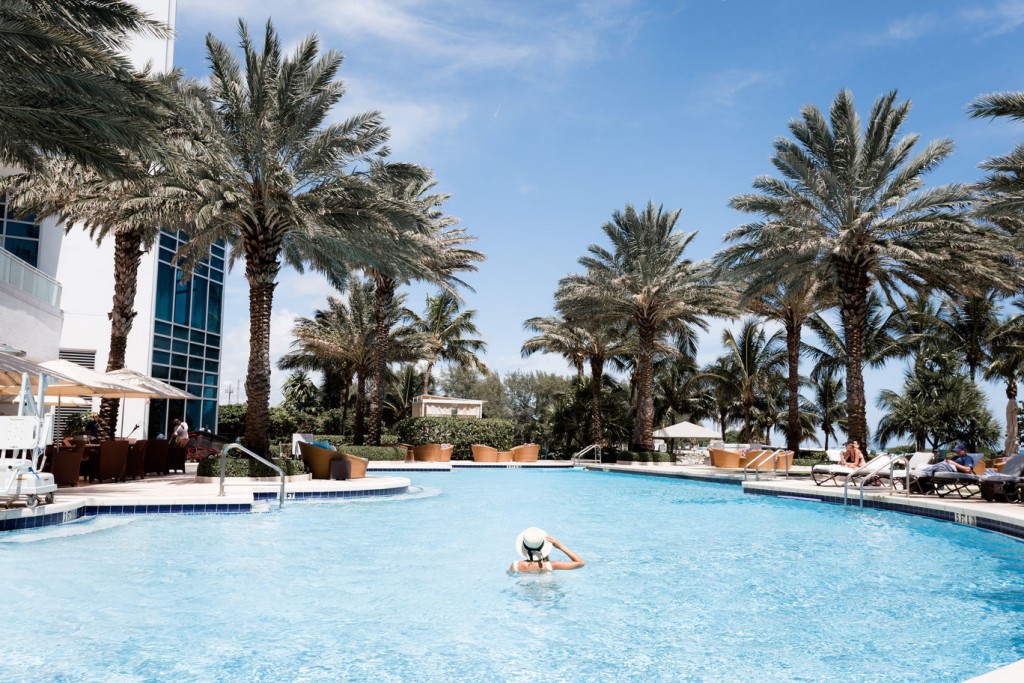 Recently opened less than 3 years ago, The Ritz Carlton Bal Harbour became the 10th Ritz Carlton property in the state of Florida and easily one of our favorite family friendly resorts in the Sunshine State. With only 124 suites, this Ritz feels like a premium boutique resort in one of the most exclusive areas of South Florida – Bal Harbour.  With such an exquisite location and such prestigious hotel, you know you are in for a treat. If you want to experience a luxurious getaway with all the charm and character of Miami without the tourists, this is the place to be.
Location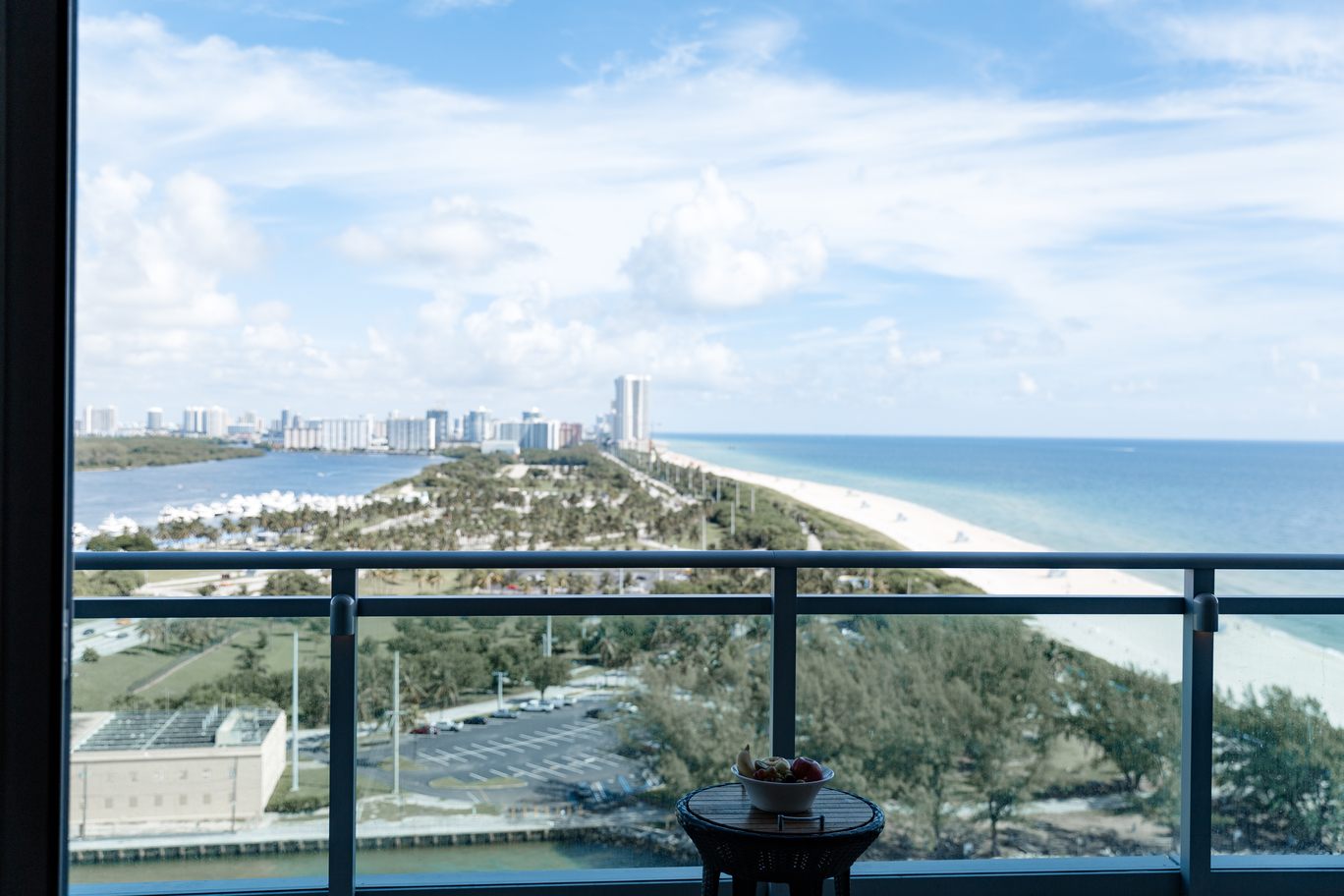 Perfectly positioned between the beach and the Intracoastal, the Ritz Carlton Bal Harbour is located in one of the most exclusive and prime locations in South Florida, Bal Harbour Village. Just under one mile away from one of the most well-known luxury retail shops in South Florida, Bal Harbour Shops, home to brands such as Tom Ford, Hublot, Chanel, Balenciaga among many others, as well as many restaurants and cute coffee shops. We had the pleasure to be guests at Makoto Japanese restaurant in Bal Harbour Shops and enjoyed a customized vegan menu.  And in case you want to visit South Beach, it's less than 15 minutes away.
Check in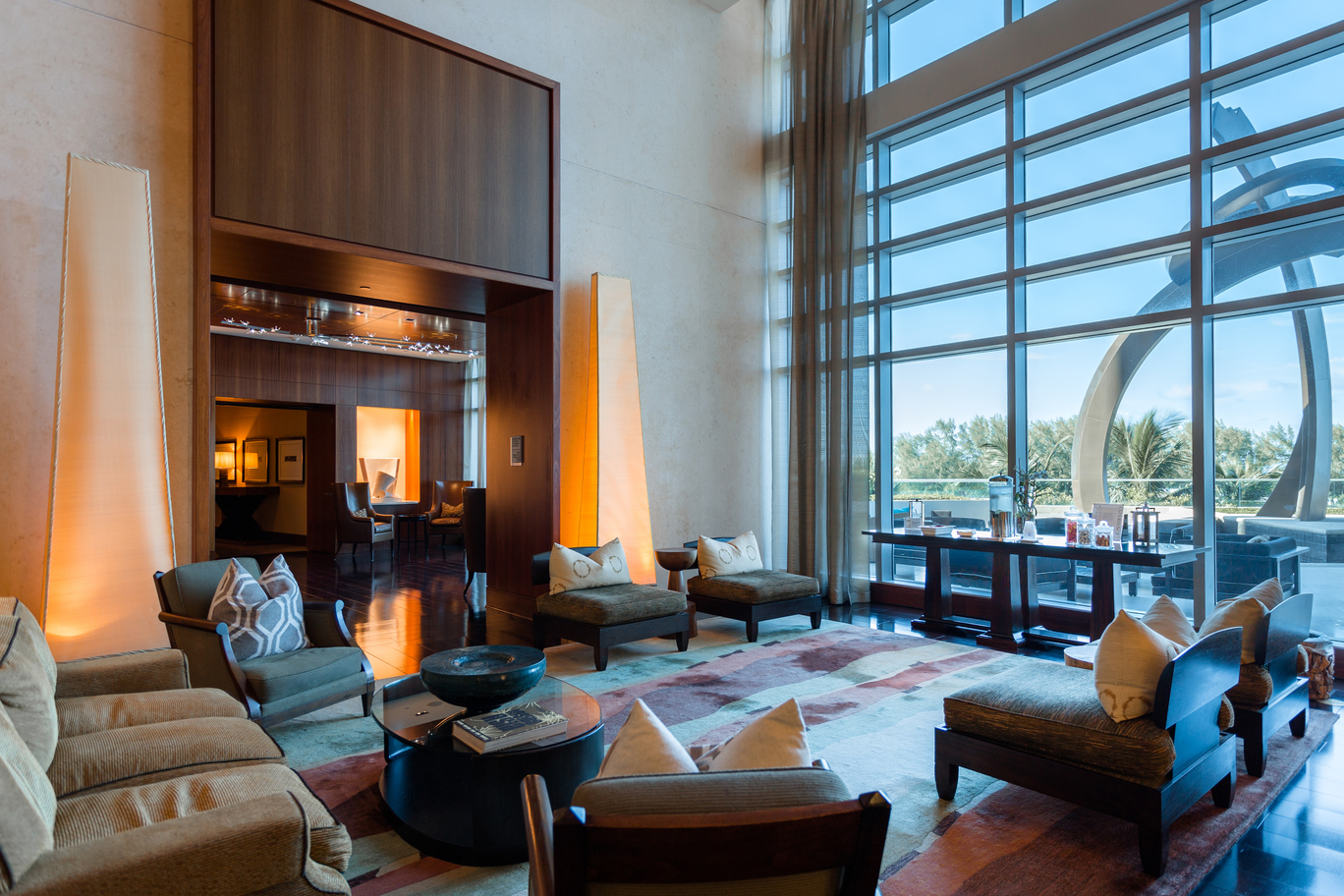 With a smooth check-in process in well under five minutes, we were welcomed into our room a few hours early even though official check in time is at 4 pm. Next to the check in and concierge, there is a small Ritz Kids room where the little ones can play while parents are checking in and waiting for the room -if that is the case. Our check in was so fast that my little one did not get a chance to go until later. He only had enough time to get his Ritz Kids welcome consisting of a bucket with sand toys, stuffed animal (Manatee) and a National Geographic book about Manatees. We left his little teddy bear (the one he sleeps with) at home, so that little Manatee was a total lifesaver!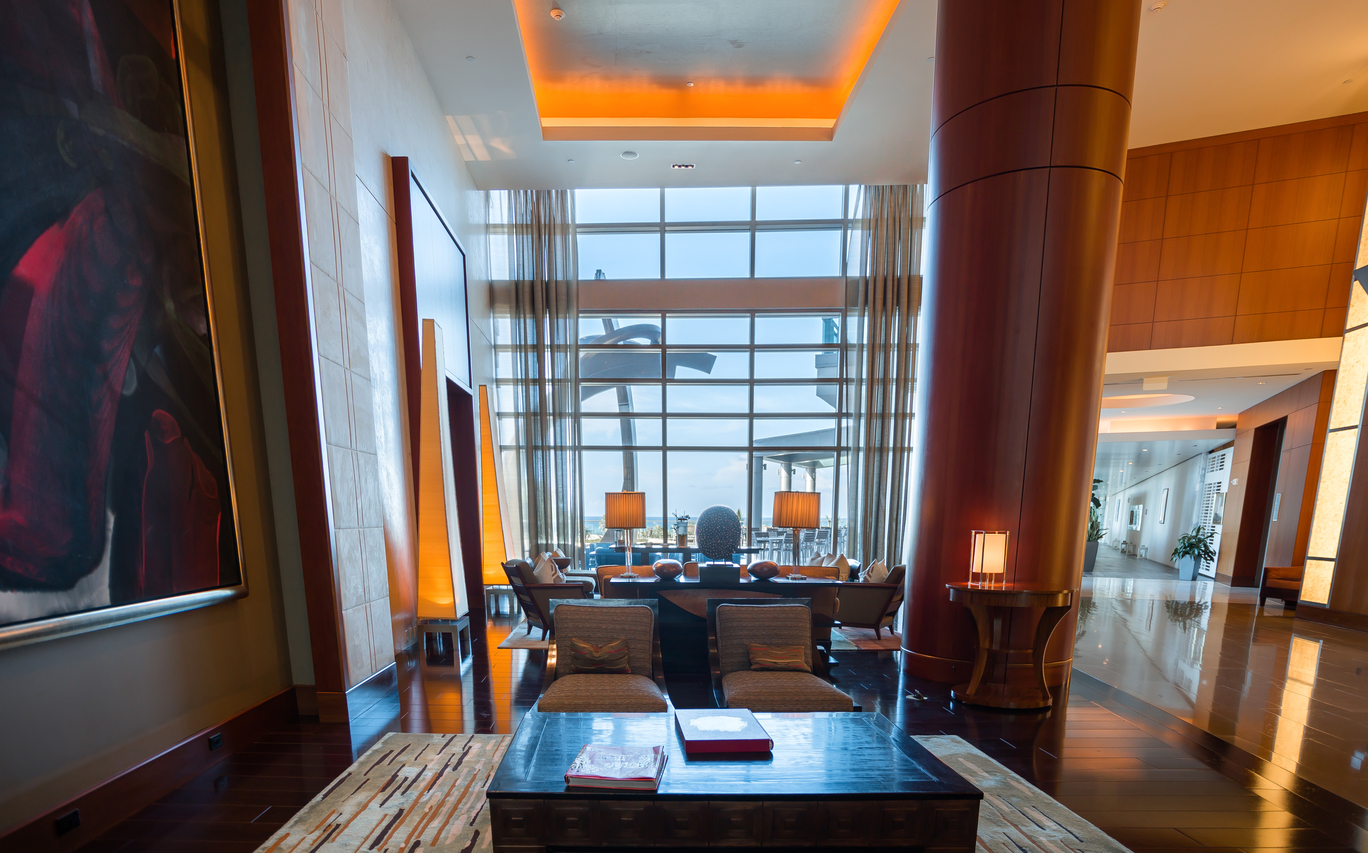 The Suite
Accessed by a semi private elevator with only two suites per floor, our ocean front one bedroom suite that we were welcome to felt more like a residence than a hotel room. This 1200 square feet suite is set up in a way to maximize both the ocean view and Intracoastal view.  You walk in straight into the entry where the half bathroom is, with the private bedroom on the left side and the open concept ocean front kitchen, living and dining area on the right side. 
The separate bedroom has beautiful city and Intracoastal views which it shares with it's on suite bathroom and private terrace. With 10 foot floor-to-ceiling windows in the bathroom and a free-standing soaking tub, this bathroom is serious bathroom goals.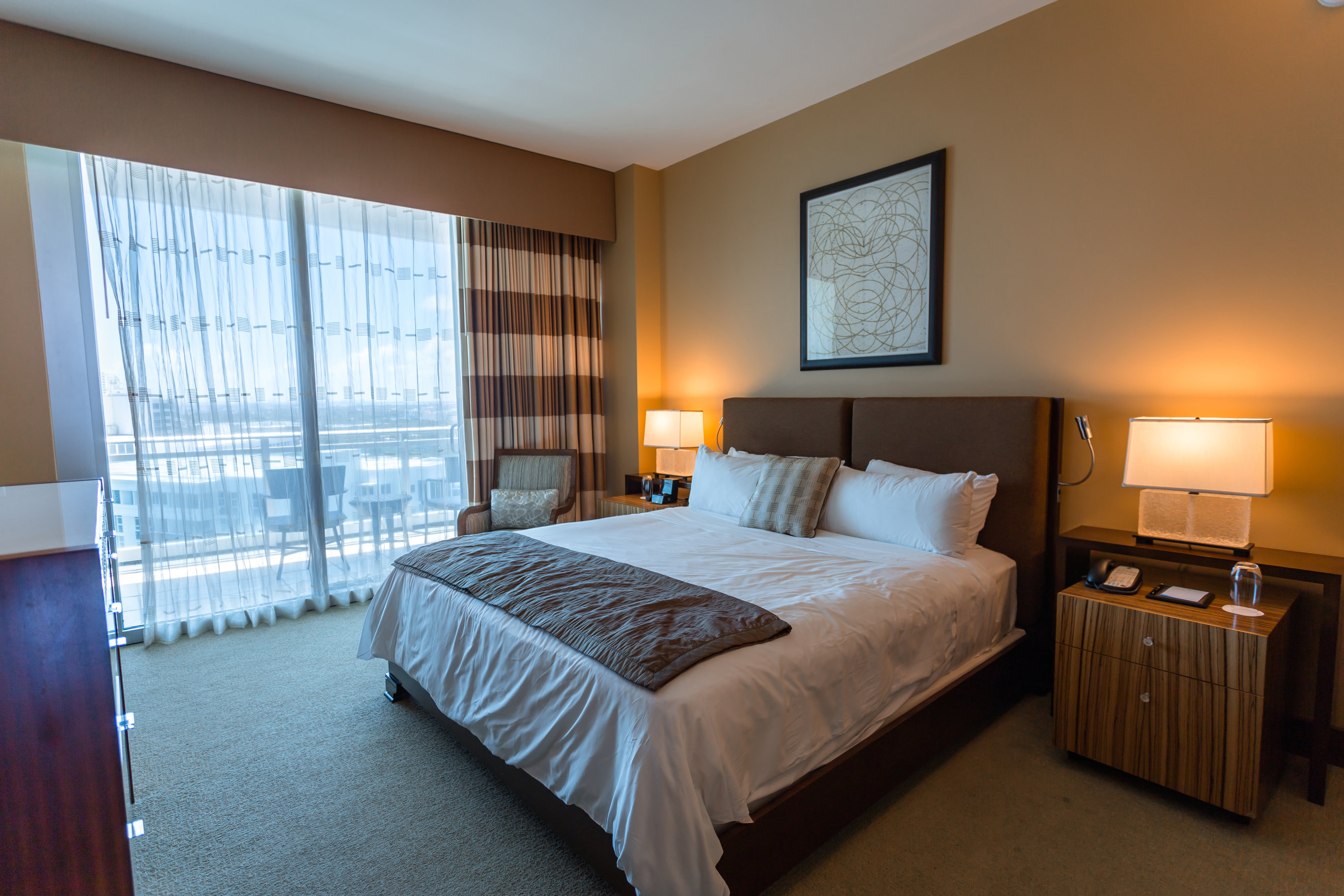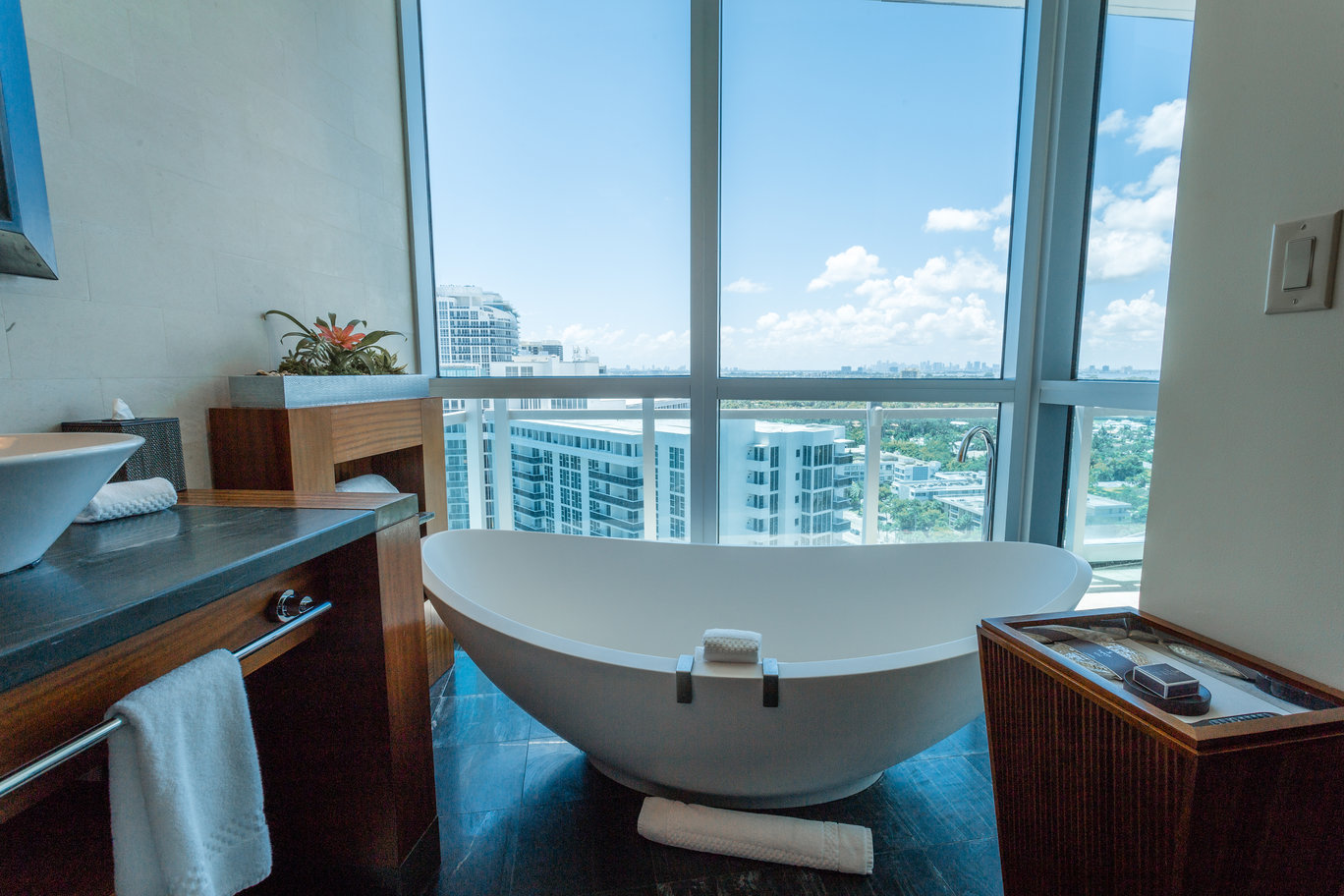 The large and comfortable living area features an office desk, dining table, a full-service kitchen and TV/Living area – all overlooking one of my all time favorite views in South Florida.  You can enjoy the view from inside or from your private balcony. We had such great weather that we couldn't resist hanging out on the terrace and enjoy some fruits and drinks.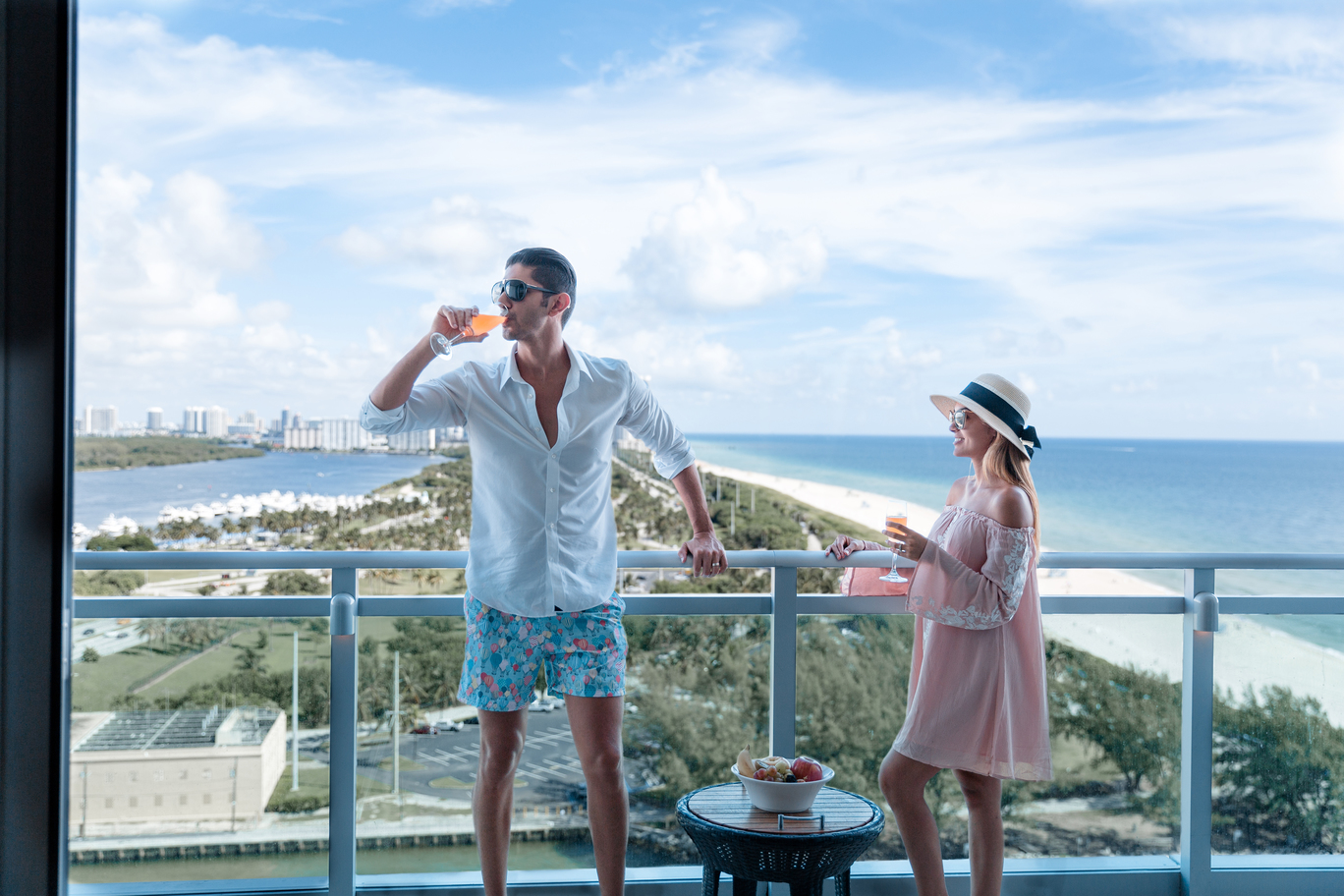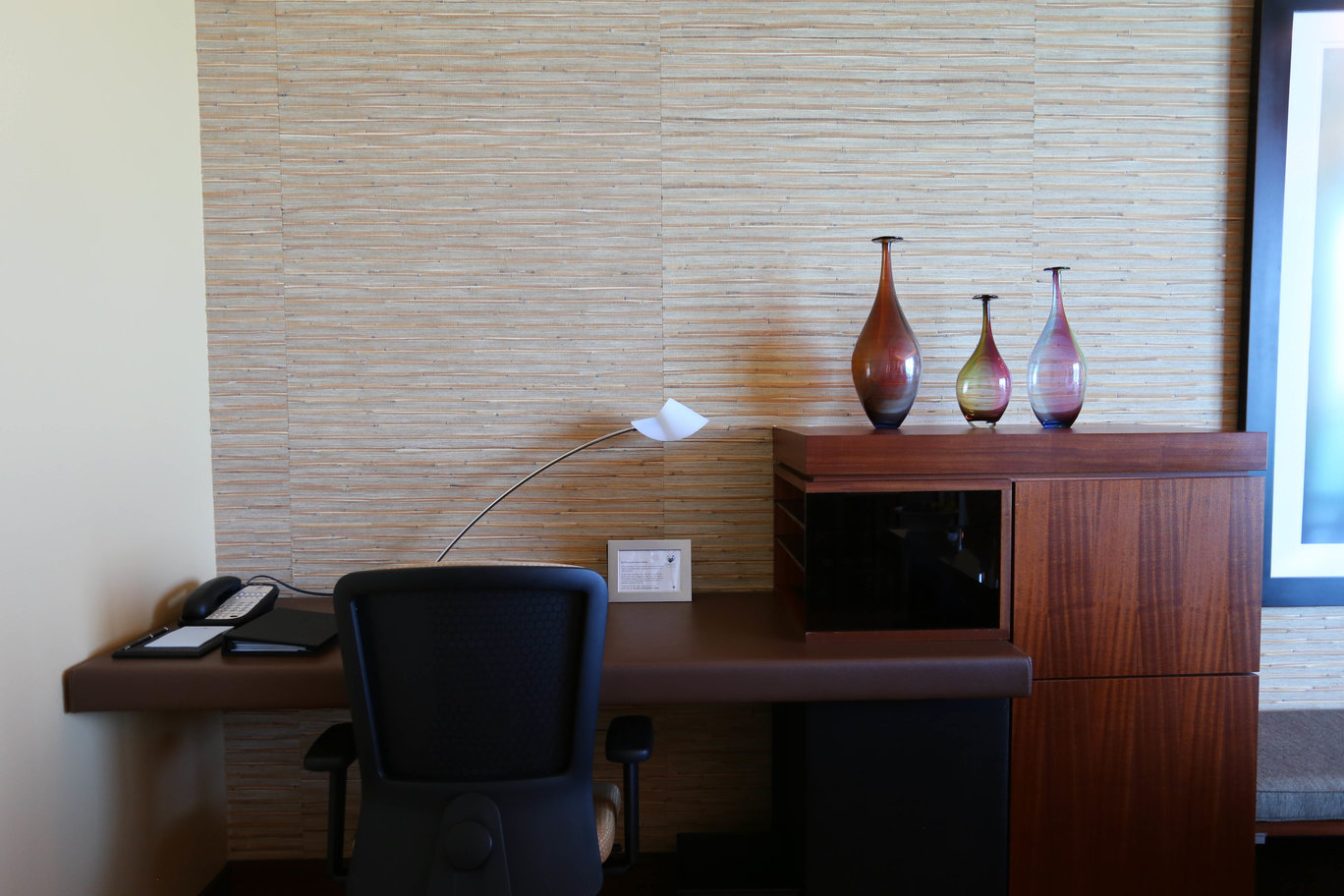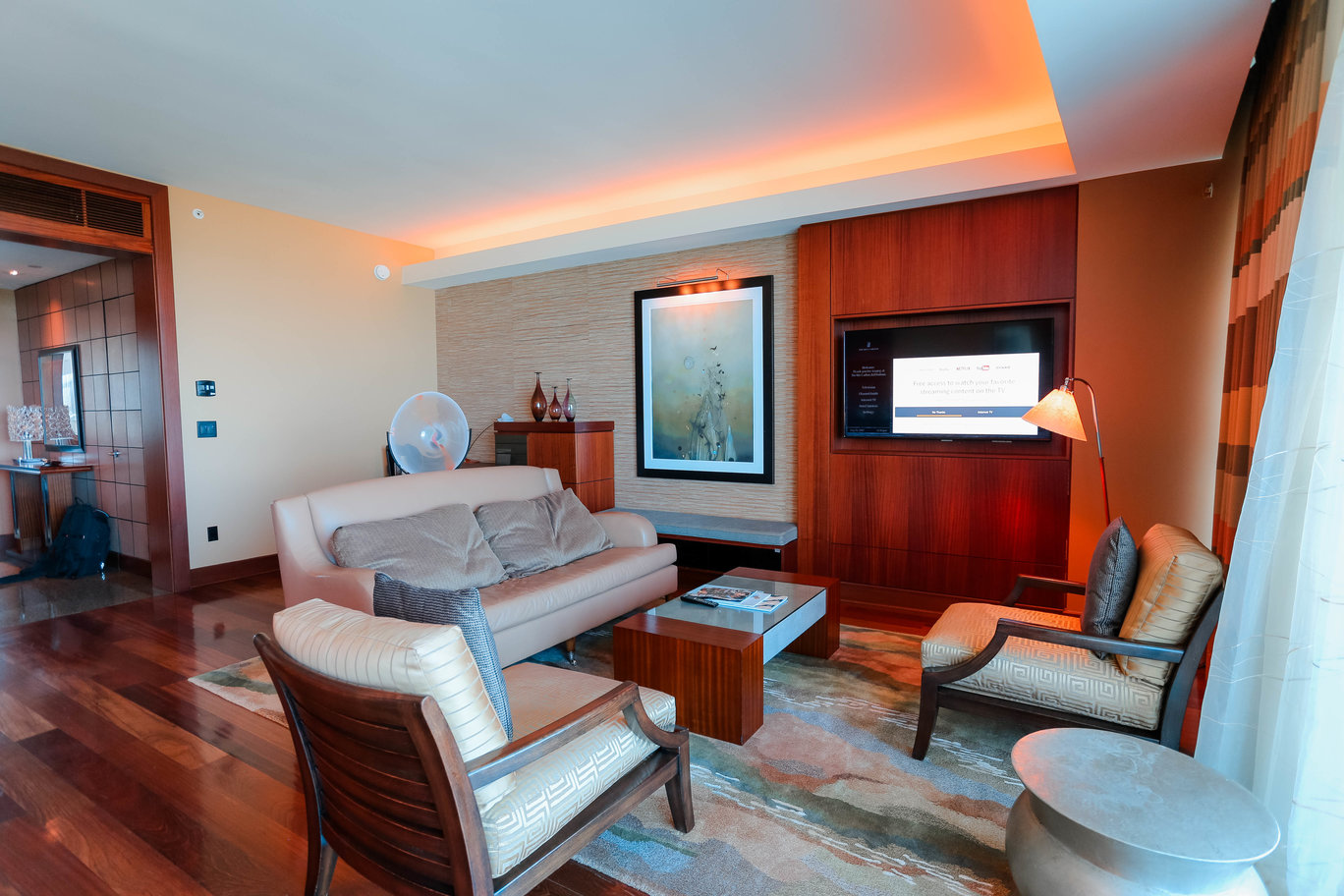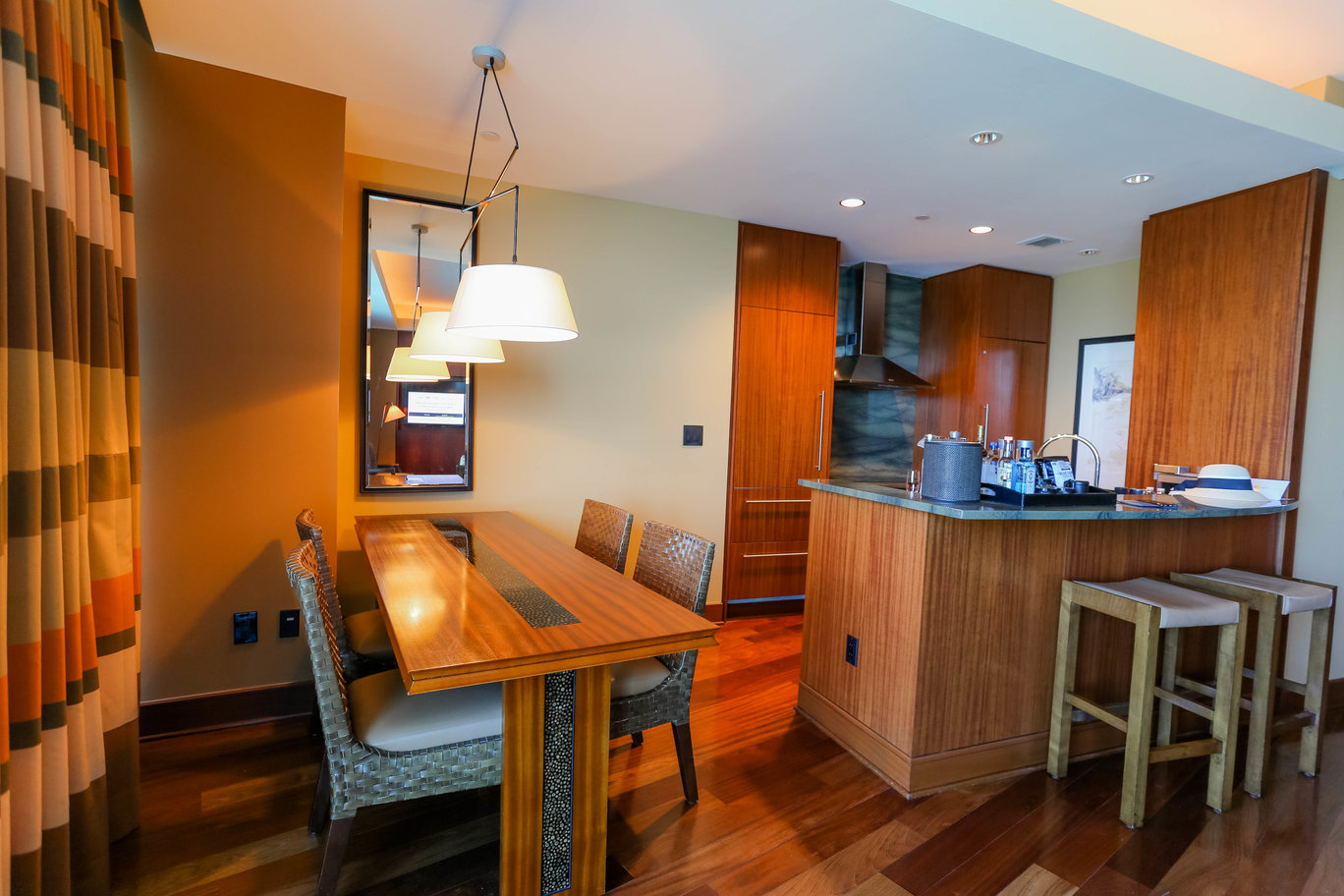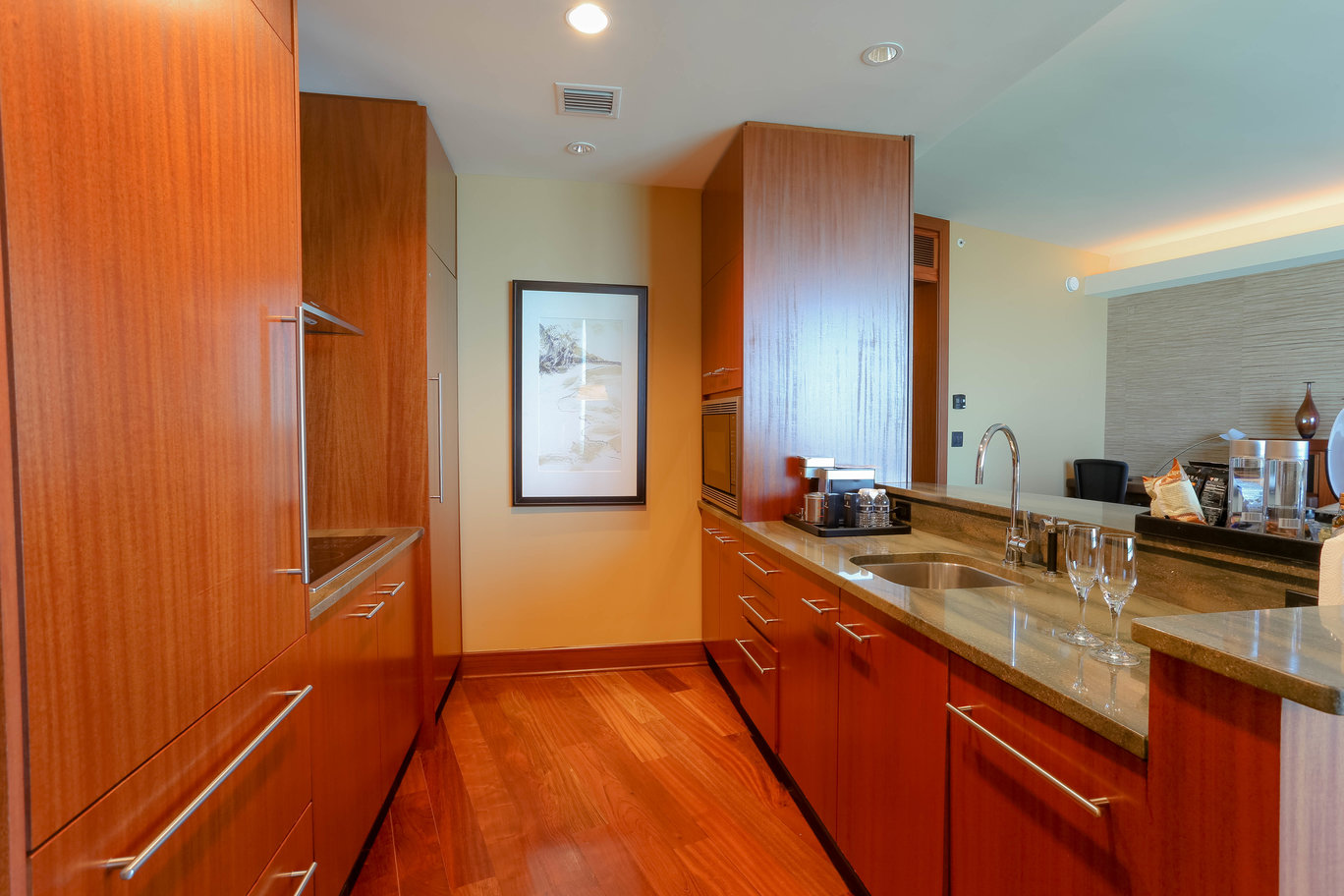 Pool, Beach & Amenities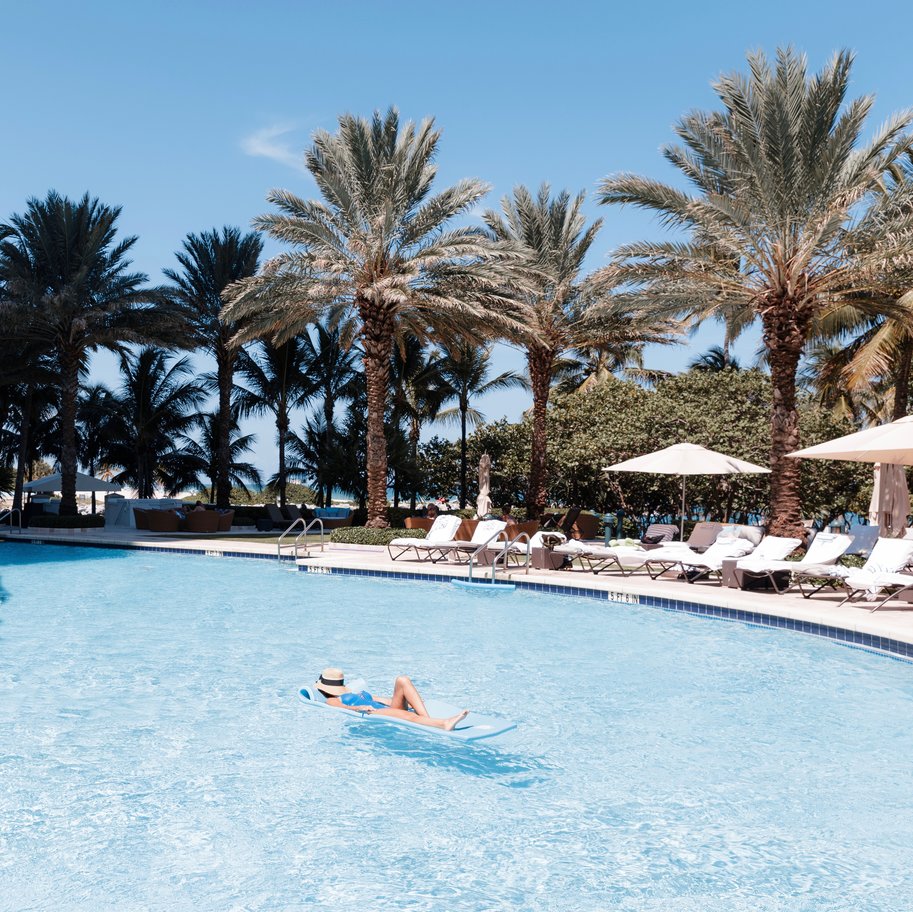 Being built as a luxury boutique hotel, the Ritz Carlton Bal Harbour offers one main pool located on the lower level with direct access to the beach. This beautiful pool welcomes adults and families a like to relax and enjoy in its tropical oasis. Surrounded by palm trees and beautiful beach cabanas, this is where you will most likely be spending most of your time.
Directly downwards from the pool, you can access the beach which is beautiful and semi private, though it will feel almost completely private because there are only a few people there at a time. This is also one of the highlights of this property because you get to enjoy beautiful Floridian beaches without the hustle of South Beach.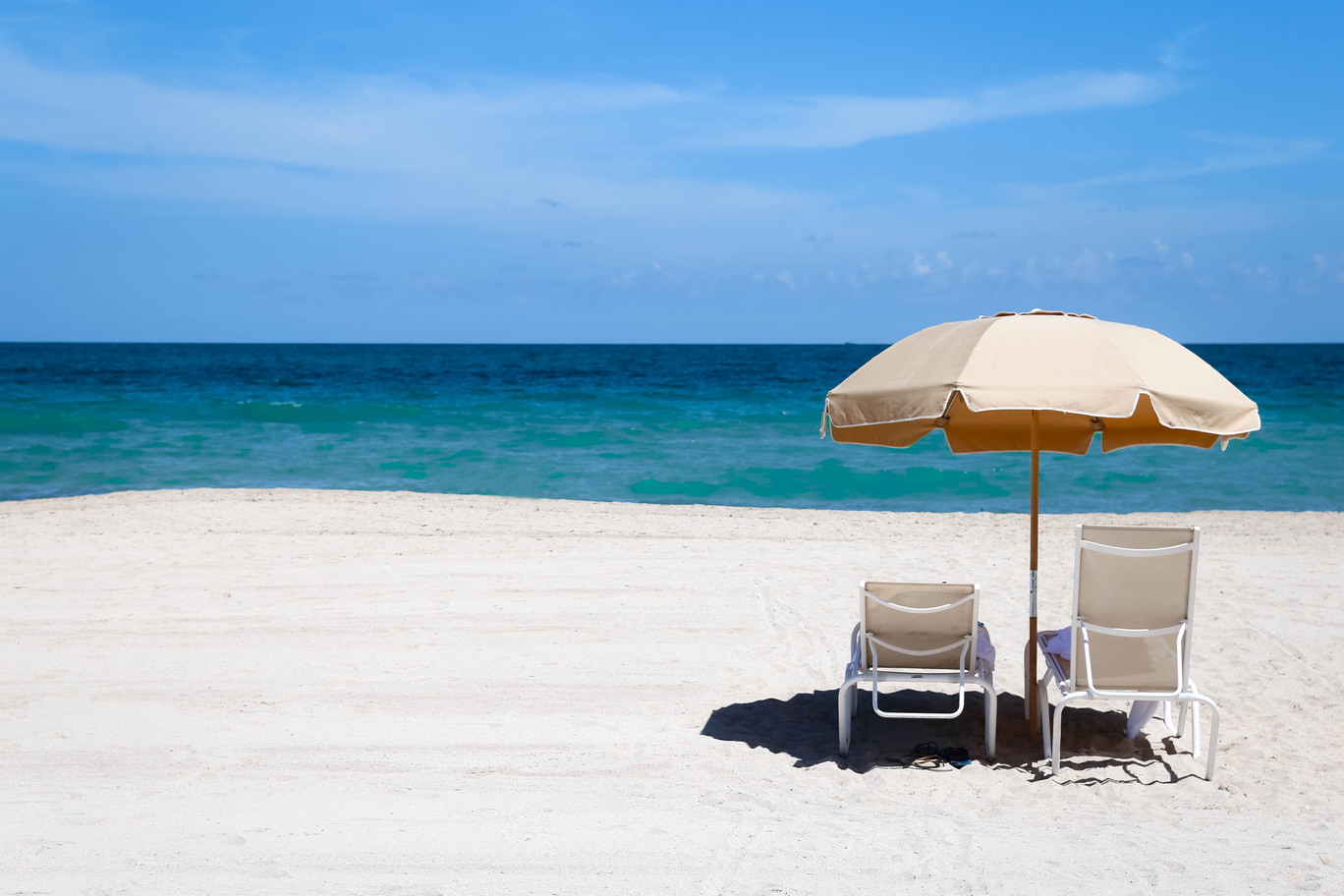 The hotel also offers some stylish Ritz Carlton bikes for you to bike by the beach or by Bal Harbour Village. We biked around the beach walk as family and had tons of fun.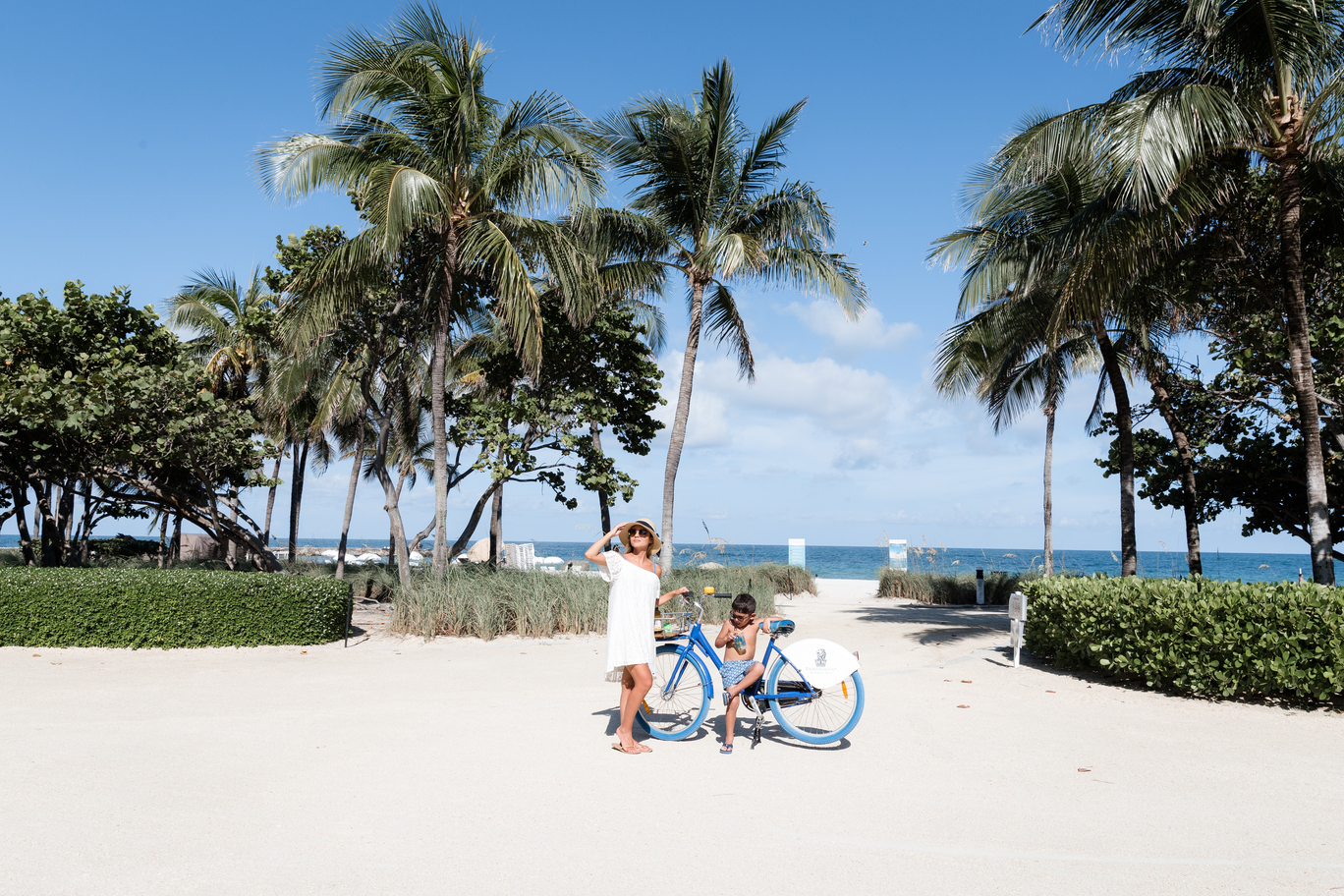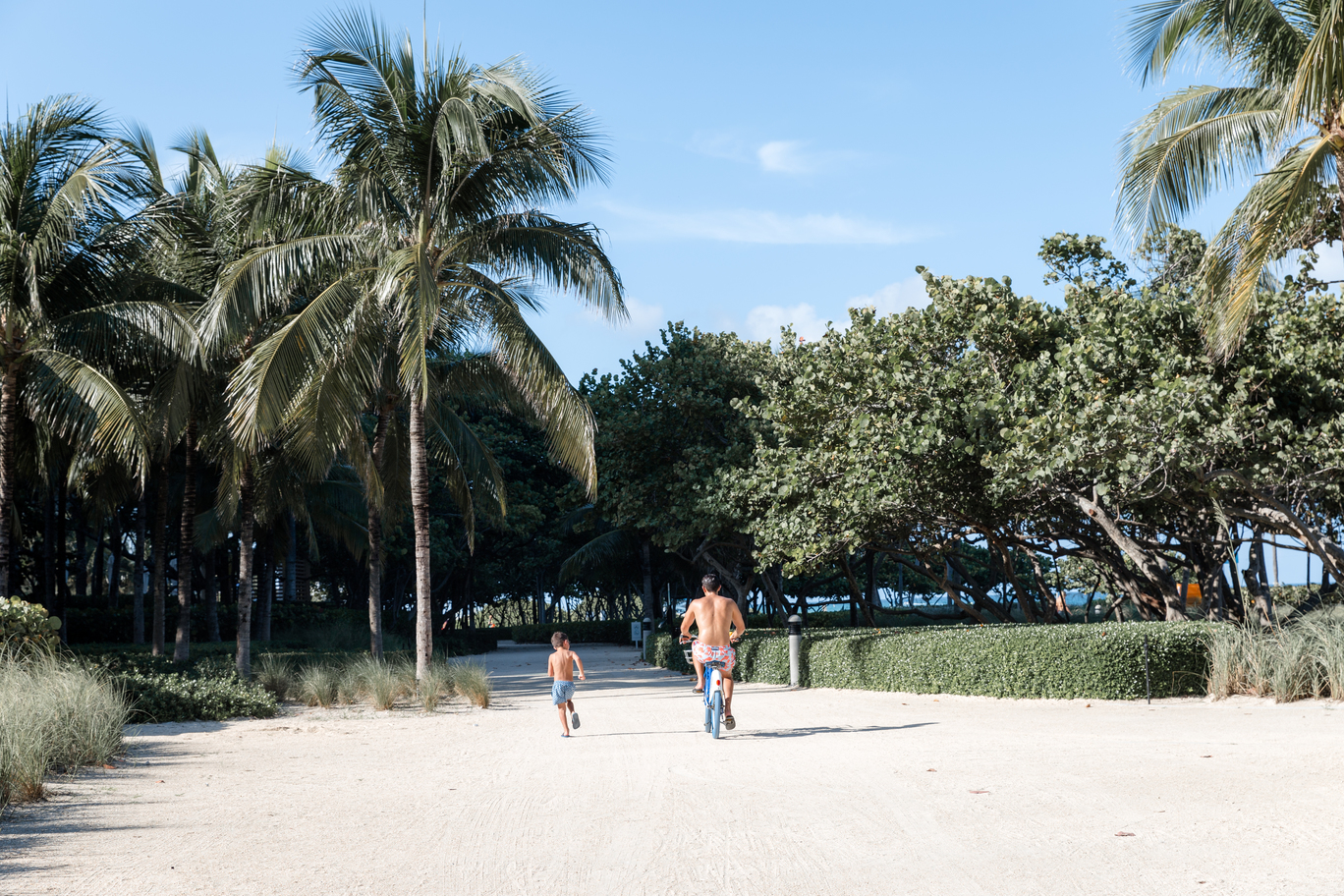 Unfortunately, this Ritz Carlton offers neither a Club Lounge nor Ritz Kids Club. Though it is unfortunate, this definitely doesnt take away from the experience, and even considering this, this property is still one of our favorites in South Florida. Even without the Ritz Kids Club, the property is very kids friendly and offers daily activities for kids at the beach as well as has two "kids areas" in the hotel – one next to the pool and one in the lobby.   Maybe in the future, the Ritz Carlton Bal Harbour will add either a dedicated room for the kids or a staff member to supervise them in the kid's areas.  This would be a great idea so parents can make the most out of the Exhale Spa.
Exhale Spa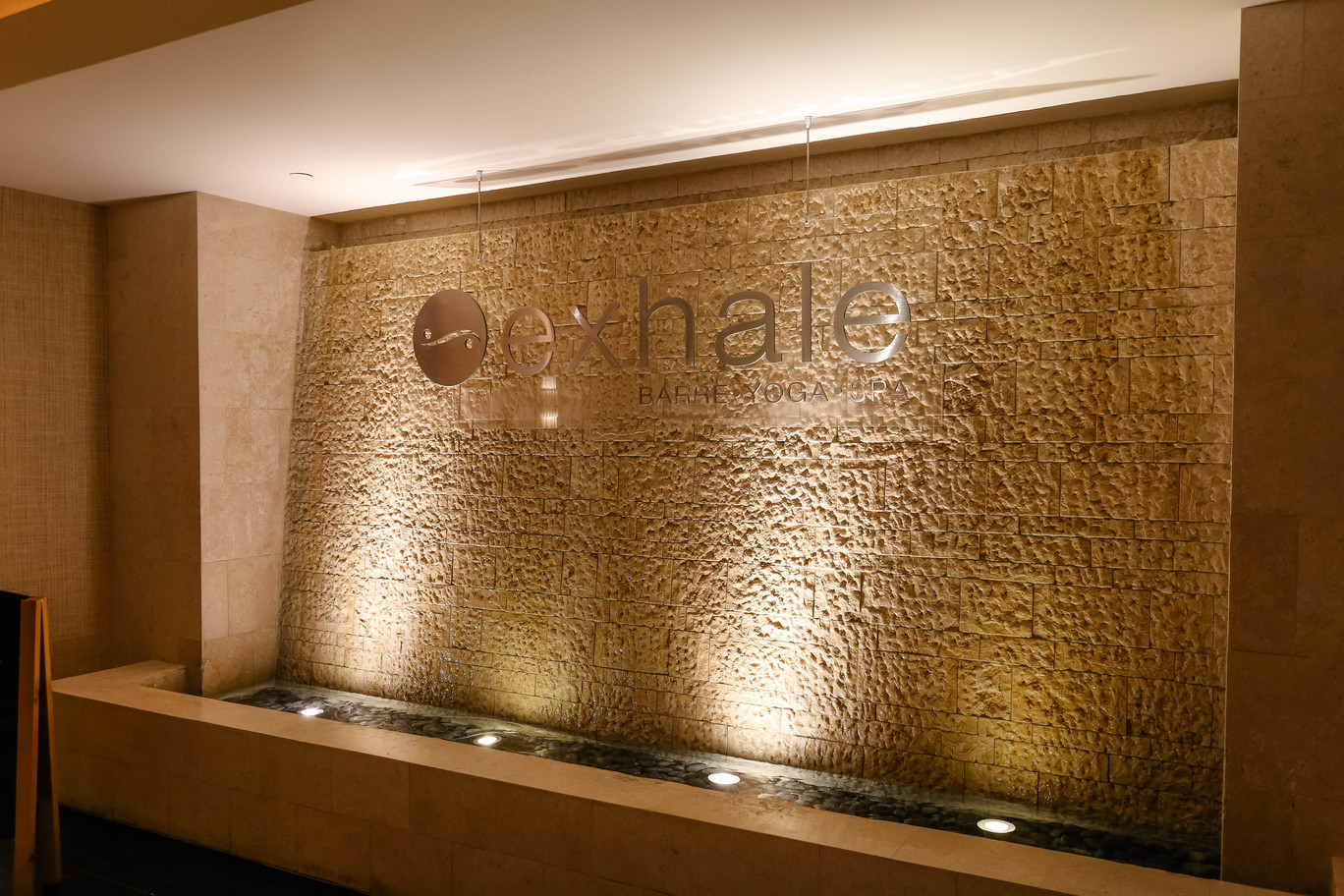 The newly opened Exhale Spa is an oceanfront 10,000 square feet spa facility offering a full-service spa, boutique shops, fitness center, steam room, sauna, and indoor and outdoor zen areas. With a variety of different services such as waxing, facials, mani, pedis and many different classes, visiting the Exhale Spa during your stay is a must.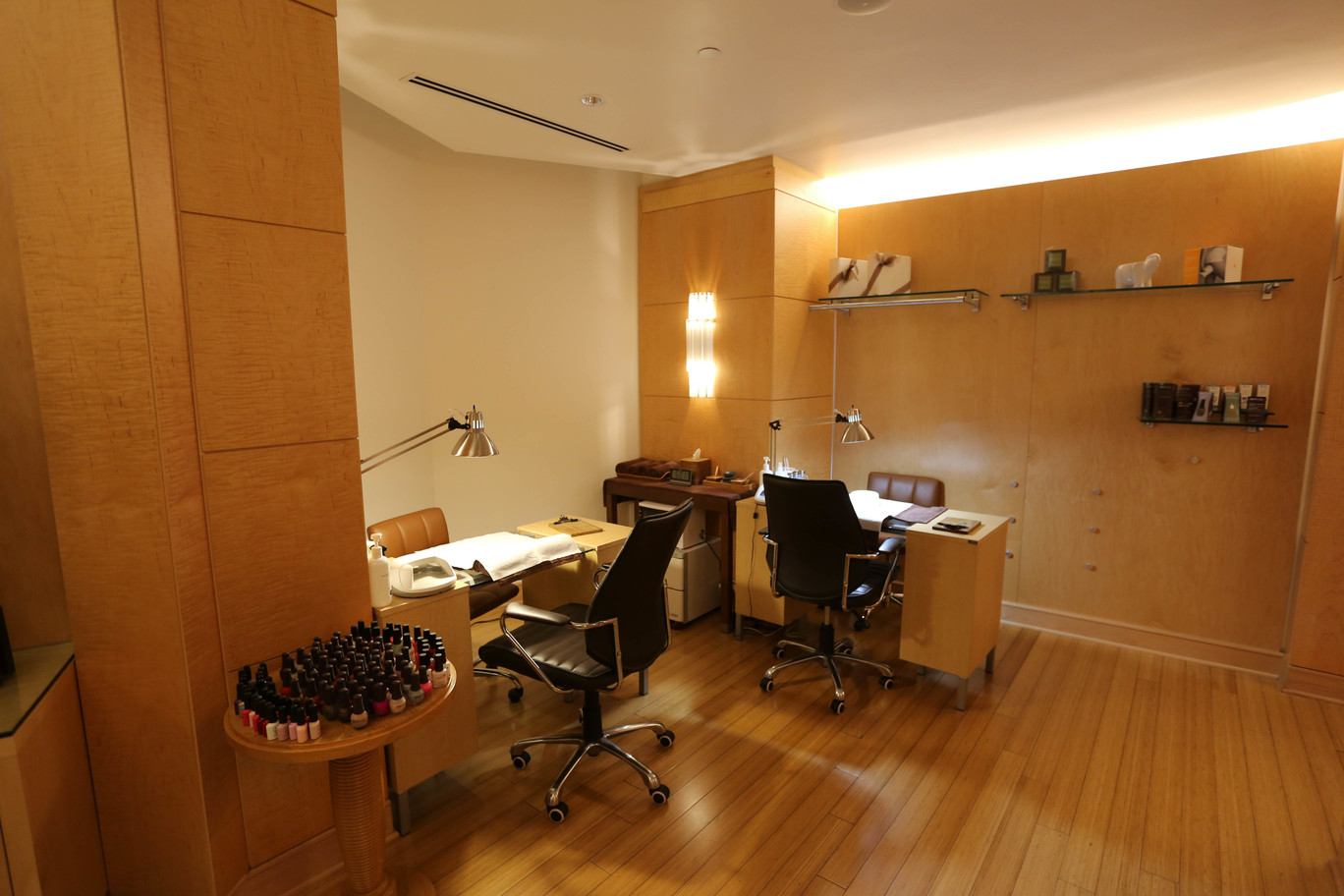 My husband was scheduled to receive a fusion massage so we both went a little earlier to enjoy the facilities. With both the indoor and outdoor zen areas with a few refreshments provided, I think it's a great idea to start your experience early and relax here first like we did.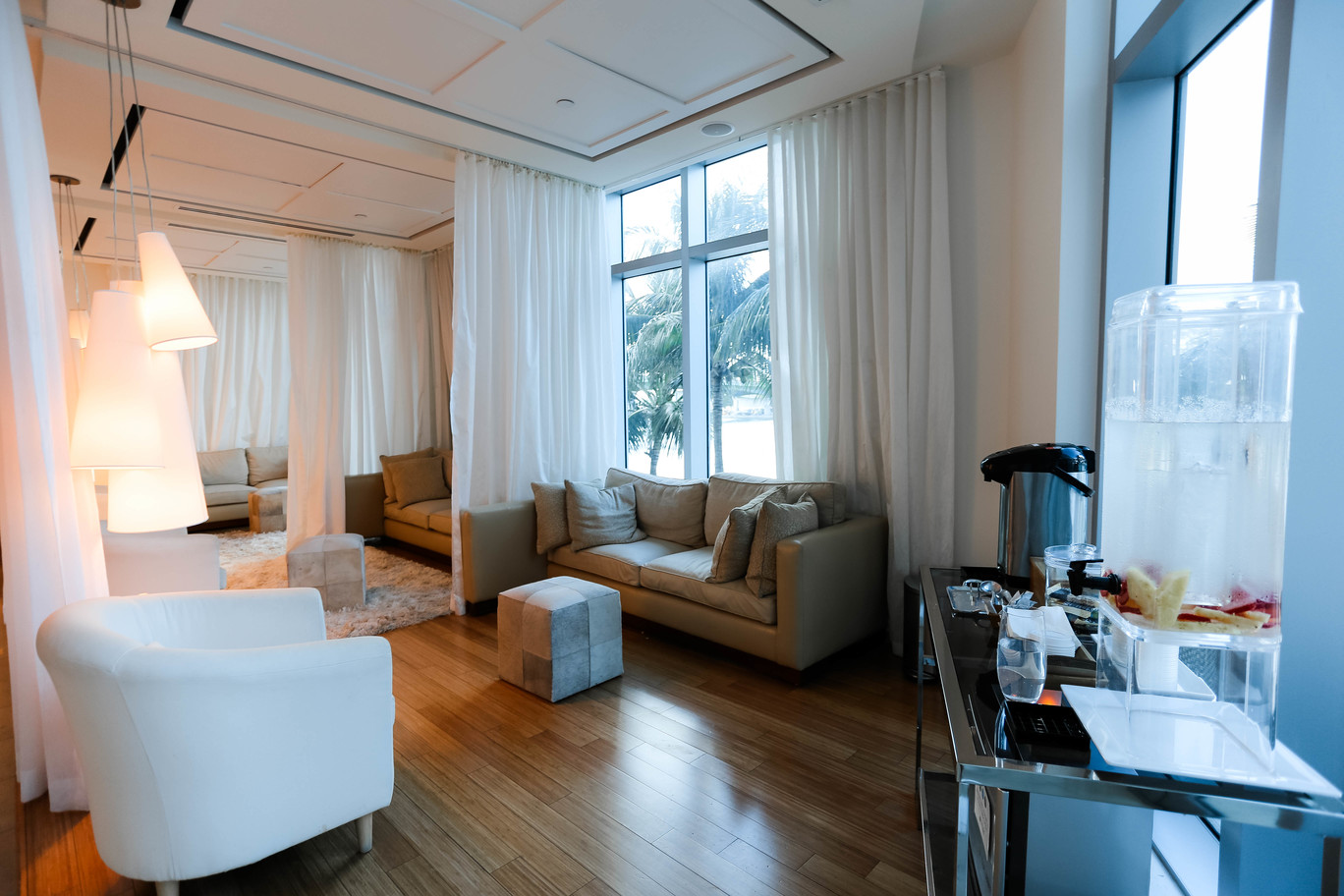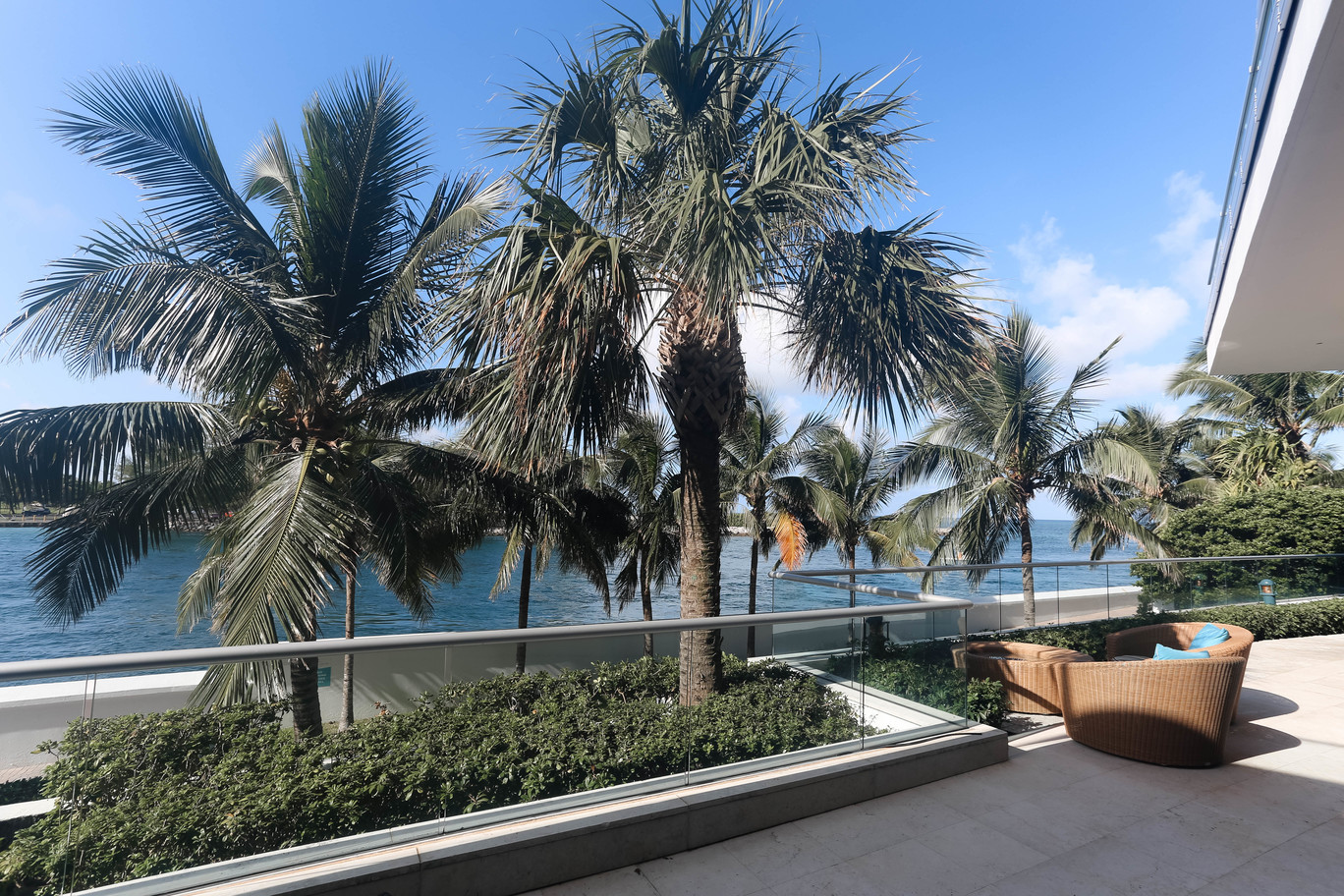 My husband loves to get massages, and in almost every luxury property that we visit, he always gets at least one session. After receiving his massage with his appointed masseuse – Sofia, he believes this was one of the best massages he has ever gotten! Lucky for him we live in South Florida, so he definitely plans on returning.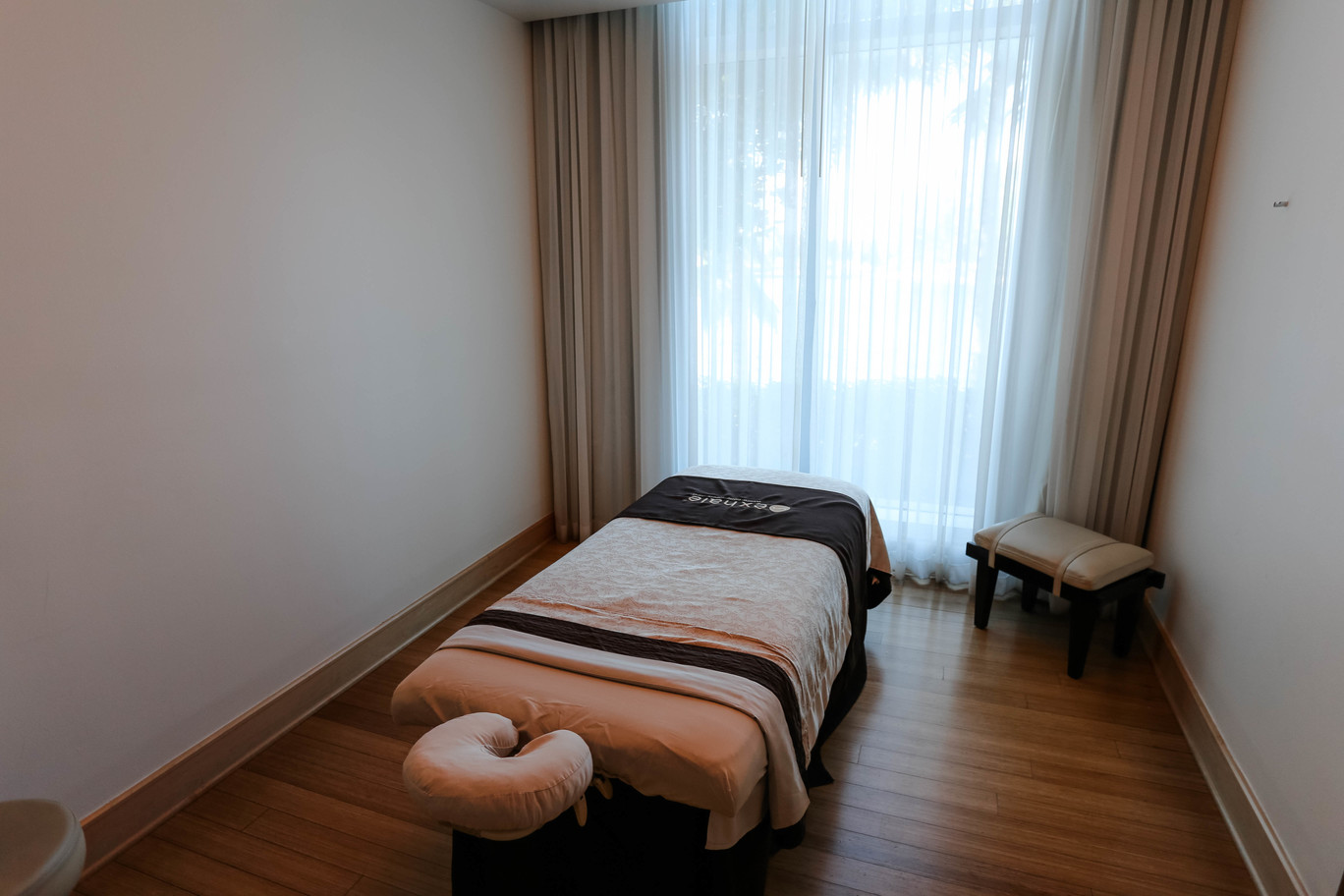 Dining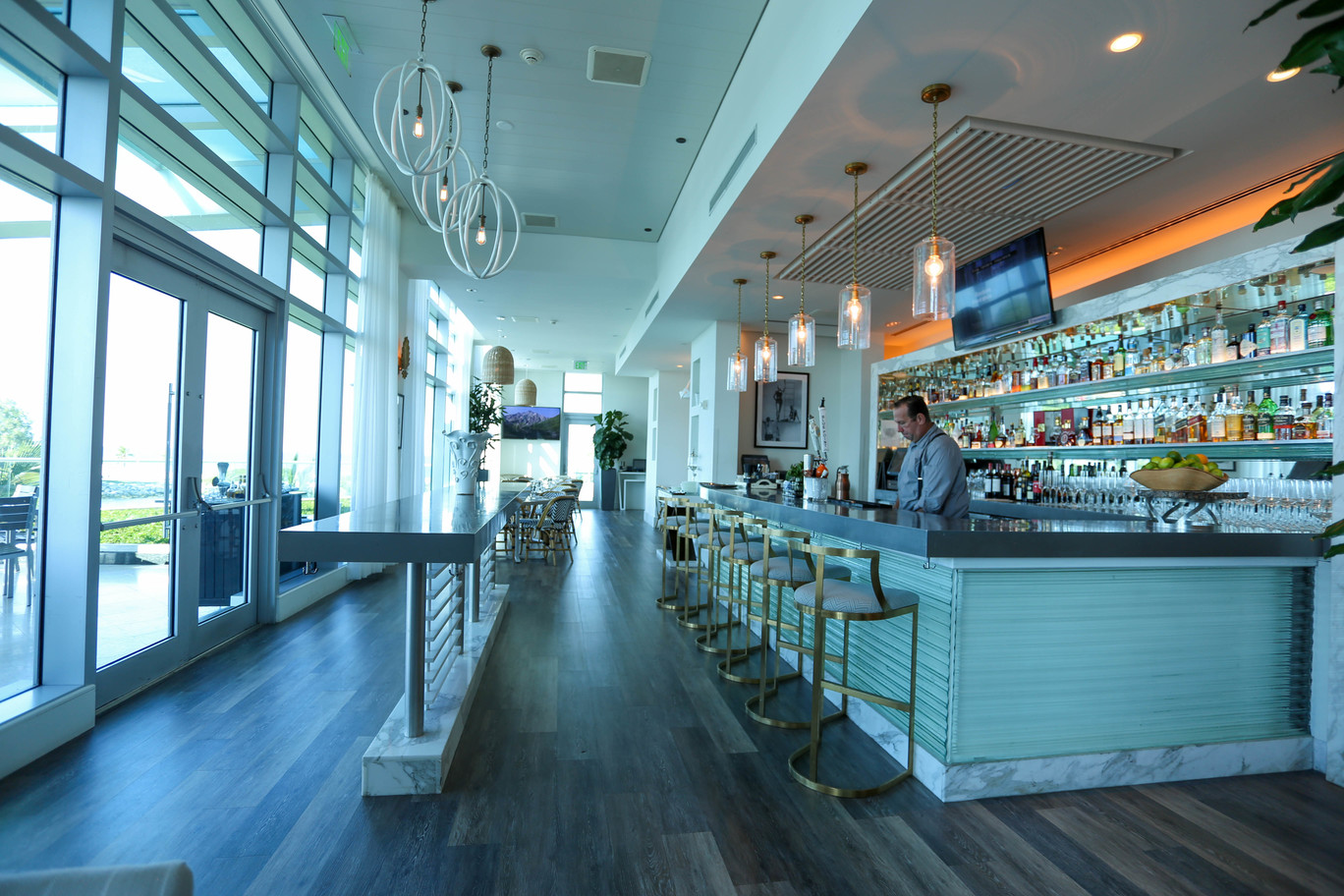 Open from 7 am to 11 pm, the Artisan Beach House is the main dining option on the property, offering full service from breakfast to dinner to  Sunday brunch. Lead by award winning Chef Paula DaSilva, the menu consists of locally grown international cuisine. With a beautiful interior decor reminiscent of 1930s Palm Beach, beautiful ocean views, and a greatly varied menu, you will sure to enjoy any meal whether is breakfast, lunch or dinner. This is where breakfast is served every morning, either a la carte or buffet. We found oatmeal and fruits to be the perfect vegan-friendly breakfast for us. And on the last day, the chef was kind enough to make me an Avocado Toast from their lunch menu for breakfast. Along with a ginger shot, that was a delicious meal.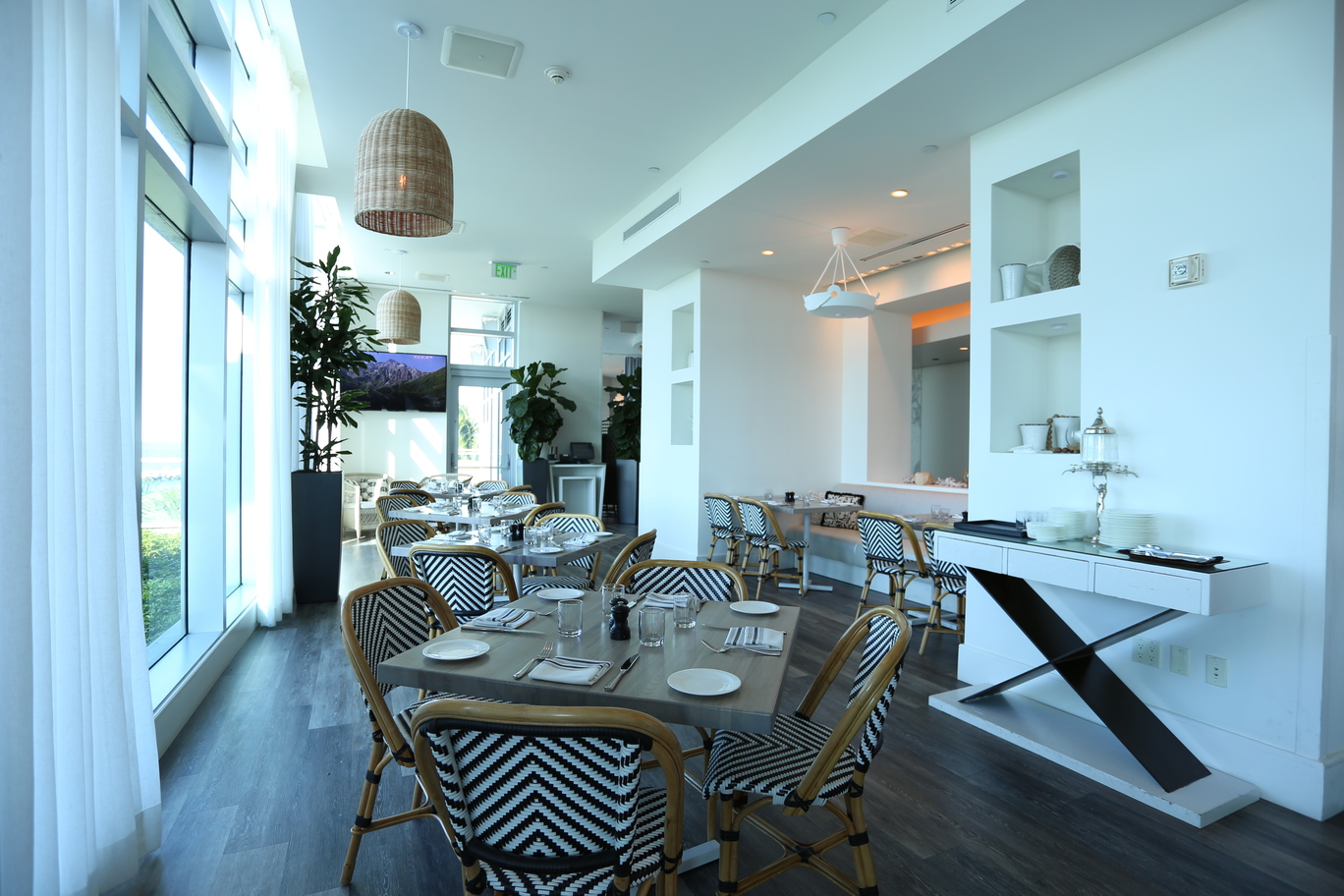 The pool restaurant next to the pool, which I believe is an extension from Artisan Beach House, has a small menu for those who would like to have lunch by the pool.
Disclaimer: Though this post is in partnership with Ritz Carlton Bal Harbour, as always, all opinions are my own.