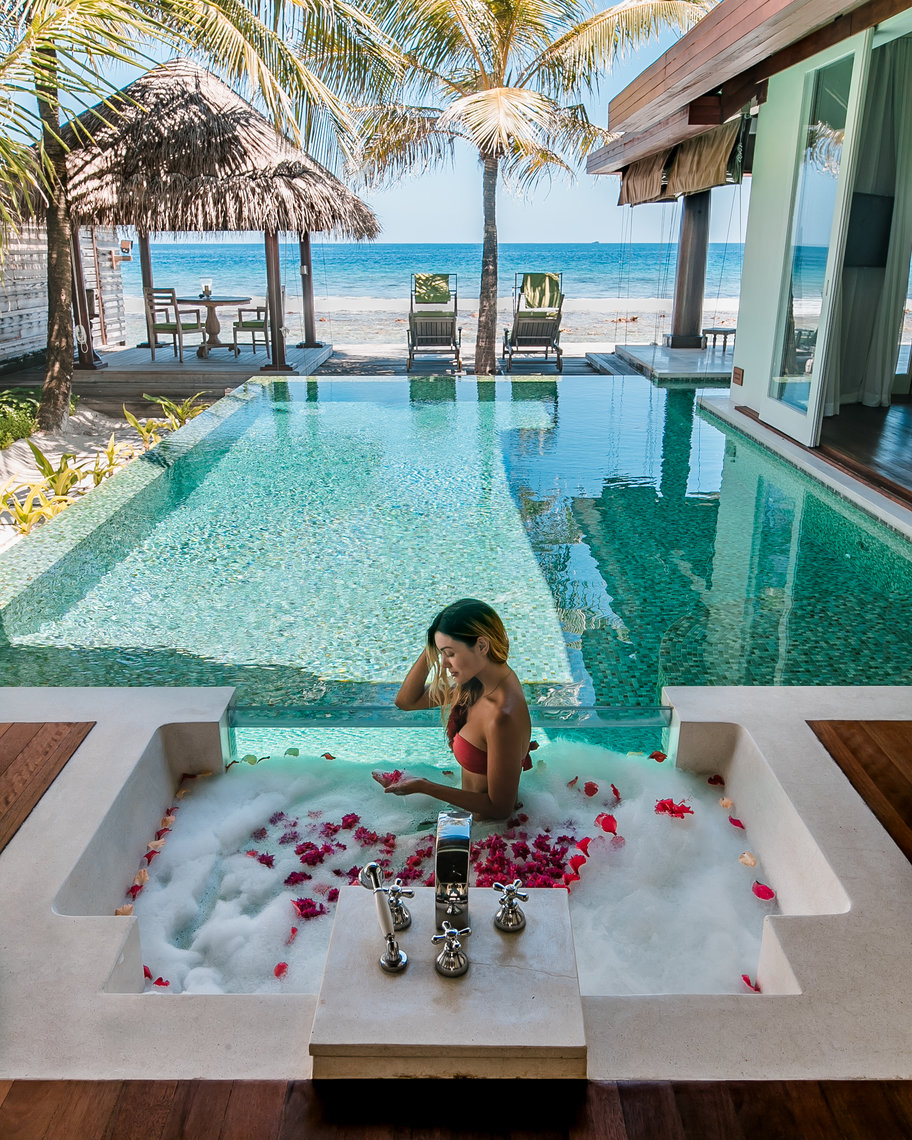 Naladhu Private Island: Complete Relaxation in Anantara's Private Island
What You Need To Know About Maldives:
Unlike many other places on the planet and one of the things that makes the Maldives extraordinary unique is that each hotel is located on a private island of itself. In order to understand this concept, we need to realize that this island country is composed of a chain of 26 coral atolls each of which is made up of hundreds of different islands all dispersed through roughly 90,000 square kilometers making it one of the world 's most dispersed countries! These hundreds of islands are miniature islands, most of which are inhabited and left untouched. For this reason, each island can only "host" one hotel and also one of the reasons why most hotels have water bungalows. This is why planning a trip to the Maldives is extremely different than planning a trip to most other tropical destinations, and why it's crucial for you to do lots of research to choose the right hotel since you will be spending all of your time there. This means you will sleep, eat and do all of your activities in the hotel. In the Maldives, you can not simply leave the island and go somewhere for lunch or explore a different beach (Unless you are staying in the capital, Male ). This means that essentially the hotel that you choose to stay in will define your whole Maldives experience.
Location & How to Get To Naladhu Private Island :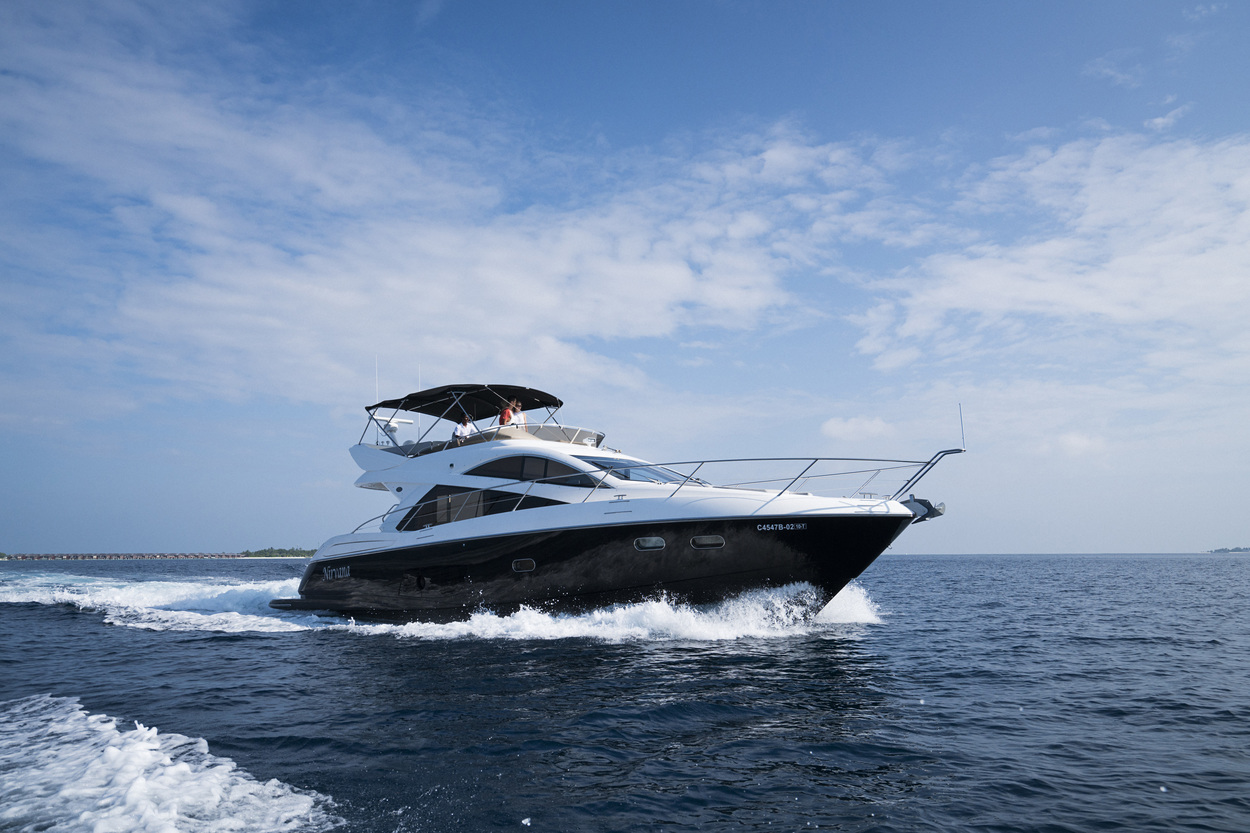 Once you land to Male International Airpot, the Anantara lounge is one of the first things you will see since its conveniently located right in front of the arrivals. The lounge is a shared lounge for the four Anantara properties in the Maldives- Dhigu, Veli, Naladhu & Khihavah. Of which, three of them – Dhigu, Veli and Naladhu are neighboring islands, all just a short 30 minute boat ride away from Male airport. For the guests of Naladhu Private Island, you will have your own private transfer to the resort while Veli and Dhigu guests have their separate ride.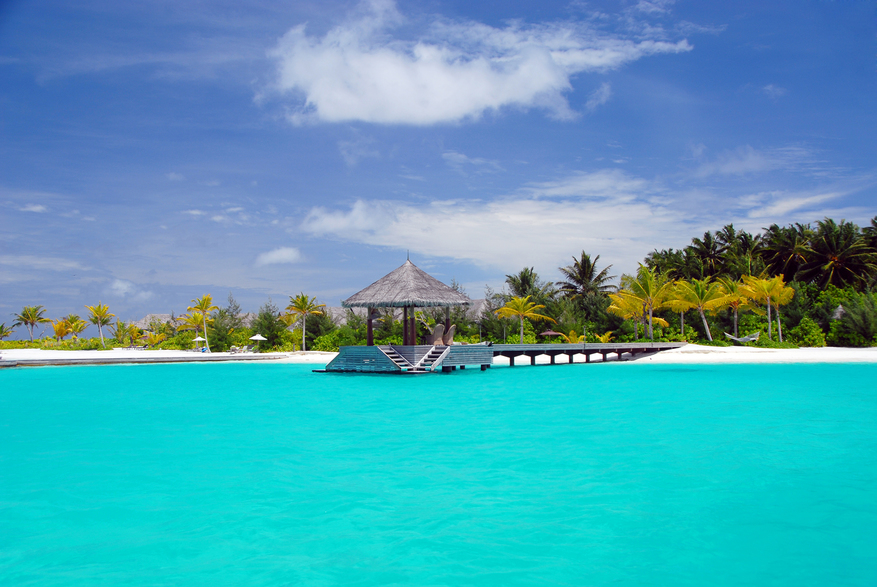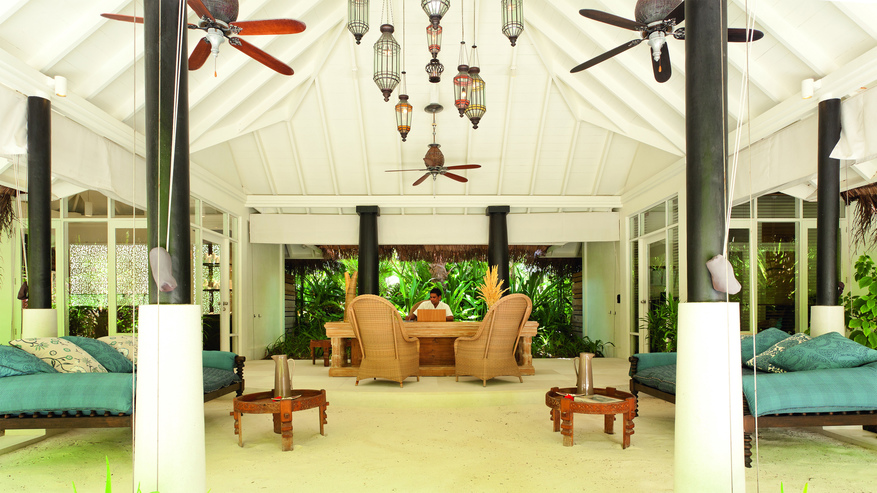 The Villa: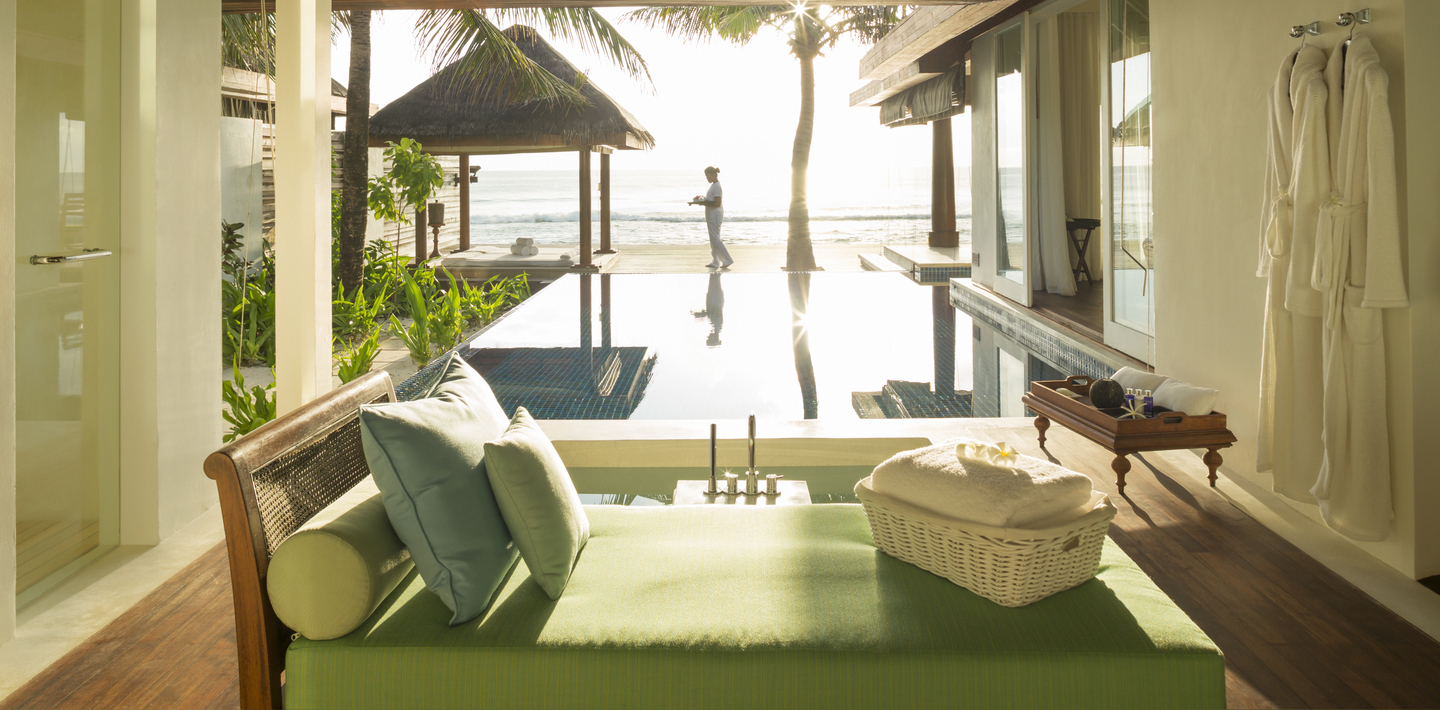 With only 20 rooms and suites, Naladhu Private Island is designed to feel like your home away from home in the paradise of Maldives. All the rooms have the look and feel of your own residence in paradise making you feel right at home. The design is very homy and cozy, and offers complete privacy to its guest. Resembling a cottage or summer home, the one bedroom suite is very spacious with an even bigger outdoor area. The bathroom design blends the exterior with the interior by having an open area connected directly to the pool, sundeck, and outside sitting area. Definitely the highlight of the villa! And also most likely where you will be spending most of your time. And though yes everything is open, the Ocean Villas due to their location, they offer complete privacy. Plus, the villas are facing the sunrise side of the island where it is not advisable to swim in; therefore, you will not have neighbors passing by in kayaks, paddle boards or snorkeling in front of your villa at any time.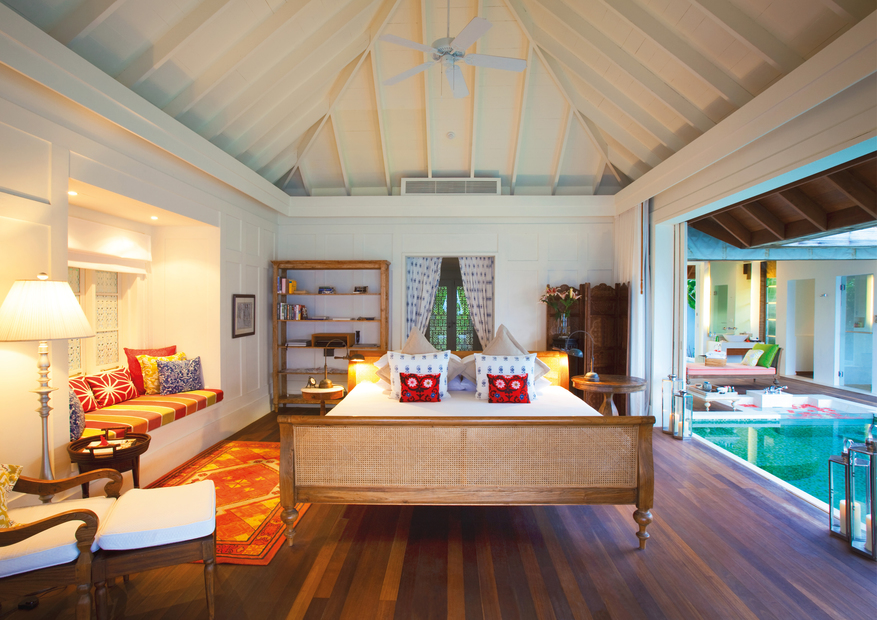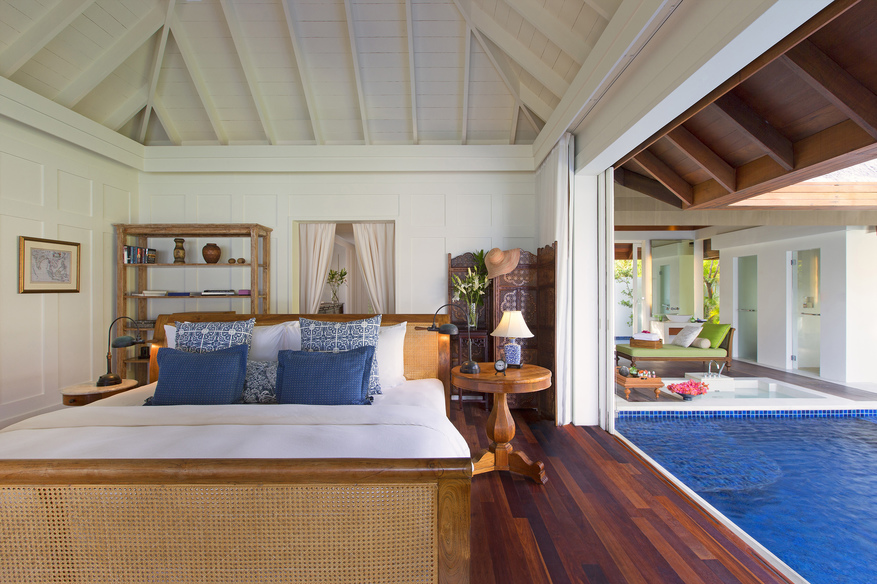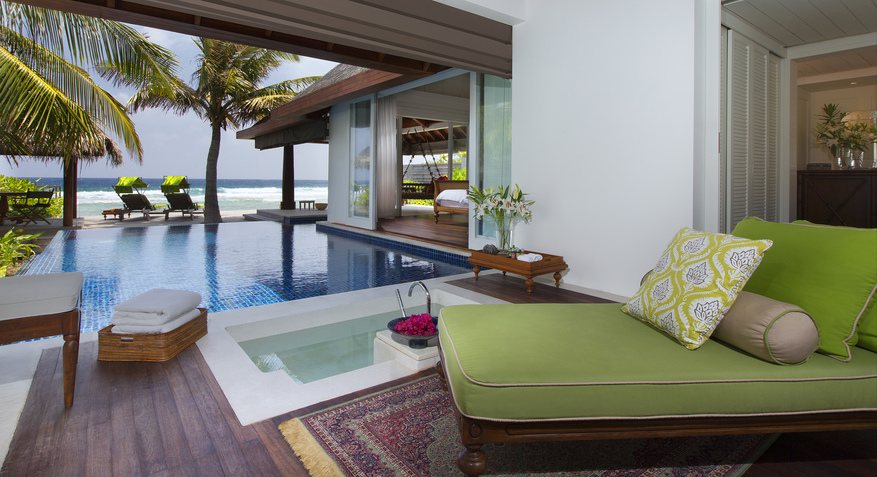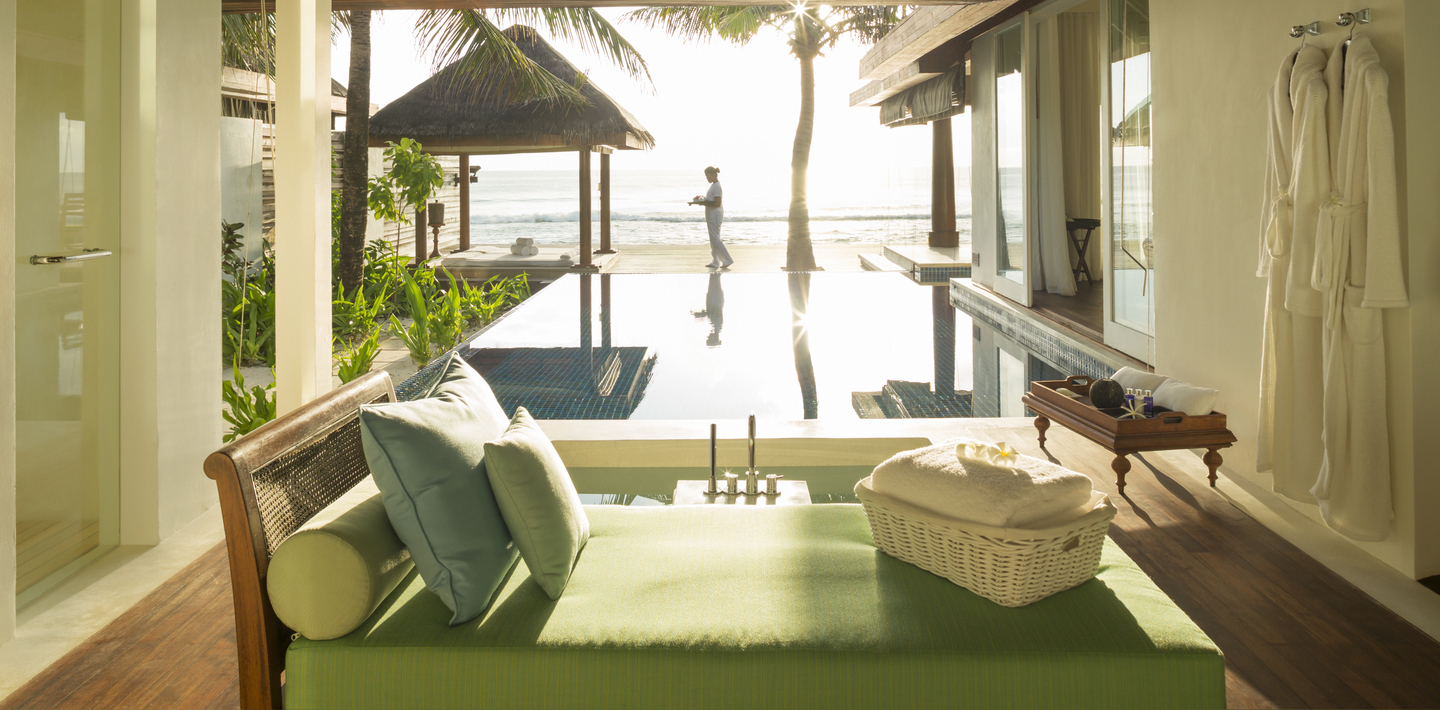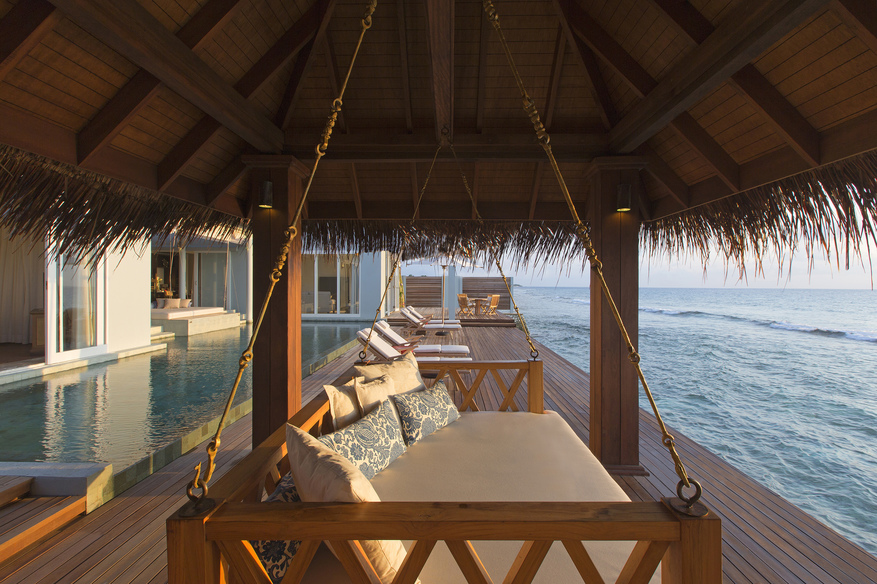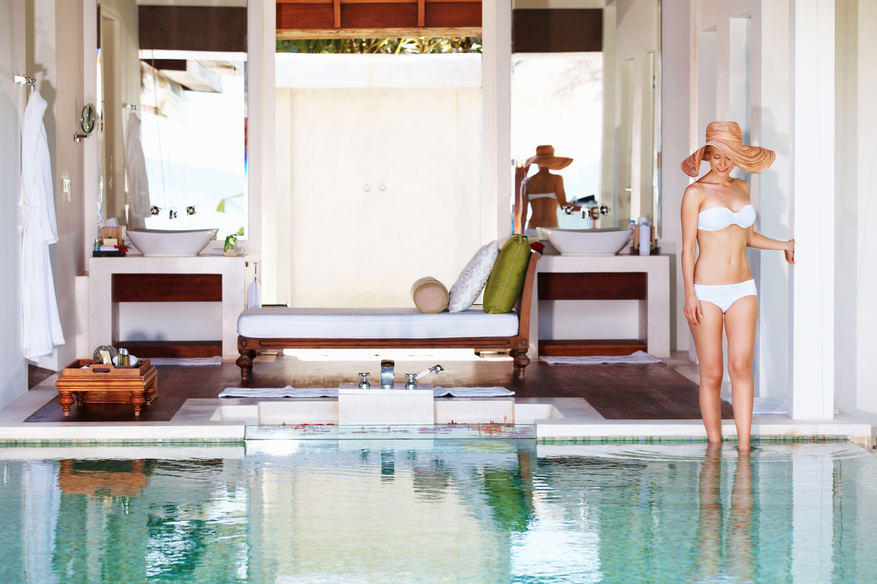 If privacy is of utmost important for you, then Naladhu Private Island is a great option for you.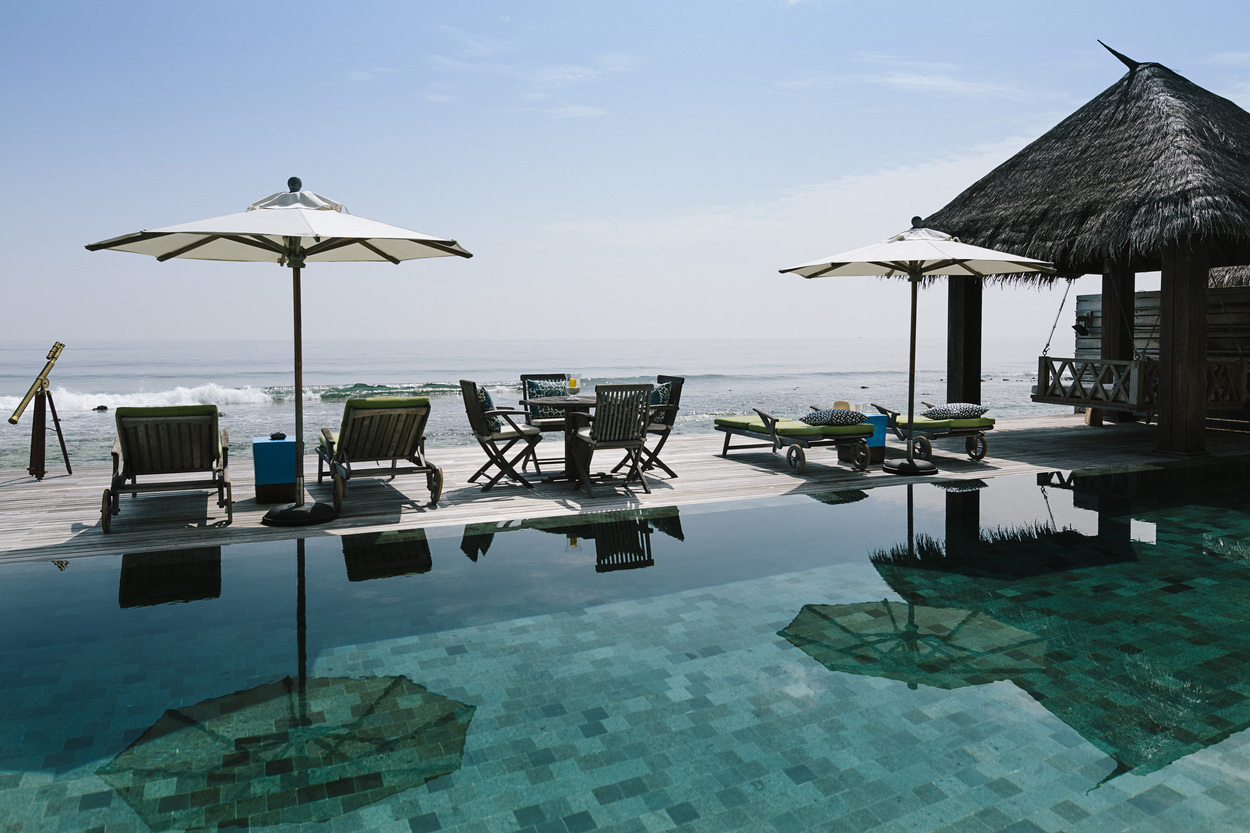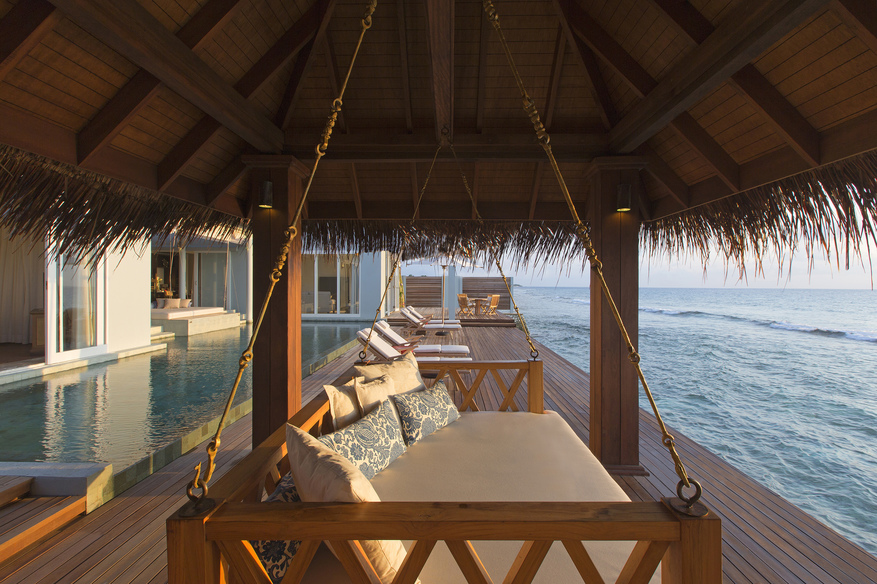 Amenities: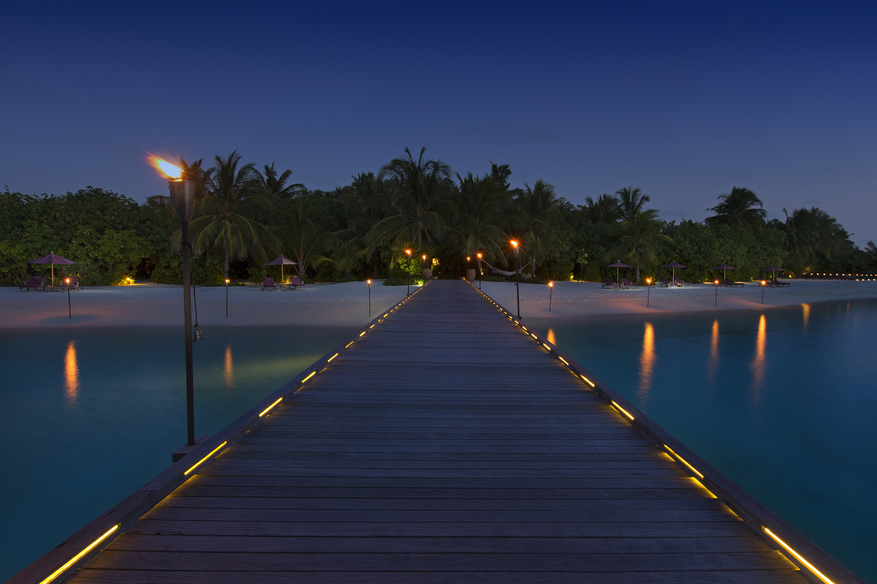 Being one of the smallest islands in the atoll, Naladhu Private Island is a very small island with limited amenities. With that being said, it has access to the facilities on both neighboring properties- Veli and Dhigu which are just a short boat ride away (couple of minutes). As a guest of Naladhu you are welcome to venture out and experience these two sister properties; however, not vise versa. Guests of Veli and Dhigu are not allowed to visit Naladhu in order to keep the traffic in the island to the minimum.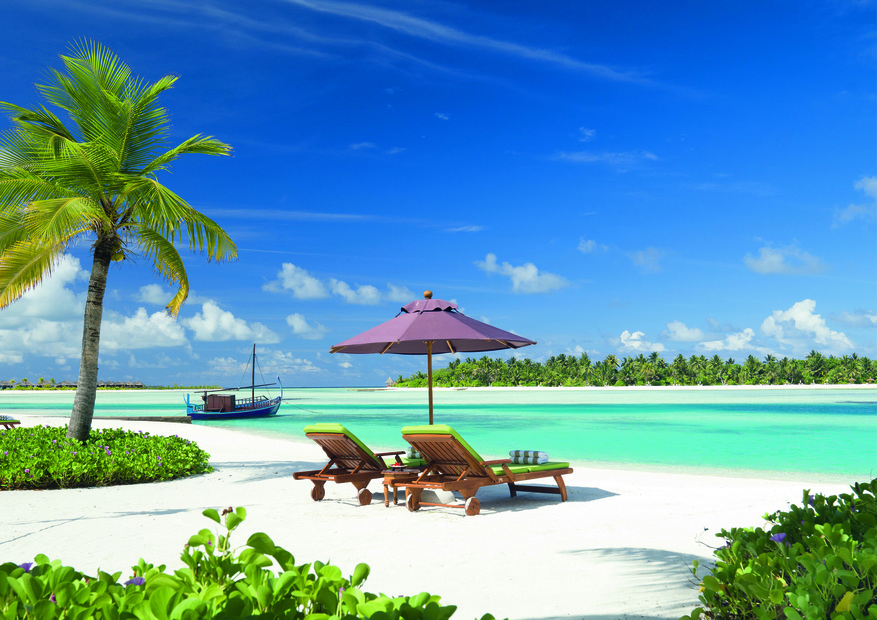 The main beach area offers very private "jungle" cabanas with beds so relaxing, that in fact my husband and I fell asleep within minutes right in the middle of the day! Also on the beach you have the "Living Room" which is the main area of facilities where you have the gym, pool and main restaurant. Similar to the villas, the Living Room is designed to be cozy and inviting. The restaurant here in the Living Room is the only restaurant on the island that offers breakfast, lunch and dinner but you are able to organize a private romantic dinning experience (of which your butler can help you with) or take a short boat ride to the sister properties to enjoy the amenities and dinning options there. The Spa is also located on Anantara Dhigu.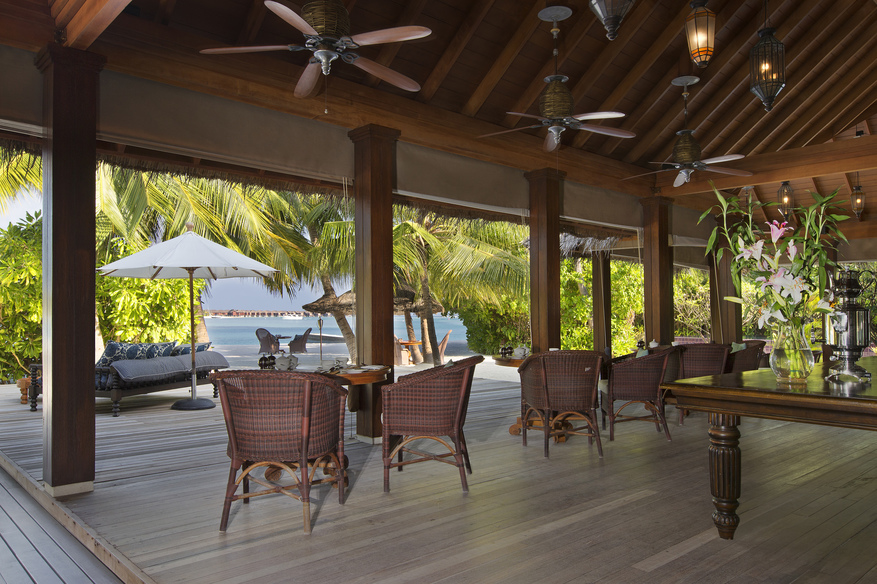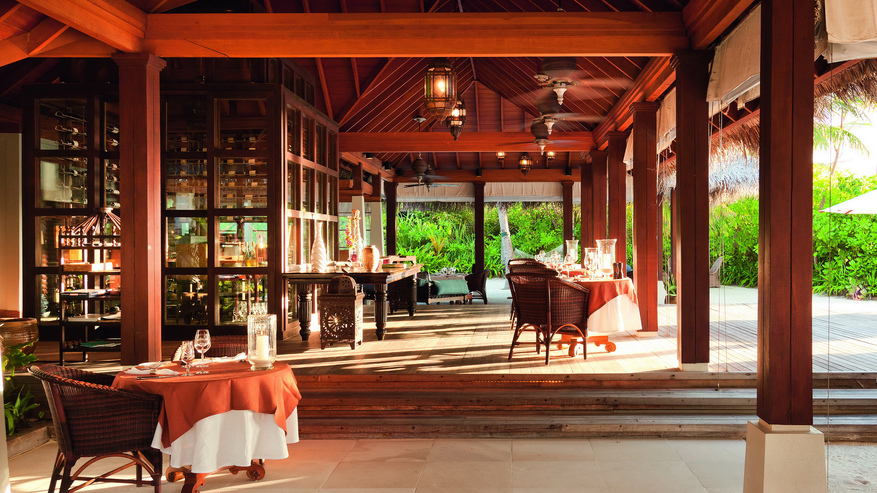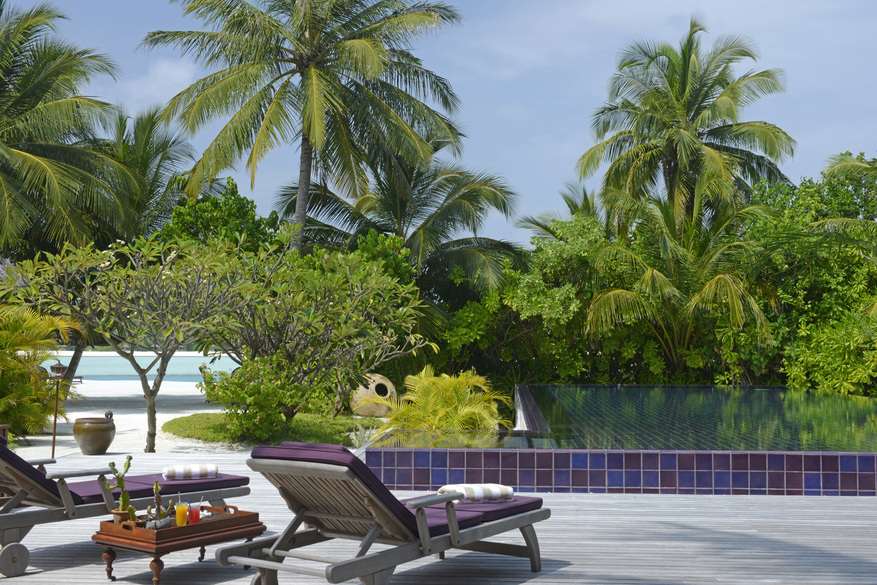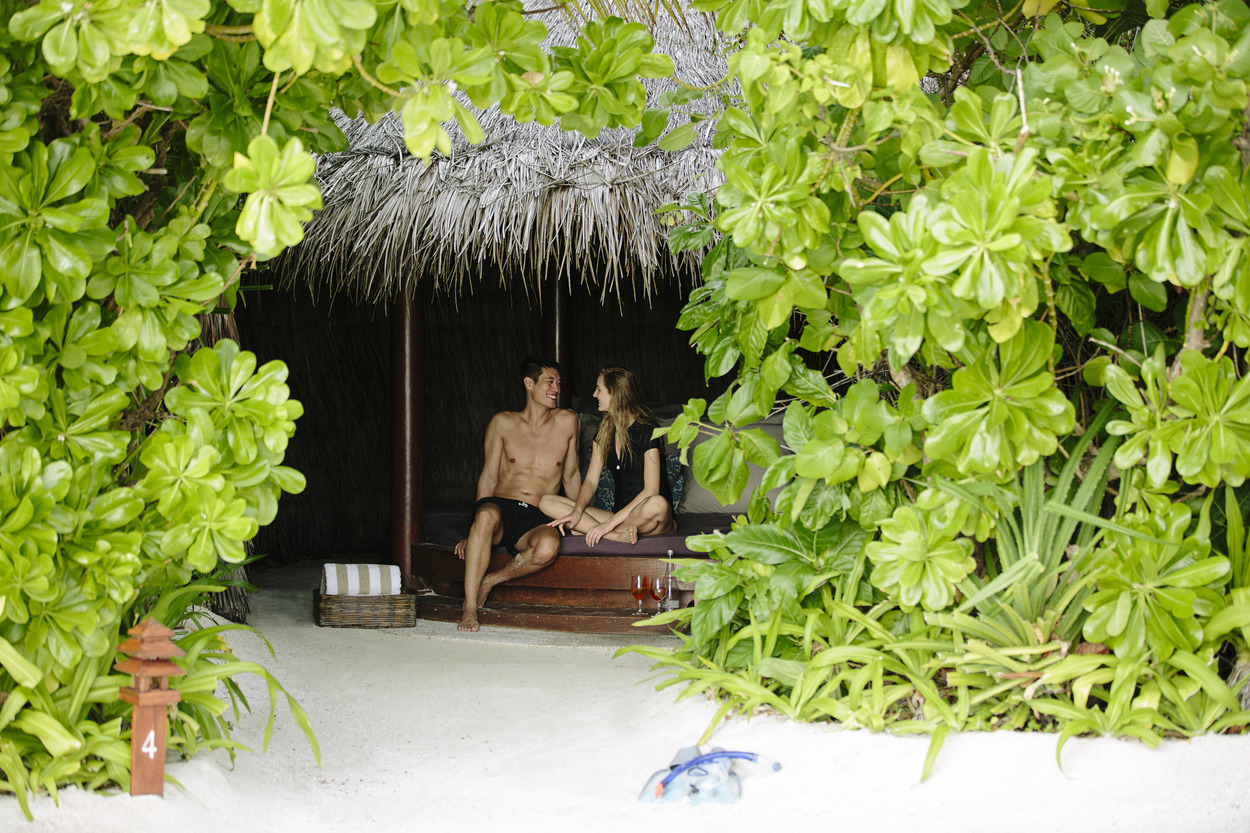 Disclaimer: Though this post is in partnership with Naladhu Private Island, as always, all opinions are my own.