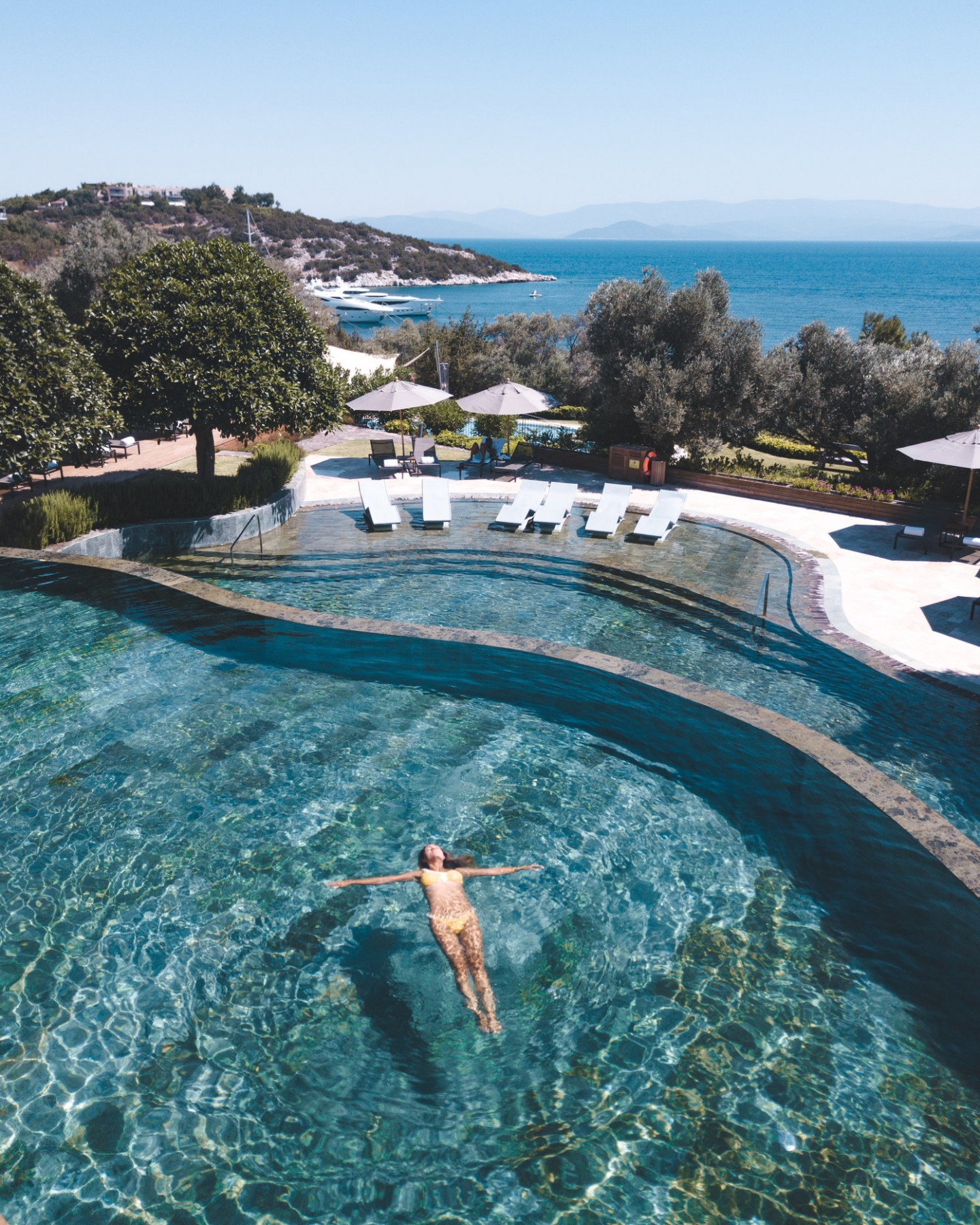 Offering complete privacy to its guests, the award wining Mandarin Oriental Bodrum offers both residences and hospitality rooms all spread out through the resorts two private beaches.
Location & How to Get To Mandarin Oriental Bodrum :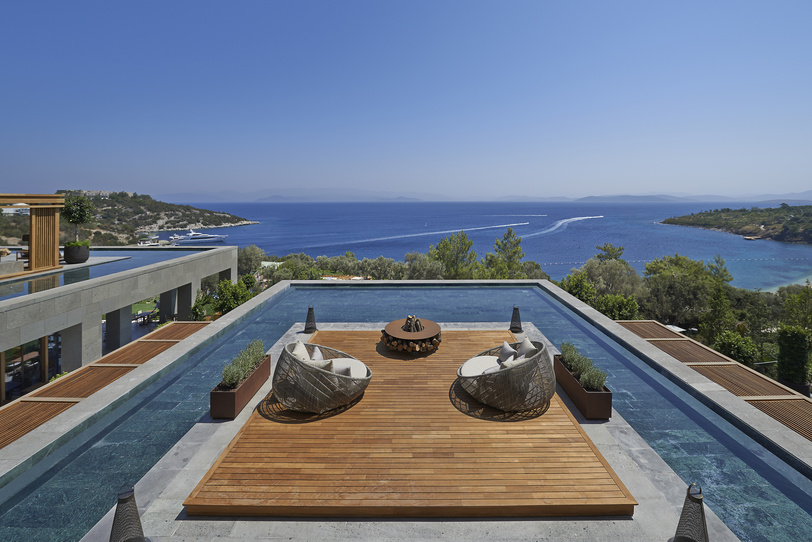 As there are only a handful of direct international flights to Bodrum, you will most likely have to connect through Istanbul like we did. I would highly recommend this opportunity to explore the beautiful city of Istanbul as that is something that we regretted doing due to our lack of time. Also, flights within Turkey are extremely affordable and Turkish Airlines provides a variety of different daily flight options. Mandarin Oriental Bodrum scheduled a very comfortable pick up for us directly from Milas-Bodrum Airport which was about a 45 minute ride to the property.
The Suite: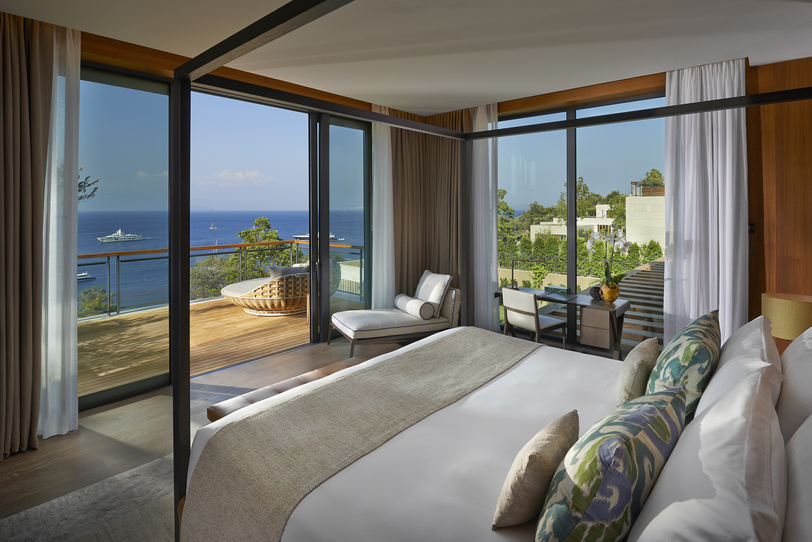 We were welcomed into one of the resorts Sea View Suites in the main building. Though this is one of their starting category rooms, the room was over 700 SQF and offered a very spacious balcony with beautiful ocean views, and was incredibly beautifully designed. The terrace is so spacious that you even have sunbeds and definitely enough space to do some yoga or an outdoor workout! The room was definitely spacious enough for my husband and I with my little one but for bigger families, there are a variety of different room categories for you to choose from ranging from three bedroom apartments to five bedroom villas with private pool. One more beautiful then the other !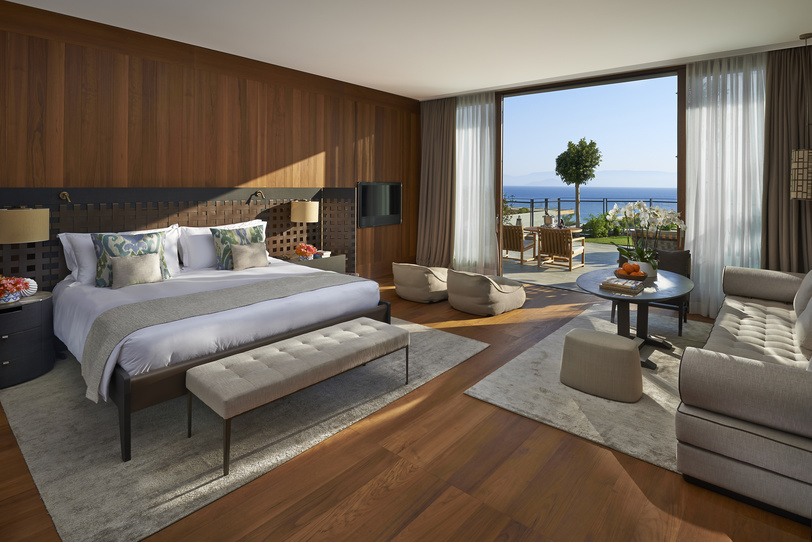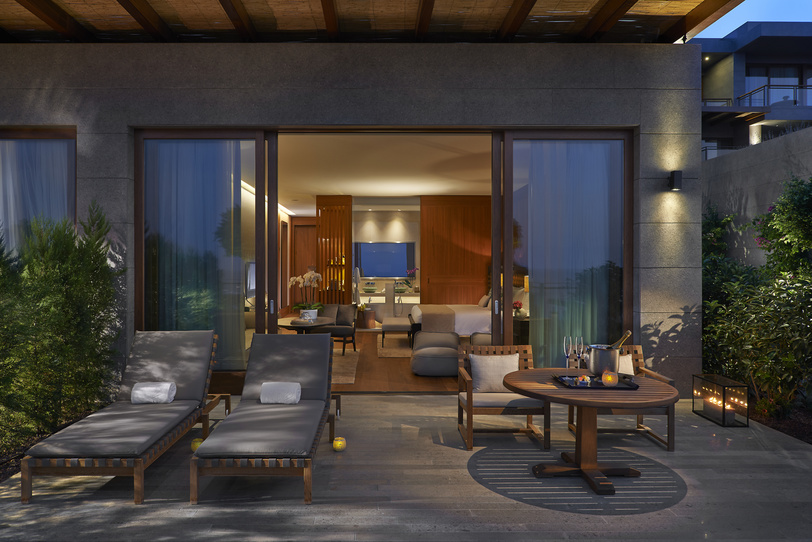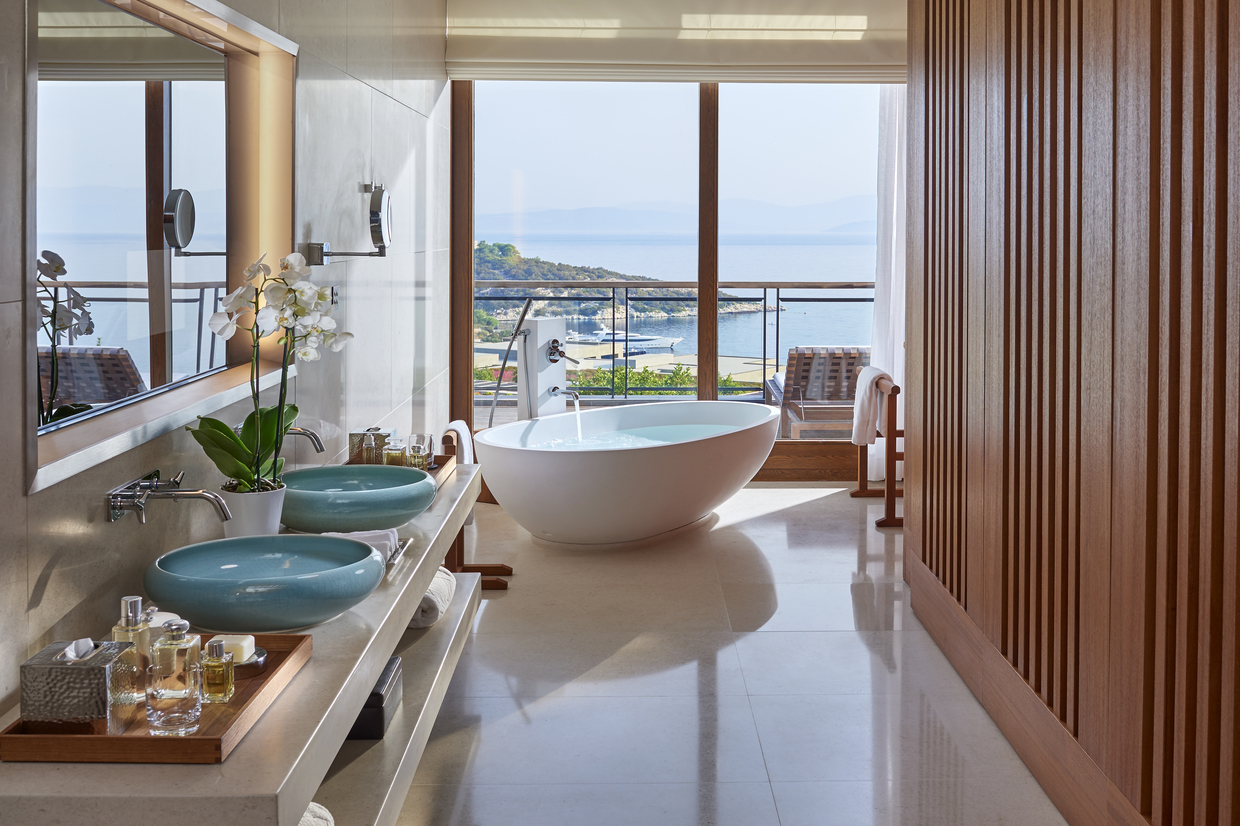 Pool, Beach & Amenities: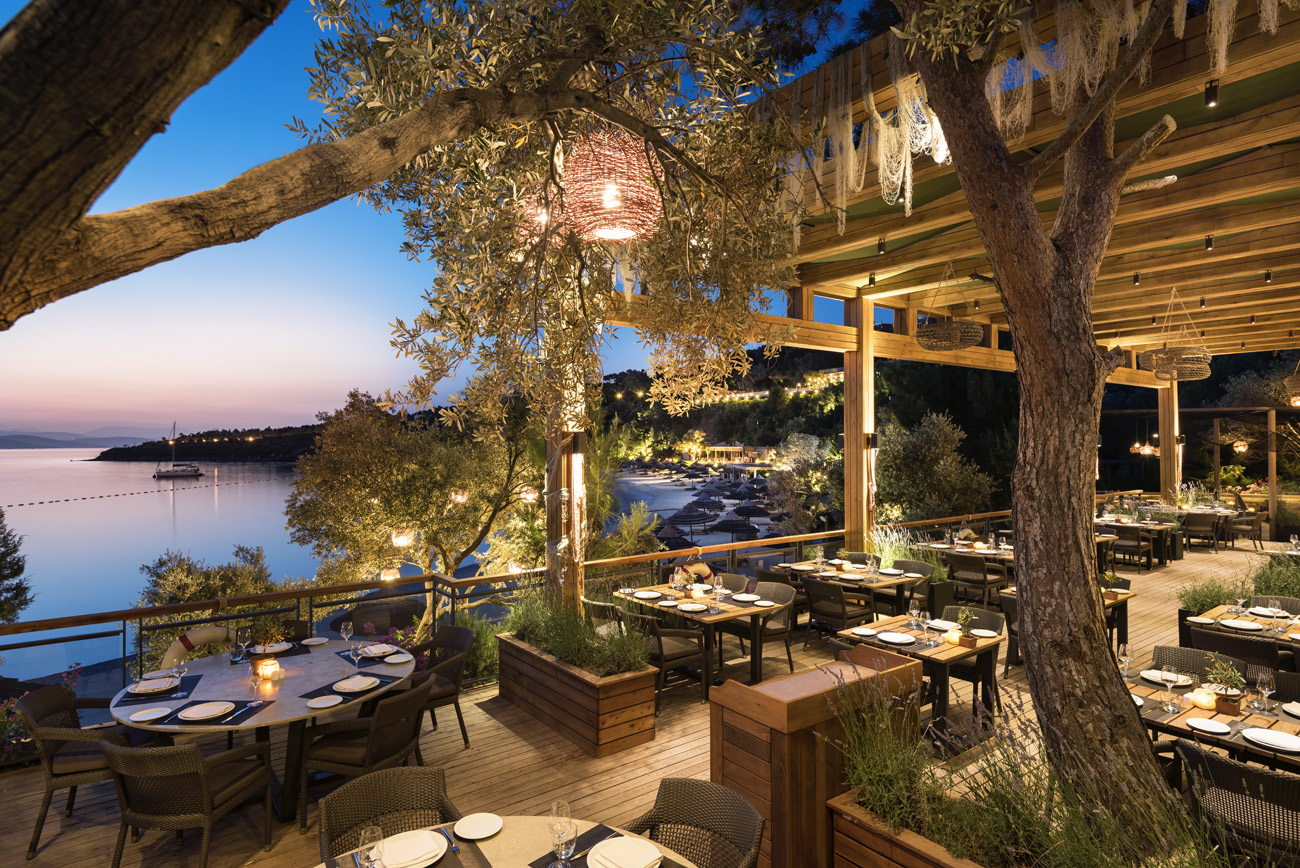 Though the resort features primarily residences, it still offers top-notch complete resort amenities with the signature Mandarin Oriental service. Mandarin Oriental Bodrum is the first resort style property for the Mandarin Oriental group and this world class resort excels in every single way- it is safe to say that its the best resort in all of the country and this will be visible through every corner of the property.
As the property is very big in size, there is a great number of amenities – all with stunning view of the Aegean sea including several pools through out the property. Close to the main area you can find most of the amenities such as some of the restaurants, one of the kids club (yes, one of the two kids clubs!), the pool area, Spa as well as most of the Suites that are on the main building. Speaking of the Spa, my husband and I both experienced the  Traditional Turkish Hammam which is a traditional cleansing ritual -like a body treatment. The treatment was amazing, and it was a really fun and unique experience. It first started with heading into the steam room for about 10-15 minutes followed by a rinse and exfoliation, foam massage, full body mask, hair wash and rinse again! I hadn't realized how much my skin really needed this treatment- I left with the softest skin and feeling so good! Here in the Spa, you can also find the gym which is very well equipped and also an incredibly beautiful outdoor area with a private pool , jacuzzi and relaxation area. Definitely a must to spend a spa day during your stay! A day or two.. haha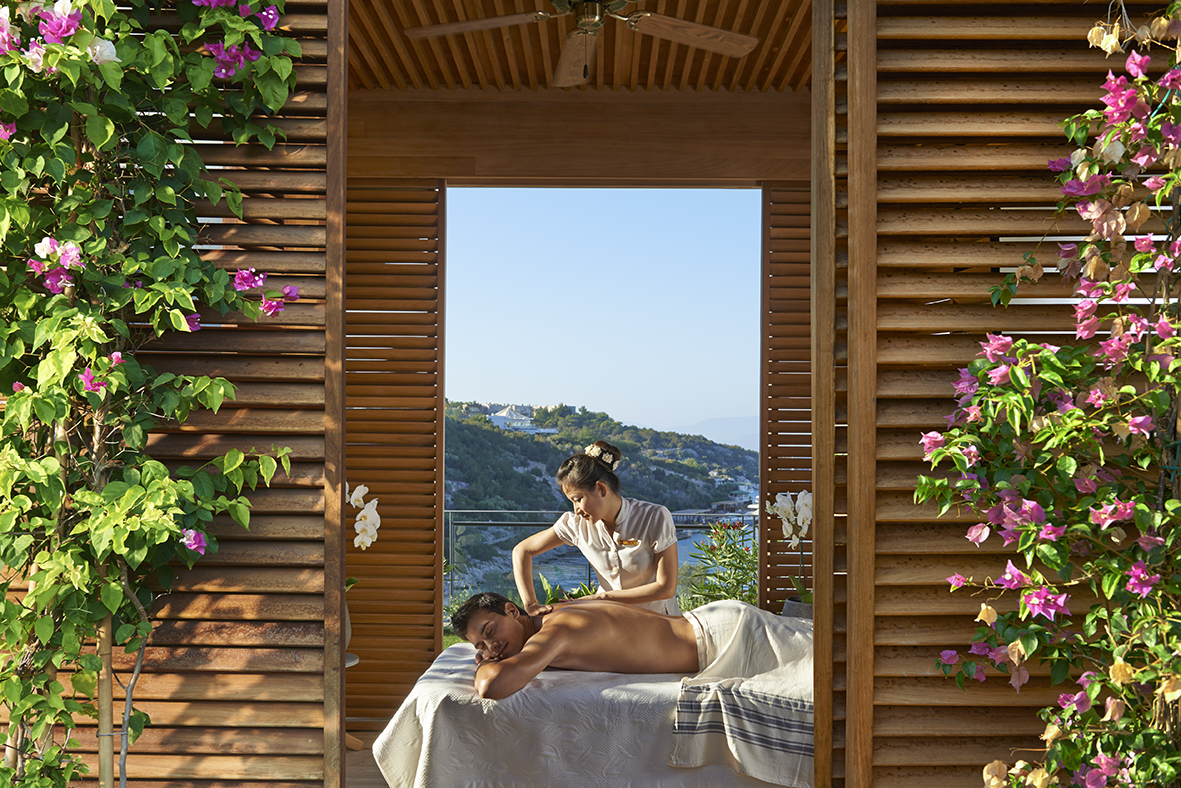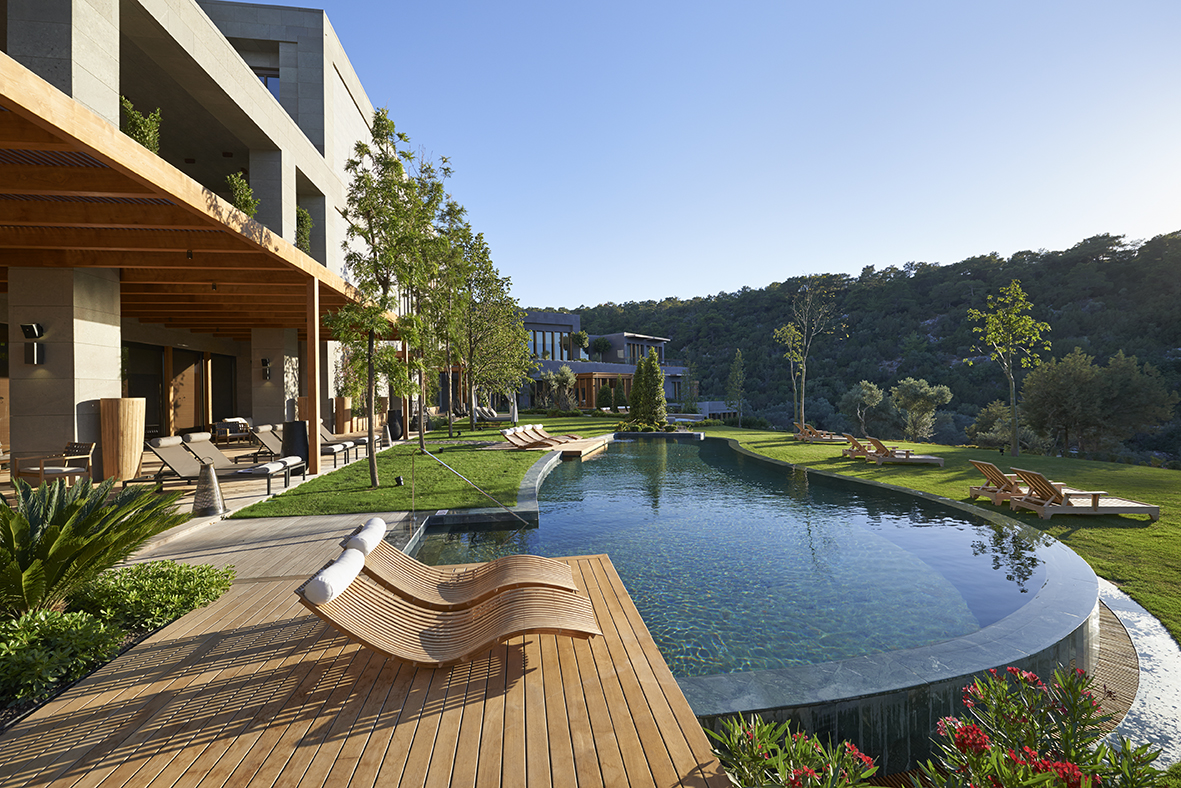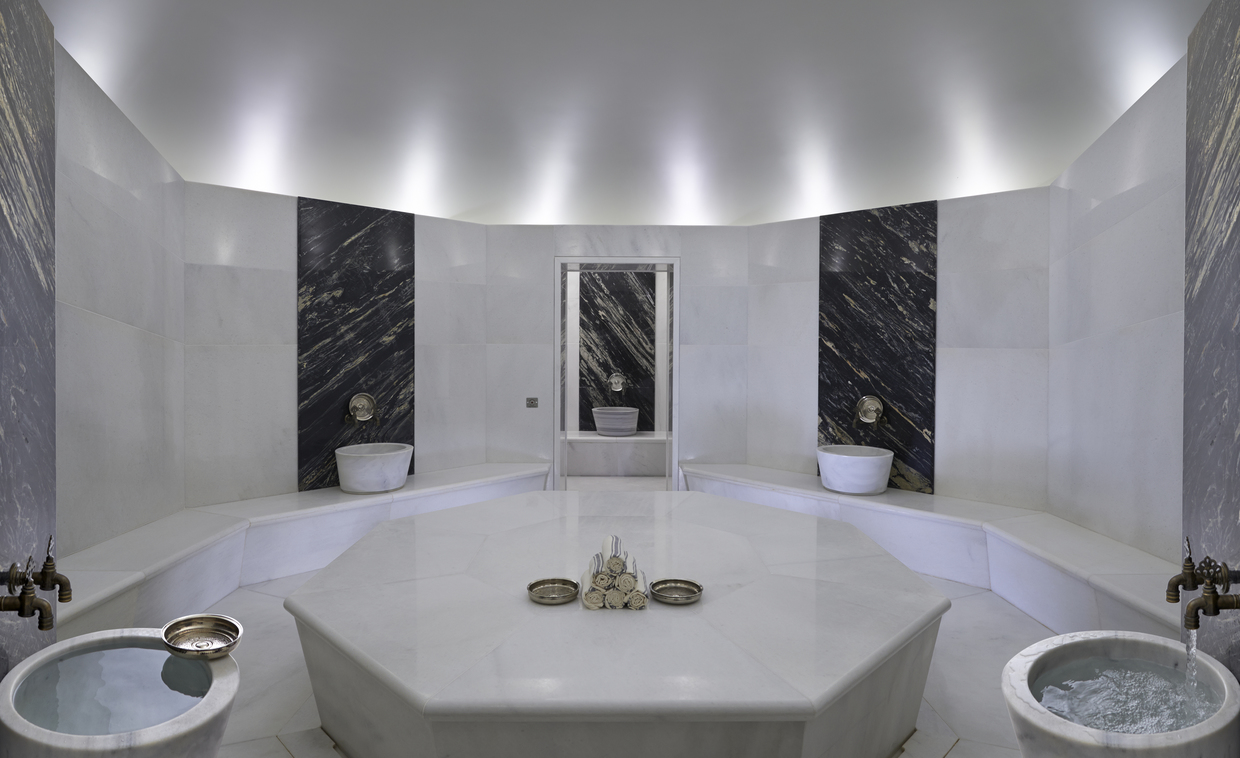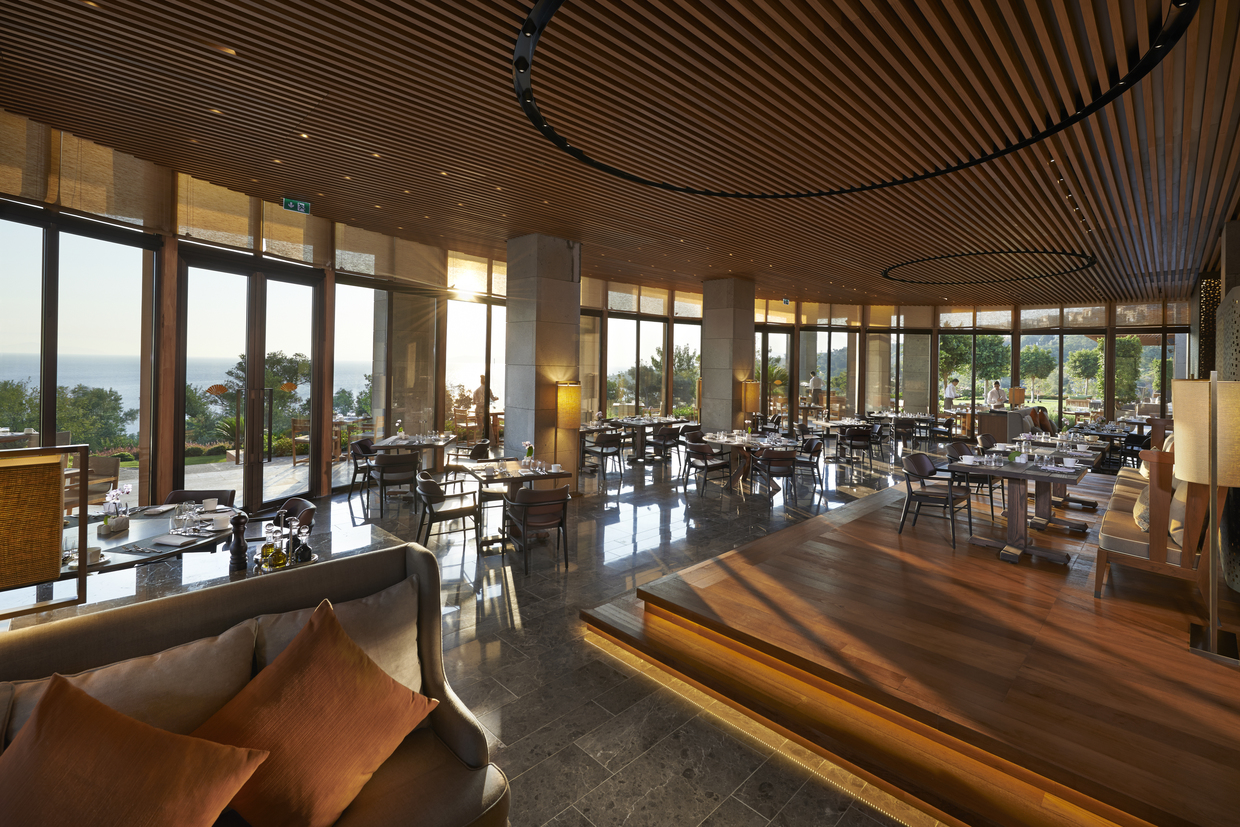 The main pool area just below the spa is stunning and has three different pools next to each other and a fourth kids only pool right below it, so you dont have to worry about it getting crowded. In fact, during our stay the hotel was running at almost full occupancy but we didn't feel like the pool , or any area for that matter, was crowded or too busy. The staff members from the kids club bring the little ones everyday to the pool to have some fun with other little ones their age in the kids pool while the parents can relax and soak in some sun.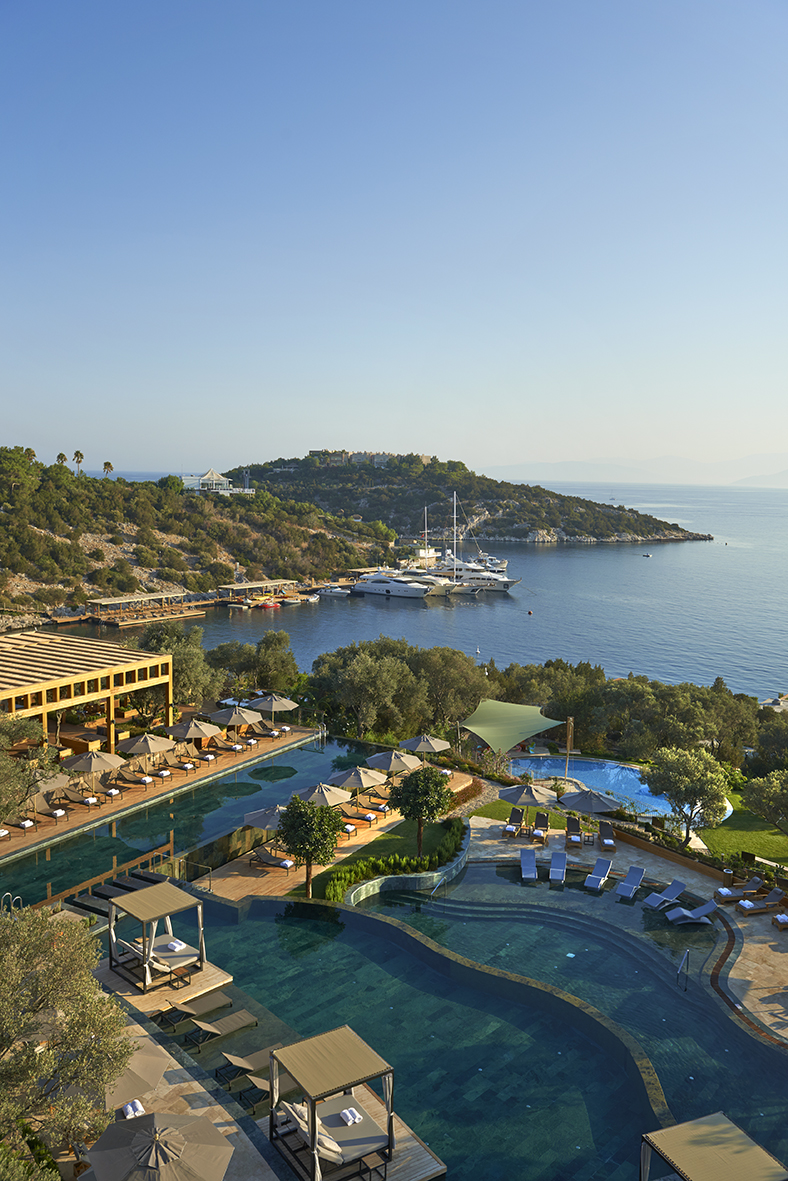 With two private bays, one exclusive for resident owners, the beach is spacious enough to accommodate all the guests. Here in the beach area is where you will find another great number of amenities such as more of the restaurants, bars, and the main kids club- where my little one spent most of his time in! One thing that I loved about the kids club was that it was all open air and outdoors so the kids were constantly busy doing activities and having fun. The staff members were also very patient and did a great job keeping the kids busy and happy.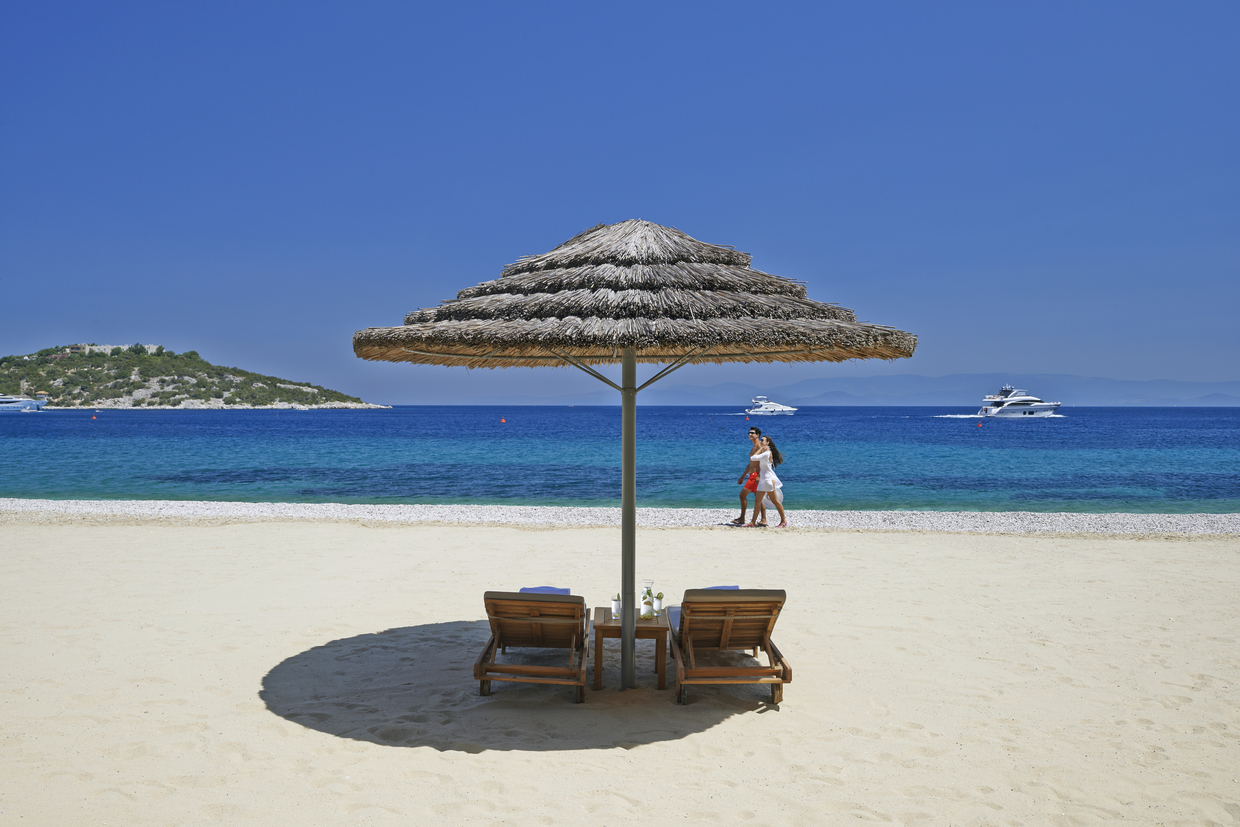 Dining: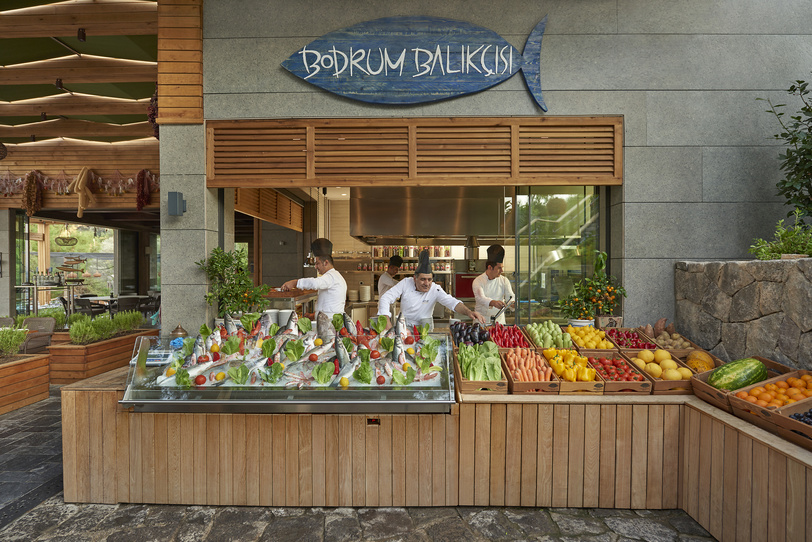 With nine different restaurants and bars in the property, you feel like you are discovering a little town rather than a private resort bay. And each and every one of them, including the bars, have incredibly beautiful decorations, ambiances, and service. One of our favorite places to watch the sunset and dine in the property was definitely the Italian restaurant, Assaggio. We spent cocktail hour followed by a delicious vegan meal prepared for us, and we absolutely loved the vibes and environment of this place- the music, the crowd, the view.. it was just magical and so romantic.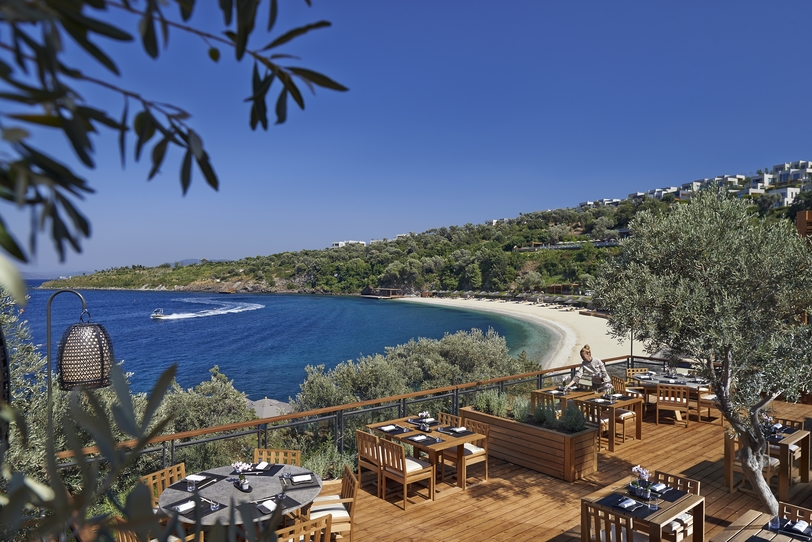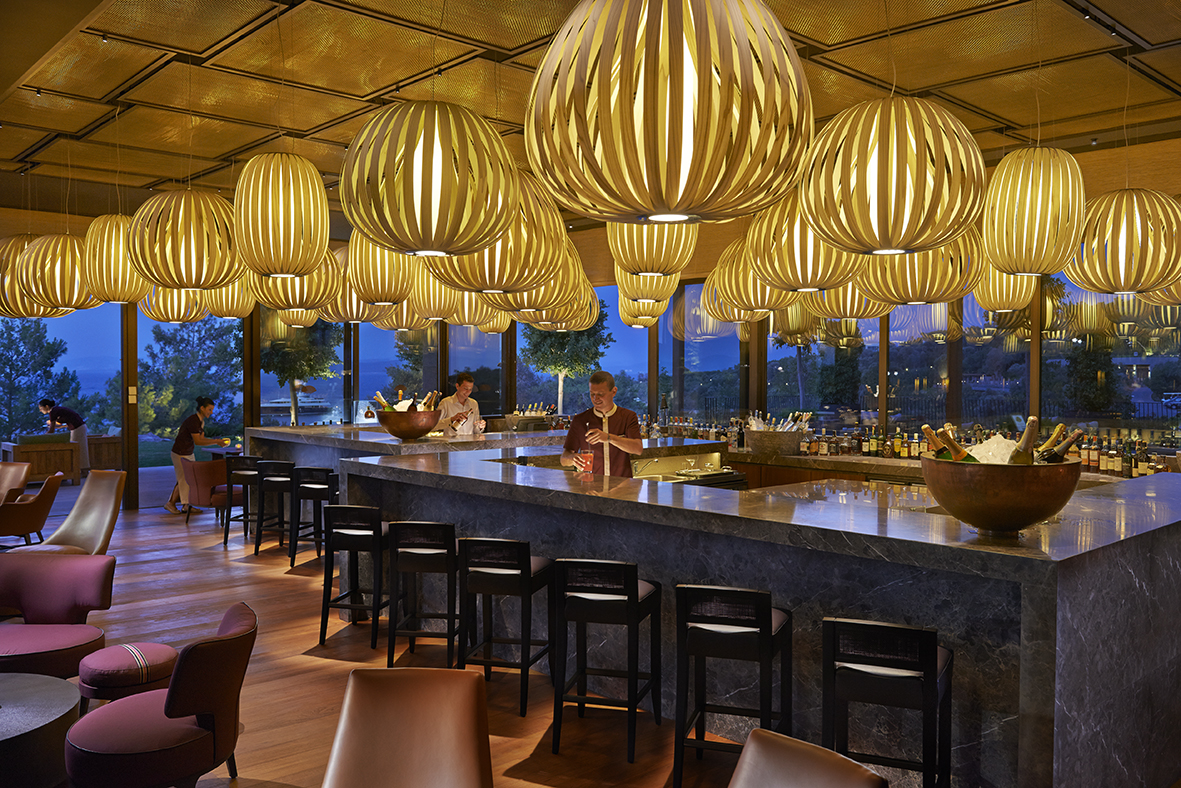 The breakfast buffet at Sofra had a great variety of options including a fresh juice bar that had yummy and healthy juices. The staff was kind enough to prepare vegan items for us every morning that were not in the buffet. And same with the Pool Bar restaurant, they made us a vegan falafel sandwich which was incredibly delicious – the best falafel sandwich I've ever had!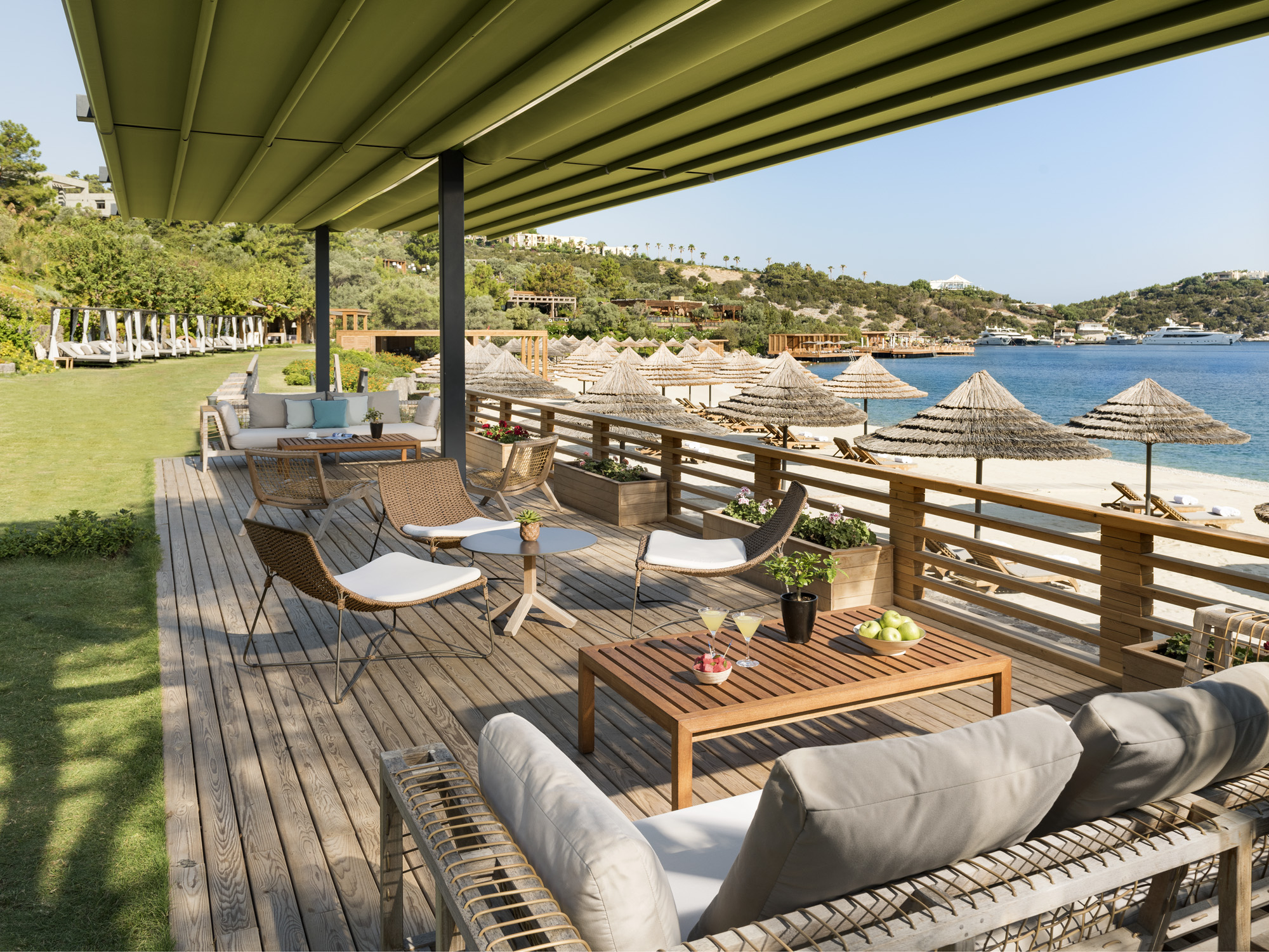 Disclaimer: Though this post is in partnership with Mandarin Oriental Hotels, as always, all opinions are my own.