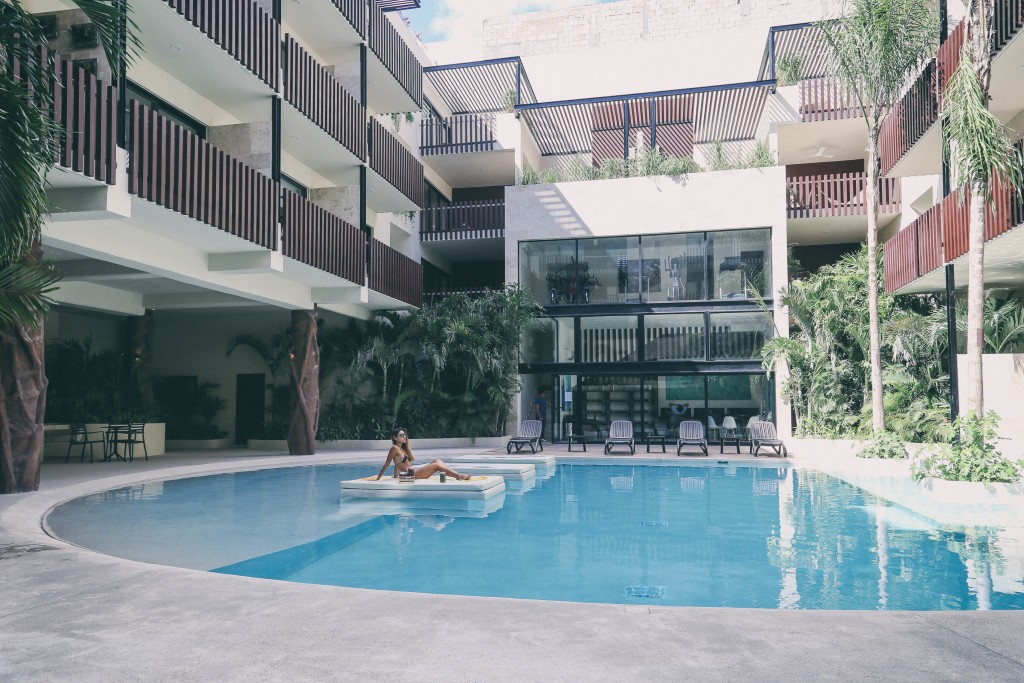 The more we travel to the Riviera Maya in Mexico, the more we want to go back. It might just be the sunshine, the beautiful beaches, the lively people, the affordable lifestyle that keep making us want to come back. Or maybe it is that we found the absolute perfect location to enjoy all that the Riviera Maya has to offer and the perfect property do so!
The beautiful coastal city of Playa del Carmen is the perfect combination of a small beach town and a small city. Not too busy and party crazy like Cancun and not as laid back as Tulum, this resort town is the balanced combination of the two. And in case you still wanted to visit either one of these places, Playa is one hour south of Cancun, and one hour North of Tulum.This small city is very safe and is perfectly suitable for couples, honeymooners, families, solo travelers, divers pretty much everyone and anyone! And even though Spanish is the main language, everyone seems to speak English or at least understand enough of it so don't be too worried.
There are many ways to "experience" Playa del Carmen and they are all unique and have their own benefits. You can opt for staying in an all inclusive property and just enjoy the property, stay in a hotel close to the Fifth avenue or rent a property there. We have done all three of these (you can read my previous reviews) and our favorite experience by far has been the latter. We had the opportunity to stay in a beautiful one bedroom apartment located in the heart of Playa del Carmen allowing us to enjoy like tourists yet live like locals.
At less than a five minute walk, you have La Quinta Agenda ( Fifth Avenue ) which is a charming street filled with restaurants, hotels, clubs, bars and boutiques, La Mega grocery store (similar to walmart- has everything from food to clothing), vegan friendly restaurants, outdoor food markets, pharmacies, school, money exchange, laundry, doctors even a dentist! Literally almost everything you might need is around the area. What makes the location perfect is that you are near to everything but far from the noise.
The apartment is in one of the most luxurious residential complexes in Playa del Carmen called Palmares and the unit itself is beautifully decorated, modern, clean, spacious and very safe.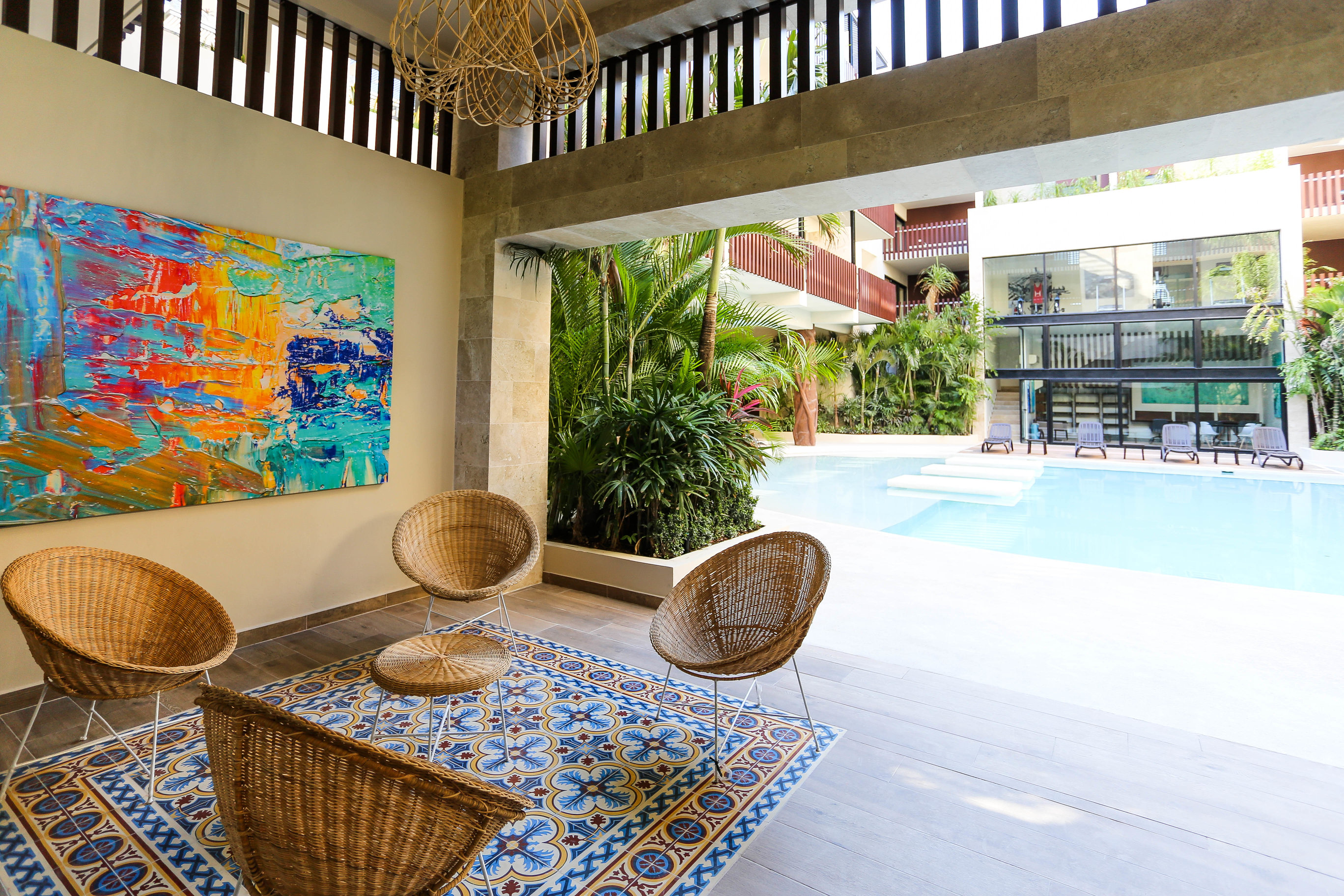 Instead of being in small hotel room, you get to have a big living room (with a coach for one extra person which is perfect if you have a little one) , fully equipped kitchen with a dinning table, a large terrace, a bedroom equipped with a washer and dryer and in case you dont like to share TVs, dont worry there is one in the bedroom and one in the living room, and its all at an affordable price! The property management also assigns a concierge to be at your disposal in case you need advice, tips, book excursions, rent a car, airport transfers.. you name it.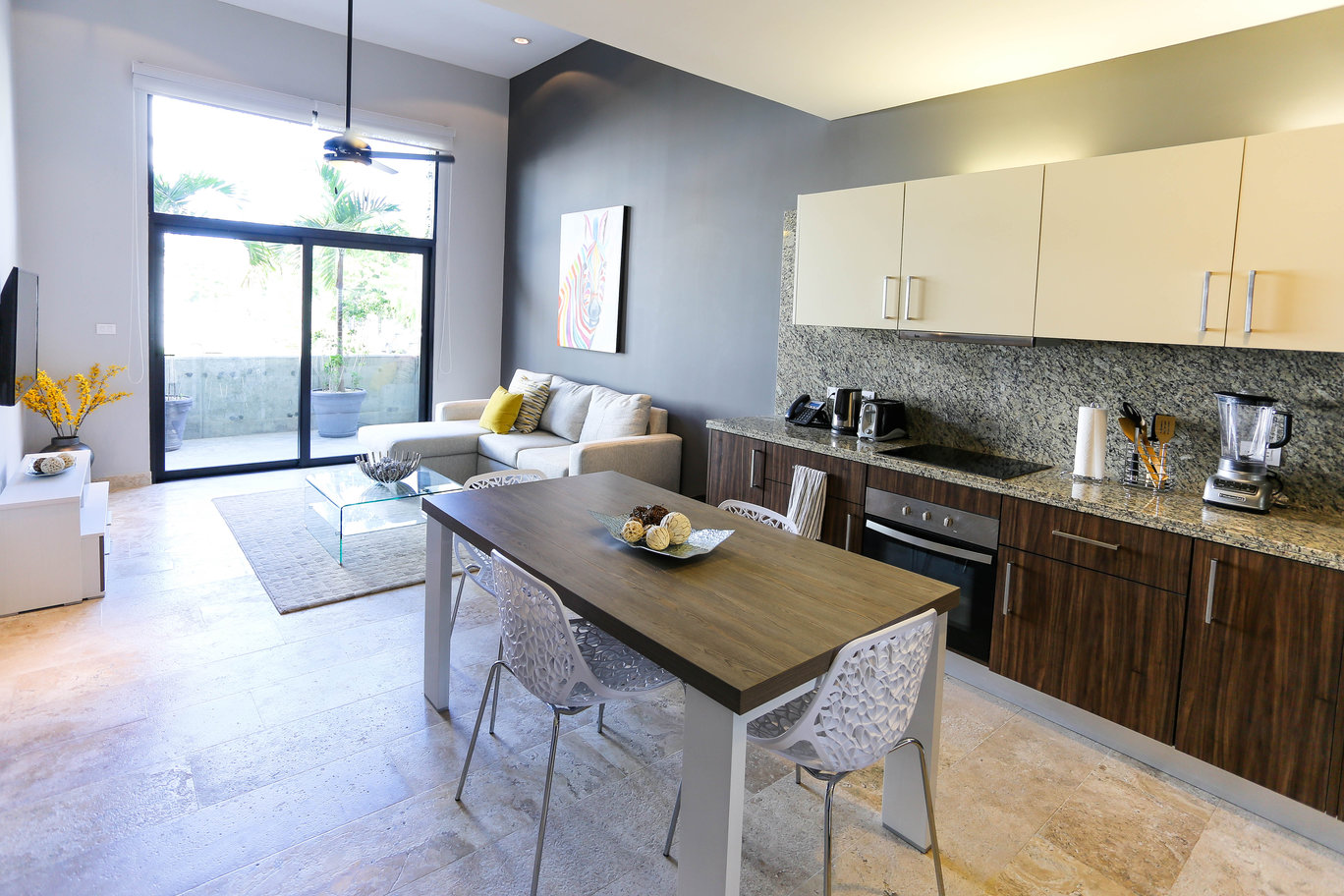 You even have your own pool oasis right in the middle of the complex! And there is also a small gym with the basics in case you ever have a rush to get a short workout in while on vacation or you can go on a run on the beach or you can do like me and hang out in your private balcony…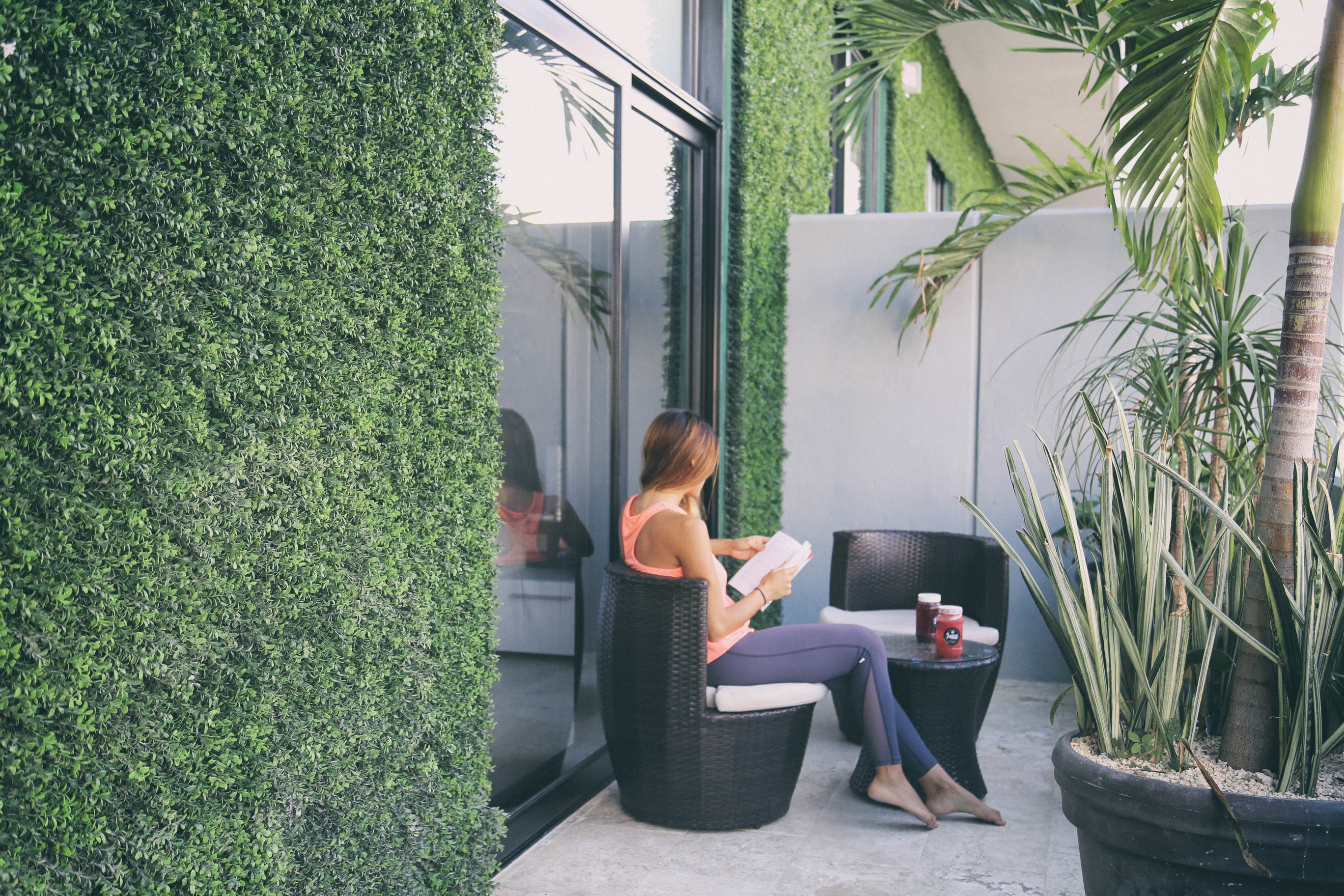 Speaking about running on the beach, did you know that there is a healthy side to Playa del Carmen? Its not all parties and BPM like you might have imagined, there are plenty of healthy natural or organic restaurants (vegan and vegetarian), lots of yoga studios, and healthy natural shops where you can buy anything from organic shampoo to US products that you might find at Whole Foods. We were pleasantly surprised to discover the healthy side and is just another extra reason why we love Playa! We even did a 3 day organic juice detox with Dr. Juice, and loved it!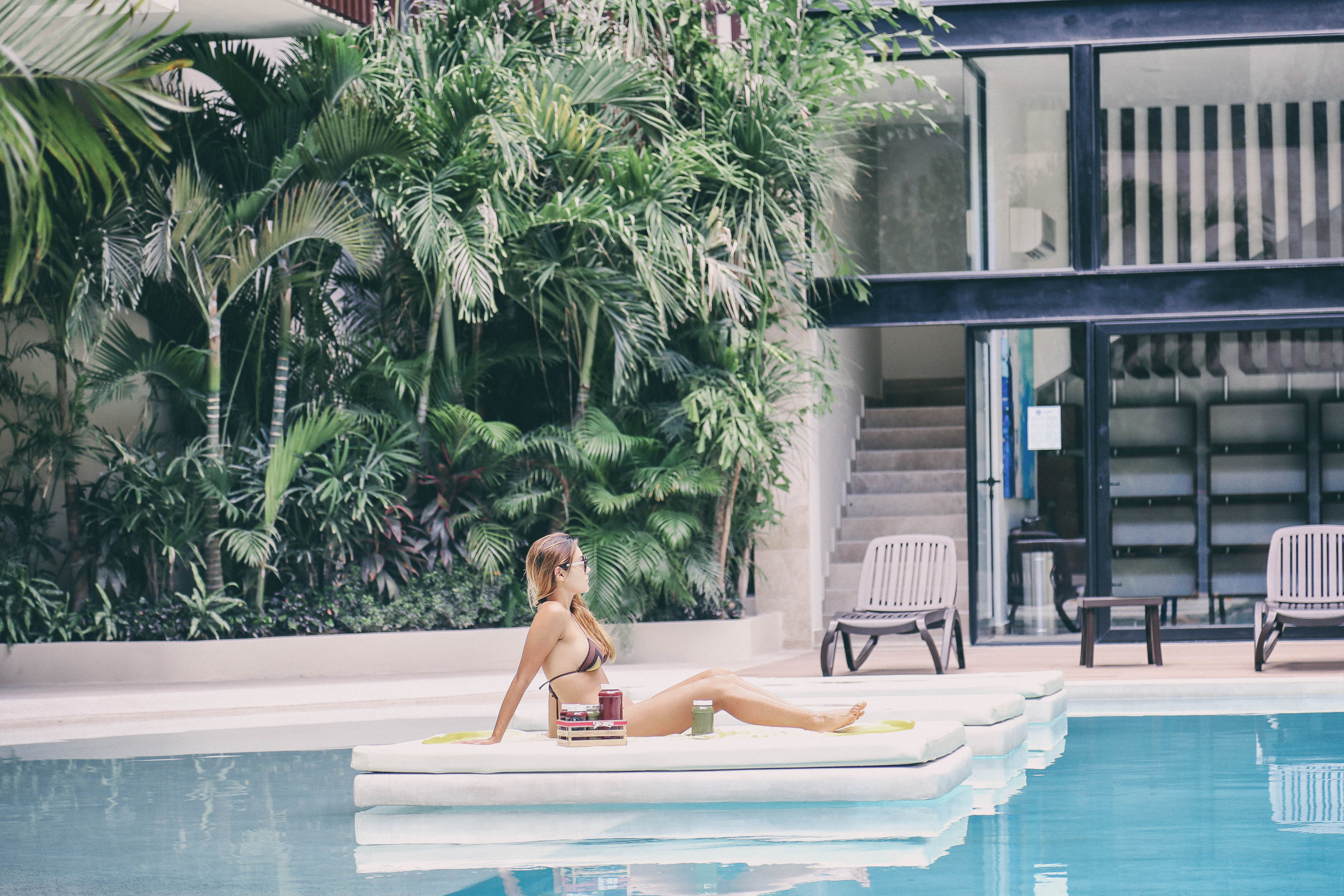 While we stayed in this apartment, we did quite a bit of exploring and checked a lot of bucket list items of our list. We visited Tulum, Chichen Itza, Valladolid, Cenote Ik Kil, Las Coloradas, Rio Lagartos, Tulum Ruins and Holbox! Yes that is a long list but every time the list actually keeps getting longer and longer because there are just too many great places to visit around the area. Next time we definitely want to check out Laguna Bacalar, Chetumal, Puerto Escondido, Isla Mujeres, Isla Contoy… did I say the list was long? ha!  Some places we drove ourselves and parked right in front of the building, and others we went with a driver who picked us up at the lobby at early morning hours.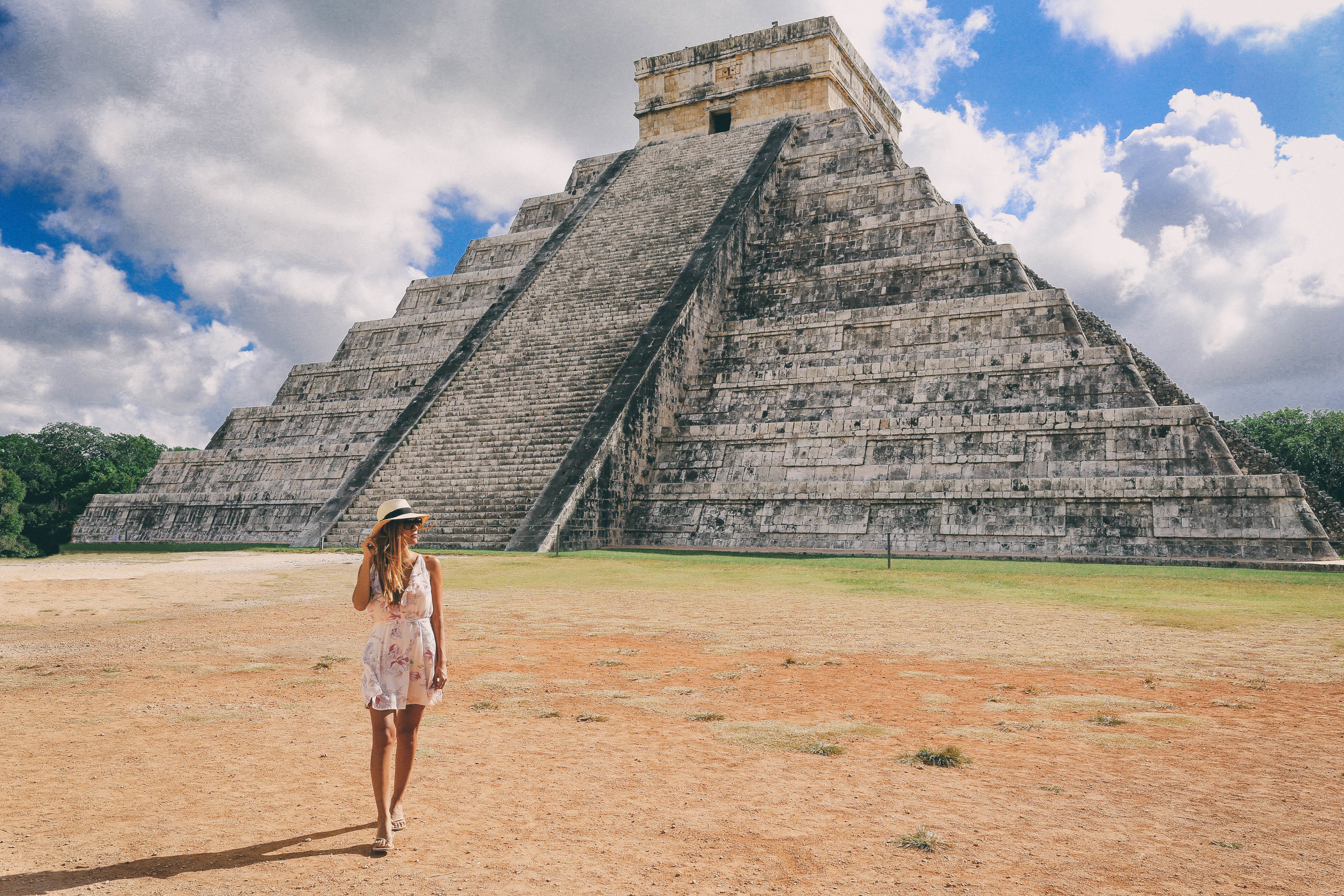 With all that exploring, it is extremely important to get a good night sleep. Luckily, this will not be an issue as the mattress in the bedroom is amazing. The real battle will be getting out of bed in the morning haha.
Many that visit the building miss this "hidden" amenity. Hidden not because its hard to find, but hidden because not many know about it. The Sky Bar is the perfect place to hang out with friends, hold a get together, or just watch the sunset. If you would like to hang out there just get the keys from the front desk (they might require a security deposit).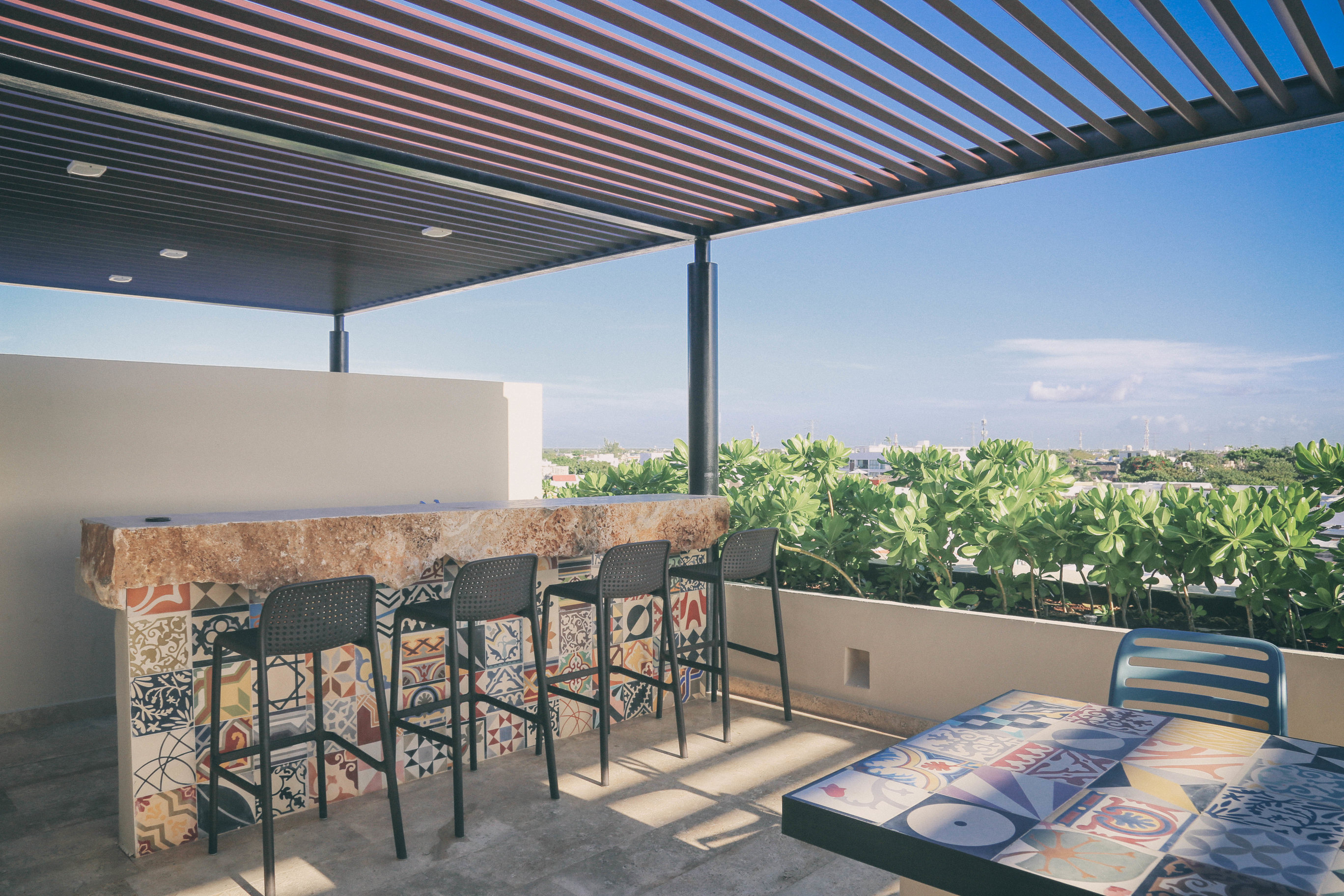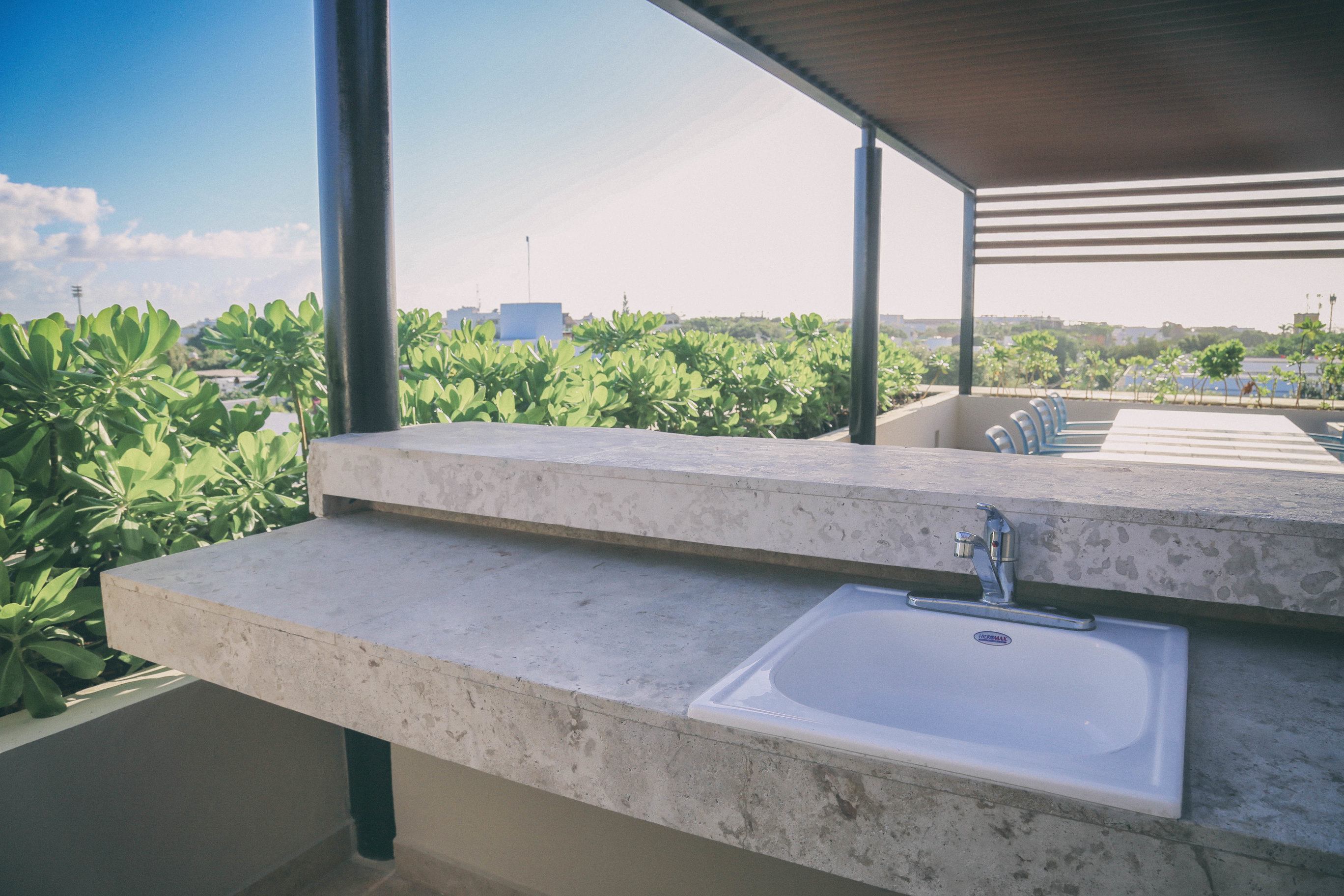 It is always a pleasure to return to this beautiful country, and am hoping to continue to do so even more often this year. If there is one place our family would move to, it would definitely be Playa del Carmen. You just can not beat having almost everything within walking distance, the affordable lifestyle which allows you to enjoy more,  do more activities, explore, be active and be more social and most importantly, be so close to the beach! Living in a safe and tropical paradise at only a one hour flight away from Miami and many direct flights to other major cities like New York, Houston, Los Angeles and Boston. 
And in case you have also been wanting to explore, send me an email so I can get you a 15% off discount on this property for  your next stay!
Dont thank me now, I might create a Mexico addiction in you that is hard to make it go away!