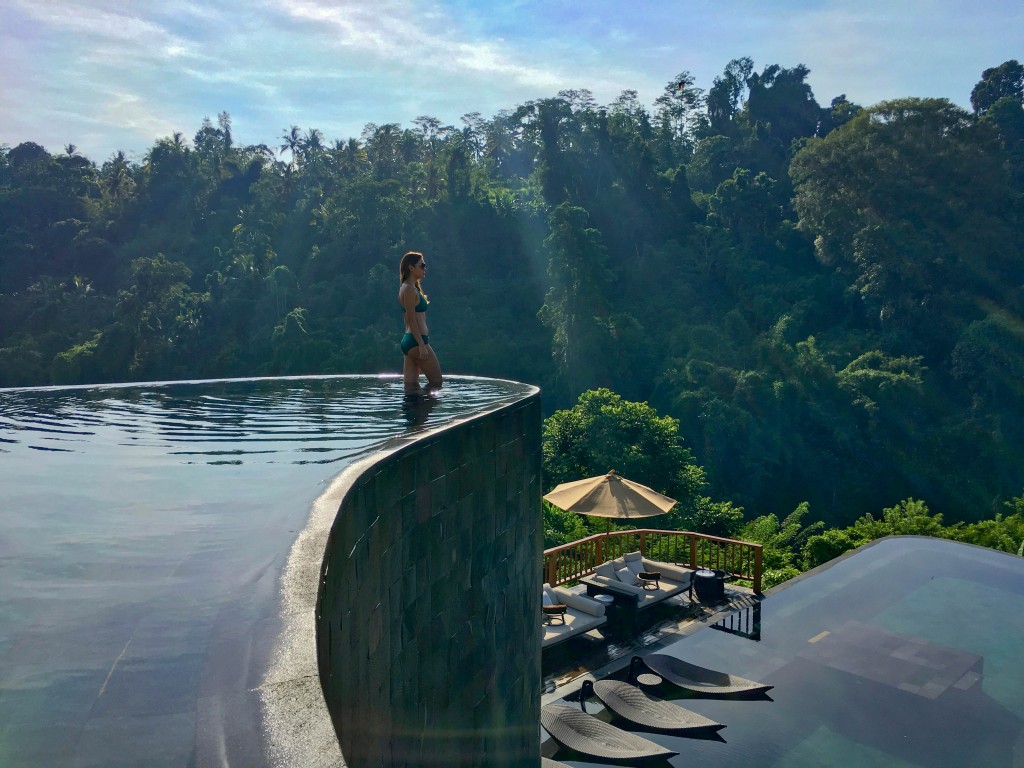 Even though Bali is mostly known for its cliffs and beaches, it is certainly not restricted to it. Two hours away from Denpasar Int Airport lays the town of Ubud, home to lush rainforest, iconic rice fields and the center of arts & crafts in Bali. Here is also located the World's Best Swimming Pool according to Trip Advisor and Conde Nast Traveller, the twin-tiered cascading infinity pool of Hanging Gardens Hotel. I had seen many pictures of this hotel, and had my  mind set in visiting this amazing place. The whole idea of such a luxury pool in the middle of the jungle captivated me and there was no way we were going to miss this place during our stay in Bali.
As you may have read in my previous post, my family and I visited Bali this past March and we decided to divide our stay between 3 amazing properties in 3 completely different areas of the island of Bali. Our first stay was in Ayana Resort in Jimbaran ( you could read all about it on my previous post), then we stayed in a private villa in Tabanan (will write about it in my next post), and we ended our Bali adventure in Hanging Gardens of Bali.
The drive from Tabanan to Hanging Gardens turned out to be more than 3 hours because of traffic and road closures since the road there crosses every village and town and its not a highway. The journey there was hectic and exhausting but once you arrive and you are greeting by this…
well, its well worth the wait.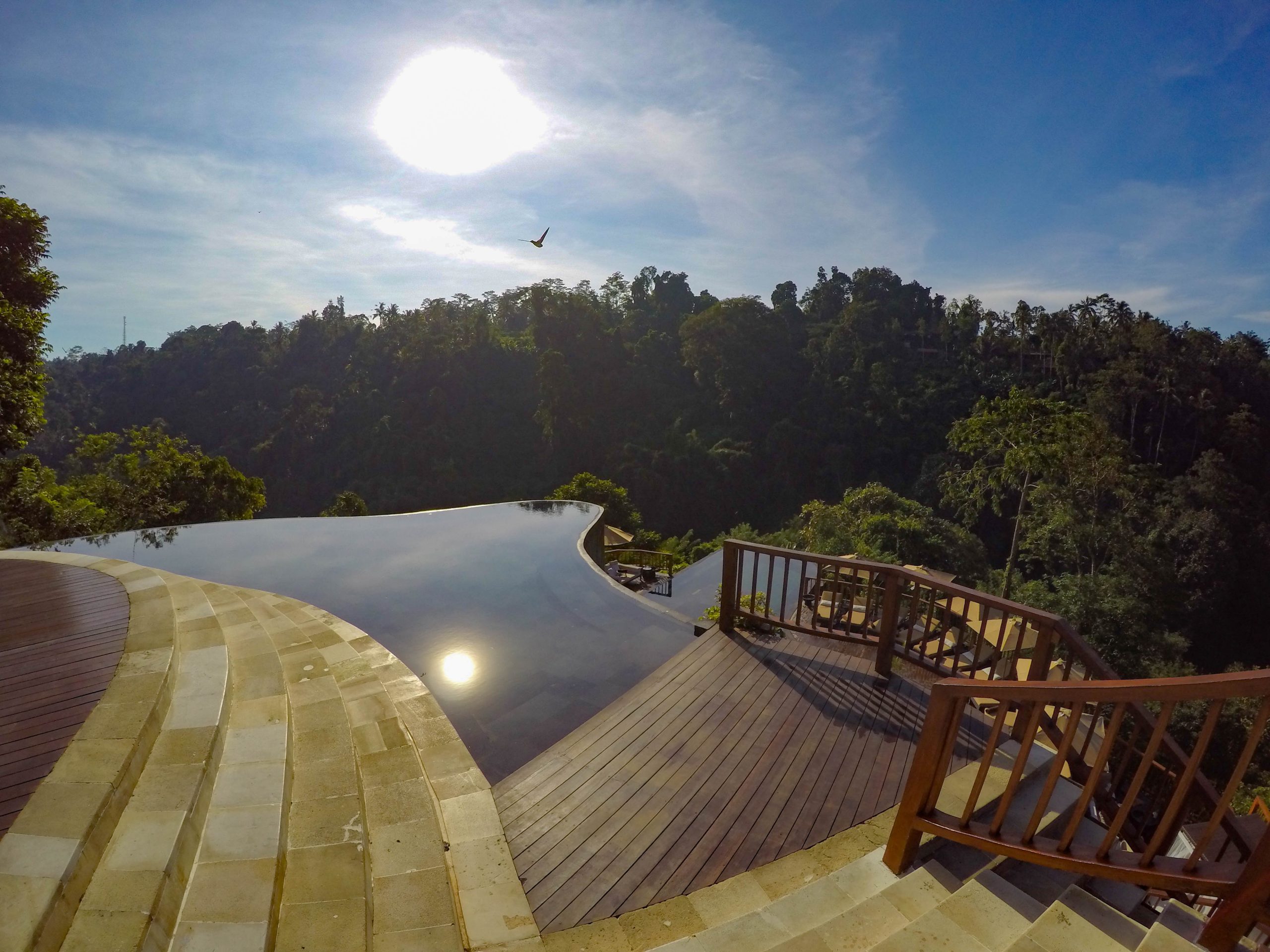 Since the moment you walk in to this place, everything feels unique and magical. I have visited many beautiful infinity pools and hotels, but this hotel offers a very unique experience.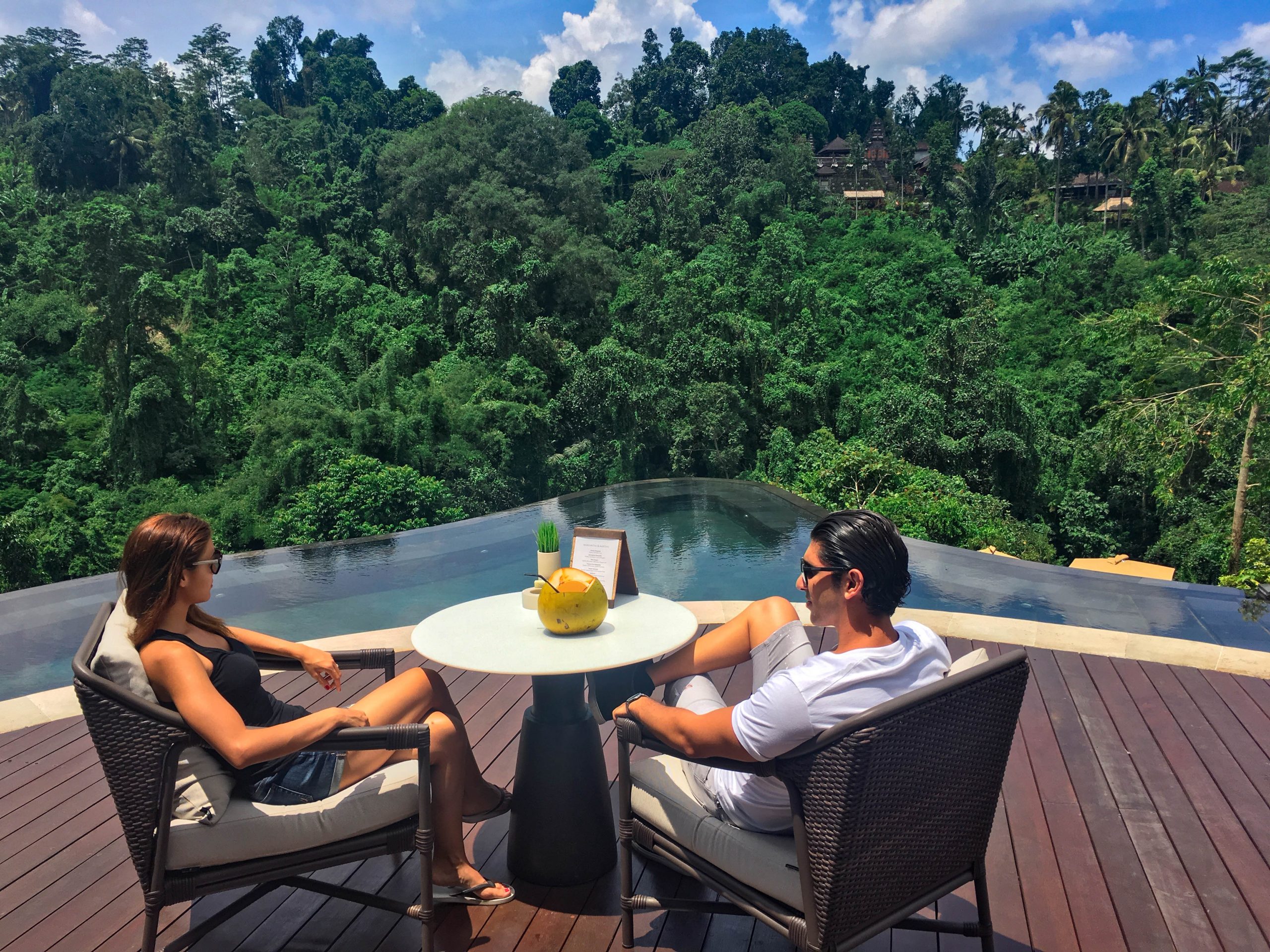 The hotel facilities are quite small and everything is centered around the pool and the jungle. The rooms are all very specious villas with your own infinity pool overlooking the jungle, nothing short from spectacular.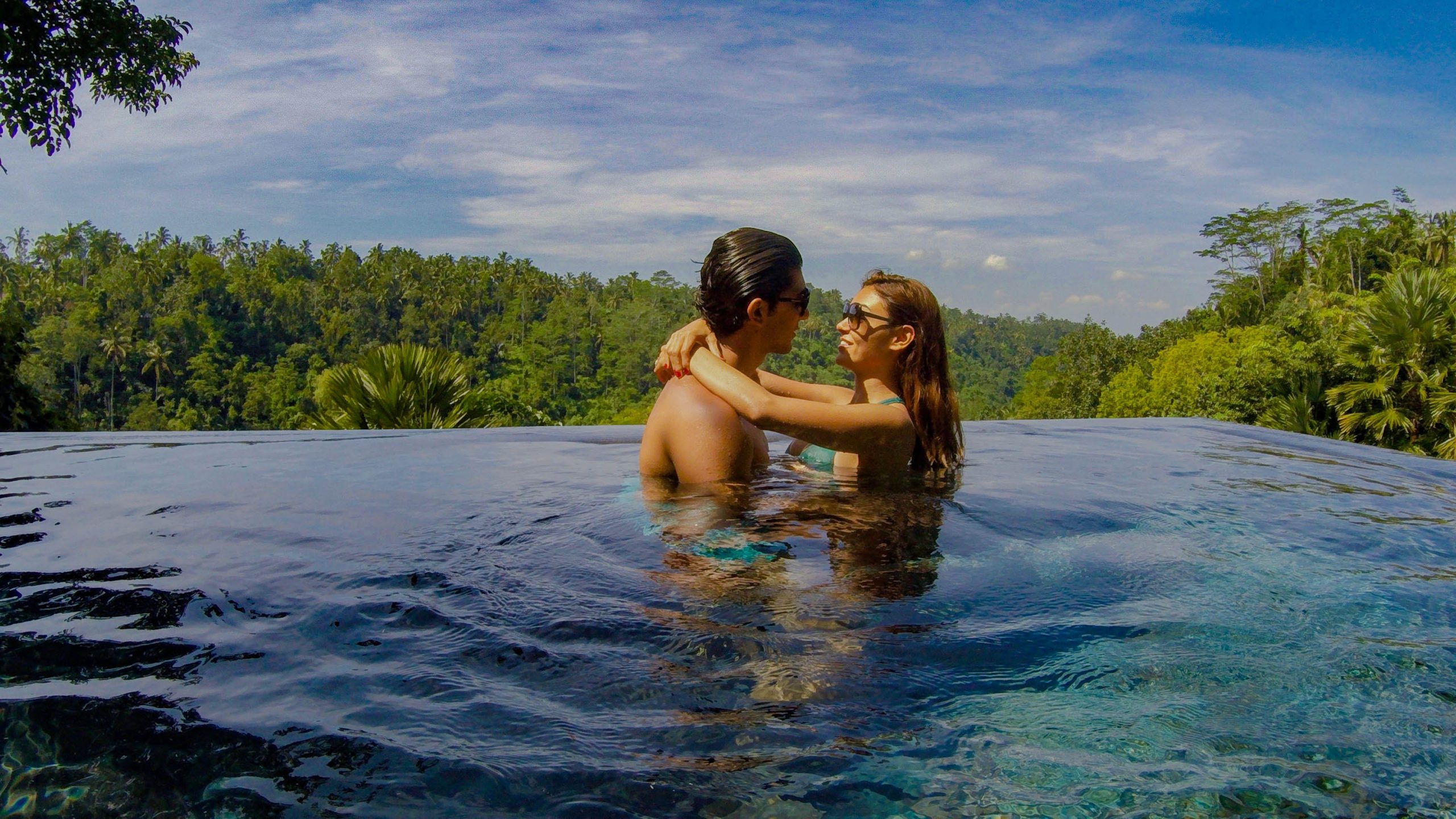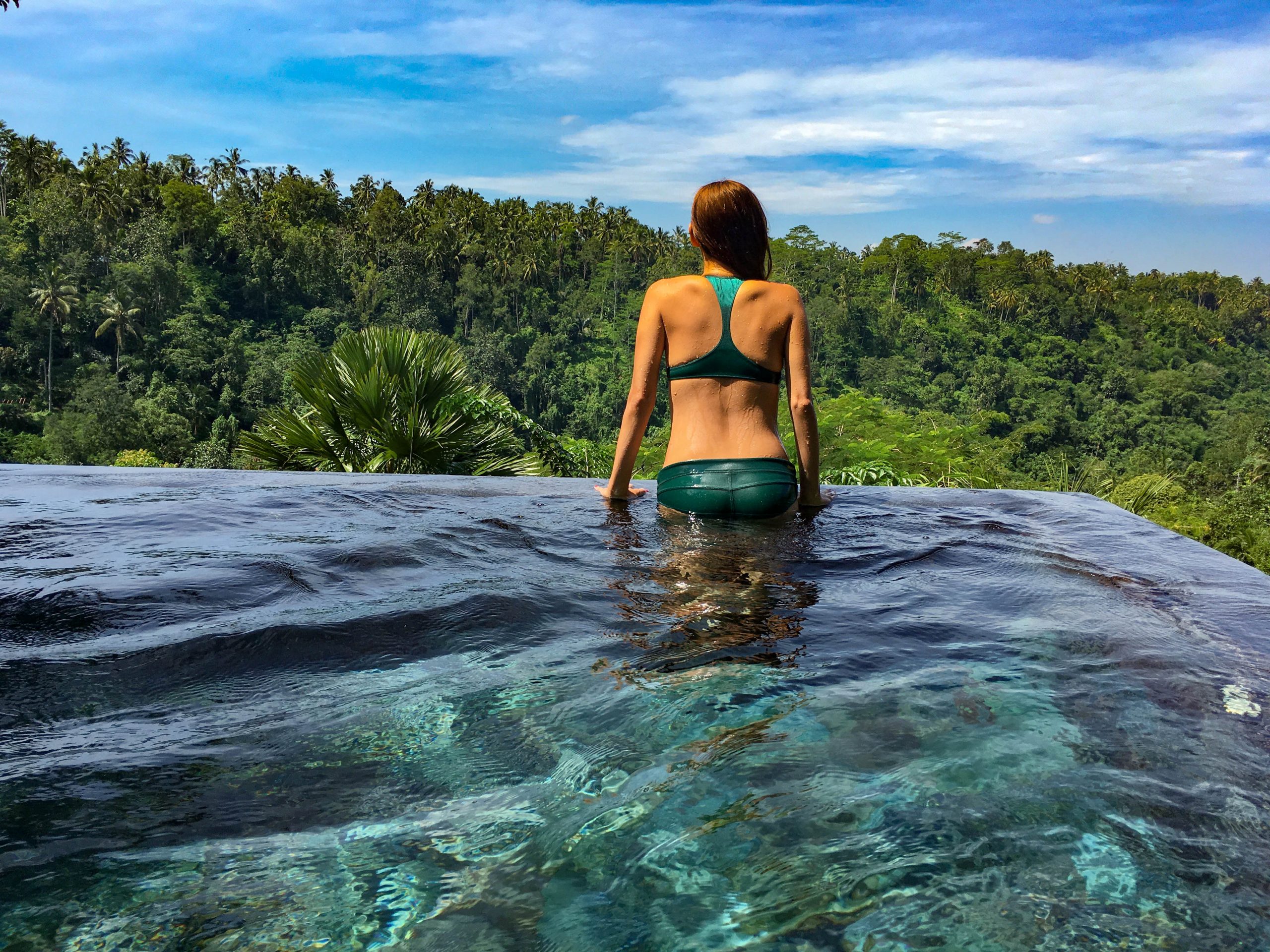 Just when you thought it couldn't get any better, in the morning the wild monkeys pass through the hotel, swinging from villa to villa and taking stops along the way. About 8 or 10 of them decided to stop by our terrace  in the morning and we were lucky to be able to snap some pictures of these beautiful animals. My little one was over the moon about it and was just totally blown away.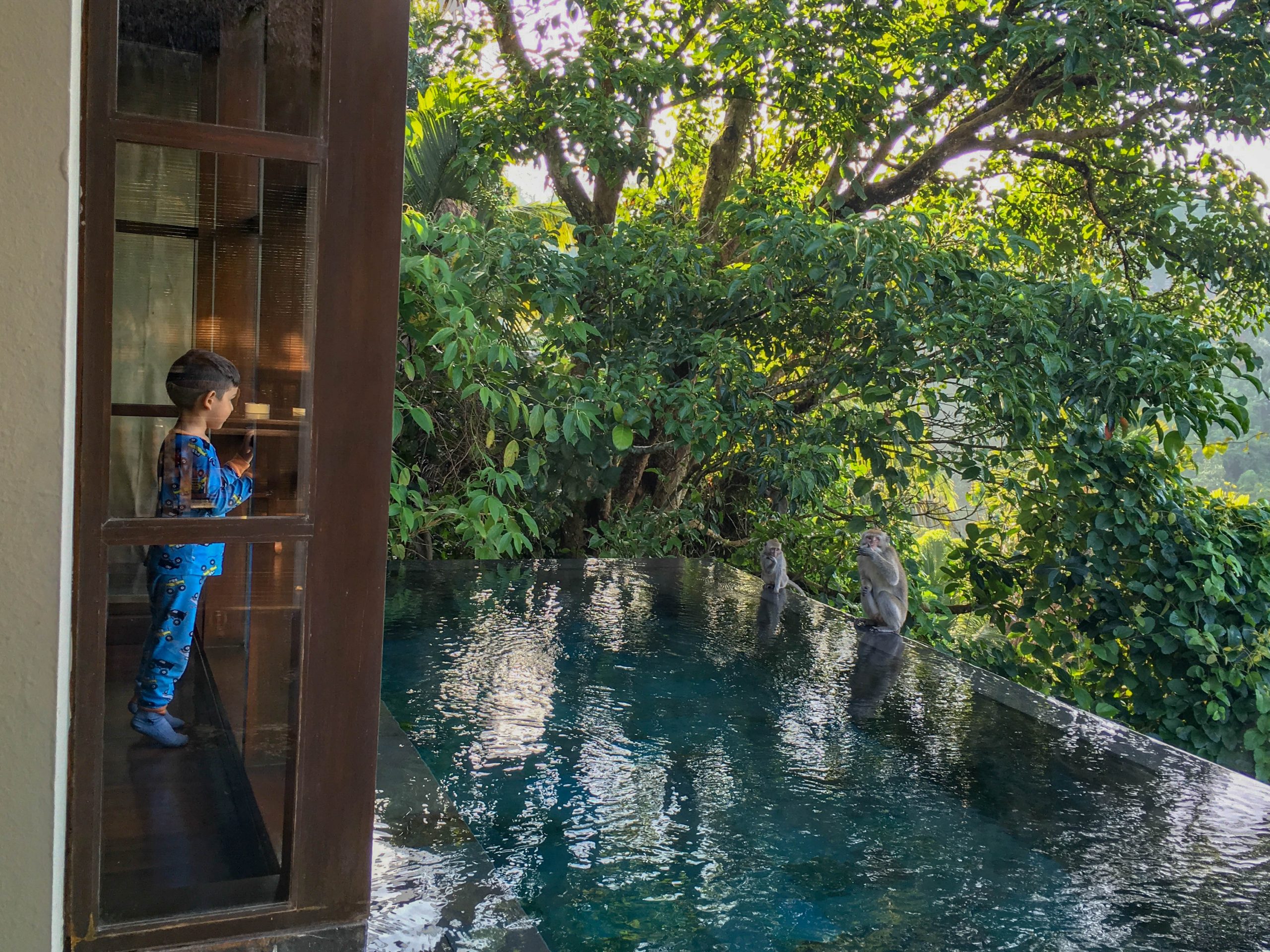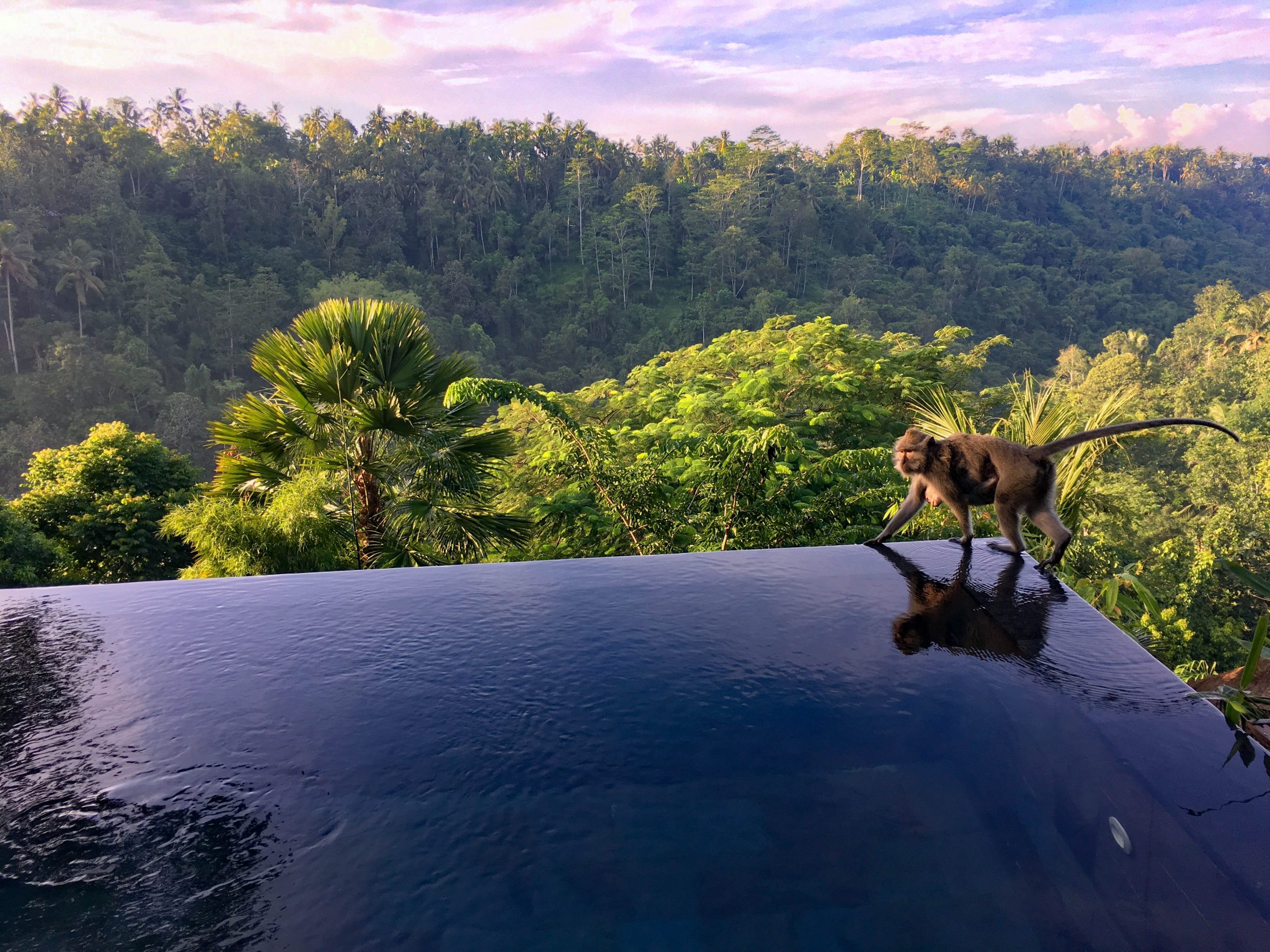 Unfortunately we were not able to enjoy any of the other hotel amenities other than the pool or participate in some of the daily morning walks that the hotel offers ( that are supposed to be amazing!) since our stay was very short. This gives us an excuse to return – not that we need one! We had to prioritize our time, so we spent most of the time hopping from the twin-tiered pool to our pool in our villa and munching away in the hotels restaurant by the pool. Fortunately for us, they had vegan pizza and veggie burger so lunch wasn't an issue. My little one was the only child in the hotel, since it is very romantic it is mostly couples -especially since at night, they decorate the pool with candles, and its just like a dream, taken out of a magazine- but they were able to accommodate him with a pizza and vegan smoothies.  The vegan options in the dinner menu, unfortunately , did need improvement, but the chef kindly replaced our meal for something else.
Hopefully next time we visit Bali, we will be able to visit this place again and stay a little longer to be able to enjoy it to the fullest.