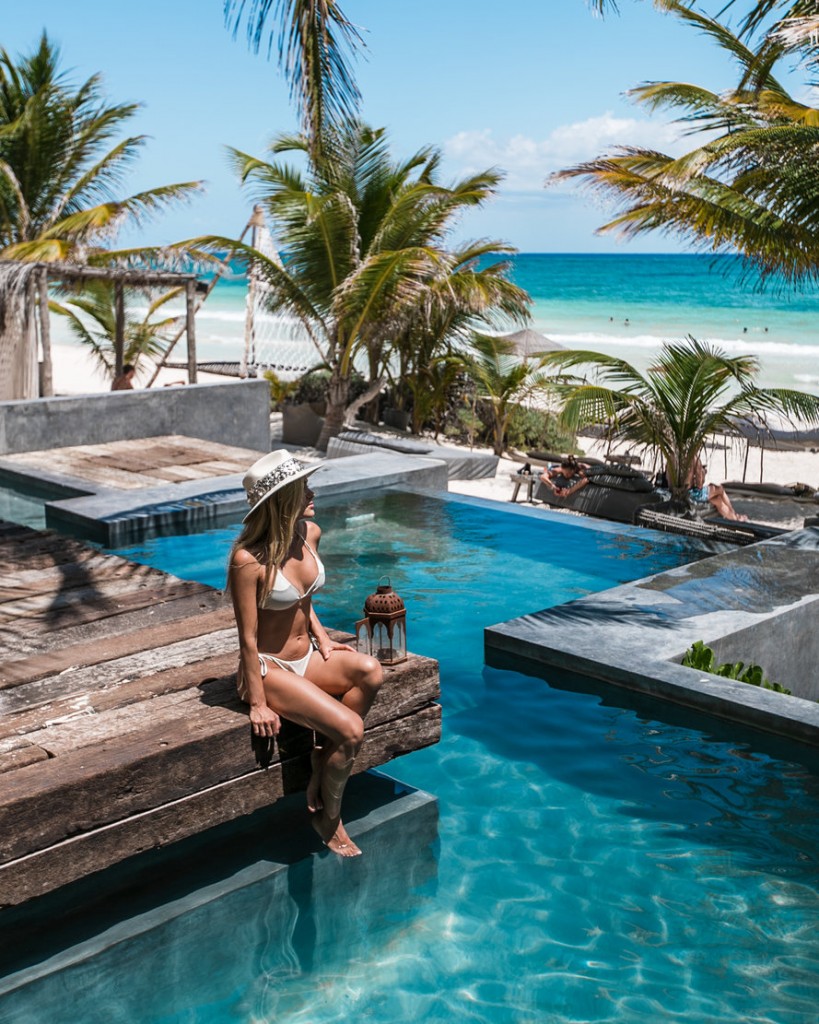 Recognized and known worldwide for its stunning beaches, laid-back vibe, and its signature Tulum charm and style, Tulum has become one of the hottest and trendiest destinations. Perfect for couples, families, solo travelers and even for girl trips, Tulum has something for everyone whether you are an adventure lover or the luxury travel type. The only thing about Tulum is, and don't say I didn't warn you, is that there is something that will make you want to continue coming back.
When is the Best Time to Visit Tulum: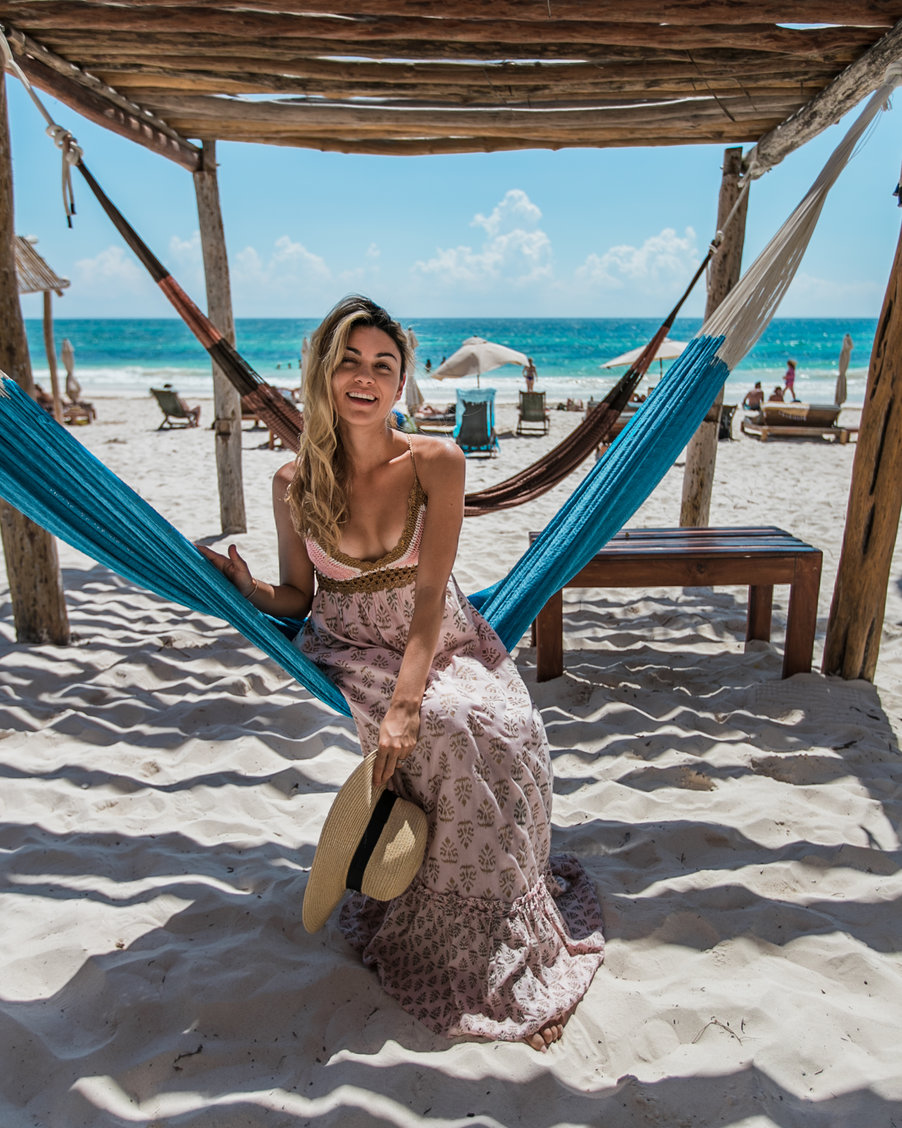 Dry Season (High Season): December to April 
Wet Season ("Low-ish" Season): May to November 
We have visited Tulum endless of times and each time during a different time of the year. Each time we have been incredibly lucky to have great weather regardless of what time of the year it was. Technically the winter which runs from December to April is the best time of the year to visit because it's dry season meaning that it is not too hot and you have less chances of rain. These are also considered the busiest months as it is high season so the prices do rise and availability might be low due to popular demand so book in advance. 
Though the summer months are part of the wet season where you can expect some rain and showers (also known as hurricane season), they are still popular months due to the school holidays. The prices are lower so you can get better rates, deals and avoid the crowds of the winter months. The shoulder months of May and November typically have less chances of rain , but like I mentioned, we have visited in almost if not every month of the year multiple times and didn't have any issues with the weather except for short rain showers or the occasional storm at night. Even in the middle of September – one of the rainiest months in the middle of hurricane season- we had 2 full weeks of sunshine with no rain. Just check out this photos: September, October and November. 
Parties and Festivals
Tulum is popular for its parties and festivals that happen through out the year particularly during the winter break and spring break in March. This is something to keep in mind when planning your trip so you can plan to visit during those dates if you wish to attend or around those dates if you wish to avoid it (check with your hotel or villa attendant for exact dates). The hotel strip in Tulum beach is quite small so during festivals or parties it can get quite crowded and busy. 
Where To Stay in Tulum: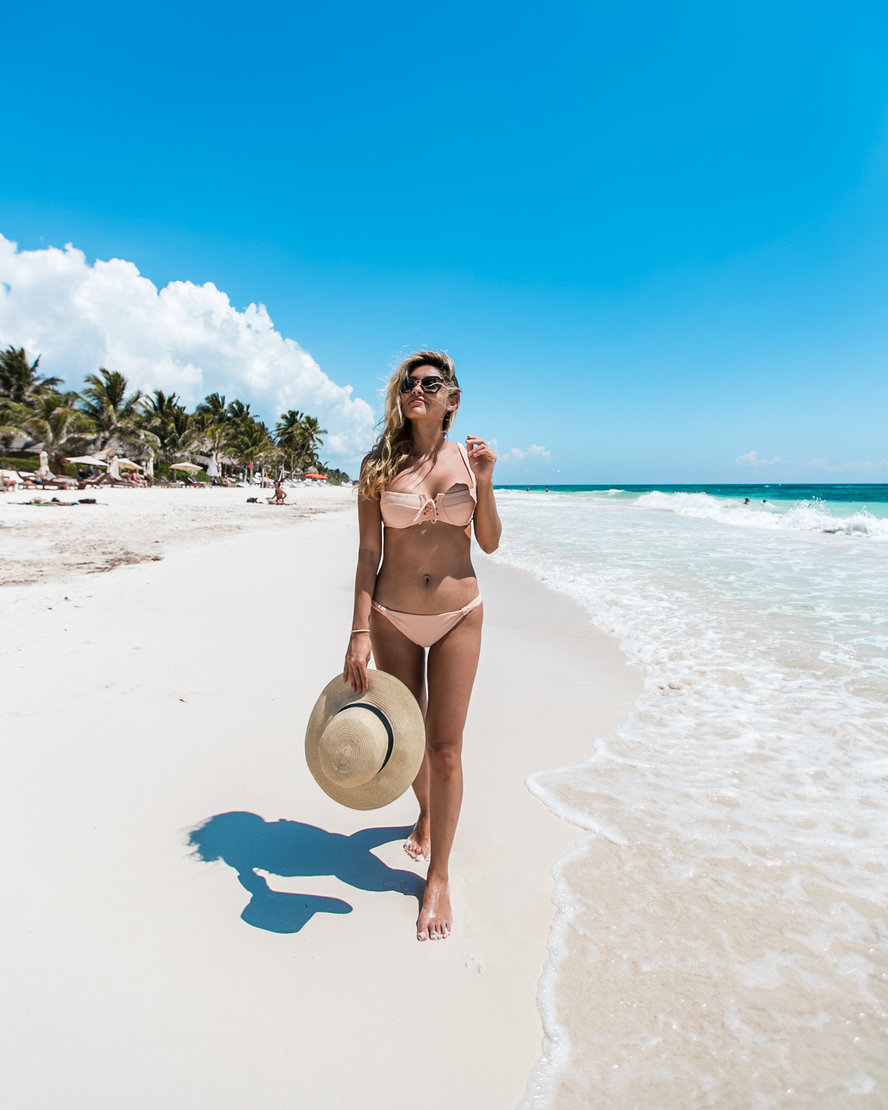 One of the great things about Tulum is the variety of options of accommodations for different types of travelers with different budgets. When it comes to accommodations you have three main areas that you can choose to stay in – Tulum town, Tulum Beach and Aldea Zama which is a residential community which is technically in Tulum Beach. 
Tulum Town – Tulum town is a good option for those looking for very affordable accommodation, as most of what is "happening" is in Tulum Beach which is 15-20 minute drive away from the town, so unless you are on a tight budget, you can skip it all together.
Tulum Beach – Tulum beach is where you find the iconic hotel strip that runs along the coast with the hotels by the beach and the restaurants and shops right across. This area is where it's happening and what you envision when you think of Tulum. Here you can find anything from 5-star luxury accommodation, adults only, family friendly, eco-friendly and hostels. Some of our favorite properties in Tulum Beach that we can personally recommend are La Zebra Hotel, Be Tulum, and Nomade Tulum. For families, I would recommend La Zebra as its more family oriented, lively and beachfront. Be Tulum and Nomade Tulum are happening properties where depending on the time of the year  you can have a lot of parties until late hours  (mostly in (December, January, March and April) so if you are traveling with little ones or just want to relax and you are not visiting Tulum for the parties and wish to have a good night sleep, check with the properties for any events or beach parties before booking. For those looking for an adults only, secluded and romantic hotel away from the hotel strip but close enough to visit, consider Mi Amor Tulum. You can read my complete La Zebra review here and my Mi Amor review here.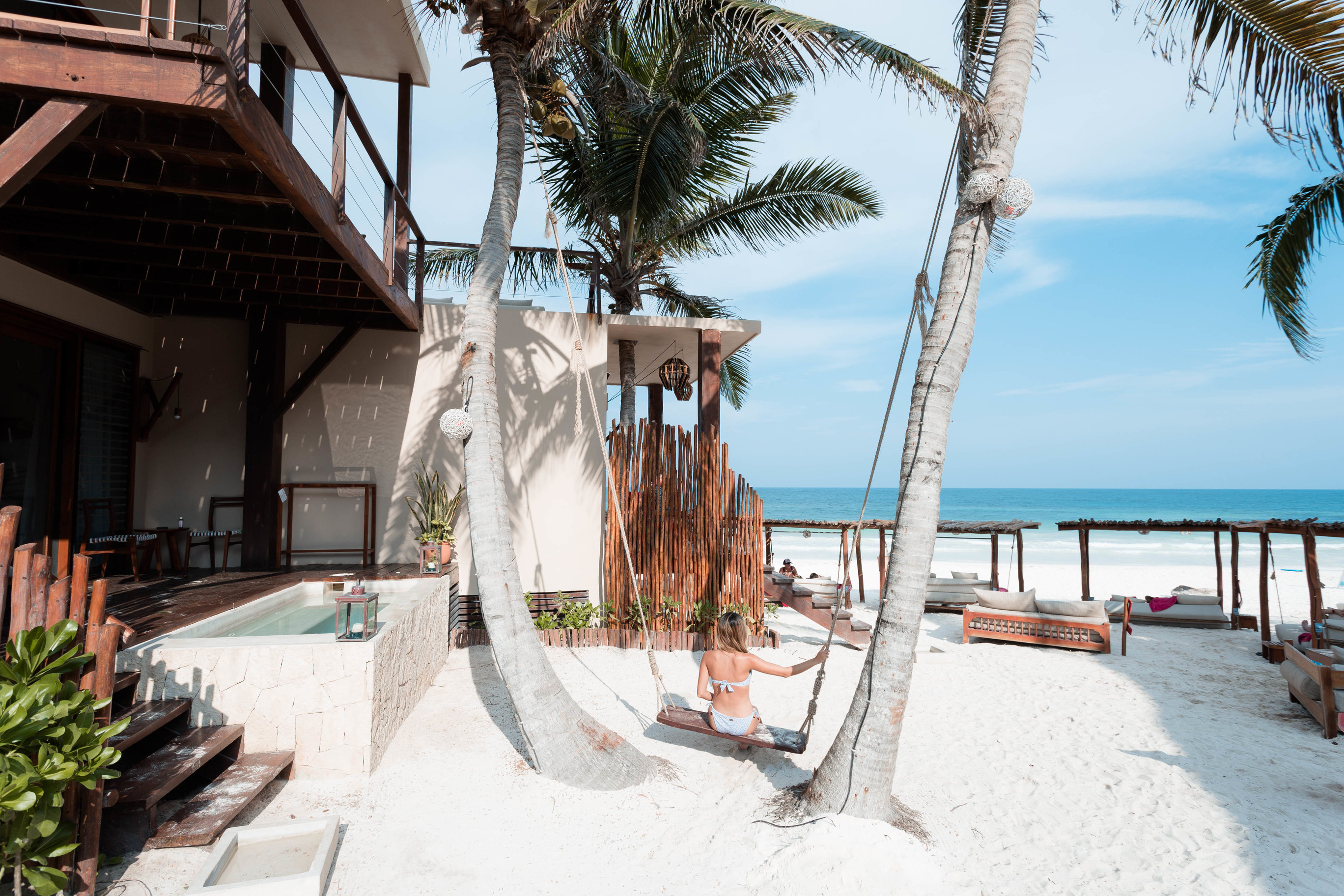 Another property that has taken Instagram by storm is Azulik Hotel. Keep in mind that as beautiful and photogenic as this property is, it does not offer electricity, wifi or even a/c and uses salt water for the bathrooms as its follows an eco-friendly concept at premium rates so it not for everyone. 
Aldea Zama – This exclusive residential area which is arguably part of Tulum beach due to its proximity is the nearest and one of the safest areas to stay in Tulum and where most of the Airbnbs are located including one of our favorite villas in Tulum – Casa Sieva. At just a 5 minute drive away from Tulum beach, Casa Sieva is fully equipped with 4 bedrooms, a full size kitchen and its very own little oasis with a swimming pool and free standing bathtub so it's perfect for a stay with family and friends. Staying in a villa like Casa Sieva gets you the most value for your money (the hotel prices on the beach can get steep so sometimes one night in a hotel is easily one night in this villa that fits 8 instead of 2), without compromising on comfort. I'll be honest with you.. the one thing that I always dread about Airbnbs are the cheap, uncomfortable mattresses but the mattresses in Casa Sieva are 100% hotel worthy! Click here for the listing in case you are interested.
[half_column]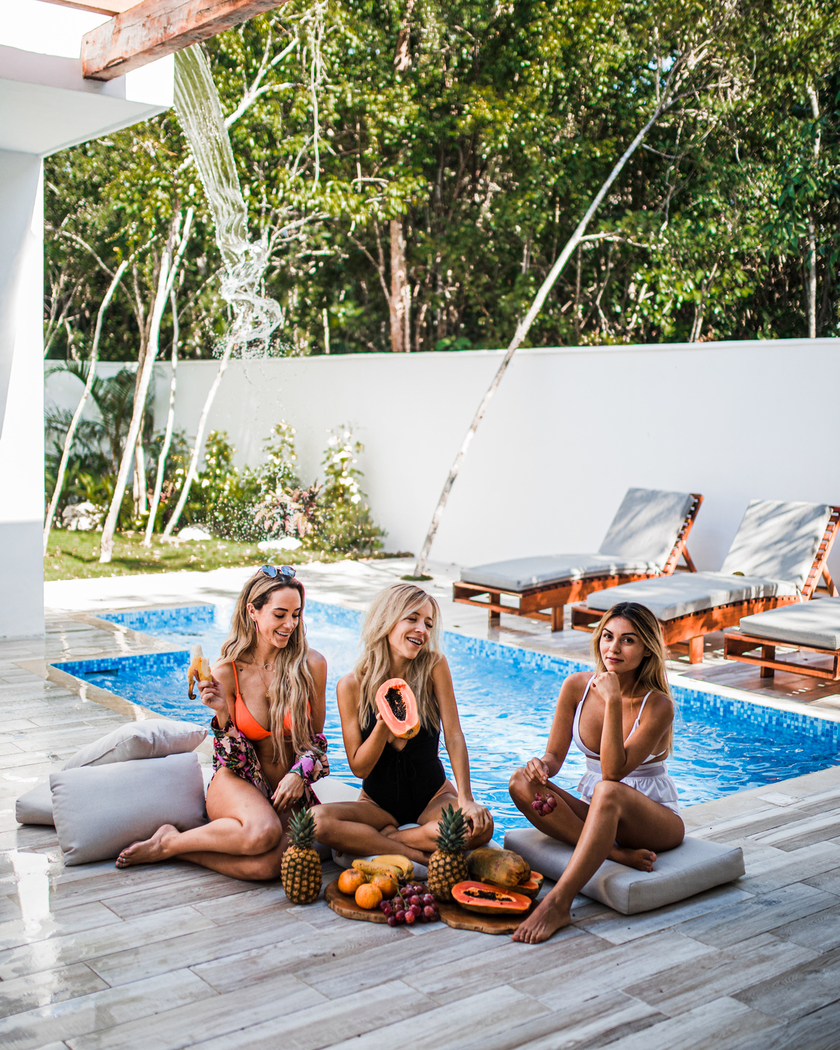 [/half_column]
[half_column]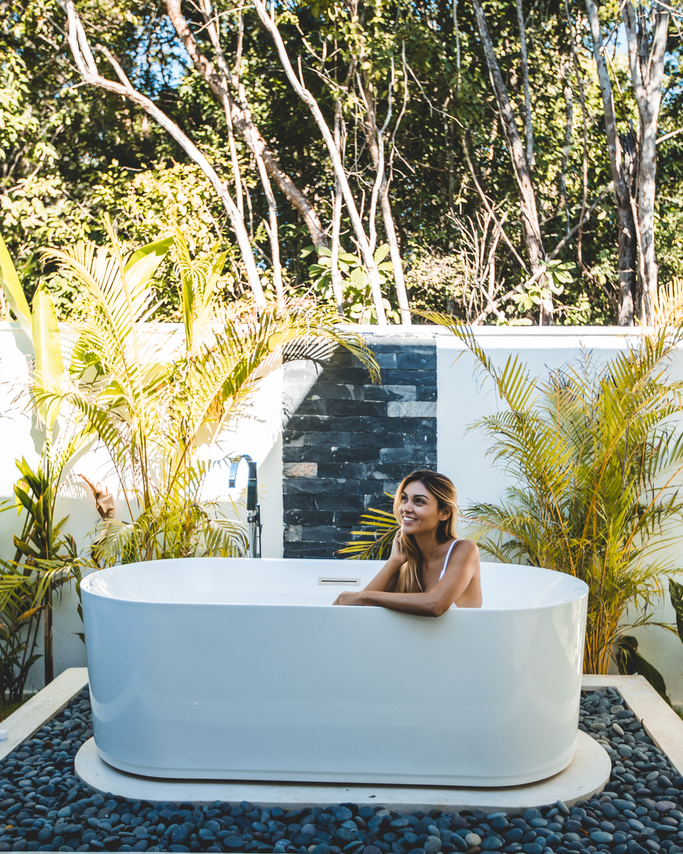 [/half_column]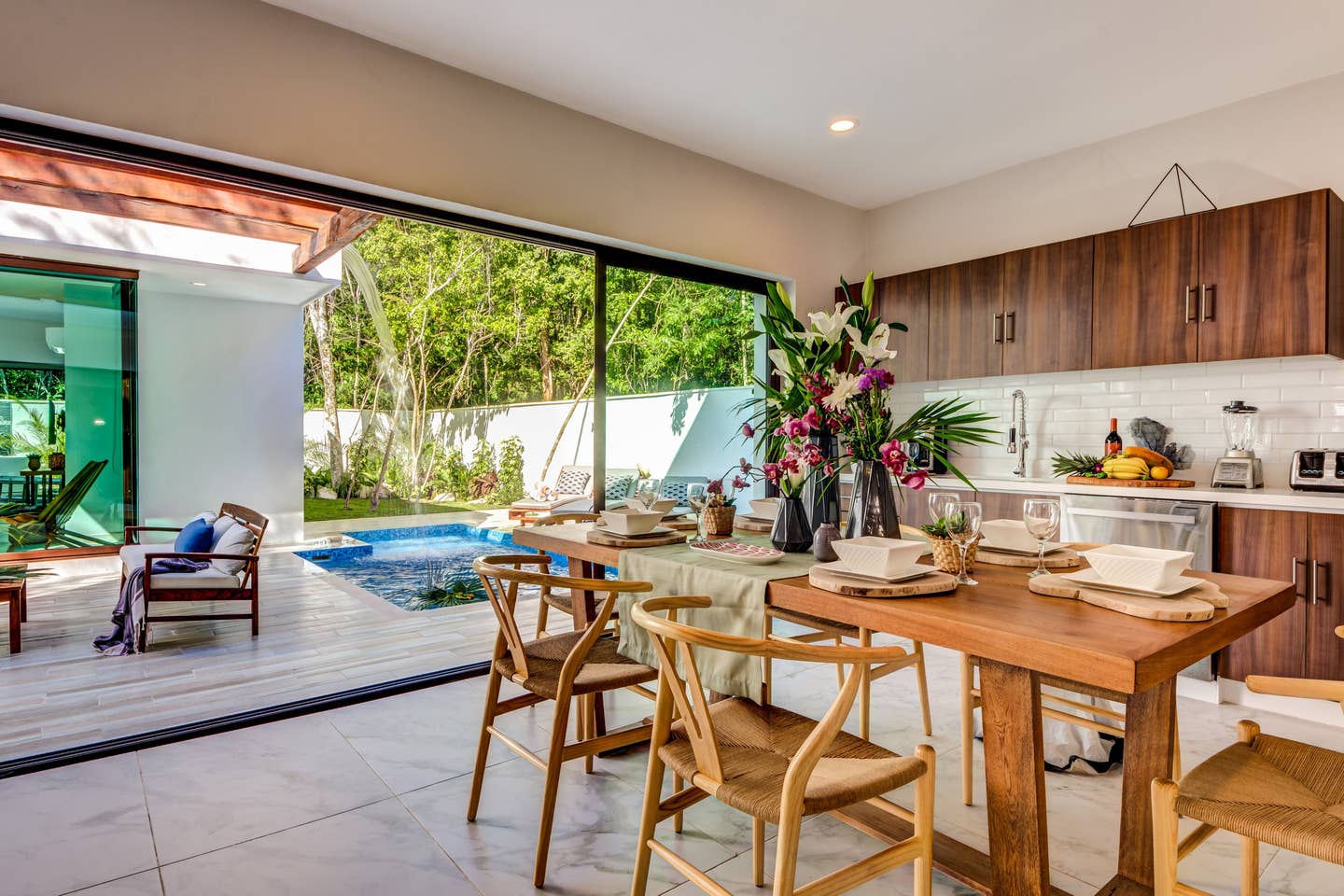 It is worth to mention that there is another area called La Veleta which has a lot of Airbnb options as well but please know that this is an other area outside of Tulum that is easily a 30 minute drive away from Tulum Beach so it's no where near as good as an option as Aldea Zama or Tulum Beach. The thing is though that a lot of the Airbnb listings that are located in La Veleta just say "Tulum" in Airbnb so in order to avoid any surprises contact the host to verify where the unit is located. 
Important Things to Know About Tulum:
Wifi: Wifi connection is not reliable in the area and it is slow but manageable. . This is the case anywhere you are staying in Tulum even in luxury hotels in the strip. 
Expect US prices: or more like LA prices to be honest.  Tulum has become so popular and trendy that prices have sky  rocketed and the prices really dont resonate with it's location. 
Cash:  Unless you plan on staying only in your hotel which is very unlikely, it is essential to carry cash on hand in case you decide to take a taxi somewhere , need to pay for parking, or the restaurant doesn't accept cash. 
Water: Always drink bottled water and avoid tap water.
Safety: Influx of tourism has lured thieves and burglars so use caution and common sense. Though it is unlikely that you will actually get robbed, don't leave valuable belongings behind on the beach, your car/bike and always lock your hotel room or villa as a safety precaution. If staying in Tulum town, be cautious in what areas you walk around at night.
Tipping: A 10% tip is expected and in some places it is automatically included. 
How Many Days Should you Stay in Tulum:
At an absolute minimum you need 3 days so you can at least spend one to two days by the beach, walking across the strip and enjoying some delicious food, visiting one of the many beach front properties, maybe hitting a beach party and even explore a nearby cenote and the Tulum Ruins. However, if you are looking to really experience what Tulum has to offer and are a beach lover and foodie like me, I would suggest to stay for 5 days. I know some people take day trips from Playa del Carmen (one hour drive away) or Cancun (one and a half hours drive away) just to cross it off the list and though it is technically doable, it is not ideal and definitely not my jam. If anything I would suggest to skip Cancun all together and head straight to Tulum. We have visited for the day multiple times from Playa del Carmen to spend a day by the beach only (not to explore) and have spent anywhere from 1 night to 7 nights, and if money and budget is not an issue and you know Tulum is your type of place, I'd say stay a full week and dont look back haha. 
How To Get to Tulum:
Since there is no airport in Tulum, the best and most convenient way to get there is to fly into Cancun International Airport. There are many direct flights to Cancun International Airport including domestic and international such as from New York, Houston, Miami, Toronto, Frankfurt and now even from Istanbul! To get to Tulum from Cancun Int. Airport which is a one hour and a half drive away you have 5 options: 
Hotel Transfer: Organizing your transfers directly with your hotel in Tulum is the most convenient and stress free way but it comes at a premium as it's also the most expensive option ( about $100-150 each way). Even if you are staying in an Airbnb, this might still be an option for you as many management companies are now offering this service so make sure to inquire about their pricing. 
Renting a car: If you are planning to explore and have the convenience of having a ride in hand at all times specially if you are staying in an Airbnb or vacation property, renting a car would definitely be the best option for you. The drive from the airport is fairly straightforward as it's a straight drive south for under 2 hours and  all the signs are in English. However, for safety, I wouldnt advice to do the drive late at night and would recommend you consider the shuttle transfer instead. 
If you decide to rent a car, from our experience, it is always better to rent it online prior to your arrival because you will get a much better deal. You will find car rental prices for $1 a day but bear in mind that this does not include insurance, fees or taxes so it can range from $11-60 a day depending on what insurance plan you get.
Shuttle: Shuttle transfers are one of the most popular options for tourists.  Once you land there are many shuttle companies available for you to book on the spot so there is no need to arrange it prior to your arrival and you can choose if you wish to have a shared or private ride, so it is very convenient. If you book your roundtrip transfers directly with them upon your arrival, they also offer a good discounted rate (make sure to keep the receipt and call the number the day before your scheduled departure to confirm the pick up). We have used this service many times through out the years and only once the shuttle didn't show up but we were refunded for it. The cost is about $100-150 round trip. 
Taxi:  If the line for the shuttle happens to be long or if there is a wait (which has not happened to us before), the next option would be to take a taxi to Tulum. Make sure to only get an official taxi and set the price with him before hand. I would NOT recommend to catch a ride with anyone or with an independant driver, it's best to be safe and  always use official taxis. With that said, since we have visited many times, I have a trustworthy driver that I personally use for our airport transfers that I can recommend to you.  If you are interested send me an email and I will pass you his info and give you an idea of his rates.
Bus:  If you are in a tight budget, you can consider taking the ADO bus from the airport to Playa del Carmen (a city that is an hour south of the airport) and from there change bus to Tulum. It will take you at least an additional hour to get there, so around two and a half hours (or more if you miss one of the buses) and cost you less than $15 per person each way. I have never taken the bus so I cant personally recommend it but from what I have hear, it has a/c and a luggage storage area. 
Where To Eat & Best Restaurants in Tulum: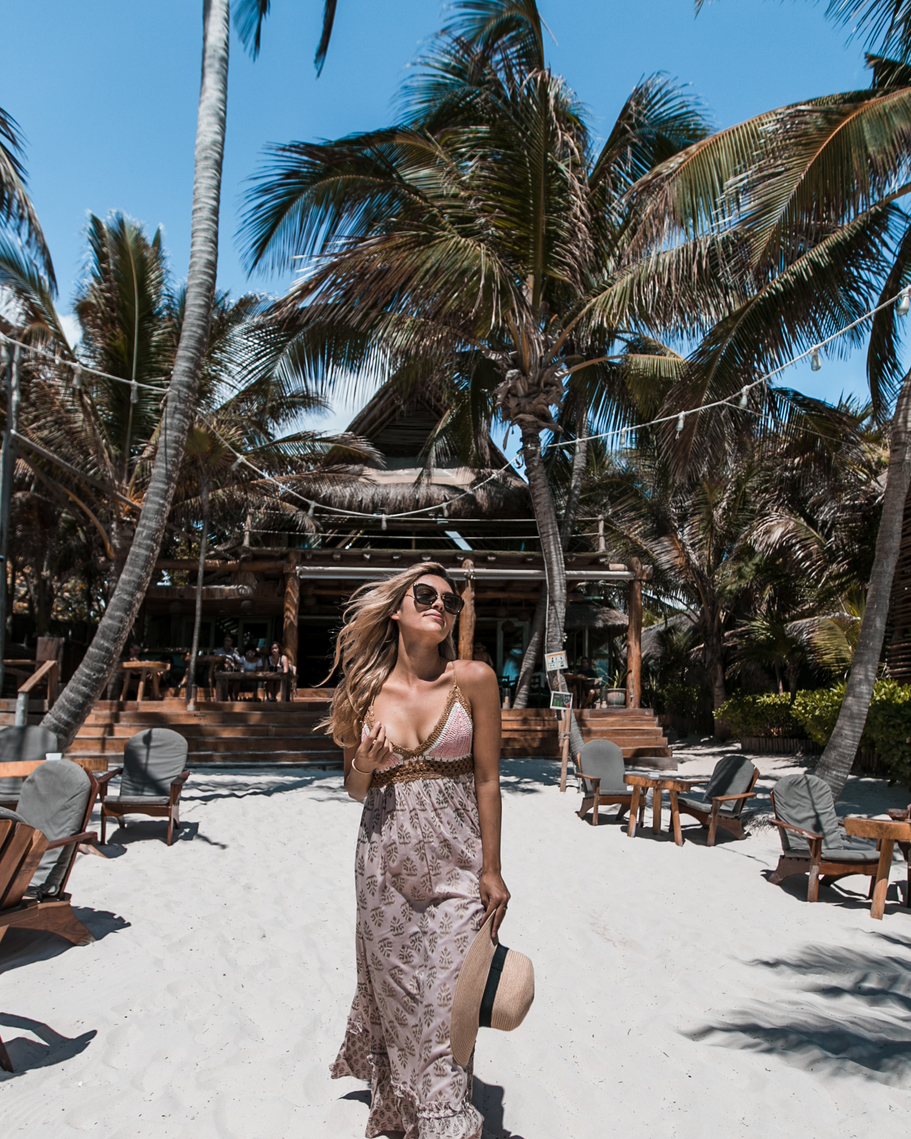 Known for its gastronomy, there are a number of different cute and delicious restaurants to visit in Tulum and be prepared to be amazed by the quality of the food!  Even for vegans and vegetarians, this place is a food heaven. Great food and great ambiance is what Tulum is all about. There are so many good options that you most likely wont have time to try all of the places that Tulum has to offer but its a great excuse to come back. 
Raw Love: Considered to be one of the healthiest and trendiest spots in Tulum, Raw Love is a completely raw vegan restaurant known for its killer smoothie bowls and raw cuisine including plates such as raw pad thai (highly recommended), raw hand rolls and raw pizza. This place is a must for us every time we visit – great food with a cool and boho location. And they have kombucha! *Only accepts cash.
[half_column]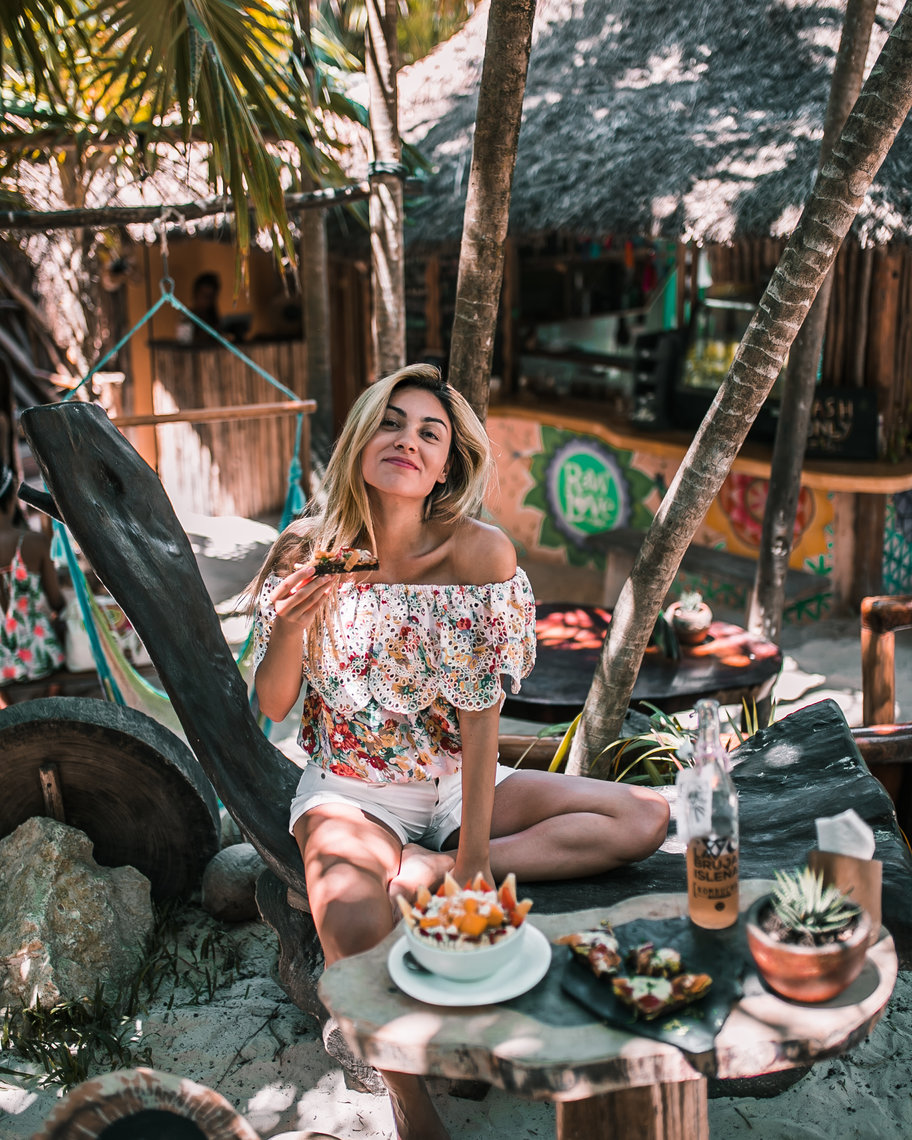 [/half_column]
[half_column]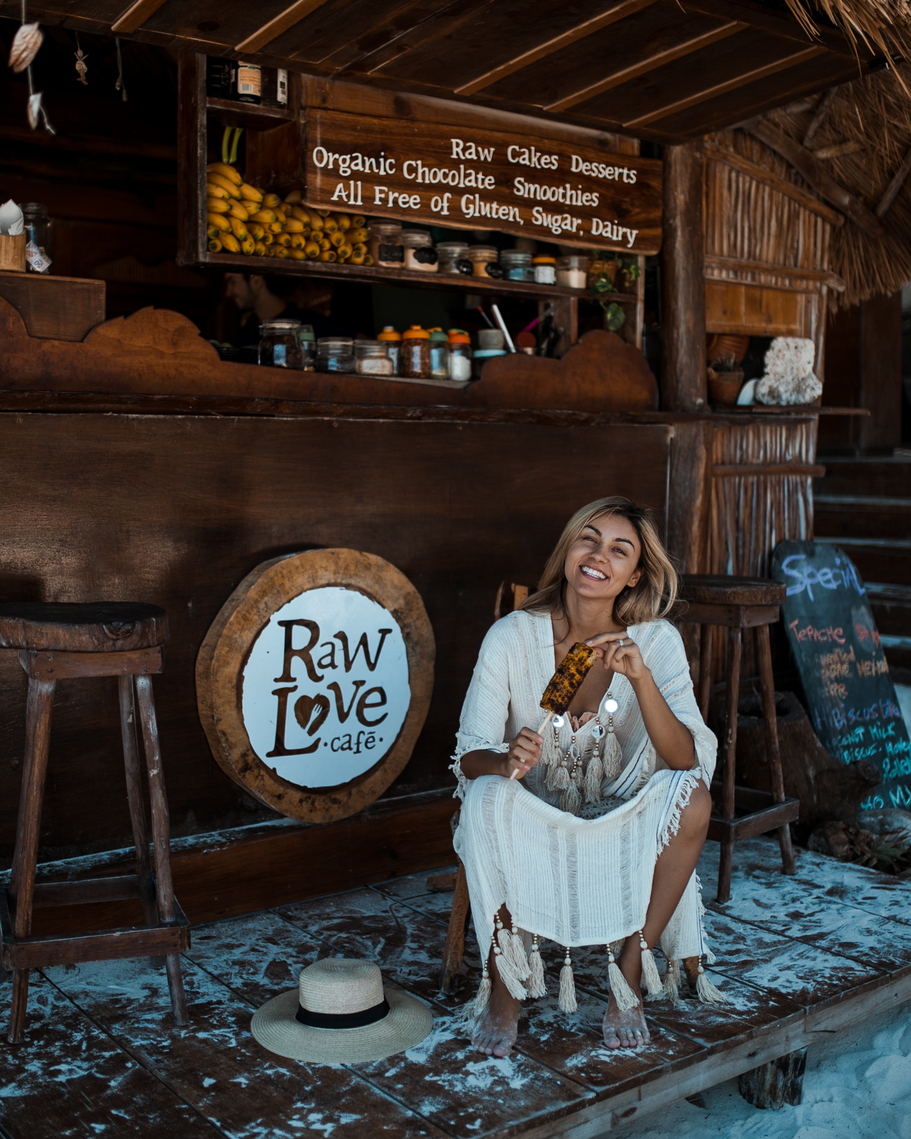 [/half_column]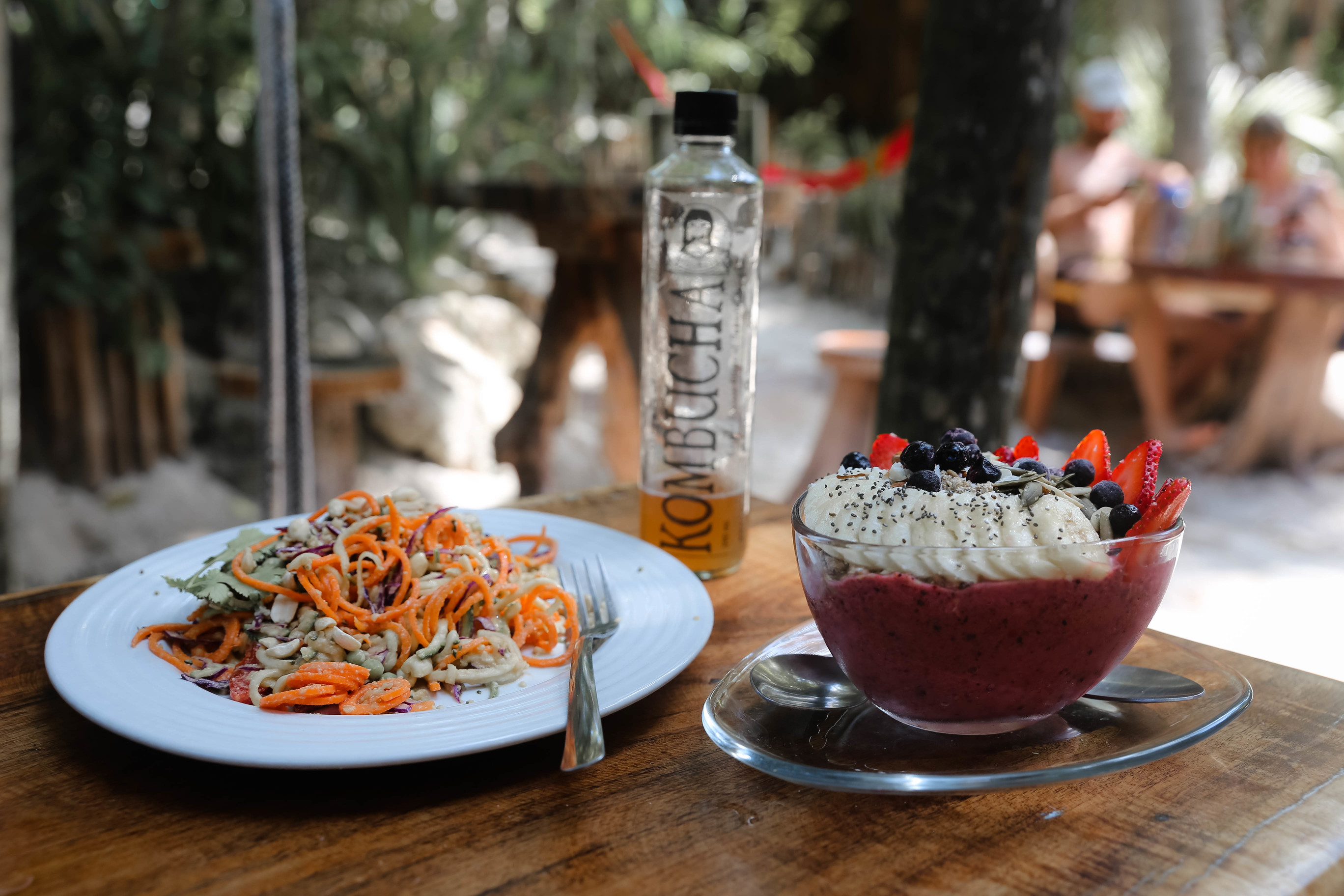 La Zebra Beach Restaurant at La Zebra Hotel – Not only one of our favorite properties to stay in, La Zebra is the perfect place to go enjoy a nice meal by the beach. It is known to have one of the best margaritas and tacos in town. One of the all-time favorite margaritas that you should try is "Tortuga" which is made with cucumber. Since we don't drink, we tried the virgin version which I know is different but it was still really good. And even if you are not a vegan or vegetarian, you must try their veggie burritos, they are seriously one of the best veggie burritos I have ever had period and they are loved by meat eaters as well! Their vegan tacos are also yummy, just ask for extra guacamole. Grabbing lunch in La Zebra has become a little family tradition for us as we have done so every single time we've been to Tulum. Considering the location and the exclusivity of the property, the prices are quite reasonable compared to other hotels and restaurants on the strip. 
[half_column]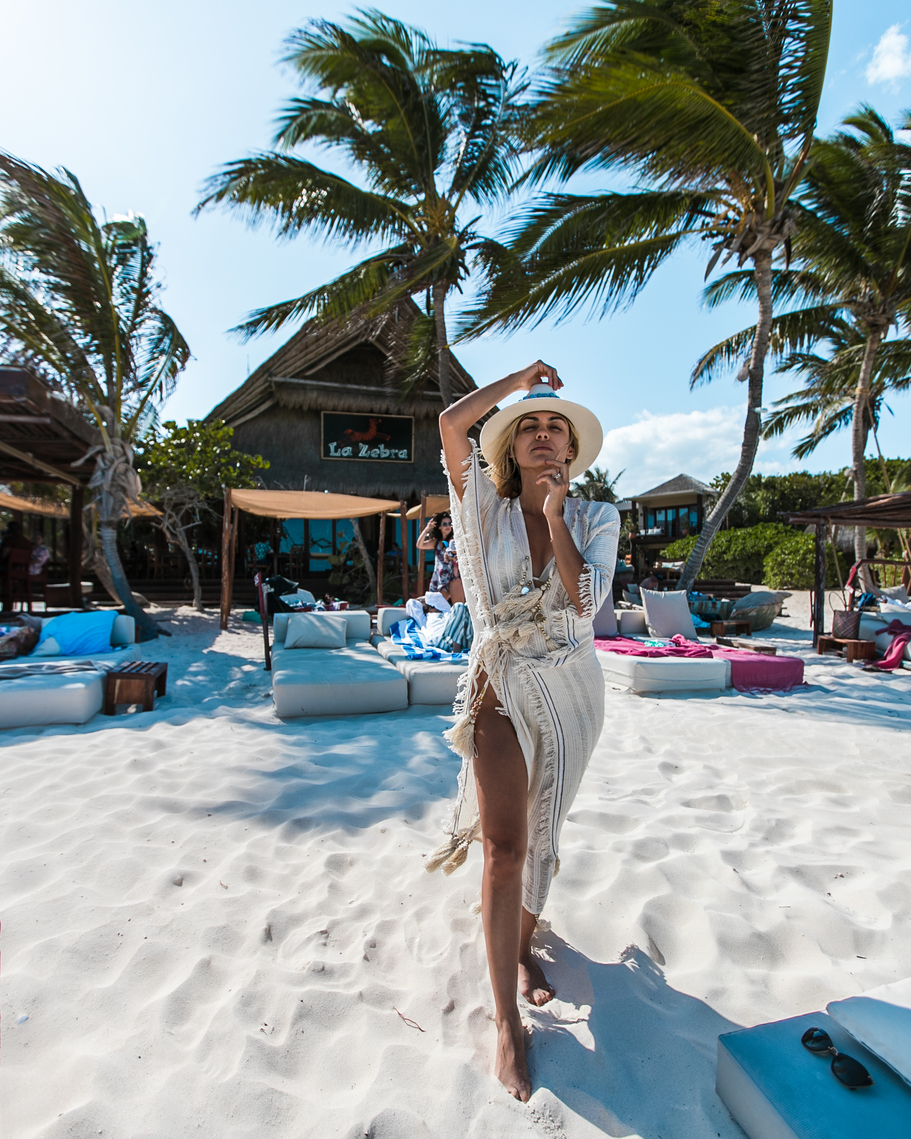 [/half_column]
[half_column]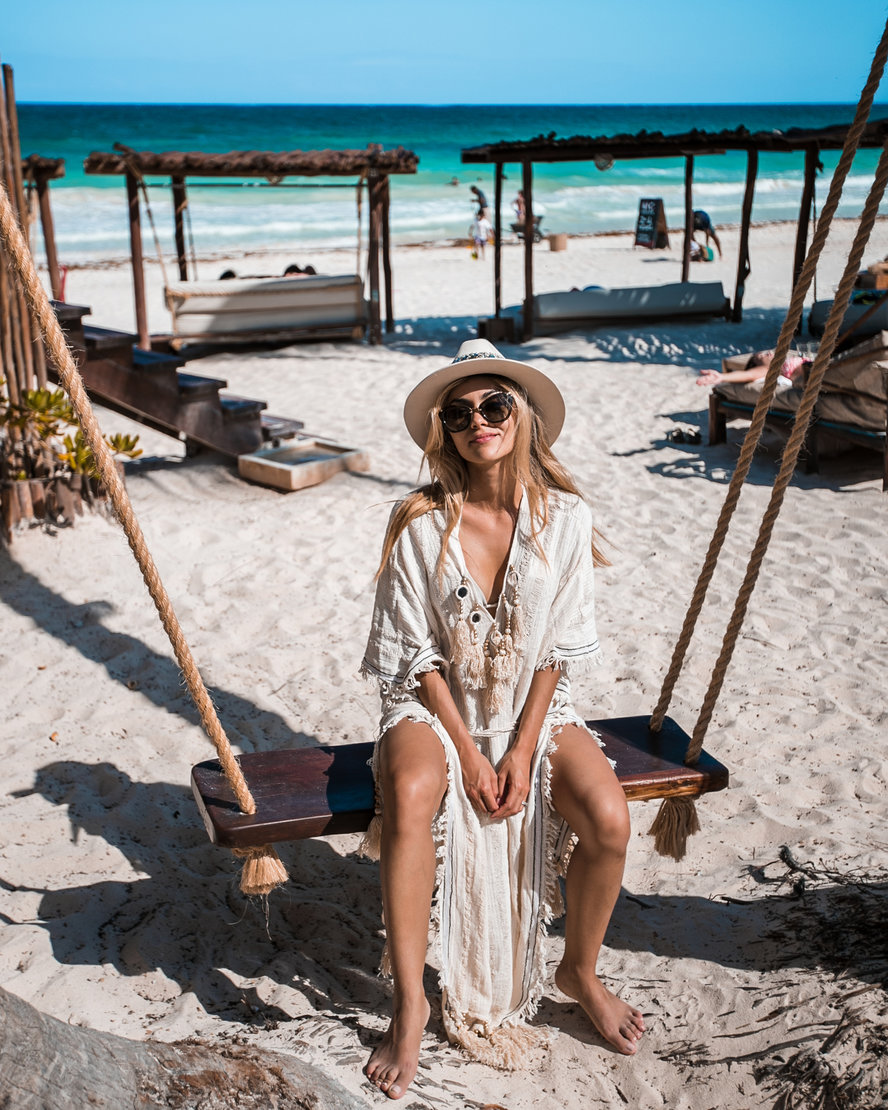 [/half_column]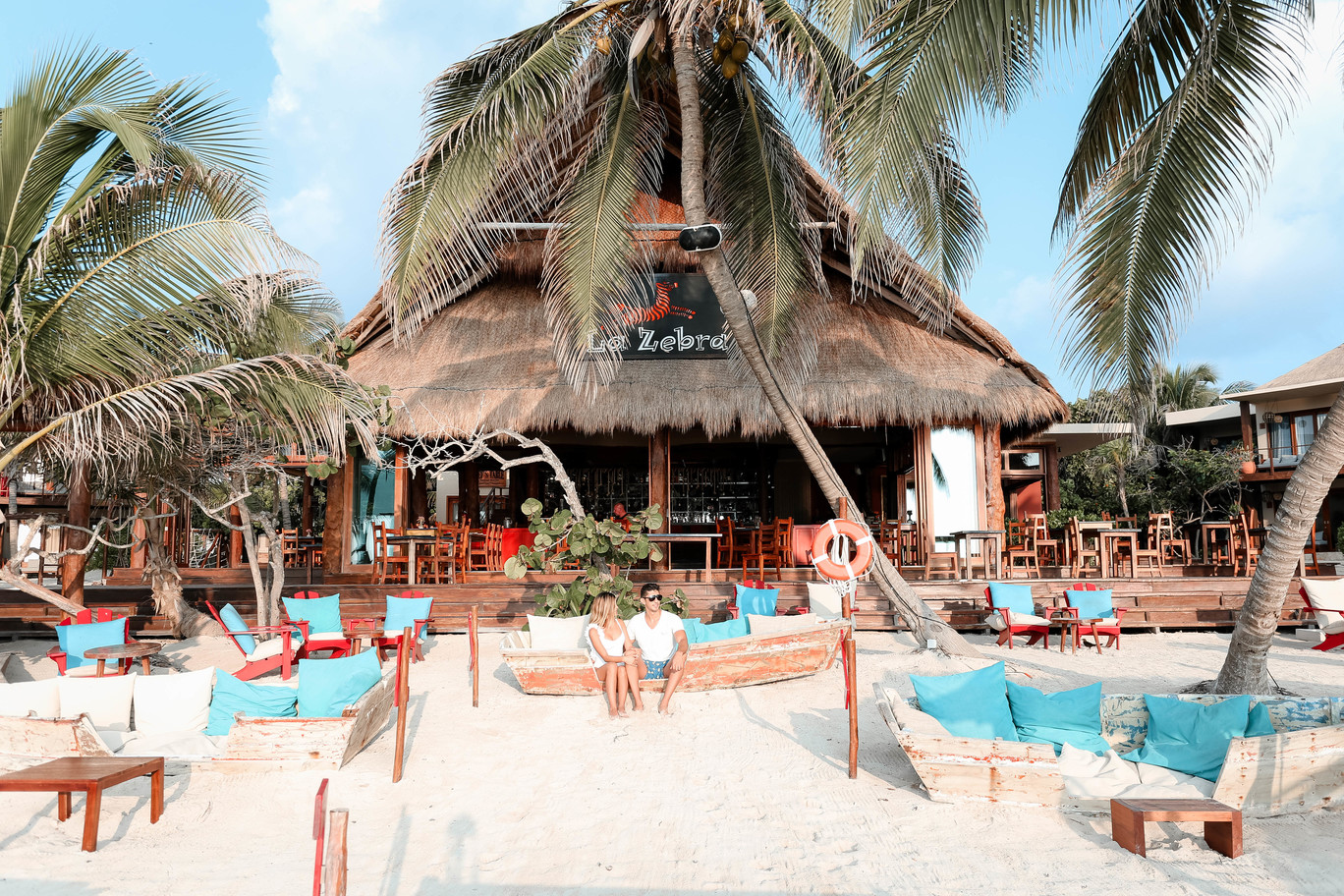 Macondo's at Nomade Hotel  – This Moroccan inspired restaurant in Nomade Hotel has some of the best vegan bowls and great over all veggie options. The decor and setting is also very unique and beautiful. It is mostly popular for dinner (their is a different menu that includes vegan tortellini ) as they have a live band and singer, but we love stopping by to enjoy the bowls for lunch.  *They only accept card.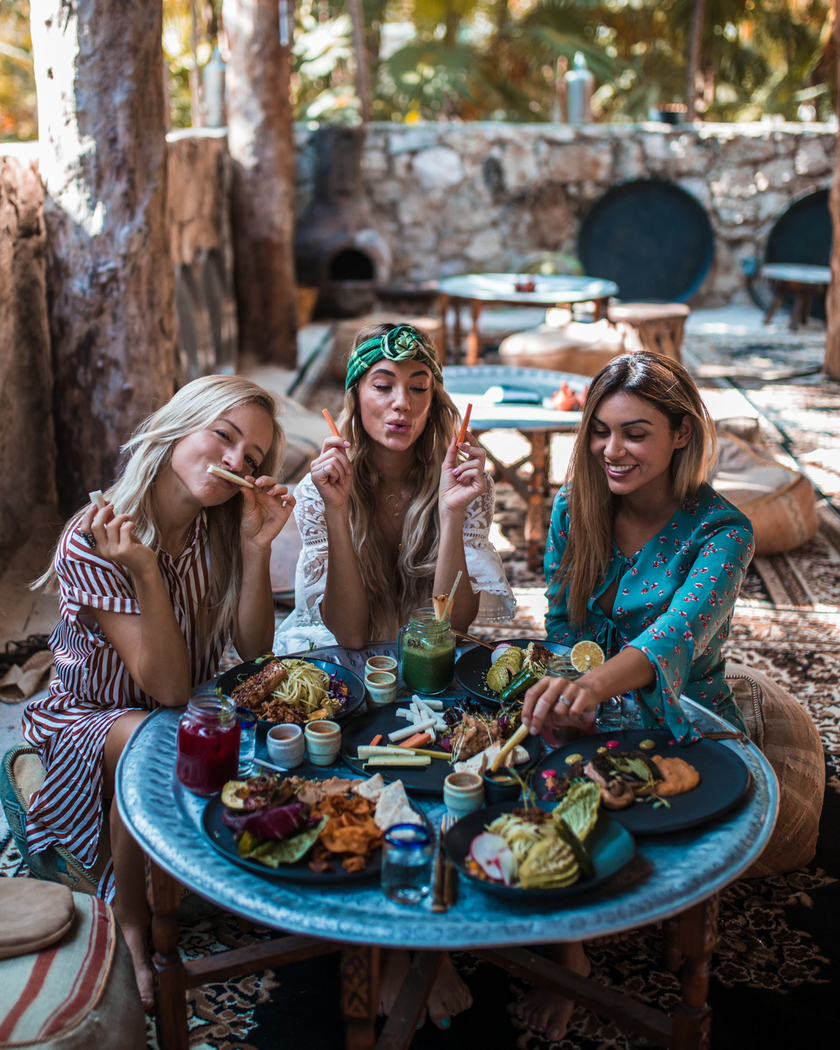 La Popular at Nomade Hotel – La Popular is the beach front restaurant at Nomade Hotel which has a similar style concept to Macondo but more laid back and "beachy." Service here can be questionable and we've even had issues with some of the staff members being a little rude, but the vibe, decor and location of this place makes us keep coming back. They have a few vegan options here including vegan tacos. The food here is yummy but the portions are small and are slightly overpriced so make sure to order well. The place has such a cool vibe and signature Tulum style that its is also where a lot of beach parties happen during the high season. *Only accepts card
[half_column]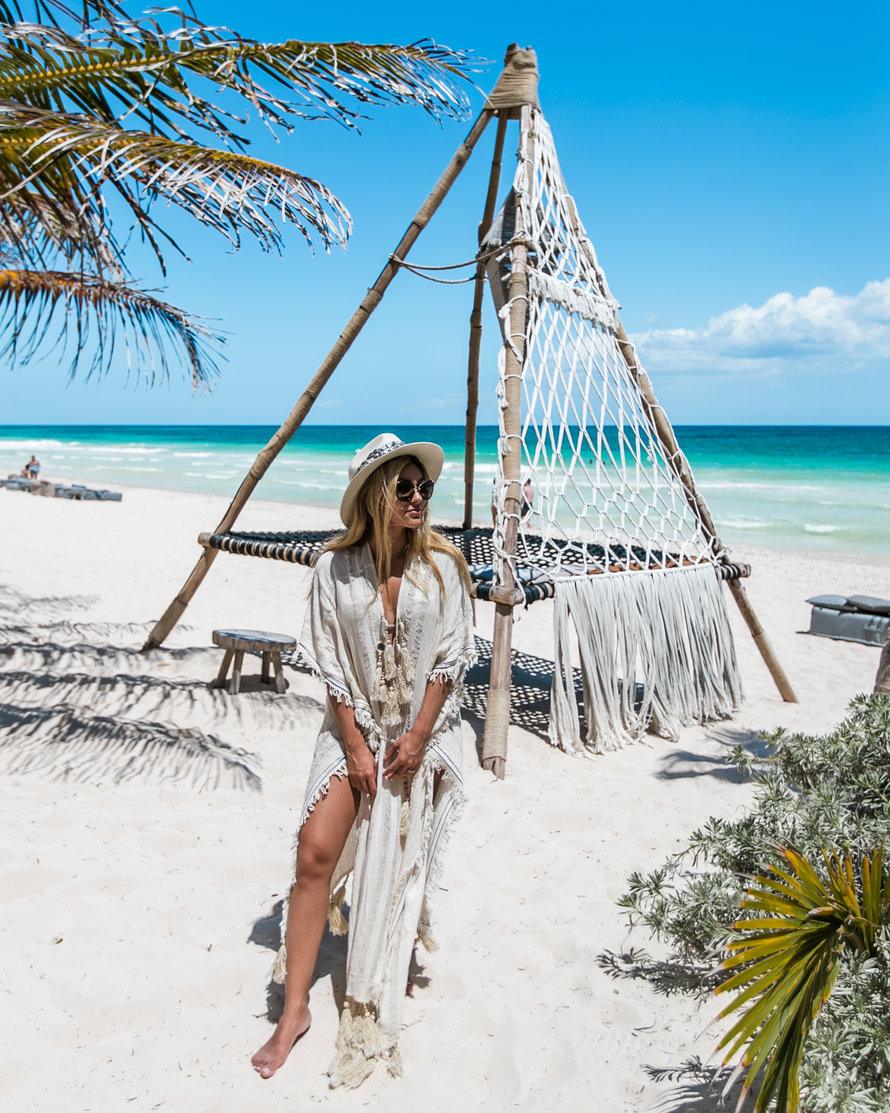 [/half_column]
[half_column]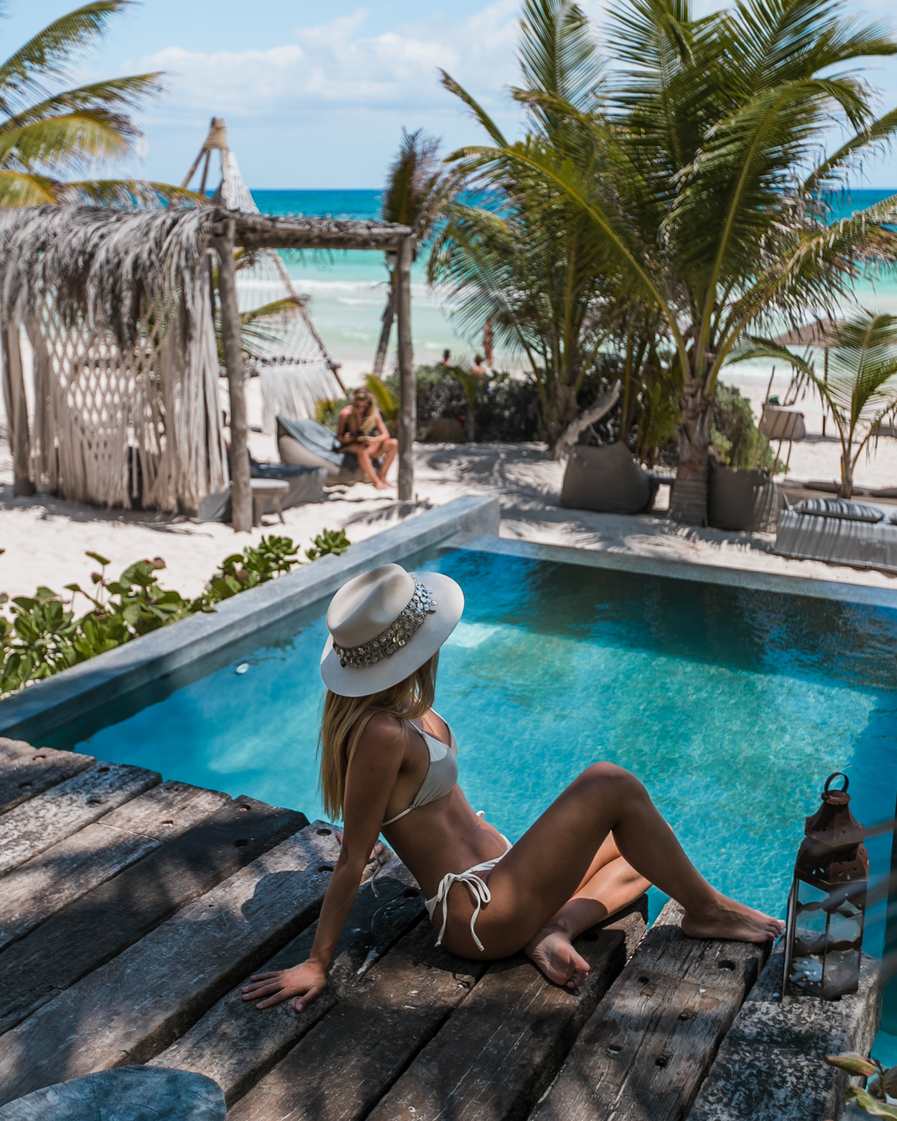 [/half_column]
Rosa Negra Tulum – Last time we visited Tulum (2019 in April) this place was packed every single day so naturally after a few days of passing by we had to stop and give it a try. The decor and ambiance here is typical Tulum- boho and chic but it is a lot more lively and slightly more "commercial" but the food was really good – delicious , great quality and good sized portions- so we ended up returning a few more times. *Make reservations because it gets very busy. 
Charlys Vegan Tacos –  The name says it all :Its all about vegan tacos in Charlys Vegan Tacos. No fancy or fusion recipes here;  this is your traditional Mexican tacos veganized in such a great way that you won't even notice they are vegan. Oh, and the fried plantain is crazy good too so make sure to try it. *Only accepts cash and has limited sitting.
Mamasan – Once we saw the sign that said jungle rooftop, we didn't have to continue looking for other options. We went there on a weekday for dinner and the rooftop was very empty – only one more couple by the bar but it gets lively and busy during the week nights. They have some great vegan options such as the soy meat tostadas which are sooooo good. My son left my sunglasses (he was being naughty haha) that night, so I called next thing in the morning to recuperate them but unfortunately, they were gone….So enjoy the food but take care of your belongings.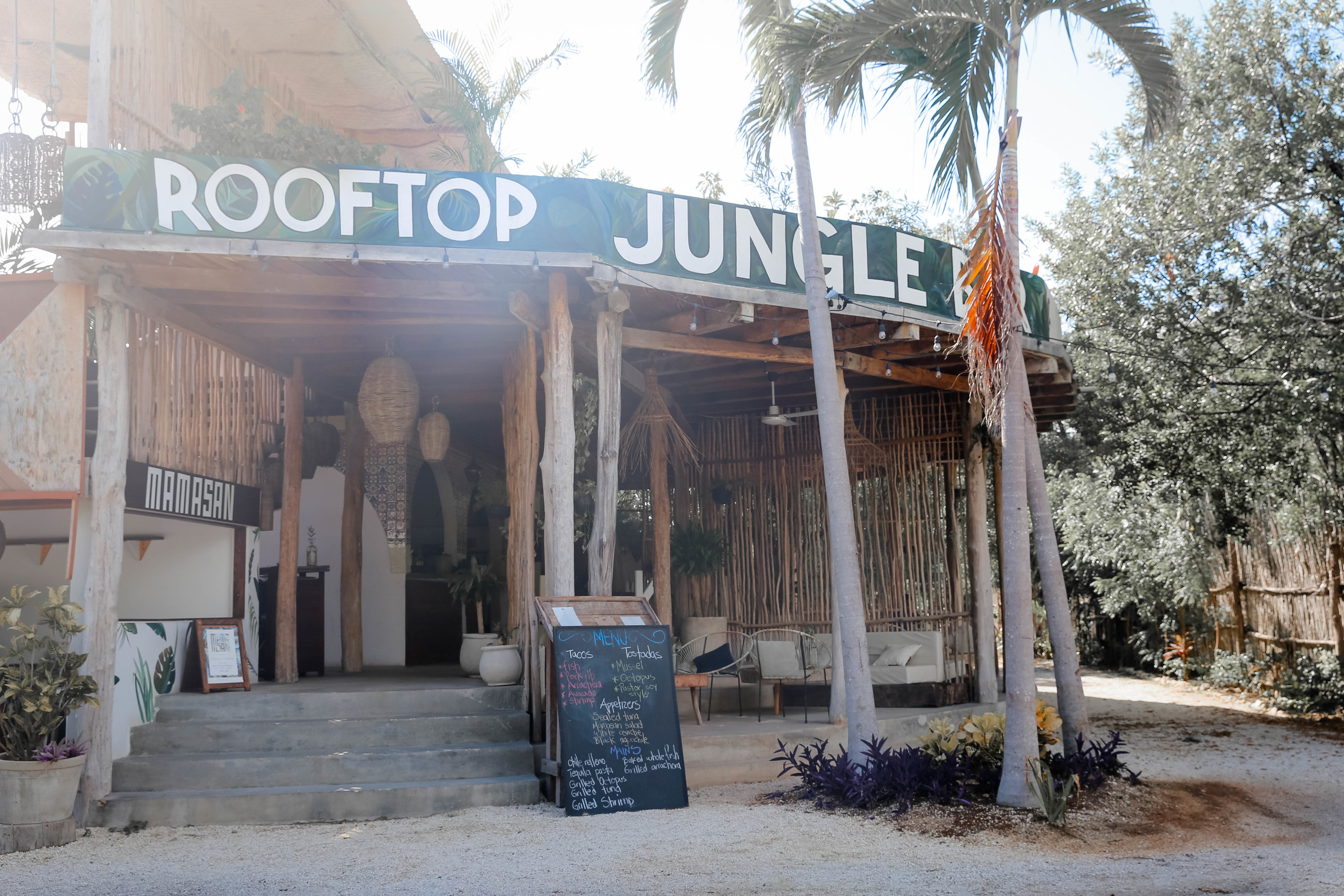 Kintoh is an ultra unique high-end restaurant in Azulik hotel and one of the coolest and most unique places that we have seen in Mexico and makes it to the top of our travel list. This treehouse restaurant offers a spectacular sunset view and unique ambiance making it perfect for a romantic dinner for couples (they offer a 5 course vegan menu). We have celebrated two special occasions here – our 6th year wedding anniversary and my 25th birthday.  The food is fairly good but definitely not the best for the price, its more about the location and ambiance rather than the food itself. Keep in mind that this restaurant is considered fine dining, so it is an expensive restaurant. Honestly, I would just recommend to go for drinks at sunset and grab food elsewhere, that's what we did during our last visit. Oh and beware because one order of shisha (hookah) is over $120 USD!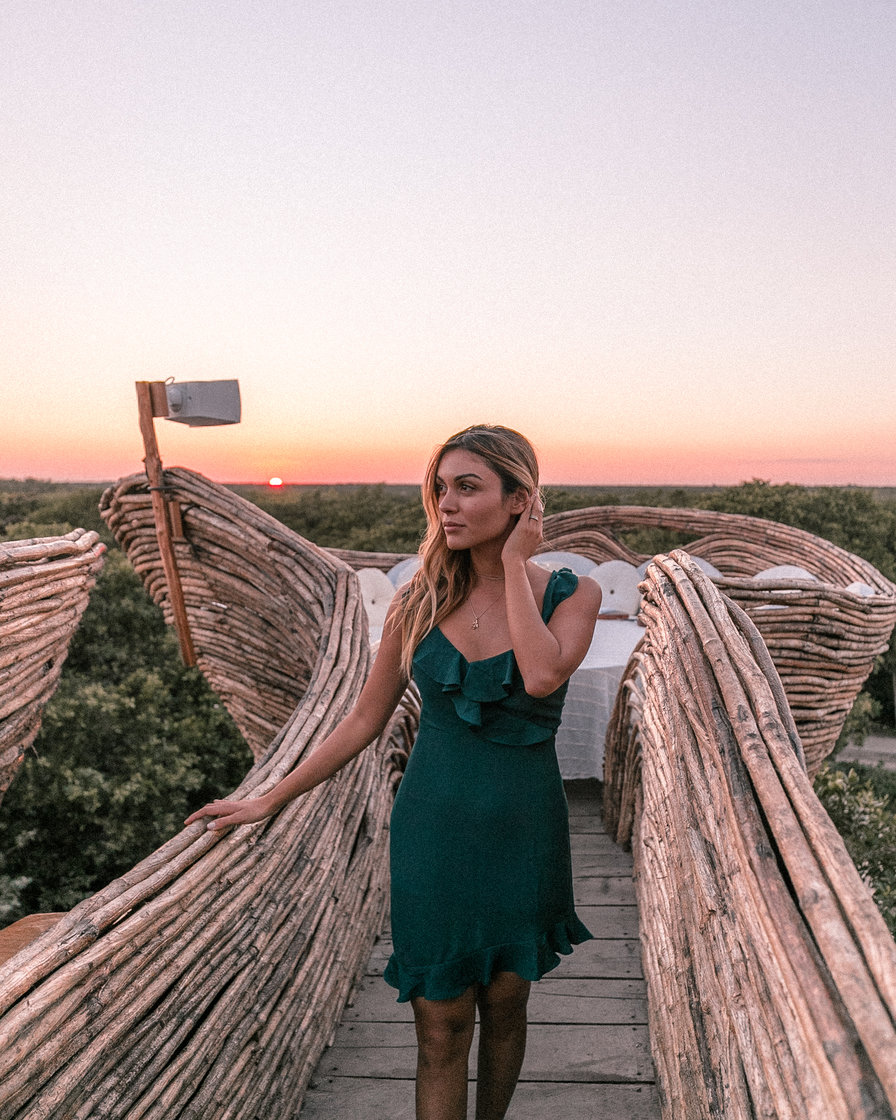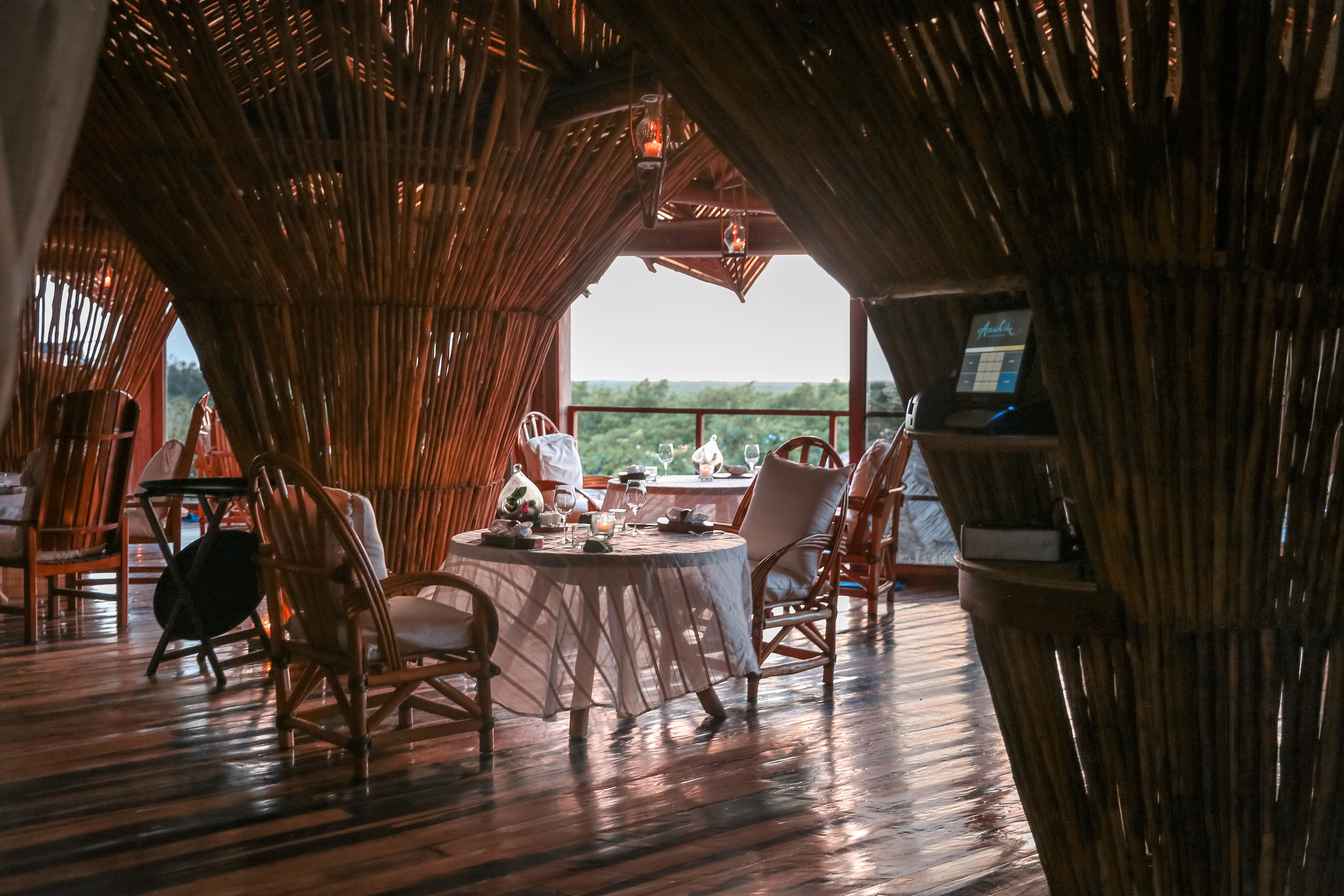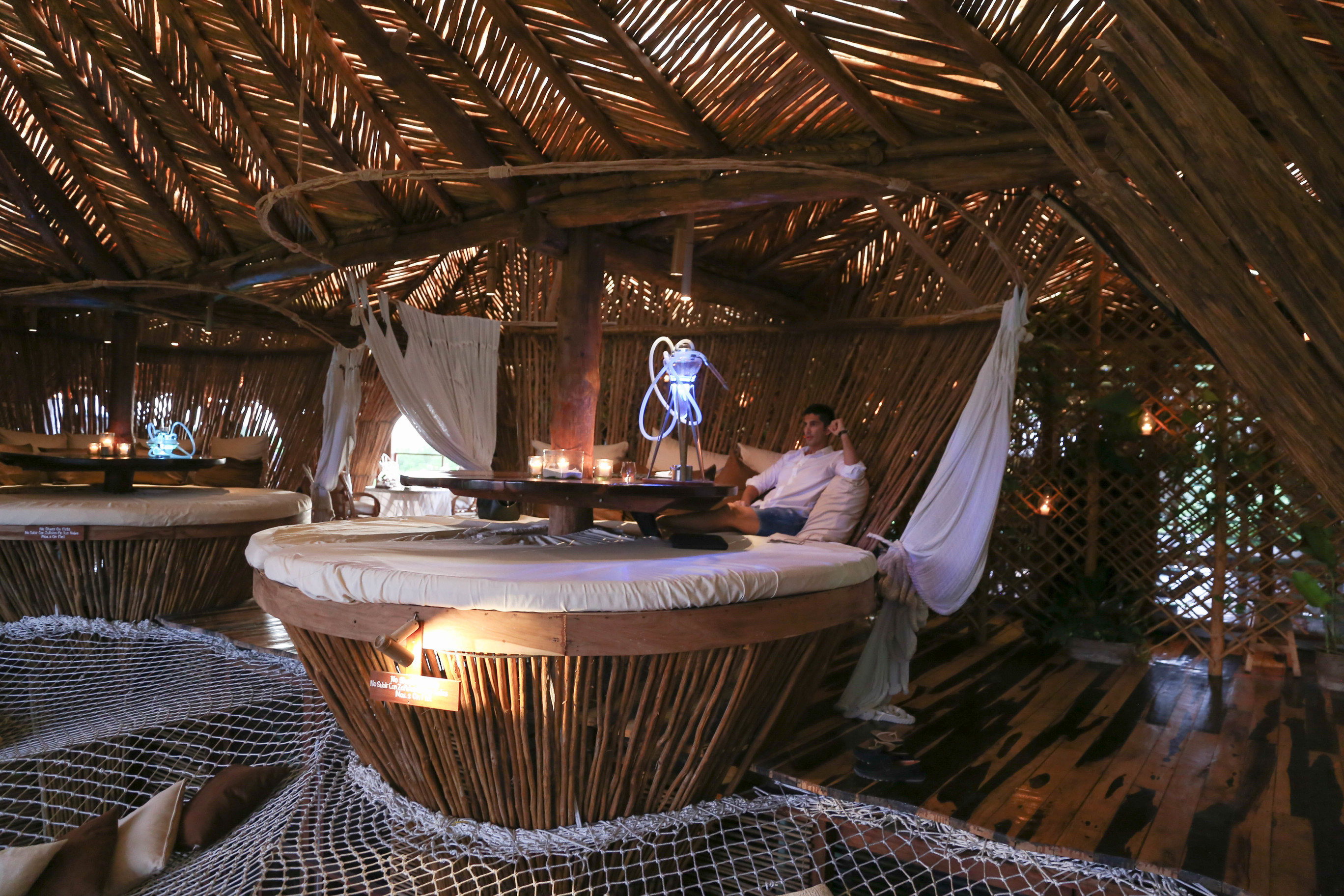 Posada Margharita – This restaurant is said to be a classic in Tulum that comes recommended by locals but we havent tried it yet. Its on the list for next time (which is hopefully soon).  
Origami – This is an ice cream shop right in the heart of the strip so you really cant miss it. It has the most amazing vegan passionfruit sorbet – I have no clue how they make it so creamy, rich and delicious but its so good!
Coco Tulum – is such a unique place that stands out immediately when you see it from the hotel strip because they have painted the whole place white, even the exterior and hotel entrance. It is a great place to go for drinks for havent really heard much about the food. Stick with drinks and just relax by the beach. Oh and a great place for photos too.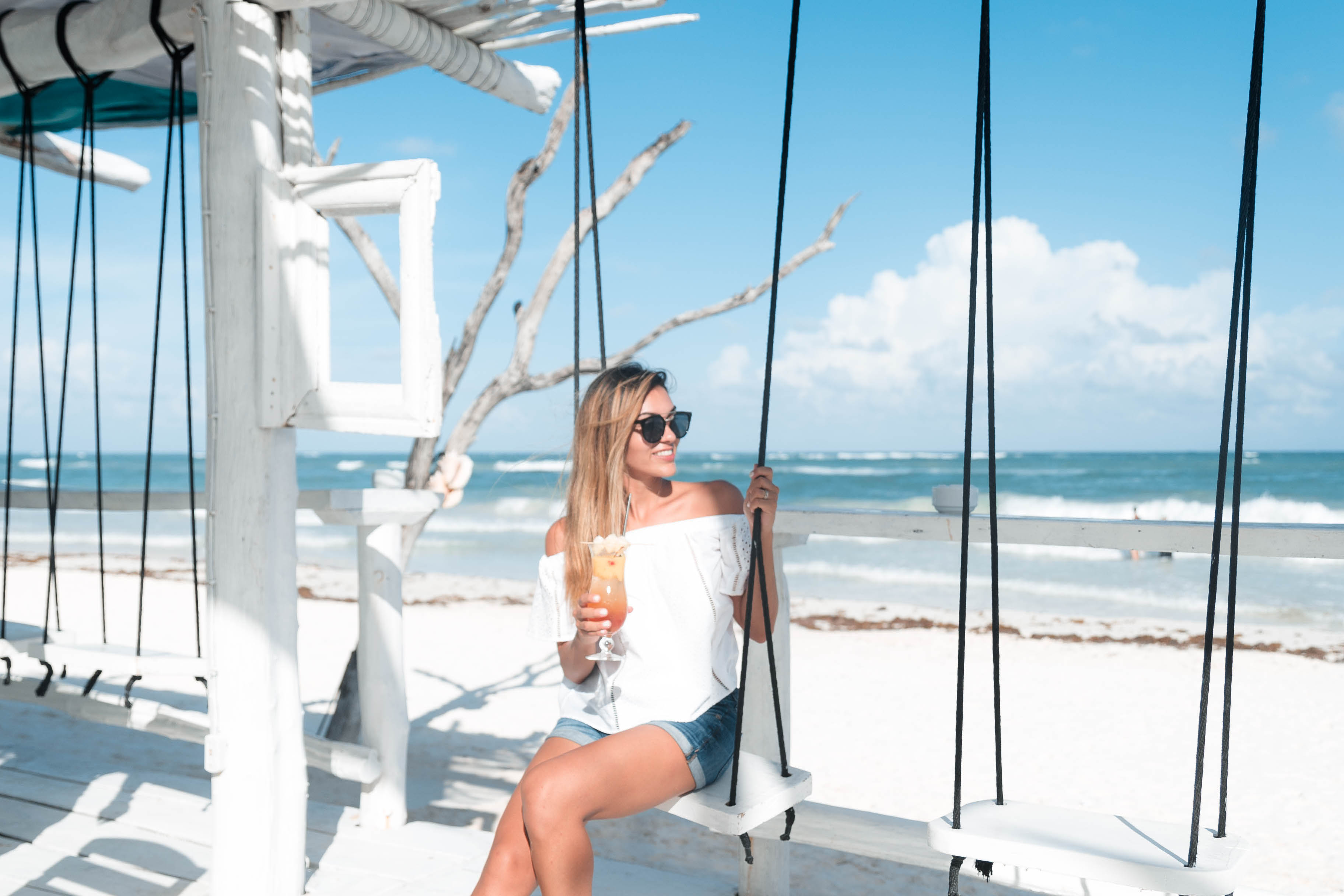 Best Way To Get Around Tulum:
The most common way to get around Tulum is to go about in Tulum Style which means by bike. You will see that mostly everyone in Tulum is going around on their bikes, some which are provided by the hotel or villa that they are staying in. Since the hotel strip is quite small, going about in a bike is definitely a great option. But please make sure to rent or get a bike that has lights! This is VERY important because there are sections of the road that dont have any lights. It is very dark at night so it's easy to not spot someone on the bike. 
For our convenience and not to be worried about the rain (showers throughout the day) as well as the heat and the sun (since we also carry heavy camera gear and have a little one with us), we have always rented a car whether we stayed in a hotel by the strip or in Casa Sieva in Aldea Zama.  And maybe perhaps because I dont know how to ride a bike either haha. But if you are staying in the strip it is not really necessary as the bike is a good way to commute or just get a taxi on the strip. Renting a car is a very good idea if you plan on exploring such as visiting nearby cities, cenotes, water parks etc 
What to Wear in Tulum:
Ever since Tulum become a trendy and hip destination with its boho chic vibes and bali inspired decor, it has inspired its very own crowd of people – the "Tuluminati." How do I explain it… it's a self proclaimed crowd of people that visit Tulum that are all extra with their outfits , a blend of boho , chic and ethnic styles ( similar to Coachella and Burning Man style) but a more laid back everyday version of it. I have one Tuluminati approved outfit – this beige kimono with my studded hat- that I wore almost everyday the last time I was there. And It's safe to say I blended right in 😅
[half_column]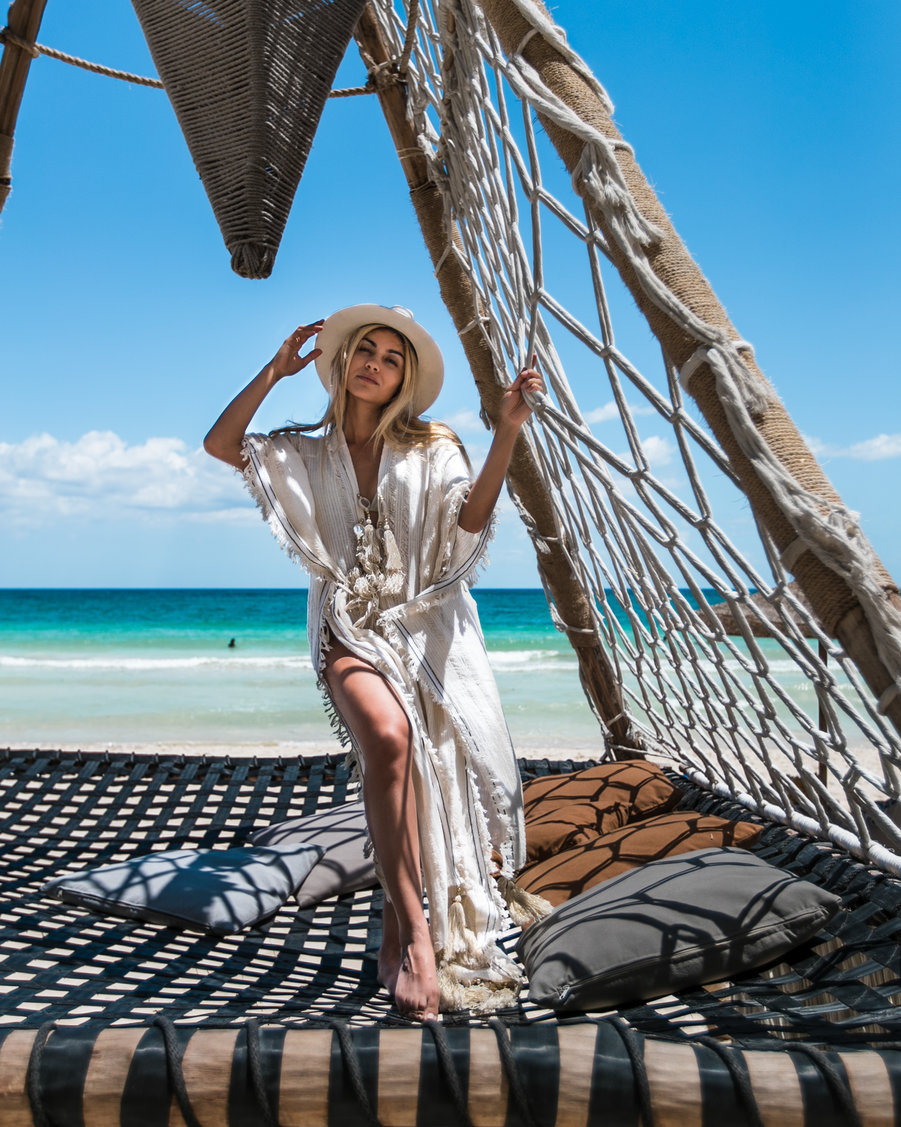 [/half_column]
[half_column]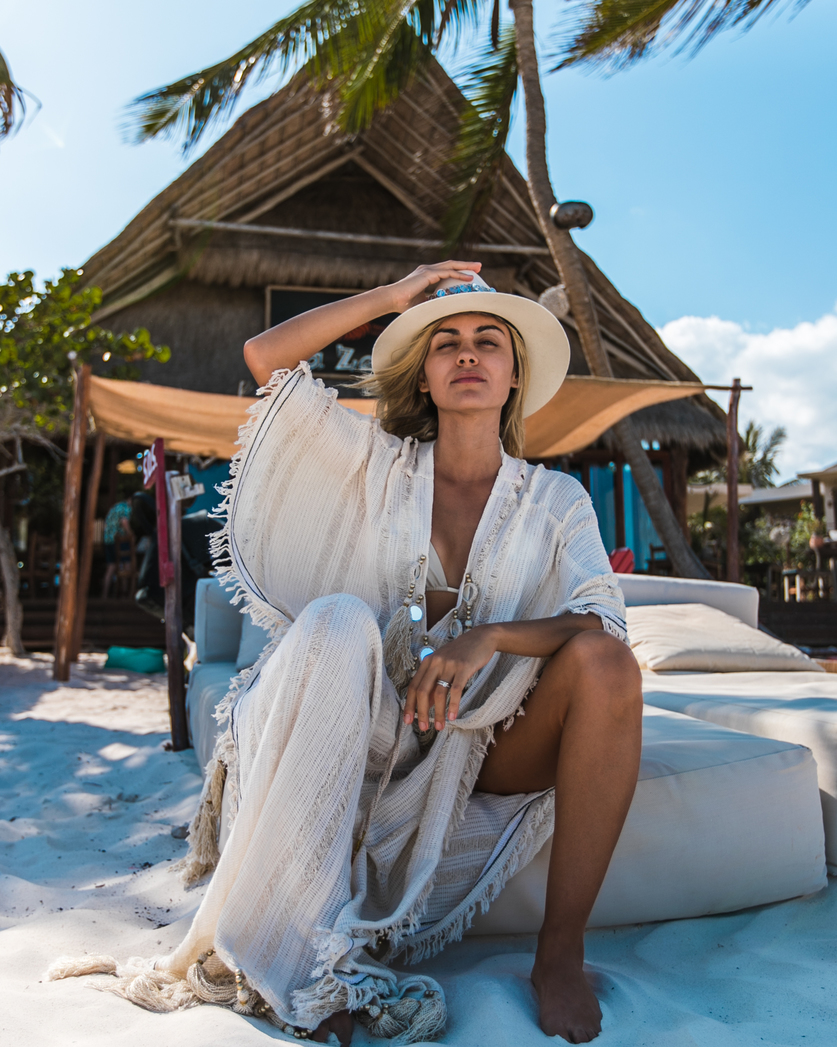 [/half_column]
So dont be surprised if you are walking down the strip and you see people all dressed up, the Tuluminati style is a real thing haha. And if you feel the need to blend in, dont worry there are plenty of boutiques, including one called "Tuluminati", where you can revamp your look. But be warned because they charge you designer prices for artisanal goods. 
So what should you wear? Tulum is characterized for being very laid back so bring all your summer attires: long flowy dresses, shorts and crop tops, short summer dresses, lots of bikinis and you can definitely skip the heels, opt for a nice pair of sandals instead. Or if you must, opt for block heels and not stilettos – the roads are not heel friendly. 
Day Trips From Tulum: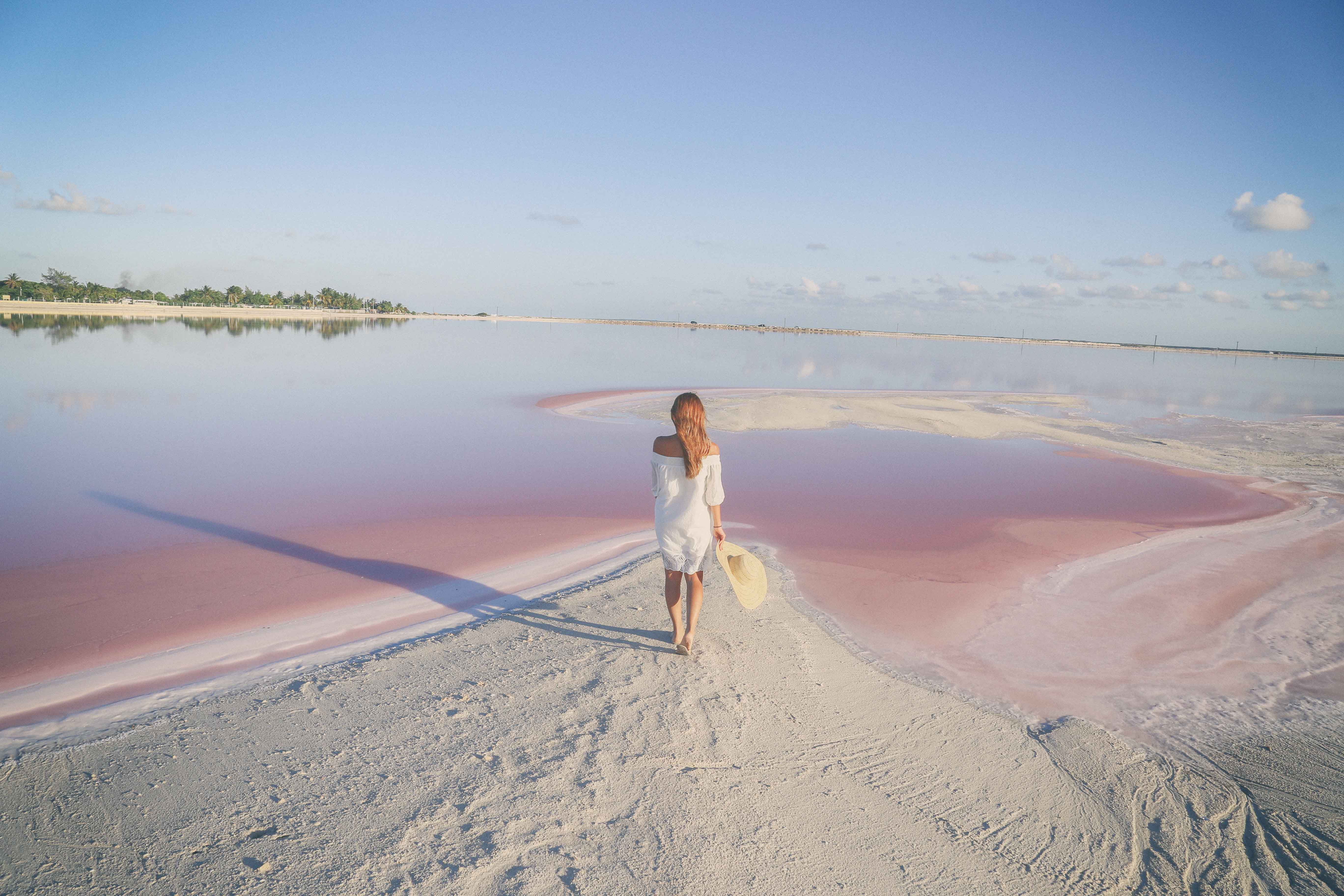 Due to Tulum's location, there are plenty of different things to do and day trips to take. The most popular one is visiting a nearby cenote. The Riviera Maya is well known for its beautiful cenotes which are natural sinkholes that result from the collapse of limestone rock exposing the water underneath. This is something that I would highly recommend as its a unique experience that you can have in the Yucatan Peninsula of Mexico. During our stay, we only stayed in Tulum since we have previously visited Chichen Itza, Cenote Ik Kil, Valladolid, Rio Lagartos, the Pink Lakes etc from Playa del Carmen, most of which you can still explore from Tulum.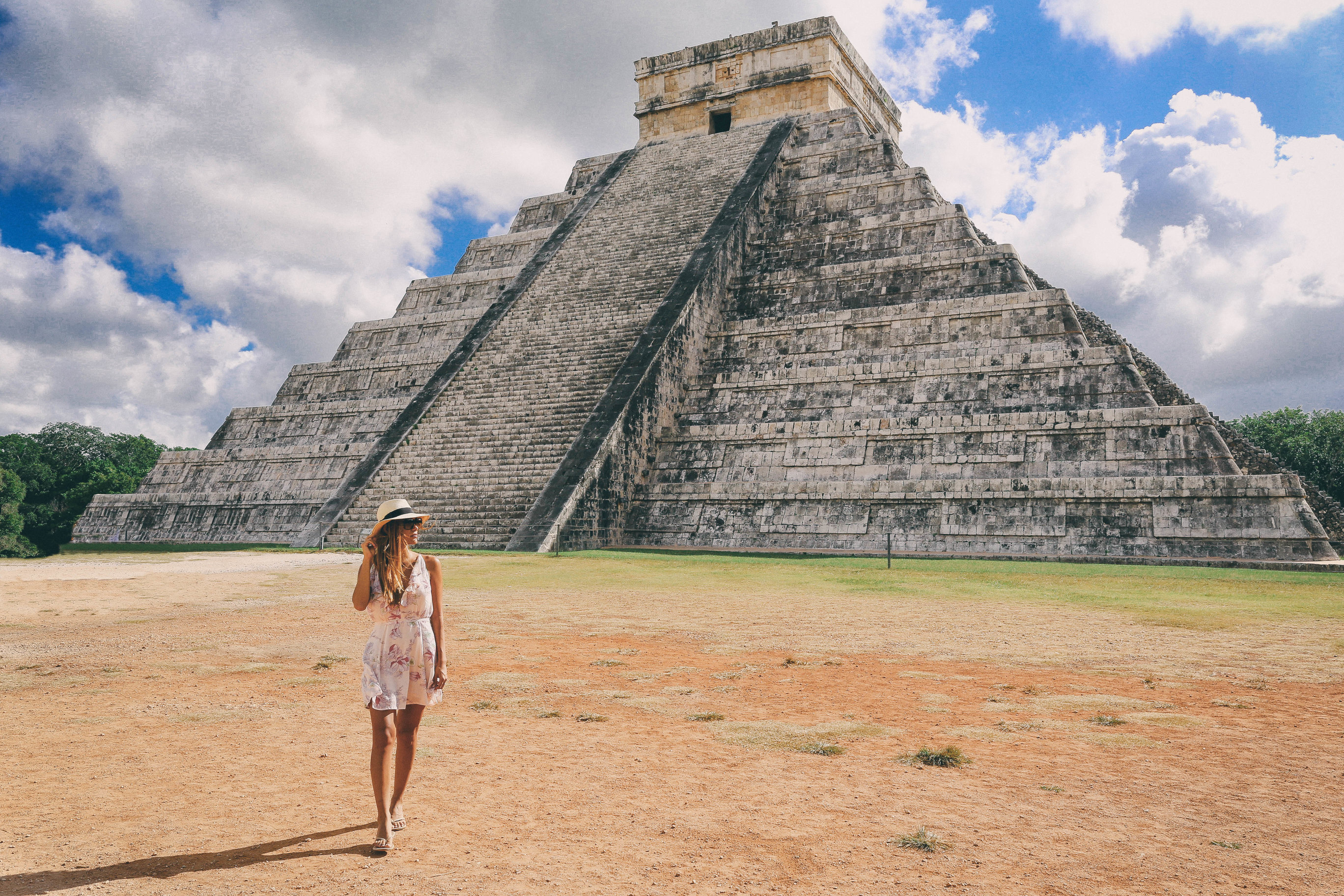 If you are looking for day trips that are accessible and not too far consider visiting Ek Balam and Tulum Ruins . Here is my detailed post about Tulum Ruins.
Additional Notes:
-Tulum has a HUGE trash problem so please be very conscious while you are there. Though some places claim to be sustainable they haven't even made the basic effort to use biodegradable straws. Almost everything is plastic so if you can, ask for drinks with no straws, skip plastic cutlery etc
-Most hotels have daily minimum spends if you want to use the facilities and have sun beds so make sure to ask. Prices ranges from $30-$80 USD per person. Or else the beach is public so take your towel and your snacks and it's free anywhere.
🎨All photos on this post have been edited using my custom Lightroom editing filters -better known as presets- from my Travel Life Preset pack. Click here to edit just like me!