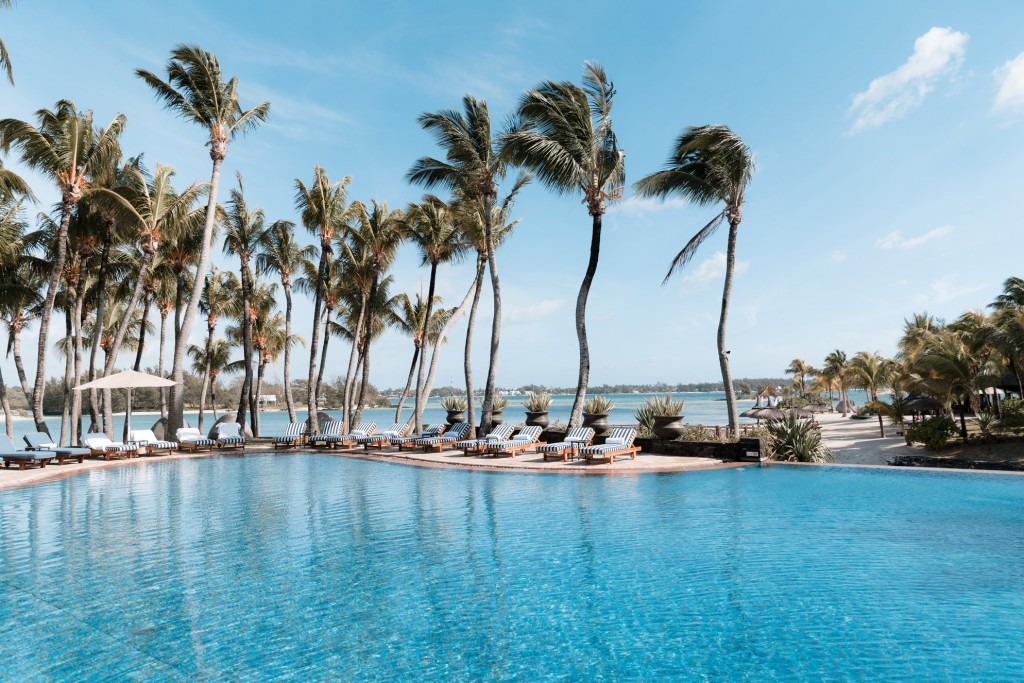 Shangri- La's Le Touessrok Resort & Spa: Family Beach Front Luxury in Mauritius
Family friendly with great amenities and plenty of activities to keep you busy, the Shangri-La Le Touessrok is perfect for those looking to enjoy a relaxing vacation but also have some fun!
Location & How to Get There: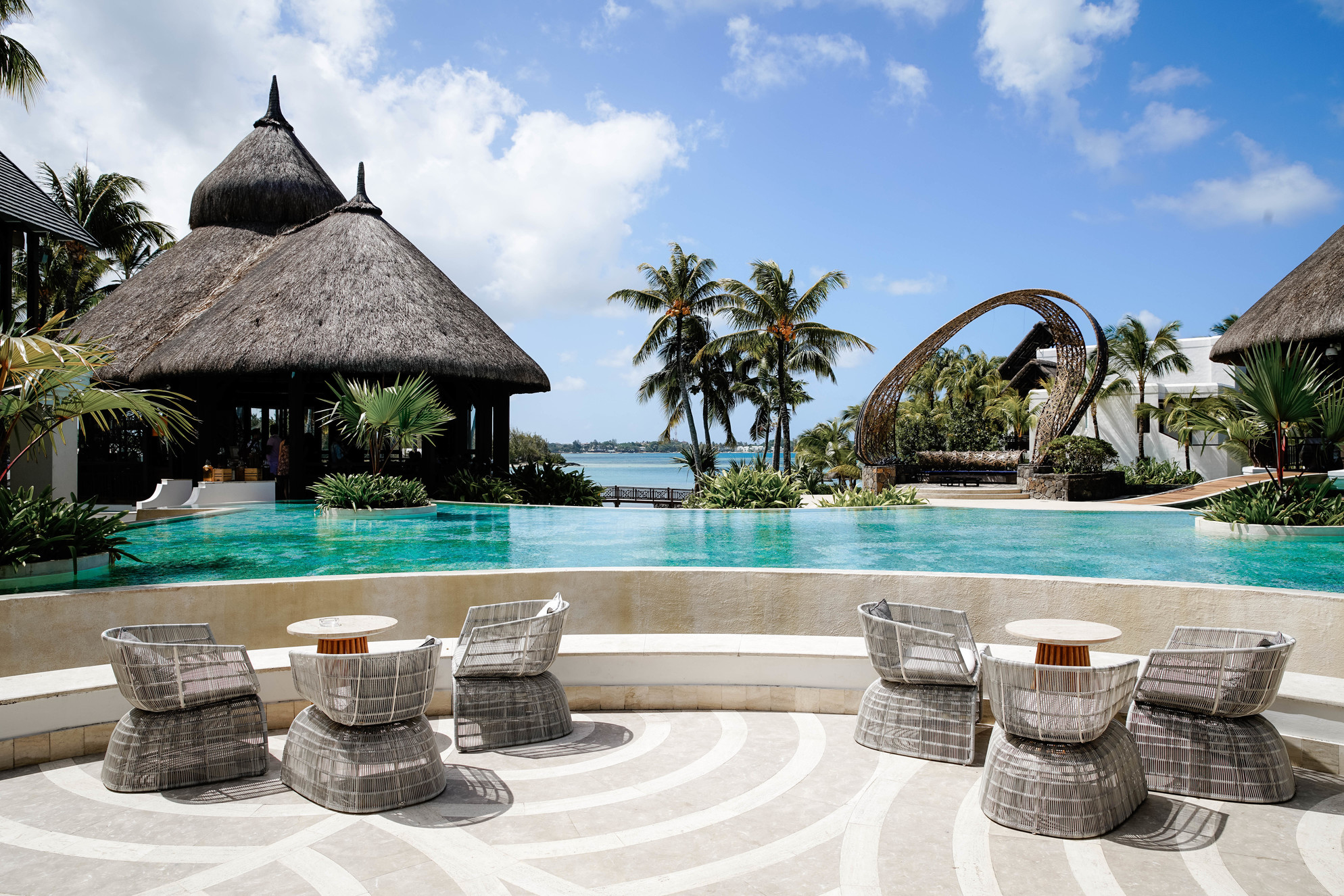 At just one hour away from the international airport (MRU), the Shangri-La's Le Touessrok Resort & Spa offers the perfect tropical getaway for families and couples wishing to relax, enjoy yet be active and entertained at the same time.
With only Madagascar and the south of Africa being nearby Mauritius, and with only a selection of direct flights (Dubai, Johannesburg, London, Paris, Seychelles among a few others), you can enjoy the perfect tropical hideaway with fewer tourists. I would highly recommend planning airfare in advance because the prices can increase (sometimes triple) close to the date. Another option is to combine Seychelles and Mauritius in one trip since they are only 2 hours away via a direct flight with Air Seychelles (wish I would have known!).
For 2,400 Rupees or approximately $73 USD, you can schedule transfers to and from the airport (each way) which you can either pay your driver directly or add the total transfer cost to your hotel bill without any additional costs. As we like to use our available cash for tips and emergencies, this is a great option. If relaxing and enjoying the property is all you wish, I would recommend booking the transfer with the hotel. However, I would highly recommend you visit the iconic Le Morne peninsula on the west coast of the island. It is about 2 hours away from the hotel (each way) but its one of the most beautiful places in all of the country so make sure you visit 🙂
The Room: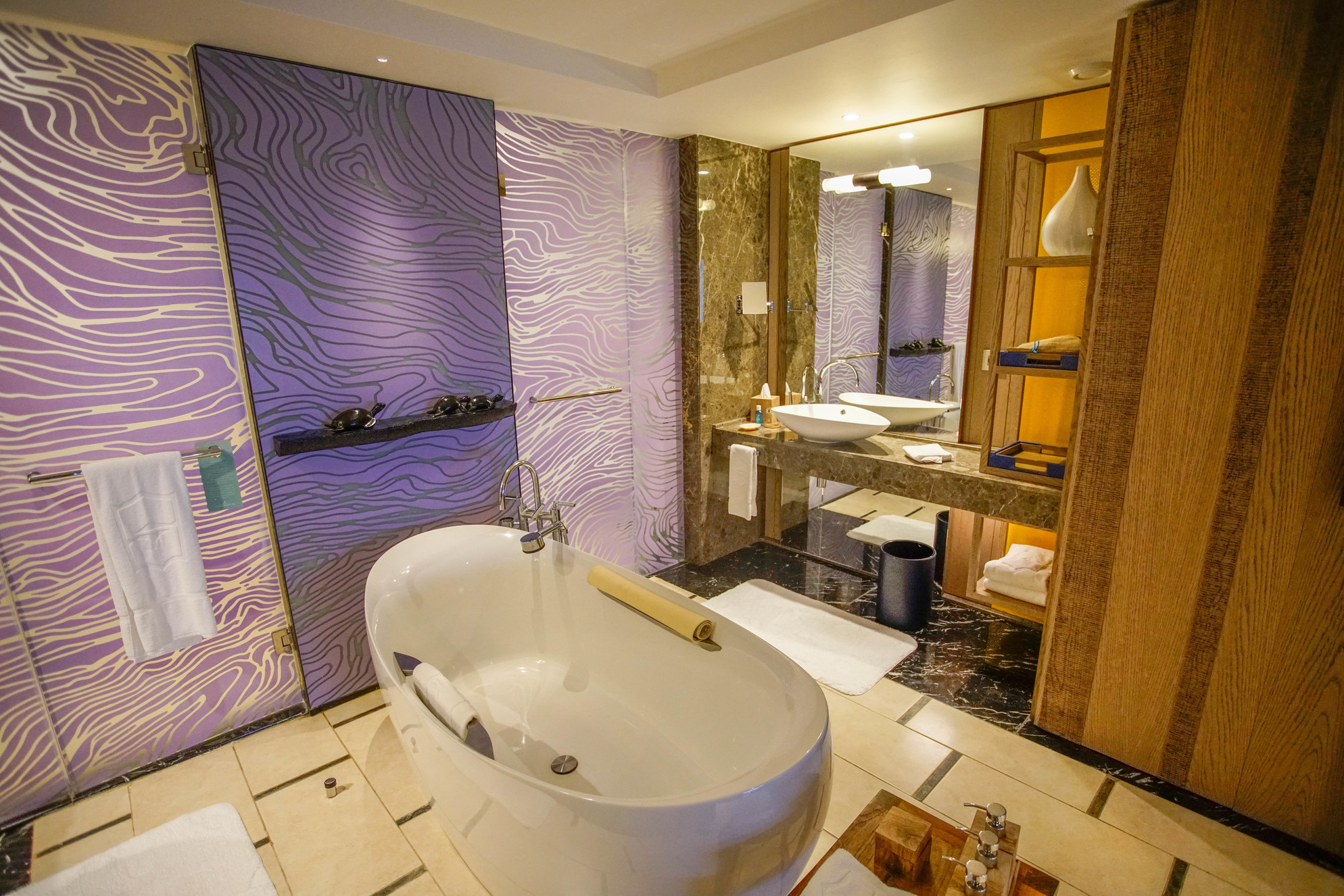 With 200 rooms with each and every one of them offering ocean views, it is difficult to go wrong with which room category you choose. With the rooms separated into two areas, Hibiscus and Frangipani, each area has its perks.  Being closer to the main pool and having direct access to the hotels main beach and water sports center the Hibiscus area is geared towards families. In contrast, the Frangipani area, offers exclusive adults only private pool overlooking the beach, a la carte breakfast at Republic Beach Club, access to small but private beach area and complimentary minibar and evening cocktails.
Our room that we were welcomed to was a Junior Suite Ocean View room located in the Frangipani area of the hotel with 2 full sized beds to accommodate the 3 of us.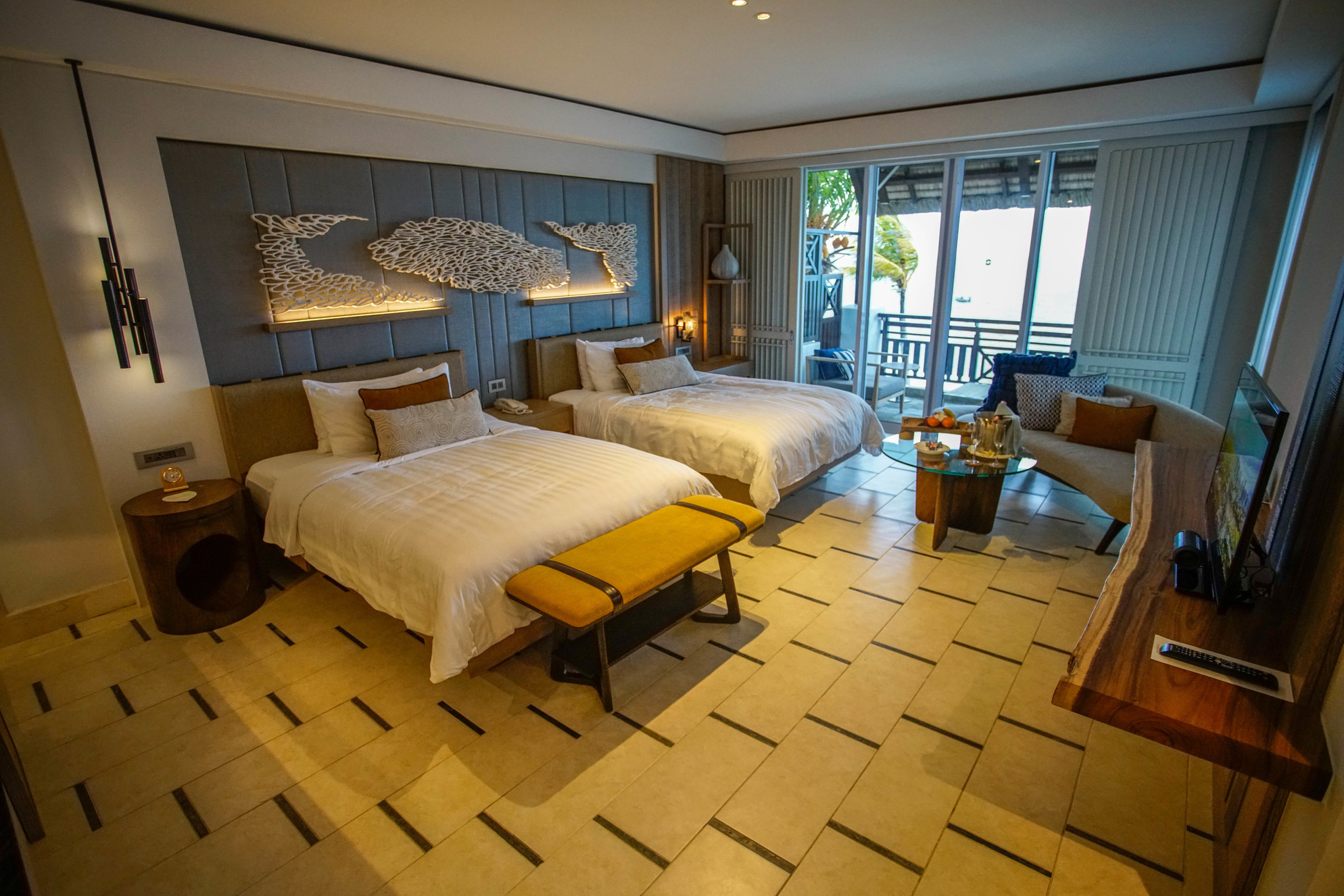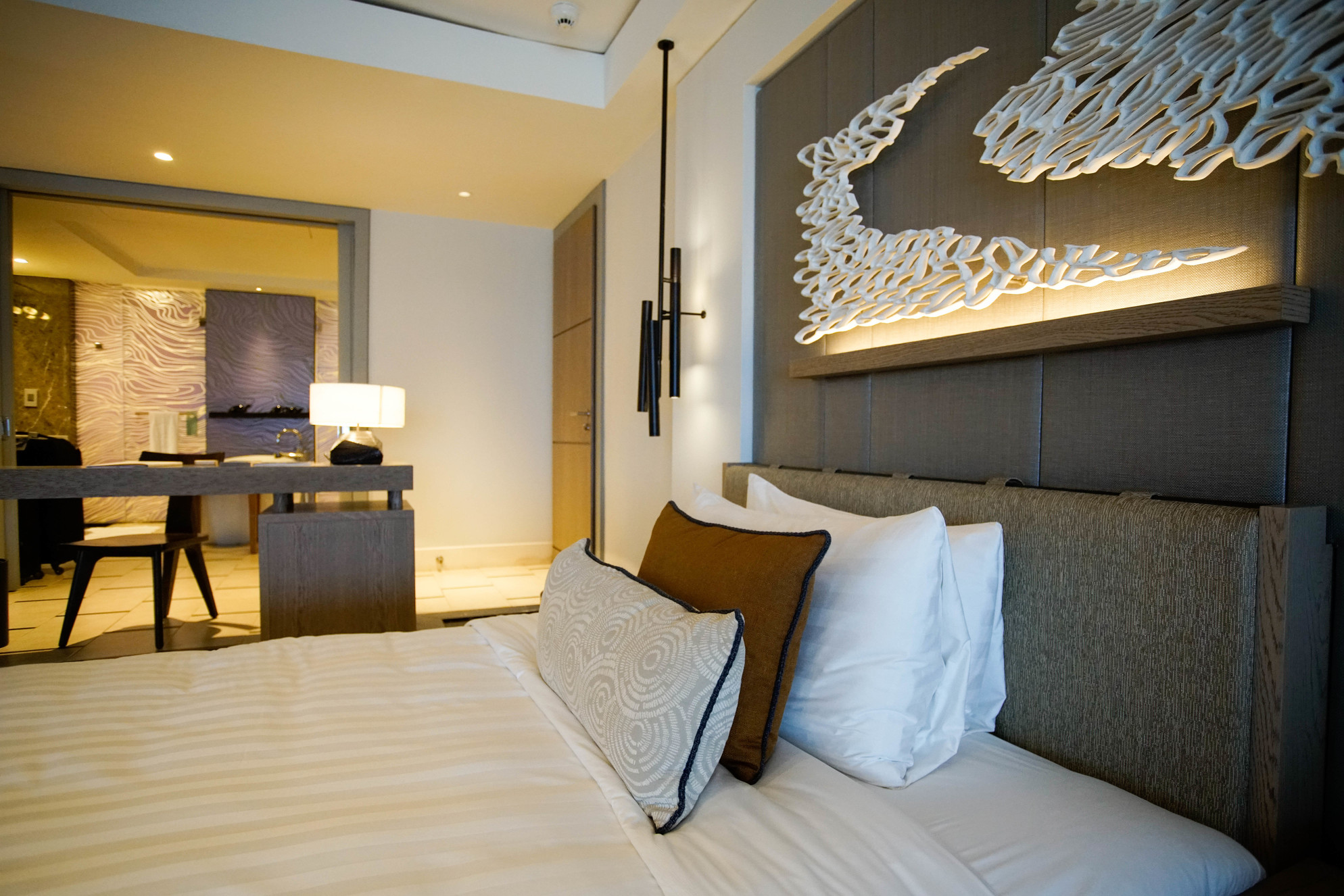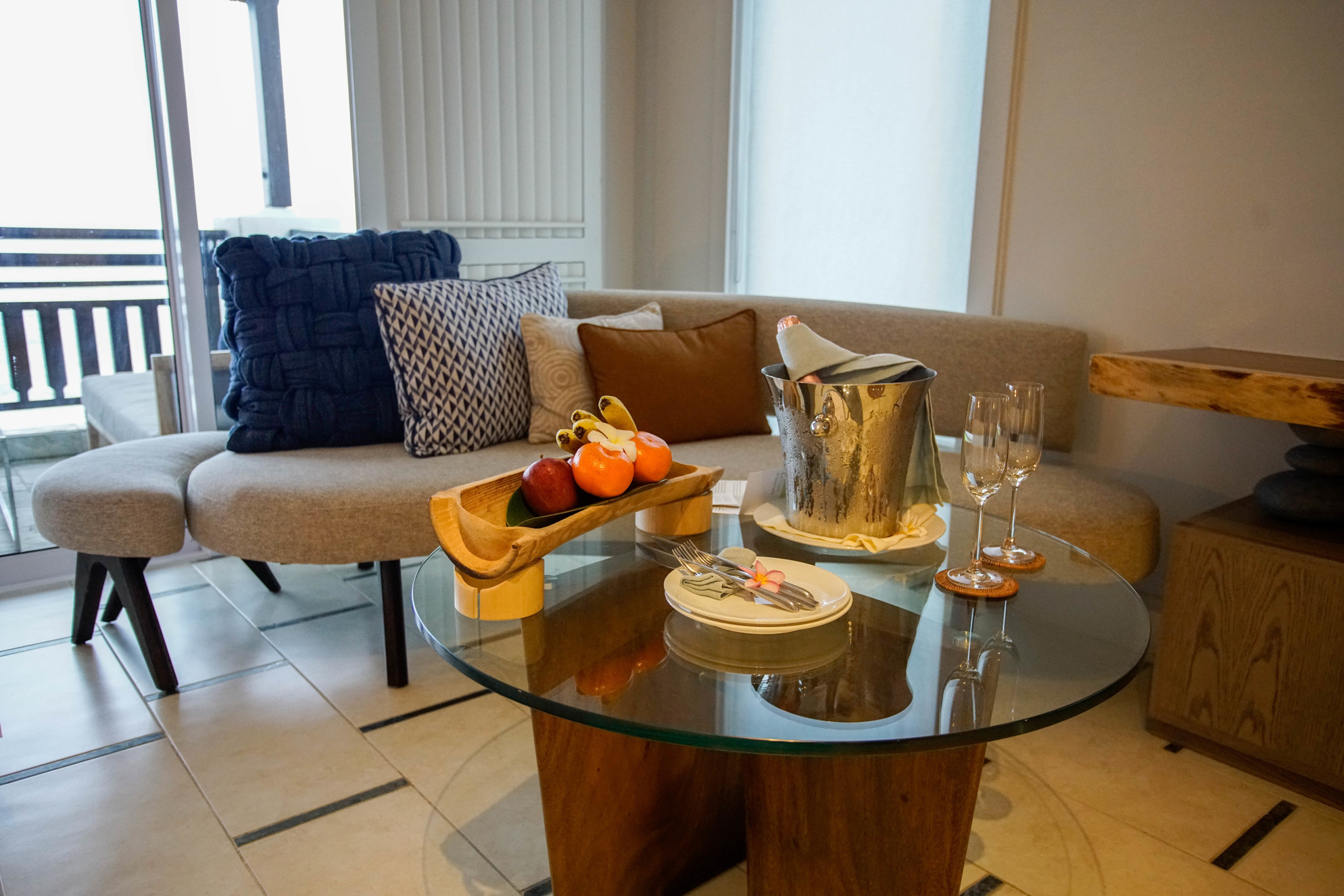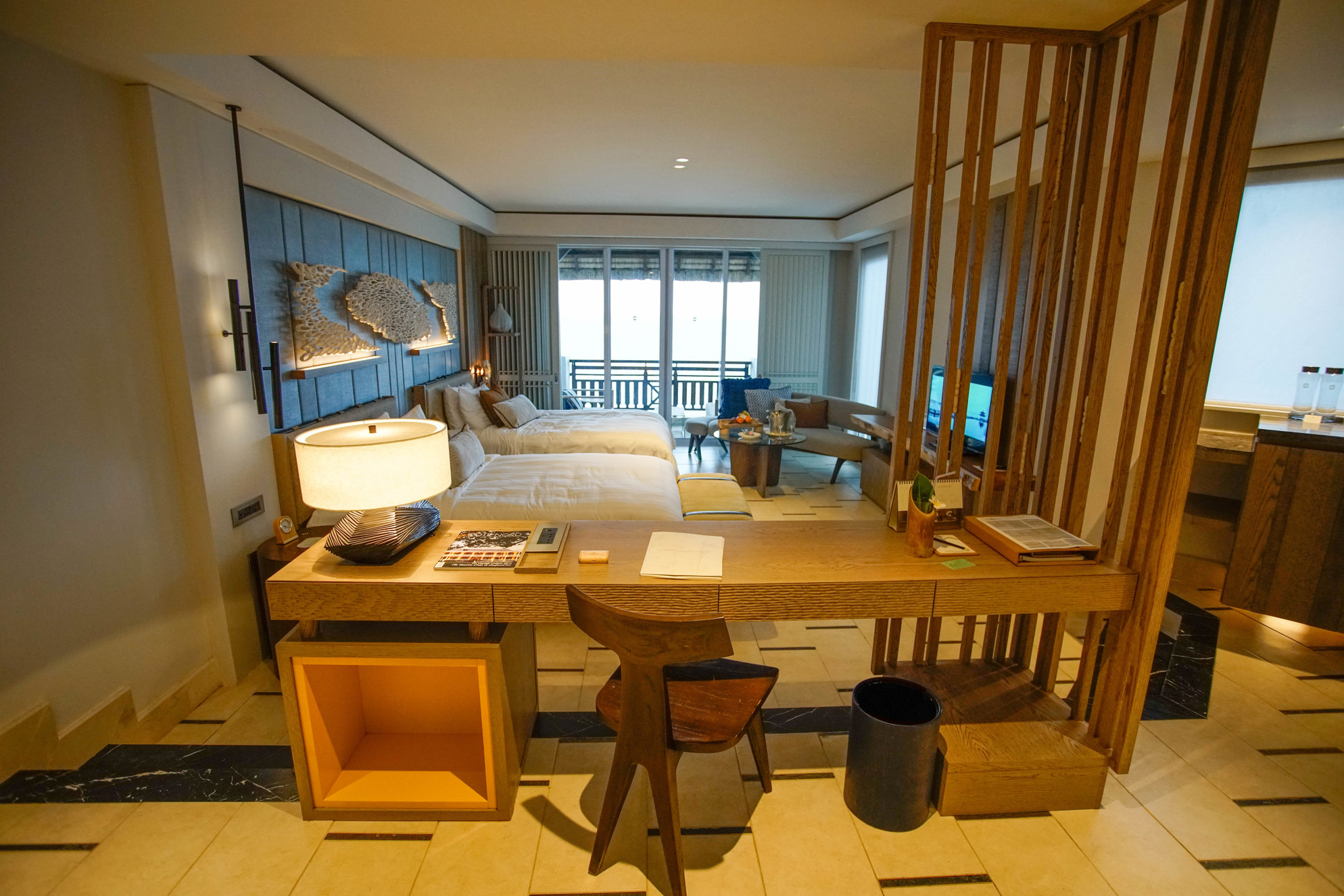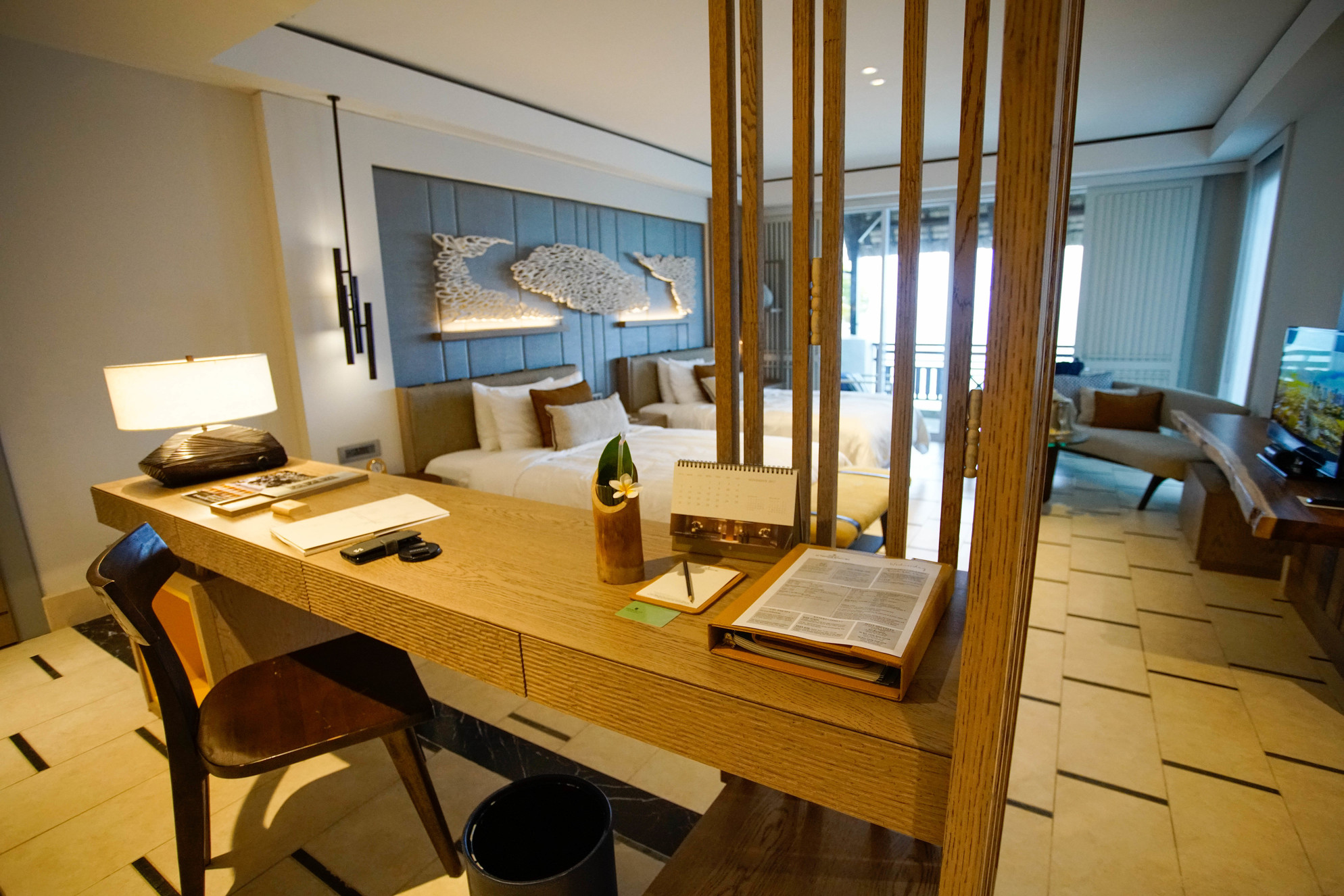 With an open concept, the master bathroom had a beautiful free-standing bathtub and some beautiful designs, colors, and patterns.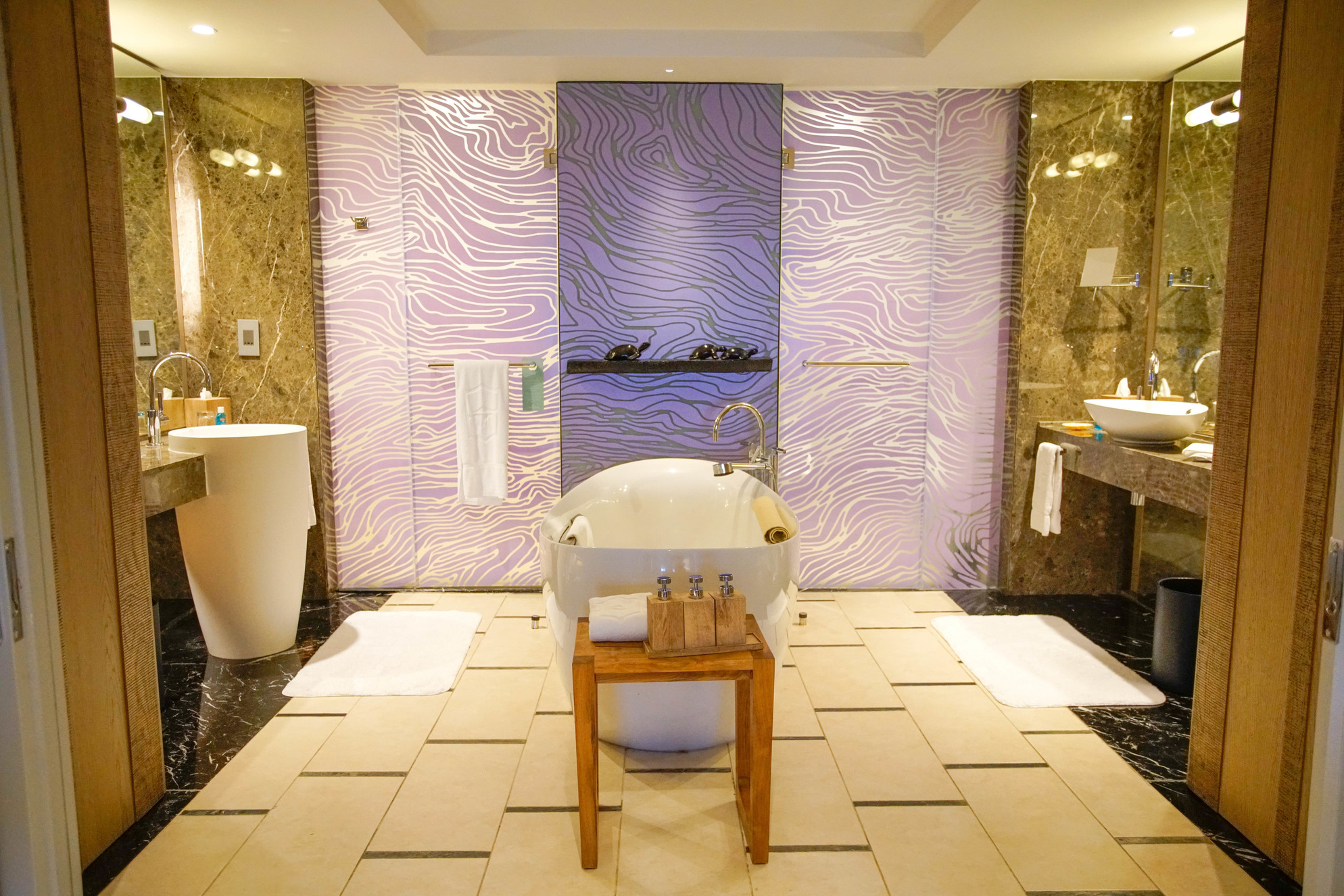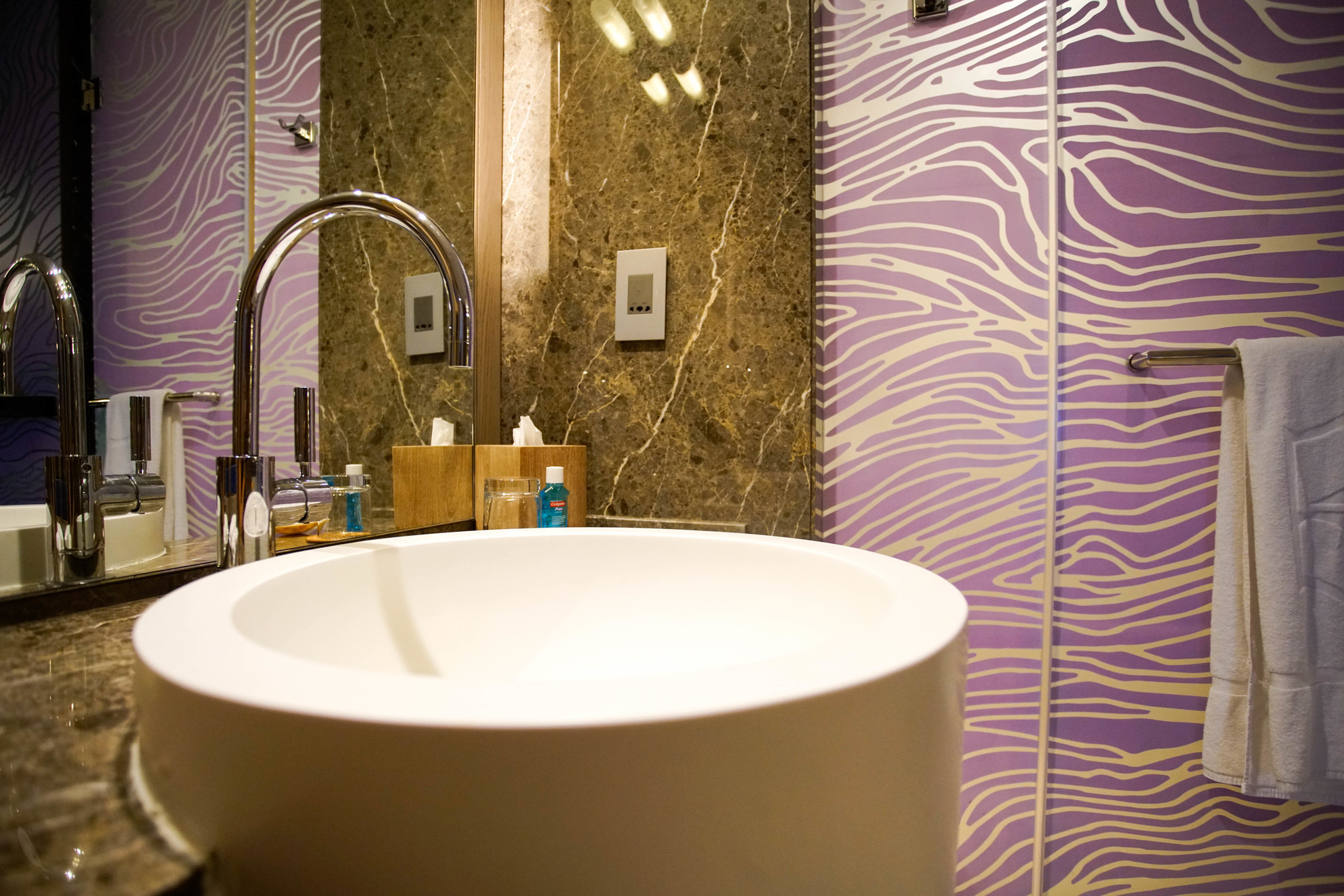 But the best part of the room was definitely the terrace overlooking one of the many beaches in the resort. This particular beach where our room was located was very private and secluded and felt as it was exclusively for the guests there.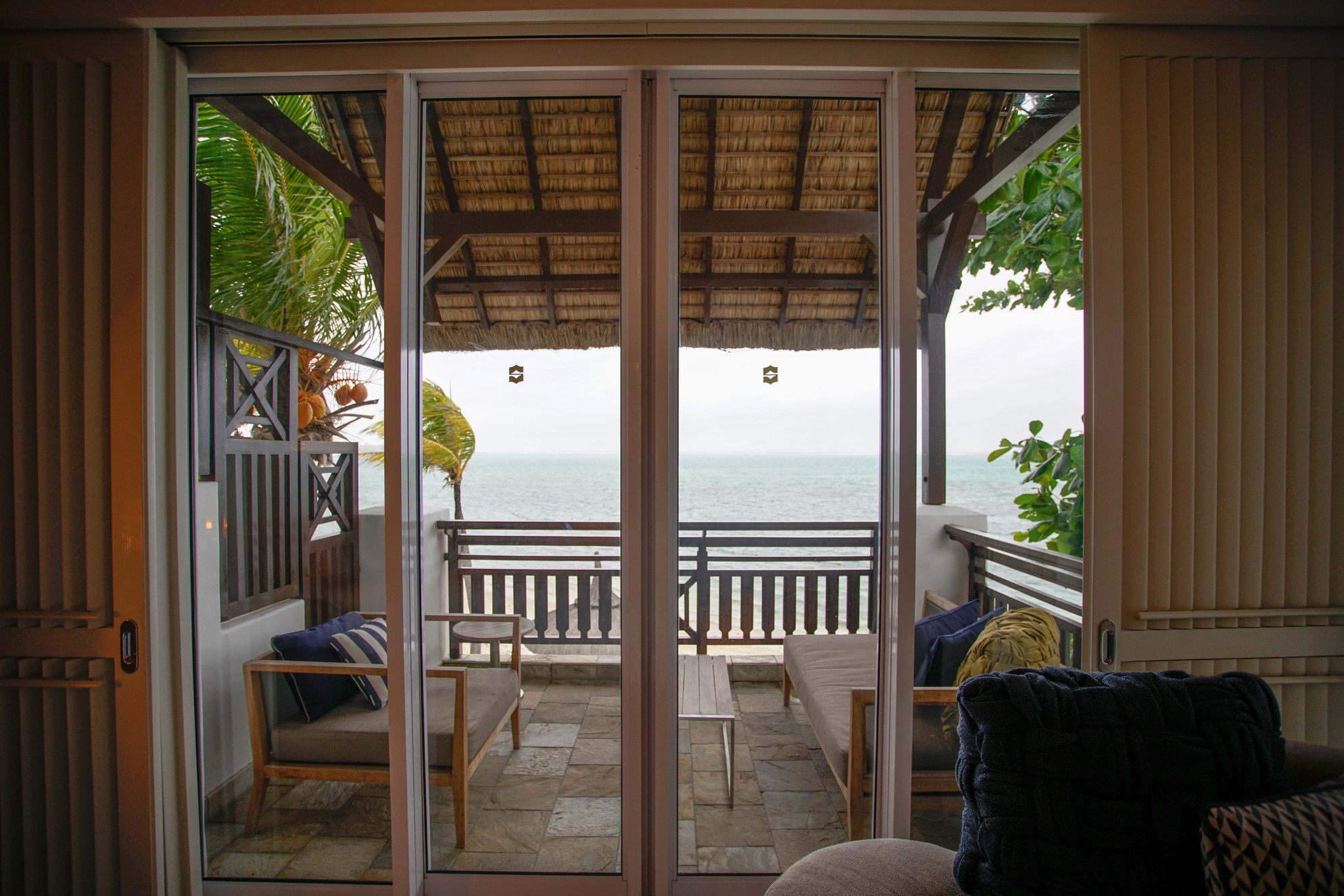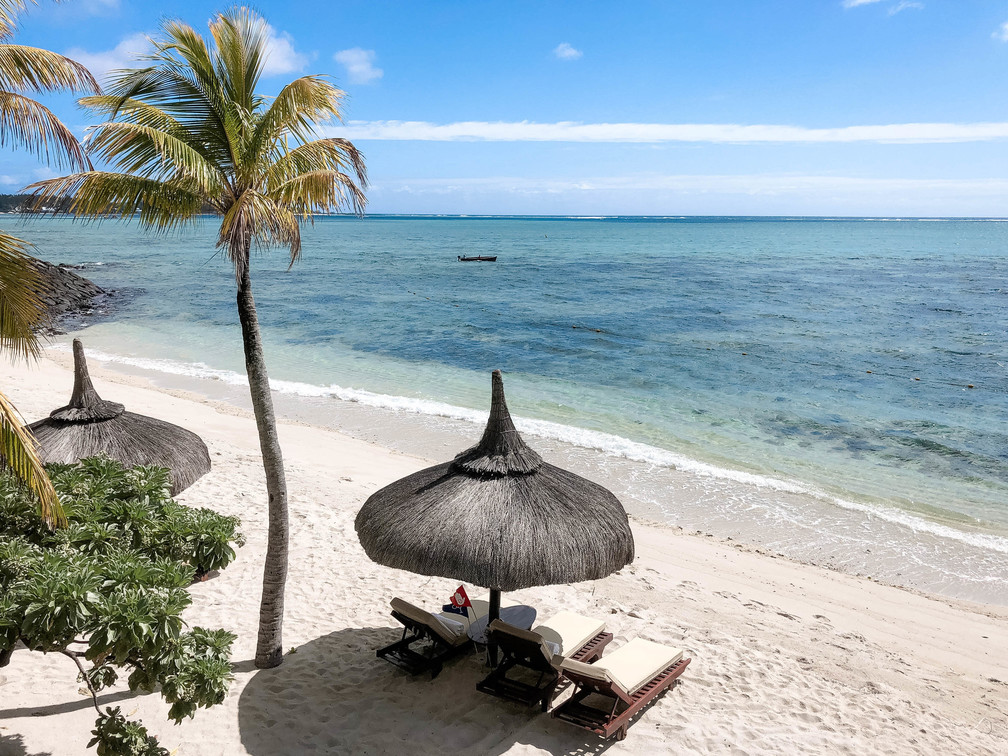 Pool, Beach & Amenities: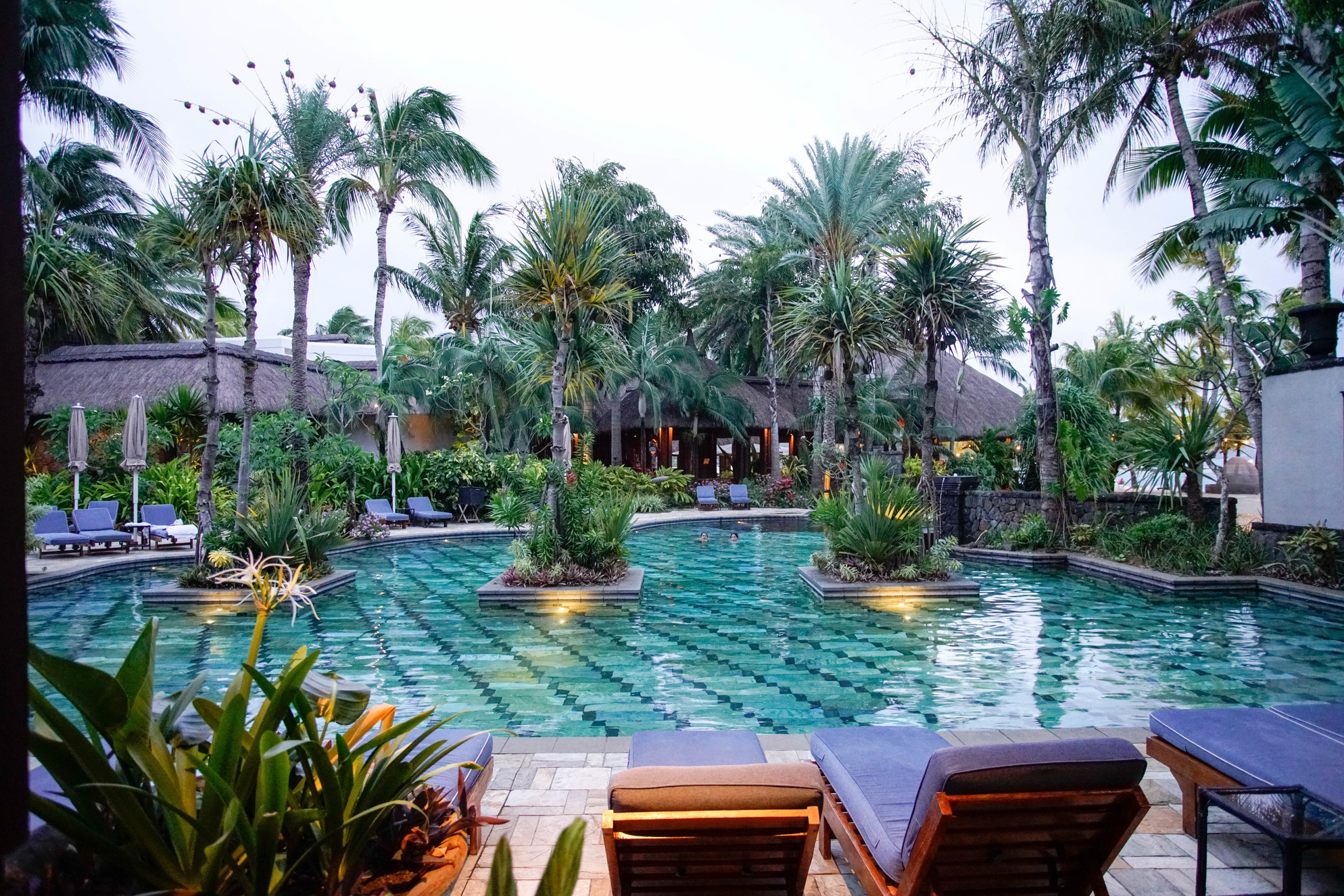 Packed with many different amenities and facilities this is definitely Shangri-La Le Touessrok's Resort & Spa strength. There are two pools to choose from. The main pool which is located in the Hibiscus area of the resort is family friendly. Covered in palm trees and overlooking the beach, this pool is so gorgeous and photogenic! 
[half_column]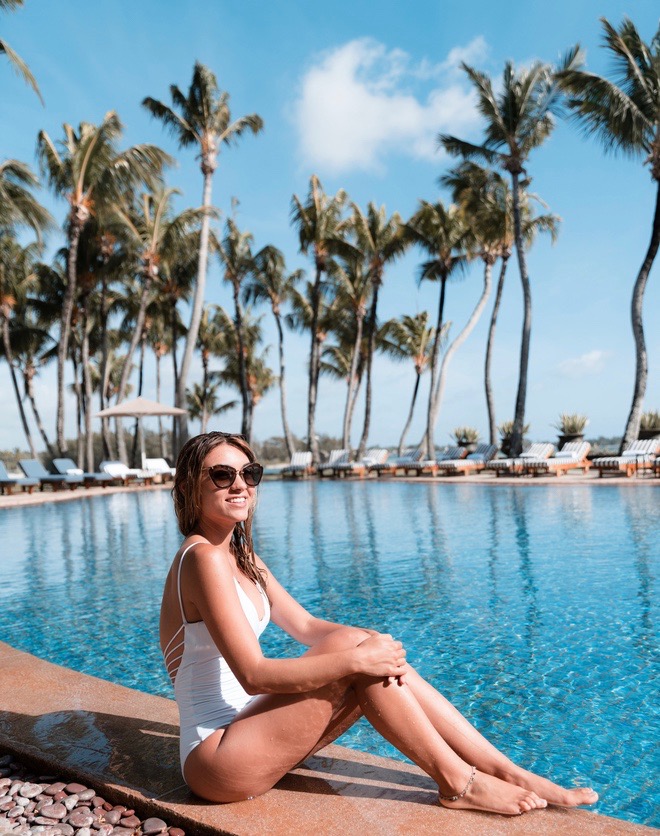 [/half_column]
[half_column]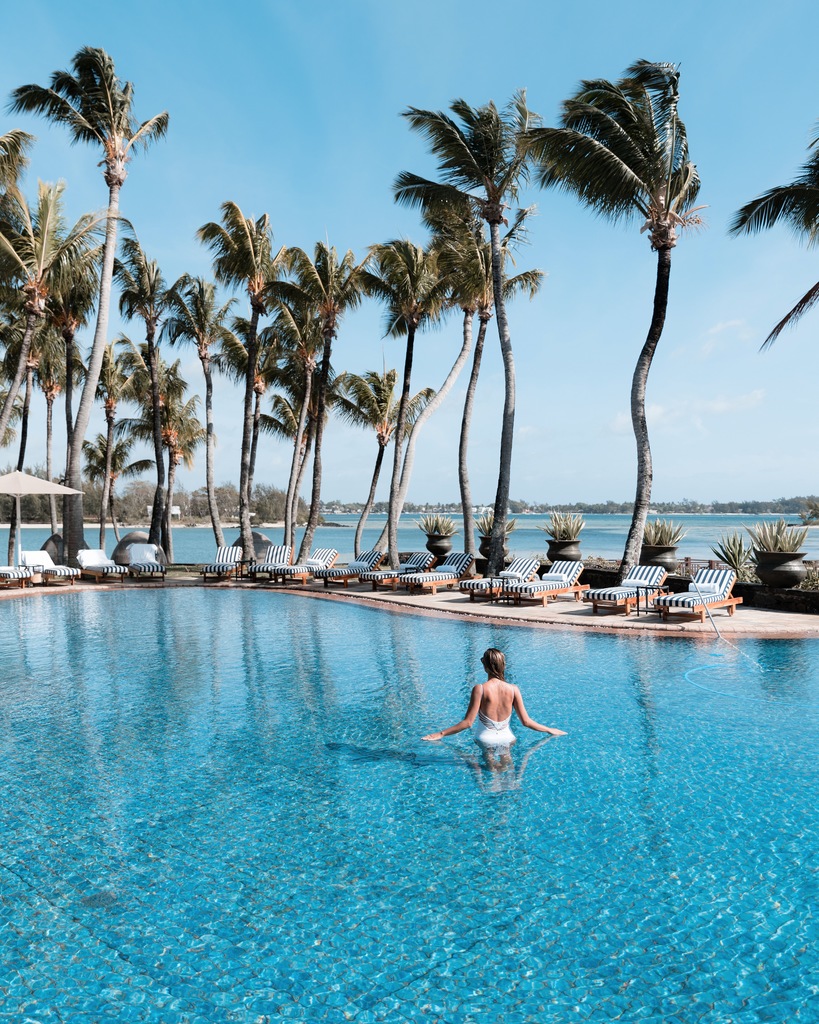 [/half_column]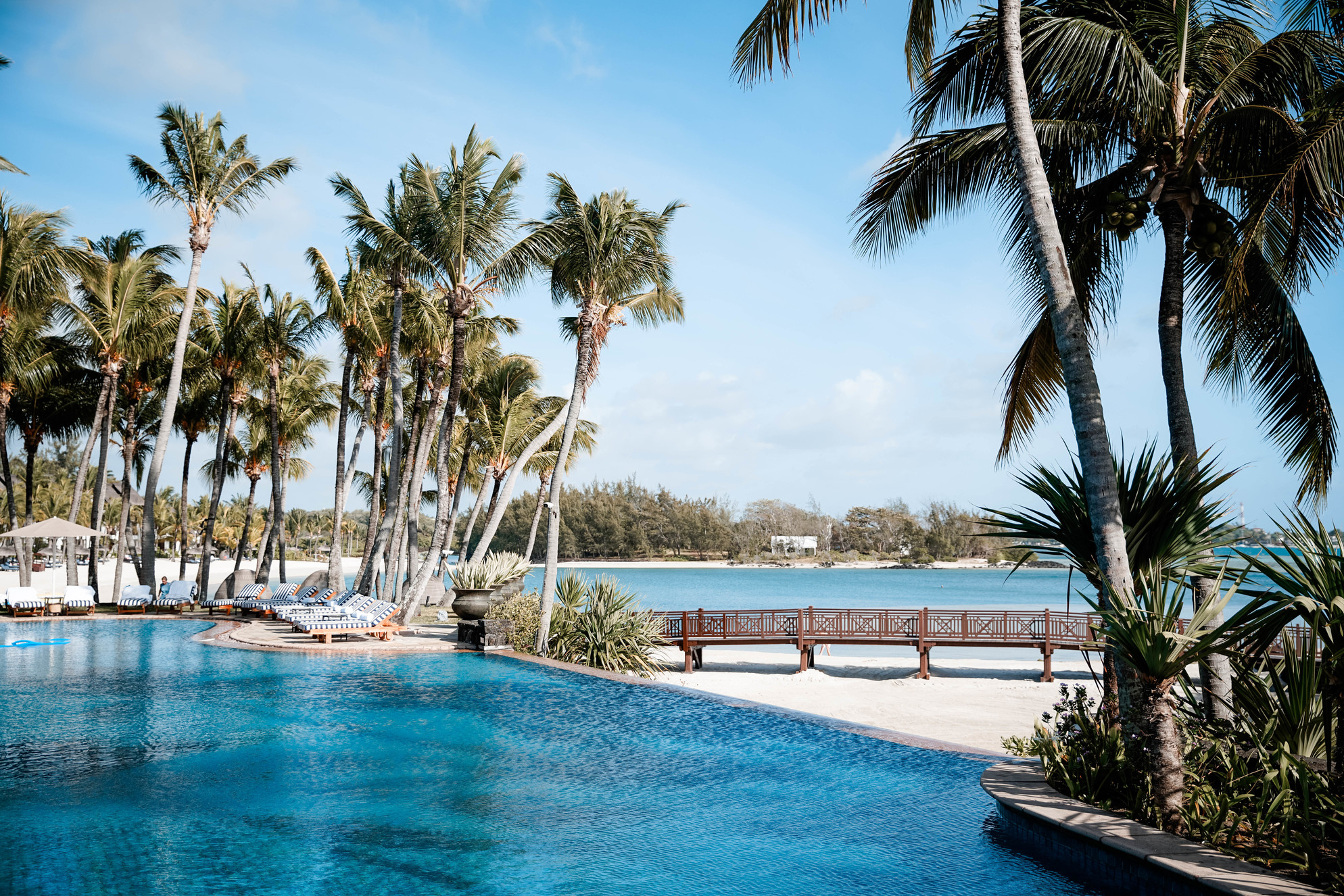 [space]
As kids are allowed in this pool, guests without children can opt for the adults only pool in the Frangipani area of the hotel. Also, an infinity pool overlooking the beach, this pool is beautifully decorated with plants.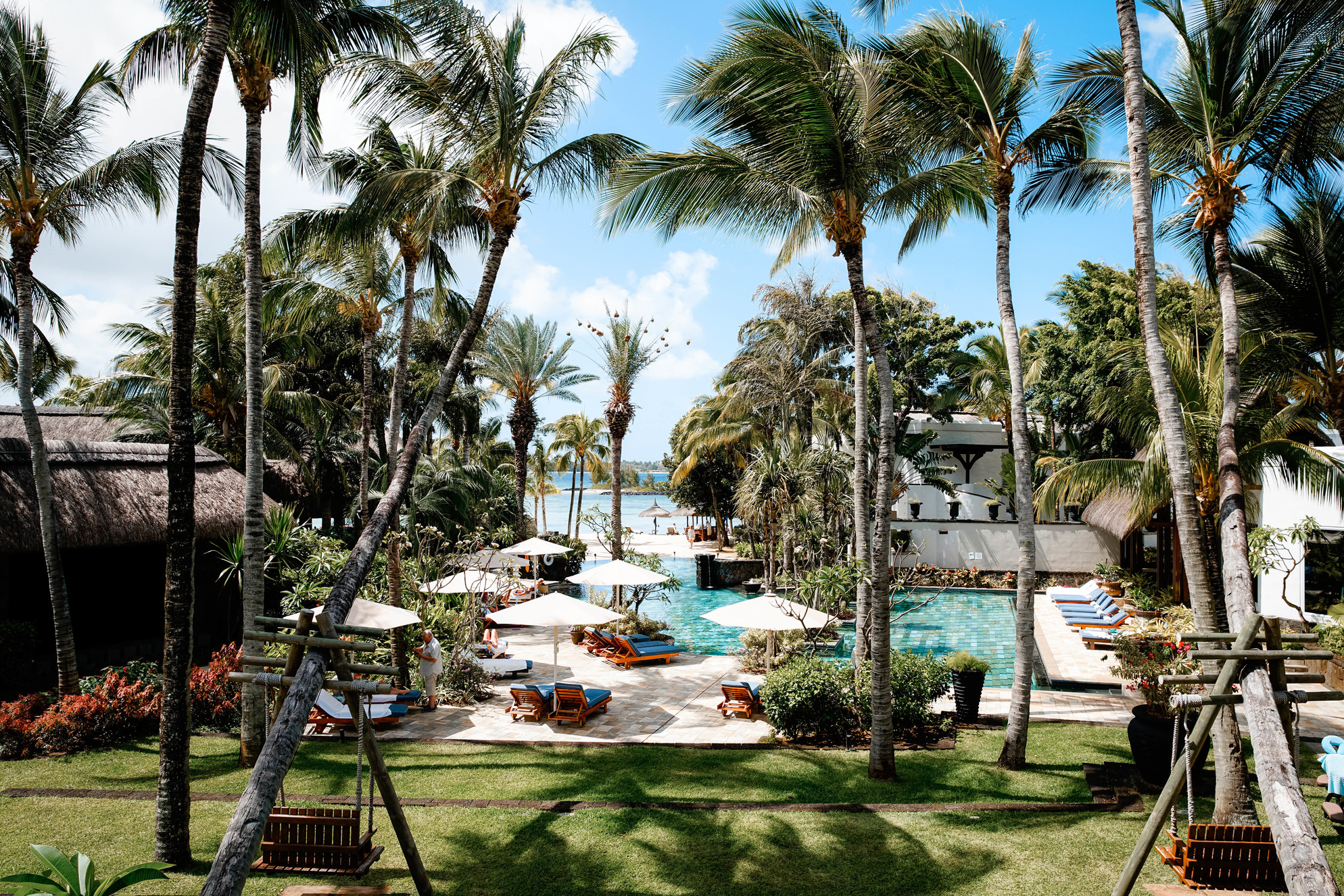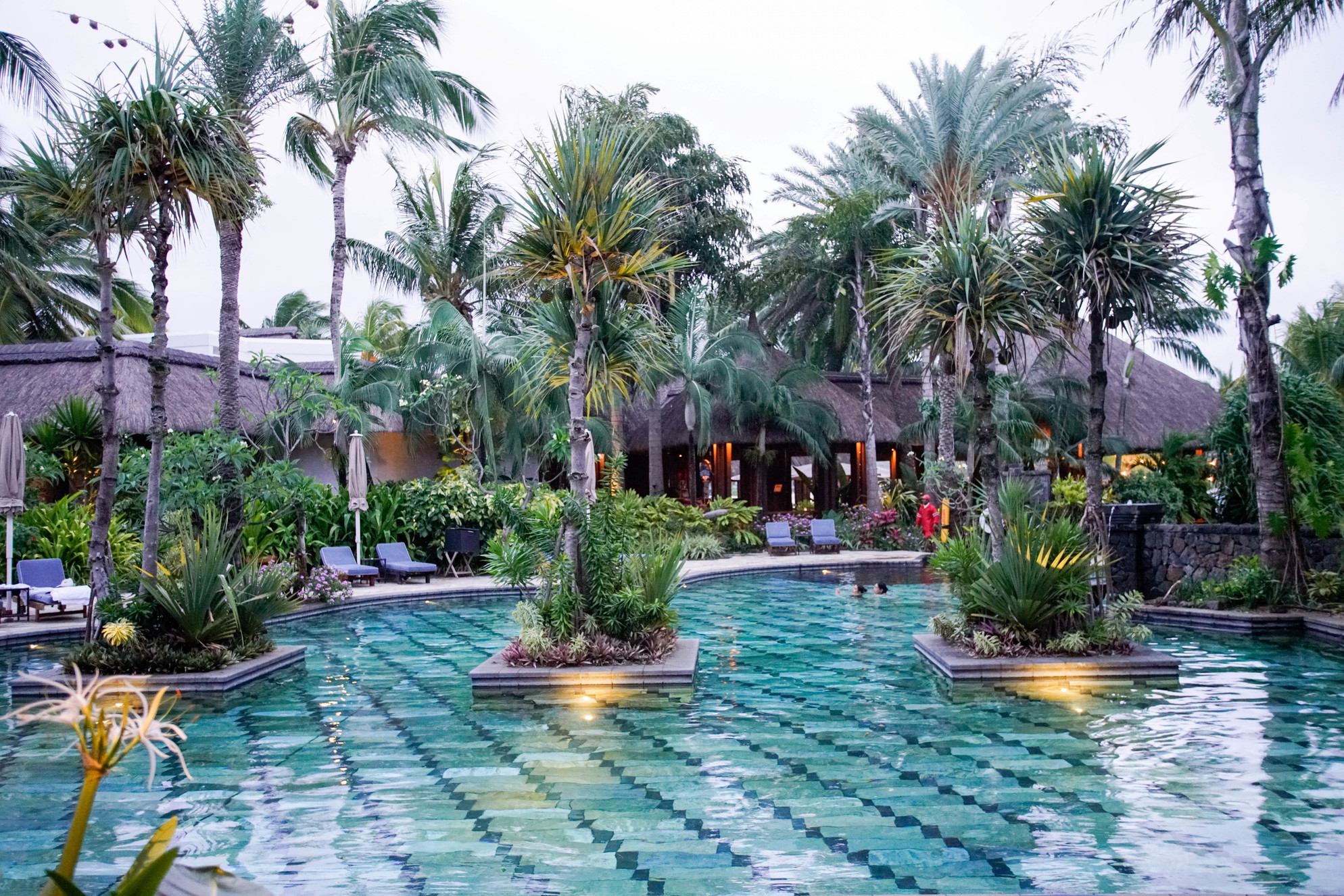 Chi, Shangri-La Hotels exclusive spa, is located right across from the adults only pool along with a well-equipped gym.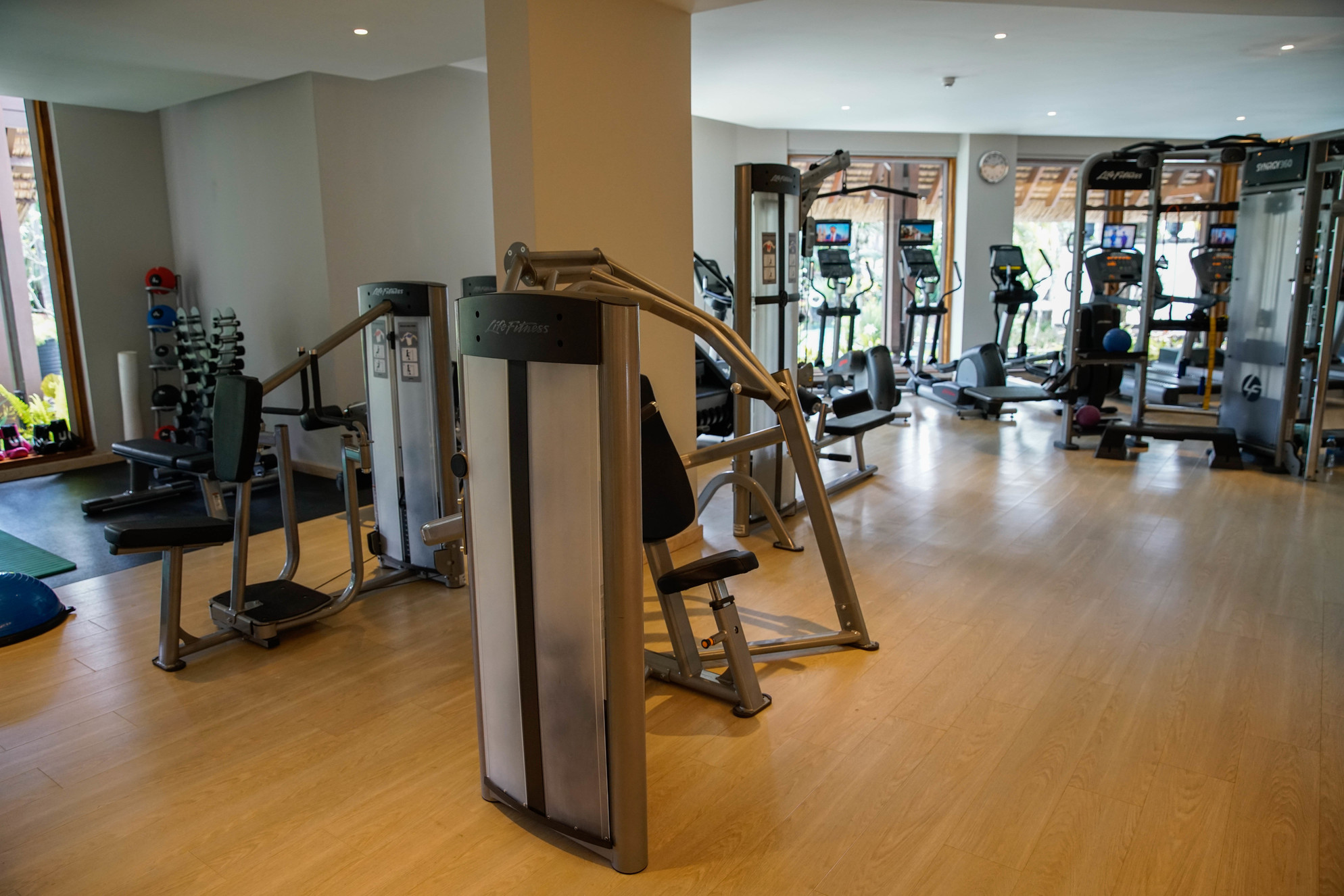 The Chi spa offers your traditional spa services along with a few authentic Mauritian inspired treatments such as the sega massage. The sega massage consists of a full body massage that goes to the beat of traditional Mauritius music called "Sega." The music is rhythmic but not too upbeat allowing you to relax.  My husband and I were treated to a couples Sega massage and we loved it!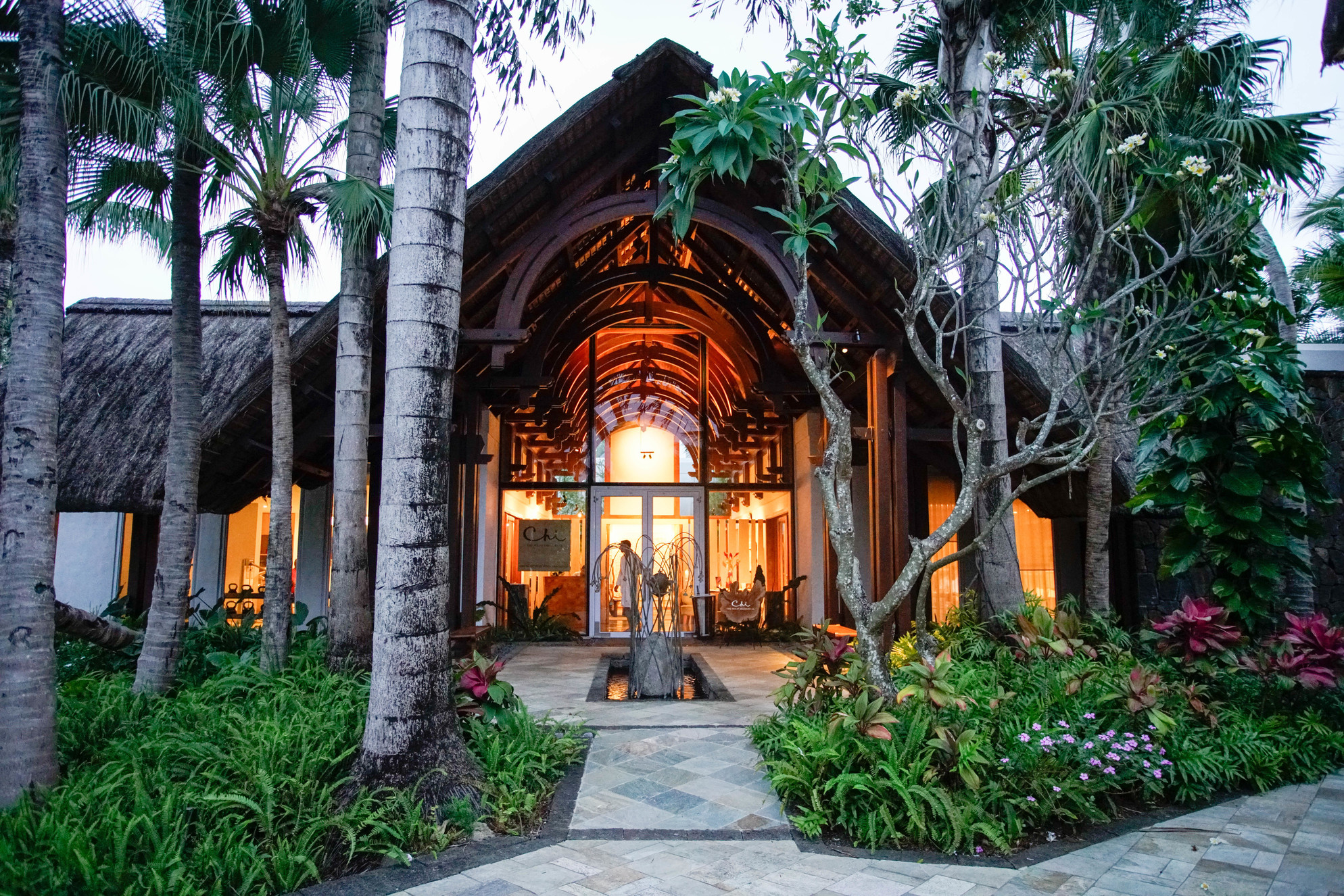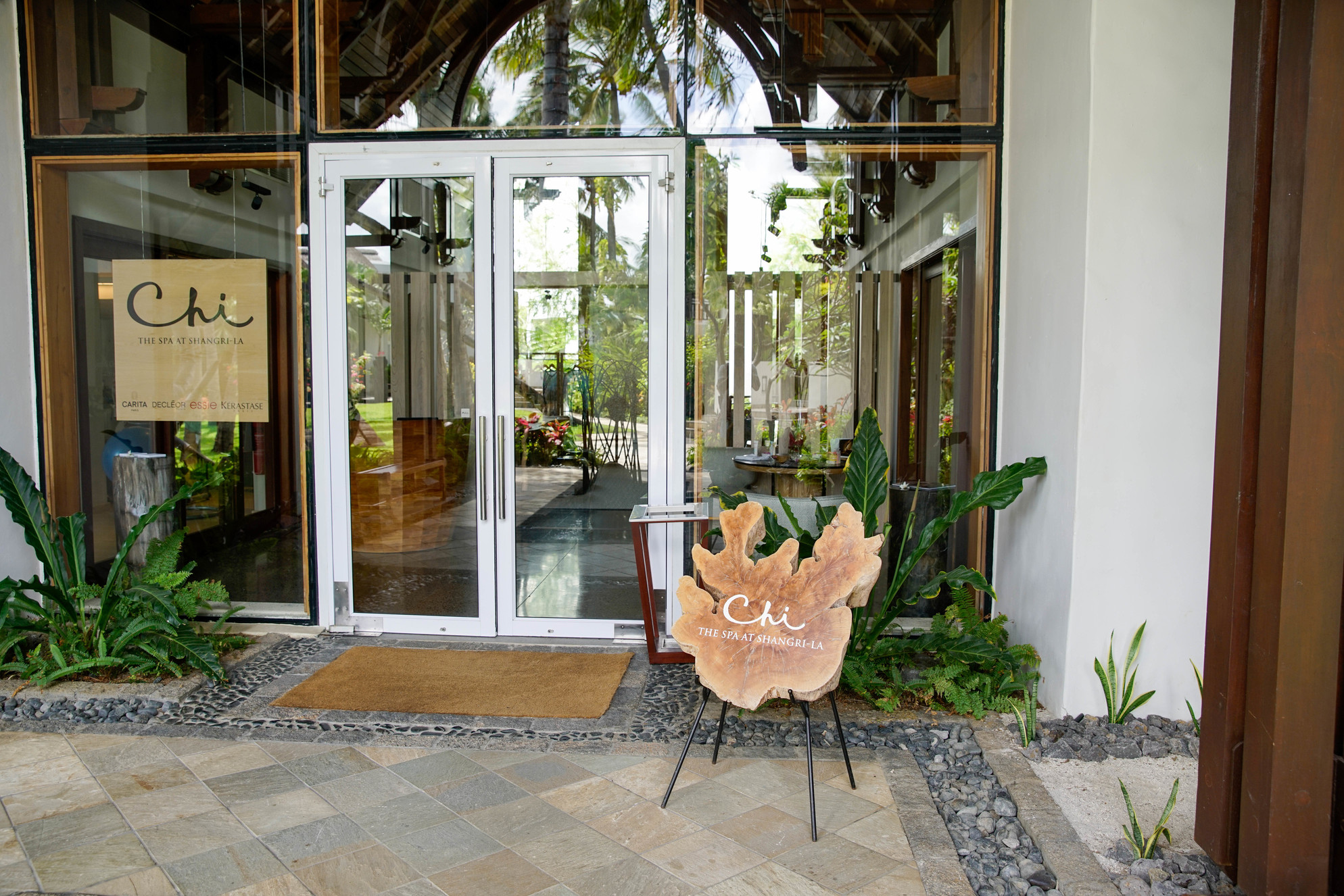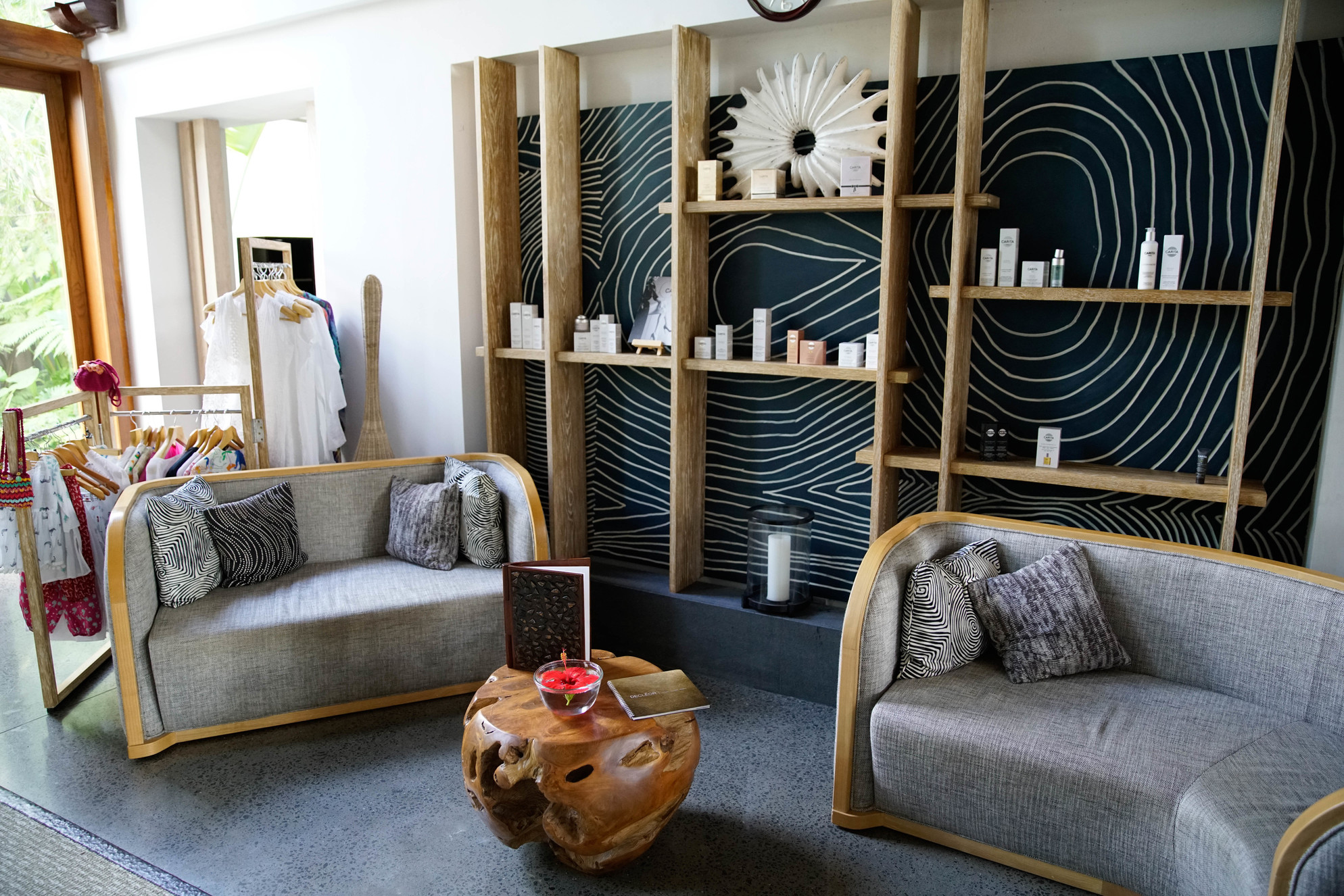 Unlike many resorts, Shangri-La's Le Touessrok Resort & Spa is built in a way that the property is surrounded by water on both sides so you have 3 beaches to choose from. The main beach that stretches from the Hibiscus to the Frangipani area. Another small one on the back side of the Frangipani area and a more secluded one in the hotel's private island, Ilot Mangenie.
[half_column]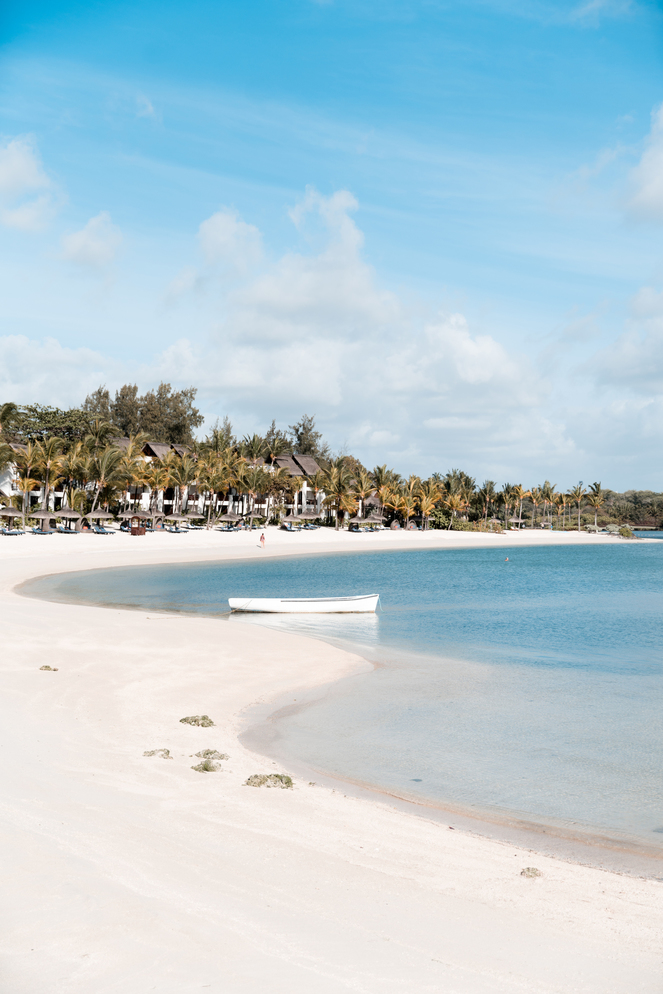 [/half_column]
[half_column]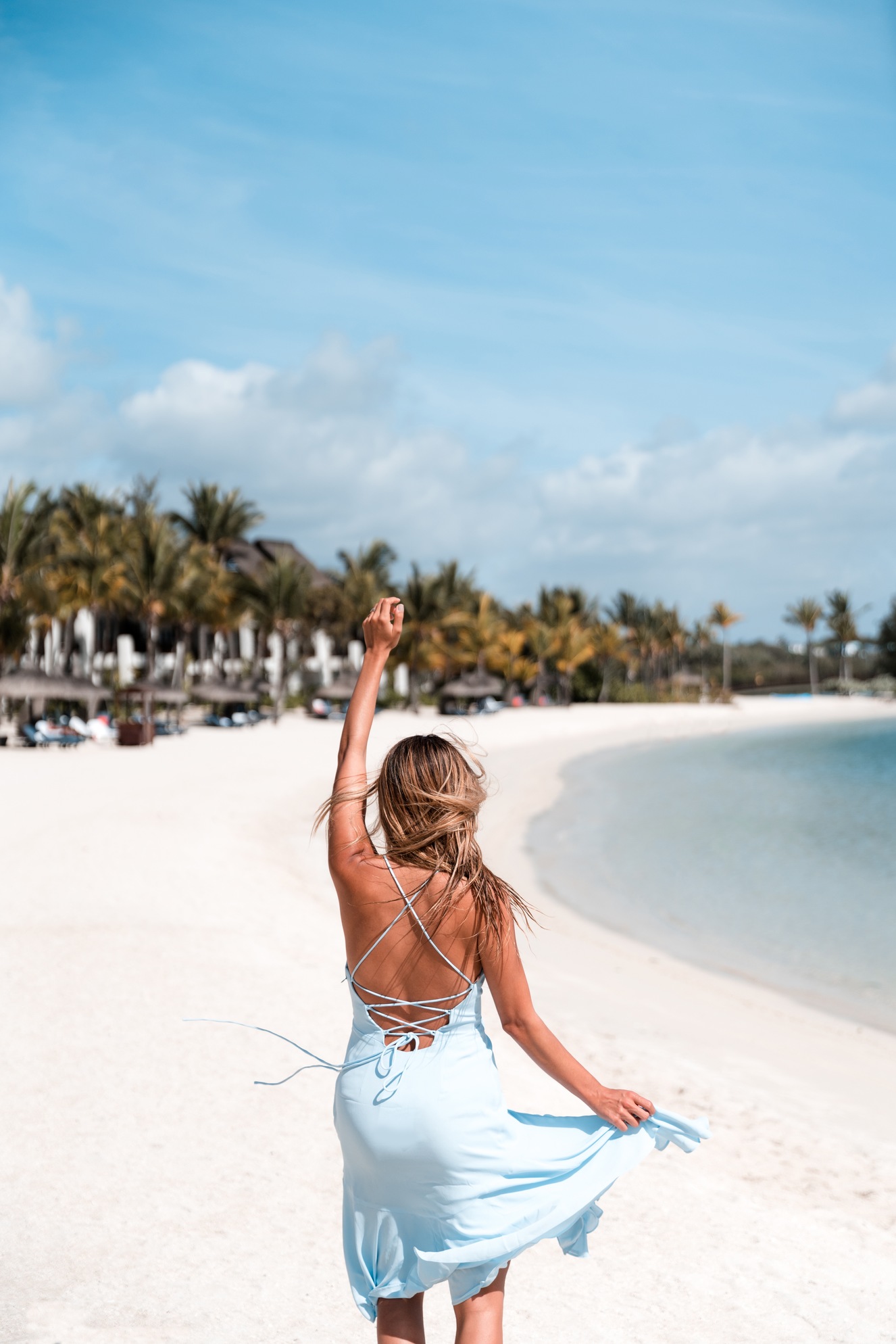 [/half_column]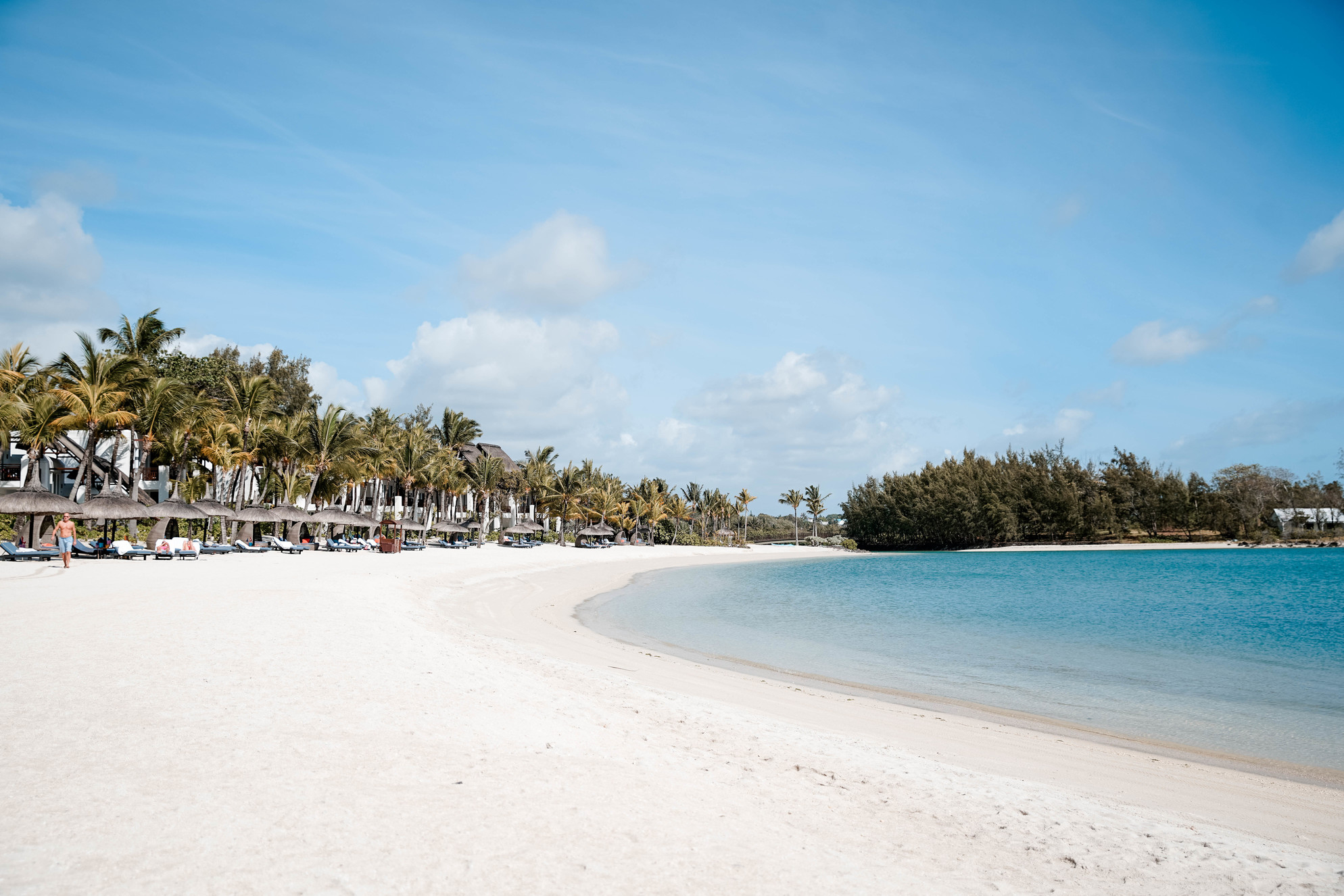 [half_column]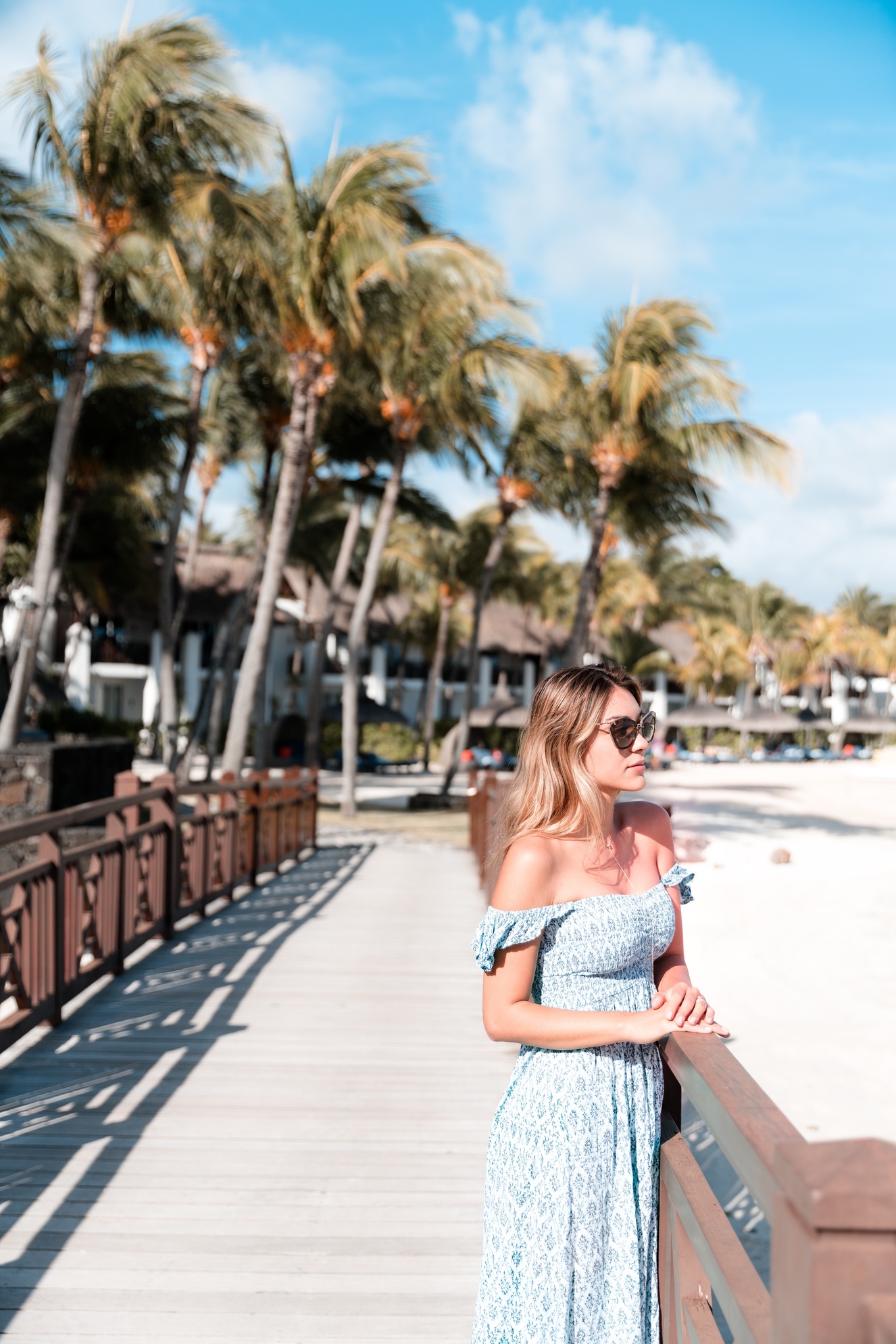 [/half_column]
[half_column]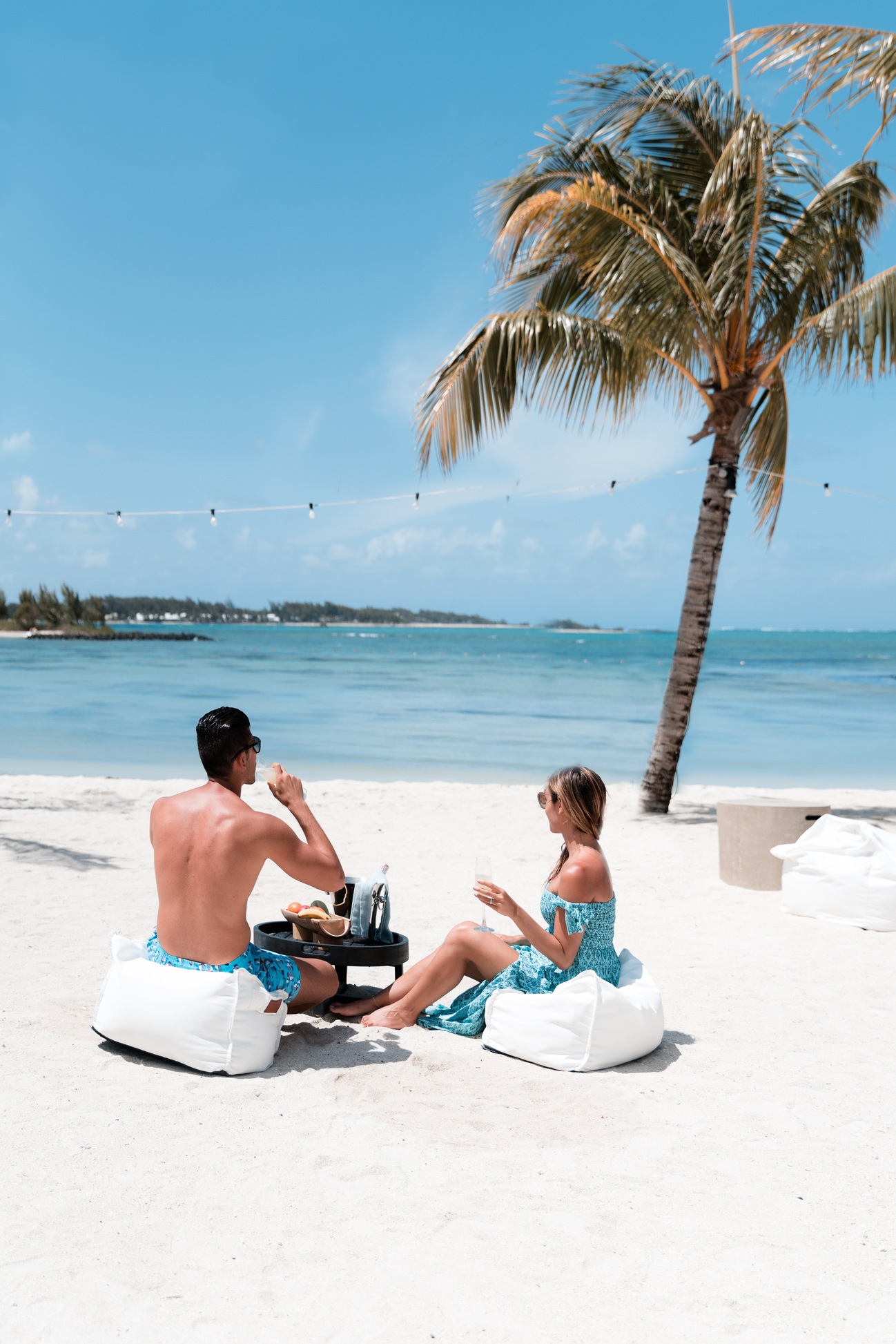 [/half_column]
Ilot Mangenie is just a short 5-10 minute boat ride away from the resort. It offers a quiet and more private space for guests to relax in either the public area of the island or in a private beach cabana in the more secluded side which you can book for the day. This is where we relaxed all afternoon, enjoyed the beach and had one of the best truffle pizzas we have ever had!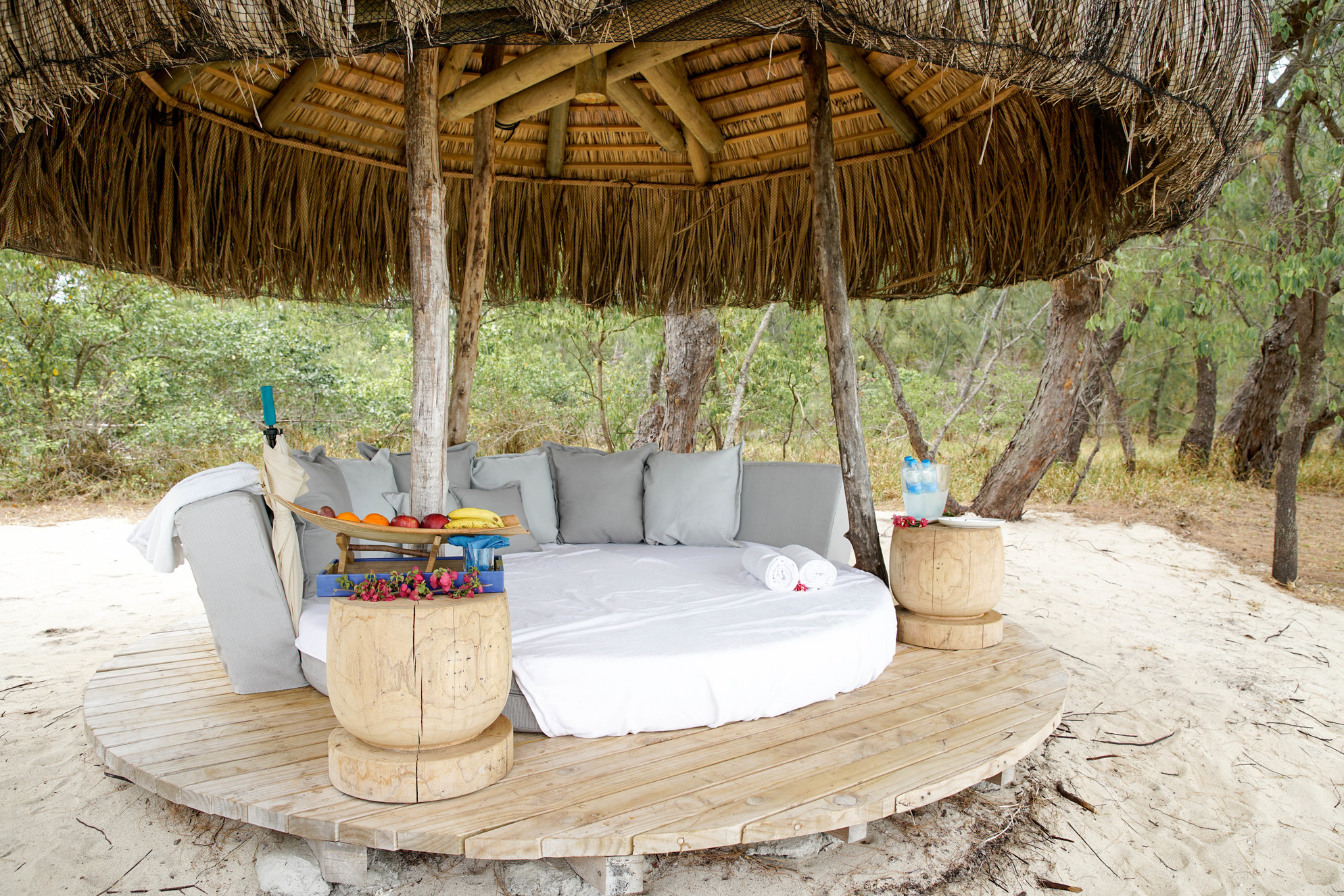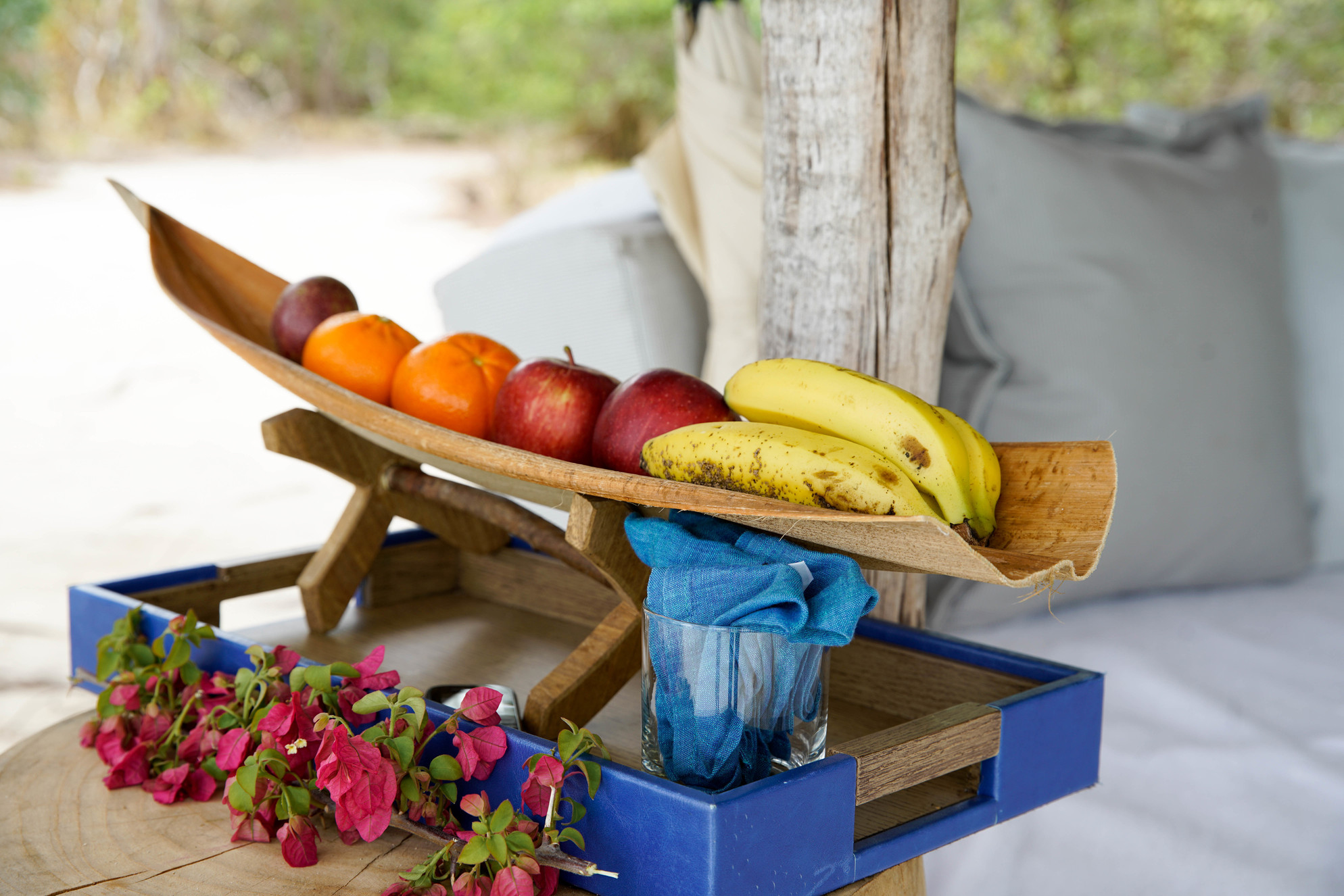 There are sea urchins on the beach so please make sure to wear water shoes if you go to the beach. You can either bring them with you or buy a pair at the shop in the resort.
The adults are definitely not the only ones having all the fun at the resort. The Shangri-La's Le Touessrok Resort & Spa has one of the best kids clubs I have seen to this date! It is a resort of its one and incredibly convenient for parents and kids.  It has both an indoor and exterior area where the indoors is fully equipped with toys, games, books and a quiet section for nap time. The outdoors area is where the magic happens… There is a resort style pool, a huge tree house, play area, performance/stage area, kitchen and dining, and changing rooms. With a daily schedule, there is a designated time for different activities such as a supervised swimming time and meal times. If you have kids, you know how incredibly beneficial this is. You won't be worried if your little one is hungry or if he wants to go to the pool because all his needs will be taken care off in the kids club. I haven't even told you the best part yet…. (yes even better haha) it closes at 9! So you can go for dinner,  spa or even drinks at the bar!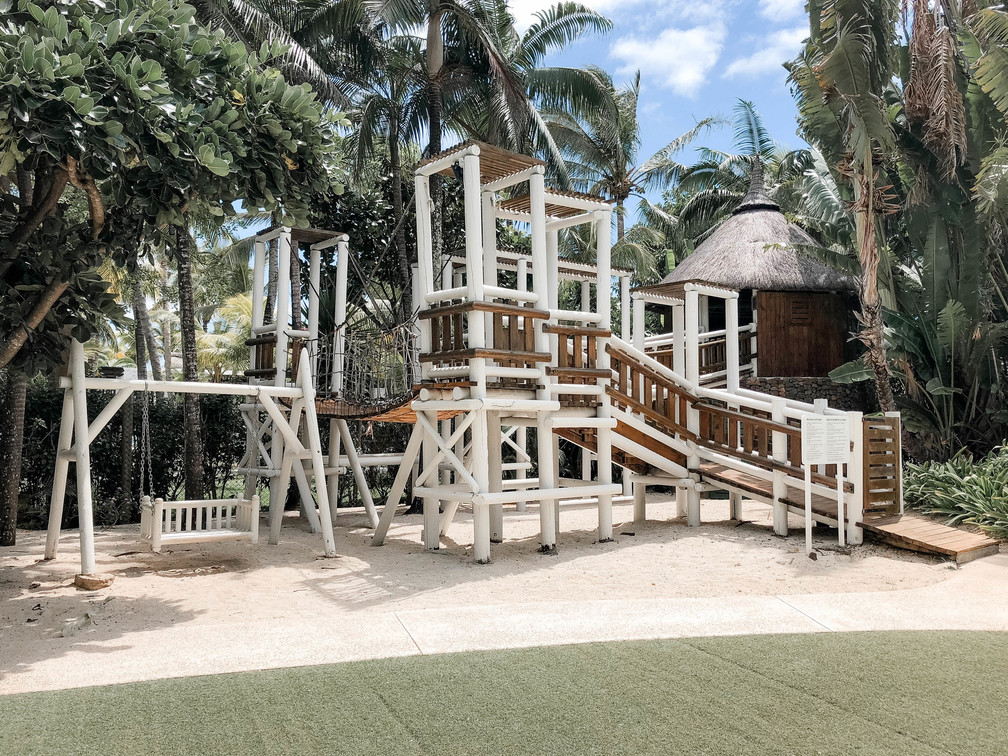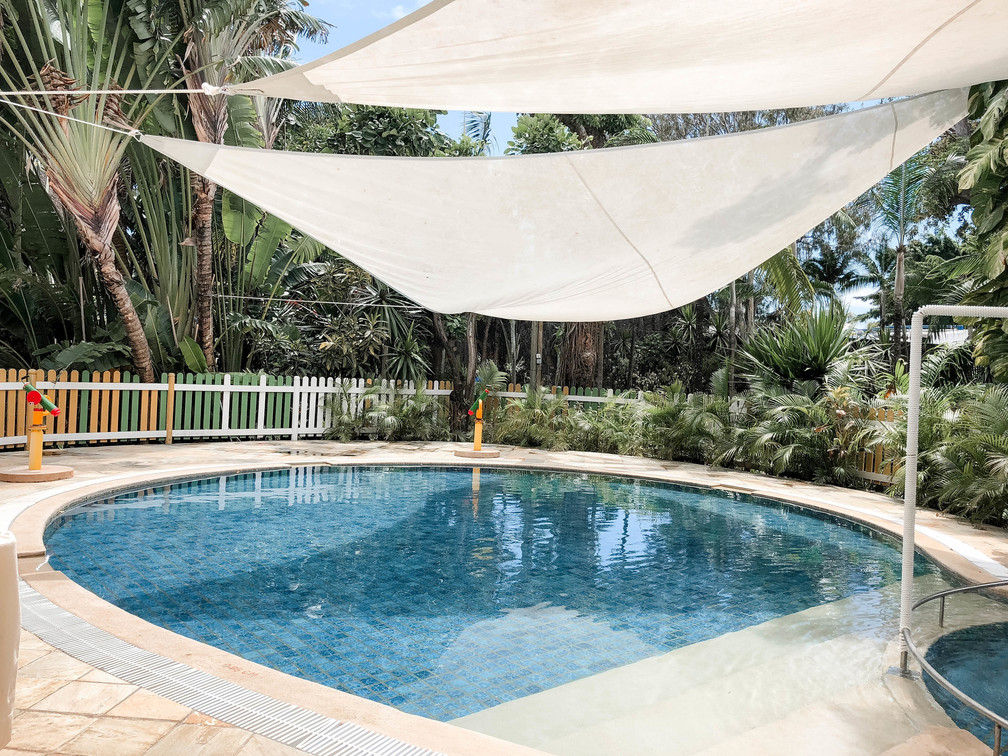 For the older kids, they also have a game area along with tennis courts and plenty of water activities.
With all these perks and activities, it is easy to understand why there are over 10 couples who have been coming to the resort every single year for over 20 years! Now that says a lot!
Dining: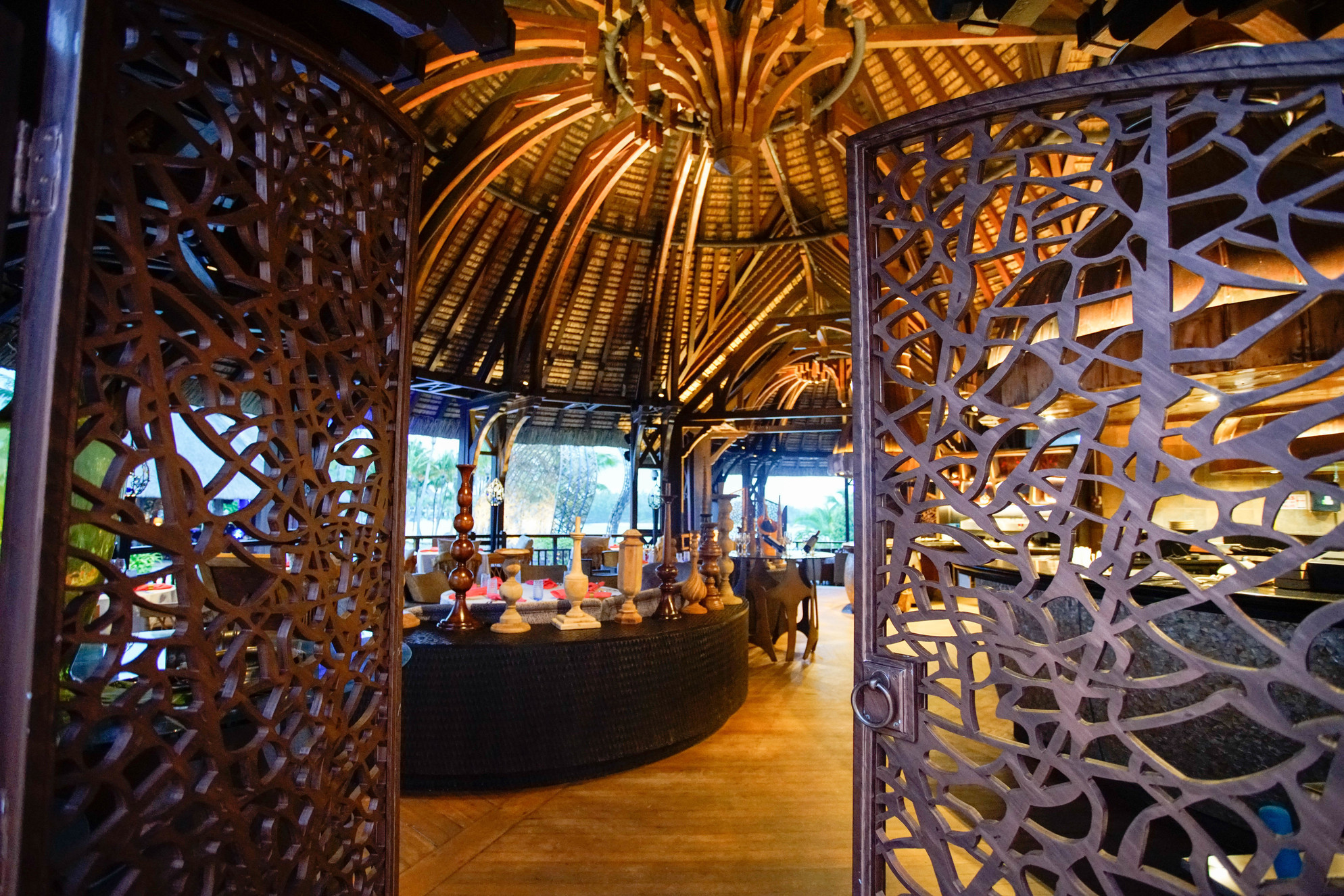 Shangri-La's Le Touessrok Resort & Spa has five different restaurants on the property. Its most popular and well-recognized one is Republik Beach Club & Grill. Breakfast, lunch, and dinner is served here and a la carte breakfast is included for those staying in the Frangipani area of the resort. For those staying at Hibiscus, buffet breakfast is included at Le Bazaar. The buffet here is very diverse and you can easily find many options for different dietary restrictions. As vegans, we had plenty of breakfast options ranging from oatmeal, beans, potatoes, curries, veggies, and fruits. As Republik is more exclusive, the menu is concise tailored more to traditional breakfast items like eggs and omelets.
Republik has such a nice vibe and setting for dinner and has amazing soups! We tried their pea, bean and cauliflower soups. They were all so good that I can't even tell you which one was my favorite! However, though Republik is its most well known, it offers a limited amount of vegetarian dishes. Le Baazar also offers buffet dinner with a great variety of selections for everyone's taste. Here we found more veggie-friendly options in comparison to Republik.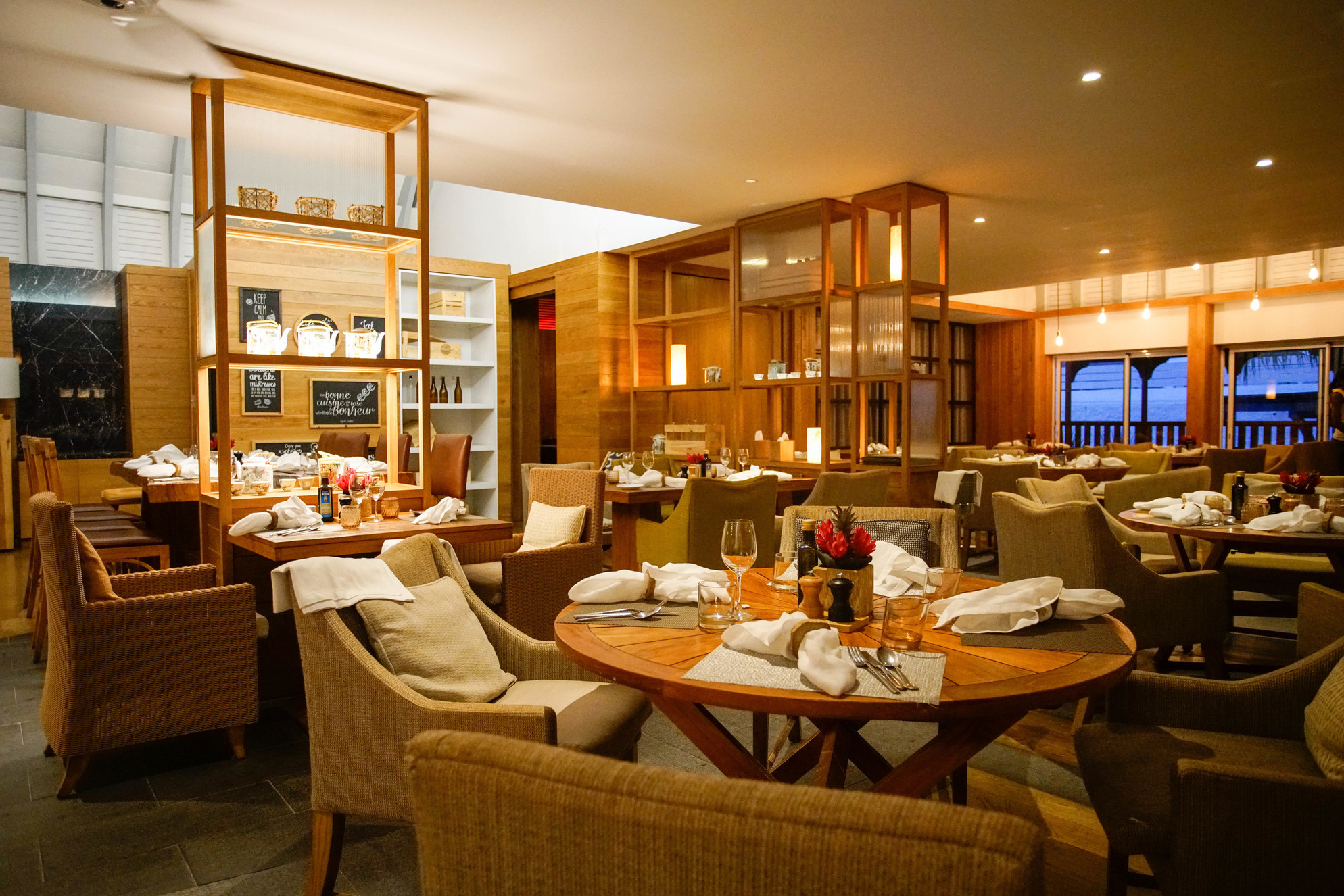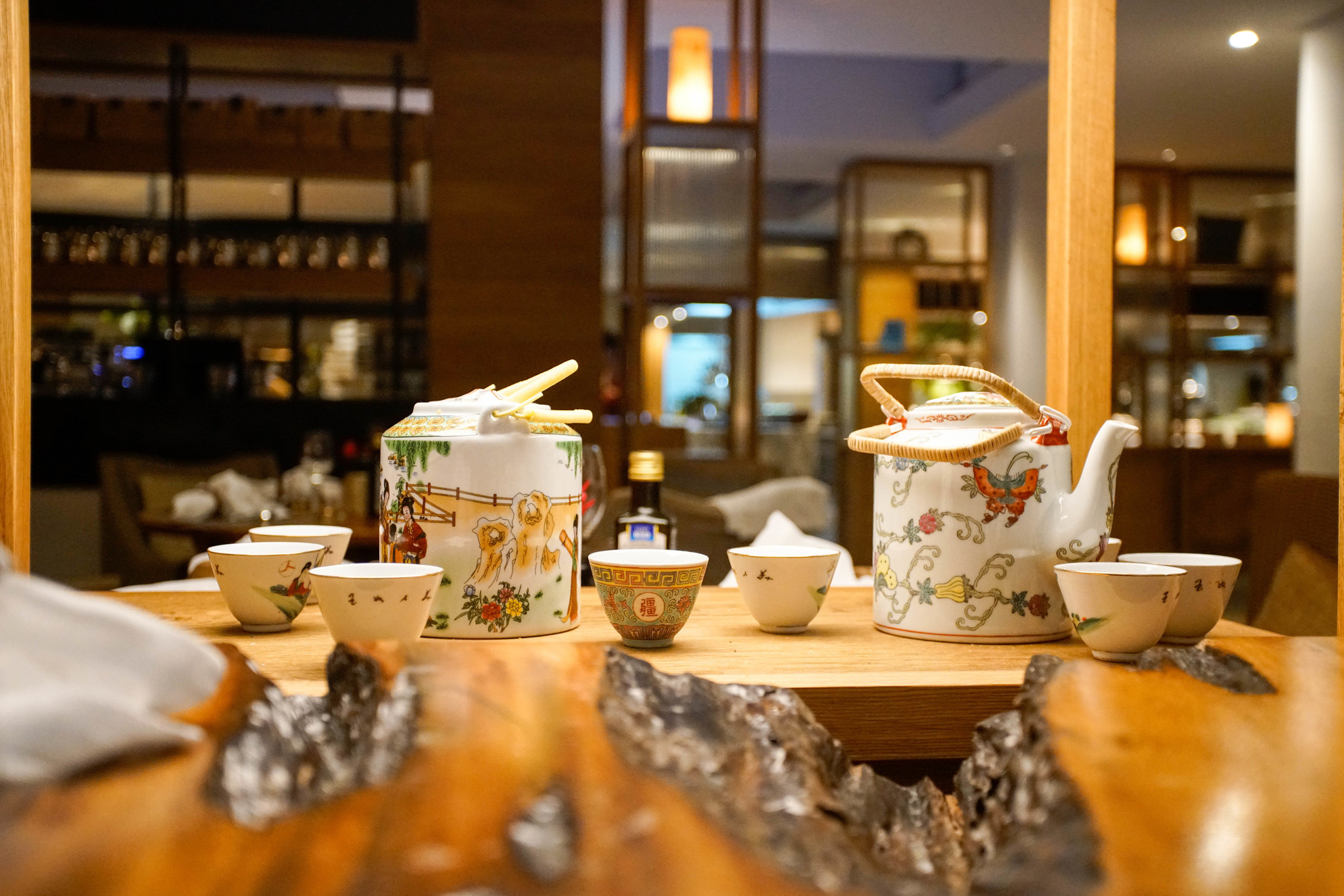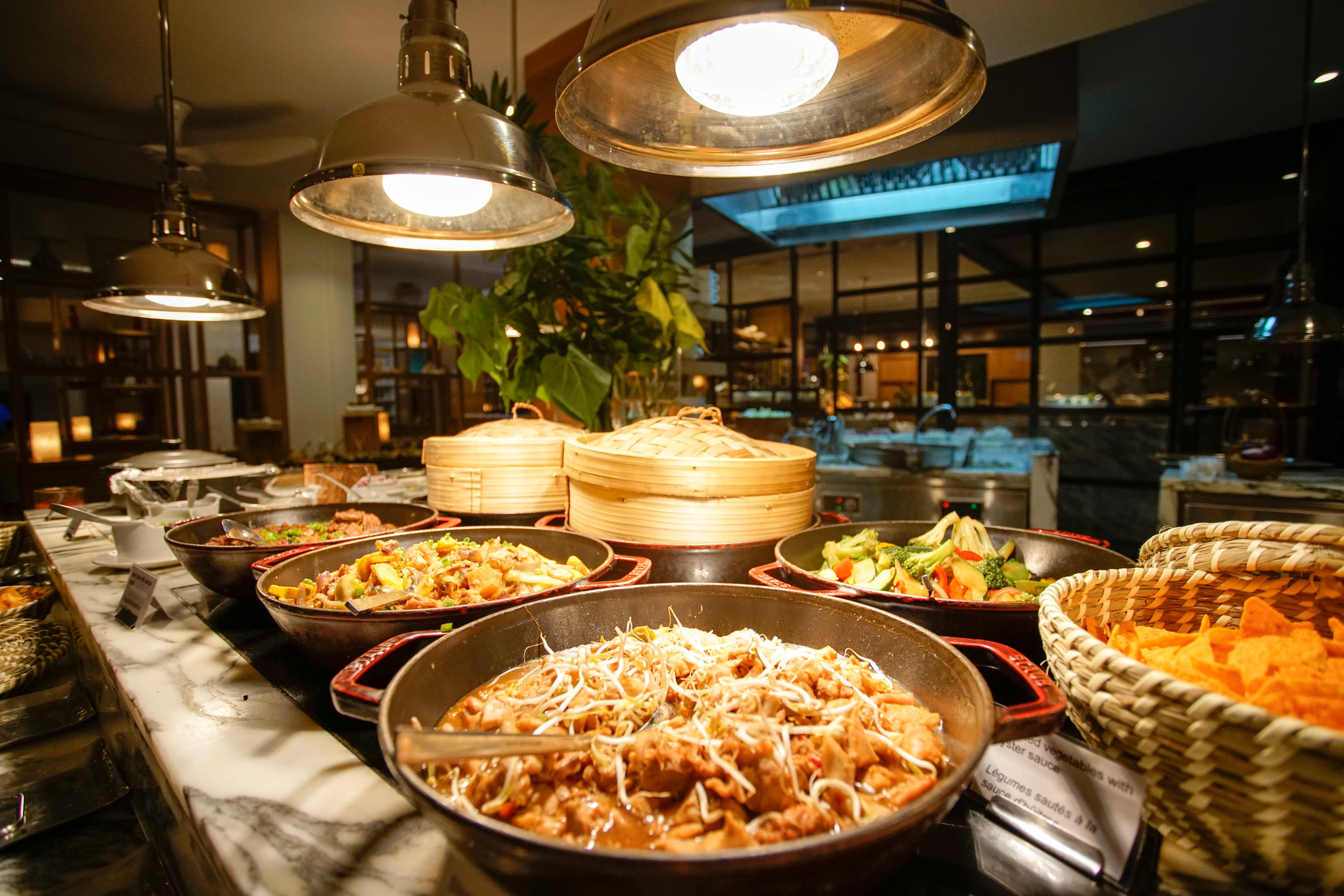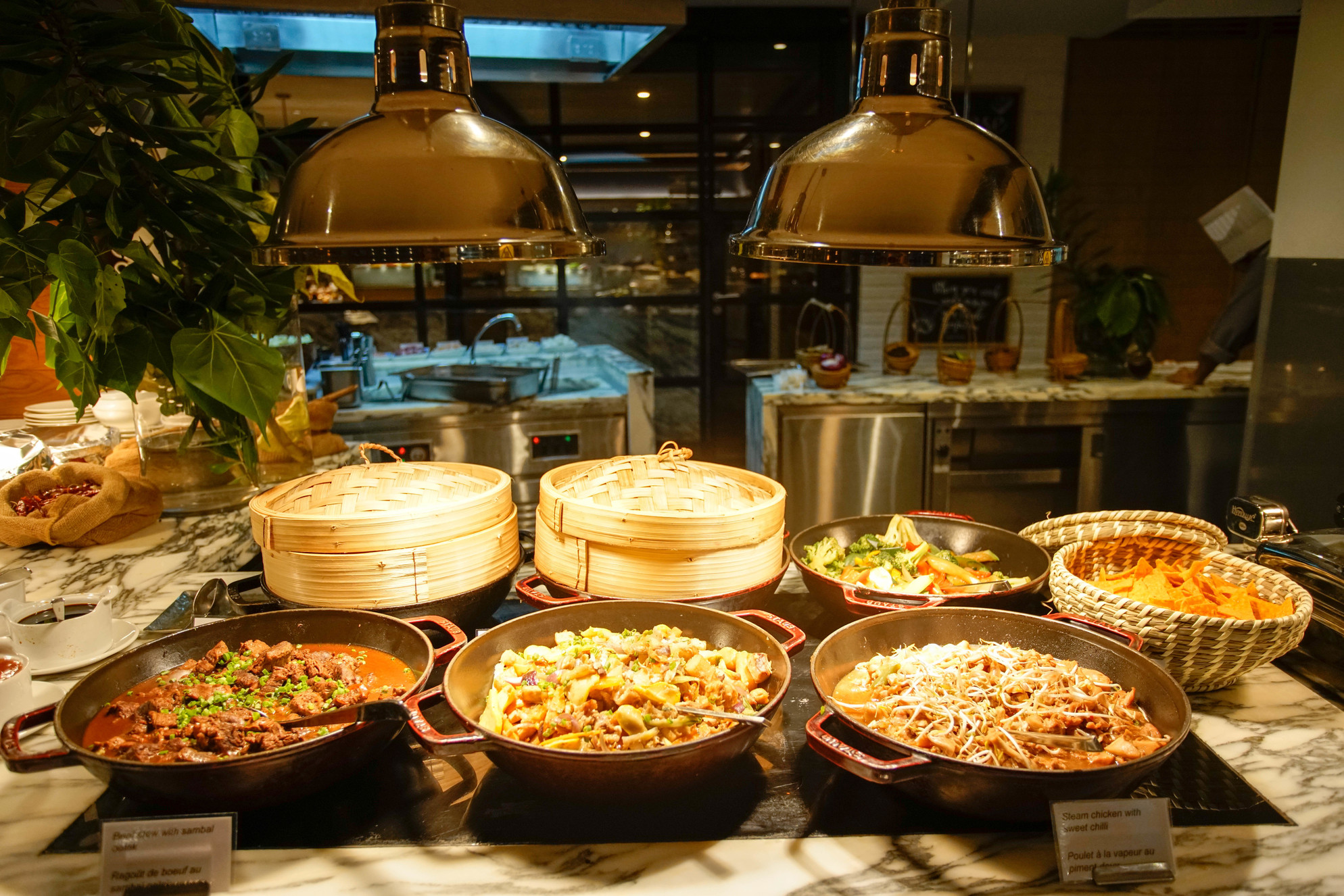 Our favorite restaurant on the property was hands down the Indian restaurant called Safran. Overlooking the pool and the hotels night shows, it has not only amazing food but also a great setting. I loved that they welcome you to a traditional Indian welcome to prepare you for the food experience.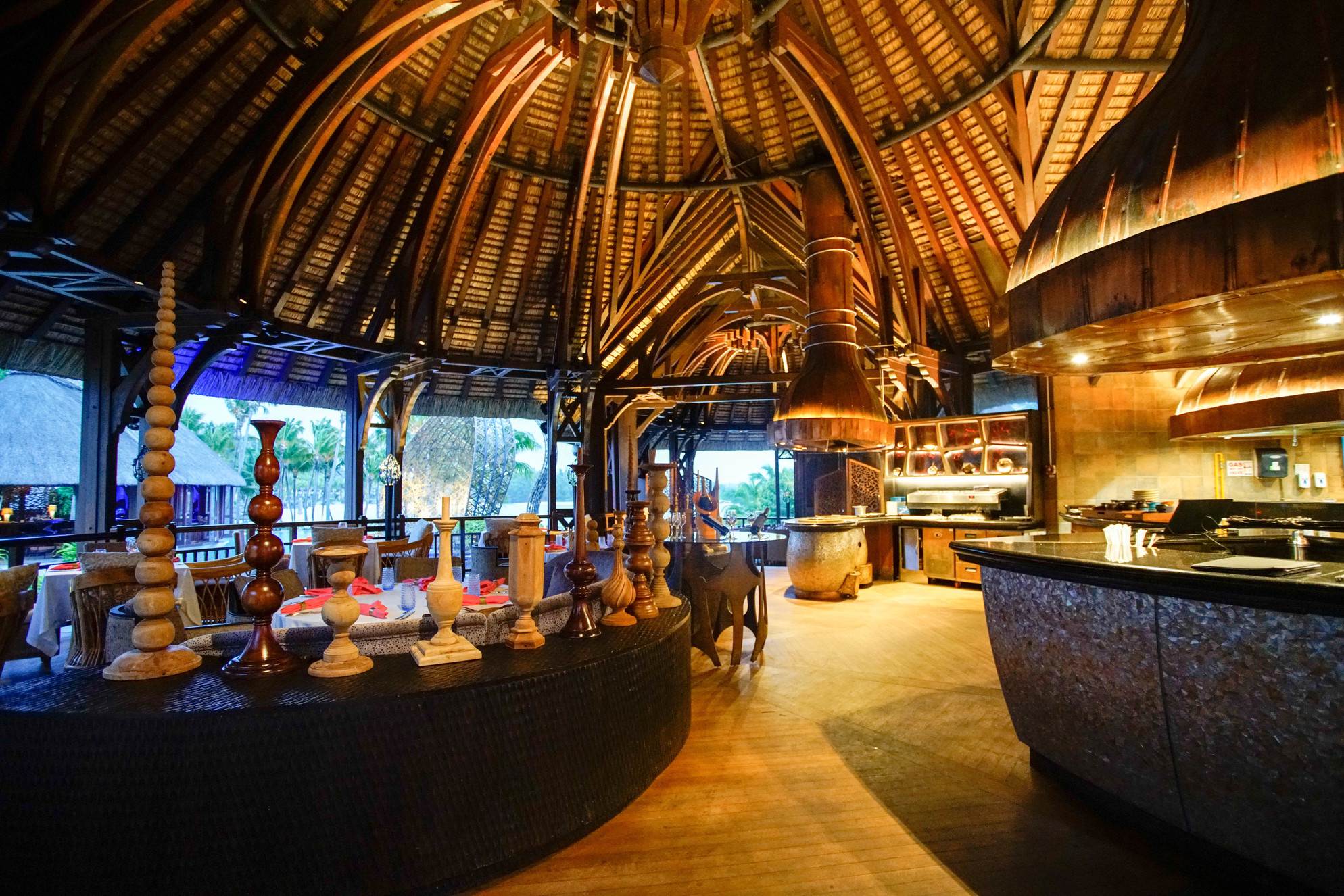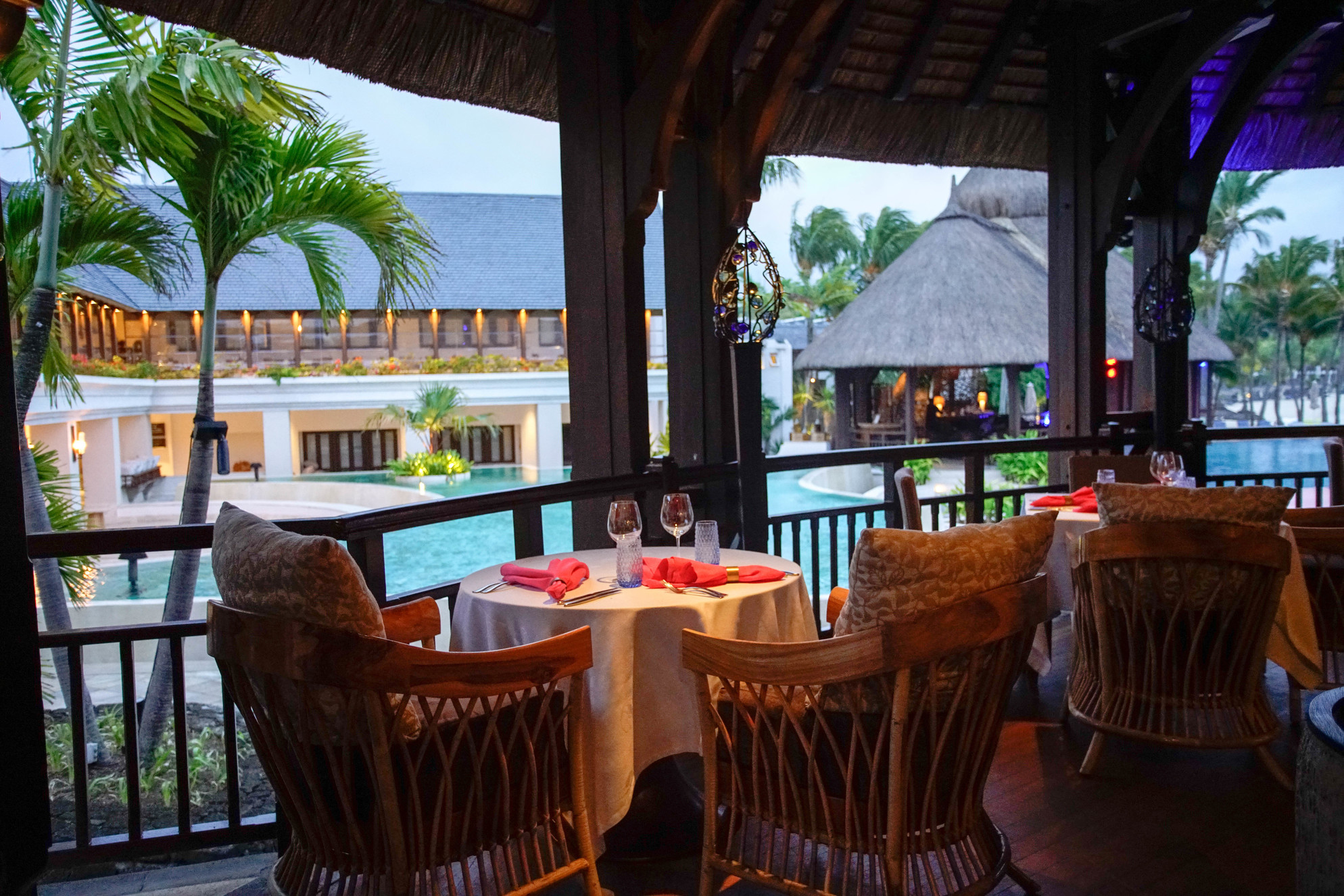 Disclaimer: Though this post is in partnership with Shangri-La Hotels, as always, all opinions are my own.