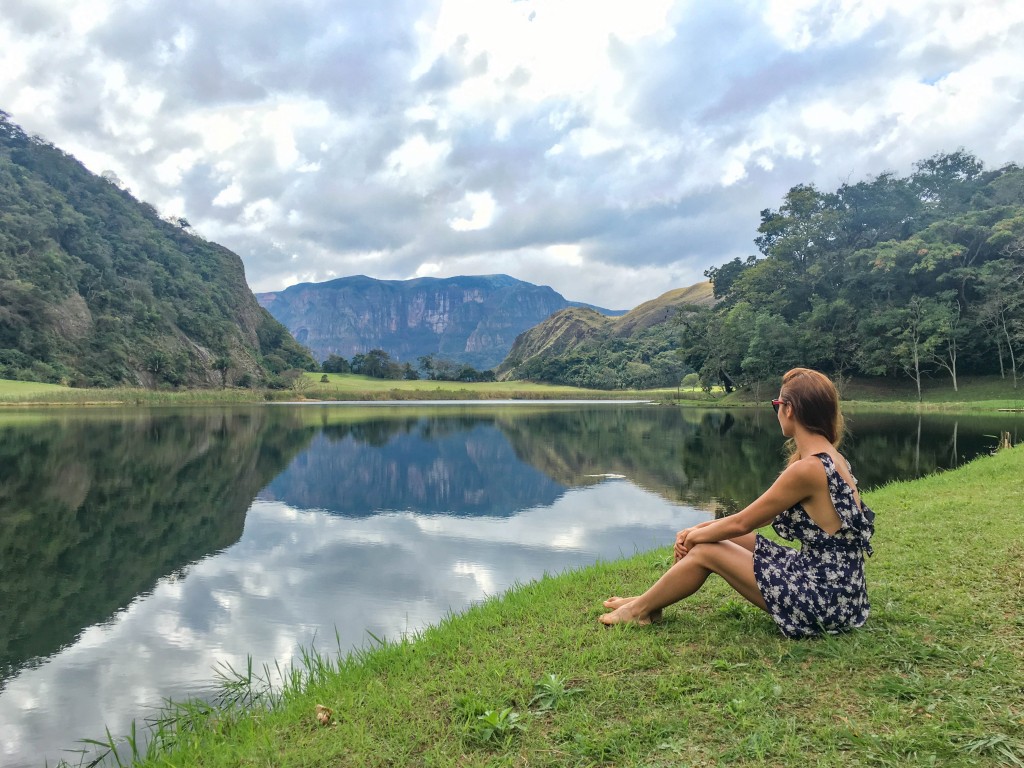 Located in the center of South America, or as Bolivians like to say "in the heart of South America, lays one of the most biologically diverse countries in the world, Bolivia. For the past several years, Bolivia has been a very popular tourist destination because it is home to the largest salt dessert in the world, Salar de Uyuni. This wonder of nature attracts thousands of tourists to the small state of Potosi. Unfortunately, most visit Bolivia just for this place alone and leave the rest of the country untouched.
Born and raised in Bolivia, I regret to admit that I haven't explored much of my beautiful country. To be completely honest, the sole reason for this is because I am terrified of the roads to travel within the country. This is why I have yet to visit Salar de Uyuni. One place that is very special for me, and mostly to anyone raised in Bolivia's largest city, Santa Cruz de la Sierra, is Samaipata.
Santa Cruz, just like any other city, is busy and hectic. Once a small town, this city is overflown with cars, people and chaos. So the locals, for any holiday, weekend or special occasion escape to the small town of Samaipata. This small, charming little town nested in the Bolivian countryside is at an altitude of 1800meters and about a 3 hour -hectic- drive away from the city.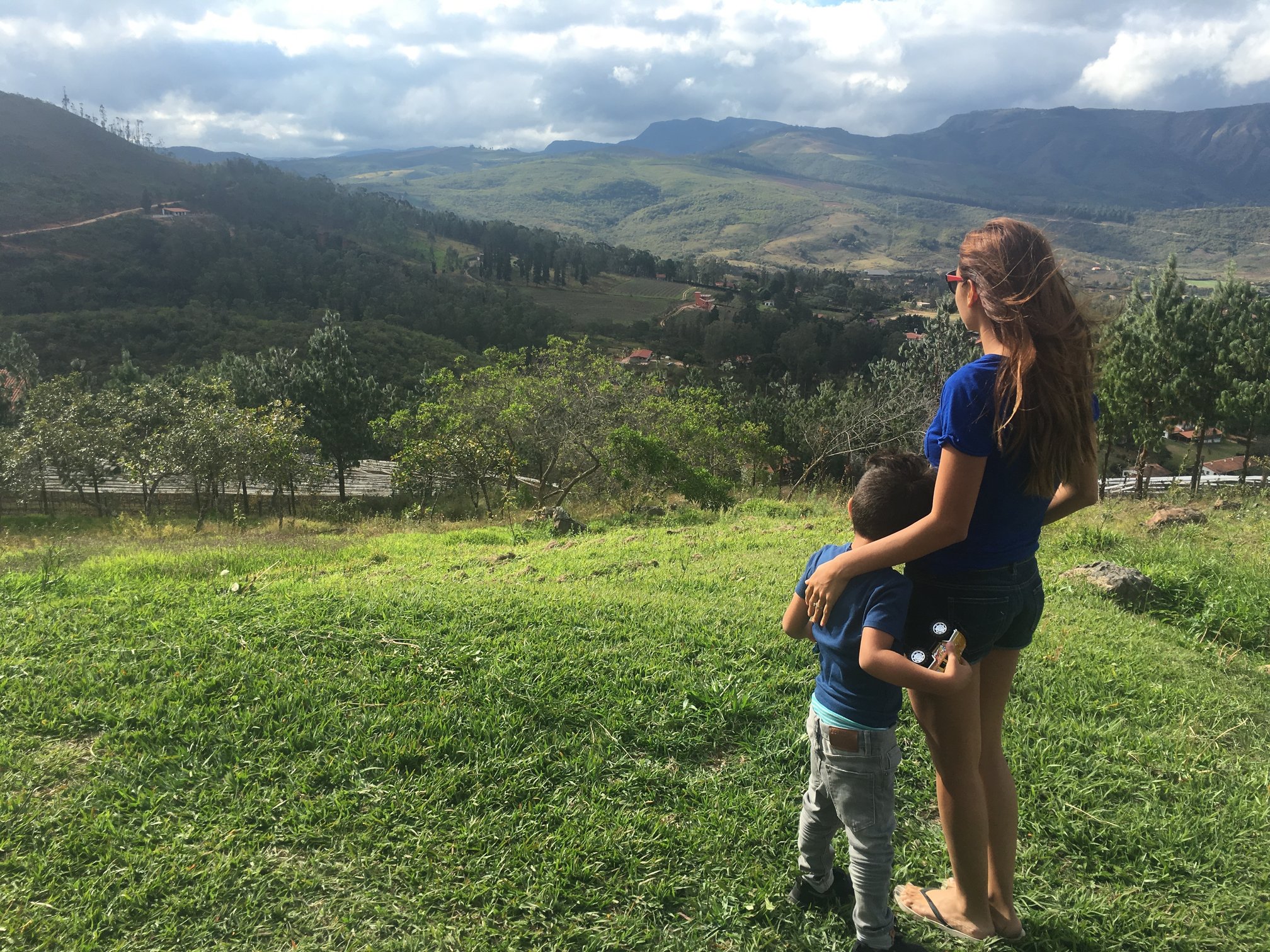 Recently, however, we have discovered a very unique and special place only 2 hours away from the city, and one hour before Samaipata called Laguna Volcan.  Here lays our secret little resort that our family has been visiting for the past few years. This resort is nested in the lush Bolivian mountains and at the edge of Amboro National Park. At only 2 hours away from the city, it's an easy drive up just for the day, or to enjoy a quick weekend getaway. We have yet to be able to stay in the hotel, but we love spending the day there. I mean, just look at the view: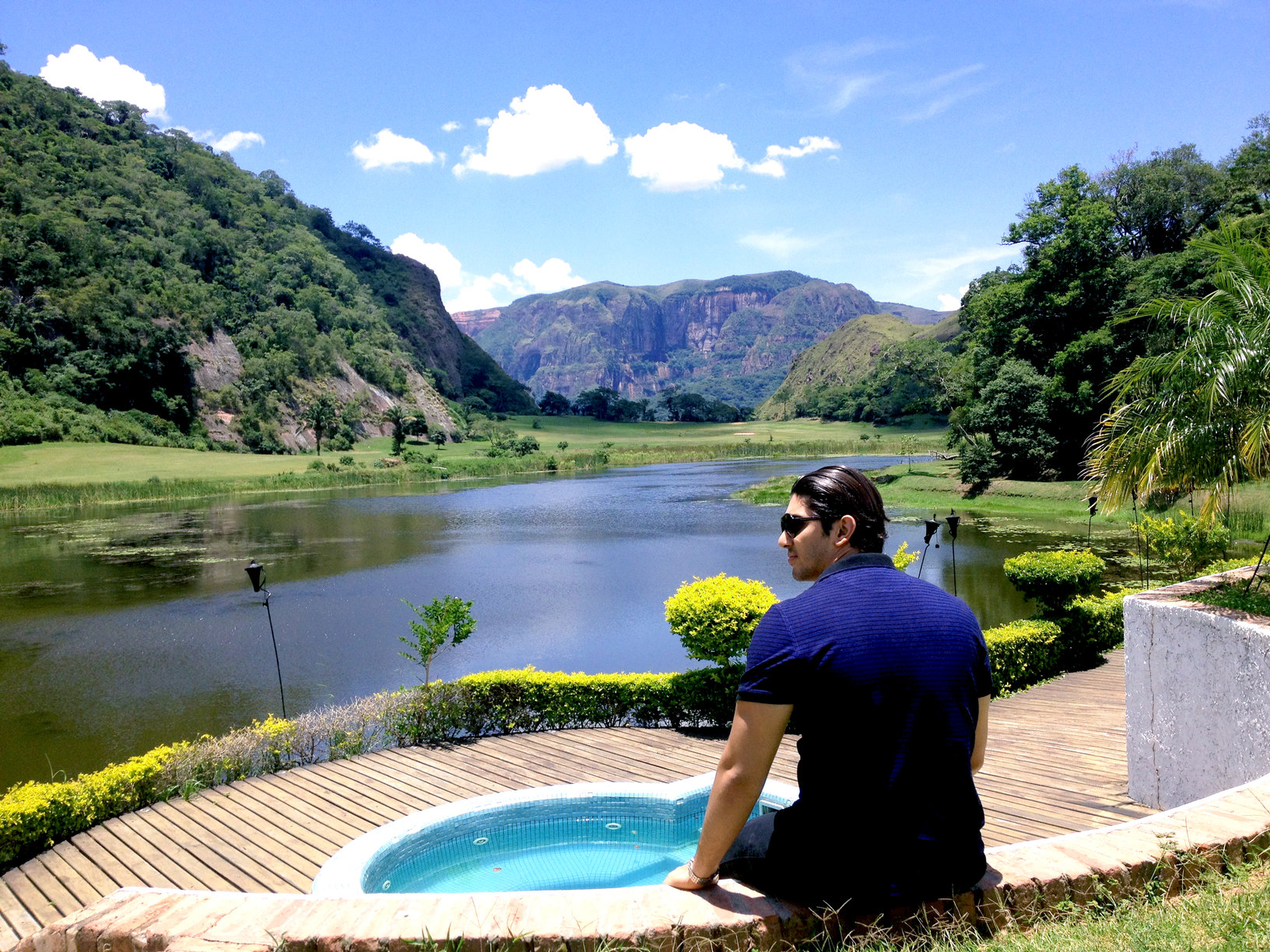 The picture above is from the first time we visited during the month of January. December through May are the best months to visit, if you want clear blue skies. But honestly, cloudy or sunny, this place is amazing. Here is from our recent visit just a couple of weeks ago.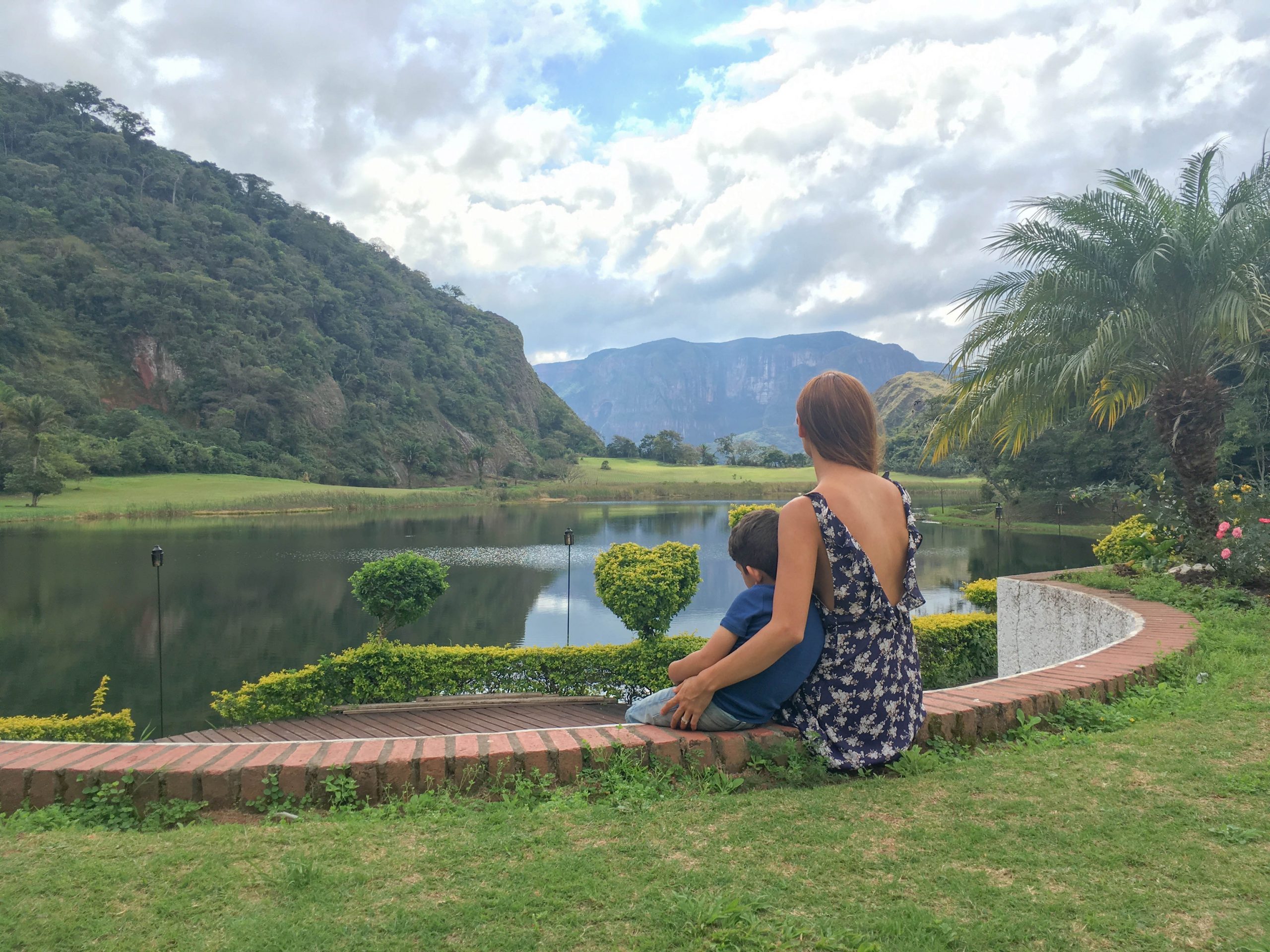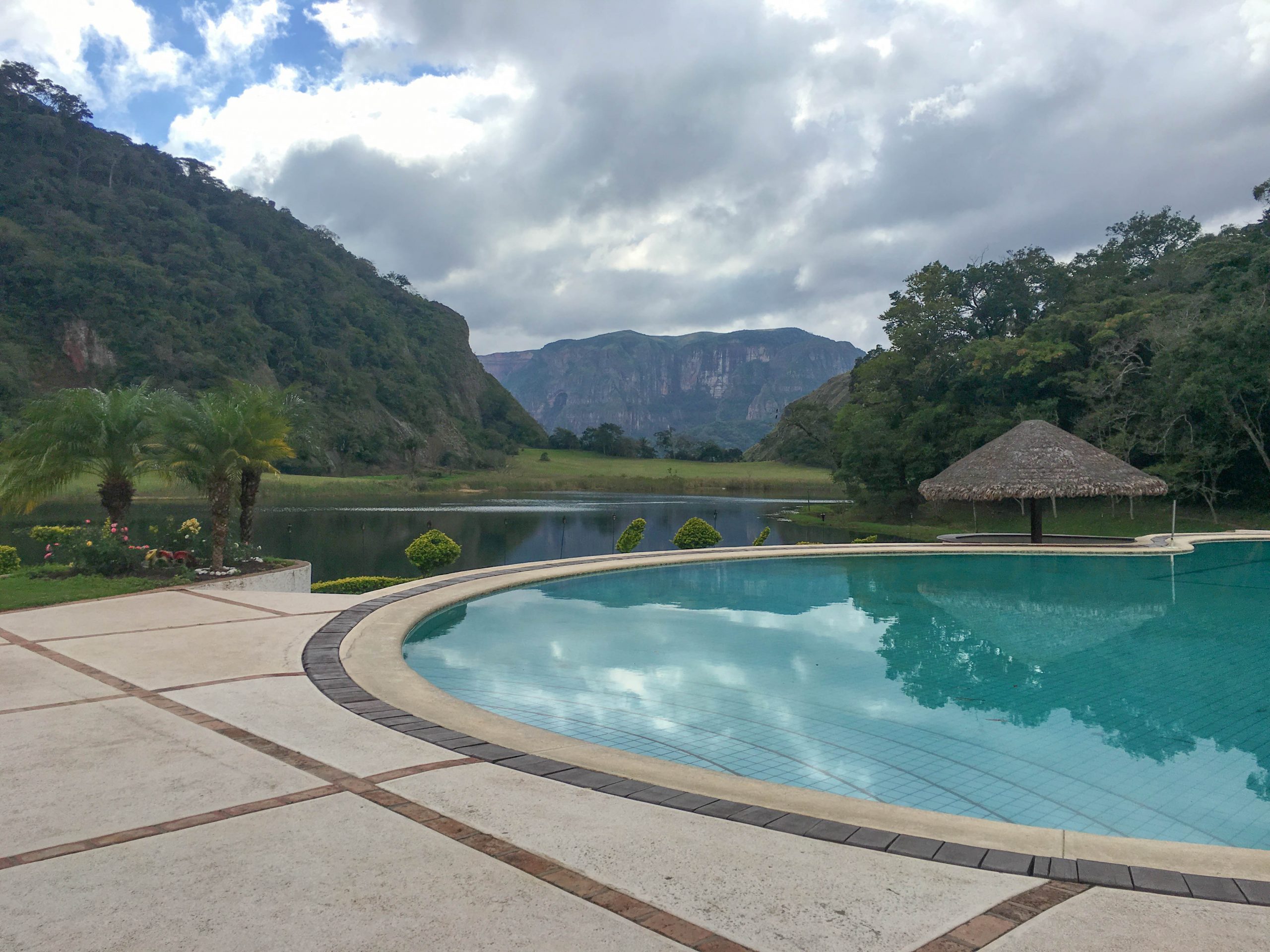 [half_column]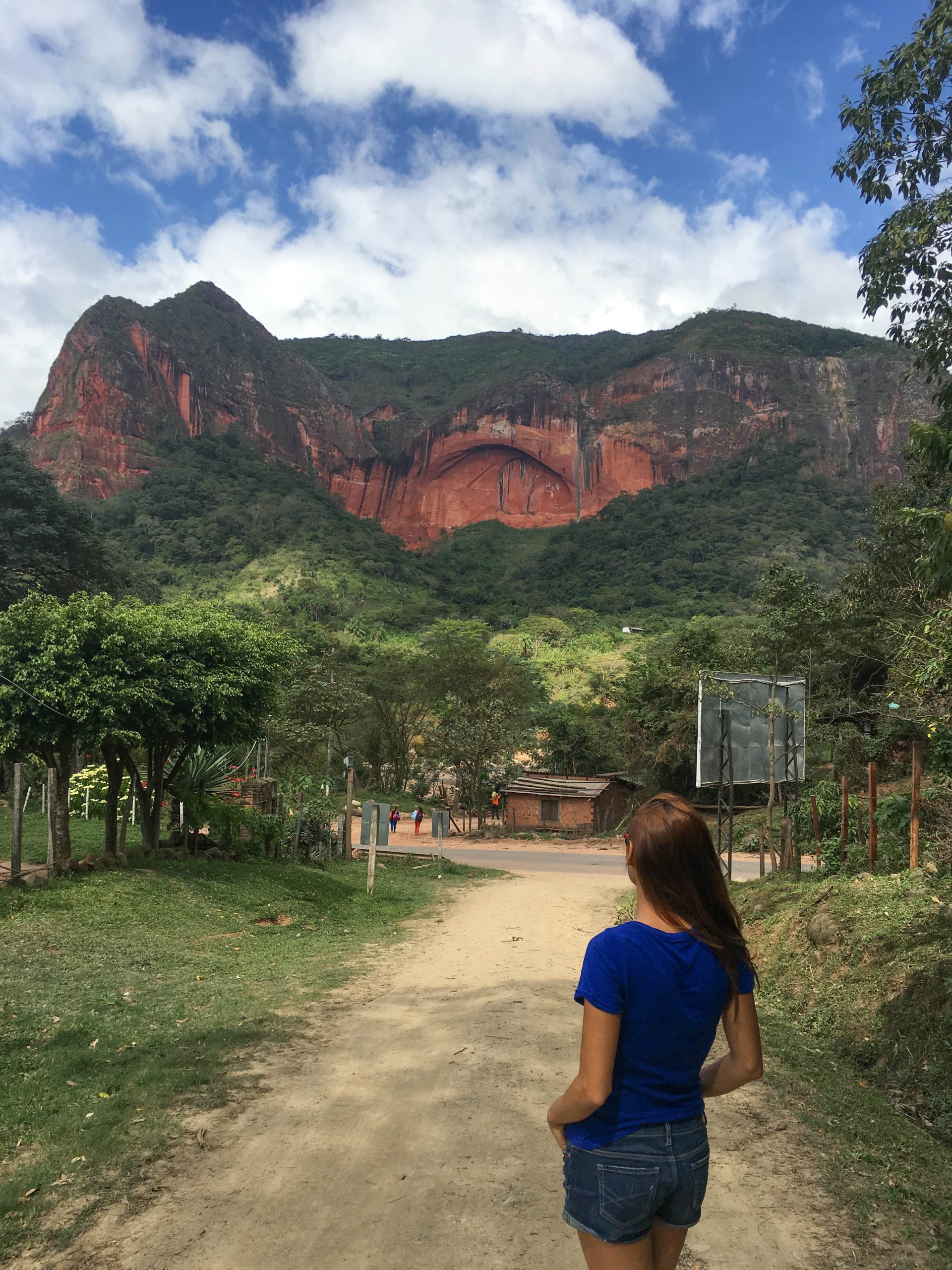 [/half_column]
And the best part? Since it was low season in July, we had the entire place to ourselves. Only for 10bs (equivalent to less than $1.50), you get to enter the hotel and spend the day! You can relax by the pool/jacuzzi, take the kids for a volleyball game with an amazing view, or use the kids playground, take a walk by the lake, or just relax with a good book.  It also makes for a great stop on your way to Samaipata. If you do, you will not only see the incredible view from the hotel but you will be able to look at this beautiful red mountain up close. Make sure to tell your taxi driver that you plan on visiting this hotel, it can be tough for some cars to go up the steep mountain, so verify with your driver before you make the trip!
If you happen to be in Santa Cruz or are planning a trip to Salar de Uyuni, make sure to add this place to your itinerary, you will not regret it! But don't forget to bring bug repellent because you will need it!