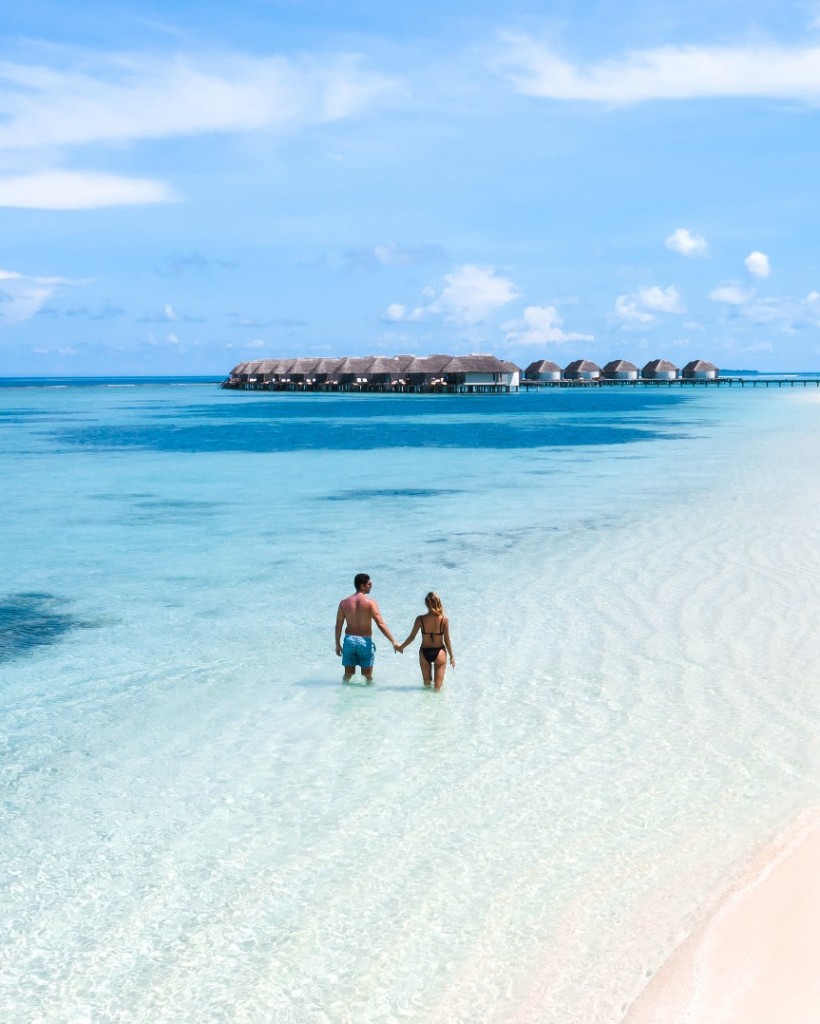 Kanuhura Maldives:
What You Need To Know About Maldives:
Unlike many other places on the planet and one of the things that makes the Maldives extraordinary unique is that each hotel is located on a private island of itself. In order to understand this concept, we need to realize that this island country is composed of a chain of 26 coral atolls each of which is made up of hundreds of different islands all dispersed through roughly 90,000 square kilometers making it one of the world 's most dispersed countries! These hundreds of islands are miniature islands, most of which are inhabited and left untouched. For this reason, each island can only "host" one hotel and also one of the reasons why most hotels have water bungalows. This is why planning a trip to the Maldives is extremely different than planning a trip to most other tropical destinations, and why it's crucial for you to do lots of research to choose the right hotel since you will be spending all of your time there. This means you will sleep, eat and do all of your activities in the hotel. In the Maldives, you can not simply leave the island and go somewhere for lunch or explore a different beach (Unless you are staying in the capital, Male ). This means that essentially the hotel that you choose to stay in will define your whole Maldives experience.
Location & How To Get to Kanuhura: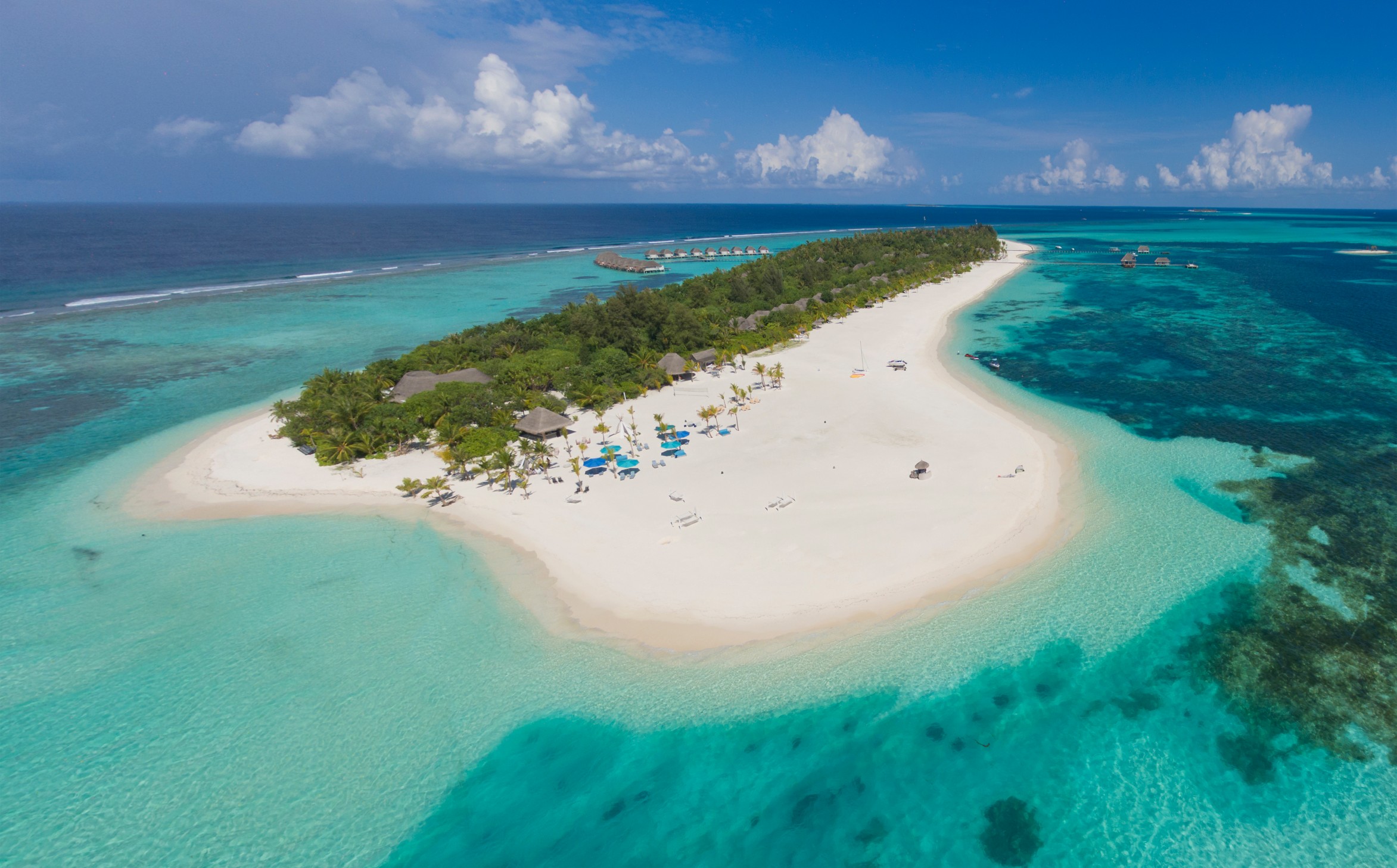 As soon as you land at Male international Aiport, a member of the Kanuhura staff will be awaiting for you to ensure you have the easiest transition possible to the resort. As you need to take a seaplane to reach the property, the Kanuhura team will take care of your check in process and later escort you to the lounge. The waiting time may vary between properties but on average its about 30-45 minutes to wait for your seaplane, but no worries, time always flies by in the lounge while you stock up on some snacks. Soon enough you will be relaxing on one of the most stunning islands that we have visited in the Maldives.
The Villa: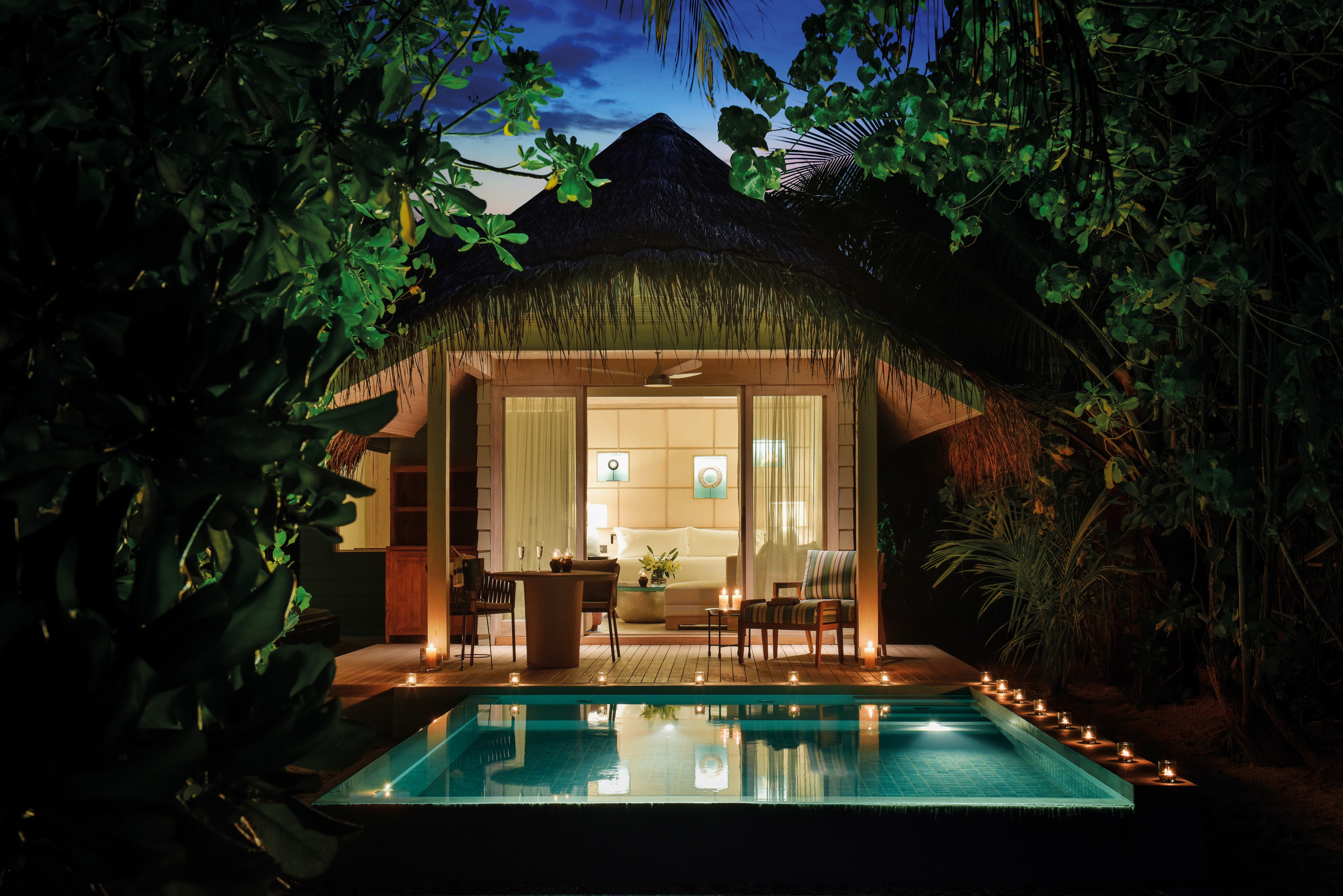 Though we typically tend to choose Overwater Bungalows for our Maldives stays, due to high occupancy at the time of our visit we were welcomed into a beach front villa. To be honest, as soon as I saw the room category at check-in, I was a tad bummed down as I had seen how beautiful their water villas where and was not sure what to expect. But let me tell you, the beach villas did not disappoint. With a boho chic decor utilizing natural colors and light wood, the pool villa has a very laid back island vibes that feels very welcoming and inviting. Complete with an outdoor bathroom, walking closet, and outdoor oasis with pool and direct access to the beach, the room is perfect for a couple or a couple with small children as there is enough space in the bedroom to add a day bed.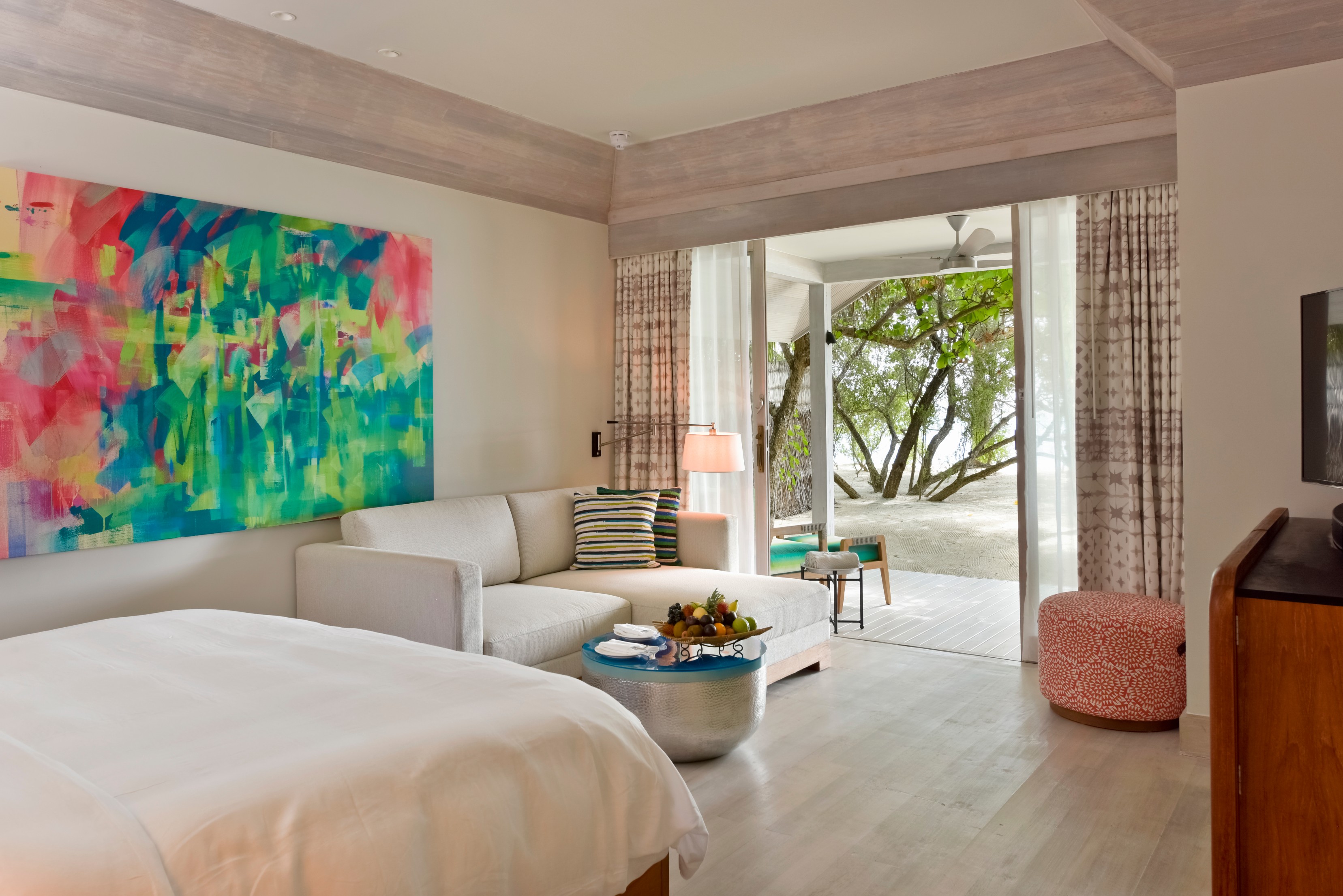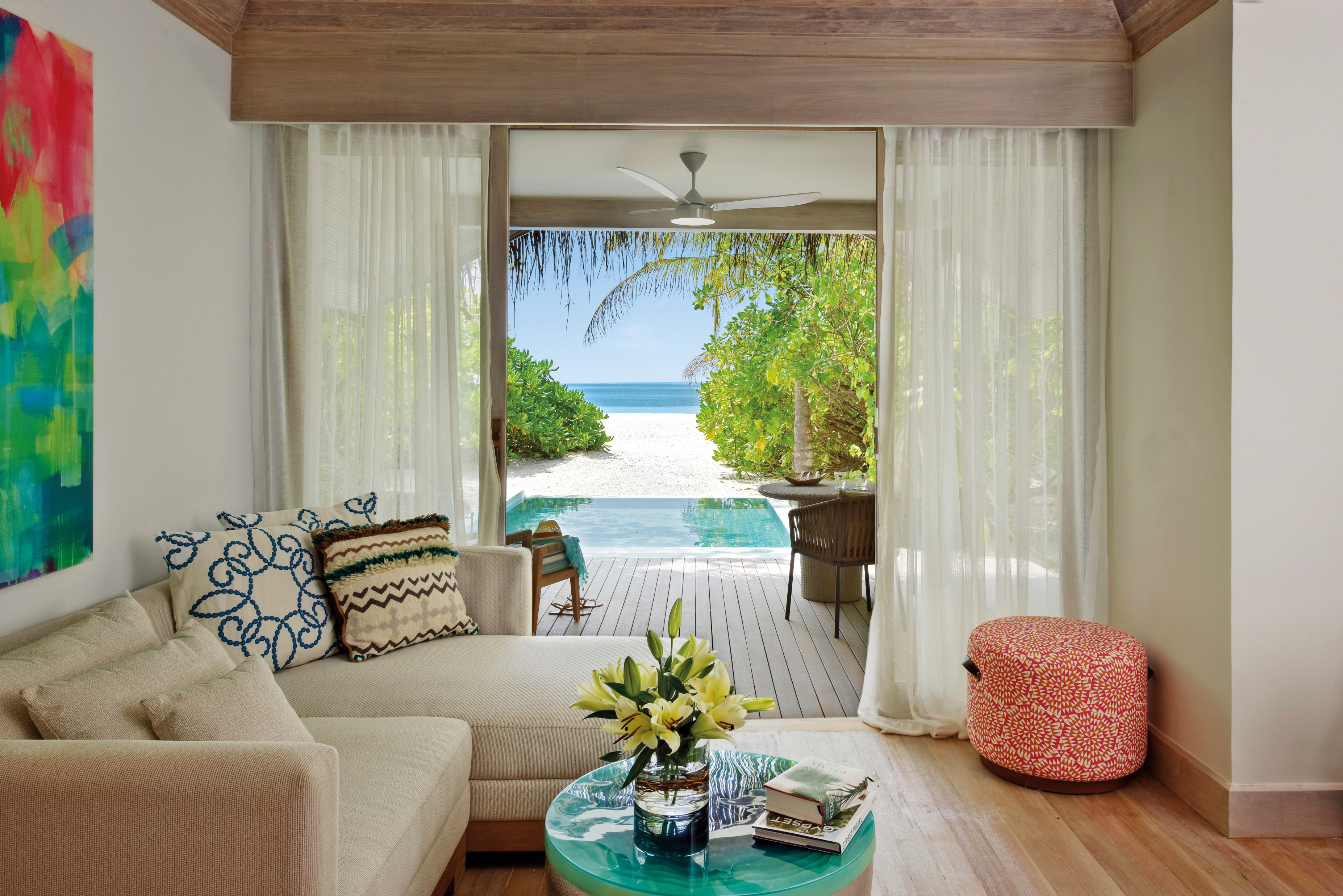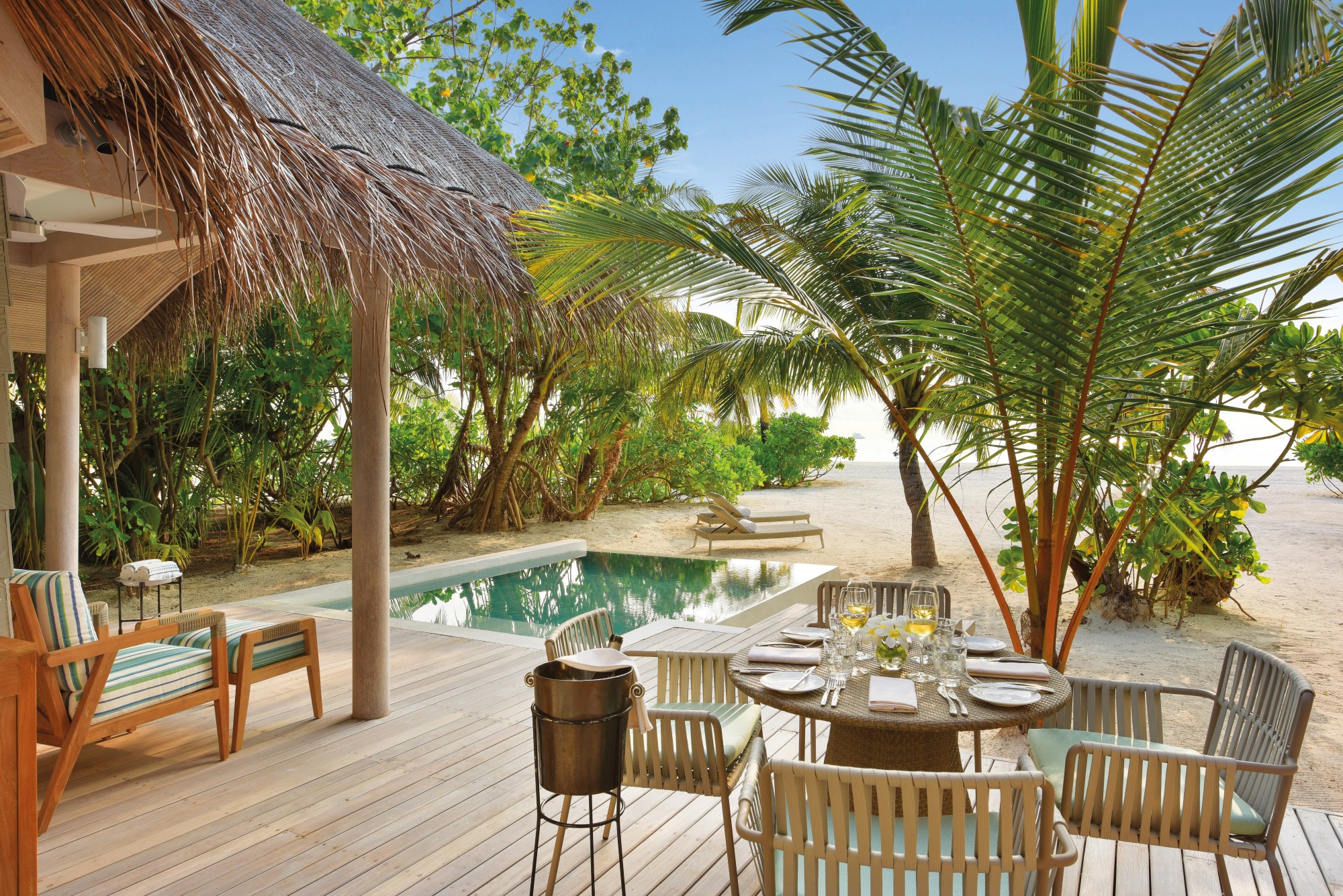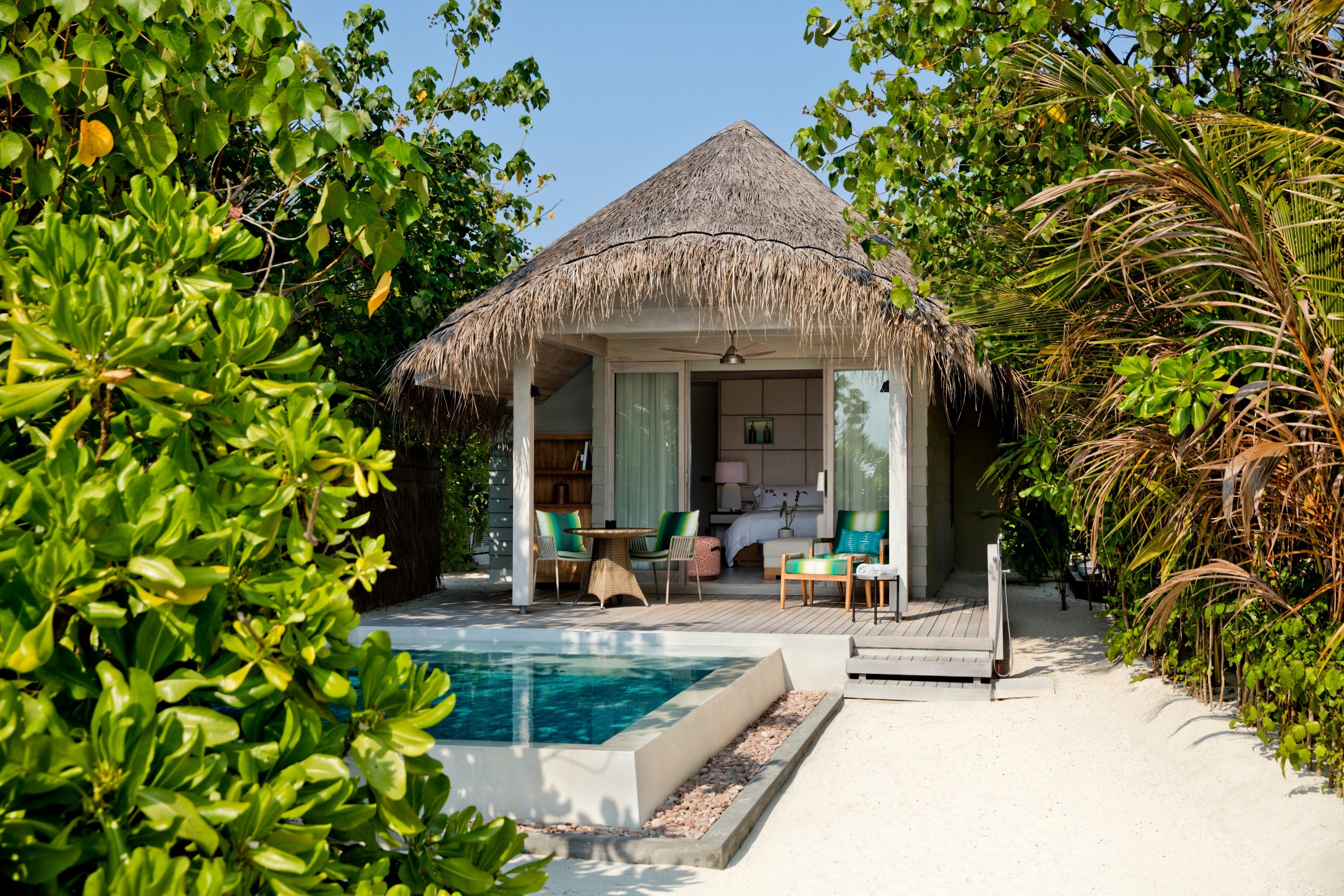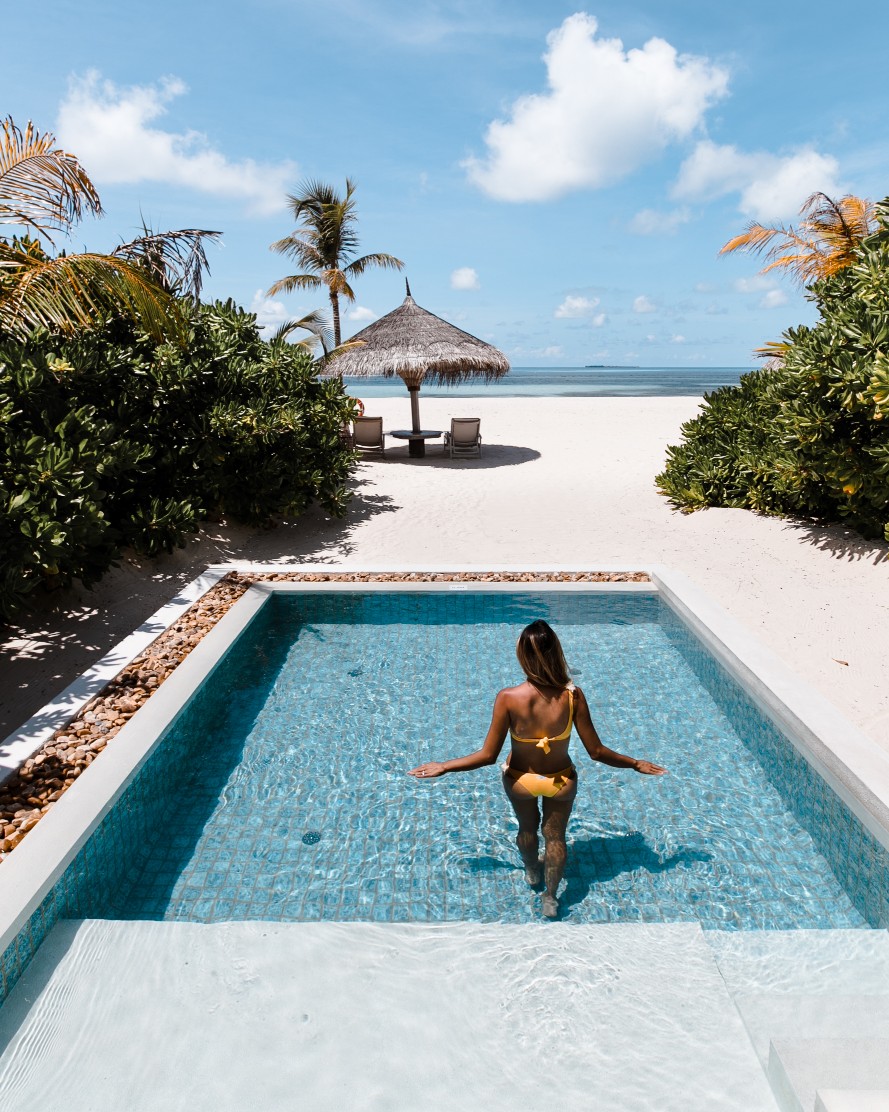 Amenities: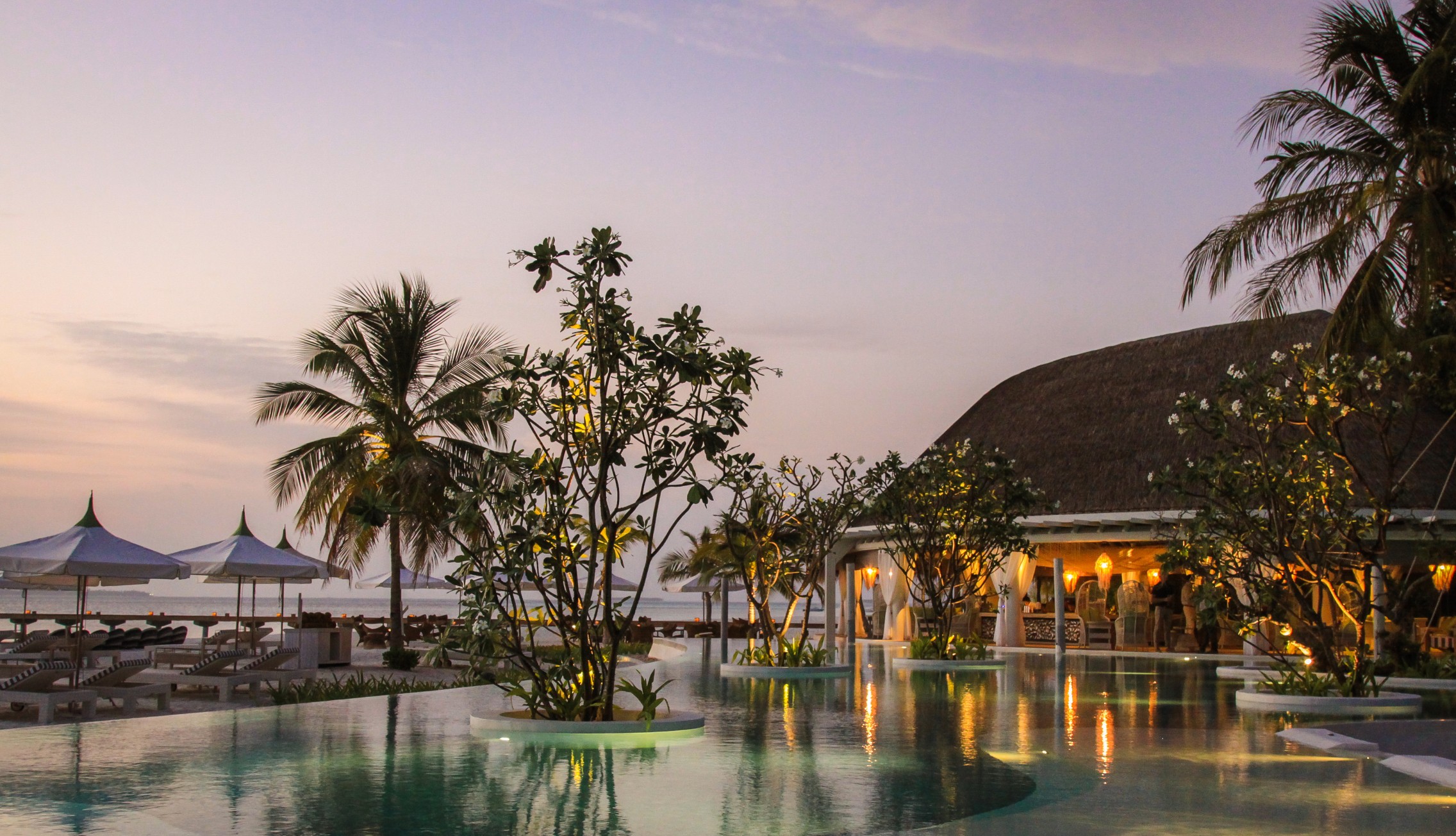 First let me start by saying that the island of Kanuhura is, in both mine and my husbands opinion, one of the most stunning islands that we have ever experienced and one of our favorites in the Maldives, and yes as you know, we have had the pleasure to visit plenty. It's natural beauty is truly astounding and also very unique! The island of Kanuhura is well known for its signature sand ripples on the water. If the island itself wasn't enough, there are also two smaller deserted and private islands right next to the property. And yes, you can visit them! And enjoy a picnic or lunch in complete peace and tranquility.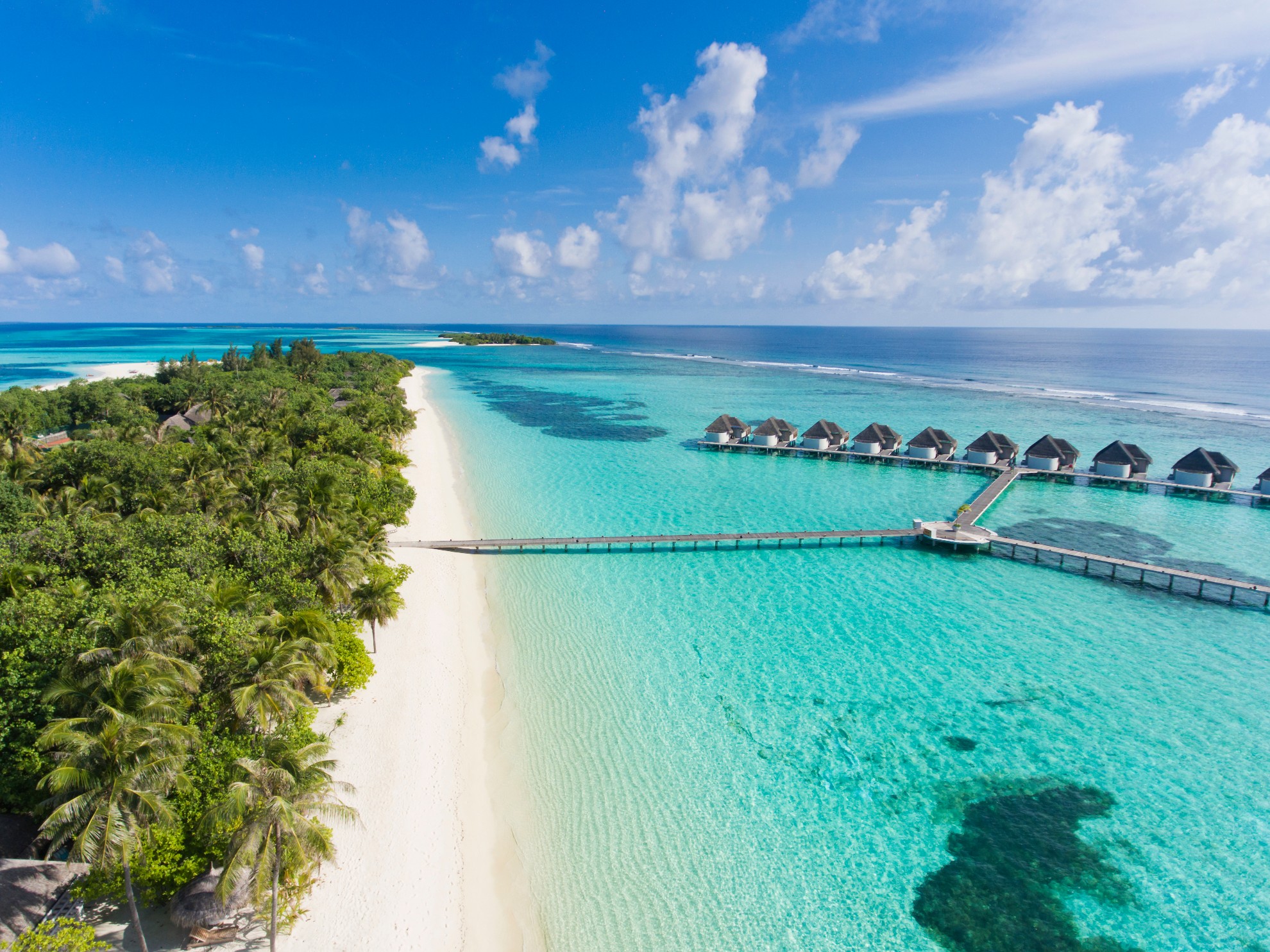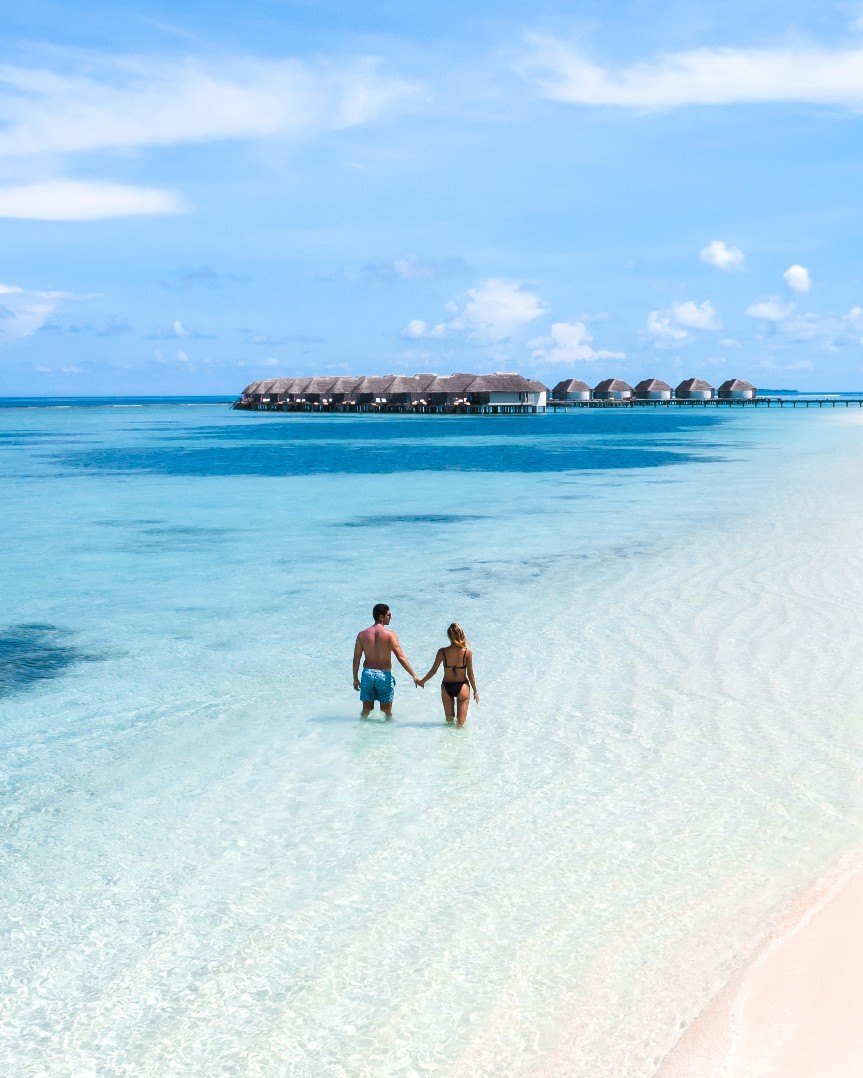 Also, the resort itself is one of our favorite resorts in the Maldives. Yes, I know that is a bold statement but trust me, everything from the island beauty to the outstanding customer service and top quality food makes Kanuhura Maldives , hands down one of our favorites in the Maldives. My little one, Aryan, even thinks the same! The kid clubs at the property was one of his absolute favorite kids club ever! Not necessarily because it had the best and most impressive kids club (we have seen bigger and more "complete" ones in the Maldives) but because of the love and care of the staff. They really take time to get to know the kids and really connect with them making them feel at home rather than just entertaining themselves while their parents get a massage. Even outside the kids club, the staff is very aware and conscious of the kids. They go out of their way to make sure they are happy campers! And though there were over 30 kids during our stay, the property not for once felt like a childhood playground. Still a perfect dreamy destination for the honeymooners.  Speaking about the staff, the customer service during our stay was simply outstanding, definitely one of the best we have experienced.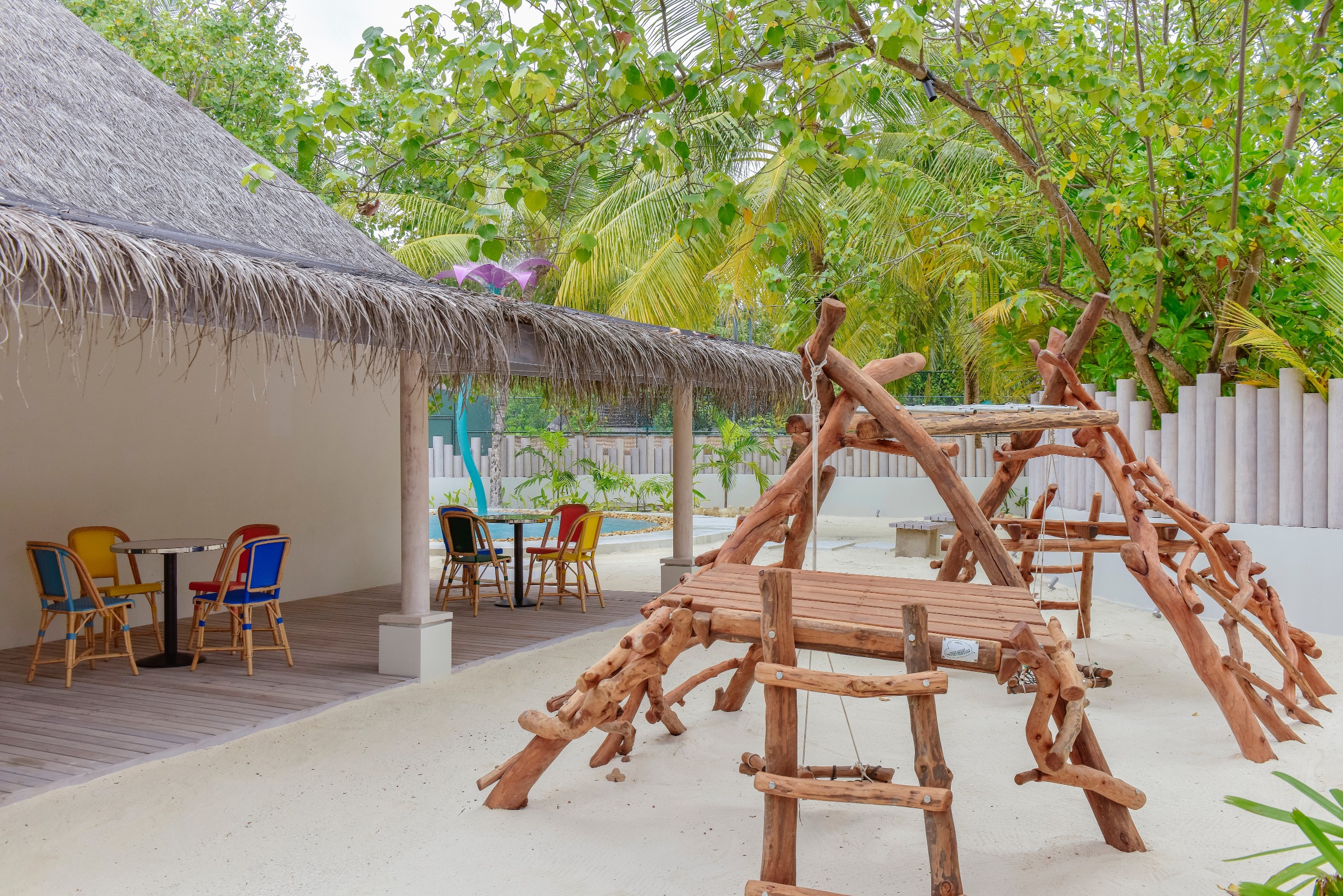 The island is one of the bigger sized islands in the Maldives, therefore allowing the property to really maximize the space. There are plenty of different amenities, actives and dinning options to keep you entertained during your stay. Our favorite place in the resort was definitely IRU beach because of the beautifully lined palm trees, complete peace, amazing view, great choice of music and it is the best place for sunset! Oh and there is a sushi bar right on the beach where you can also enjoy  some shisha. We witnessed one of the most stunning sunsets that we have ever seen in Kanuhura that day.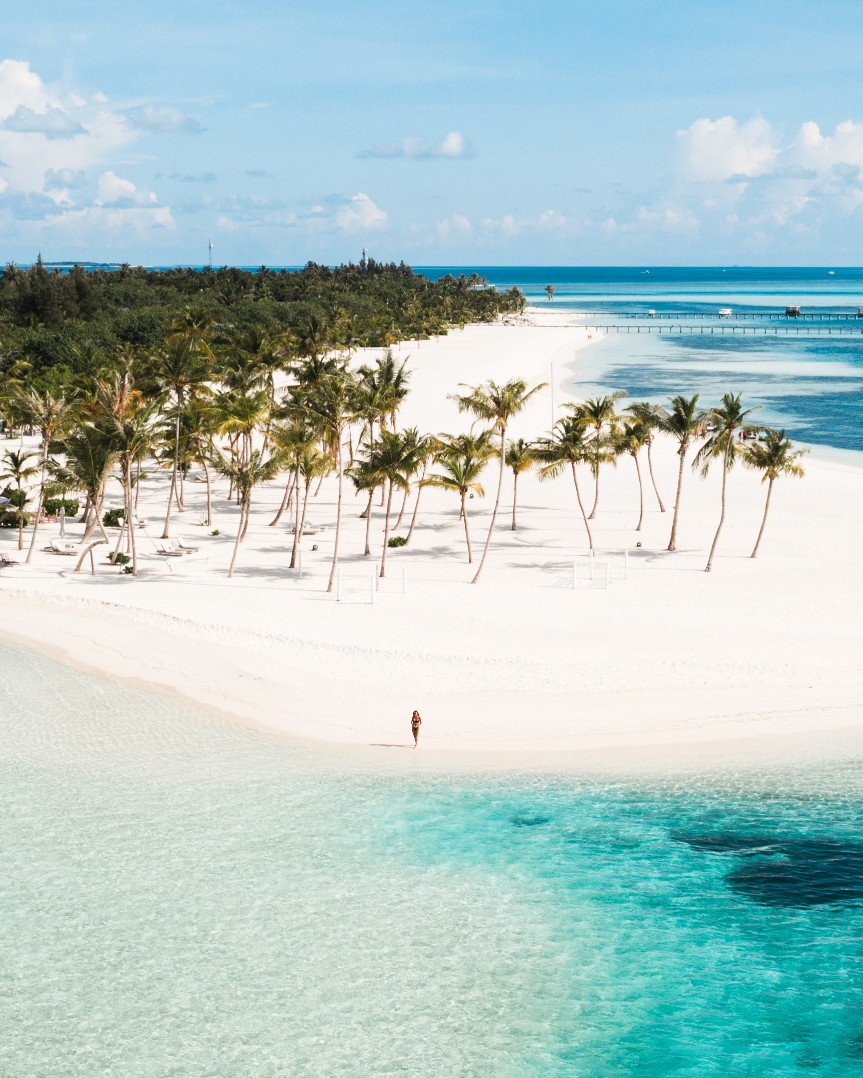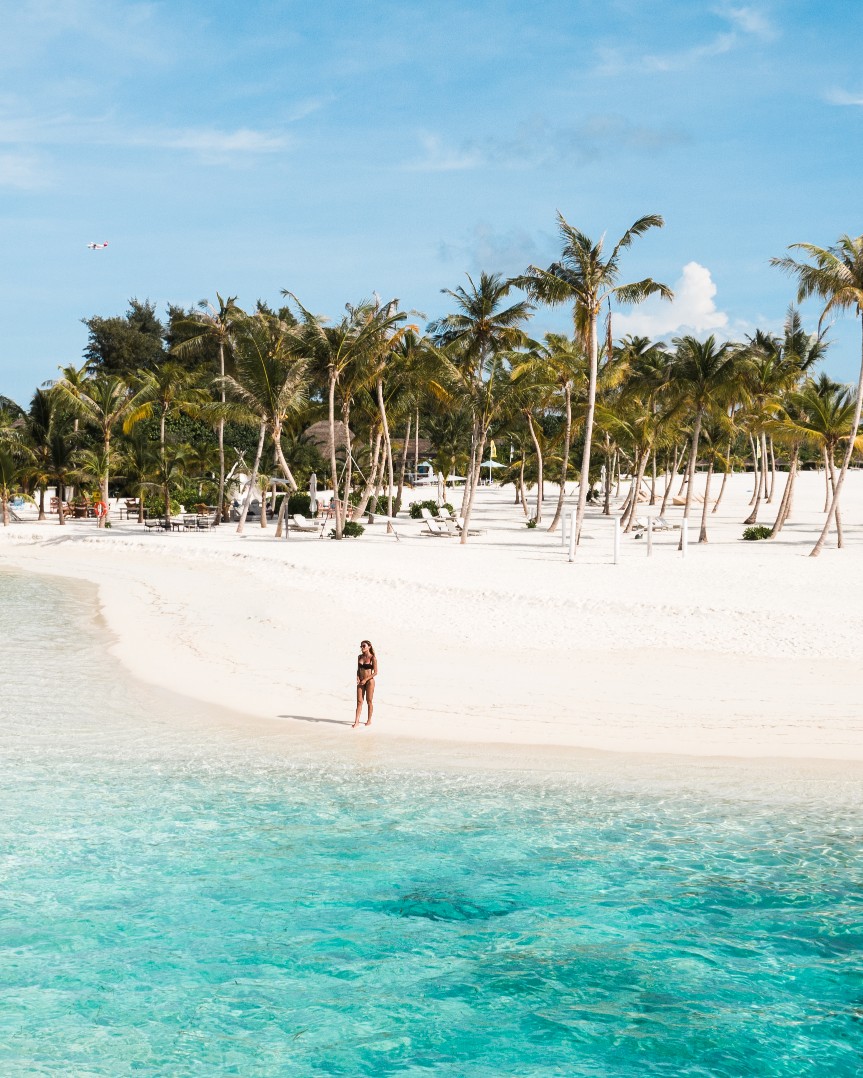 Here in IRU beach is where you can also take a 3 min boat ride to reach Jehunuhura, the biggest one of the two private islands next to the property where you can enjoy lunch at Drift Grill, or Masleggihura, the smallest one of the two.  I know it will be hard to want to leave the main island, but definitely make some time to take advantage of this very unique opportunity that Kanuhura has to experience completely deserted islands just next to the resort!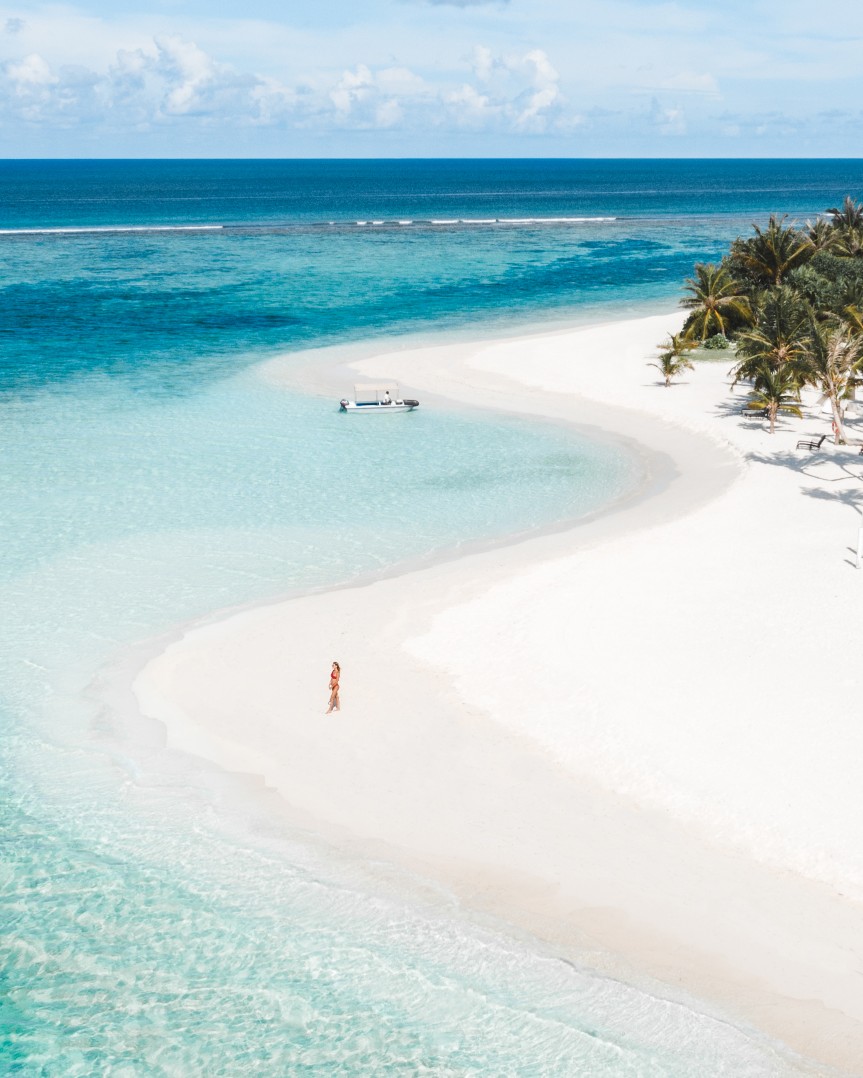 Having most of the amenities very close to each other is a great advantage because it makes it very easy to commute. The main pool, kids club, a few of the restaurants including the main one – Mano, gym and spa are all within close walking distance from each other.  This is specially convenient when you have to drop of the little ones at the kids club before you head for a round of tennis or grabbing cocktails by the pool. Or when you have to drop of the kids for movie night.
Dining: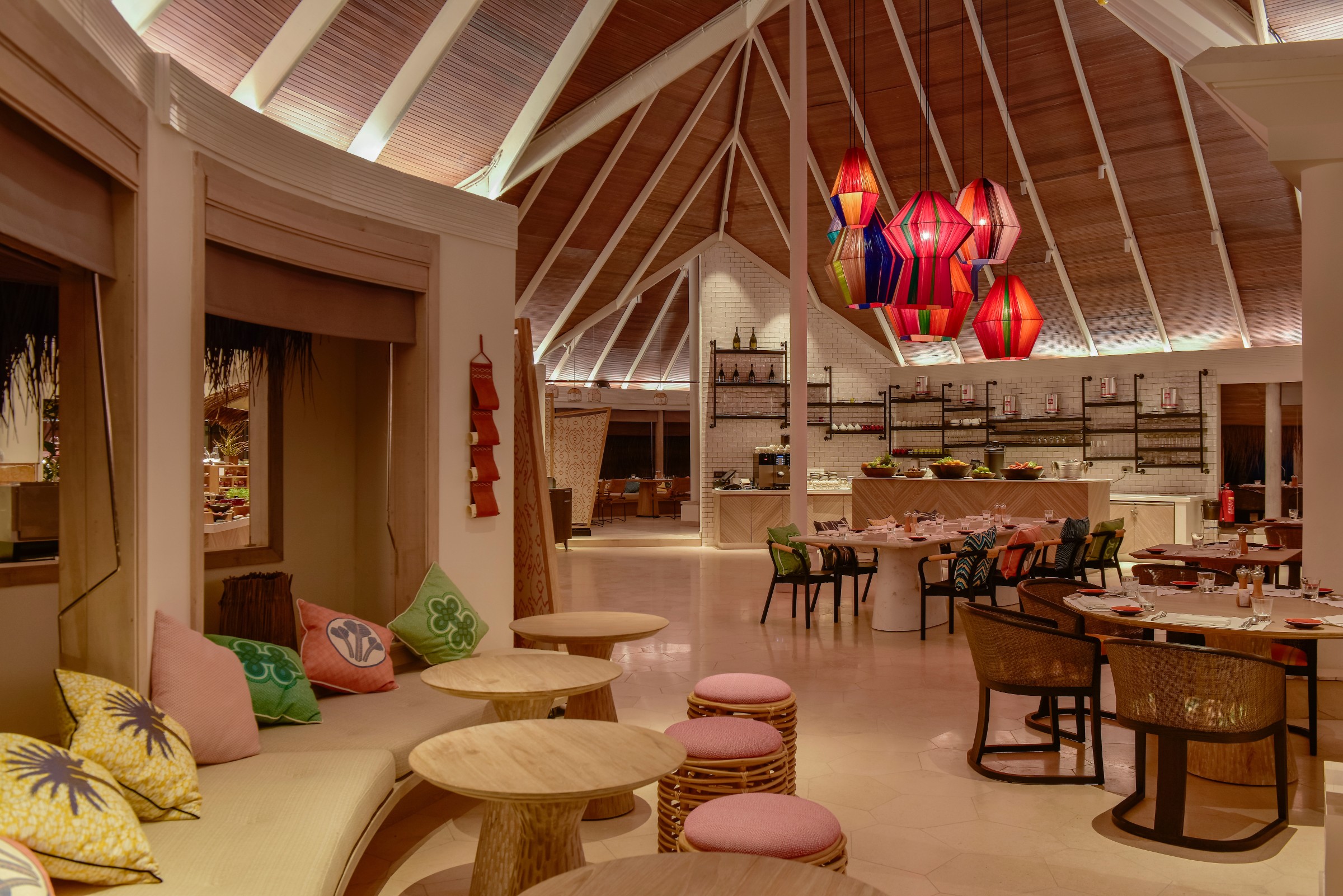 Kanuhura Maldives offers exceptional cuisine in 8 different restaurants serving a variety of different local and international cuisines. Not only is the variety and quality of the food phenomenal, it is also very kids friendly. In every restaurant that we went, weather it was Italian or Asia, they always prepared a special kids meal for my little one with no hesitation even if they had to bring it from a different venue. And one of my favorite things about the dinning experiences is that they have many vegetarian and vegan options as well as the fact that all dinning is casual, laid back and you are not required to dress up, only if you would like to.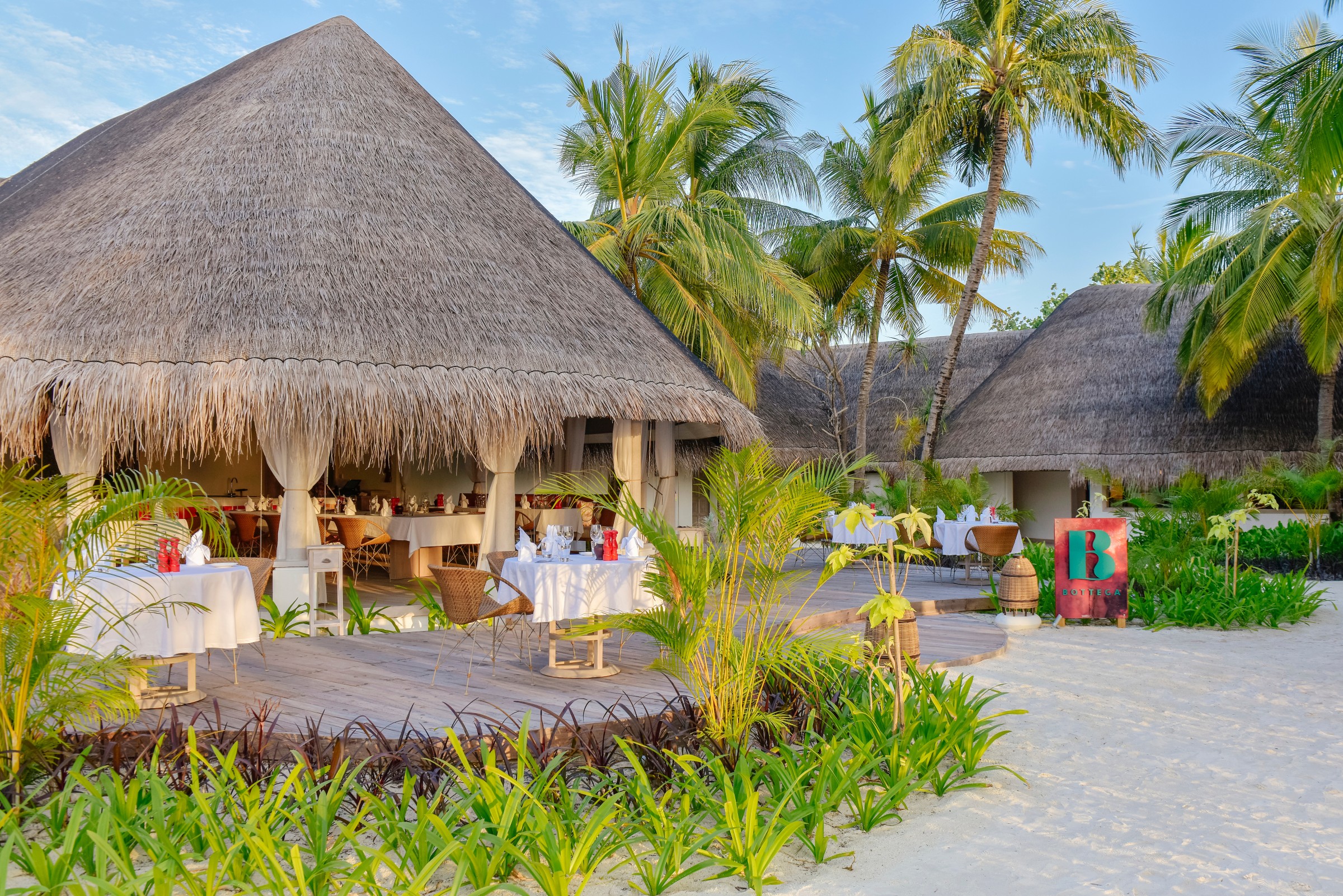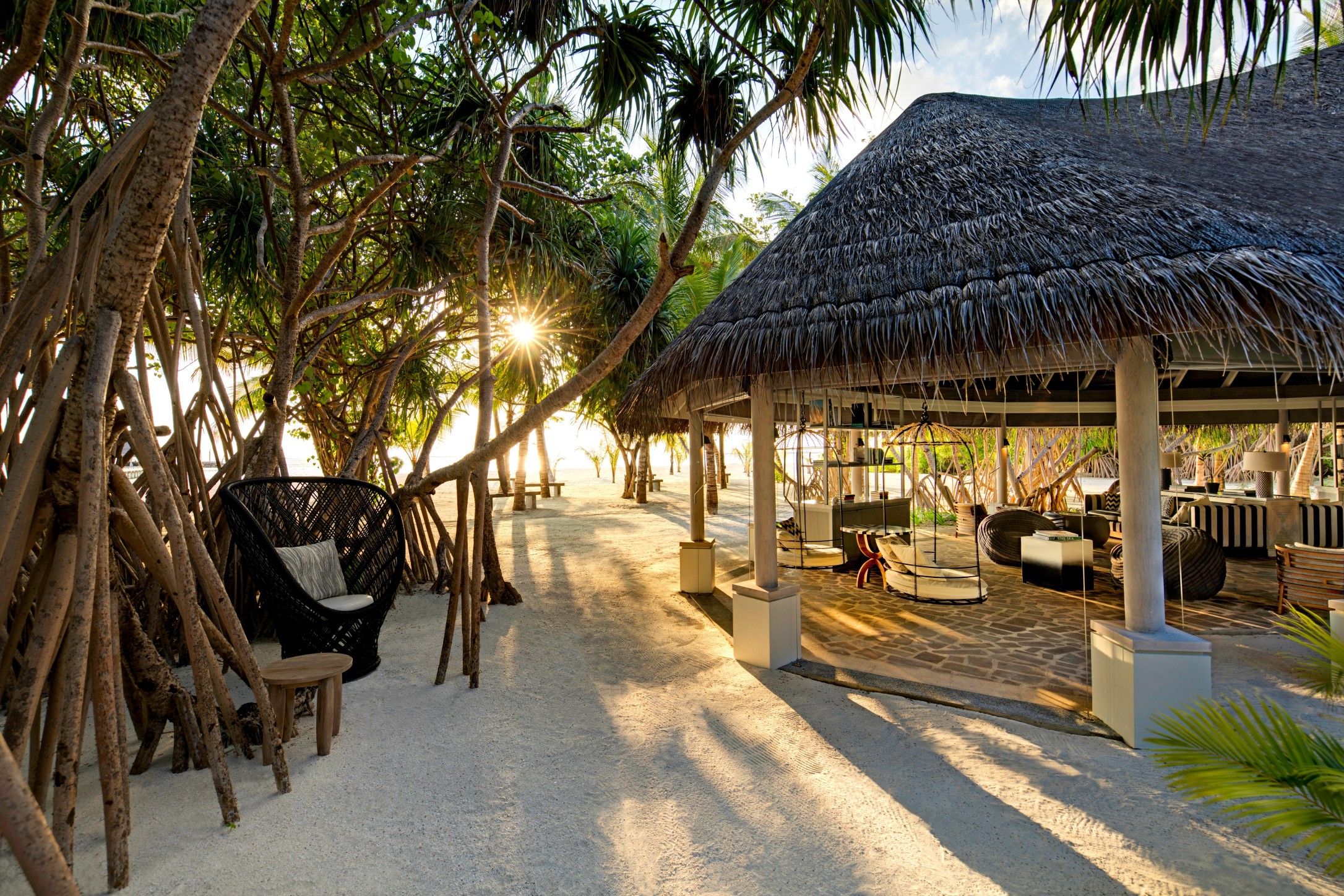 Disclaimer: Though this post is in partnership with Kanuhura Maldives , as always, all opinions are my own.