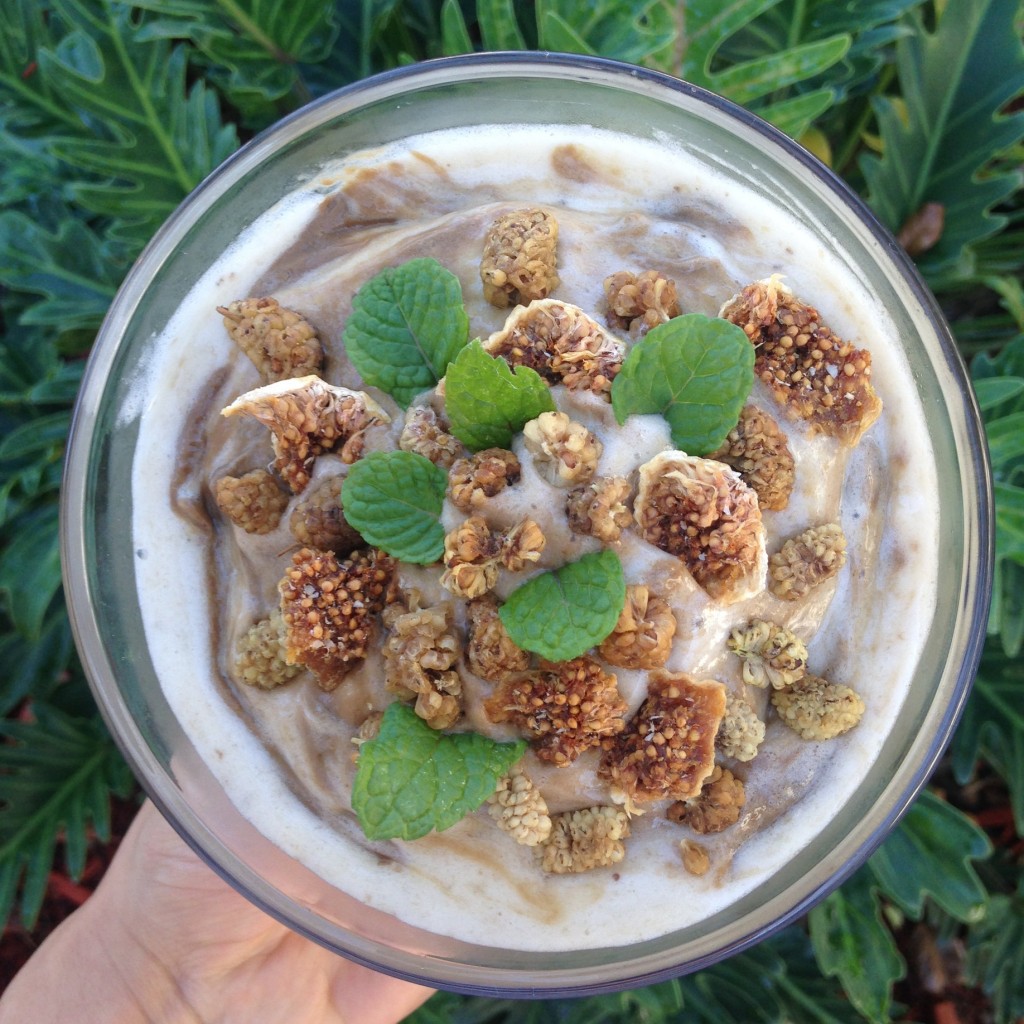 I love everything vanilla and God knows I love everything chocolate.  Combine the two and make it healthy and I am in heaven forever.
Here is a recipe were you can love your sundae and eat it too! Ha! No guilty pleasures or walks of shame to the fridge ladies, this is healthy silhouette loving sundae recipe perfectly suitable for breakfast , lunch or dinner. This is a combination of two of my favorite vegan dessert meals. You can check out my previous posts on more details on how to make basic banana/ nice ice cream or chocolate mousse.
Serves : 2
Ingredients:
Ice cream
4 bananas (frozen overnight)
splash of any nut milk (only enough to start the blender aprox. 1/4 – 1/3 cup )*
vanilla extract to taste
Chocolate Mousse **
2 ripe avocado (best when it is beautifully green not brownish)
1/2 cup of coconut/ almond / soy milk (adjust if necessary)
2-4 Tbsp of cacao powder
2-4 Tbsp of agave (adjust according to taste)
Instructions:
-Blend or process all ice cream ingredients until creamy and smooth. Stop and scrape down the sides if necessary.
–Blend or process all mousse ingredients, starting with 2 tbsp of each cacao and agave and add according to taste, until creamy and there are no visible chunks of avocado.
-Now divide the ice cream into two bowls and top each with 1/4 of the mousse and top with toppings of your choice. I used mulberries, dried figs and fresh mint. You will have half of the avocado mousse left over.
NOTES:
*The more liquid you add the easier it will be for the blender to breakdown the bananas but the thinner the ice cream will be, so start with a little bit and increase it little by little if you see no progress. If you have a vitamix or a blendtec, this recipe should be easy breezy.
** For this recipe you only need 1 avocado to divide between 2 servings but we need to double the recipe so the blender can blend it properly until it's smooth and creamy, without having to add too much milk and ending  up with a thin mousse.  Save the leftovers of the mousse in the fridge and enjoy it later by itself, as dip for fruit or remake the banana ice cream.
 Disclaimer: Everything posted on this blog are my honest opinions based on my personal experiences regardless of whether or not I receive compensation or sponsorship for a post or review. I write about things that I am truly passionate about so all the brands or products mentioned will fit my lifestyle as much as possible based on my criteria. Unless stated other wise, I am not an affiliate of the product, brand, hotel or airline mentioned in this post, or get any compensation or sponsorship from them. If I were to be an affiliate or receive any kind of compensation for a specific product or brand, I will state it in the blog post accordingly.