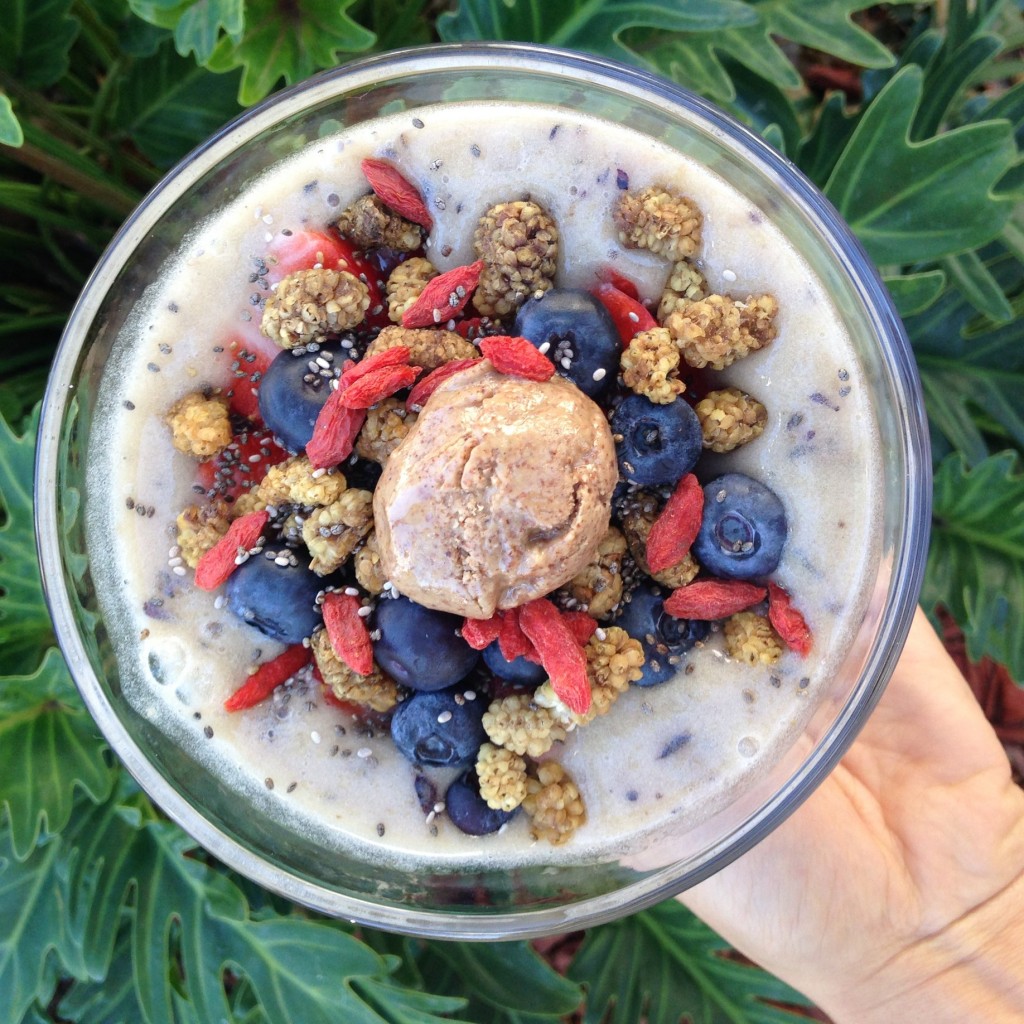 I am the crunchy type. I need to add a "crunch" to almost everything I eat. For this reason I very rarely drink my smoothies, instead I like to make smoothie bowls! Because who doesnt like toppings?!  Eating my smoothie in a bowl with toppings makes me fuller for longer than just drinking it straight from the glass or from the blender 🙂
The beauty of smoothies/ smoothie bowls is that you can pretty much put anything you like and top them with whatever you have handy, so please dont feel restricted by this recipe. Be creative! I always use mulberries, chia, and goji berries as toppings because they are delicious, extremely good for you and crunchy Yey!  I always try to add chia to just about everything because of all the health benefits it offers such as omega 3s, calcium, magnesium and many more.
Serves : 1
Ingredients: 
-3 frozen bananas (peeled and frozen overnight)
-1.5-2 cups of almond / coconut milk
-Toppings : 1 Tbsp of almond butter,  handful of blueberries, gojis, mulberries and chia.
Blend bananas with 1.5 cups of milk of choice. If you want it to be thinner, continue adding milk until you reach your desired consistency.
Place in a bowl and top it with whatever your heart desires 🙂
In the smoothie pictured above, I mixed in some chopped blueberries, strawberries, and chia seeds before I added my toppings. I did warn you guys I liked everything crunchy… haha
Disclaimer: Everything posted on this blog are my honest opinions based on my personal experiences regardless of whether or not I receive compensation or sponsorship for a post or review. I write about things that I am truly passionate about so all the brands or products mentioned will fit my lifestyle as much as possible based on my criteria. Unless stated other wise, I am not an affiliate of the product, brand, hotel or airline mentioned in this post, or get any compensation or sponsorship from them. If I were to be an affiliate or receive any kind of compensation for a specific product or brand, I will state it in the blog post accordingly.