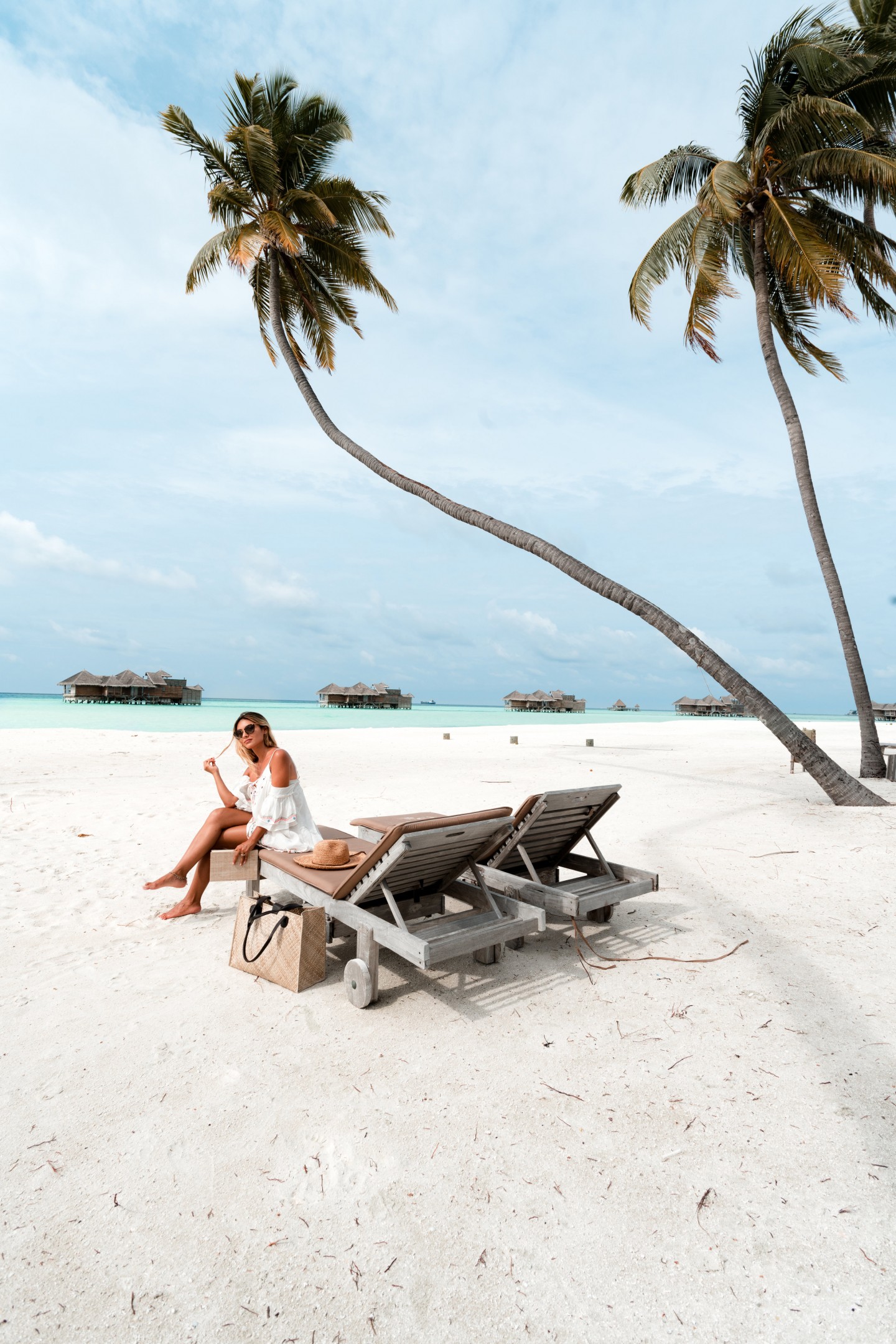 Gili Lankanfushi : Seamless Blend of Sustainability & Luxury in the Maldives
Nominated for 2 years in a row as the best resort in the world winning once in 2015, Gili Lankanfushi seamlessly blends sustainability and luxury amidst a tropical paradise. Following a no shoes no news policy, using natural materials and avoiding plastic almost entirely and even having their own garden and making their own compost, the beauty of Gili Lankanfushi is not only from its natural beauty, it's in the details, the passion, and the experience that it offers.
What You Need To Know About Maldives :
Unlike many other places on the planet and one of the things that makes the Maldives extraordinary unique is that each hotel is located on a private island of itself. In order to understand this concept, we need to realize that this island country is composed of a chain of 26 coral atolls each of which is made up of hundreds of different islands all dispersed through roughly 90,000 square kilometers making it one of the world's most dispersed countries! These hundreds of islands are miniature islands, most of which are inhabited and left untouched. For this reason, each island can only "host" one hotel and also one of the reasons why most hotels have water bungalows. This is why planning a trip to the Maldives is extremely different than planning a trip to most other tropical destinations, and why it's crucial for you to do lots of research to choose the right hotel since you will be spending all of your time there.  This means you will sleep, eat and do all of your actives in the hotel. In the Maldives, you can not simply leave the island and go somewhere for lunch or explore a different beach (Unless you are staying in the capital, Male ). This means that essentially the hotel that you choose to stay in will define your whole Maldives experience.
Location & How to Get To Gili Lankanfushi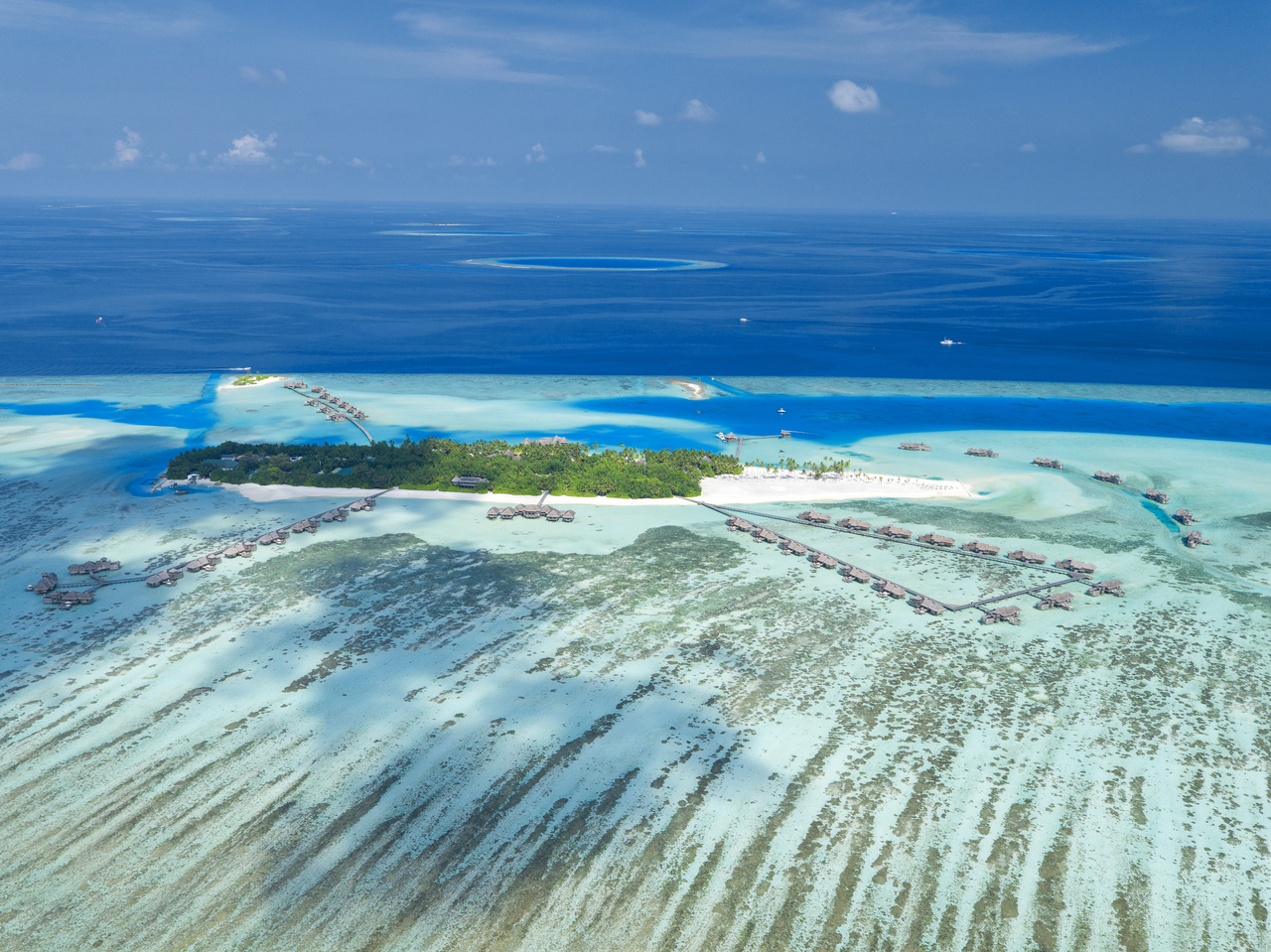 Located in North Male Atoll, the transfer from Velana International Airport to Gili Lankanfushi is very smooth and convenient. Due to the resort's proximity, it is not necessary to take the extra step of taking a seaplane, instead, you will be greeted at the arrival area and transported immediately to the boat deck to start your quick yet pleasant 20 min boat ride to Gili Lankanfushi. For this reason, Gili Lankanfushi does not have an airport lounge in Male since the transfers are usually immediate.
For us, it was the first time transferring to a resort via a boat rather than a seaplane. And after having experienced both, I have to say this is a huge advantage primarily for comfort as well as convenience. In the Gili Lankanfushi boat, you can kick back, lay down and enjoy a drink with the breeze and view. Oh, and you will be barefoot from this point on since your shoes will be confiscated by the staff as they follow a No Shoes No News Policy. Most importantly; however, it means that regardless at what time your flight lands at the international airport, your transfers can be coordinated accordingly. Unlike with seaplane transfers, since they cant fly after 4 pm. If your flight arrives any later than that you have to wait until the next day.
[half_column]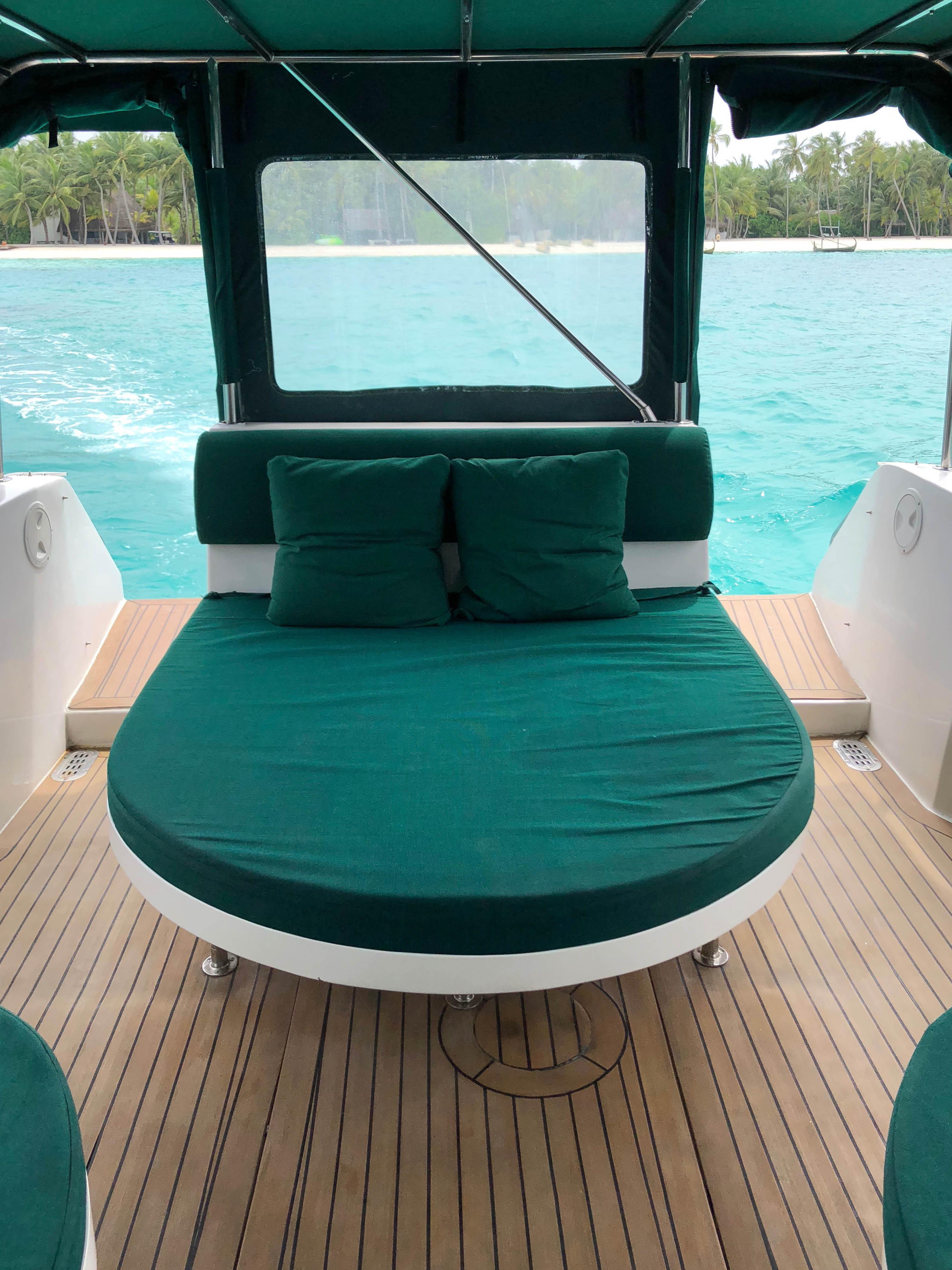 [/half_column]
[half_column]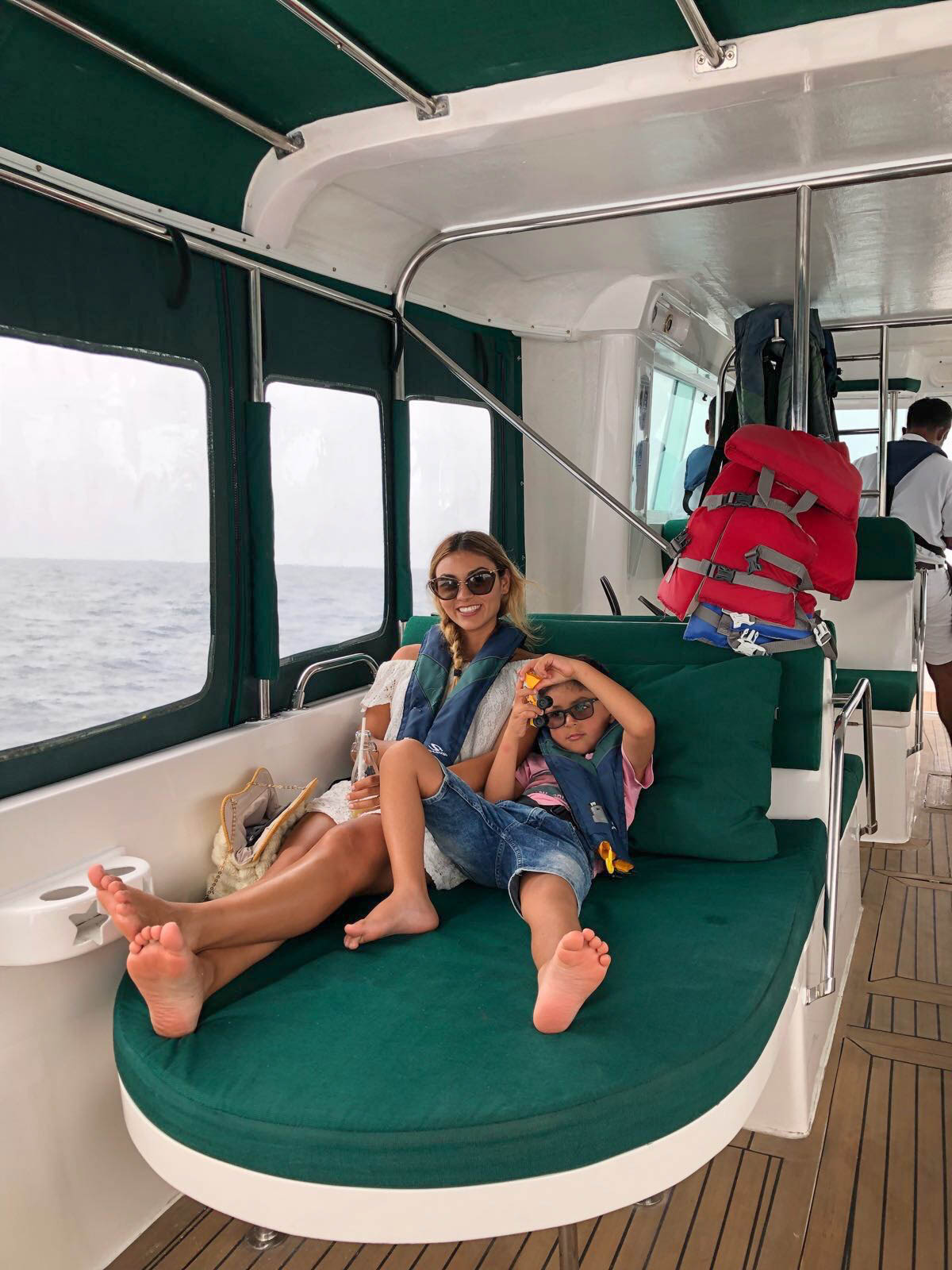 [/half_column]
The boat ride is over sooner than you know it, and next thing you know you are arriving at the jetty meeting your Mr/Mrs. Friday who will be your butler and be taking care of you during your stay. Waheed was our Mr. Friday and was very friendly and helpful with anything that we needed during our stay. In case you are wondering where the name "Friday" comes from, it's from Robinson Crusoe's loyal friend.
The Villa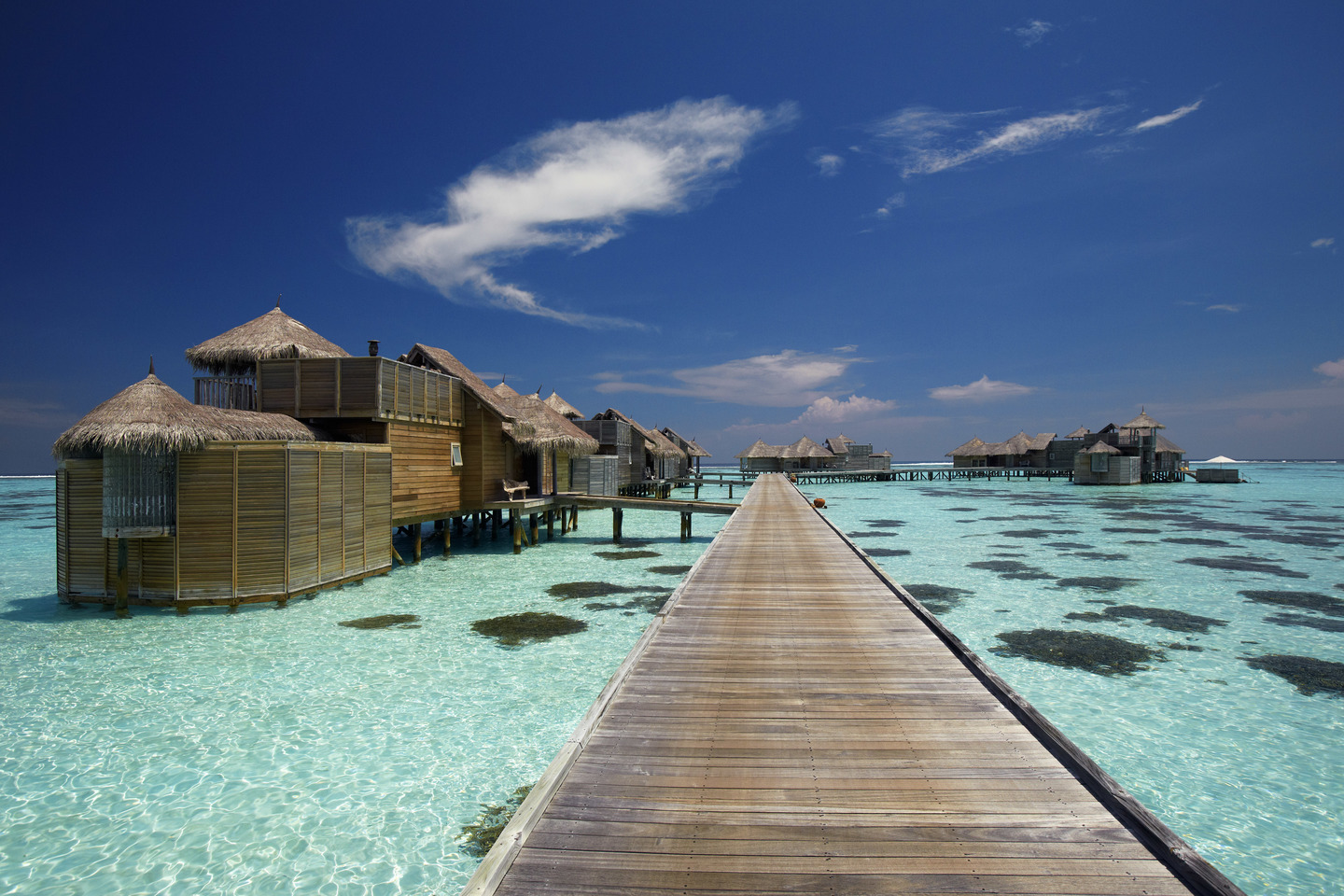 We were welcomed to a Villa suite, which is their starting over water villa category at Gili Lankanfushi. Do not be fooled by the fact that it is the starting category because there is nothing basic or standard about this villa. In fact, they are among the largest guest rooms in the Maldives.
The villa has been designed in a way to maximize the view throughout every corner of the villa and prioritize outdoor living areas. To such extent that the first thing that meets your eye when you open the front door is the crystal clear water and the spacious outdoor living area. On the right-hand side you have the bedroom, and on the left an ultra spacious bathroom with an outdoor shower. Both sides are separated by the main living area which is all open concept connecting to the deck and overlooking the water. What I love about it is that since its all open, you can feel the breeze throughout the whole villa. The bedroom is actually the only place that is air-conditioned and trust me when you are in the Maldives, this is a good thing! Anyway, when you have a deck like this, you won't want to be anywhere else.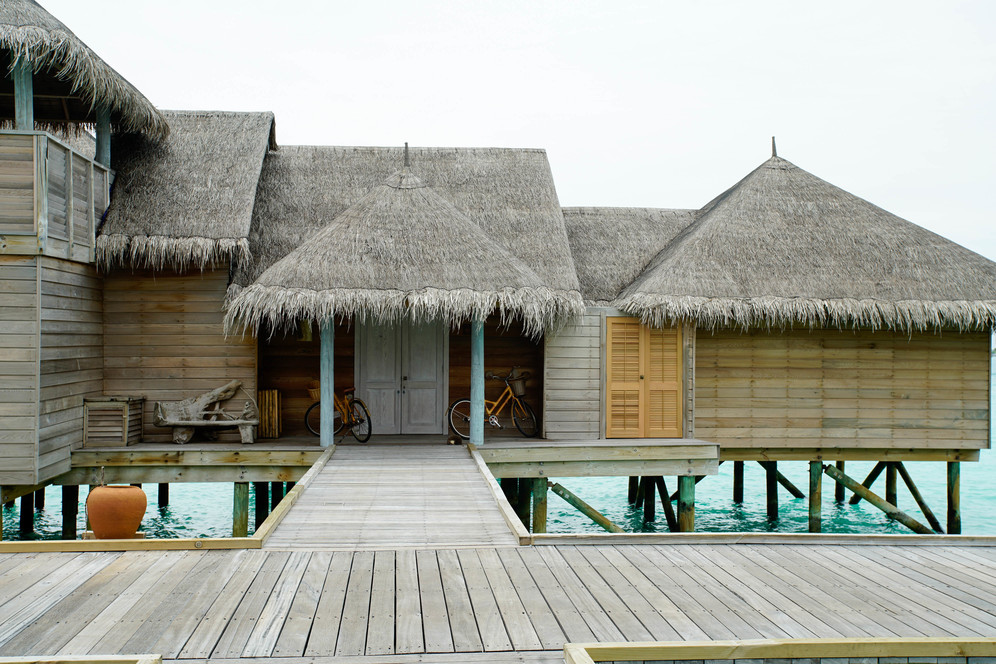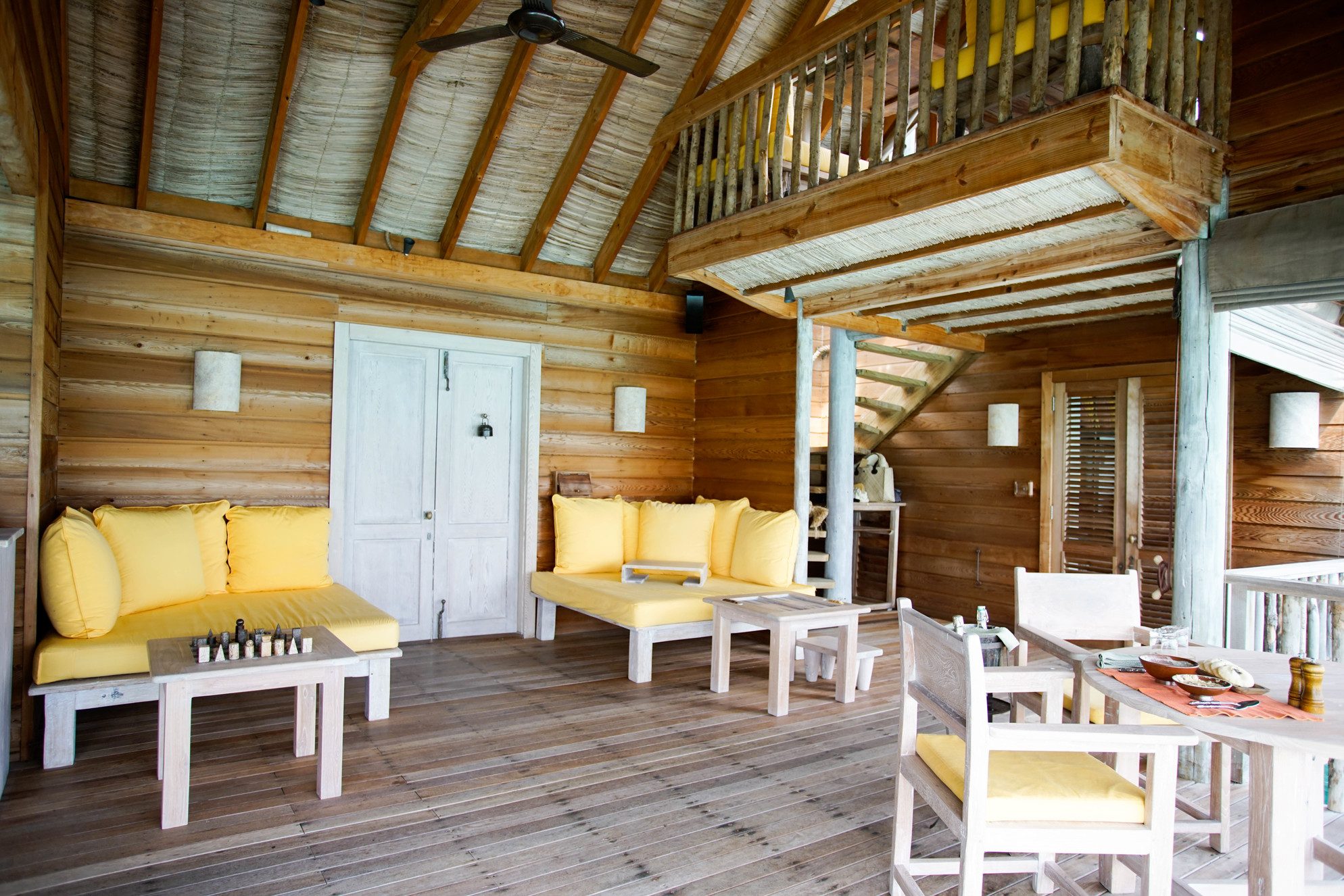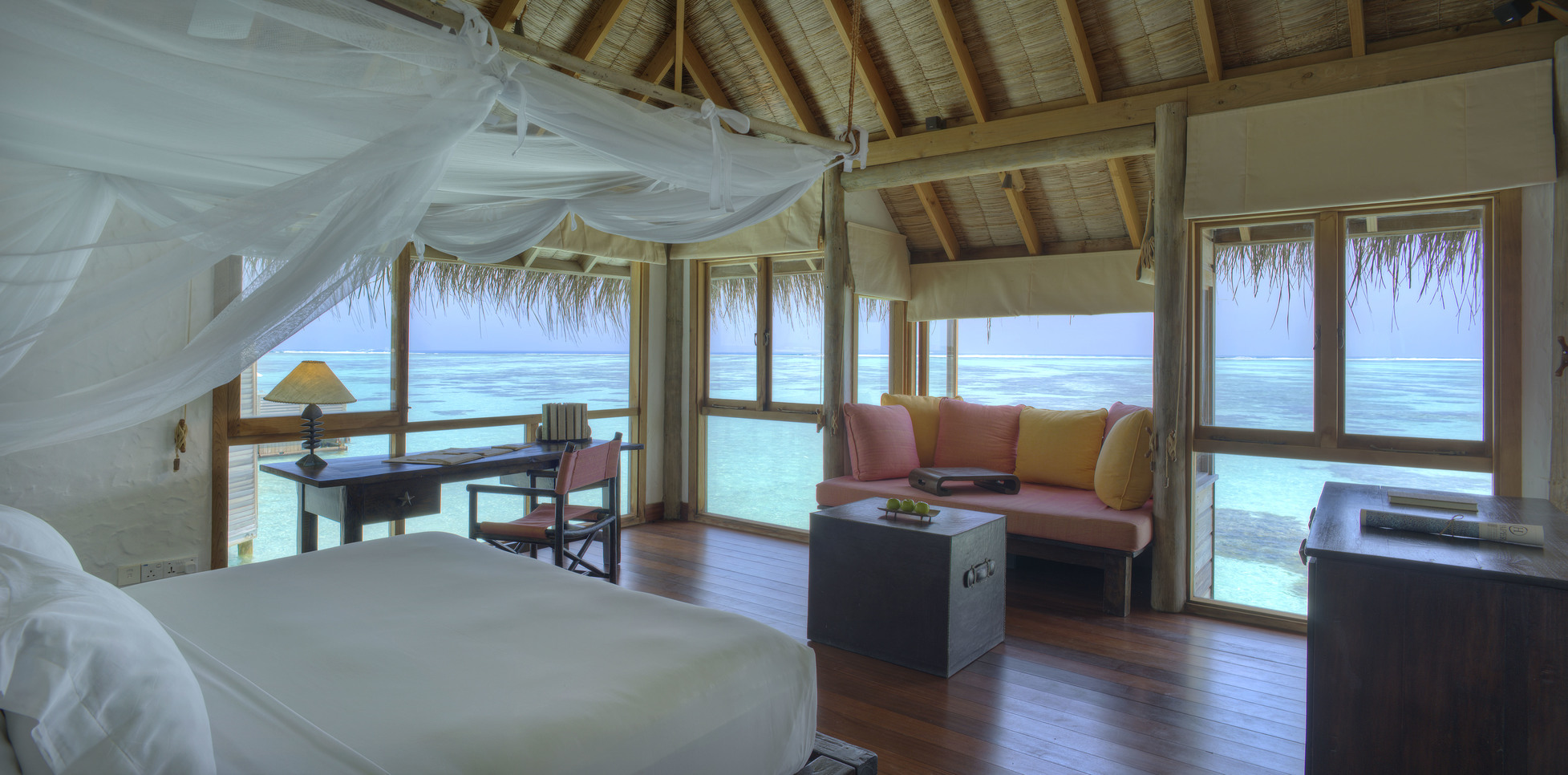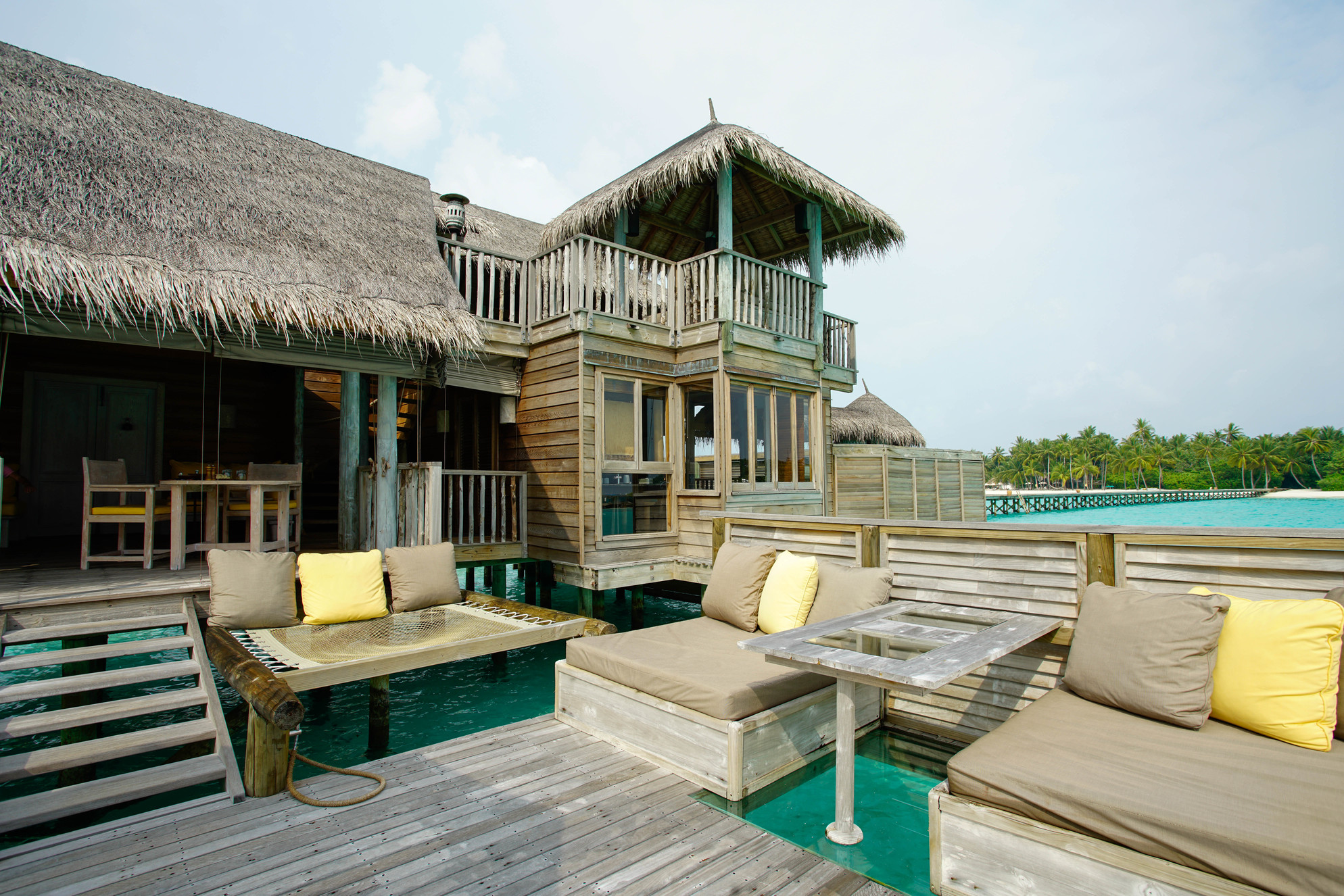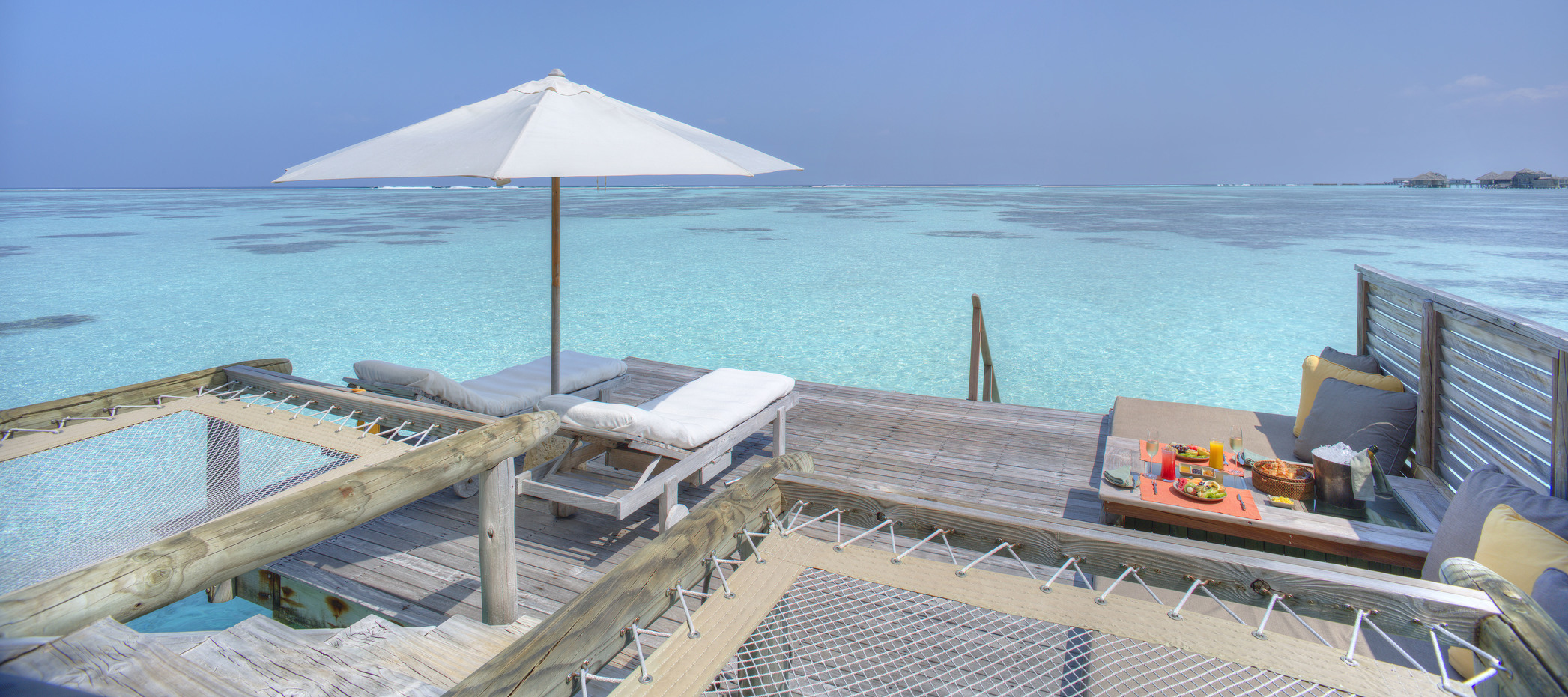 From the living area, you can take the steps up to your very own rooftop with arguably even better views than the deck and a great place to have a massage in the room! In the rooftop, there is actually a bed that the staff can arrange for you if you wish to sleep upstairs under the stars!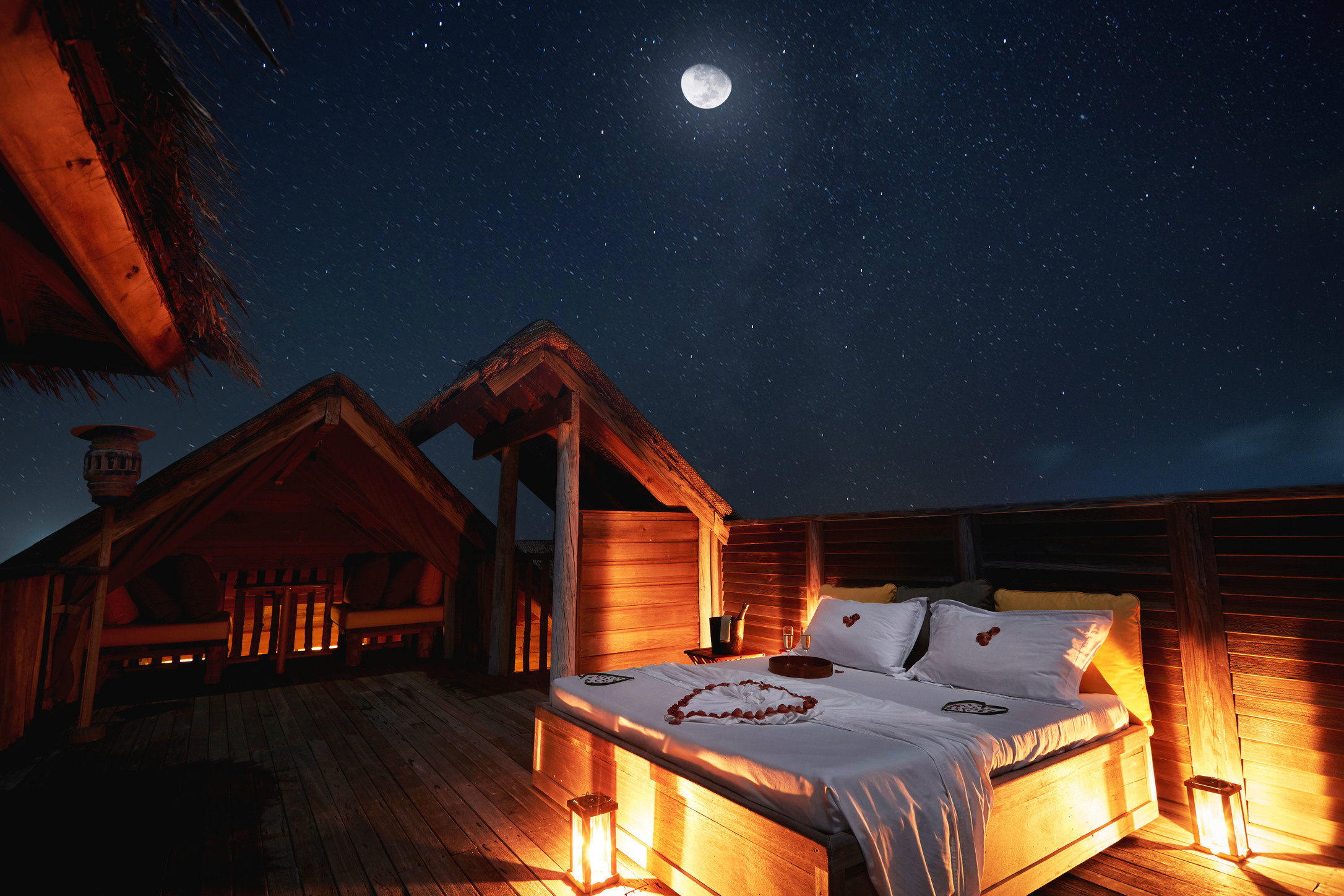 Our villa, number 24, actually has a unique perk that no other villa suites offer which is a small yet functional second bedroom for kids. With two twin beds its great for the little ones so they have their own space. Since this room is separate from the main room from one corner of the villa to another, it is suitable for older kids and not toddlers.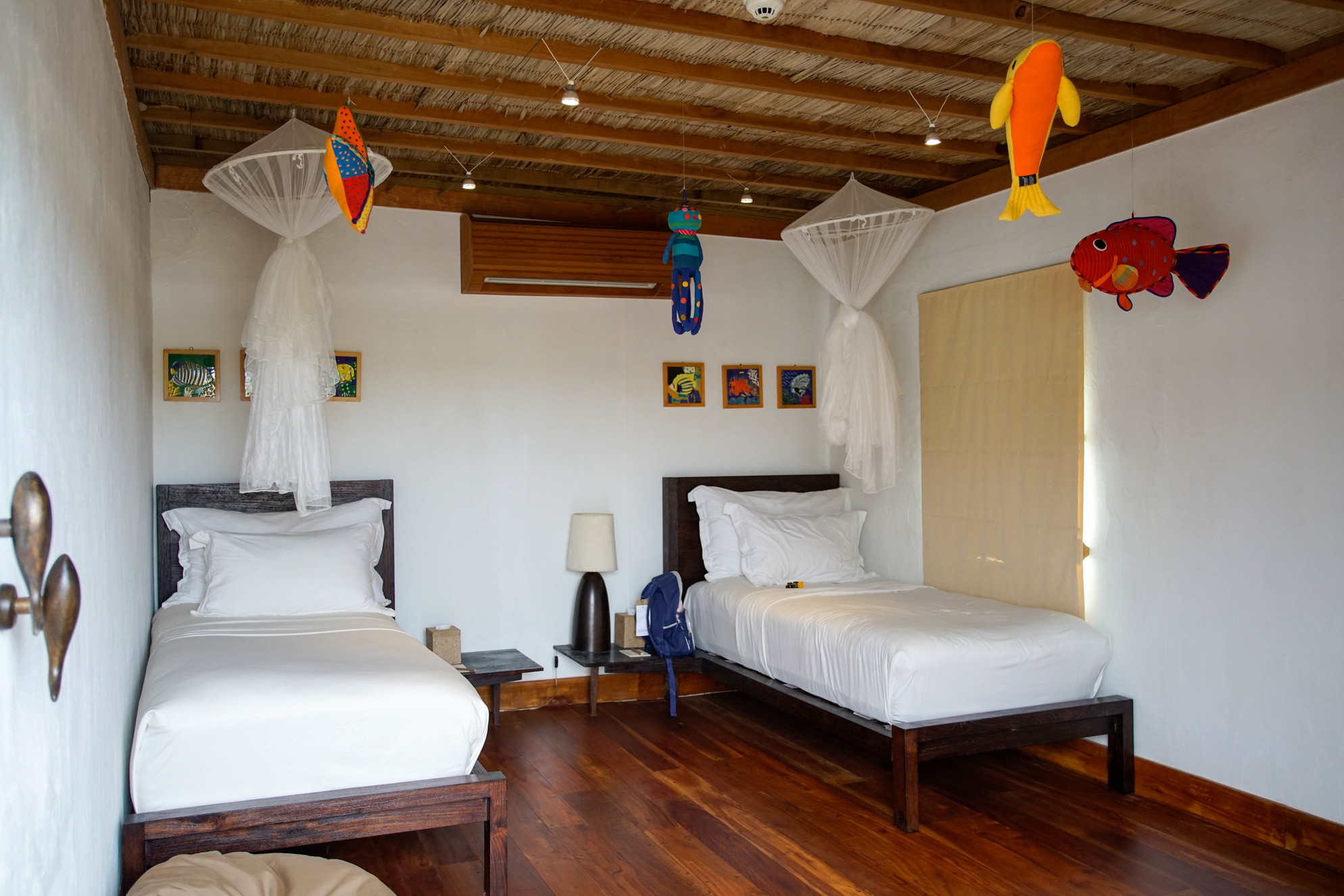 Recognizing that guests are searching for a Maldives experience, all of the villas in Gili Lankanfushi are over water villas. You cant go wrong with any of the different categories of the 45 villas in the property. Yes, there are only 45 villas in all of the property so be prepared to experience ultimate privacy in paradise.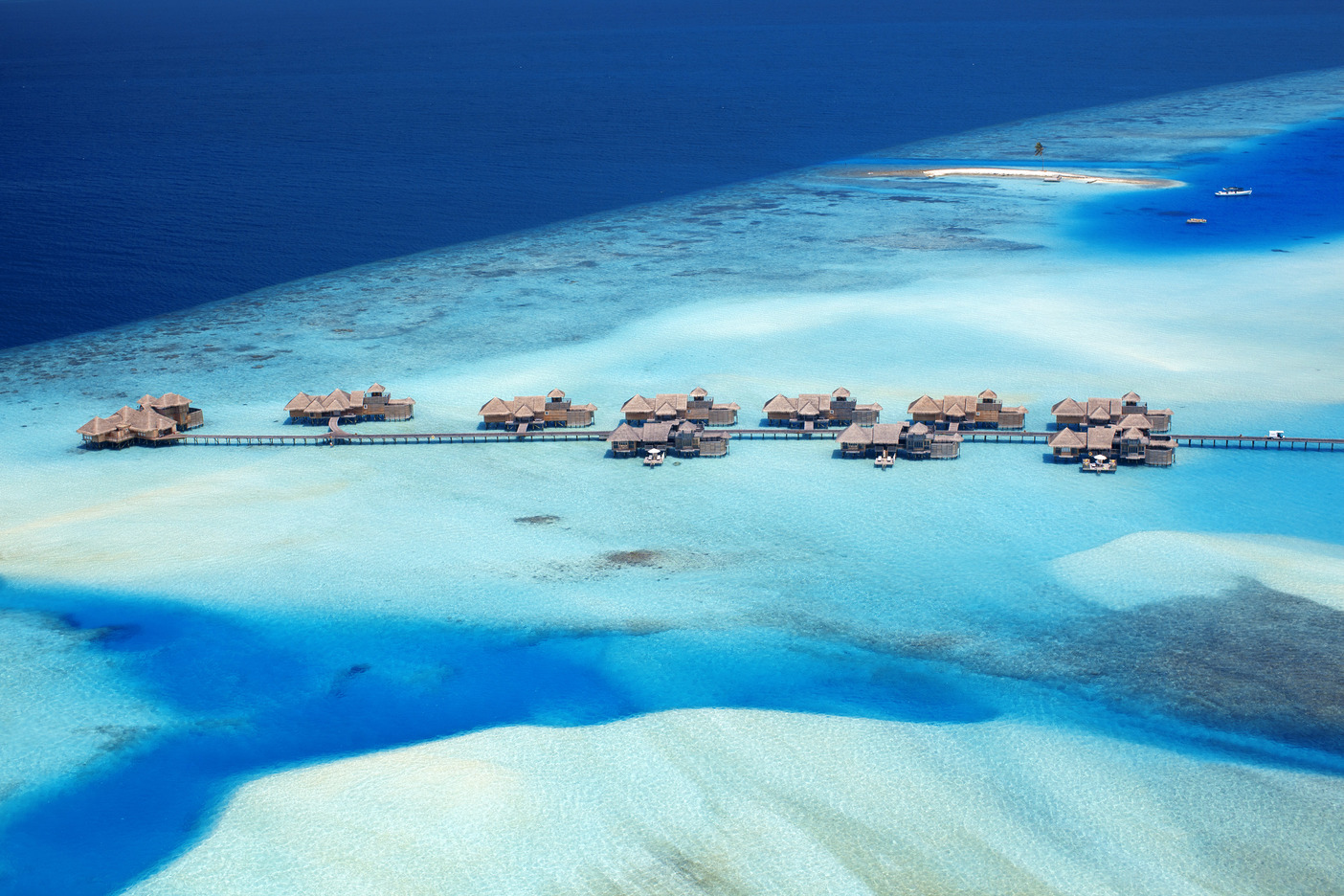 Gili Lankanfushi is also home to The Private Residence, one of the biggest overwater bungalows in the world and one of the craziest bungalows we have ever seen! Starting at $17,000 per night, this villa offers complete privacy, 4 bedrooms, movie room, spa, gym, infinity pool, slide and is only accessible by boat!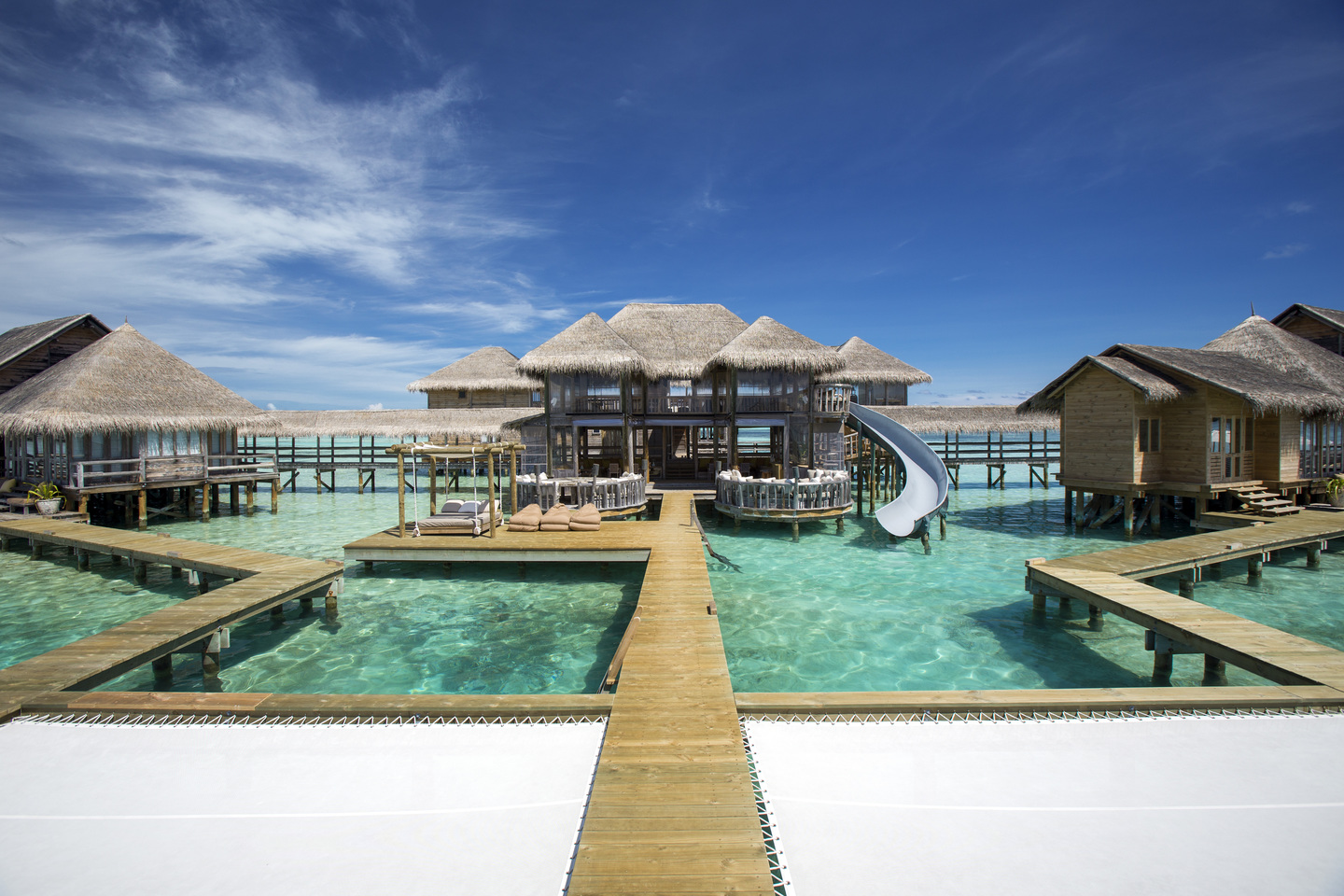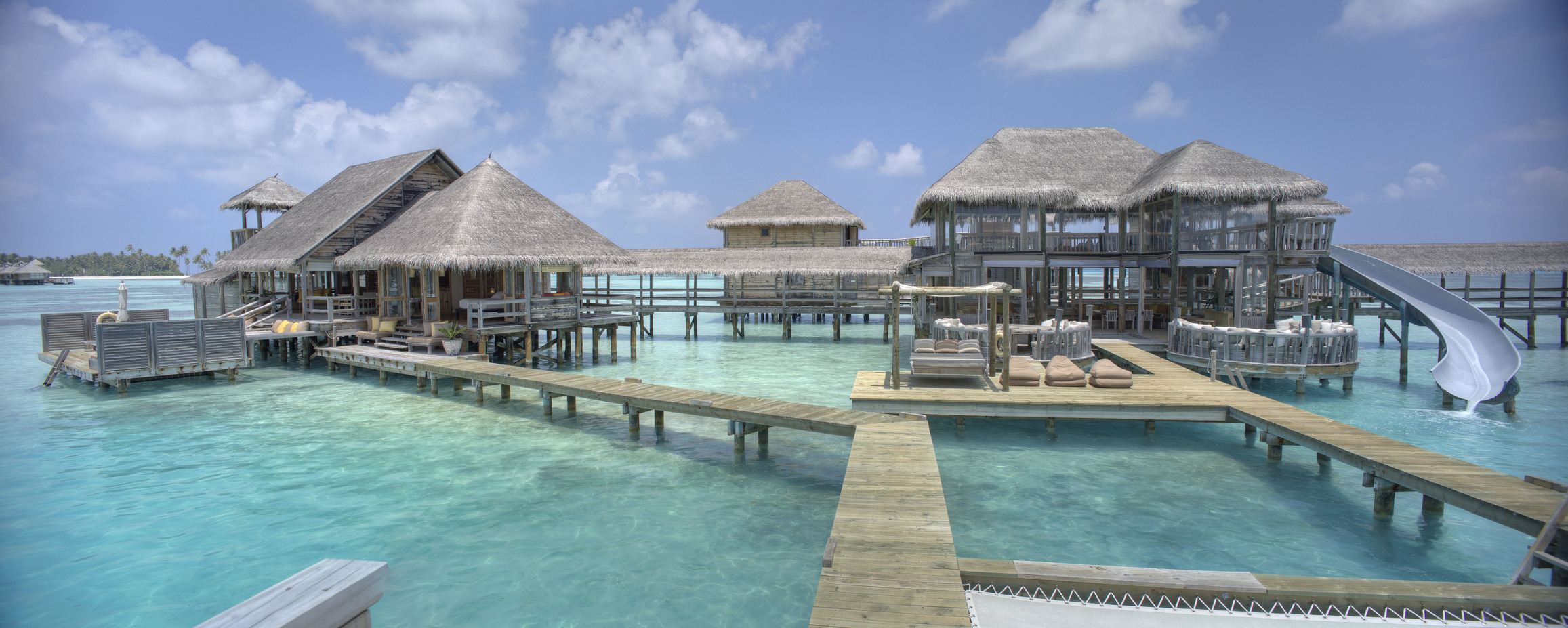 [half_column]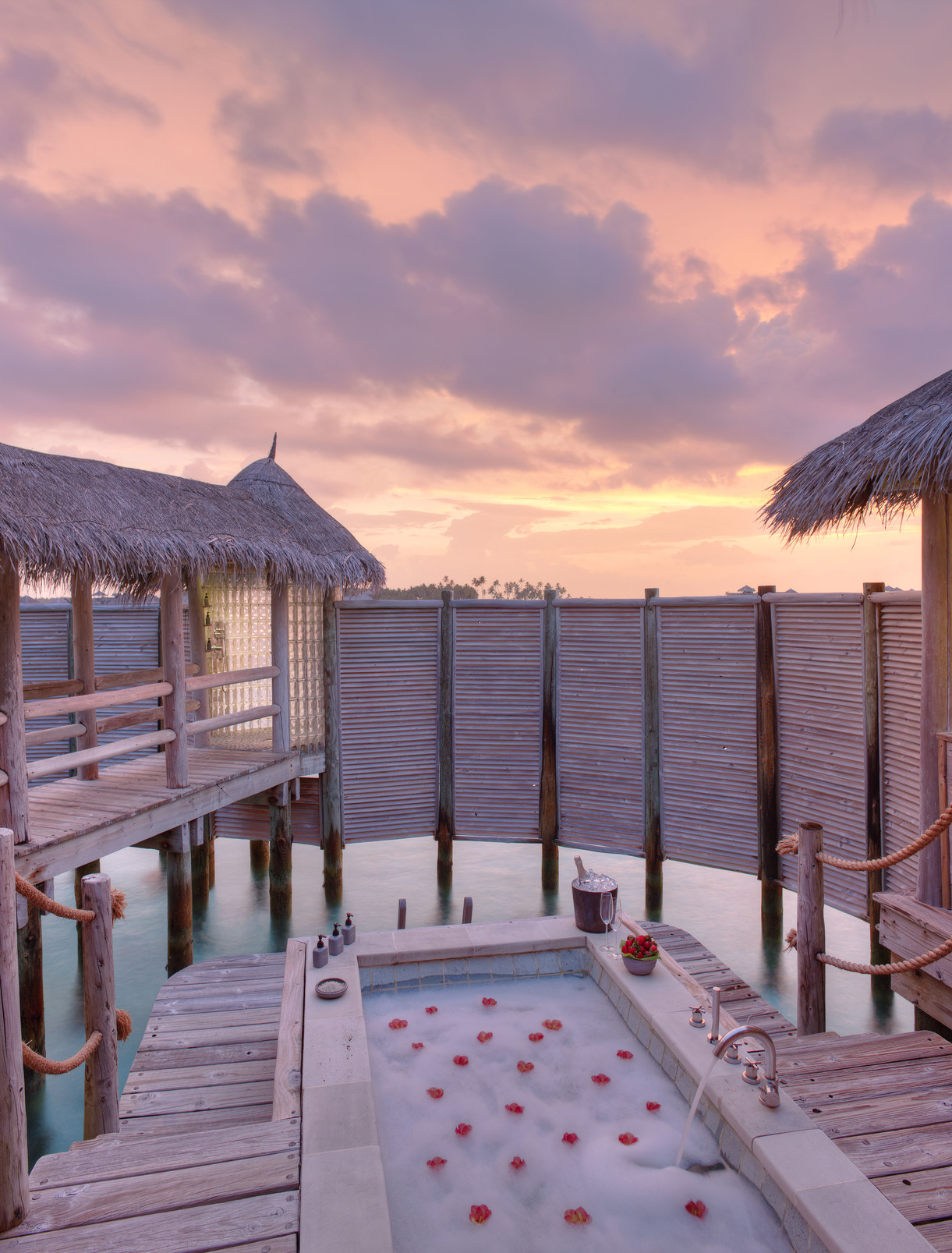 [/half_column]
[half_column]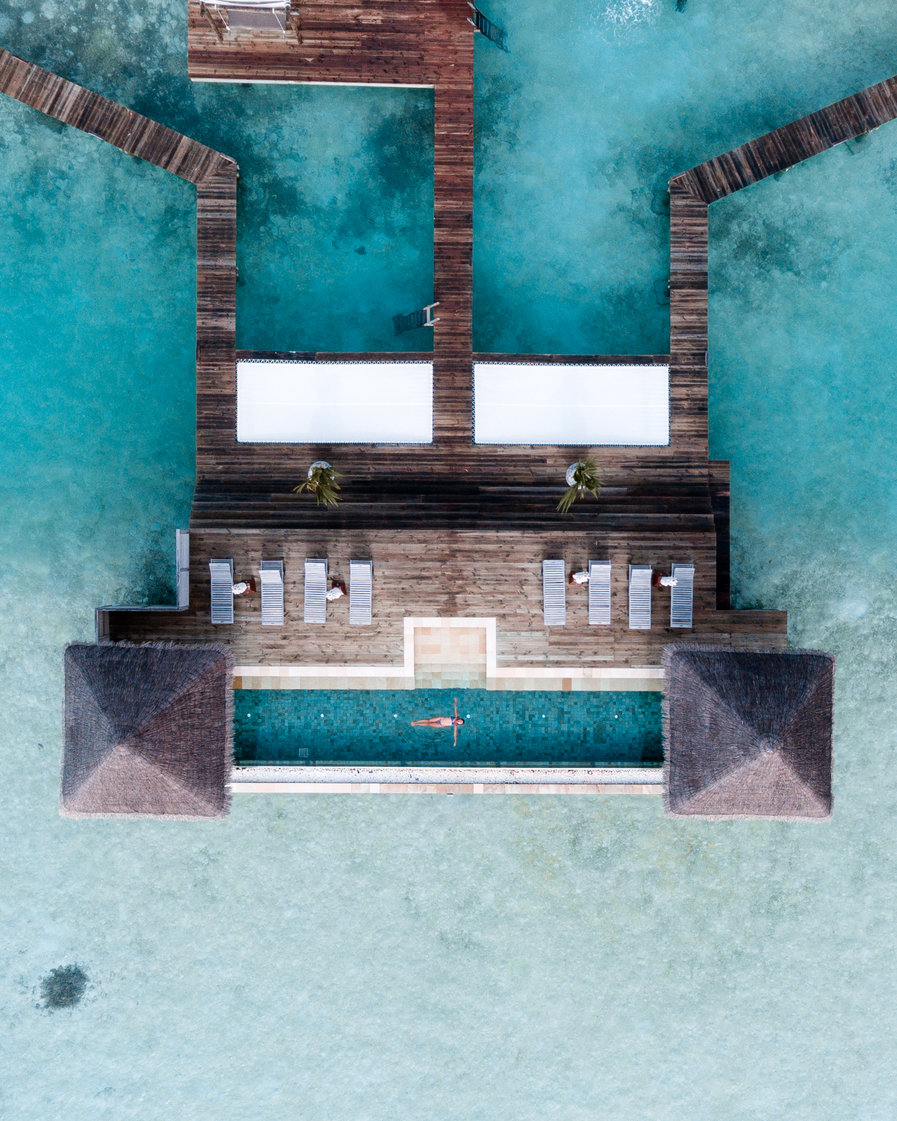 [/half_column]
Pool, Beach, &  Amenities
Out of the 45 villas in Gili Lankanfushi only the Private Residence offers an infinity pool. The rest of the guests are welcome to use the main pool overlooking the beach. You would think that because the villas don't have a pool that everyone would be hanging out here. However, during our stay, we never saw more than one couple at the pool even though the hotel was almost at full capacity.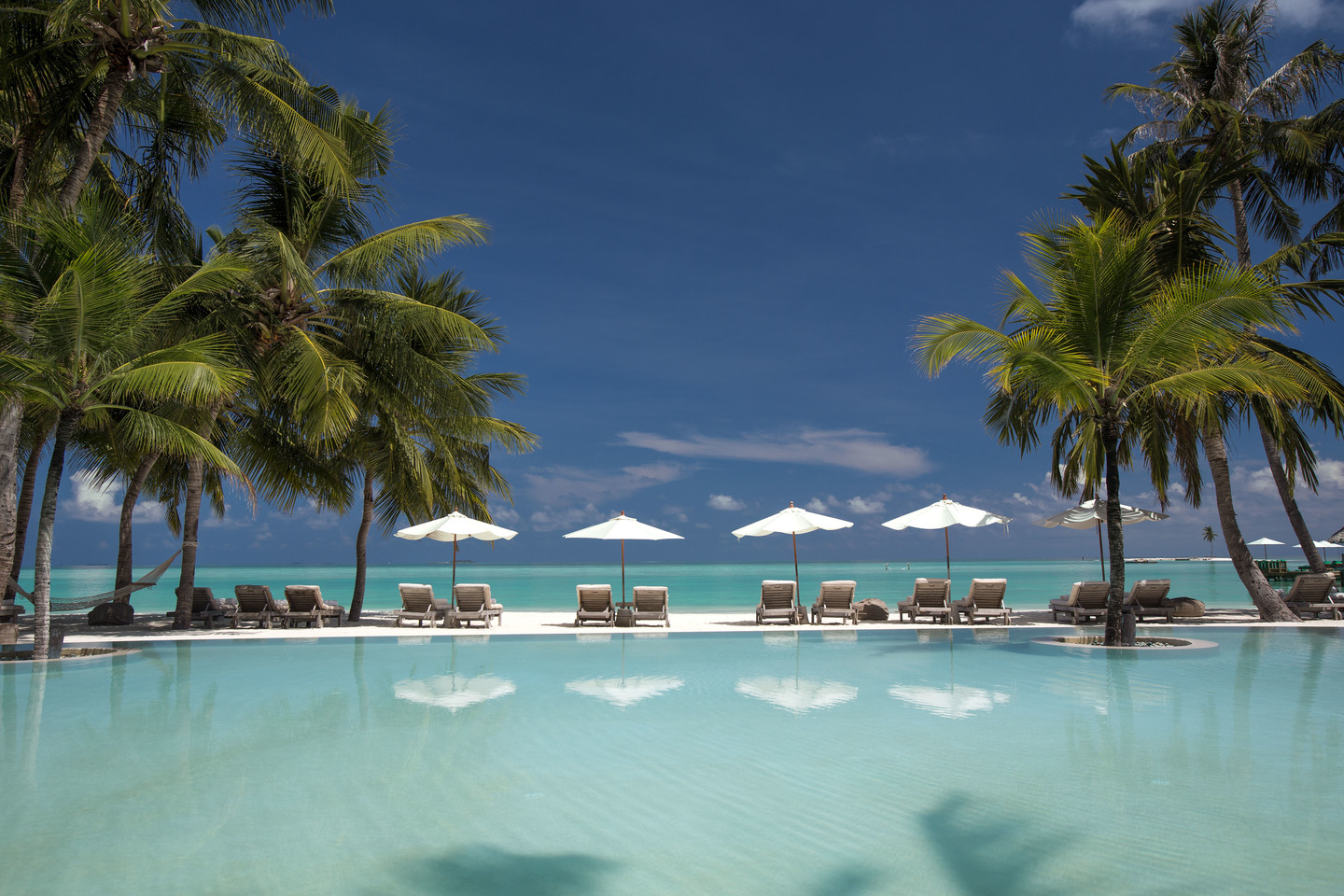 Right next to the pool is my little ones (and mine!) favorite place to stop by during the day, the ice cream room. I don't remember when was the last time I had a freshly made passion fruit palette before and it was soooo yummy.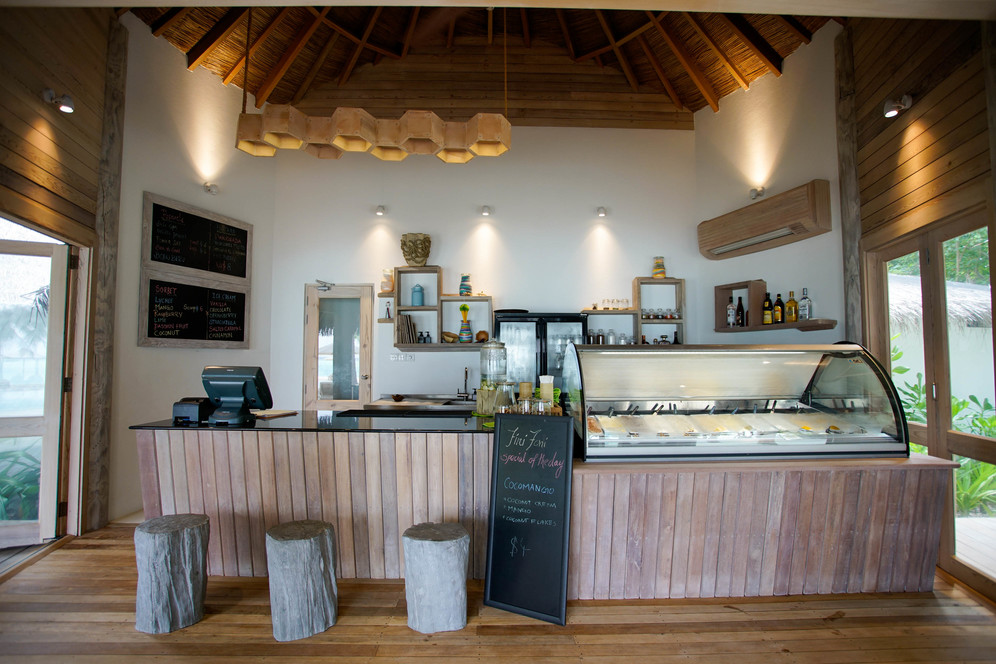 Though we were a little sad to find out that the property doesn't offer a kids club for the little ones, there is a schedule of activities throughout the week that the kids can participate without their parents. My little one, Aryan, participated in Cupcake decorating with the chef and loved it. However, your Mr./Mrs. Friday can take your little one on some adventures on request. Waheed, our Mr.Friday, took Aryan on "Buggy Ridding Lessons" while we were busy shooting which was extremely helpful. For rainy days, however, it would be nice to have a kids playroom for them to be distracted.
Gili Lankanfushi is located on a little tiny coral island surrounded by crystal clear waters and endless shades of blue. This means there is no designated beach area, the whole island is surrounded by beach. Find the nearest spot or take a walk around the island, the beach is gorgeous in every corner! Our favorite corner besides our villa was is the beach right in front of the Crusoe Residences. There is something so incredibly magical about this beach… the sand is so soft, it is surrounded by beautiful palm trees and everywhere you look the water looks amazing. Most of our time during our stay was spent in this beautiful corner of the hotel.
[half_column]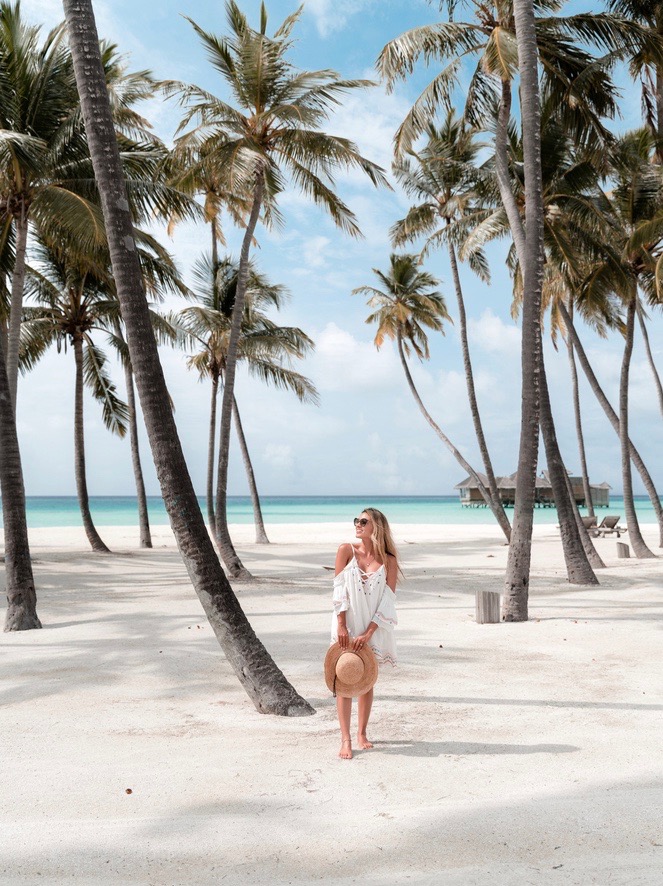 [/half_column] [half_column]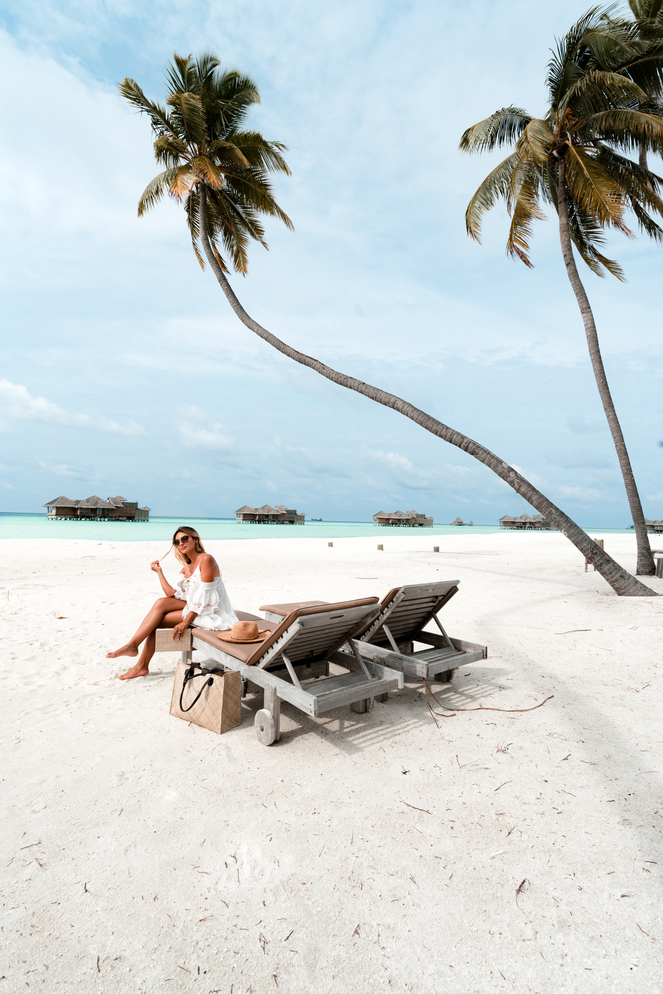 [/half_column]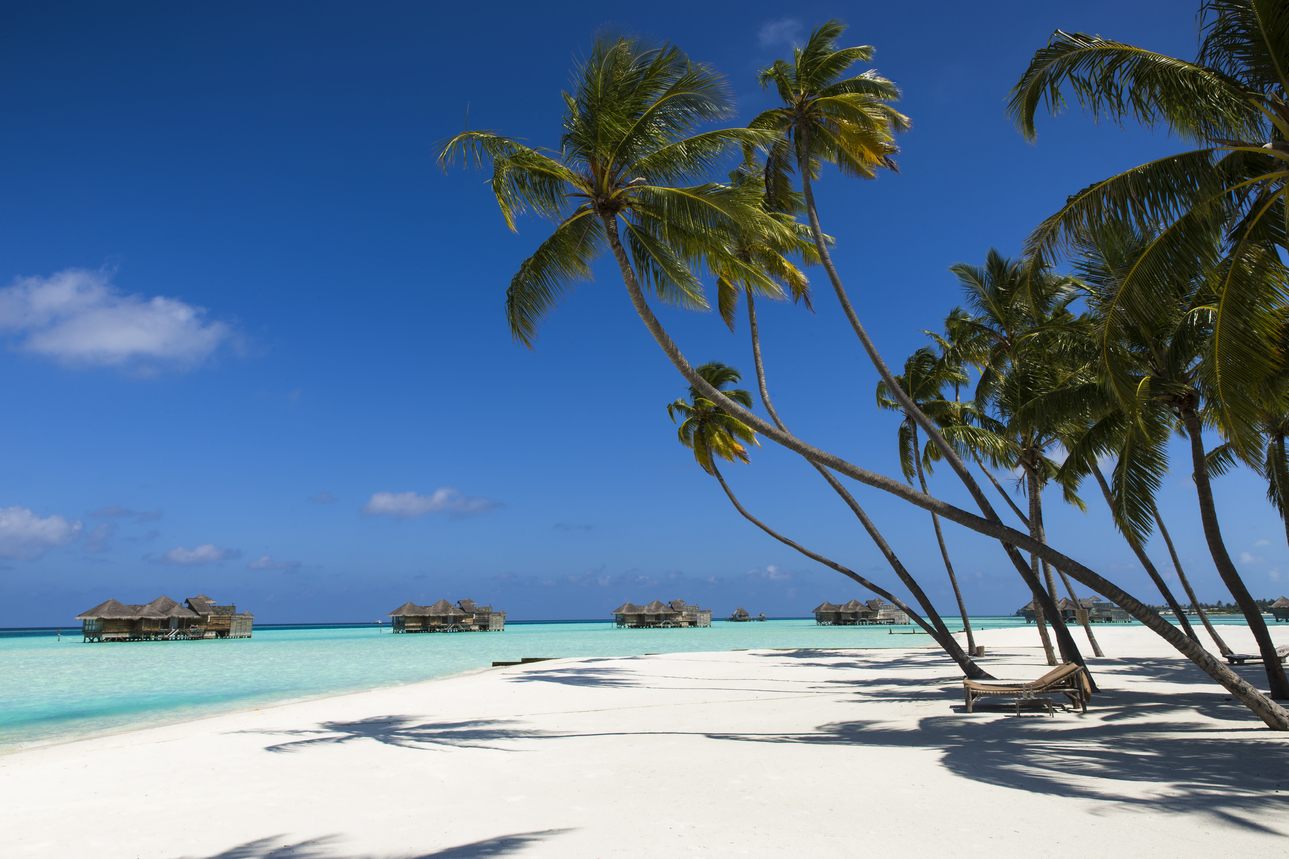 As part of our itinerary, we participated in two activities that I could not recommend enough whether you are traveling as a family or as a couple. The dolphin cruise was the absolute best dolphin cruise of our lives. The experience was so unreal and honestly out of a movie. In the beginning, we were a little discouraged because we saw plenty of boats around us, so the captain decided to find our own way as part of the Gili Lankanfushi philosophy is not to disturb the dolphins and keep a distance allowing them to come close if they wish. Let me tell you, we were blown away! I can't even tell you how many we saw but hundreds for sure! There were dolphins everywhere we looked! They came to us and completely surrounded the boat. And as playful as they are, they were coming very close to swim along with the boat. It was such a magical experience that it even puts a smile on my face as I recall this moment.
It was the same with our private jungle movie screening. We decided to watch Finding Nemo since we thought it was appropriate while in the Maldives and suitable for the whole family to watch. As the movie begins, we had a romantic candlelight dinner for the 3 of us and the chef was kind enough to prepare a vegan menu for us. Once you are done with your meal, you can enjoy the rest of the movie with some popcorn and also stare at the sky.
[half_column]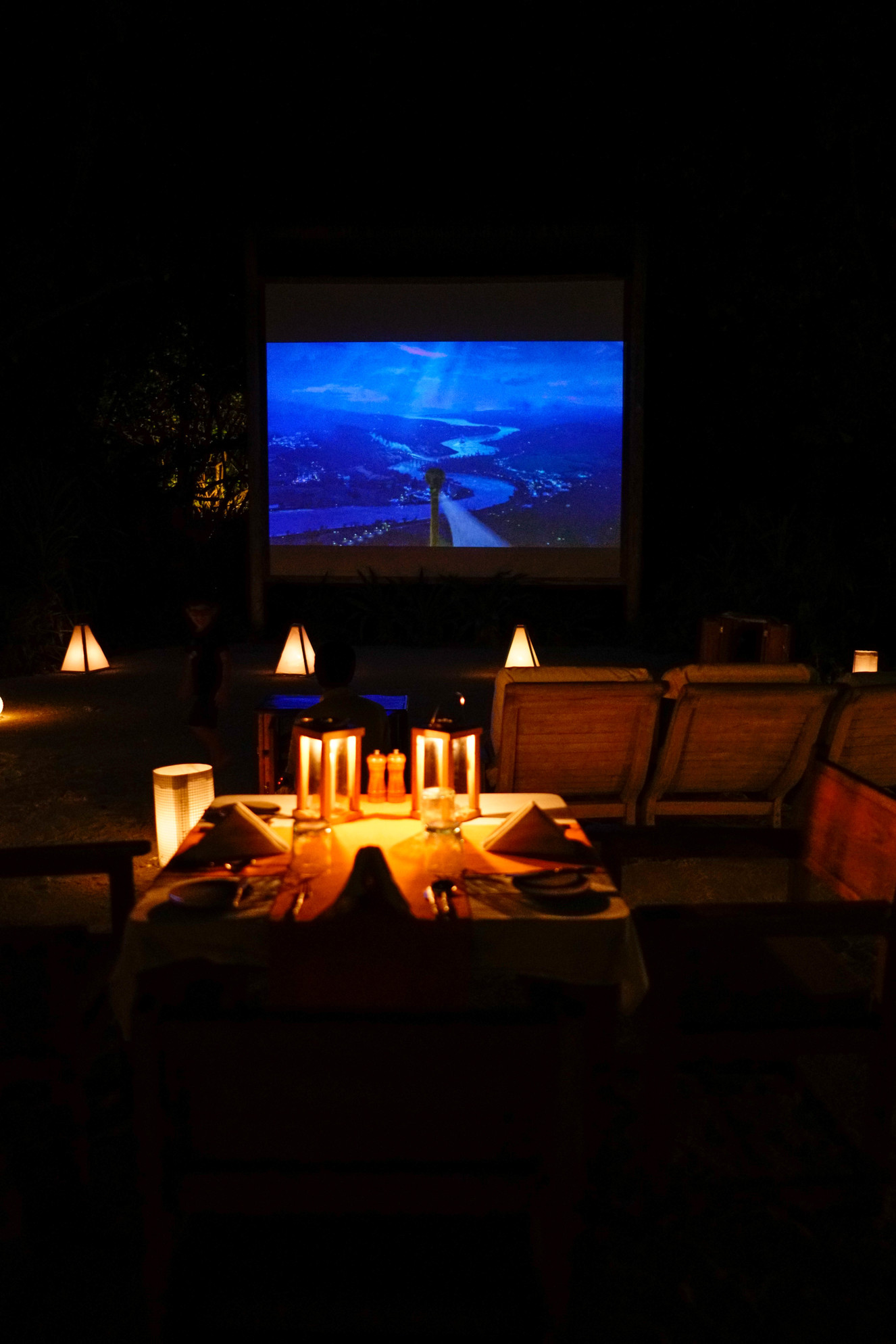 [/half_column] [half_column]
[/half_column]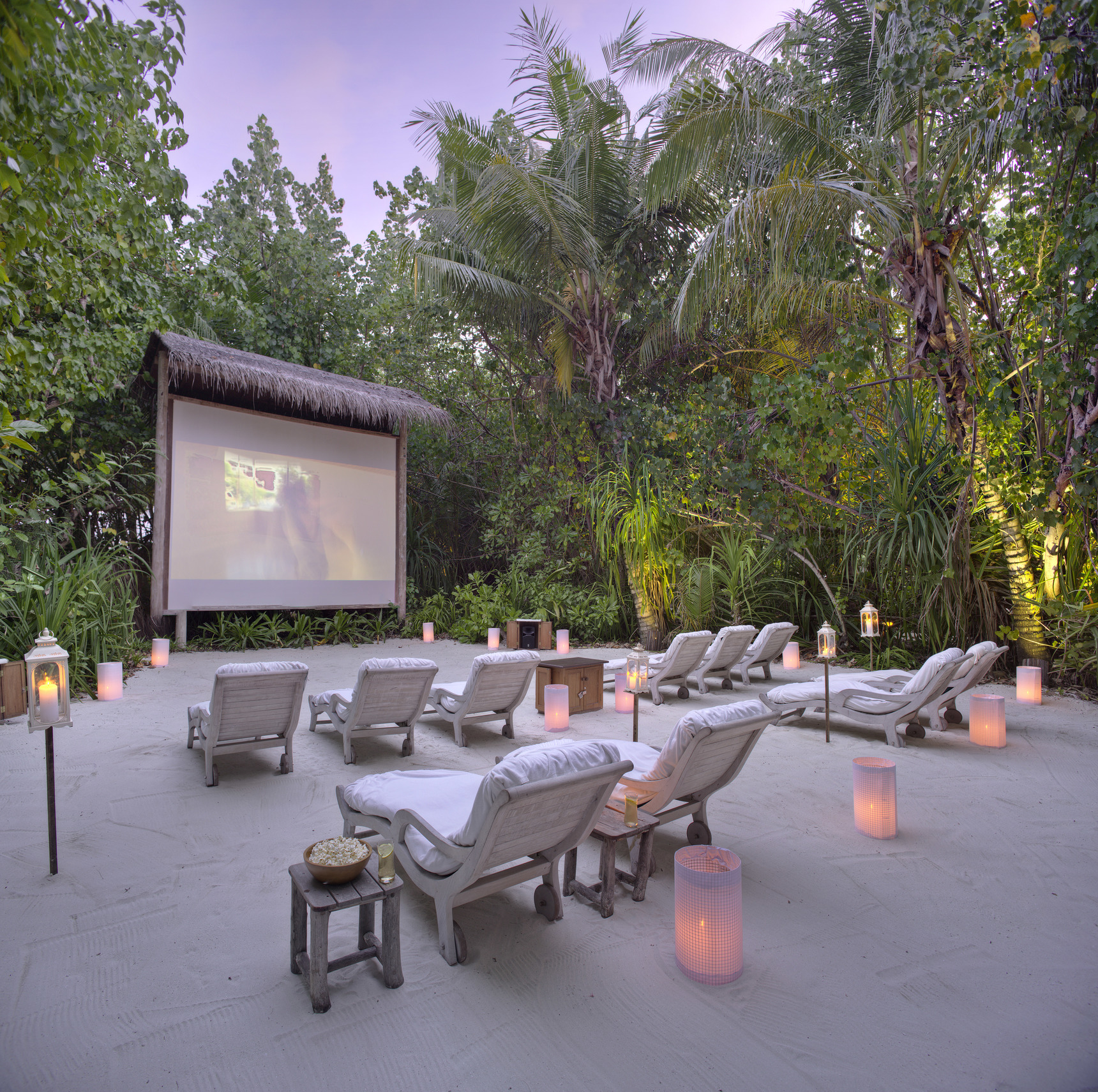 Gili Lankanfushi prides itself on its sustainability and eco-friendly efforts that are deeply embedded in the hotel's philosophy. From the resort's design to its practices, everything is aligned with this concept. Even though the island is tiny, they have allocated an area next to the main restaurant for the house garden. Here they grow almost all of their herbs, make their own compost and also will soon be installing a special equipment to help reduce drastically the hotels waste. We had a tour of the garden with the chef and you could feel how passionate and proud he was about there efforts.  It truly is admirable how the property has been able to incorporate sustainable practices and designs while at the same time offering a luxury experience to its guests.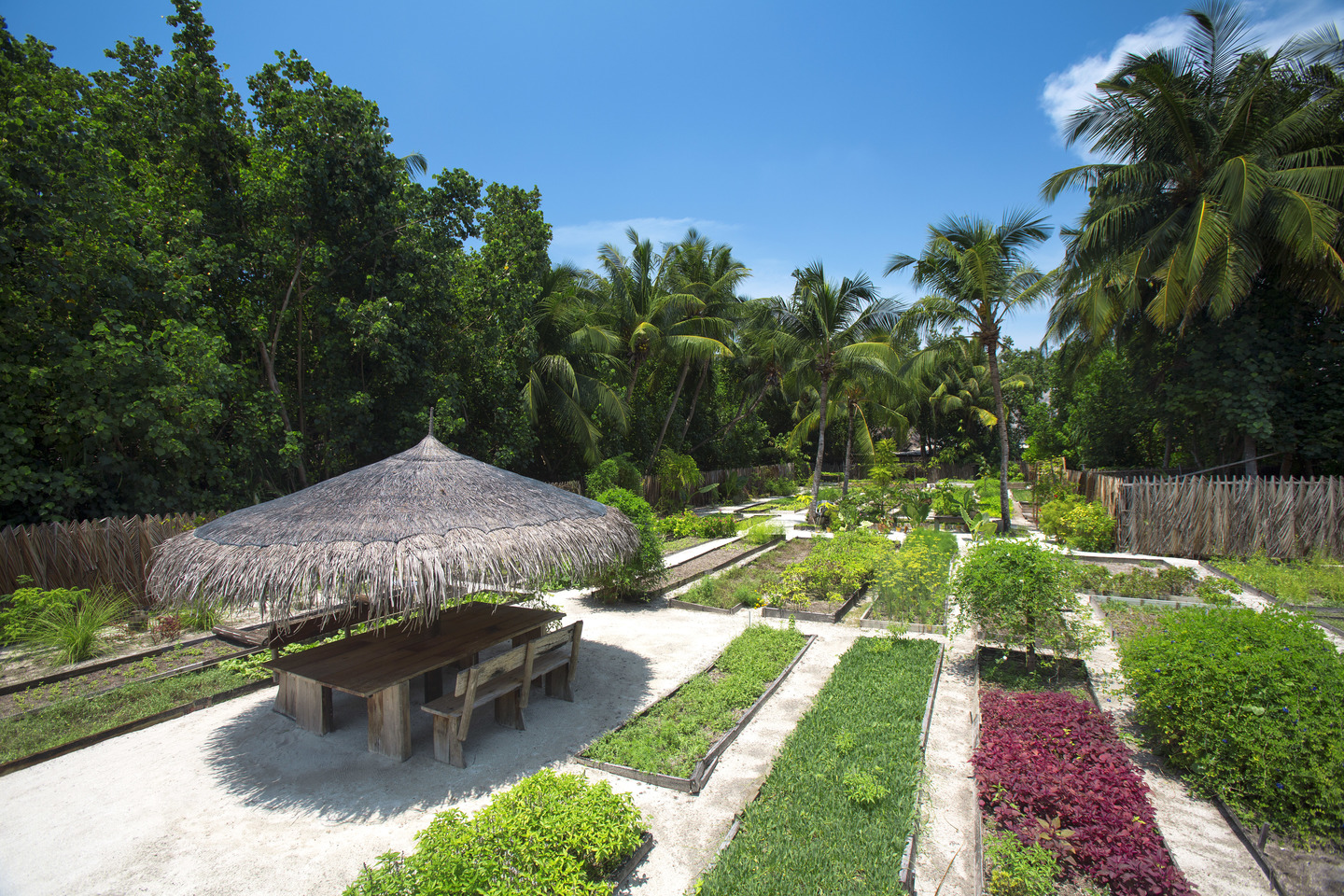 [half_column]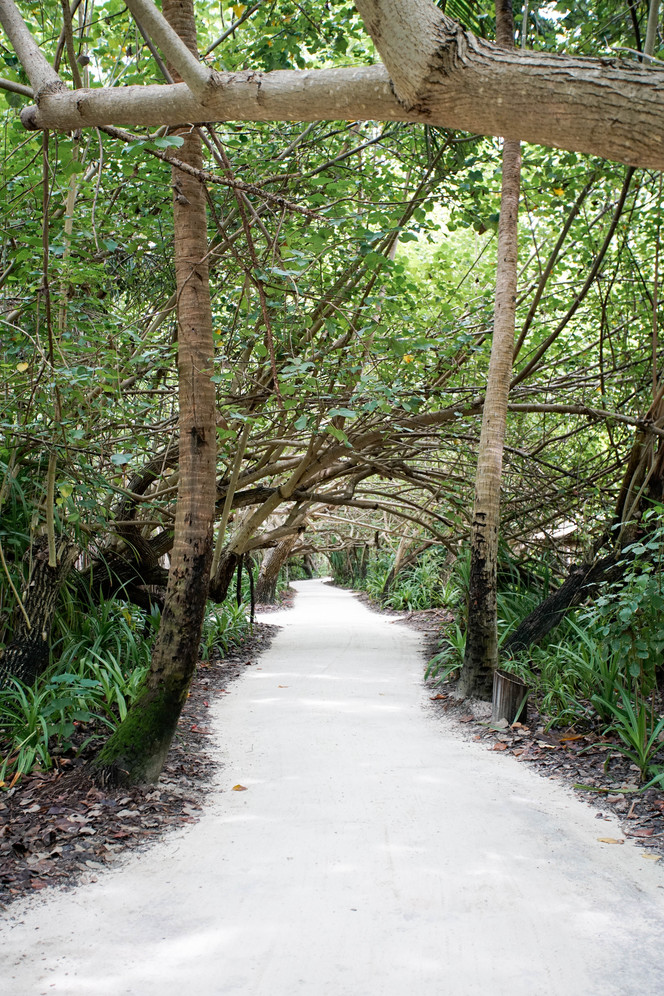 [/half_column] [half_column]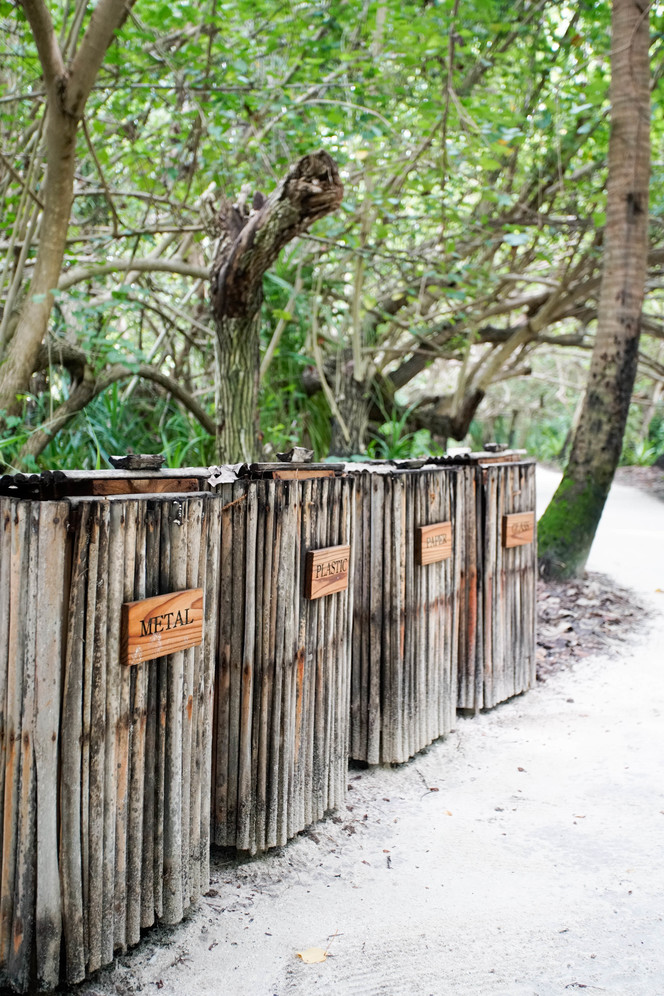 [/half_column]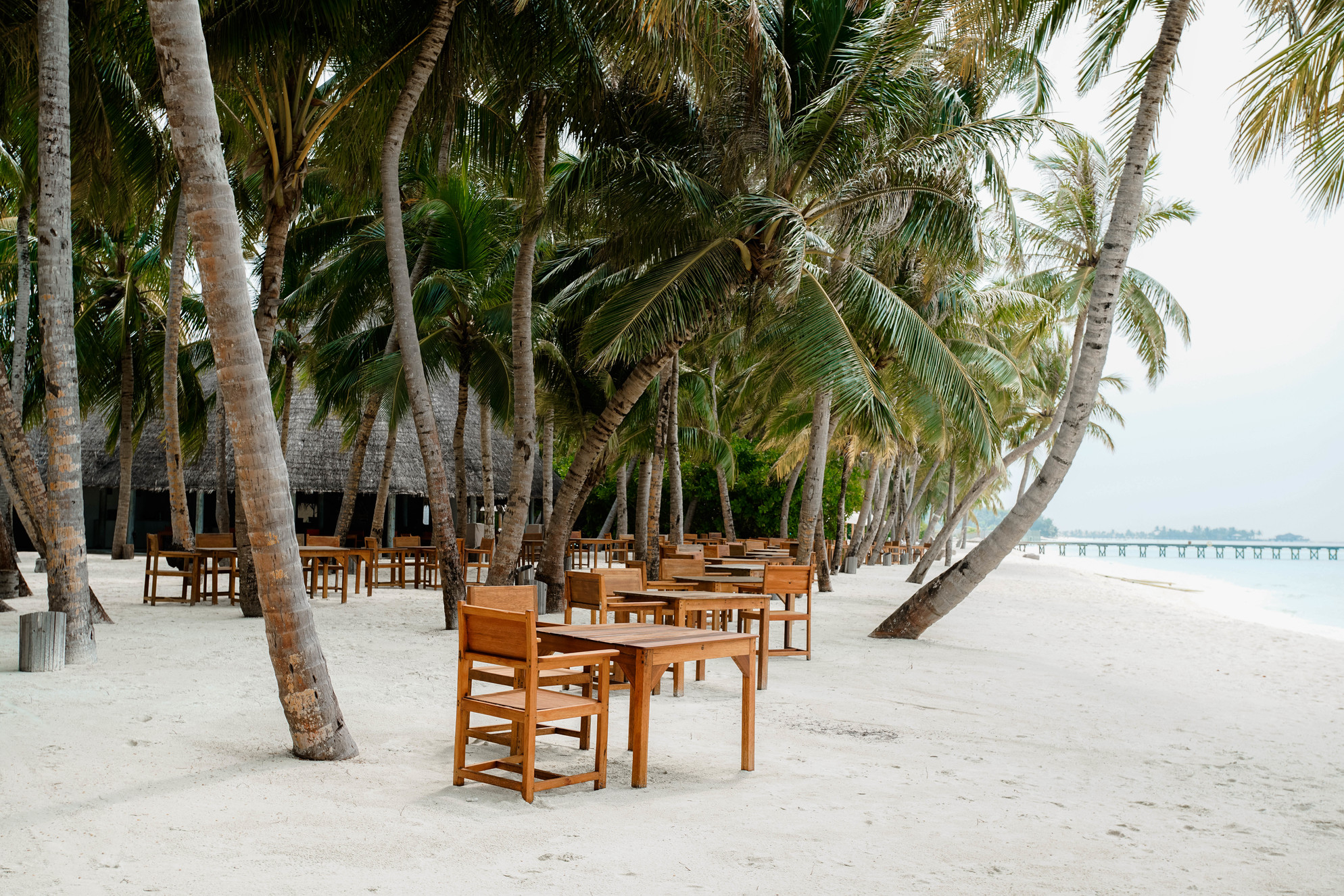 Dining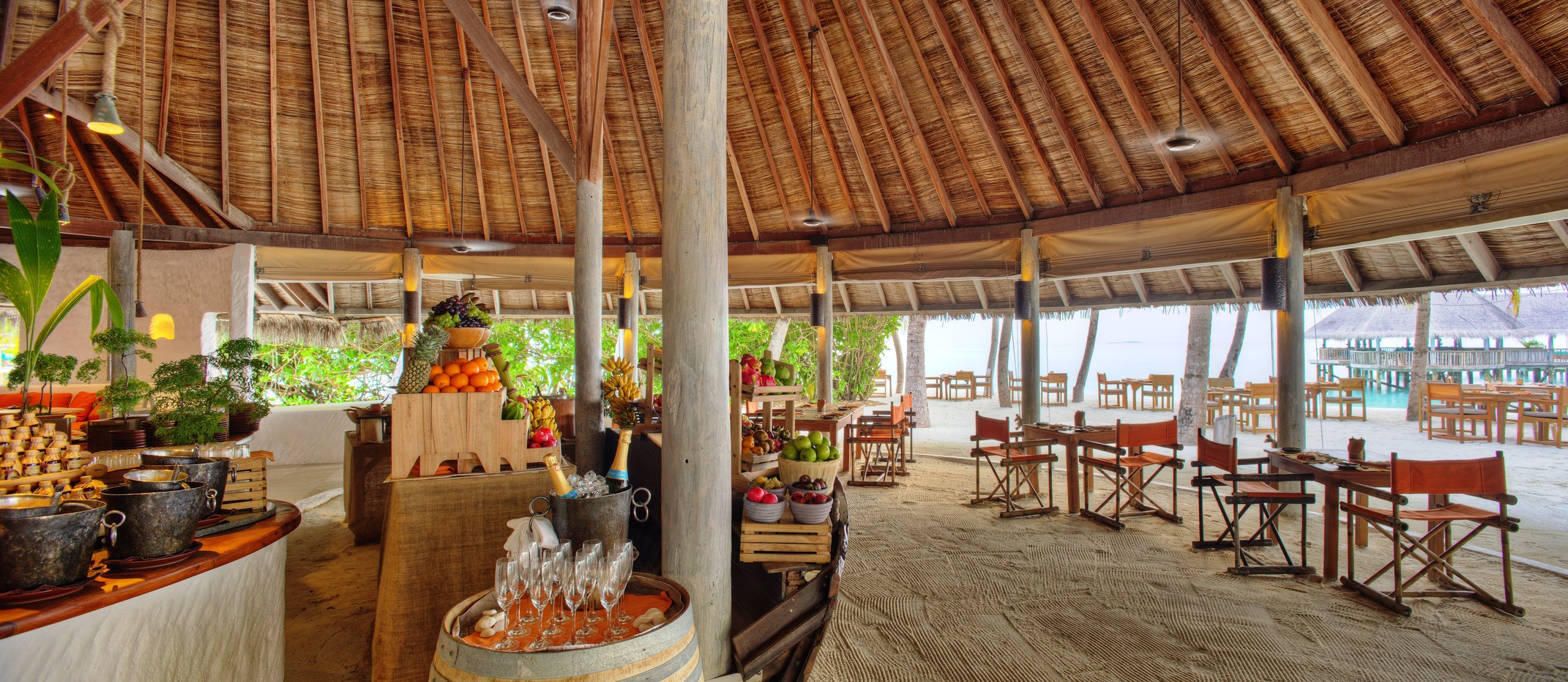 Though there are only three restaurants in the property, they each offer a great variety of high-quality food to satisfy any taste and dietary restrictions. As a vegan family, we didn't have any difficulty and had plenty of options whether it was a la carte or in the buffet, particularly in the Indian themed night in the Overwater Bar. We are great fans of Indian food and have had it in many different places, and this one did not disappoint. The staff is also extremely helpful and accommodating, if there is anything that you wish to be made vegetarian or vegan for you, don't be afraid to ask. They will make it for you in no time. If you wish to have a special romantic dinner, you can choose to have a destination dining experience in many different places throughout the resort such as in the underground wine cellar, on the beach or one palm island ( a small island very close to the resort). I would highly recommend booking your stay with a full board package that way you have one less thing to worry about.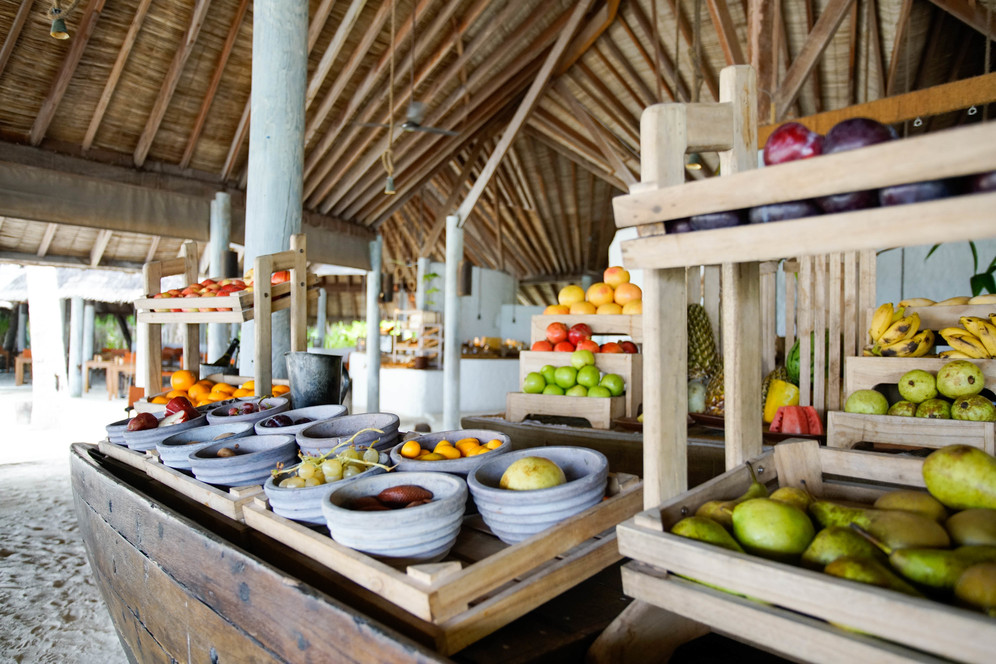 [half_column]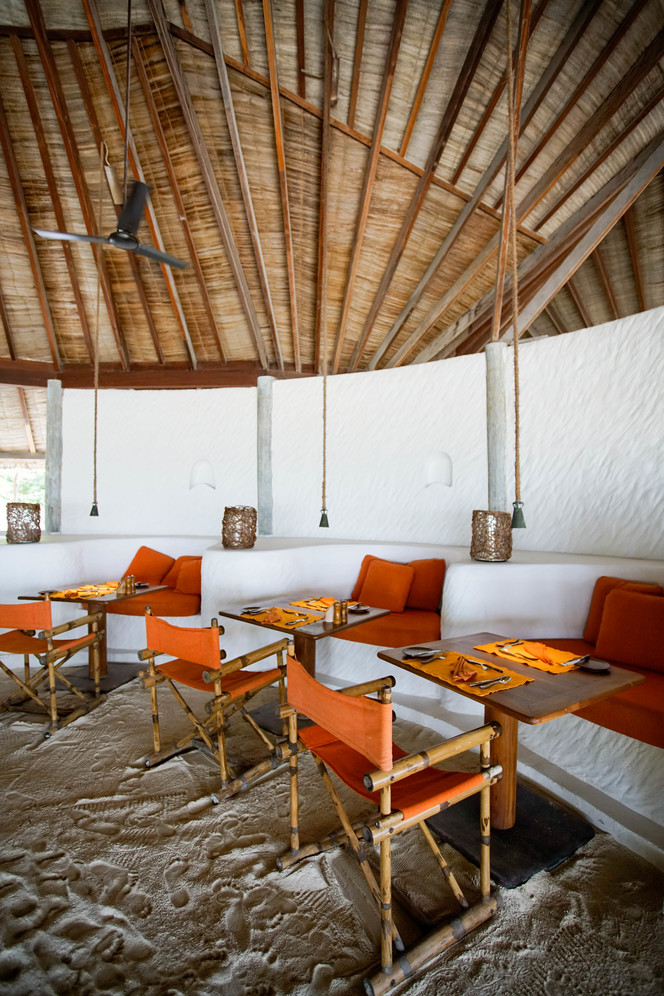 [/half_column]
[half_column]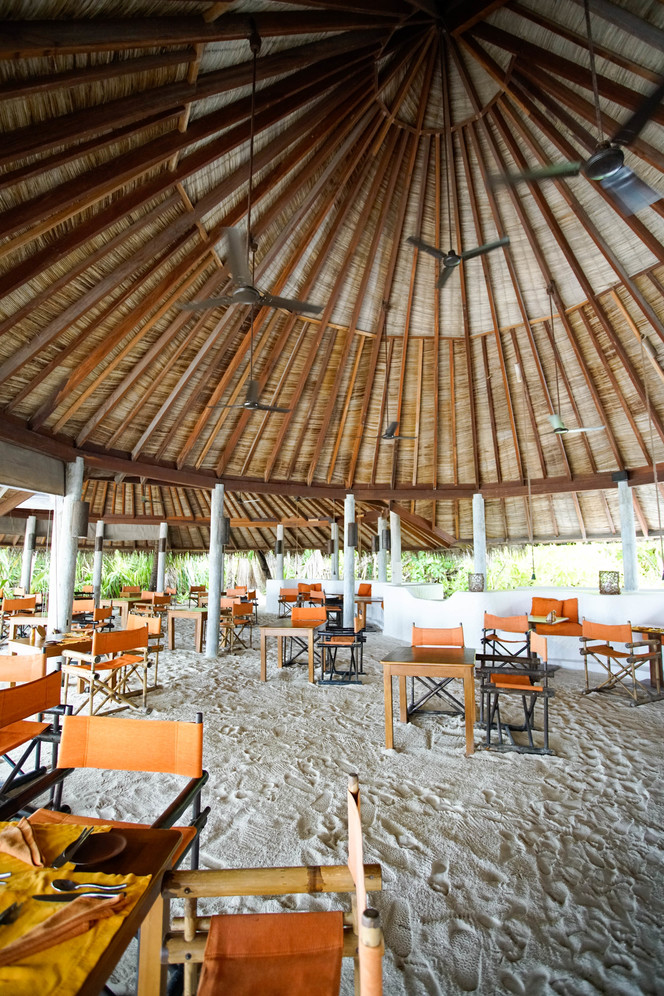 [/half_column]