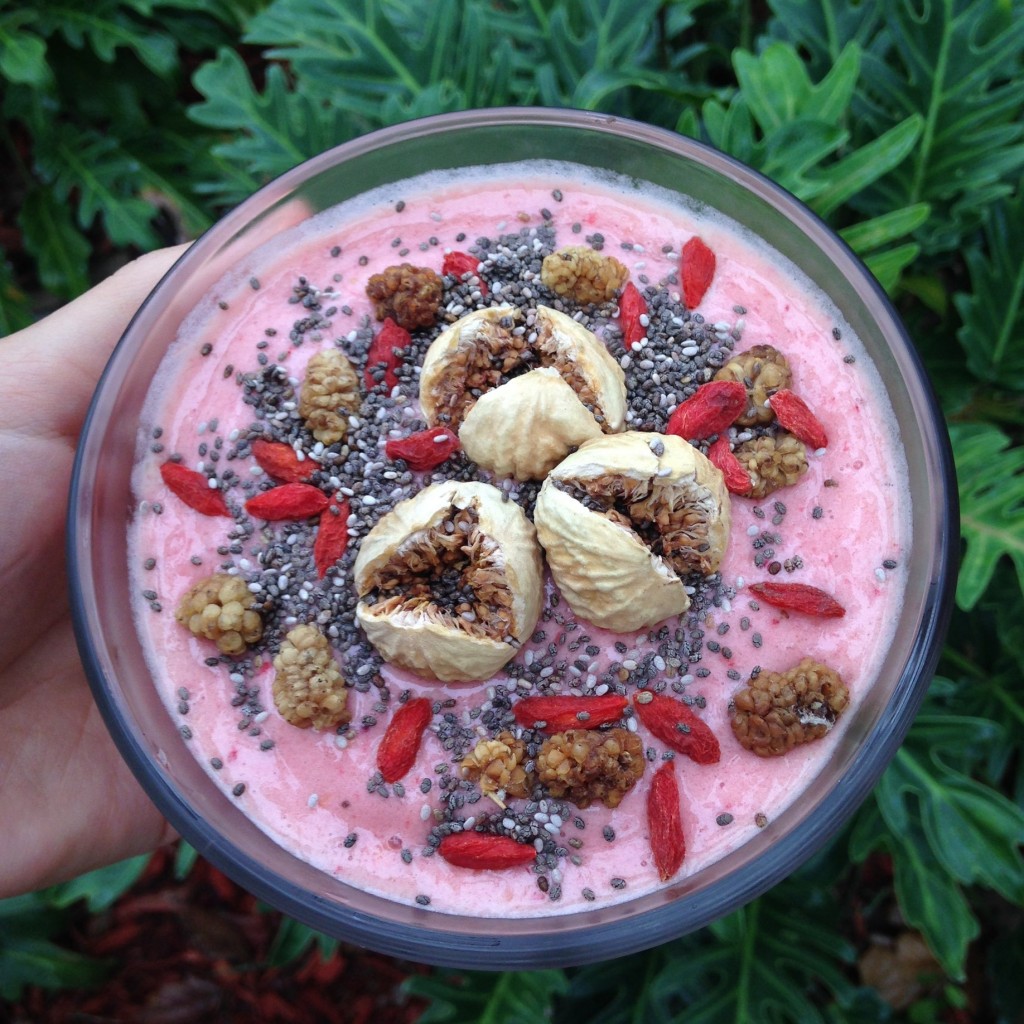 Smoothies are one of the best, easiest, and fastest ways to enjoy your fruits and vegetables at any time of the day. They are great for everyone from parents who are rushing to the office in the morning to picky toddlers who refuse to have breakfast -like my little one. In fact, my little one will have a smoothie for breakfast almost every day of the week except for pancake Sundays off course haha. I will make a blog post specifically about his smoothies and what I put on it and why. 
There is no doubt  that smoothies are great but for me there is no better way to enjoy a smoothie than putting it on a bowl and adding fun toppings on it. It makes me feel like I'm in a frozen yogurt shop or I am building a sundae… yum!
Here is one of my favorite super simple smoothie recipes:
Serves: 1
Ingredients:
2 Frozen bananas
1.5 cups of almond milk/ coconut milk
1/2 cup of fresh/ frozen strawberries
1/2 cup of fresh/frozen pineapple
2 Tbsp of hemp seeds
Ingredients:
Place all the ingredients in the blender starting with 1.5 cups of milk of your choice and blend well.
Add more milk only if you would like it to be thinner
Top with chia, dried figs , goji berries and mulberries. Enjoy! 
Disclaimer: Everything posted on this blog are my honest opinions based on my personal experiences regardless of whether or not I receive compensation or sponsorship for a post or review. I write about things that I am truly passionate about so all the brands or products mentioned will fit my lifestyle as much as possible based on my criteria. Unless stated other wise, I am not an affiliate of the product, brand, hotel or airline mentioned in this post, or get any compensation or sponsorship from them. If I were to be an affiliate or receive any kind of compensation for a specific product or brand, I will state it in the blog post accordingly.
[amazon-carrousel title="Shop at Amazon"]
[/amazon-carrousel]