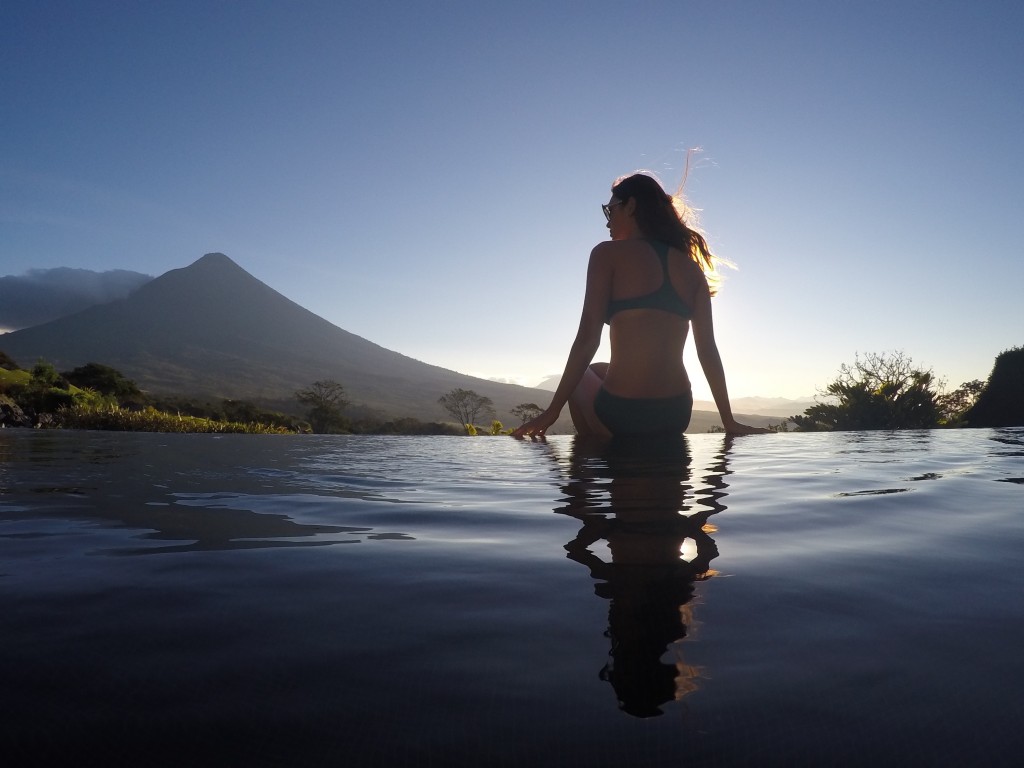 If you read my last post you will know how madly in love I am with Guatemala.  It is unfortunate that not many people know the wonders that this country has to offer. Its proximity to the US and South America, only a short two and a half hour flight away from Miami or one and a half from  Panama, makes it easily accessible for us in the western hemisphere. For those of you in the eastern hemisphere, don't let the distance scare you.. It's well worth it! Just make sure to plan well and stay long enough to justify the long flight. Fortunately that wont be difficult to achieve especially when staying in the absolute best hotel in Guatemala: La Reunion Golf Resort & Residences.
Similar to Laguna Lodge in Lake Atitlan, what gives La Reunion its natural splendor is the three volcanoes that surround it. This is what makes this hotel so beautiful and so special.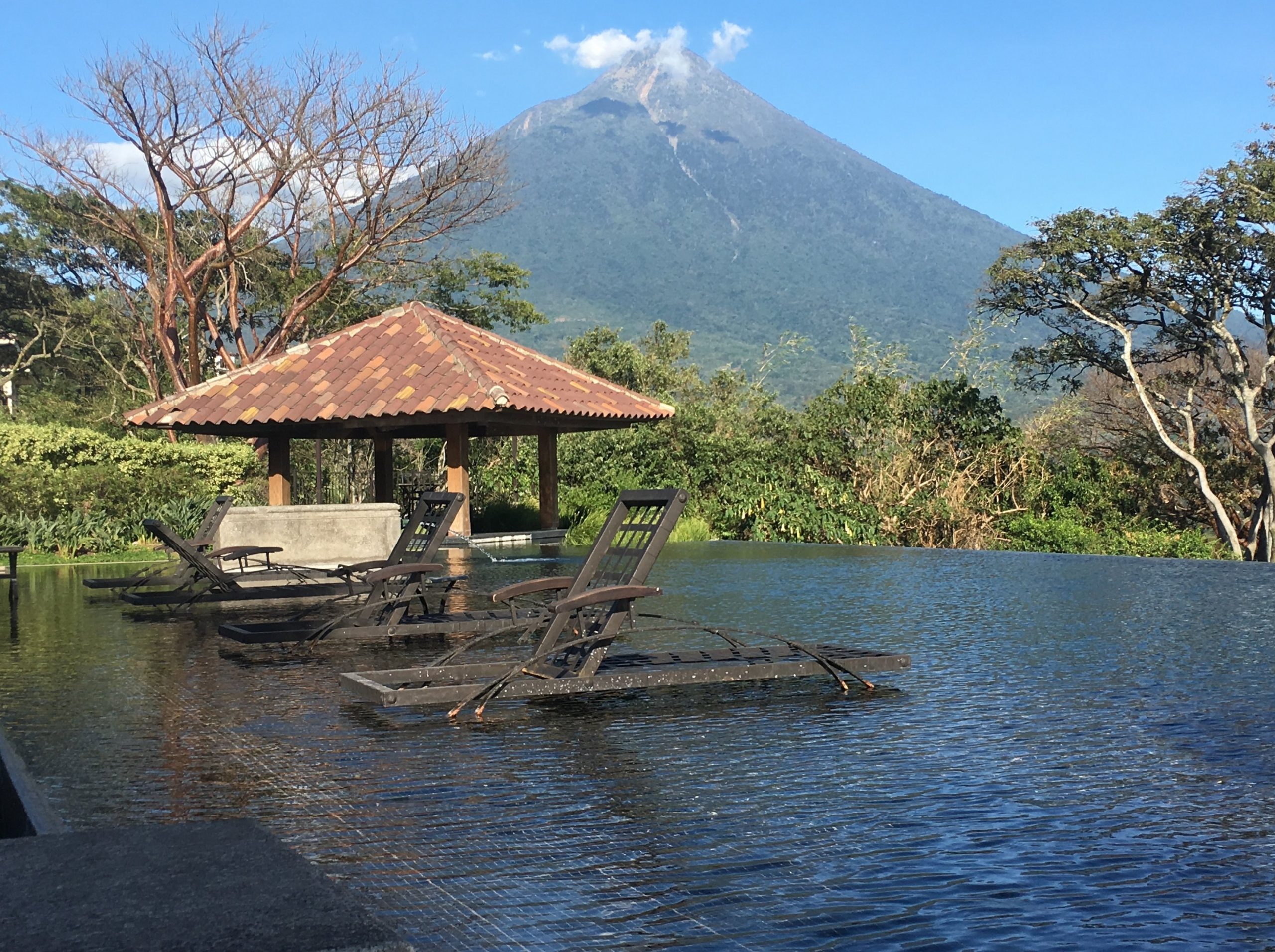 But what makes this hotel extraordinary and one of the main reasons I believe it is the absolute best hotel in all of the country is because of Fuego Volcano. Fuego, which means Fire in Spanish, is one of Central Americas most active volcano that lives up to its name. Believe me or not, it erupts every 30-60 minutes. So while you are casually playing a round of golf at the 2015 Latin America PGA Tour championship site, or having breakfast you can witness its glorious eruptions. If you happen to be in your room (unfortunately the rooms don't have views of Fuego Volcano) , the constant soar of the volcano will remind you of its presence even during the night. Actually, witnessing an eruption at night is a majestic experience very different but just as special as during the day time. Just close your eyes and imagine… The pure and virgin Guatemalan sky completely covered in stars yet the darkness indulging the silhouette of the volcano but at any unexpected moment the volcano soars and all that is visible is red hot lava flowing through the darkness of the night….It is just  ming blowing… Unfortunately since I don't own a professional camera just yet, I was not able to capture this moment with my iPhone camera.
[half_column]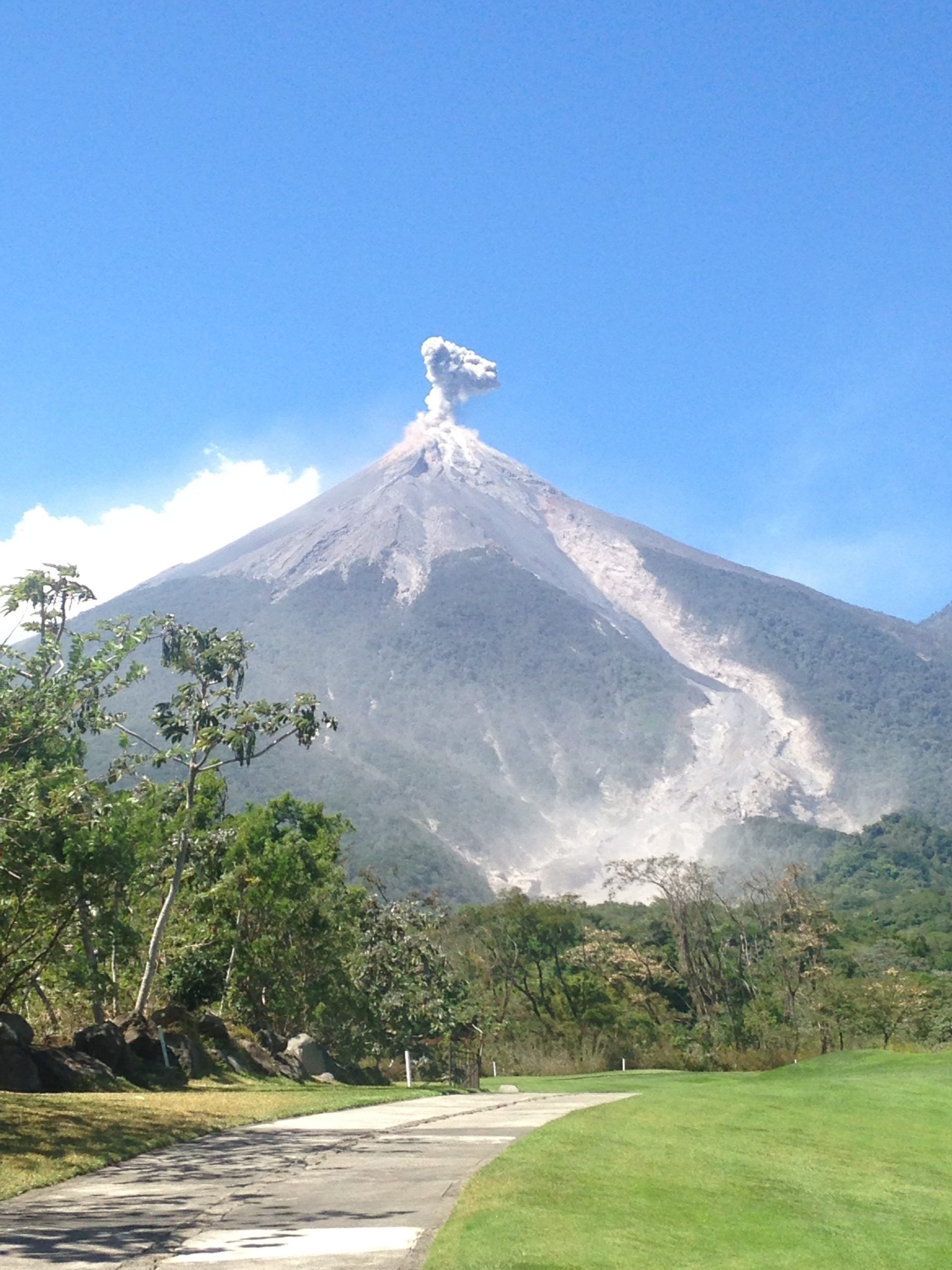 [/half_column] [half_column]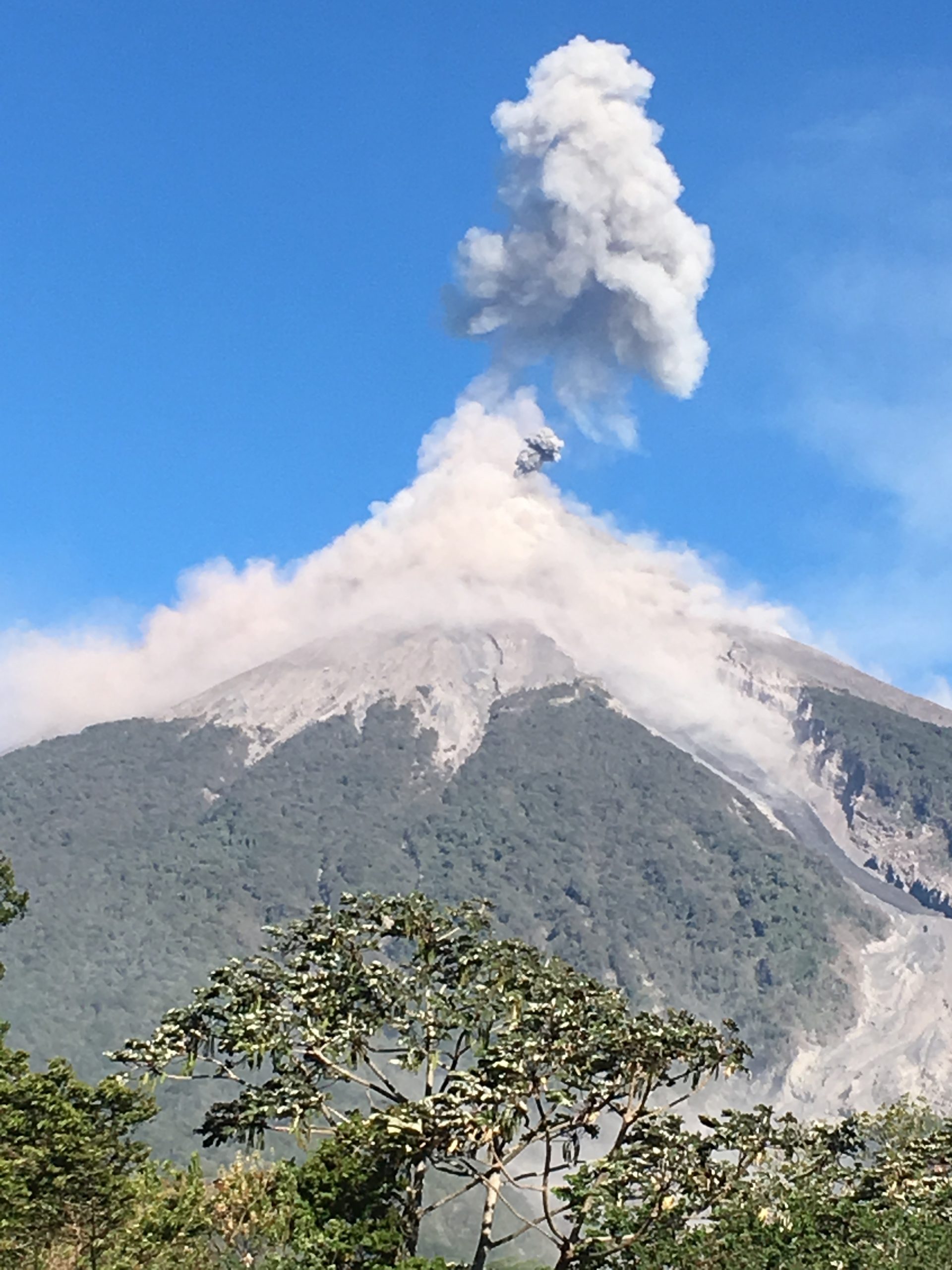 [/half_column]
At this point you may be asking yourself, wait isn't this dangerous?  Well yes it can be; however, since Fuego is constantly discharging energy with its small eruptions, it makes it much less likely for a powerful eruption to happen since the energy is not being accumulated. However, this doesn't completely eliminate the possibility of an eruption. If for this reason you feel more comfortable not staying in the hotel, its still worth the drive to experience it during the day time while you have lunch or play some golf. The view of this hotel is just unbelievable and absolutely worth the drive or the visit. Lets not forget you also have the view of Alotenango and Agua volcano which are both dormant, plus Pacaya from the distance.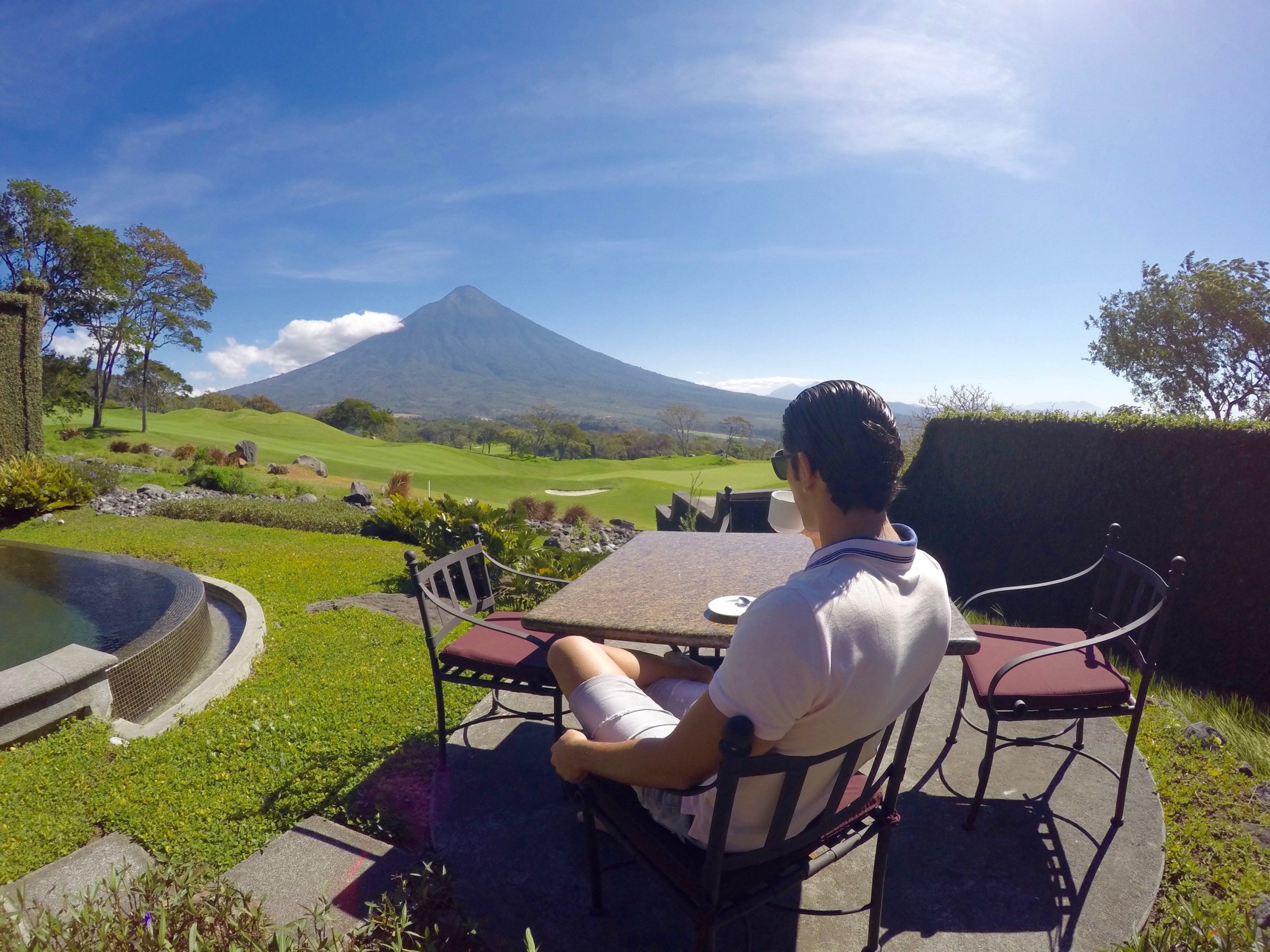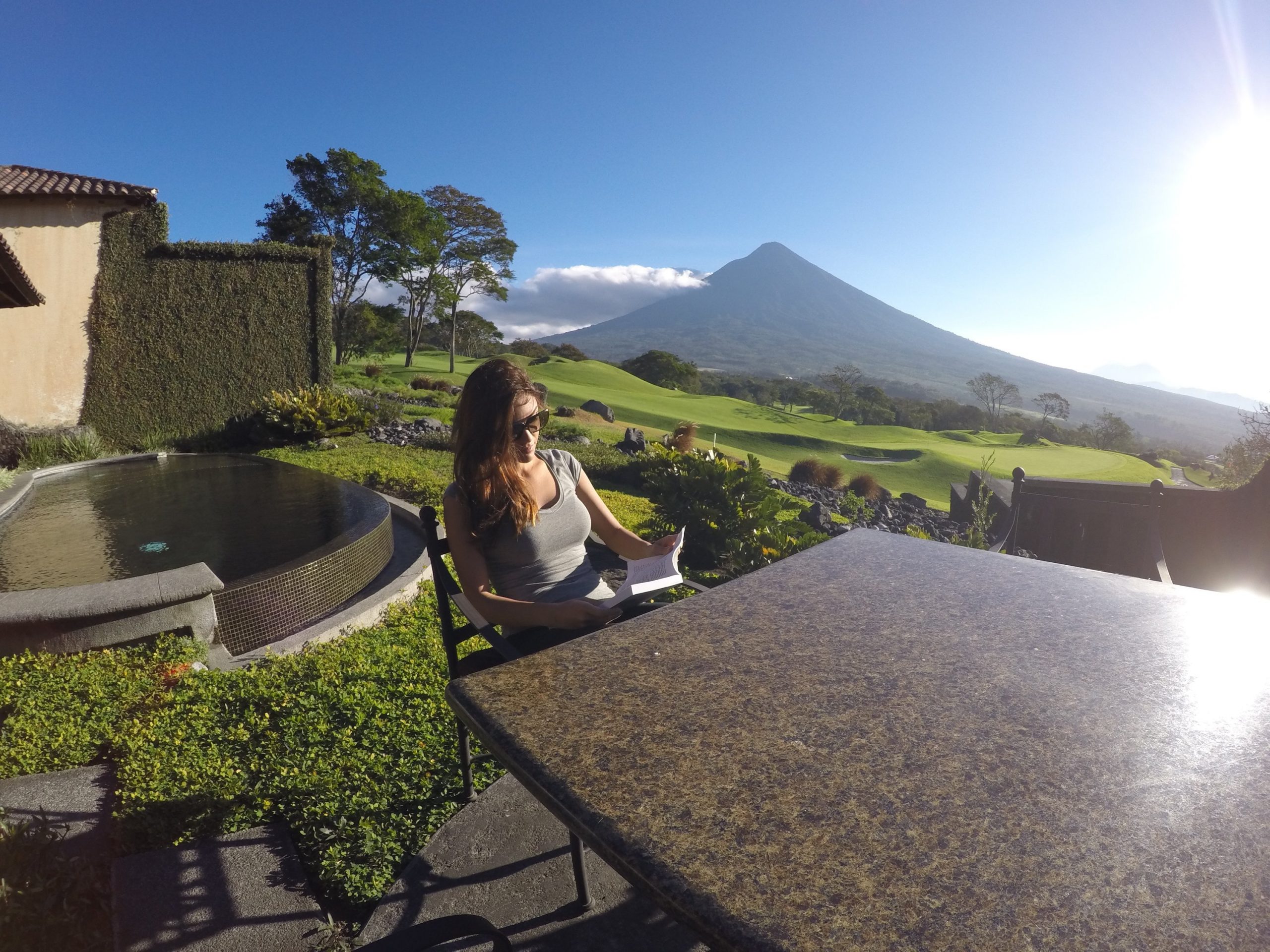 If staying next to a active volcano doesn't terrify you, you will get to enjoy many of the perks that this hotel has to offer. For an inexpensive price, you can stay in a spacious luxury villa with your own private pool overlooking the golf course  and Agua Volcano, all 30-40 min away from Antigua. Only in Guatemala you would be able to get this luxury for such an inexpensive price. And if you are like me and fall madly involve with this place, they have residences for sale!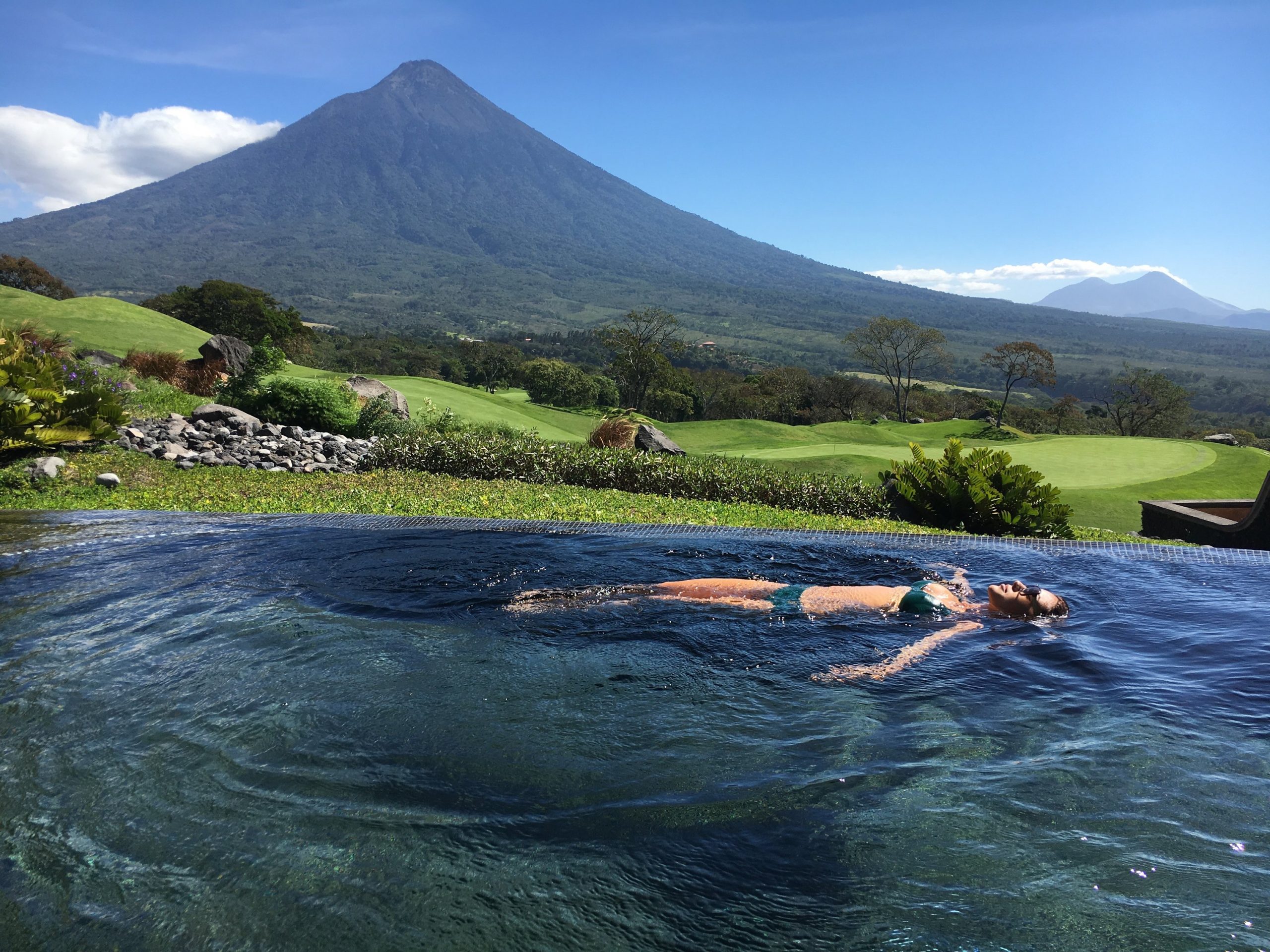 The only thing that I was disappointed with was with the price and quality of the food. Vegetarian and vegan options were very limited, pricey and quite bland. From their food menu the only vegan option was Pasta or sides like grilled veggies with rice or potato. The side portions were small and they added up to be more or less the same price as the pasta which was more filling. If you have space in your luggage and are just planning to stay in this hotel, I would recommend for you to pack some goodies such as: Granola bars, bread, almond/peanut butter, oats and protein powder (ask hotel to add to smoothies. They have Silk almond milk!) or you can stop and buy some fruit on your way there.
Disclaimer: Everything posted on this blog are my honest opinions based on my personal experiences regardless of whether or not I receive compensation or sponsorship for a post or review. I write about things that I am truly passionate about so all the brands or products mentioned will fit my lifestyle as much as possible based on my criteria. Unless stated other wise, I am not an affiliate of the product, brand, hotel or airline mentioned in this post, or get any compensation or sponsorship from them. If I were to be an affiliate or receive any kind of compensation for a specific product or brand, I will state it in the blog post accordingly.