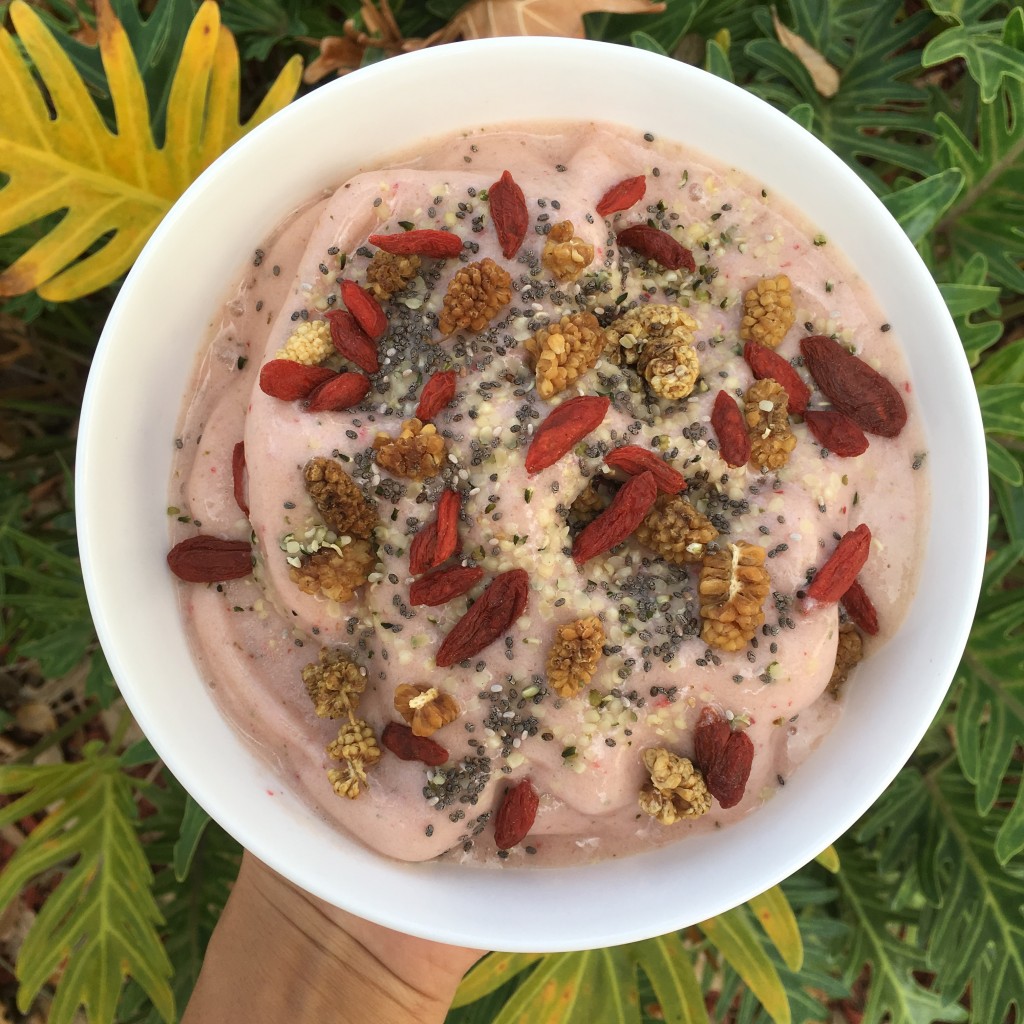 I am sure you have all heard of banana ice cream or nice cream by now, but still many of you dont know how to make it or simply think "oh boy, this most be complicated to make." I hear ya, I was one of you. The first time I heard of banana ice cream I automatically assumed you needed an ice cream maker or it was made with some type of processed vegan cream as a base. Unlike regular ice cream, this bad boy can be whipped up in less than 2 min and enjoyed for breakfast, lunch or dinner. And the best part is, to make the basic recipe all you need is one ingredient: bananas!
Here is the catch, in order to make this creamy yumminess you need to freeze your bananas overnight (peel them first!) It doesn't really matter how you freeze them but I like to freeze them in halves and place them in a glass top aware or a ziploc (that I later wash and reuse to freeze more bananas in). You never know at what time of the day you will get a nice cream craving, so I would recommend freezing a bunch. It might look like a lot but if you are a nice cream fanatic like me, they will go fast!
So here it is:
Serves: 1
Ingredients:
– 3-4 Frozen Bananas
-Splash of liquid of choice ~aprox 1/3 cup ( any nut milk, water, or coconut water)**
Optional add ons: frozen or fresh fruit ,vanilla extract, nut butter, cacao powder,  protein powder… virtually anything you want to flavor it with. Please not that its best to add powder add ons once you have blended the bananas. 
Instructions:
Peel and chop the bananas in half and freeze overnight
Place bananas, liquid of choice and any other add ons in a blender or food processor. Blend or process , stopping and scrapping the sides if necessary, until it gets smooth and creamy. At this point, add in any powder add ons such as cacao, lucuma or protein powder and blend until mixed. Thats it!
I made mine with fresh strawberries and topped it with what I had handy: mulberries, goji berries, chia and hemp seeds.
** The more liquid you add the easier it will be for the blender to breakdown the bananas but the thinner the ice cream will be, so start with 1/3 cup. If you have patience 1/3 cup should be enough put you can increase it to 1/2 cup if you see no progress. If you have a vitamix or a blendtec, this recipe should be easy breezy.
Disclaimer: Everything posted on this blog are my honest opinions based on my personal experiences regardless of whether or not I receive compensation or sponsorship for a post or review. I write about things that I am truly passionate about so all the brands or products mentioned will fit my lifestyle as much as possible based on my criteria. Unless stated other wise, I am not an affiliate of the product, brand, hotel or airline mentioned in this post, or get any compensation or sponsorship from them. If I were to be an affiliate or receive any kind of compensation for a specific product or brand, I will state it in the blog post accordingly.
[amazon-carrousel title="Shop at Amazon"]
[/amazon-carrousel]