Healthy & Creamy Chocolate Smoothie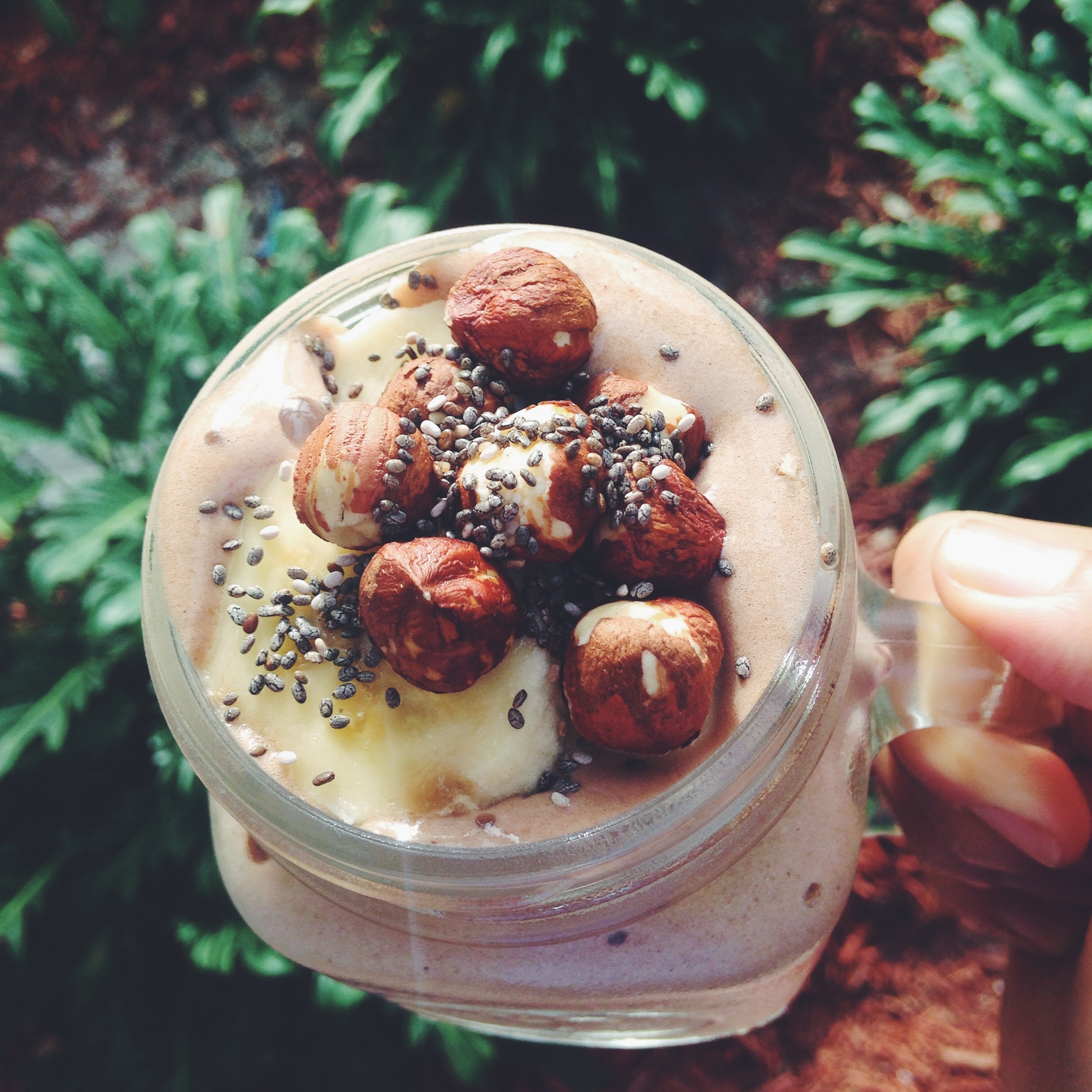 Some days at any given time I start craving something strawberry or something chocolate.  Instead of reaching for the chocolate bar, I make myself this smoothie and it hits the spot. For this reason I always have cacao or carob powder handy. Pounds of it… It might sound like a lot but when you have a chocolate loving family, you always have to be prepared.
This recipes makes the perfect breakfast for adults and little ones. If you feel like having a smaller portion just share it with someone and enjoy it as a movie snack.
Serves: 1 big smoothie
Ingredients:
2 frozen bananas
1.5 cup of almond/ coconut/ soy milk
1 Tbsp of cacao/carob powder
1 tbsp of almond butter
1 tbsp of hemp seeds * optional but recommended for a boost of  Omega -3s and protein
1/2 tsp of vanilla extract ( or too taste if you prefer. Skip if you are using vanilla nut milk)
Instructions:
Blend  all the ingredients together and top with your toppings of choice. I used sliced bananas, chia seeds and hazelnuts.
Disclaimer: Everything posted on this blog are my honest opinions based on my personal experiences regardless of whether or not I receive compensation or sponsorship for a post or review. I write about things that I am truly passionate about so all the brands or products mentioned will fit my lifestyle as much as possible based on my criteria. Unless stated other wise, I am not an affiliate of the product, brand, hotel or airline mentioned in this post, or get any compensation or sponsorship from them. If I were to be an affiliate or receive any kind of compensation for a specific product or brand, I will state it in the blog post accordingly.
YOU MAY ALSO LIKE
4 Comments
Claudia

Hi Susan! The reason I like to use frozen bananas is because when you freeze bananas they become extra creamy like ice cream! You can make it with fresh bananas but it will be a very thin smoothie. I would recommend using frozen bananas , it makes a very big difference. Once you try it , you will love it! I will be posting a banana ice cream recipe soon as well :)
Leave a comment
---